Grab Your Pets and Join Us for a Celebration of Animals.
Now you can ask ALEXA to "LAUNCH ANIMAL RADIO."
Animal Radio Show #1118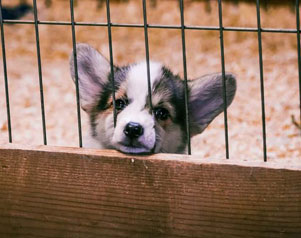 Dogs Laundering Lawsuit
A lawsuit has been filed in a California court saying Bark Adoptions masquerades as a non-profit animal rescue organization passing off puppy mill dogs as rescued animals and selling them for a profit. California has banned the sale of puppy mill dogs and it is believed multiple fictitious rescues are circumventing the law. Deborah Howard, founder of the Companion Animal Protection Society (CAPS) explains how her organization is trying to raise awareness on the issue.
Listen Now
Animal Occupations That Pay More Than $56k Annually
The Bureau of Labor Statistics identified the occupations that pay workers more than $56,000 a year and involve lots of quality time with animals. Veterinarians are the highest paid with a median yearly salary of $90,000 and projected job growth of 19% over the next 7 years.
Listen Now
Man Charged With Abandoning Fish
A North Carolina man has been charged with abandoning a pet fish that police say he left behind without food when he was evicted. Kind of unusual, but times are changing and how we think about animals is much different that it used to be.
Listen Now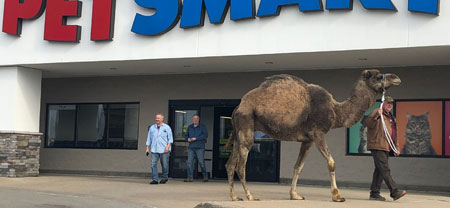 Camel Goes To PetSmart
Hump Day was a few days early at a pet store in Michigan when the operator of a local petting zoo walked in with his camel on a trip to their local PetSmart. This comes a week after a bull was escorted into a Petco. Both chains encourage bringing pets into the store.
Listen Now
Do Cats Understand Words?
Cats are almost always described as aloof but they know their own names and recognize it when we call for them, new research shows. Scientists found that our feline friends are able to tell their names apart from other words and have a grasp of words closer to a dog's than we think.
Listen Now

Read more about this week's show.

Redbarn Naturals Mini Bully Barbells Dog Treats, Case of 75
Animal Radio Show #1117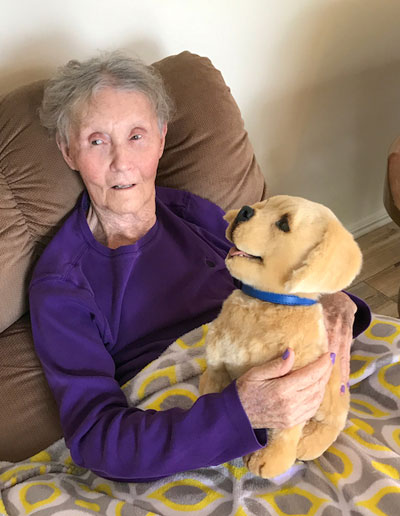 Robotic Puppies - Not Toys
Scientists estimate as many as 97% of seniors suffer from behavioral and psychological symptoms of dementia. That's why Tom Stevens teamed up with Jim Henson's Creature Shop to create an affordable robotic puppy to provide companionship for seniors. Tom explains why this is so personal and how it's making a difference.
Listen Now
Animal Free Mouse Treats For Cats
A pet nutrition startup is aiming to launch a line of clean meat for cats made from cultured mouse cells. The U.S. based startup is working on clean meat/mouse meat cat treats, based on a cat's natural prey. "This meat is packed with the same protein that a cat in the wild would consume and does not contain the growth steroids or any trace of Salmonella and Listeria found in meat used to make commercial pet food," states the manufacturer.
Listen Now
Beards Carry More Germs Than Dogs
If you don't kiss your dog, but your significant other has a beard, heads up! A new study finds men with beards carry more germs in their beards than dogs with their normal germs. Swiss researchers tested the facial hair of men and dog fur from various breeds and found a significantly higher bacterial load in the men's beards compared with the dogs' fur.
Listen Now
Planning To Rob A Store? Don't Take Your Dog
Police in Wisconsin say a woman; her adult son and a dog named "Bo" caused quite the scene in a Wisconsin Walmart. According to police, they responded to a Walmart shopping center for reports of a theft. When they arrived, officers found 46-year-old Lisa Smith screaming in the store's entryway trying to catch her unleashed dog, Bo. While the mother was in the front of the store, her 25-year-old son was allegedly naked and exposing himself to customers in the clothing section of the store. Bo, still unleashed and on the loose, grabbed a box of Bread Muffin Mix and attempted to leave the store. Eventually everyone was rounded up. The two humans were arrested and poor Bo was taken to the Humane Society.
Listen Now

Read more about this week's show.

Introducing Chewy Pharmacy - Free Shipping on Pet Meds!
Animal Radio Show #1116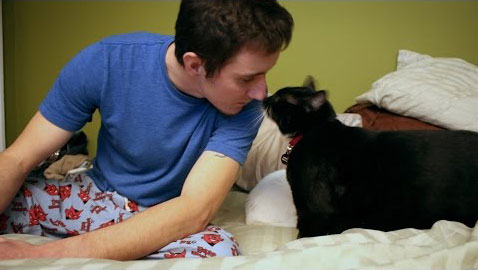 Mutual Rescue
A young soldier left the battlefield in Baghdad with traumatic brain injuries and P.T.S.D. after a mortar attack. Right before he was to give up on life, a stray cat walked up to him, placed his paws on his leg and saved his life. Josh Marino is here to tell his story of Mutual Rescue.
Listen Now
China Switches from One-Child to One-Dog Policy
China may have scrapped its one-child policy, but one Chinese city (Qingdao) has now instituted a one-dog policy! Those who own more than one pooch will be required to surrender their furry friends to an adoption agency. Anyone who violates the rules will be fined the equivalent of $60 US dollars.
Listen Now
Employers Offer Pet Insurance
There is a new and fast-growing trend for employees being offered by generous companies. It's employer-sponsored benefit plans that insure the family pet, dogs, cats, ferrets, birds or potbellied pig against accidents and illness. Some 5,000 companies, including Microsoft, Yahoo, Xerox and Hewlett-Packard, now offer pet insurance.
Listen Now
Don't Use Your Pet's Name As Password
When it comes to choosing a password, hopefully you do NOT pick a pet's name, because that's easy to hack. A behavioral biometrics company did some research and says the answer to finding a secure password is naming your pet a weird name, something incredibly unique after you do some research of your own. If your password is Max7$, after your cat, you aren't alone, but you are putting yourself at risk of identify theft and other cyber crimes.
Listen Now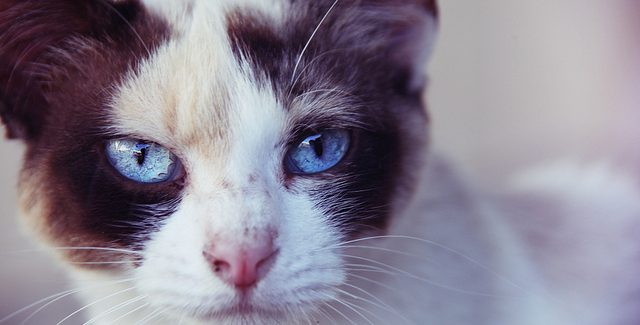 Switzerland Enacts Landmark Legislation for Animals
Switzerland is a fairly small country, but it stills boasts an estimated seven million pets living there, not including farm animals! The Swiss have a long history of improving the working and living conditions for animals including landmark legislation in 1992 when it became the first country to include animal rights in their constitution.
Listen Now

Read more about this week's show.

Introducing Chewy Pharmacy - Free Shipping on Pet Meds!
Animal Radio Show #1115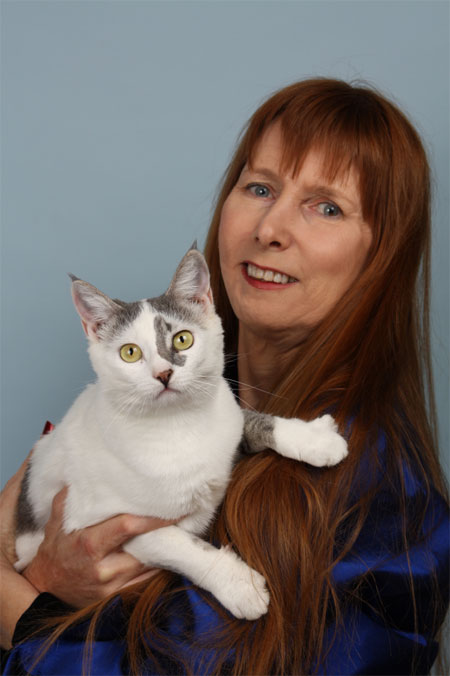 Why Is Your Cat Peeing Outside The Litter-box?
Award winning cat author Dusty Rainbolt has written the definitive guide to solving litter-box problems. Cat owners know that the solutions aren't always simple. But Dusty breaks it down in easy to understand steps. She can tell why your cat isn't using the litter-box and how to fix it.
Listen Now
How Does Your Pet's Name Influence Their Disposition?
Hollywood Numerologist Glynis McCants says the name you give your pet has a powerful impact on its temperament. She has tips on naming and even renaming your pet according to numerical energy.
Listen Now
Cancer Detection Dogs
A town in Japan with high rates of stomach cancer is turning to sniffer dogs for help. The city of Kaneyama is now taking part in a research program, in which residents' frozen urine samples are sent to the Nippon Medical School where dogs are trained to sniff out signs of disease.
Listen Now
Would Your Pet Eat You If You Died?
Cats have a reputation for eating their dead owners although a new study shows dogs are more likely to chow down on you. There are even a few reports of hamsters and birds devouring their owners according to the Journal of Forensic and Legal Medicine. Researchers have found no connection between an animal's reported closeness to its owner and its likelihood of consuming his or her body. Instinct, or hunger apparently trumps love.
Listen Now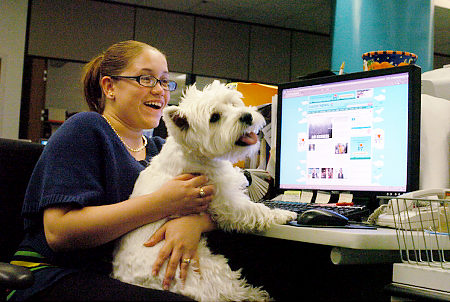 Pets At Work
Purina unveiled the first Pets at Work Report, examining pet owners and their attitudes towards having pets in the workplace, and the benefits it brings to employers and employees. The survey showed that employees at pet-friendly organizations ranked having pets at work second in terms of most valuable work benefits, ranking higher than free coffee and parking. To help other employers who are considering starting their own Pets at Work program, Purina has created a digital toolkit with tips and tools such as office checklists, signage and authorization forms.
Listen Now

Read more about this week's show.

Introducing Chewy Pharmacy - Free Shipping on Pet Meds!
Animal Radio Show #1114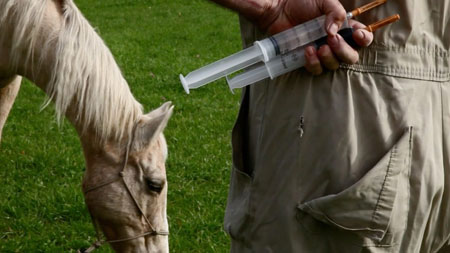 Veterinarians Committing Suicide
Out-surging Dentists, Veterinarians now have the highest suicide rate in the U.S., at four times the general population. Dr. Elizabeth Strand discusses the causes of this disturbing trend and possible solutions.
Listen Now
Legislation Would Provide Service Dogs to Veterans with P.T.S.D.
The PAWS Act also known as Puppies Assisting Wounded Service members Act has been introduced on Capitol Hill by Congressman Ron DeSantis. The legislation would direct the Department of Veterans Affairs to provide service dogs and veterinary health insurance to veterans with P.T.S.D. (Post-Traumatic Stress Disorder).
Listen Now
Pet Pampering Apartment Buildings
Pet pampering apartment buildings around the country are on the rise with some awesome amenities being offered. The most popular among them are dog runs, and they're not what you would expect. These are dog runs inside high-rise buildings on some of the higher floors; so there's no need to even go down to street level.
Listen Now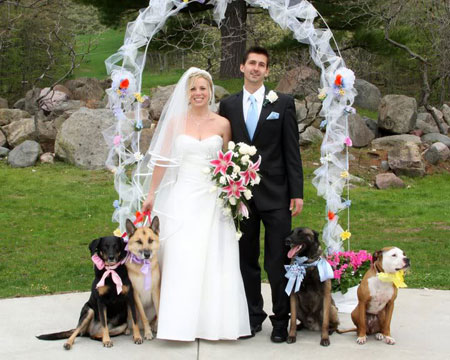 Making Your Dog Part of Your Wedding
Kristen Hedderich is a Wedding Pet Concierge. She's available to make your pet's presence perfect on the big day. Kristen covers transportation, grooming and accommodations for your dog so you can focus on your nuptials.
Listen Now
Parrot Witnesses Murder
Several months ago there was a story about "Bud," a pet parrot that witnessed his owner's murder. Now we find out that a woman in Michigan has been convicted of first-degree murder despite that Bud's testimony wasn't used in court. After the killing, Bud was recorded saying, "Don't F*#&ing shoot," in the victim's voice. A state prosecutor tried to use Bud's phrases as evidence in the trial, but a judge dismissed it.
Listen Now

Read more about this week's show.

Redbarn Peanut Butter Chew-A-Bulls Large 12" Dog Treat
So many ways to listen to Animal Radio. We're on 134+ AM/FM stations, the Animal Radio App for iPhone/Android, iHeart Radio, iTunes, Stitcher, TuneIn, Spreaker and Podcast. NOW YOU CAN ASK ALEXA TO "LAUNCH ANIMAL RADIO." We're available wherever you are!
Listen to Animal Radio LIVE anytime with the FREE Animal Radio App for iPhone / Android. Plus, you'll get notifications anytime there is a recall or news that affects you and your pets.
---
Copyright 2001-21 Animal Radio, its logo and Animal Radio Network(TM) are registered trademarks of Animal Radio Network LLC. All rights reserved. Submissions for newsletter, programming, editorial comments and opinions may be sent to: YourVoice@AnimalRadio.com. See our website for additional information.