Grab Your Pets and Join Us for a Celebration of Animals.
This month:
'Should You Trust Pet DNA Tests' with Dr. Lisa Moses,
The voice of Bart Simpson Nancy Cartwright,
Marshall Tucker Band's Doug Gray Gets Catty,
'Should Homeless People Have Pets?' with Dr. Gillian Squirrell,
Cat-Daddy Jackson Galaxy,
and Pet-Prenups.



Animal Radio® Show #1249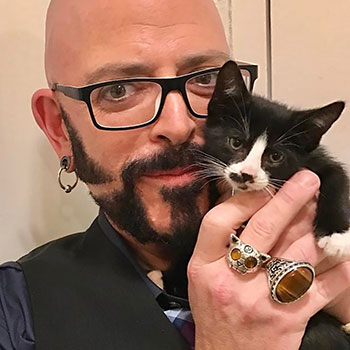 Catification
Cat expert Jackson Galaxy is back. This time he has great ideas for turning your house into a cat-friendly playground without losing its aesthetic appeal. It's not enough to just have a feeding bowl and litter anymore. Cats need stimulation. Jackson has a plan, even if you're a renter. Oh, did we mention we have giveaways of Jackson's book?
Listen Now
Human Separation Anxiety
Forget about canine separation anxiety. Let's talk about how much we miss our pets when we go out of town. 10% of us call our pets to say hi. 4% of us send postcards to our pets. And a whopping 23% of us buy souvenirs for our critters. Tammy Trujillo has all the details about our obsession with our pets.
Listen Now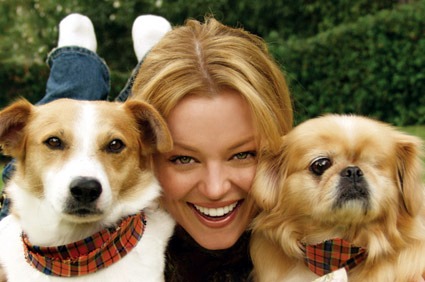 Char Char
Actress Charlotte Ross guests this weekend. This charismatic fireball loves the animals. You've seen her on Glee, NYPD Blue, Nashville and Arrow. But her biggest role is being a voice for the voiceless.
Listen Now
Myths About Fleas Treatment
There are lots of home-remedies for fleas that simply don't work or can be dangerous for your pet. No, Motor Oil doesn't work, and is obviously very dangerous. Lemon juice doesn't kill fleas either. Nor does Dawn dish detergent. Dr. Debbie & Dogfather Joey Villani have what you need-to-know to effectively and safely rid your pet and house of fleas.
Listen Now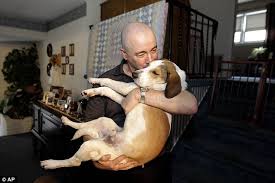 Let's Pass On Gas
Our Hero Person this week is trying to put an end to an archaic method of euthanization. 22 states still use the gas chamber to get rid of unwanted animals. Joe Dwyer adopted a dog that survived a gassing. Now the lucky dog, "Daniel," is the poster-dog for anti-gas chamber legislation.
Listen Now

Read more about this week's show.


Simply the best cat furniture we've ever used. Get 15% off using the code ANIMALRADIO
Animal Radio® Show #1248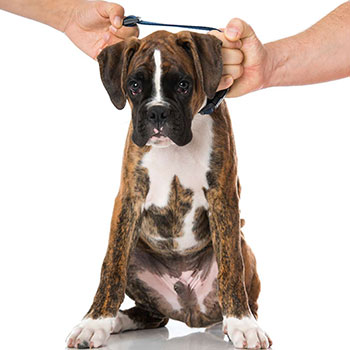 Pet-Prenup
When a marriage breaks up, it's the children who often get caught in the middle, but pets can end up becoming the subjects of custody battles too. Now the British animal charity Blue Cross has come up with what it calls a 'Pet-Nup' that spells out who will get the family pet if a couple splits up.
Listen Now
Goldfish Undergoes Life Threatening Surgery
You don't hear very often, maybe never, about a goldfish having an operation. But you don't often hear about a goldfish having a life-threatening tumor growing from its head. Little George of Melbourne, Australia had both.
Listen Now
Our Hero Needs a Hero!
This week's Hero Person has her hands full with paraplegic and quadriplegic dogs. Elizabeth Forsberg has adopted animals that normally would be put-down because of their handicap.
Listen Now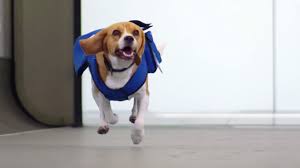 Beagle Returns Lost Airport Items
If you leave something behind when you get off a plane, getting it back can be a real pain. Not so anymore if that plane lands at Amsterdam Airport Schipole. Sherlock will get it back to you, no problem. Sherlock is a beagle specifically trained to return lost items to passengers.
Listen Now
Makeovers For Dogs & Cats
One pet groomer in Yekaterinburg, Russia is doing more than just baths and hair cuts, she's giving dogs and cats makeovers into creatures like mythical green dragons or yellow and black striped bumblebees. Daria Gotz says she only uses dyes made from botanical extracts that wear off once the animal's coat grows out. See the Video
Listen Now
€¦and, of course, Dr. Debbie and Dogfather Joey Villani are answering your pet questions about jumping dogs, TPLO surgery, doggy A.D.D., teaching your bird to talk, fleas, eating poop, ear-mites, hairballs, motion sickness, allergies and aggressive behavior. Call from the free Animal Radio iPhone/Android App.
Listen Now

Read more about this week's show.

Animal Radio® Show #1247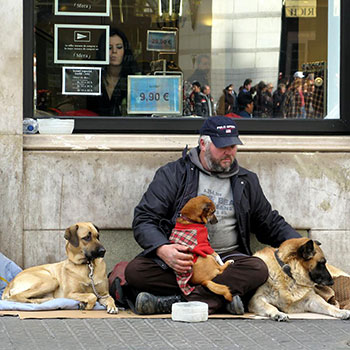 Should Homeless People Have Pets?
Dr. Gillian Squirrell has developed a nonprofit program, Working Dog LLC, for vulnerable adults and young people working with dogs as a way to develop interpersonal and workplace skills. Dr. Squirrell tells us that Working Dog LLC has a small fund for the development of ideas about how to improve support for homeless people and their animal companions. As we know, these clients and their animals can fall through gaps in service provision. Should homeless people have pets? Dr. Gillian states that that is an interesting conversation starter. This is a very under-researched and little understood area. There is a lot of judgment attached to homelessness as well as a lot of fear. People range on a continuum from "Absolutely they shouldn't, they can't look after themselves, to thinking it's a really cute thing," states Dr. Gillian.
Listen Now
Cats With Jobs
Author Lisa Rogek has found 50 cats that have jobs. This isn't easy. Cats are notoriously not workers, unlike dogs. From Grumpy Cat to Kitty Models, Lisa will share the stories behind these frolicking felines.
Listen Now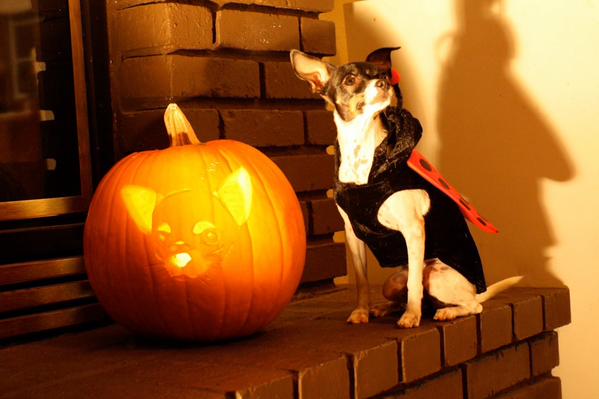 Having A Safe Halloween
Halloween can be a fun time for your pets. But some animals just aren't cut out for the holiday and would be safer cuddled inside on the night of trickery.
Listen Now
Rodent Traps a Pet Hazard
There's a warning for pet owners after a cat was found with its head stuck in a rodent trap. The cat, which was seriously injured, was caught in a Fenn Trap, meant for squirrels and rats. Luckily the cat was found and rescued by a Good Samaritan. Since the incident last month, the SPCA is now calling on people to be aware that setting these traps could be breaking the law.
Listen Now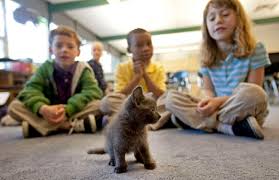 Pets In The Classroom Have A Profound Impact
A new study reveals having a pet in the classroom may provide real educational value through leadership skills and character building. Despite some of the challenges to having classroom pet, such as coping with loss and teachers spending their own money to care for the pet, the study found six objectives proving the benefit of caring for a classroom pet, like teaching children responsibility compassion, empathy, respect and leadership through animal care and providing relaxation when children are stressed.
Listen Now

Read more about this week's show.
Animal Radio® Show #1246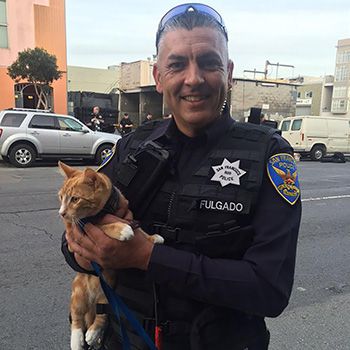 Cat Thwarts Suicide Attempt
San Francisco Police spent hours trying to convince a jumper not to jump. It wasn't until the officers brought in the jumper's tabby cat that the standoff ended. Never underestimate the bond between people and their pets.
Listen Now
Pet Obesity Continues To GROW
Being overweight can seriously impact our health and that of our pets. The Association for Pet Obesity estimates that nearly 54% of cats and dogs in the US are overweight or obese. Lori Brooks has tips to tell if your pet is a healthy weight. We'll also discuss the safest methods for lowering your pets caloric intake and increasing exercise.
Listen Now
Anonymous Hero Saves Dog
An anonymous real life hero saved the life of a dog that was trapped inside a burning home this week in Tennessee.  As someone who witnessed it describes it said, "This guy in a gray mustang pulls up says, 'I do this for a living,' and he runs in and he comes out about two minutes later with this beautiful dog in his arms." Less than a minute later the roof of the home caved in.
Listen Now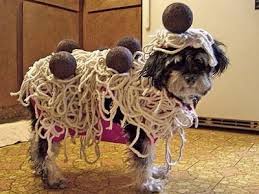 Halloween Pet Hazards
Pets often find it truly scary during this time of year. The things that make Halloween a treat for people can overwhelm many pets. Some parts of Halloween can even be dangerous. On the other hand, some pets absolutely love the holiday. There's no shortage of dogs and cats that love the attention and adulation they receive in their costume. We'll help you determine which side of the scale your pets find most comfortable. Dr. Debbie sees more patients the day after Halloween. She'll explain why and what you can do to avoid the vet.
Listen Now

Read more about this week's show.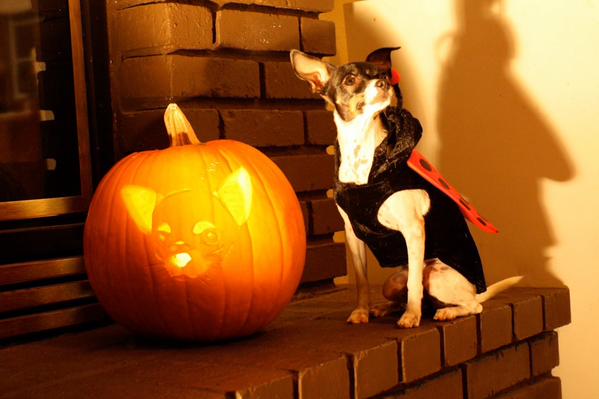 Download the Chihuahua Pumpkin Stencil
Animal Radio® Show #1245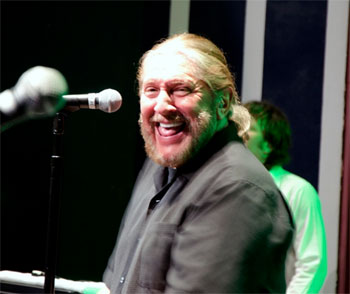 Doug Gray Guests
Animal Radio's Season of Stars continues with the lead singer for The Marshall Tucker Band, Doug Gray. He shares his life with animals, including anecdotes about his Persian kitties, "Cheech & Chong."
Listen Now
Overprotective Owners
Are you fearful that your dog will catch a disease if you let him out of the yard. You're not alone. Numbers of "backyard prisoners" are growing and causing more behavioral problems in the long run. Both Vladae and Dr. Debbie have answers to battle this epidemic.
Listen Now
Dog Dials for Help
Emergency responders in the U.K. say a 2 year-old Basset Hound dialed 9-9-9, the British version of 9-1-1, while he was choking on the phone's cord. The dog reportedly knocked over the phone and became tangled in the cord, and somehow managed to dial for help.
Listen Now
Luggage-Inspecting Beagles
Izzy is among a small number of Beagles employed by TSA that lives and works at an airport. His job is to smell luggage for fruit, meat, plants, seeds and vegetables. Federal officials won't disclose how many canines are employed as "passive response dogs."
Listen Now

Read more about this week's show.


Simply the best cat furniture we've ever used. Get 15% off using the code ANIMALRADIO
Animal Radio® Show #1244
Charleston Airport's Newest Employee
Russ Kennedy holds down security at Charleston's Yeager Airport. He's also the handler for Greg, a border collie that clears runways from geese and other wildlife that could cause a fatal aircraft accident.
Listen Now
The Truth About Dog-Lick Bacteria
A Wisconsin man made headlines after a dog lick led to a rare infection resulting in the amputation of part of his legs and arms. This has set off unwarranted alarm. While the bacterium is extremely common in dogs and cats, the risk posed by being licked is infinitesimally low.
Listen Now
Counting Cats
A coalition of animal groups in Washington, D.C., have started the D.C. Cat Count, which will try to create a more accurate estimate of the city's entire cat population, including both feral cats and pet cats. The project is expected to take three years and cost $1.5 million. The groups hope the information will help improve efforts to manage the cat population. The project will use many different strategies to arrive at a total population count, including an app allowing residents to snap their own images of cats they encounter.
Listen Now
Is It A Dog Or Ball
A dog groomer in Japan is literally turning dogs into fluff balls. Yoriko Hamachiyo is clipping usually small dogs into a ball. He does this by cutting their hair so they look like a soft, fluffy round ball, a ball with legs.
Listen Now
Dog Fraud
Dogs can communicate through scent, leaving their mark everywhere. New research finds that smaller dogs "cheat" by using higher raised-leg angles to leave higher urine marks, thus exaggerating their size to other dogs that would come along and sniff later.
Listen Now
Bart's Voice Loves Animals
The voice of Bart Simpson is our flashback guest. Nancy Cartwright really loves animals. She has an entire menagerie at her L.A. ranch. Her prized pet is a fiberglass cow. Nancy felt that because she's always saying, "don't have a cow man," that she should have one. She also has seahorses.
Listen Now

Read more about this week's show.
Animal Radio® Show #1243
Should You Trust Pet DNA Tests?
Dr. Lisa Moses says there is a place for DNA tests, but only as a novelty. While these tests may show a predisposition towards breed specific diseases, she warns against making medical decisions based on a DNA swab or blood tests.
Listen Now
What We Know About Our Cat Food
A study of 2,000 cat owners reveals many of them are oblivious about what foods could be harmful to their cat's health. More than 50% of those questioned did not know that milk, grapes, raisins, garlic and onions are hazardous to a cat's health. A fifth of owners don't even know their cats are carnivores, with one in 10 feeding them raw vegetables and another one in 20 serving up salad leaves.
Listen Now
Pets Cause 1000 Fires Per Year
"Unattended pets often set their homes on fire and pets can't call 911," according to Zsolt Sapy, the COO of Smoke Alarm Monitoring. Just how does this happen? What can you do to stack the odds in your pet's favor?
Listen Now
Kids Prefer Rats Over Cats Or Dogs
Right Pet has announced the findings of its 8-year pet ownership study that used the data of nearly 17,000 pet owners across 113 countries. The biggest revelation is that children between the ages of 10 and 17 years old say they get more satisfaction owning pet rats rather than cats or dogs.
Listen Now
Cat Lovers Dream Job
If you've ever thought of quitting your job and living out your life saving cats on a picturesque Greek island, here's some great news. A cat rescue in Greece, called God's Little People Cat Rescue, is looking for a new caretaker. They're looking for a part-time caretaker to look after 55 cats with free lodging in the form of the sanctuary manager's house that overlooks the Aegean Sea.
Listen Now
Ed Asner Loved Himself Some Kitty!
The late iconic actor Ed Asner is our flashback to 2010. Bet you didn't know Ed was a "cat" guy? His satirist banter and love for his personal kitties makes this one of most memorable moments of Animal Radio.
Listen Now

Read more about this week's show.
So many ways to listen to Animal Radio®. We're on 133+ AM/FM stations, the Animal Radio® App for iPhone/Android, iHeart Radio, iTunes, Stitcher, TuneIn, Spreaker and Podcast. NOW YOU CAN ASK ALEXA TO "LAUNCH ANIMAL RADIO." We're available wherever you are!
Listen to Animal Radio LIVE anytime with the FREE Animal Radio App for iPhone / Android. Plus, you'll get notifications anytime there is a recall or news that affects you and your pets.


---
Copyright Animal Radio®; its logo and Animal Radio Network(TM) are registered trademarks of Animal Radio Network LLC. All rights reserved. Submissions for newsletter, programming, editorial comments and opinions may be sent to: YourVoice@AnimalRadio.com. See our website for additional information.