In this issue:
* Breakthrough Vet Products for 2010
* Finally, The Answer to What Your Cat Does All Day!
* You CAN Train Your Cat!
* Hire Your Own Personal Drug-Sniffing Dog

Breakthrough Veterinary Products for 2010
Dr. Marty Becker, "America's Veterinarian"

For more than ten years, Dr. Becker has been the popular veterinary contributor to ABC-TV's "Good Morning America." More recently, he has started appearing on the new "Good Morning America Weekend." He has also taped special features called the GMA Pet Clinic, which are one minute vignettes on topics such as giving medications, stopping bleeding and taking a pet's temperature. Which is why we went to him to find the breakthrough veterinary products for 2009.
Dr. Marty Becker is always looking for new, breakthrough products to help pets live happier, healthier, fuller lives, or those that make it easier for the pet owners who take care of them.
This year he polled 122 people and together, they've come up with a list of new, truly breakthrough products in veterinary medicine and those from the pet industry. There are tens of millions of pets who will benefit from their use.
Here is what he found:
Starving cancer - starving cancer cells to death rather than poisoning them
Tyrosine Kinase Inhibitors (Pfizer and AB Sciences) – This comes from our friend, famed, veterinary oncologist Dr. Greg Ogilvie. These are amazing new classes of cancer therapies. Rather than poisoning cancer cells, these high tech products shut down the blood vessels that feed the cancer.
Light up my life - "beam me up on a Scotty" can reduce pain and speed healing
Class IV laser therapy is the use of an intense, narrowly focused beam of light, directed at tissues to reduce pain and inflammation and accelerate healing. Laser therapy is the result of electromagnetic energy interacting both chemically and biologically with tissue, causing "photostimulation" or "photobiomodulation." They're also used extensively for wounds, fractures, abscesses, anal sacculitis, acute ear inflammation, sprains, strains, bladder infections, injection site soreness, skin inflammation and even venomous bites.
Mother Nature's building blocks - using the body's own cells to rebuild
Stem cell therapy offers hope for pets that experience painful osteoarthritis or poor healing of bone, tendon and ligament injuries, by using the pet's own stem cells to promote healing.
Giving Pets Medication – one shot lasts two weeks!


There's nothing worse than having a sick pet where the owner needs to give their pet oral meds daily, leaves clinic with an expectancy that they'll comply, but don't. In practice we call this "Life happens…doses don't." Busy lifestyles, time constraints, and even forgetfulness can keep pet owners from giving pets medication at the appropriate intervals and the prescribed period of time. In a survey, 47% of dogs owners wish there was an alternative to pilling…and now there is! A new long-acting SQ antibiotic called Convenia solves this problem. An injectable cephalosporin for dogs and cats with a uniquely long duration of action (one shot delivers meds for two weeks!). The product is safe (more than 5 million doses have been given globally), powerful, and frees clients from the stress of trying to give meds to pets that don't want to take them.
Battling Bad Bugs – sleeping with the enemy?
Methicillin-Resistant Staphylococcus Aureus (MRSA) is becoming a big problem in both pets and people. People and pets can ping-pong this contagion back and forth with the humans getting a lot more than giving. A study reported in the New York Times showed that 50% of households sampled at random had MRSA. Of those households, when they looked for common factors (thinking it would be gym memberships, children in daycare, people working in the healthcare industry or having recently had an infection) --- all of these came back negative. What they did find was IF you were a cat owner, you were 8 times more likely to have MRSA! Our goal is always: GET RID OF THE RISK, KEEP THE PET. So what can you do to reduce your risk of getting MRSA from a pet: don't wash pet dishes in the same sink you use to prepare food; don't let pets lick you on the face; wash your hands before (important to protect the pet) and after playing with pets; don't come in contact with their feces (wear gloves when changing litter); cover open wounds; if pet has wounds that are oozing, red, swollen or don't seem to heal, take them to a vet immediately! Bathe and/or spray pets with solutions like TrizChlor 4, which is a unique, patented anti-microbial shampoo and leave-on spray formulation that uses synergistic chemicals, tris-edta and chlorhexidine (commonly used liquid antimicrobials used for cleaning and flushing wounds, surgical scrubs, cold sterilization of instruments, throat lozenges, dental washes, etc.). Research indicates that combining the two substances amplifies the effects of both. TrizChlor 4 (covered by one patent with another pending) is the first shampoo and leave-on spray ever utilizing tris-edta (much less mixing it with chlorhexidine).
New treatment for AIDS – new treatment for deadly feline viral diseases
Feline immunodeficiency (FIV) and feline leukemia viruses (FeLV) are the most common life-threatening infectious diseases affecting cats. FeLV can cause cancer and various blood disorders and suppress a cat's immune system, leading to life-threatening infections. FIV, like the human HIV virus, suppresses the immune system and lowers an infected cat's ability to fight off infections. The USDA approved the first and only drug for the treatment of FeLV and FIV, ProLabs' Lymphocyte T-Cell Immunomodulator (LTCI), which can extend and improve the quality of life of cats with these deadly viral diseases. LTCI works by stimulating the body's own immune system, and appears to help the body fight off the virus itself. The drug is administered as a subcutaneous injection by a veterinarian once a week for a month. Injection frequency then decreases, depending on the individual cat's response.
#1 way to stop dogs from eating #2 – Nobody likes it when a dog treats its own (or another dogs) doo like a crap-atizer.
If your dog brings an all new meaning to the word "Doggy Breath" there is help in the form of Copraban – PRN, a convenient, easy to use roast beef flavored soft chew used to deter coprophagia (stool eating) behavior in dogs and cats. Coproban may also be fed to cats to discourage dogs from raiding the litter box.
Dr. Marty Becker, "America's Veterinarian," is the popular veterinary contributor to ABC-TV's "Good Morning America" and the resident veterinarian on "The Dr. Oz Show." He is a frequent guest on national network and cable television, and radio shows. He has also been interviewed for countless magazine and newspaper articles, and has served as a consultant to or veterinary spokesman for top animal health companies. Along with his writing partner, Gina Spadafori, he is a regular contributor to Parade magazine and the Co-creator of popular web site PetConnection.com You can also join Dr. Becker on Facebook as well as on Twitter.
Listen to Dr. Marty Becker on Animal Radio®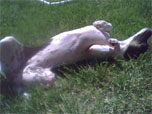 Right now on Animal Radio: 'Betty White' - Betty considers show business as just a hobby with the animals being her real work. She is also not speciest and loves anything with a leg on each corner, no matter what it is. Listen.
Out-Takes for 2009. We share our mistakes (I know – it's hard to believe we make mistakes!) in a special 'out-take' segment. Sit back, listen and enjoy!

What Do Cats Do All Day?
Jill Villarreal, Nestle Purina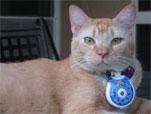 In a survey of cat owners, Friskies found that 71% of cat owners think their cats sleep when they aren't home. But, guess again! Friskies conducted a first-of-its-kind focus group, where they gave 50 cats a small camera to attach to their collars and to answer the age-old question, "What does my cat do when I'm not home?" Animal behaviorist, Jill Villarreal from Nestle Purina, helped with this study.
The cats wore tiny digital cat-cams that were automatically set to take pictures of the cats' explorations every 15 minutes when the owners were away. The resulting photographs uncovered where cats go, what they do, and specifically, what they experience when their owners aren't home.
The most photographed activity was actually of cats looking out windows and interacting with other house pets. They were also caught looking at computer monitors and television sets. The most surprising pictures were those taken around water, like the kitchen sink, the bathroom sink and the bathtub.
There's more to life than a catnap for our feline friends. The results of this first-of-its-kind Friskies focus group are highlighted in the Scratchington Post, an online report showcasing the daily lives of America's cats. The report includes findings from the Cat Sense survey of cat owners; photos from the cat "repurrters' with analysis from Dr. Villarreal; background on each repurrter; and tips on how to help cats live life to the fullest by providing them with rich sensory experiences. Friskies.com/scratchingtonpost
Listen to Jill Villarreal on Animal Radio®
Davy Jones Guest Host on Animal Radio®

British rocker and heartthrob Davy Jones (The Monkees) is back on Animal Radio®. The charismatic musician hasn't missed a beat and is still touring at 64 years old – when he's not with his horses. Jones guest-hosts on this weekend's AM/FM/XM Satellite Radio broadcast of Animal Radio®.
"It's amusing though, most people think I'm dead ...but I'm not really. I'm just out-there," Jones tells Animal Radio® listeners. He says he's regularly visits the other Monkees in their rest-homes.
"Davy Jones gets nostalgic and engages the listener on every word…he's a great entertainer and the true talent on this week's show…he's also still petty cute" says Animal Radio® Executive Producer Judy Francis.
Hear this special Animal Radio® broadcast on XM Satellite Radio ch. 158 (America's Talk) Saturday January 9th at noon EST and Sunday 5 pm EST, or on any of the 99 AM/FM radio affiliates, including KOST 103.5 Los Angeles. See more listening options at http://AnimalRadio.com

Drug Sniffing Dogs For Hire
Raul Perez, Abet Security Systems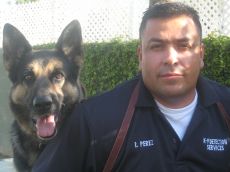 Parents have a new tool in the war against drugs – drug-sniffing dogs!
Raul Perez, of Abet Security Systems, began to offer the drug-seeking dog service to the public in 2000 and has seen the requests for his dogs steadily increase over the years. Parents who believe their children might be involved with drugs personally request his service.
Raul believes in the privacy of children, even his own, but if he believes that they are doing something behind his back, he wouldn't hesitate to use one of these dogs.
Raul currently has three dogs. It normally takes 6 to 12 weeks for them to complete their training. He will also do training sessions for guardians who want to train their own dogs.
Abet Security is certified by the Drug Enforcement Agency in order to conduct these searches in the homes of consenting parents. However, they can only search rooms that belong to the minor child of the adult. And if they happen to find any drugs, they do not have to alert any law enforcement. They can hand the drugs over to the parents and let them decided how to handle it with their child. AbetSec.com
Listen to Raul Perez on Animal Radio®


Get $3.00 OFF World's Best Cat Litter NOW!

On Animal Radio® this month

The American Veterinary Medical Association (AVMA) is letting smokers know there is another good reason to quit smoking—the health of their pets. Most people are aware of the scientific research that shows that people who smoke are more likely to get certain types of cancer and other diseases, but a lot of people don't know that the same goes for the pets of smokers. Second Hand Smoke is very threatening to our dogs and cats. Tune in to find out just how dangerous it is and what types of cancers they are more likely to get as a result.
If you're a pet owner, the HAPPY ACT just might bring you a tax deduction! HAPPY is an acronym for The Humanity and Pets Partnered Through the Years Act. Also known as House of Representatives Bill 3501. The Happy Act was introduced by Representative Thaddeus McCotter, a Republican from Michigan. Should the HAPPY Act pass in its present form, it would allow pet owners to deducted the cost of food, veterinary care, and other pet related expenses from their income taxes – up to $3,500 per year.
You Can Train Your Cat
Gregory Popovich, Comedy Pet Theater

Since the beginning of time, cats have convinced the world that they are untrainable so they can do whatever they want…but those days are over! Gregory Popovich is a professional cat trainer, who's worked with cats for over 20 years and has trained them to perform amazing circus-style tricks for television and stage.
Gregory created The World Famous Popovich Comedy Pet Theater showcasing the extraordinary talents of his performing pets. After every show, someone comes up to him and asks him the same question, how did you train your cats?
So, he decided to put his answers down in a book, :You Can Train Your Cat: Secrets of a Master Cat Trainer.: In his book, you will find tips on how to train your cats to do circus-style tricks, as well as:
* Stop bad litter box habits
* End early-morning howling
* Banish your cat from tabletops and countertops
* Prevent begging before mealtime
* Put an end to destructive clawing
* Make peace between rival cats
One of his secrets is that you can't "train" a cat to do anything it doesn't want to do. As a result, he tries to build on the animal's natural habits and what they like to do. For example, if he has a cat that likes to walk around his legs, he has the cat do that in his show. Or perhaps he has a cat that likes to sit on his shoulders. He will then use that cat to do this is in his show. Each cat in his show only has one or two tricks. But, because he has about 18 cats in his show, he has about 18 different cat tricks.
While it saddens Popovich to think about any animal as being unwanted, he said it's important to support organizations that focus on preventing pet overpopulation and work to find every animal a good home. That is why all of his animals are adopted from shelters.
"My pets all got a second chance," Popovich said. "Other animals should have that, too."
You can see Gregory Popovich and the Comedy Pet Theater at the Miracle Mile Mall at Planet Hollywood Casino Resort in Las Vegas, Thursdays through Mondays. ComedyPet.com
Listen to Gregory Popovich on Animal Radio®

Healthy Natural Dog Food: Humans vs. Dogs
Dr. Janice Elenbaas

I have always been interested in knowing how dogs function. Looking at how they are built and how they differ from humans helps us understand them. With this knowledge, we can also choose foods that suit their physiology to help them live long and healthy lives. For those of you that are frequent readers, you know I have a passion for healthy natural dog food. To understand the differences between humans and dogs is to understand why they need quality proteins and whole foods.
Let's start with the teeth and jaw. Dogs have 42 well-spaced teeth. People have 32 and our teeth are close together. The space between dogs' teeth allows food to enter quickly. Dogs' mouths are funnels to get food into the stomach as quickly as possible. Your dog gulping his food is his natural way of eating. He has fewer taste buds than we do, so there appears to be no need for him to savor his dinner! Our canine friends also lack the ability to grind food. Their jaws only allow up and down movement, not side to side like ours. They also do not predigest starches in the mouth like we do. We get cavities. Dogs get more tarter build up, but no cavities!
It takes about 5 seconds for food to move from their mouth to the stomach. Once in the stomach, the food is stored and digestion begins. Dogs have more acid in their stomachs than people do and this allows them to break down bacteria more effectively than we can. They also have this antibacterial ability in their saliva.
The small and large intestine in the average human is approximately 36 feet long. That's the length of a school bus! A 70 lb dog has a 6-foot long intestine therefore dogs need high quality proteins to be able to digest them quickly. People have longer digestive systems so we can handle eating raw fruits and vegetables. Give a dog a piece of whole carrot and it comes out the other end much the same way it entered!
Complex carbohydrates and vegetables should be cooked and vegetables pureed to allow predigestion. Cooking keeps the glycemic index low to help maintain even blood sugar levels. This causes less stress on the pancreas and liver and less chance of developing diabetes.
If you are like me and have your dog sleeping on the bed with you it's not a great leap to understand that after being domesticated for thousands of years dogs, while different from humans in many ways, are similar in others. You need whole natural foods to thrive in our environment and your dog needs, healthy natural dog food to do the same.
Look for more info on dogs vs humans in upcoming segments.
Dr. Janice Elenbaas DC has had a long and successful career as a Chiropractor to both humans and animals. As the first woman recognized to adjust animals in Canada and a founding member of the first Ontario Veterinarian Chiropractic Association she is passionate about our animals' health. With four years of Nutritional Studies coupled with a natural approach to health care and a lifelong love of animals it was only natural that Dr. Elenbaas founded Lucky Dog Cuisine Inc. A company dedicated to providing All American, all natural, "Human Grade", cooked meals for dogs. For more information or to contact Dr. Elenbaas please go to www.luckydogcuisine.com.

EVENTS:
Crystal Cat Watch Raffle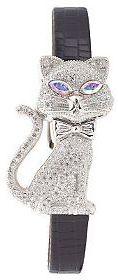 Donated by Carleen Bubenik of Sanger for your raffling pleasure, this Gossip Pave Crystal Cat Design Watch can be yours for the price of a single raffle ticket if you are the lucky winner!
Mesmerizing with marquise-shaped aurora borealis eyes, a fabulous feline shines with clear pave crystals covering its body, tail, and face. The chic cat covers this Gossip(R) watch's white dial. Silvertone hour, minute, and second hands and Arabic numbers at 3, 6, 9, and 12 complete the face. A black croco-style strap finishes the fun, fetching look. Stainless steel case back. Approximate measurements: Strap 6-1/2"L to 7-1/2"L x 3/8"W. Cat 2"L x 1"W.
We will draw the winning ticket February 8, 2010 live on our webcam at noon Pacific Time, weather permitting.
Raffle tickets are just $1 each, but there is a $5 minimum purchase to cover our costs. To enter send a check or money order made payable to The Cat House on the Kings and marked "RAFFLE TICKETS" in the memo section to The Cat House on the Kings, 7120 S. Kings River Rd., Parlier, CA 93648 and your tickets will be mailed back to you within 10 days. You need not be present to win.
Please note: We are not permitted to accept raffle ticket payments online. We apologize for the inconvenience.
The Cat House on the Kings is California's largest no-cage, no-kill, lifetime cat sanctuary and adoption center located on 12 acres along the Kings River in Parlier, California, which is in the central San Joaquin Valley, southeast of Fresno. Since its founding 17 years ago, The Cat House on the Kings has saved over 18,000 cats and 5,000 dogs (not counting the 40,000 animals we have spayed and neutered!) and currently cares for more than 700 cats and kittens in a unique, cage-free environment! Take a tour of our facility! The Cat House is a 501(c)(3) nonprofit corporation and receives no government or public funding, and relies entirely on donations from the public to carry out its mission. You can help The Cat House on the Kings just by spreading the word! Just send this link to our YouTube video to all your friends and family.
For more information, please contact us.
Have you had a chance to browse the New Animal Radio® Archives? AnimalRadio.com has a brand new look and feel for 2010!!
Copyright 2003-09 Animal Radio®, its logo and Animal Radio Network™ are registered trademarks of Animal Radio Network LLC. All rights reserved. Submissions for newsletter, programming, editorial comments and opinions may be sent to: YourVoice@AnimalRadio.com. See our website for additional information.
This posting includes an audio/video/photo media file: Download Now