Animal Radio® Show #892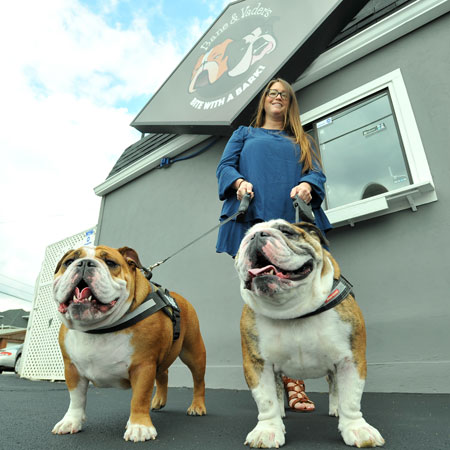 Doggie Drive-Thru
Amanda Brown opened a drive-thru fast food restaurant for dogs ONLY. Your dog can get the popular Bow Wow Bowl with their choice of protein, vegetables or grains in an edible bowl. Bane and Vader's opened their flagship store in Easton Pennsylvania. Amanda has plans to franchise this idea, which came to her when she saw research showing that humans often ordered food for their dogs when going through a fast food drive-thru.
Microchips and Misconceptions
While microchips are a very important part of pet identification, they will not help you find your missing pet unless it's picked up and scanned by a veterinarian or shelter. That's why Dr. Debbie recommends a visible tag and perhaps a GPS collar. Only a GPS collar will allow you to track your pet's location using your smart device or computer.
Shop Cats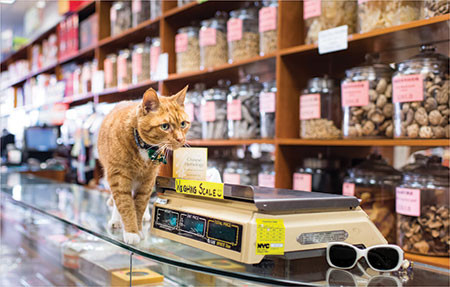 Do you know of a business that has a token cat? You'll certainly appreciate the "Shop Cats" in Tamar Arslanian's new book. She features, in both picture and the written word, the most notable shop cats in New York stores. Take for instance, the wine store cat that has his own chiropractor, or the cat that is a mascot at a dog boutique, or the occult shop cat that totes a magic wand in her mouth.
Will There Be an Animal in the Whitehouse?
A philanthropist wants to do something to make the Trump White House more like those in the past: She wants Donald Trump to have a presidential pet. The very wealthy Lois Pope, who is also the widow of National Enquirer founder Generoso Pope, announced that she was giving "Patton," a ten-week-old golden retriever/poodle mix puppy to the Trumps.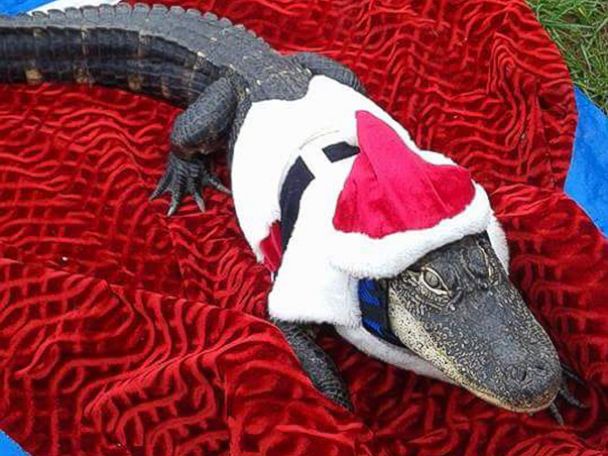 Clothes Wearing Alligator Gets Pardoned
Following months of negotiations with Florida state officials, Mary Thorn has been given a permit that will allow her to keep her pet alligator, Rambo, who she says is fully trained and not a "normal" gator. Mary dresses Rambo in human clothing to protect his sensitive skin.
Stealing Your Pet's Pain Killers
Stealing from a sick animal may seem a low way to get a drug fix, but it happens frequently. Opioid abuse is rampant and a survey from Baylor College of Medicine reveals a surprising number of pet owners steal their pets' medications, especially painkillers and namely the drug Tramadol.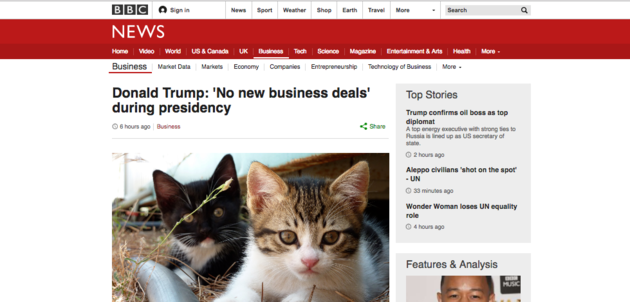 App Replaces Trump Pictures with Kittens
Hopefully we all have found our sense of humor again after the election of 2016. If you are an animal lover, you should find this pretty amusing too. Google now has an extension for its Chrome browser, called Make America Kittens Again. It replaces pictures of president elect Donald Trump with pictures of adorable kittens.
Listen to this Animal Radio® episode
Have you downloaded the free Animal Radio App for iPhone - Android - Blackberry? It's been updated and it's better than ever.
-Ask Veterinarian Dr. Debbie White and Dogfather Joey Villani your pet-related questions directly from the app.
-Get up to the minute news and recall alerts.
-Watch videos.
-Listen to current Animal Radio show or browse archives.

-Browse our knowledge-base.
-Call us directly on the Animal Radio App Hotline.
Launch the Animal Radio App at least two-times to be entered to win weekly prizes.
Animal Radio® Show #891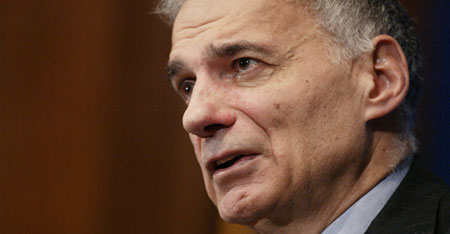 Ralph Nader Guests
Named by Time, Life and Atlantic magazines as one of the hundred most influential Americans, former U.S. Presidential candidate Ralph Nader is our guest. Now, he's speaking out for the animals in his new book called "Animal Envy."
Teens Invent for Dogs
Josh and Zach Armstrong are 13 and 15 respectively. They're home-schooled. But don't let that fool you. They've invented an electronic circuit that a blind dog can wear on his collar to alert him of impending obstacles. They'll tell their story to us this weekend.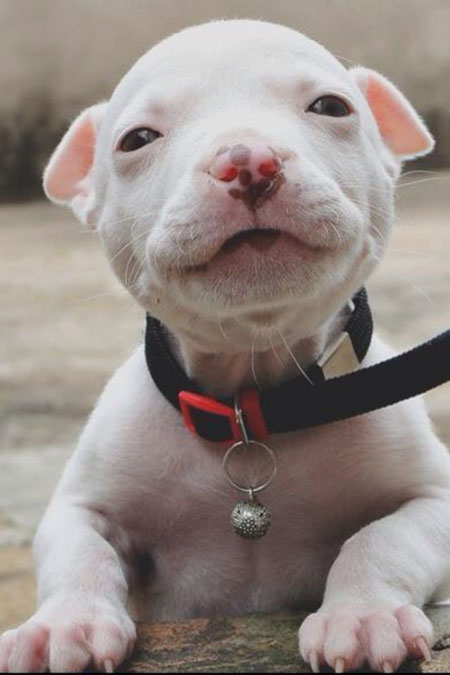 The Misunderstood Pit BullThe Pit Bull Life
Author and pit bull advocate Deirdre Franklin wants you to know that the breed gets a bad-rap. She'll tell us why pit bulls are misunderstood. If you're thinking of adopting this adorable breed, you'll need to know what hurdles lay ahead.
First Time in 150 Years There Will Be No Pet in the Whitehouse
Barring a new addition to the Trump household between now and Jan. 20, Donald Trump will become the first president in 150 years who does not have a pet. Aside from the benefits they've bestowed on first families, presidential pets have for decades served to soften a president's image. Martin Van Buren had tiger cubs, Thomas Jefferson and Theodore Roosevelt had bears and Calvin Coolidge had a pygmy hippopotamus.
The Gnarly Yeast Infection
If your dog has ever had to deal with a yeast infection, you know how itchy and uncomfortable your furry-friend can be. Not to mention the stink! These infections are usually secondary of a bigger problem. Dr. Debbie can help you identify the problem and get your dog back onto the recovery path.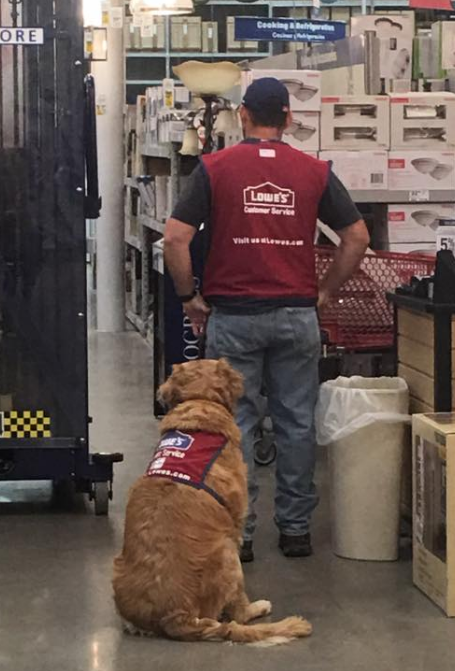 Dog Lands Jobs at Lowe's
Clay Luthy is an Air Force veteran who can't go anywhere without his 10-year-old service dog Charlotte, even to work. That's why the dynamic duo is especially overjoyed that they finally landed a job at the Lowe's in Abilene, Texas. Up until Clay's wife gave him the idea to apply at Lowe's, the veteran had a hard time finding a business that would be okay with his Charlotte following him around in a work zone. Lowe's Human Resources Department says, "Clay won the job on his own merit, but the company just got the benefit of getting Charlotte right along with him."
Listen to this Animal Radio® episode
Animal Radio® Show #890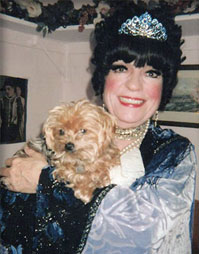 Jo Anne Worley Returns
Actress, Comedian, President of Actors and Others for Animals, and all-around funny gal Jo Anne Worley (Laugh In) returns to Animal Radio to talk about her one true love, "Harmony" her 5-pound Yorkie. She proves that laughing and loving animals is all we need to be a happy soul.
Laundry Pods Dangerous for Animals
You probably know those laundry detergent pods that so many people are using these days are dangerous to children, but did you know they are very harmful to pets as well? Most soaps and detergents contain chemicals called ionic and anionic surfactants. When a small amount it is ingested, it is possible for pets to become sick with gastrointestinal upset (drooling, vomiting, and diarrhea) and even come down with serious respiratory issues.
Why God Created the Dog and Cat
Former ASPCA CEO Ed Sayres tells the story of how God decided to create the dog and cat. We'll also share several other holiday themed stories that will touch and inspire the animal lover in you.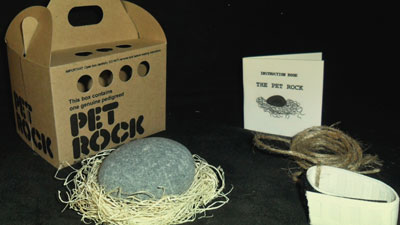 Pet Rocks
Nordstrom's has sold out of pet rocks! An $85 leather-wrapped stone sold out online store after going viral on social media. A spokeswoman for the retailer declined to say exactly how many pet rocks were sold. If you're old enough, you may remember the pet rock craze in 1970 that made Gary Dahl a millionaire six-times over.
Taking Your Pet's Picture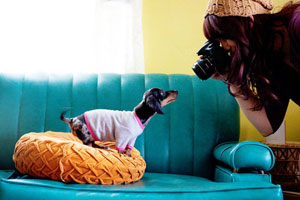 Photographing your pet may not be easy. It's tough to get the right shot in the right lighting. Britt Savage has tips for taking excellent photos of your furry-family this holiday season.
Listen to this Animal Radio® episode


**Print a $1.00 OFF COUPON for Red Barn Pet Food**
Animal Radio® Show #889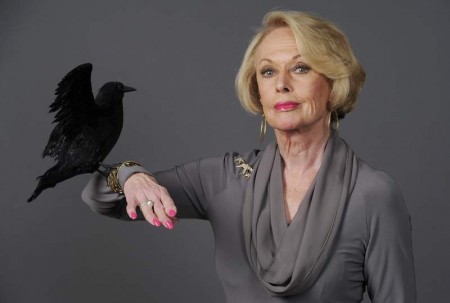 The Big Cat Is Back
Actress and Animal Activist Tippi Hedren (The Birds - Shambala) returns to Animal Radio to talk about life living with Lions, Tigers and Ligers, oh my. She rescues tigers that were purchased as pets and out-grew their home. She's also forged legislation that outlaws exotic animals as pets. Animal Radio will hook you up with her new autobiography, Tippi.
Turtle Doves Drives Up Cost
The slow recovery of the U.S. economy may be responsible for the increasing costs of the 12 Days of Christmas. The price of two turtle-doves has jumped from $290 last year to $375. But, the partridge in the pear tree, which has actually become cheaper, has offset the total cost.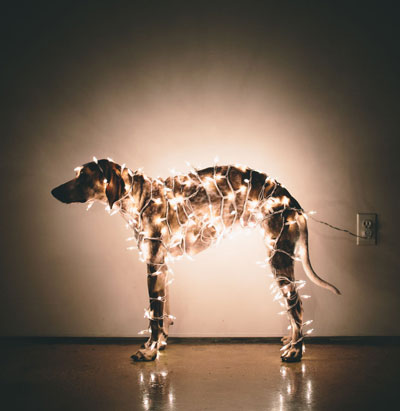 Signs of Holiday Stress in Dogs
The holidays can be stressful for everyone, both humans and our pets. While some dogs enjoy the increase in activity and new experiences that come with holidays, there are lots of others who are not fans of change and all the chaos that can come with it. Lori Brooks will help you recognize signs of stress in your pet, so you can remove them from dangerous situations and help them relax.
Rising Pet Health Care Costs
Pet owners may shell out as much, or more, money for their pet's health care as they do for their own health care, and it's mostly because of pricey new technologies and more advanced treatment options. Healthy Paws Pet Insurance most expensive insurance claim was for a 3-year-old female French Bulldog diagnosed with inter-vertebral disc disease with a final bill of $44,296.
Parrot Only Witness In Murder Case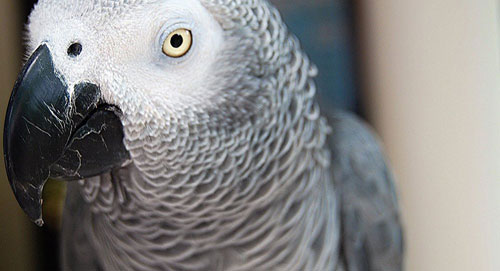 Court proceedings are underway in Newaygo County, Michigan, where a preliminary hearing has been held for a woman accused of murdering her husband and their parrot is the only apparent witness. The couple's pet, an African Gray parrot, apparently witnessed the shooting and began repeating words from the victim just moments before his death. The parrot has been recorded as saying, "Don't F*#&ing shoot."
Listen to this Animal Radio® episode

Free Pets and People Drug Discount Card

You may already know how expensive pet medication can be. Especially when pet insurance doesn't cover drugs.
Animal Radio® wants to help out. We don't want any pets to go without the medicine they need.
Animal Radio® made a deal with the top pharmacies to save you up to 55%.
- The Animal Radio® Pets & People Drug Discount Card is FREE.
- It offers 15-55% discount on pet medicines or uninsured human medicines.
- It's usable at almost 60,000 pharmacies, including Walgreens, Wal-mart, Rite-Aid, Target, Costco, CVS...all the biggies!
- Card is pre-activated and never expires.
- You can learn more and print out the FREE card online HERE
Or, if you would like us to mail you a free card, send a self-addressed stamped envelope to:
Animal Radio Drug Card,
699 Paula Street,
Morro Bay, CA. 93442
Please help spread the word. Your friends will thank you.
Animal Radio® Show Highlights
Animal Radio® is on iHeart Radio!! Listen to full shows or Listen to highlights
Hang In There Kitty
Mo Golden is the brain behind InsPURRational posters for cats. These posters can be placed wherever your cat goes. Your cats can read the motivational affirmations.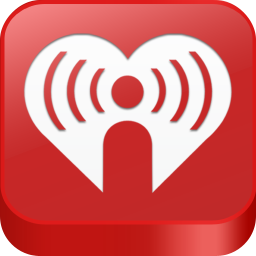 Listen Now


That's One Big Rodent!
The latest pet craze is the Capybara. This 100-pound rodent hails from South America. Jennifer Wren tells us about her Capybara.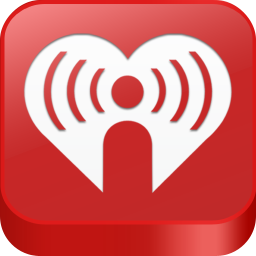 Listen Now

PETCO Thinks You Want Spiders
PETCO has announced they're now expanding their tarantula offerings, as they make great pets.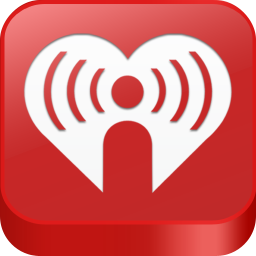 Listen Now

Ralph Nader Guests
Ralph Nader named one of a hundred most influential men in America. Now he joins us to tell us what animals would say if they could talk our language.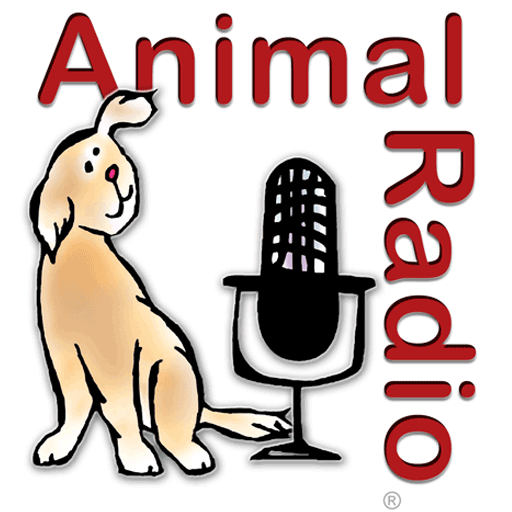 Listen Now

Tails Inc January Pet Events
Janice Gork of Tails Inc Magazine is here with the January Pet Events Calendar.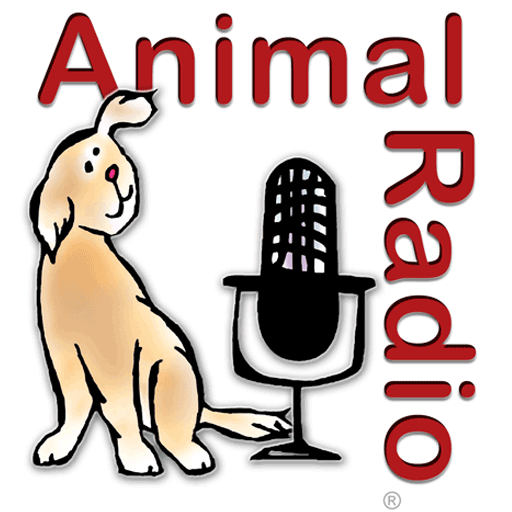 Listen Now
So many ways to listen to Animal Radio®. We're on 133+ AM/FM stations, the Animal Radio® App for iPhone/Android, iHeart Radio, iTunes, Stitcher, TuneIn, Spreaker and Podcast. We're available wherever you are!
We welcome our 134th radio affiliate this week. KZWY 106.3 in Sheridan/Gillette Wyoming. Listen at 10am on Sundays.
The Animal Radio® APP is available for Android and iPhone. Listen on your schedule. Ask our Dream Team questions directly from the App. It's a FREE Download! It's made possible by Drs. Foster & Smith.
---


Copyright 2001-17 Animal Radio®, its logo and Animal Radio Network(TM) are registered trademarks of Animal Radio Network LLC. All rights reserved. Submissions for newsletter, programming, editorial comments and opinions may be sent to: YourVoice@AnimalRadio.com. See our website for additional information.