Catch Animal Radio in bite-size pieces.
Introducing Animal Radio Highlights available from iTunes and iHeart Radio.
Animal Radio® Show #1005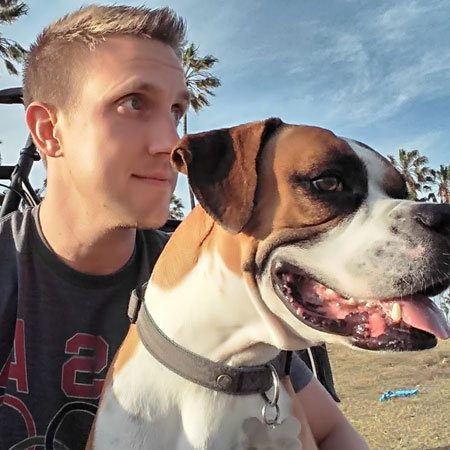 Rocky Kanaka Isn't Just A Cool Name 
Emmy Nominated TV host Rocky Kanaka is on a mission to find hard-to-adopt rescue dogs their forever home - all while creating a day of fun doggie activities most could only dream of. He chronicles his adventures in a You Tube series called 'Dog's Day Out.'
Does Your Dog Get Enough Exercise?
You know your dog needs exercise, but is it getting enough? The average adult dog needs at least 30 minutes of exercise each day to stay fit and healthy. A study by the dog food company Forthglade, reveals that less than half of dog owners walk their dog on a daily basis, with the average weekday walk being under 20 minutes.

Cat Inherits Fashion Designer's Fortune
After the passing of fashion designer Karl Lagerfeld, his cat Choupette, is expected to inherit at least some of the designer's fortune. Prior to his passing, the 85-yr-old Lagerfeld told a French magazine that his cat is an heiress. Lagerfeld had an estimated net worth of up to $300 million and his cat will likely inherit at least a portion of that.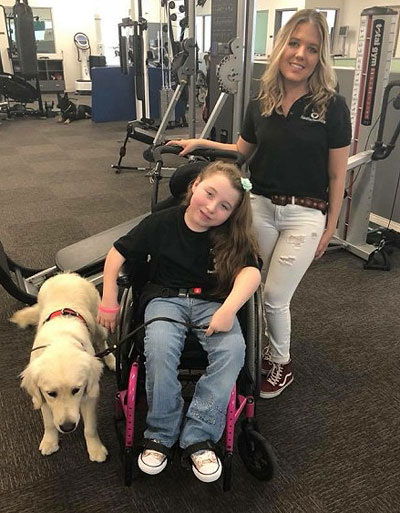 18-Year-Old Hero
Born with Muscular Dystrophy, Tabitha Bell was told she would need a wheel chair by the time she was 12. Instead, she got a balance & brace service dog. The human/dog partnership was so successful that she decided to start her own non-profit to help match service dogs with those that may not be able to afford the $10,000 entry level. Tabitha tells us that she's working on matching a 6-year old diabetic with a dog that can alert someone when blood sugar spikes.
Traveling With Pets Is Big Business
It's estimated 68% of U.S. households, or about 85 million families, have a pet. When those 85 million pet parents hit the road, they can either take their pet with them, or have someone else take care of the furry family member either in their home or a boarding facility.  That's where "pet resorts" or high-end kennels come in such as the D Pet Hotels in Los Angeles. They offer boarding, daycare, grooming and even chauffeur and boutique services. For boarding, your dog might enjoy the Uber suite, a 12' x 22' room with a queen bed and 42" TV.
Home Grooming Kits
Animal Radio's Dogfather Joey Villani warns against casual use of the popular grooming kits available at your pet store. Joey says, improperly used, besides giving your dog a bad haircut, you can easily burn their skin. "Take your pets to the groomer instead." Is Joey trying to drum up business for professional groomers nationwide?

#1 in the Animal Radio Book Club
Animal Radio® Show #1004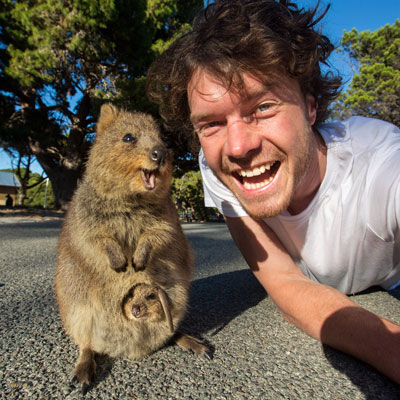 "Making Bank" Taking Selfies With Animals
Allan Dixon won the best job in the world. He gets paid to take pictures with animals. Allan has an uncanny ability to 'talk' animals into posing for a selfie with him. This might sound like the most privileged, millennial job in the world, but Dixon worked for this role. He'll explain to Animal Radio listeners.
Breed Specific Legislation Isn't Working
There's a new study out by researchers in Denmark on the impact of Breed Specific Legislation (BSL), which is often a city or even country's attempt to ban dog breeds it deems as vicious. The results showed that BSL there had no effect on hospitalizations for dog bites.
People Cuddle More With Pet Than Significant Other
According to a new survey, nearly half of pet parents cuddle with their pooch more than their significant other. The report also found that 24% said they took more pictures with their dog than with friends or family members. 1 in 3 pet parents take their dog along on dates. Why? Respondents said it's because their dog is a good judge of character. More than half said they would consider ending a relationship if their partner didn't like dogs or was severely allergic.
Tails From A Celebrity Pet-Sitter
Have you ever considered quitting your stupid job to become a pet-sitter? Laura Vorreyer shares stories about her bustling Los Angeles dog-walking business. She'll dole out advice for the aspiring pet-sitter.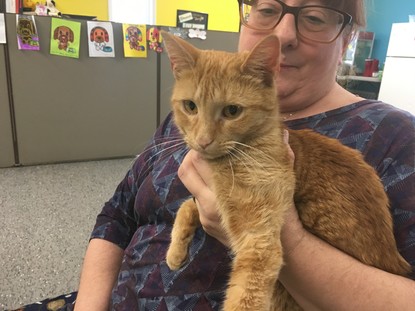 Cat Frozen To Guardrail
A woman in upstate New York recently saw a post on Facebook about a cat thought to be sleeping on a highway guardrail. She rushed to the location and realized the cat wasn't sleeping. It was stuck. Two of its paws and the cat's tail were frozen to the guardrail so it couldn't get free. The cat, whose name is now "Elsa" from the movie Frozen, was checked out at a veterinary hospital and found to be in pretty good shape.
National Weather Service Issues 'Small Dog Warning'
The National Weather Service is typically pretty stoic with its forecasts and advice, but on one day earlier this month a satellite office of the weather service in Ohio issued an "unofficial Small Dog Warning" on Twitter due to strong winds gusting to 50 mph in parts of Ohio and Pennsylvania. The Tweet said "Hold on to your pooch! Be sure to make sure both your trash can and your dog don't blow away!"

Australia Bans Cosmetic Testing On Animals
The Australian government has passed a bill that effectively bans animal testing for cosmetics sold in the country. Australia will no longer accept results derived from animal experimentation as evidence of a product's safety or effectiveness. This means cosmetic brands will be required to show that their products are safe with non-animal testing methods. A majority of Australians, 85% are against animal testing for cosmetics. Lori Brooks reports.
Woman Gets Stuck In Tree After Trying To Rescue Cat
A woman who climbed a tree to rescue her cat ended up having to be saved by firefighters after she also got stuck in the tree. She was stuck for 45 minutes before firefighters eventually helped her down with a ladder.
Listen Now






Animal Radio comes to you from the Red Barn Studios
Animal Radio® Show #1003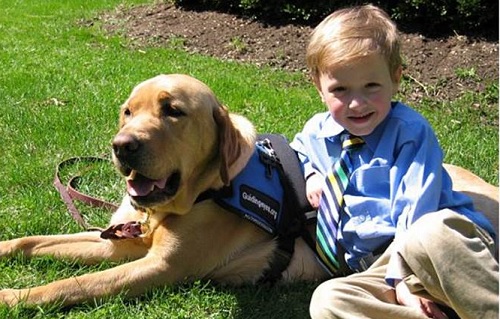 Should Young Children Have Service Dogs? 
In a recent NBC Today Show segment, a 3-year-old girl born with a debilitating lung disease was given a service dog to help her maneuver around with the always-present oxygen tank. The use of service dogs for young children is increasing in popularity. There are service dogs assigned to children with autism and other special needs. From the perspectives of veterinary behavioral medicine and dog bite safety for children, this trend deserves a second look according to Dr. Ilana Reisner. She says "children don't understand the limitations of their canine charges."
The Truly Universal Language
Darwin believed that musicality was a capacity of all animals, human and nonhuman. Dr. Henkjan Honing is researching how animals respond to music. He tells Animal Radio what he has learned about how dogs, birds, monkeys, sea lions and cockatoos interpret musical nuance.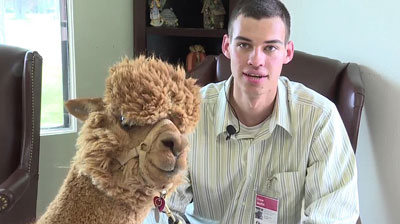 Emotional Support Alpacas Must Go
An Ohio family is facing a deadline to find new homes for their alpacas, which they consider therapy pets. A neighbor claims the alpacas are a nuisance because it's turned his neighbor's backyard into a smelly pasture. The alpaca owners say they've been cooperative with the city and have already re-homed two alpacas. They now claim that they clean up after the remaining duo on a daily basis. These alpacas are not outside all the time though. They are indoor-outdoor pets. The owner claims alpacas are quieter and their poop smells less than a dog's poo.
FBI Investigating Pet Scams
The FBI has issued a warning on pet adoption scams. Beth Anne Steele of the FBI says, "Fraudsters are prowling the web to find families who are so desperate for the perfect pooch that they are willing to adopt sight unseen." The scam usually starts when someone comes across a pet adoption ad online then unwittingly engages with the scammer and proceeds to pay a series of fees.
Animal Radio® Show #1002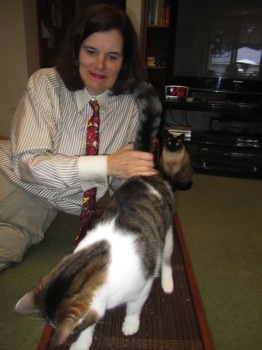 Crazy Cat Lady Paula Poundstone
We're flashing back to comedian Paula Poundstone's guest spot in 2012. She proudly defends being the cat mama to 16 cats (3 if the landlord asks). She's trying to decide whether to buy cat litter or send her kids to college.
Wag App Cautionary Tails
A Houston couple is finding out firsthand some of the unintended consequences that can come with letting a stranger on an App take care of your pet. Their version of the unthinkable happened when they trusted a stranger on the "Wag!" app to walk Winnie, their 10-month-old Wheaten Terrier. Winnie died on that walk. The husband says Wag! representatives have not offered any details into how Winnie died. Wag did offer to reimburse the couple $188.71 for Winnie€™s cremation costs if the couple signed a non-disclosure agreement, stating that, among other things, they would be legally required to keep quiet about what happened to Winnie. Just eight days before, another Wag! dog-walker in California was charged with animal cruelty after police say he kicked one of the four dogs he was walking.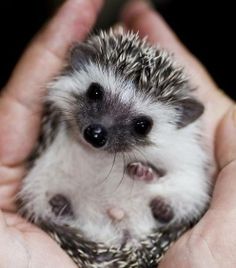 Cuddly Hedgehogs Carry Salmonella
Government health officials are warning that there have been at least 11 people infected with the outbreak strain of Salmonella Typhimurium in 8 states. All involved hedgehogs. Even when hedgehogs appear healthy, the CDC says they can carry salmonella germs in their droppings. Those germs can then spread around the hedgehog's body and then to anything in the area where they live.
Aspirin Can Be Fatal For Your Pet
While Aspirin might be just what the doctor ordered after a night out drinking; your dog or cat's body won't assimilate the chemicals safely. Enough 'well-meaning' aspirin can kill your pet. Same holds true for Acetaminophen and Ibuprofen. There are a lot safer anti-inflammatory medicines that your veterinarian can prescribe. Animal Radio's Dr. Debbie has a tip for determining if something your pet swallowed is toxic and if you should go to the veterinarian.
Listen Now





Listen to FM on your smartphone. No Internet connection needed. Get 10% off Soundot with promo code 'animalradio'
Animal Radio® Show #1001


From Caped Crusader to Canine Crusader
Actor Burt Ward was the original 'Robin' on the hit series Batman. Now he€™s devoted to giant breed dogs and runs the Gentle Giant Rescue. He tells Animal Radio that as many as 25 Great Danes share his bed with him and his wife Tracy.
The Secret Life of Mac
Inspired by the viral videos of cats stealing clothes and other items, author Melinda Metz weaved a story about a Klepto-kitty named Mac who will steal your heart. Why is it some cats, left to their own devices, choose to abscond with everything from lingerie to money?
EMT€™s Can€™t Treat Animals€¦ Yet
Police in Boston are praising proposed legislation that would allow emergency medical service workers to treat police dogs injured in the line of duty. Currently, Massachusetts' laws penalize EMT's if they assist an animal in an emergency.
Can Our Pets Become Addicted To Opioids?
The opioid crisis isn't just impacting people. A new study in Pennsylvania says there's been a big increase in the amount of pain medication being prescribed for pets in the state. The new research shows opioid prescriptions for animals in the state are up 41% over a 10-year period. It's unclear why there's been such a dramatic increase. But, if opioids are so addictive for humans, are they addictive to pets?
So many ways to listen to Animal Radio®. We're on 133+ AM/FM stations, the Animal Radio® App for iPhone/Android, iHeart Radio, iTunes, Stitcher, TuneIn, Spreaker and Podcast. We're available wherever you are!

Listen to Animal Radio LIVE anytime with the FREE Animal Radio App for iPhone / Android. Plus, you'll get notifications anytime there is a recall or news that affects you and your pets.


---
Copyright 2001-20 Animal Radio®, its logo and Animal Radio Network(TM) are registered trademarks of Animal Radio Network LLC. All rights reserved. Submissions for newsletter, programming, editorial comments and opinions may be sent to: YourVoice@AnimalRadio.com. See our website for additional information.