Cats and Dogs Banned

Cats and dogs are being banned in Saudi Arabia and Iran. Religious police authorities, who are normally tasked with chiding women to cover themselves and ensuring men attend mosque prayers, are turning to a new target: cats and dogs.

The police have issued a decree banning the sale of the pets, seen as a sign of Western influence.

The prohibition on dogs may be less of a surprise, since conservative Muslims despise dogs as unclean. But, the cat befuddled many, since Islamic tradition holds that the Prophet Mohammad loved cats.

The decree which applies to the Red Sea port city of Jiddah and the holy city of Mecca, bans the sale of cats and dogs because "some youths have been buying them and parading them in public," according to a memo from the Municipal Affairs Ministry.

Pet ownership is not common in the Arab world, although dogs are kept for hunting and guarding, and no other Arab country restricts pet ownership

Dr. Bernard Unti, Senior Policy Advisor for the Humane Society of the United States reports for Animal Radio®.

Citing a core tradition of concern for animals within Islam, and the universality of the human-animal bond in all cultures, Humane Society International (HSI) ­ the global arm of the The Humane Society of the United States (HSUS) ­ has called upon the Islamic Republic of Iran to end its crackdown against petkeeping by Iranian citizens.

"We regret reports that police authorities in Iran are taking steps to suppress petkeeping, and to confiscate dogs from individual citizens. Islam is one of the strongest religious traditions when it comes to its prohibitions on cruelty to animals, and millions of Muslims throughout the world understand their religious duty to take responsibility for the well-being of all creatures," wrote Unti in a letter to Mohammad Khazaee, Permanent Representative of the Islamic Republic of Iran to the United Nations. (Click here to read the letter)

The presence of petkeeping spans a wide range of cultures across both space and time. In a trend that parallels those in a number of other non-western nations, petkeeping is on the rise in Iran, especially among young people. In China, where authorities have carried out a series of mass roundups of dogs in recent years, resistance from an emerging class of petkeepers has been steady and determined.

In the West as in the East, Unti says, there is confusion about the teachings of Islam concerning dogs. "Whatever the prohibition on the keeping of animals in one's house within Islam, that shouldn't preclude the practice of keeping them in separate quarters, and providing them with the basic regard and care that the Quran requires."


Hear banned pets coverage on Animal Radio®
Hear breaking news as it happens - Animal Radio® is streaming online 24/7 Listen LIVE Now!

Actress Jane Alexander


Jane Alexander is riding high on the release of "Feast of Love," in theaters now. She plays Esther Stevenson opposite Greg Kinnear. She is also Honorary Co-Chair for the 2008 Indianapolis Prize; awarded to an individual who has accomplished a significant achievement or achievements in the conservation of an animal species or group of species, resulting in an advance in long-term survivability and sustainability.


Hear Jane Alexander on Animal Radio®
The $12 Million Dollar Dog (Or $84 Million in Dog Year's Money)
Tralee Pearce, Globe and Mail


Twelve million dollars will buy a lot of Milk-Bone. That's the value of a pet trust fund set up by the late Leona Helmsley to provide for Trouble, her fluffy, white Maltese, according to court documents made public in New York.
Ms. Helmsley's brother Alvin Rosenthal, who received only $10-million, will take care of the pooch and administer the fund.
Anatomy of a will:
* $12-million to Trouble, Ms. Helmsley's dog.
* $10-million to Alvin Rosenthal, Ms. Helmsley's brother.
* $5-million each to two grandchildren, David and Walter Panzirer, as long as they visit their father's grave at least once a year.
* $3-million for Helmsley mausoleum upkeep.
* $100,000 to her chauffeur, Nicholas Celea.
* $0 to grandson Craig Panzirer and granddaughter Meegan Panzirer, "for reasons which are known to them," Ms. Helmsley wrote.
Animal Radio® digs deep, examining pet-trusts for the "not-so-wealthy." Animal Communicator Joy Turner talks with Trouble. Attorney Adam Karp advises.


Hear Trouble's story on Animal Radio®

Dogs That Know
Alex Tsakiris, Skeptiko


Many dog owners claim that their pets anticipate their return, typically by going to wait at a door, window, driveway, or even at a bus stop (Sheldrake, 1994). In the early 1990's, Dr. Rupert Sheldrake, a biologist, and former Fellow of Clare College, Cambridge University, completed a number of survey studies to find out how many pet owners had observed seemingly psychic abilities in their pets. Sheldrake's household surveys found that 46% of dog owners had noticed this ability in England and 45% in California.
How You Can Make $1,000
Lets Replicate the Experiment! The "Dogs that know when their owners are coming home" experiment is being funded in cooperation with University researchers. Besides fame and notoriety for special dogs, there is the offer of a $1,000 prize to any dog owner willing to successfully participate in the study.
To find out how you can participate, please visit OpenSourceScience.


Hear Alex Tsakiris on Animal Radio®

Vladae - The Dog Wizard


Why is it that children are bitten the most? It is estimated that there are over 5 million dogs bites a year, with most of the victims being children. According to Vladae, a dog sees a child as a puppy. And when that puppy doesn't respect the older dog - it bites them as a way of correction, as it would with their own offspring.
Listen as Vladae lists the best and worst kid-friendly breeds. He also explains what he thinks the real problem is ­ you need to establish human authority over your dog.
Check out Vladae in the new Michigan Monthly Pet Magazine. He's included a full page of tips for training your dog on listening and obeying. http://www.Vladae.com


Hear Vladae on Animal Radio®

Is Your Pet a Blessing?
Diana Guerrero, Blessing of the Animals


No matter what your answer--birds, dogs, cats, and other creatures are invading businesses, churches, and other religious centers as pet blessings and other ceremonies are sweeping the nation--the trend has escalated dramatically. Some people are even shocked that such beastly trends are on the increase.
St. Francis of Assisi is known as the patron saint of animals, birds, and the environment, and it is customary for Catholic churches to hold ceremonies honoring animals around his feast day of October 4th.
Did you know that pet blessings pre-date St. Francis?
Most people associate pet blessings with the Catholic tradition of St. Francis but blessings really began way before and other traditions celebrate animals BUT the big discovery is that animals motivate people to cross cultural and religious boundaries.
Do you know what critter ceremonies are causing the fur to fly?
Some people hate them and some people love them - but the new trend is to celebrate pets with parties, meow mixers, yappy hours, memorial services and pet weddings!
Animal Radio® and Diana Guerrero have ideas to help you celebrate your friend. http://www.dianalguerrero.com


Hear Diana Guerrero on Animal Radio®
Jobs in the Animal World
Animal Precinct's Annemarie Lucas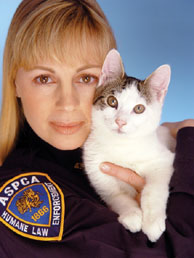 We speak with Annemarie Lucas, who is a Supervisory Special Investigator for Humane Law Enforcement (HLE) at the American Society for the Prevention of Cruelty to Animals (ASPCA). She has received training by both the New York City Police Department (NYPD) and the Federal Bureau of Investigation (FBI). Annemarie is also the star of Animal Precinct. She tells Animal Radio® how someone interested in this line of work can get started.
HLE/AC officers inspect kennels, pet shops, stables, and other places where animals are kept to make sure that animal welfare regulations are being followed. HLE/AC officers respond to reports of animal cruelty, investigate, and if warranted, may make arrests. HLE/AC officers also enforce licensing laws and rescue trapped animals. For example, there was a fire in a building in Manhattan and ASPCA HLE officers went into the building with the help of the fire department and rescued the animals that were trapped in the building.
Humane Law Enforcement/Animal Control Officer
Starting a Pet-Sitting Business
Jaime Deason had trouble finding good pet care for her own pets. She also thought that others might have the same problem. As a result, she decided to open up her own pet-sitting business and contacted Fetch! Pet Care.
But, pet-sitting isn't for everyone. Here are six things to be aware of:
1. You're going to get dirty.
Be ready for a lot of exercise in all kinds of weather. In the summer "I definitely take two showers a day," Jaime Deason says.
2. You'll need transportation.
Make sure you enjoy spending time in your car. Pet sitter Gabe Schneider estimates that he spends 20 percent of his time driving from one assignment to another.
3. You won't have steady hours.
Working from home means you never get to leave your job at the office. Deason says, "My husband has implemented a no-phone-at-the-dinner-table rule." But otherwise she encourages her sitters to call her with problems at any time of the day or night.
And because business naturally fluctuates, Deason can't guarantee her sitters, who are independent contractors, a set number of hours.
4. Your vacation time will be unusual.
Demand for your services is highest on weekends, summers and holidays.
5. You'll need to be flexible.
Deason recently gave up a weekend trip to take a boarding assignment when it was discovered at the last minute that an apartment-living dog who was assigned to another sitter couldn't handle the stairs in her house.
6. You'll need to be an animal and people person.
Perhaps the most important thing to remember is that pet-sitting is a people business as much as an animal one. And as Deason says, "With pets, like children, everyone has their own idea of how to raise them." Some people are laid back, some people are finicky. "You're going to run into all kinds of idiosyncrasies," Deason says. "Some people like their dog food mixed by hand. You'll never cease to be surprised."
Who would have thought that caring for pets could be lucrative? The fact is, over 69% of U.S. households own one or more pets and the demand for specialized pet care services outfaces the supply of professionally trained operators. In 2007, Americans are projected to spend over $41 billion on their pets - double of just a decade ago. By 2009 this number is projected to grow to over $52 billion.


Hear Jobs in the Animal World on Animal Radio®

Is Feline Hyperthyroidism Caused by Household Products?
Dr. Louise Murray, ASPCA Bergh Memorial Animal Hospital


The ASPCA® (The American Society for the Prevention of Cruelty to Animals®) has recently learned about a new study conducted by the Environmental Protection Agency (EPA) that investigated the possible connection between the presence of polybrominated diphenyl ethers (PBDE)-a flame retardant chemical added to a wide variety of household products-and an increase in feline hyperthyroidism. The study-lead by Dr. Janice A. Dye and published in the journal Environmental Science and Technology on August 15, 2007-confirmed high levels of PBDEs in some housecats; however there was not conclusive evidence linking this to the disorder.
The use of PBDEs has been under scrutiny for several years as a potential health risk for humans, potentially causing problems in both the nervous and reproductive systems. The recent attention towards its effects on cats is fueled in part by concern regarding what these findings may indicate about potential problems affecting humans in the long run.
What are PBDEs?
PBDE (polybrominated diphenyl ethers) is a common flame retardant used in the production and manufacturing of a wide variety of household items, most notably, upholstery, carpets, and mattresses. In use since the 1970s, products that contain PBDEs have been found to shed this chemical into house dust, which can then be inhaled or ingested into the body.
What is feline hyperthyroidism?
"Hyperthyroidism is one of the most common conditions found in older cats," says Dr. Murray. "It's usually caused by a benign tumor of one or both thyroid glands, which can lead to increased levels of thyroid hormone in the body." Symptoms of hyperthyroidism in cats can include weight loss, rapid heart rate, vomiting, diarrhea, increased appetite and/or thirst and increased urination.
Is feline hyperthyroidism fatal?
Dr. Murray clarifies that feline hyperthyroidism, when treated with the appropriate therapy, is not a fatal disease. "This is generally an extremely treatable disease, and with certain treatment methods, can even be cured," she says. "The disease is mainly fatal in cats who have not received timely care, resulting in heart disease and eventually heart failure. "
Do PBDEs cause feline hyperthyroidism?
"Although it is possible that PBDEs may increase the risk of hyperthyroidism in cats, this disease is a common illness in senior cats," says Dr. Murray. "Due to better health care now available to our pets, and the benefits of living inside the home, cats are living longer, and as a result the increase in cases of thyroid disease is not unexpected."
How can I keep my pet safe from such potential PBDE dangers?
To keep you and your pet safe, the ASPCA recommends taking the following precautions:
Use a vacuum with a HEPA filter and change the filter regularly
Use an air conditioner with HEPA filter and change the filter regularly
Cover tears in upholstery that expose polyurethane foam, particularly if the foam is crumbling
Cover mattresses with tightly woven allergen barriers to reduce dust that could carry PBDEs. Do not remove the mattress label, as it will tell if polyurethane foam was used.

Hear Dr. Murray on Animal Radio®

Cat Predicts Death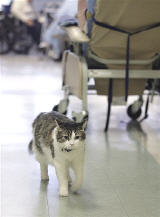 Oscar the cat, who was adopted as a kitten by the Steere House Nursing and Rehabilitation Center, seems to be able to predict when patients there are close to death.
When a patient is near death, Oscar curls up to them during their final time. He has been accurate in over 25 cases. Now, when the staff see Oscar with a patient, they call family members to come to their loved ones bedside.
The patients that get a visit from Oscar are very ill and probably ware not aware of his presence. However, family members are comforted knowing that their family member was not alone.
Oscar recently received a wall plaque publicly commending his "compassionate hospice care."


Hear about Oscar on Animal Radio®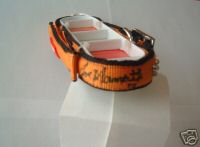 Celebrity-Autographed Dog Collars
Animal Radio® checks in with 9 year old Kyle Orent. Kyle's Auction of celebrity-autographed dog collars has raised upwards of 2 grand...and it isn't slowing down. He found a matching donor this week.
New to Animal Radio®? Listen to Kyle's Journey
Some of the collars that are up for auction are signed by Donald Trump, Billy Joel, Leslie Nielsen and Payton Manning to name a few. Hurry and bid for yours, there are a few left! Not only will you receive a great collar autographed by a celeb, but also the money goes to a great cause, Canine Companions for Independence. Everyone wins. Quick-control Leashes and collars donated by Bamboo.


Hear Kyle's Update Animal Radio®


Summer-end New Pet Products Special Live from SuperZoo in Las Vegas
Sponsored by Canine Caviar and Austin Rose, Inc.


Animal Radio® counts down the top 25 new pet products from the industry trade show. Our fav's this year? The Mouse In the House Cat Toy and Ruth Regina's Wigs For Dogs. See the newest products.


Hear the New Product Special on Animal Radio®


Alzheimer's Found in Cats
Dr. Danielle Gunn-Moore


Aging cats can develop a feline form of Alzheimer's disease, a new study reveals. Scientists at the Universities of Edinburgh, St Andrews, Bristol and California have identified a key protein which can build up in the nerve cells of a cat's brain and cause mental deterioration.
Dr Danielle Gunn-Moore, at the University of Edinburgh's Royal (Dick) School of Veterinary Studies, said: "This newly discovered protein is crucial to our understanding of the aging process in cats. We've known for a long time that cats develop dementia, but this study tells us that the cat's neural system is being compromised in a similar fashion to that we see in human Alzheimer's sufferers. The gritty plaques had only hinted that might be the case ­ now we know.
"The shorter life-span of a cat, compared to humans, allows researchers to more rapidly assess the effects of diet, high blood pressure, and prescribed drugs on the course of the disease. However, we also need to understand more about our geriatric cats for their own benefit, so we can slow down the degeneration the disease brings and keep them as happy cats for as long as possible."
"As with humans, the life expectancy of cats is increasing and with this longer life runs the greater chance of developing dementia. Recent studies suggest that 28% of pet cats aged 11-14 years develop at least one old-age related behavior problem and this increases to more than 50% for cats over the age of 15."
Experts suggest that good diet, mental stimulation and companionship can reduce the risk of dementia in both humans and cats. Dr Gunn Moore explained: "If humans and their cats live in a poor environment with little company and stimulation, they are both at higher risk of dementia. However, if the owner plays with the cat, it is good for both human and cat. A good diet enriched with antioxidants is also helpful in warding off dementia, so a cat owner sharing healthy meals like chicken and fish with their pet will benefit them both."
The findings of the study are published in a recent edition of the Journal of Feline Medicine.
http://www.fabcats.org/news/alzheimers.php


Hear Dr. Danielle Gunn-Moore on Animal Radio®

Coming Up on Animal Radio®:

Glenn Close has had a lengthy career as a versatile actress and performer. Glenn is remembered for her chilling roles as the scheming aristocrat Madame de Merteuil in Dangerous Liaisons, terrorizing puppies as Cruella di Vil in 101 Dalmations and as the psychotic book editor Alex Forrest in Fatal Attraction. In her new series, Damages, Glenn brings force and power as Patty Hewes, a fierce litigator who has a dog killed. Listen in as Glenn reveals that she is nothing like the characters she plays, and in fact is a big animal lover!

Comedian, writer and actress, Jane Lynch 's breakthrough film role was as Christy Cummings, the masculine-lesbian personal dog handler to trophy wife Sheri Ann Cabot (Jennifer Coolidge) in the director Christopher Guest's 2000 mockumentary Best in Show. Jane is the host of the 2nd Annual "Race for the Rescues" Animal Rescue 5K Run/Walk and Adoption Day at the Rose Bowl, Sunday, October 28th. Animal Radio® will be broadcasting live!

Cesar Millan, America's most-popular dog trainer is back for a fourth season of The Dog Whisperer. Millan has released a new book, "Be the Pack Leader." Animal Radio® welcomes him back for his fourth appearance. Last time, it got intimate. Don't miss him on his favorite radio show. He gets personal on "breed-bans."

Best-selling author Robert Fulgham's (Everything I need to know I learned in Kindergarten - 16-million copies) new book begins with a question we've all asked ourselves: "What on Earth have I done?" Animal Radio® is proud to have this current-day philosopher as a special guest. As an ordained minister, he often deals with animal issues, especially related to grieving and death.


Animal Radio® made possible by: Safe-Guard


Get ready for spring by protecting your dog ­ and your family ­ against intestinal worm infections! Did you know that eggs and larvae that infect dogs can survive in the environment for months ­ even in extreme winter weather conditions? And that those same parasites can also infect humans? Why take chances? Make intestinal deworming an important part of your dog's routine health care with Safe-Guard® Canine Dewormer ­ a safe and effective way to eliminate and prevent the major intestinal worms that can infect dogs all year round. Just sprinkle it on your dog's food twice a year, for complete peace of mind!
Visit www.Safe-Guard.com for information on treating and preventing intestinal worms.
Animal Minute on Animal Radio®
with Britt Savage
GOOD DOG: Dog Performs Heimlich maneuver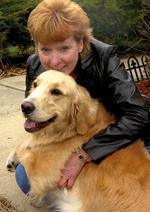 Little did Debbie Parkhurst know that when she found a dog in a dumpster 2 years ago, that he would save her life.

Debbie Parkhurst, 45 years old from Calvert, Maryland, found a Golden Retriever in a dumpster years ago and took him home and named him Toby. Recently, Debbie was eating an apple in her home when she got a piece of the apple stuck in her throat. She immediately tried to remove it by jumping up and down, with no luck. She then started beating on her chest, and when Toby saw what was going on, he got involved. He jumped up; putting his front paws on her shoulders and knocked her down. He then started jumping up and down on her chest, dislodging the piece of apple.

While some skeptics believe Toby thought it was a game, Debbie truly believes that Toby knew what he was doing and saved her life.


BAD DOG: Dog Burns Down Kitchen


A pet dog caused $50,000 of damage when it turned on its owner's cooker and burnt down the kitchen. Skylar, a three-year-old 'goldendoodle', apparently started a kitchen fire when she tried to jump on the stove to get leftover pizza. It happened after her owner Fred Haines left his home in Naperville, Illinois, to go to work, reports the Chicago Sun-Times.
The designer pooch, a cross between a golden retriever and a poodle, is believed to have switched on a knob, which ignited the cardboard underneath the pizza. The flames spread to a nearby plastic cutting board, and then to the cabinets above the stove, Naperville fire officials said. Haines, 32, said he had been running five minutes late: "I didn't do my typical sweep through the kitchen to make sure Skylar couldn't get at anything," he admitted.
Firefighters broke down a door after neighbors raised the alarm and rescued the unconscious Skylar. Paramedics used oxygen to revive her. "Skylar's fur is white, but when I saw her that day, she was literally a black dog from the fire's soot and ash," Haines said.
Britt Savage is a regular Animal Radio® correspondent as well as an incredibly talented musician! She can be heard daily on Animal Radio Network.LISTEN TO ANIMAL RADIO NETWORK NOW
Animal Radio® made possible by: Canine Caviar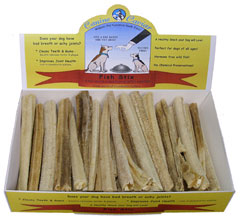 DOES YOUR DOG HAVE GINGIVITIS OR ACHY JOINTS?
* Cleans Teeth & Gums - Keratin removes tartar & plaque.
* Improves Joint Health - Rich in chondroitin sulfate.
* Perfect for puppies and dogs of all ages!
Fish stix are 100% natural and are an excellent source of chrondroitin and will clean the pet's teeth better than anything on the market. Fish
stix compete directly with the bully stix and greenies, but have more benefits. They are completely digestible and contain no chemical preservatives, additives, or fillers.
http://www.caninecaviar.com
Veterinary Minute on Animal Radio®
with Dr. Jim Humphries
Allergic Pets and People


From springtime through the late fall, many people are subject to seasonal allergies. But people are not the only ones suffering. For our dogs and cats, these same seasons can bring intense itching and discomfort. Yes, it seems our pets can get their own "hay fever".
It's a very frustrating and somewhat common situation. Pet owners by the millions flock to their veterinarians in the hope of relieving their pet's itchiness. For many people, the constant chewing, licking, and scratching can test their love for their pets.
Current estimates show that about 20 million pets suffer from some sort of skin condition and many of these are allergies. Allergies are an over-reaction of the body's immune system to a foreign substance, such as pollen or flea saliva. For people with allergies, we sneeze and sniffle as our bodies respond to histamine released by immune cells. These symptoms are due to the reaction of histamine with receptors in our nose and upper airways.
Our pets, however, react somewhat differently. Dogs and cats have many more histamine receptors in the skin and fewer in the nose. As histamine is released, the receptors cause an itchy feeling and the pet reacts by scratching at that site. Scratching can generate more histamine release, thereby causing more scratching. The constant assault on the skin by the pet's claws can actually damage the skin, leading to bacterial infections. Areas of hair loss and oozing sores known as "hot spots" are very common with allergies.
Fleas are often found to be the reason for a pet's itchiness. However, the pet who is truly allergic to fleas will often appear to have no fleas at all! Why? Because these pets are the ultimate flea catchers, doing everything in their power to bite or scratch the discomfort of the flea away. The flea's saliva sets off an allergic reaction leading to a flurry of chewing and digging at the skin.
Allergies to airborne substances, such as pollen and mold spores, are another reason for itchiness in pets. This is known as atopy and affects many pets from springtime straight through until fall. This condition can be inherited in certain breeds.
If your pet has signs of allergies year round and you see little or no improvement with certain medications, you may have a pet that has food allergies. Contrary to popular belief, food allergies take time to develop and are not due to recent diet changes. Most pets who develop food allergies have been eating the offending food with little problem for years. Common food allergens can include any major protein or carbohydrate source in the pet's food.
In some mild cases, the itchiness can be treated with anti-histamines or even steroids for a short period of time. However, pet owners need to be aware that allergies are not a condition that can be cured. The good news though, is that they can be well-managed with a team effort from the pet owner and the veterinary team.
Utilizing diagnostic tests such as blood testing and even skin allergy tests, veterinarians can often find ways to reduce the pet's discomfort level. In some cases, your family veterinarian may refer you and your pet to a veterinary dermatologist. This specialist has many more diagnostic and treatment resources available to bring relief to your pet. In all cases, you, the pet owner, are a vital part of the team. It will be up to you to make sure that all pets in the household are treated for fleas or that your pet stays on the recommended hypo-allergenic diet and doesn't sneak other treats!
Allergies are not only one of the most frequent reasons for a trip to the veterinarian, but are also a big reason for pet owners becoming frustrated with their pet. Working with your veterinary team to identify what is causing your pet's symptoms will help keep your four-legged family member right where he needs to be with you! Visit www.MyVNN.com to see a video of how pet owners deal with their pet's allergies.

Dr. Humphries is a veterinarian in Colorado Springs and the National News Director for Veterinary News Network. Hear the Veterinary Minute exclusively on Animal Radio®-LISTEN TO ANIMAL RADIO NETWORK NOW
Animal Radio® made possible by: URINE OFF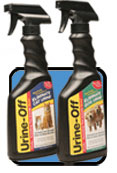 Did you know that Urine Off is the #1 Vet recommended Urine Odor and Stain Remover. In fact, for the last 3 years THOUSANDS of Vets nationwide have recommended Urine Off to their clients, solving their #1 Household problem, unsightly urine odors and stains. Urine Off's professional strength formula is designed to remove odors and stains ­ even old ones, by getting down to the source of the problem and removing it permanently. Endorsed by many of the leading animal organizations, and sworn on by our thousands of loyal customers, who after using it always say the same thing: "Thanks Urine Off, finally something that works." http://www.UrineOff.com

Enter to Win
UrineOff's "Picture Yourself In Hollywood" Sweepstakes With Celebrity Pet Photographer, Christopher Ameruoso!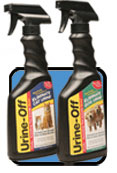 Urine-Off, the number one vet recommended solution to pet odors and stains has paired up with Chris Ameruoso, Hollywood's #1 celebrity pet photographer to bring you the "Picture Yourself in Hollywood" Sweepstakes. The grand prize winner receives an all expense paid trip to Hollywood for 2 and their PET, plus a photo shoot with Christopher Ameruoso. Chris has been photographing celebrities with their pets since 1998, and his work has been featured in People Magazine, In Style, the New York Times, and countless others. His work can be seen in his weekly column in In Touch Magazine titled "Stars and Their Pets". Urine-Off is the leading veterinarian choice for stain and odor removal, and is committed to the well-being of pets and their owners.
Each and every time you make any purchase at www.urineoff.com between 10/1/2007 and 12/31/2007 you are automatically entered for a chance to win. The more times you buy, the better your chance of winning. Visit www.urineoff.com to enter and for official rules.
Voice of the Animal on Animal Radio®
Rae Ann Kumelos Ph.D.
Merlin - Master of Animals


Who would you choose as the most popular wizard of all time? Gandalf? Obi-Wan? The Wizard of Oz? Harry? How about the Master of all Wizards - Merlin.
Merlin is best known as magician and indispensable guide to King Arthur. But he is also closely connected with the world of animals. One theory of the origin of his name links it to the French word, merle, meaning blackbird, while another suggests the twelfth-century English word merilun, the name of a falcon that was used by nobles for hunting. Both of these names relate to various portraits of Merlin ­as the poet-enchanter he has the bold and audacious manner of blackbird, while as a falcon he is familiar with the forest.
Merlin is often depicted riding a stag, accompanied by a wolf or owl. He is also sometimes known as the Master of Animals with the ability to shapeshift into any animal form. The Celtic people of Great Britain in the fifth and sixth centuries, the time frame Merlin and King Arthur were believed to have lived, considered the arts of talking with animals and shapeshifting as part of the birthright of the druid, and the Merlin we know certainly has all the qualities of a druid.
Forged from a single sheet of silver, the Gundestrup Cauldron, a famous Celtic artifact of the first century, depicts an antlered man surrounded by animals. It is Cernunnos, God of Animals, whom many believe to be a druid or shaman. A version of Cernunnos, also known as the Horned One or Wild Man due to his antler headdress, occurs in some of the earliest legends of Merlin. In the Prose Lancelot, this Wild Man is summoned by Julius Caesar to interpret a vision of Caesar's. After correctly interpreting the vision, the Wild Man says, "Know that the great antlered stag that was hunted in Rome, as well as the Wild Man who interpreted the emperor's dreams, was Merlin." In this story, Merlin demonstrates the druid's gift of prophecy, while continuing the Celtic tradition of the stag as an Otherworldly messenger, bringing power and knowledge from another realm.

Geoffrey of Monmouth first introduced Merlin to the literary public in the year 1138 with a medieval bestseller about the history of the Kings of Britain. It is believed that Geoffrey created his Merlin from the Welsh historical figure of Myrddin, a confidant and bard to a tribal chieftain who went mad during battle, escaping to live a life among the animals of the forest. Over time, Myrddin became known for the gift of communicating with animals. This motif appears in many of the stories that surround Merlin, from the twelfth century romances to the present day depictions of Camelot. Whether he is called upon by Arthur to communicate with the animals in order to achieve a certain quest, is asked by Uther Pendragon to divine the meaning of a fiery dragon-shaped star, or is able to prophecy the meaning of two dragons living under King Vortigern's tower, Merlin relies upon his relationship with the animals to ensorcel, sing, or divine the necessary course of action.
The Celtic scholar, Jean Markale, writes, that Merlin and St. Francis, although each a proven historical person, are incarnations of the same myth ­meaning they both are figures that represent the great brotherhood between all living beings-- a mythic brotherhood that lives on today with our non-historical wizards and their animal familiars ­ Gandalf and the majestic horse Shadowfax, and Harry with his owl Hedwig.
But it is Merlin to whom all wizards pay ultimate regard. Like Arthur, the Once and Future King, it is said that Merlin still lives ­ imprisoned by a secret spell in an airy castle of glass. Counselor to Kings, Enchanter of Excalibur, Druid who Knows and Sees All, Master of the Animals -- Merlin- break the spell and come back to us now.

Visit us at http://www.voiceoftheanimal.com to hear more stories and to order CD's of Voice of the Animal programs. Copyright ­ 2007 ­ Voice of the Animal. Rae Ann Kumelos is a regular Animal Radio® correspondent. She can be heard daily on Animal Radio Network. LISTEN TO ANIMAL RADIO NETWORK NOW
Animal Radio® made possible by: American Anti-Vivisection Society


The FDA has moved biotech companies one step closer to being able to put milk and meat from cloned animals on your grocery store shelves-without labels. Cloning seriously threatens animal welfare, and you should have the choice to avoid these products! You can help by calling on the FDA to keep cloned foods off of grocery store shelves. Learn more at http://www.EndAnimalCloning.org
Just because we can clone animals for food, doesn't mean we should!

Halloween Safety Tips for Your Pets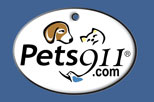 It's becoming that time of year again, holiday season is upon us and the first fun date to kick us off is Halloween. Though the night can be filled with fun and foolishness, safety for all in your family is first and foremost. Below you will find Pets911.com's 8 Halloween must do's and don'ts for your furry friends. Make this Halloween a safe and joyful one for you and your animals!!
1. No chocolate... matter how cute they look in their costumes! Chocolate is toxic to animals, in fact according to the AZ Humane Society, a 10 pound dog can have a fatal reaction to just a few ounces of chocolate! Play it safe, don't give your animals any treats besides their regular chews, bones and Charlie Bears!
2. Costumes are the best part of Halloween for most children and adults, but for our pets, they can be a nightmare. If you do decide to dress up your pet, please remember these important pointers:
Make sure your pet isn't near an open flame or fireplace;
Watch for tripping hazards, choking hazards, etc...;
If your dog wears a mask or head piece, make sure they can see easily and are comfortable, a frazzled dog can lead to a snippy one; and
Never leave a dressed up animal unsupervised!
3. Trick or Treaters equal open doors ­ keep your pet away from doors and make sure they are wearing their collars with current tags at all times. T get your dogs or cats licensed or up to date, please contact your county or city animal control for licensing fees and information.
4. Watch foil and plastic candy wrappers! Pets could eat them and choke or get sick.
5. Events like Halloween can be stressful for animals, keep them inside, and comfortable. Some kids get more adventurous while wearing a mask and teasing can often occur through gates or fences.
6. Watch open flames around waging tails, a powerful tail can knock that candle or jack-o-lantern right over.
7. Though lights and mechanical ghouls can be a treat for your guests, an animal could get quite a shock if they chew on them. Leave all electrical wires, cords and decorations out of the reach of your pets.
8. Leave your furry friends at home. Though this night is a great time for families to trick or treat together, an animal can be easily startled by costumes and loud noises, so although they may want to join in, taking them out with you can lead to trouble.



Most importantly, have fun and make sure every member in your family has a safe and fantastic Halloween!!
Please visit Pets911.com for our lost and found service, to find an adoptable pet, or for pet-related information.
Animal Radio® is a proud partner with Pets911! Hear about the latest Pets911 activities on-air on Animal Radio®
Thanks for all your entries!

Winners of the Summer Giveaway:
Christy Thompson & Jill Spackman

A Special Thanks to:
LISTEN TO ANIMAL RADIO NETWORK NOW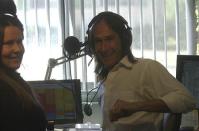 NETWORK PROGRAMS:
Animal Radio®
Pet Talk Radio!
Talk with Your Animals
Veterinary Minute and Animal Minute
Voice of the Animal
and more great programming coming this fall...


Currently On-Air
Animal Radio® Network Full-time channel

LISTEN TO ANIMAL RADIO NETWORK NOW
LISTEN AT WORK...all day long. Fresh animal programming streaming online 24/7. Be sure to view our programming schedule to catch your favorite show.


You can also listen to Animal Radio Network's full-time Animal Channel ANYTIME on ANY CELL PHONE, ANY PROVIDER. UpSnap now features Animal Radio® Network LIVE 24/7.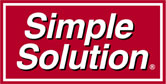 Get live breaking news daily thanks to Simple Solution NATURAL line of pet care products. Simply text "ANIMAL" to 27627 to listen anytime FREE. (your provider's standard rates apply). Learn more.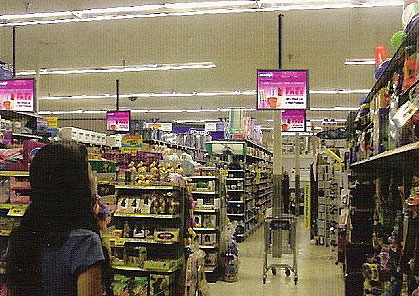 PET STORES, VETS, GROOMERS: Would you like to broadcast Animal Radio Network in your store or office? Call 435.644.5992 to get set up. Animal Radio Network is simulcast throughout America to your store.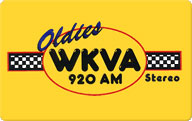 Animal Radio® Welcomes WKVA am 920 State College - Lewistown - Harrisburg. Hear Animal Radio® Sundays 10am to noon. Animal Radio® airs on 95 multi-niche affiliates including Los Angeles flagship KOST 103.5 FM.
Interested programmers/stations may get Animal Radio® market exclusive: 435.644.5992.
Help From A Friend


Over the year of reading these articles for Animal Radio®, you probably have noticed that my friends and I live life differently than most. Our day-to-day decisions are based on what is mutually acceptable for our animal kids and ourselves. We appreciate the input we receive from our animal kids and do our best to fulfill their wishes.

I'd like to share an example of this with you. (Martha Music took my communications classes.)

My friend and coordinator, Martha moved to a new house this summer. Since she was downsizing, there were decisions on what to pack, donate, and give to friends and family. She was thoroughly enjoying the process because she wanted her home to reflect who she is now. Through the process of packing and unpacking, she sensed the energy of the item and found an appropriate home for it. After a while the task became overwhelming, items were stuffed in boxes even though that was not the original intent of the unpacking.

To her rescue, came one of my kitties, Venus. Up until this time Venus has always been a very quiet kitty content to let others of the family make decisions and choices for things. One day while Martha was sorting through things, she heard, "I want to give that to my new baby puppy sister." She asked, "Who is talking?" She felt and saw a picture of my kitty, Venus. Venus spent the next few days hovering energetically around Martha while she unpacked those stuffed boxes. Venus found things for me, her new baby sister and herself. When Venus was done, Martha asked her if she had found anything for her brothers. The answer was no. Having thought Venus was done with her shopping, Martha started to empty a box filled with tools and odds and ends. She was startled when she heard, "I found it." Venus wanted to give a knob in the shape of a lion's head to her brothers. Martha was surprised that Venus was still energetically around. After that, Venus sensed that this kind of interaction was becoming a bit too much for Martha and left her alone. Martha was very appreciative of Venus' help up to that point.

Animals have many interests when we allow them to participate in all aspects of life with us. For example:

When I was re-arranging furniture in my house, Venus told me that I should put a standing lamp right by a chair. She suggested that I ask Martha if she had a standing lamp that needed a home. Venus has gotten quite used to Martha rehoming things and loves to "shop" at Martha's house. Venus did not want to pester Martha for a lamp by going into her head and asking her for a lamp. That's why she wanted me to ask. For now, Martha does not have a standing lamp in need of a home. When there is one, it will go to live in the spot Venus suggested. Or, if I'm shopping somewhere and she sees a lamp she likes, we will get that one and bring it home for that spot.

Animals love to shop with their humans. As with Martha and myself, they are connected in your mind so they can see, hear, smell, and have any other sense we have through us. So they get to see, feel, taste, etc. what we are doing. Many of my animal kids go shopping with me. My human daughter's dogs and cats love to go grocery shopping with her to let her know what they want to eat for the week. When I go to restaurants, everybody gets to tell me what they would like to eat because I always bring something home for them.

My kids love to shop for me. Braveheart, Ala, and Dreamweaver have all gone to my human daughter, Cyndi, and told her what to buy for me for presents for birthdays, Christmas and especially Mother's Days. Braveheart loves to buy jewelry for me (I could use a human guy like that!).

Now my birthday is approaching soon, and Venus wants to get into the act. She wanted to give me a birthday gift. (The first one she has chosen.) So guess whom she asked to help her. That's right, Martha! And, guess what "store" she sent to with Martha. You guessed, Martha's house. Venus found a lavender, green and white crotchet doily in a closet in Martha's house. She wanted that for me because those are my favorite colors and it felt so soft. Then, of course, Venus wanted a card. They found some words on a card that Venus liked so she asked Martha to put them on "her" card. Martha wrote on a blank note card of Venus's choosing. My birthday is the day before our new baby girl comes home. Venus asked Martha to give me the gift this week at our house so her gift was not overshadowed by the homecoming and Venus could be with me when I opened it.

After I opened the card and gift, Venus explained to me about how she was feeling with the new addition to our family. We had a chat about the new puppy girl being a baby as well as our baby puppy who just passed. It is very interesting how this gift helped Venus to open up to talk with me about her feelings. She is very contented that Martha was able to help her. And very pleased to have a friend that can hear her and is willing to help her with these kinds of things.

When you look at your animal kids while they are sleeping or resting, you may think that is all they are doing. Perhaps that is not all they are doing. Energetically, they could be shopping, visiting with someone, etc. They have the ability to do more than just keep us company, eat and sleep. I think if Venus was a human, she would be going to garage sales every Saturday with her friend, Martha.

So, the next time you would like some input, another opinion, or just want to share anything in your life with someone you love and loves you, share with your animal kids. You'll have a ball and they'll love it!

Until next time, I'm Joy reminding you, you can never love your animal companions too much. You can only love them, hopefully, enough.

If you would like to schedule a private session with Joy, call 425-867-1779 or go to www.TalkWithYourAnimals.com. If you are interested in being a caller on Talk with your Animals, please email Martha@AnimalRadio.com to make arrangements. Joy Turner is a regular Animal Radio® correspondent. She can be heard daily on Animal Radio Network. LISTEN TO ANIMAL RADIO NETWORK NOW
Animal Radio® is made possible by: GET SERiOUS!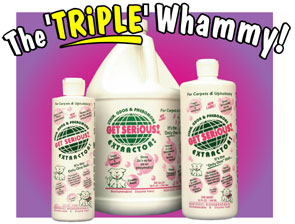 - Extracts stains & odors COMPLETELY -in only 3 minutes! - Extracts the urine & the pheromone -so pets aren't attracted back to re-mark!
- Never leaves any "yellowing" behind (like most enzyme-based cleaners) and even removes old locked-on "yellowing" - left behind by other cleaners!
-1 bottle of GET SERiOUS! cleans as much as 2 bottles of the competition because you only use 1/2 as much as the others! - $AViNGS ! $AViNGS ! $AViNGS !
http://www.GetSeriousProducts.com

Email your events to: root@AnimalRadio.com

2ND ANNUAL "RACE FOR THE RESCUES"
Animal Rescue 5K Run/Walk and Adoption Day
THE ROSE BOWL, SUNDAY OCTOBER, 28, 2007
Event to Also Include a Celebrity Art Auction, Pet Halloween Fashion Show & Adoption Event, Pet Psychic and More
Actress Jane Lynch Returns as Host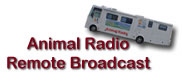 Animal Radio® broadcasts Live!
The date for the premiere fundraising event for the Los Angeles animal-loving community has been set. The 2nd Annual "Race for the Rescues" 5K Run/Walk at The Rose Bowl in Pasadena will be held this year on October 28th. The event will benefit non-profit animal rescue organization The Rescue Train, as well as Best Friends Animal Society, Kitten Rescue, Animal Alliance, A Dog's Life Rescue, Four-Legged Friends Foundation, The Lange Foundation, and Molly's Mutts & Meows. Each year these groups care for and find homes for almost 1,500 abandoned dogs and cats annually. Celebrity host Jane Lynch (THE 40 YEAR-OLD VIRGIN, BEST IN SHOW) will be returning to emcee the event again this year and PETCO, Natural Balance, Animal Specialty Group, and Eye Care for Animals have already signed up as sponsors.
"What many animal lovers don't know is that here in the City of Angels, hundreds of dogs and cats are euthanized each week in our city shelters," explains Lisa Young, Director of the Rescue Train. "It is our mission to bring the community together with the common goal to eliminate this suffering through hands-on rescue, education and awareness." Last year's inaugural event, the only one of its kind which brings so many groups together for this common cause, had hundreds of participants and raised $63,000. This year's turnout promises to be much larger, bringing together Girl & Boy Scout troops, school classes, corporate teams, families, and other groups and individuals for a day of fun and fundraising for our furry friends!
In addition to the 5K run and walk, Race for the Rescues will also feature:
Walk of Paws - A celebrity art auction featuring one-of-a-kind works created by celebrities and their pets. (Past participants include famous animal lovers Jessica Alba, Drew Barrymore, Jim Belushi, Courtney Cox, Paula Abdul, Jennifer Aniston, Charlize Theron, Carmen Electra, Famke Janssen, Amanda Peet, Lionel Richie and NBA legend Bill Walton.)
1 Mile non-competitive Kids Race.
Pet Halloween Adoption Event & Fashion Show - After showing off their Halloween best, these "spooktacular" pets from the Pasadena Humane Society/SPCA and Los Angeles Animal Services will available for adoption!
A silent auction featuring such items as tickets to TV show tapings, specialty pet products and services, spa packages, portraits, photography, jewelry, celebrity memorabilia, gift baskets, gift certificates for dining, travel and adventure experiences, and much more.
Kids' Costume Contest, Drawing Class by former Disney animator, Pet Psychic, Dog Training Demonstration, fun prizes and more!
For full details on Race for the Rescues and information on The Rescue Train, please go to www.racefortherescues.org or www.rescuetrain.org
---
Alley Cat Allies' National Cat Advocacy Seminar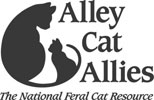 October 12 & 13
Washington, D.C.
Join Alley Cat Allies, the nationally recognized experts on improving the lives of outdoor cats, in our nation's capital. Learn how you can unite and mobilize to make nonlethal policies and Trap-Neuter-Return (TNR) the norm. Topics include best methods of feral cat care, how the law supports our goals and reforming animal control policy. Presenters are Becky Robinson and Wendy Anderson of Alley Cat Allies, Dr. Christine Wilford of Seattle's Feral Cat Spay/Neuter Project, and Dawn Kua of Singapore's Cat Welfare Society.
CONTACT: For Alley Cat Allies
Francie Israeli
(202) 773-8400
fisraeli@johnadams.com
---
DOG-O-WEEN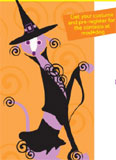 Sunday, October 27, 2007
4:30pm to 6:30pm
At Mod-Dog Spa & Boutique
2200 Glades Road
Boca Raton, FL

You,re invited to the first DOG-O-WEEN party to benefit getalifepetrescue.com South Florida pet rescue and rehabilitation, Inc.

There will be a Doggy Costume contest, photos, raffles, treats for people and dogs, plus local celeb judges and more! Donation of $10 for costume contest registration. Costumes and Pre-registration available at Mod-Dog.
Grand prize will be a weekend stay with your dog at the Circa 39 hotel in Miami Beach FL
Questions - call - 561-338-8883
---
Hemopet/Pet Life-Line


Second Annual Walk-A-Pet For Life dog Walk
Sunday, October 14, 2006
Huntington Beach, CA
Hemopet/Pet Life-Line will hold its Second Annual "Walk-A-Pet For Life" dog walk to benefit the Center for Greyhound Rescue and Pet Animal Recovery, the nation's first non-profit alternative medicine rehabilitation center for restoring the health of pets.
Hemopet/Pet Life-Line, the nation's largest animal blood bank, is raising funds for the nation's first center focused on restoring health for dogs, cats and other pets with special needs and during recovery. This campaign is for a permanent two-acre, environmentally friendly, pet rehabilitation facility in Garden Grove. The new Center will also serve as the permanent home for Hemopet's unique greyhound rescue-donor-adoption program and related community service activities. Upon completion, this new project will feature unique group apartment-style units for the rescued greyhounds with outdoor exercise yards and playgrounds. The new greyhound village suite concept is also intended to create a favorable setting for prospective adopters to view and connect with the greyhounds.
CONTACT: Kelley Taylor at (714) 891-2022, ext. 15
Jim Goyjer at (310) 207-1524
---

The Ray of Hope Humane Society
Hawthorne, NV 89415
7:00am ­ 9:00am Every Day
775-945-2555
We Need Your Help ­ Over 50 Cats Looking For Homes. The Ray of Hope Humane Society is located in Hawthorne, NV. We are open from 7:00 am to 9:00 pm every day of the week.

This year we had 14 kittens and 4 mother cats come in the mother cats were all very pregnant. Within two days of having these pregnant cats we had two more litters adding 10 more kittens to the bunch. We have been in operation, and became a 501(c)(3) non-profit organization, in 2006. We currently have approximately 50 cats that are in need of homes. Most of these cats and kittens are up on PetFinder.com.

Animal Radio® made possible by: SIMPLE SOLUTION NATURAL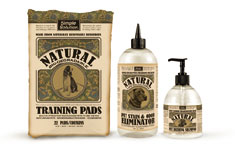 Earth conscious consumers now have an eco-friendly choice in pet care. The Natural line of products by Simple Solution is completely, 100% all-natural. The Biodegradable Training Pads, used by many pet owners as an indoor potty, are 100% biodegradable even by California's standards. They'll biodegrade faster than an orange peel! The line also offers an all natural Pet Stain and Odor Remover that's a great alternative to harsh chemicals found in traditional household cleaners. Simple Solution® Natural Pet Bathing Shampoo cleans and conditions with all natural ingredients including, plant-based mild cleansers, Aloe Vera, Vitamin E and Pro Vitamin B-5. Simple Solution Natural is based on a way of life! Find Simple Solution at Petco, PetSmart or your local pet retailer. http://www.simplesolution.com
ANIMAL RADIO® PRODUCT REVIEWS
for October

Poop-Freeze


(rated 1 out of 5 paws)
POOP-FREEZE™ is a specially formulated aerosol freeze spray that, upon contact, forms a frosty film on dog poop (or cat poop) to harden the surface for easy pick-up. Or, that is was it is supposed to do!
When I sprayed it on cat vomit, the vomit ended up spraying all over the walls and I had a bigger mess to clean up. I then tried it again, and ended up with a big mess and an empty can after 3 uses. I wondered if this was a practical joke. I immediately looked around for cameras catching the moment the poo hit the proverbial fan...and the wall, and the TV, and my husbands urn.

While I like the concept (it reminds me of the "Vapoorizer" from the movie Envy) they need to go back to the drawing board on this one!
http://www.Poop-Freeze.com
---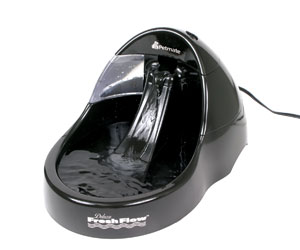 Deluxe Fresh Flow Pet Fountain from Petmate




(rated 4 out of 5 paws)
Even though our pets need plenty of fresh water, it is always a problem to fully hydrate them. Basically, you can lead an animal to water, but you can't make them drink!
Most of us have either had, or have heard, of an animal that will only drink from your bathroom or kitchen faucet. And this is usually when you are using it, trying to do dishes or brushing your teeth. But, it is inconvenient to stand there until they are done or a waste to leave the water running.
Why do they do this? Because animals like cool and oxygenated water. With the Deluxe Fresh Flow Pet Fountain we were able to have a stream of fresh flowing, cool and oxygenated water all of the time, with no waste. The water actually recycles itself and there is even a replaceable filter to keep the water clean. You can also attach a reservoir of additional water so you don't have to refill it that often.
We like the new sleek design and the cats like the trickling water. Just fill it and watch the animals flock to it ­ and get that sink back to yourself!
Petmate
Send products for review on-air and in this newsletter to: Animal Radio® Network Product Reviews, 233 East 330 North, Kanab, Utah 84741. Products may not be returned.
Rover, Get Off Her Leg! with Darlene Arden


ASK "THE DOG EXPERT" - by Darlene Arden, Certified Animal Behavior Consultant

Q. Dear Darlene Arden,
My husband and I got an adorable puppy from the shelter. He's now four months old and has been fine up until now but we're having a problem and hope that you can help us. Whenever we play with him he bites our fingers with his sharp little teeth! We don't want to hit him, of course, but we don't know why he's doing this or how to stop it. HELP!!! Please
Sincerely, Inez

A. Dear Inez,
First I want to congratulate you on your shelter puppy. Adding a new four-legged family member to your house is exciting and exhausting ­ so much work and yet it pays off in the end with a wonderful companion. Your puppy is teething. Did the shelter tell you how old he was when he was taken away from his mother and littermates? If he was together with them until just before you adopted him, then he has learned basic bite inhibition from them. No human can teach that as well. Even with good bite inhibition you don't ever want to let him bite your hands, not even playfully. Always yelp like his littermates would and then replace your fingers with a safe toy and tell him how good he is when he starts to play with the toy. Have several toys available from which he can select one that suits his needs at the moment. Sometimes he'll want to bite on something harder or softer to relieve the pain and itchiness of his adult teeth coming in. Be sure that you play safe games with him, do some clicker training every day and have fun!

"Ask the Dog Expert" is a regular column by Darlene Arden. This month's column features information found in her book, "The Angell Memorial Animal Hospital Book of Wellness and Preventive Care for Dogs," (McGraw-Hill), which helps you, in concert with your veterinarian, design a wellness program based on your dog, your lifestyle and the place where you live, and "Small Dogs, Big Hearts," (Howell Book House), and the newly released, "Rover, Get Off Her Leg!" Further information may also be found on her website: www.darlenearden.com. Copyright 2007 by Darlene Arden. All Rights Reserved.

Animal Radio® made possible by: FIDO FRIENDLY MAGAZINE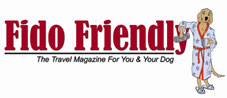 Fido Friendly magazine lists accommodations where you can stay with your dog while traveling in the United States and Canada. Each quarter, our editorial includes hotel, city and state reviews.
http://www.FidoFriendly.com
Don't miss Fido Friendly Travel Talk exclusively on Animal Radio®
ANIMAL RADIO® BOOK REVIEW
for October
Animal Radio® Book Club





(rated 4 out of 5 paws)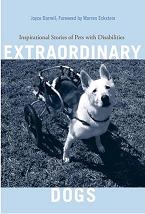 Extraordinary Dogs: Inspirational Stories of Dogs with Disabilities by Joyce Darrell
Paperback: 208 pages
Publisher: The Lyons Press (June 2007)
ISBN-10: 1599210495
Reviewed by Judy Francis

There are numerous books and stories about animals helping their handicapped human counterparts. But it is rare to see a book filled with handicapped dogs who need our help.

Extraordinary Dogs is a compilation of 50 stories about dogs with disabilities, such as blindness, those that are paralyzed and some with only three legs.
Some of the stories were hard to read, like the tear-jerker about Jinx, a rambunctious three-legged terrier mix that was dumped and abandoned on the side of the road. Despite the adversity these pups faced, they were still able to find families who loved them unconditionally.
This is more a book of the extraordinary people who welcomed these animals into their lives despite their obvious handicaps. These people are also truly extraordinary!

See other reviews at AnimalRadio.com. Send books and literature for review on-air and in this newsletter to: Animal Radio Network™ Book Reviews, 233 East 330 North, Kanab, Utah 84741. Product may not be returned. Allow 5 weeks for review.
ASK THE BIRD FOLKS with Mike O'Connor
Dear Bird Folks,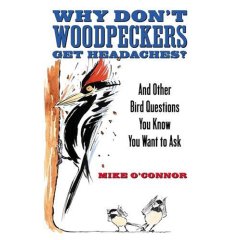 How often do hawks need to eat? I know that they eat a variety of prey, but some prey is larger than others. Is a single mouse going to keep a hawk satisfied for an entire day or will it need to continue hunting? And what if, instead of a mouse, the hawk catches a squirrel? Will that keep it full for an entire day or maybe two? If a meal is large enough, can a hawk go more than a day without hunting?- Ann, Wakefield, MA
I'm wondering, Ann,
I'm wondering why you asked this question. Are you trying to win some kind of weird bar bet about hawks' dietary habits? Did someone wager that a hawk could go for a month on a single squirrel? Or perhaps you are starting a specialized Weight Watchers group just for raptors. Let's see, eating a mouse counts as two points, five points for a chipmunk, and a whopping twenty-seven points for eating an entire jackalope at one sitting. But who hasn't done that?
Well, whatever the reason for your question, I'm glad you asked it. Many people don't realize that birds really do get full. The feeder birds we see chowing their brains out at 8:00 AM probably won't be the same birds we see at two hours later 10:00. The early birds fly off to some protected area to digest and gossip, while a new group of similar-looking, but different birds, hit the feeder.

For small birds, with their high metabolism, resting time is short. Their tiny bodies don't allow them room to store much food and they must get back to eating fairly quickly. This is good news for people who enjoy watching birds at their feeder and even better news for people like me who sell birdseed. And yes, Ann, I know you asked about hawks. I promise I'll get to that next. But since nobody has asked about feeding birds for a while I wanted to slip that in. I have mortgage payments, you know.
For the most part, raptors don't need to eat as often as the smaller birds do. As you suggested in your question, one good meal may be enough for an entire day, or even longer. Also, as you noted, hawks eat a huge assortment of prey. Red-tailed Hawks can make a nice lunch out of: worms, crickets, snakes, lizards, bats, birds, mice, squirrels or rabbits. (I know you didn't mention any particular hawk, Ann, but I've decided you were thinking about red-tails, since they are so common. Plus, they are one of the few hawks I actually know a little about.)
Obviously, there is more meat on a squirrel than there is on a mouse. A hawk has to catch and eat several mice if it wants to be full. The exact amount of food a hawk needs to make it through the day depends on the time of year and the weather conditions. In order to survive the frigid northern winters, hawks must generate additional body heat. More heat means more food. Their food consumption drops during the summer, which is good news for the hawks since they like to look fit and trim for the beach. However, the good news doesn't last long. Once the baby hawks start hatching, the adults shift their hunting skills into high gear, which means just about every small creature in the area had better have its life insurance policy paid up.
During the breeding season, if a parent hawk catches a rabbit, or some other large prey, it simply shares the catch with the family. However, after the fledglings have moved away an adult hawk will have no one to share a freshly caught rabbit. How sad. Not wanting to waste the delicious bunny the bird will eat as much as it can until its stomach is filled and there's no more room. This is when the hawk switches to plan B. Many birds hide or cache extra food for later, when the midnight munchies strike. But red-tails usually don't hide surplus food. Instead, they stuff extra food into their crop. The crop is a weird little storage room that's just off the esophagus, between the mouth and stomach. It's like having a built-in doggie bag. Extra food is swallowed and stored in the crop until the stomach is able to make room for it. Between the stomach and the crop, a hawk may indeed eat enough food at one sitting to keep itself satisfied for several days.
This begs the question: If a hawk isn't hunting, what does it do with its time? It probably does what we do when we have extra time - nothing. When birds aren't feeding, roosting, mating or migrating, they do what is referred to as "loafing." You probably don't need a definition of loafing, Ann, especially if you've seen any of my employees, but bird loafing is much like our loafing. They basically rest, digest their food, do a bit of preening and wonder why the kids don't call. See, just like us.
Besides being a frequent guest on Animal Radio® - Mike O'Connor is the owner of the Bird Watcher's General Store on Cape Cod, which opened in 1983 as one of the first stores in the United States dedicated solely to birding. His column, Ask the Bird Folks, appears weekly in The Cape Codder, The Register, The Harwich Oracle, and The Upper Cape Codder newspapers, and his writing was included in the Best American Science and Nature Writing 2004. Copyright 2007 by Mike O'Connor. All Rights Reserved. http://www.BirdWatchersGeneralStore.com
Have you heard Animal Radio® Network Lately?

So many ways to listen!
Website:
http://AnimalRadio.com
Toll-Free Studio Line is: 1.866.405.8405
For Pet's Sake with Karen Lee Stevens
Look Who's Talking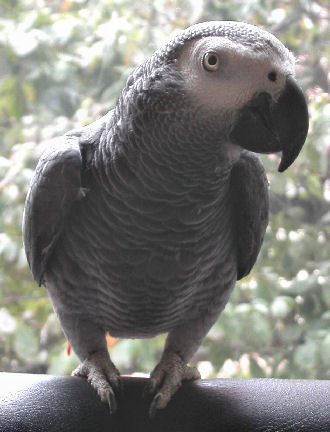 Humans may have invented gobs of gadgets to communicate better with one another (think cell phones, email, and text messaging), but we still haven't figured out how to talk to the animals, or have we?
Let's go back thirty years to a time when Irene Pepperberg, Ph.D., first began studying the intelligence and reasoning abilities of the African Grey parrot. After completing her doctoral thesis in theoretical chemistry at Harvard University, Pepperberg acquired a 1-year-old African Gray that she named him Alex (an acronym for Avian Learning EXperiment). Together, Pepperberg and her protégé shattered the myth that birds are, well, bird brains.
Over the years, Alex developed a vocabulary of 100 words and demonstrated an ability to count and recognize dozens of different shapes and colors. He showed the emotional equivalent of a 2-year-old child and the intellect of a 5-year-old.
Alex's gift of gab and his amazing ability to understand human language became the subject of many scientific journals and numerous television programs, including PBS's "Nature" series and an episode of "Scientific American Frontiers" with actor Alan Alda. Through his interactions with Pepperberg, Alex helped define the bond between humans and animals and showed us that these brainy birds are capable of much more than simply mimicking sounds; they excel at cognition and communication as well.
Last month, Alex, 31, died suddenly and Dr. Pepperberg and the entire avian community mourn the plucky parrot's passing. On the Alex Foundation Home Page (www.alexfoundation.org), a heartfelt note reads: "Please bear with us as we move through this difficult time of grief and regain our composure. We have received thousands of emails and continue to go through them. The support you have shown us is overwhelming and we are forever grateful."

We're all Kookoo for Koko.
Speaking of talking animals, do you remember Koko, the gorilla who can "speak" in American Sign Language? In 1972, Penny Patterson, a young graduate student in developmental psychology at Stanford University, volunteered to teach sign language to a 1-year-old female gorilla named Koko. Within two weeks of beginning her experiment, Patterson had taught Koko the signs for food, drink, and more. Today, Koko, with an IQ of about 90, can sign more than 1,000 words, understand 2,000 spoken words, and can initiate conversation and ask questions. She's also a pretty darn good artist, as portrayed in the original watercolors displayed on her Web site www.koko.org.

Koko's intelligence and her ability to express empathy and deep emotion have forever changed our perception of gorillas and how we relate to them. Who can forget the touching images of Koko cuddling her first kitten, "All Ball" in the January 1985 issue of "National Geographic" magazine? Not long after the photos were published, All Ball was tragically killed by a car and Koko's wrenching sobs and her distraught sign, "Koko Sad," still haunt us today.
Not only is Koko the world's most famous gorilla, she is also an ambassador for her species. As part of the Gorilla Foundation, Patterson and Koko are working to save the species from extinction. This inevitable outcome could occur in the next few decades if the gorilla's natural habitat-the forests of Africa-are not kept from being destroyed and poachers continue to hunt the gorilla for "bushmeat."
The Foundation, currently located near Santa Cruz, California, is raising funds to construct a gorilla preserve on west Maui, Hawaii. The 70-acre sanctuary-provided by the Maui Land and Pineapple Company-will allow Koko, her mate, Ndume, and many other gorillas to live in a more natural environment and afford Koko the chance to have children and teach sign language to the next generation. To learn more about the preserve and how you can help, visit www.gorilla.org. As Koko says: "Time Hurry Go!"
Alex and Koko have proven that animals have much to teach us about compassion, communication, and conservation. Isn't it time we started paying attention?
What are you and your animals talking about? Let Karen (Founder and President of All For Animals, Inc.) know by sending her an email at karenleestevens@cox.net.
ASK THE CAT COACH with Marilyn Krieger
My Cat Plays Too Rough
Dear Cat Coach,


I have a 5 month old kitten named Ninja. We love Ninja to pieces, but she has one annoying habit that we're worried about. Ninja bites hard when we play with her. I admit we probably play a little rough with her. Since we've gotten her, she's loved being rolled on her back and tickled. We've noticed that as she gets older her bites are getting more painful, to the point of almost breaking our skins. The other annoying habit she's recently developed is that she sometimes attacks our feet at night while we are sleeping.
From Ouch!
Dear Ouch!
Ninja thinks it's OK to bite you because you've encouraged the behavior by the way you play with her. Tempting as it is to tickle and rub that little Ninja stomach, try to refrain from using your hands when playing with her and please stop roughhousing with her. Playing with hands and roughhousing with a cat sends the message that is OK to play rough and to bite. Additionally, a cat will think it's OK to attack feet and hands during the night or other times when you are not prepared to engage her in play.
Instead of using your hands, use a fishing pole toy when playing with Ninja. Imitate the hunt. Pretend the object on the end of the toy is a wounded animal, causing it to scurry, change directions and speed, going under sofas, etc. The goal is to get little Ninja very involved in playing with the toy. When you are ready to stop playing don't abruptly stop the action. Instead, gradually slow down the play, cooling her off. Look at it like any other exerciser regime. When exercising hard it's recommended to slow down before stopping. After you stop playing, feed Ninja something really yummy, or you can feed Ninja her regular meal. Most cats will groom themselves after eating and then go to sleep.
Little balls that she can run after provide another entertaining way to engage her in play without using your hands. Make sure that the balls and toys you give her do not have any parts that can be chewed off and swallowed.
When Ninja does attack or bite you don't punish her. Instead give her a time out by you turning around and leaving the room for a few minutes. Yelling at her or punishing her can reinforce the behavior, escalate the behavior, create other unappreciated behaviors or make her afraid of you.
Marilyn Krieger, CCBC is a Certified Cat Behavior Consultant. She can be reached for on-site consultations to help solve cat behavior problems either by e-mail marilyn@thecatcoach.com or by phone: 650 780 9485. Marilyn teaches cat behavior classes and is available for speaking engagements. Find out more at www.thecatcoach.com. Copyright August 2007 Marilyn Krieger, CCBC All Rights Reserved.


G'day from down under!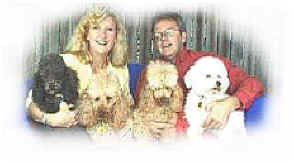 We received an e-mail from Animal Radio® host Hal Abrams recently. Short but to the point. Hal was pretty upset! The email also had a link to a news story that Hal thought we should be doing.
It was a news story about dog owners being warned about Fox Baits. We thought Fox baits? News?... we often mention it when we get media releases from local councils but it's rarely 'news'.
In fact Fox baiting is a very common procedure mostly September through October here in Australia.
Just so you know, each year in Australia Foxes actively target farm animals (mostly sheep) kill them by their thousands and leave them to die a slow death. They are now in our suburbs and also target domestic animals much the same way.

But you may think like Hal (and a number of Aussies too we should add!!) that "this is a pretty cruel thing to do to a sentient being!" but the little Fox is considered a highly dangerous pest down here!
So how does Fox baiting work? Here's an excerpt from one of many 'official' websites:
'1080 has been used for many years in Australia for control of introduced pests such as foxes and rabbits.
Foxes and other canids are extremely sensitive to 1080, whereas most wildlife are reasonably resistant to it. This is because our native wildlife co-evolved with plants containing 1080 and built up a natural resistance to it. Foxes on the other hand, having evolved without contact with these plants, never developed such resistance.
This allows the use of tiny amounts of 1080 in each fox bait - in fact just 2.5mg per bait (two and a half thousandths of a gram). At this ultra low rate it is sufficient to kill an adult fox (and unfortunately most dogs), yet too low to cause serious injury to most wildlife. All baits are meat-based, which makes them unpalatable to herbivores. Each bait is buried 10-15cm deep in the ground, which greatly reduces the chances of carnivores and scavengers finding and taking them, and thus preventing foxes from eating them. All uneaten baits are also recovered after 21 days and destroyed.
In combination, these factors create a baiting system that makes the baits hard for wildlife to find in the first place, unpalatable to most species if they do find them, and even if they are found and consumed, the amount of 1080 ingested should be below a lethal dose. On the other hand, foxes, with their keen sense of smell and natural habit of burying food for later consumption, are able to locate the baits readily and will be poisoned by ingesting a single bait.'
More reading reveals:
'Nearly on an annual basis, we get a fox come into the Park and we may lose anything from a couple of animals to last year where we had a family of foxes and they came here for nearly two months and we lost 22 animals in two months, which is pretty catastrophic. We had them indiscriminately going from one yard to another, so they weren't hitting the same spot, they knew their way around the Park.' Google (Australia) ­ 'Fox Baiting 1080' to read more..
So is Fox baiting 'cruel'? ­ well that opens up a whole Pandora's box of questions doesn't it? Is it cruel to kill ANY animal. What does 'to kill humanely' really mean?

For instance is it cruel to have 'no-kill shelters?' What happens to those domestic animals that can't be re-homed etc etc etc.
We might save some of those questions for a show sometime but we'd love to hear your feedback on Fox-baiting here in Australia. Check out our new Forum at www.pettalkradio.com. What do we think? ­ you'll have to listen to Pet Talk Radio to find out. Meantime ­ hugs for your pets from Brian & Kaye.
Hear Pet Talk Radio! on Animal Radio Network - LISTEN TO ANIMAL RADIO NETWORK NOW - Check schedule for showtimes
Animal Radio® made possible by: AUSTIN ROSE®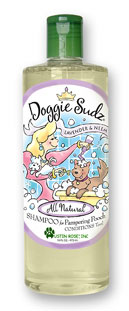 DOGGIE SUDZ™ is Austin Rose Inc.'s new Organic pet shampoo/conditioner. Botanical extracts, including Aloe Vera, Vitamin E and Neem Oil, clean and soften your pets' coat to a shiny luster. Soothes insect bites and repels insects naturally. DOGGIE SUDZ™ is gentle enough for everyday use! Vegan certified, it has NO Alcohol, Pesticides, Phosphates, Detergents, Dyes, SLS, DEA or TEA. DOGGIE SUDZ™ is available in 16 fl oz bottles in MANGO and LAVENDER scents and includes a FREE pet charm in each bottle, while supplies last! 1-800-945-0190
http://www.austinrose.com
Search Animal Radio® Network