Vick's Co-Defendant Agrees to Plea Deal
By Michael S. Schmidt

THE NEW YORK TIMES, RICHMOND, Va., - One of the men indicted with Michael Vick on federal dogfighting charges pleaded guilty Monday and has agreed to help prosecutors make their case.
Tony Taylor, a 34-year-old from Hampton, Va., pleaded guilty here in United States District Court to charges of conspiring to travel in interstate commerce in aid of unlawful activities and to sponsoring "a dog in an animal fighting venture."
Taylor, Vick and two other men, Purnell A. Peace, 35, of Virginia Beach; and Quanis L. Phillips, 28, of Atlanta, pleaded not guilty last week in the case. But as part of his deal, Taylor signed a 13-page statement that confirmed much of what the government asserted in its indictment of the men on July 17.
Taylor outlined his involvement with the others in a dogfighting enterprise known as Bad Newz Kennels, according to the statement. He attested to how he scouted a property for Vick to buy in Smithfield, Va., as the base for the venture and cited numerous examples in which the group bought, trained and sponsored dogs in connection with fighting. He also said they gambled on the fights.
Although the statement said several dogs were killed, it did not say that Vick killed any of them. The statement said Taylor had a falling out with Phillips in 2004 and had not been part of the enterprise since.
The 18-page indictment against the men accuses them in graphic detail of animal cruelty. During a search of Vick's property in April, 54 pit bulls were recovered, along with a so-called rape stand used to hold dogs in place for mating, an electronic treadmill modified for dogs, and bloody carpeting. As part of his agreement with prosecutors, Taylor is expected to give testimony that mirrors his statement.
Since being indicted on charges of sponsoring, gambling on and authorizing acts of cruelty against dogs, Vick has had his football career put in limbo - and in jeopardy. N.F.L. Commissioner Roger Goodell told him not to attend training camp, Reebok has pulled his Atlanta Falcons jerseys from stores, and Nike has stopped sales of its Vick-branded products.
At a 9 a.m. hearing Monday, Taylor stood with his lawyer, Stephen Ashton Hudgins, before Judge Henry E. Hudson and answered questions about whether he understood the plea agreement.
Taylor responded that he did with brief answers in a deep monotone voice.
He faces up to five years in prison and a $250,000 fine, and is free on bond while awaiting a Dec. 14 sentencing. Because a trial in the case has been scheduled for Nov. 26, the judge and prosecutors will have time to evaluate the extent of Taylor's cooperation before setting a punishment.
Vick and the others are also free on bond.
Daniel C. Richman, a professor at Columbia Law School and a former assistant United States attorney, described the plea agreement as an important step for the investigation.
"A witness like this is the only way to really get inside information without tracking the crime while it is happening," Richman said. "This is the government's way of signaling to the other defendants that it has significant evidence and that they should seriously consider pleading guilty themselves."
A spokeswoman for the United States attorney's office in Richmond declined to comment because the investigation was still under way.
Vick's lawyer, Billy Martin, did not return a telephone message seeking comment.
While leaving the court Monday, Taylor was swarmed by reporters who peppered him with questions about Vick.
Taylor said nothing as he entered a waiting car and left.
Carl Tobias, a professor at University of Richmond Law School, said that the turn of events did not help Vick but that defense lawyers could attempt to discredit Taylor.
"Vick's lawyer was saying on Thursday that they were going to fight this thing to the end, but just a few days later someone has already pled," Tobias said. "There is a lot time between now and the trial, and the other defendants could turn as well. But the other three of them may be hanging together. They could go after Taylor's credibility by citing the falling out as more motivation to turn against them."
Hear Dogfighting in America with HSUS John Goodwin.
Sports Illustrated Michael Vick Poll

Hear breaking news as it happens - Animal Radio® is streaming online 24/7 Listen LIVE Now!


This Week on Animal Radio®:

Wendie Malick (Nina Van Horn on Just Shoot Me)


Wendie Malick was a presenter at the 21st Genesis Awards, which is an annual event to honor outstanding individuals in the major media for raising awareness of animal issues presented by The Humane Society of the United States.

This year's award, which took place on March 24th at the Beverly Hilton in Beverly Hills, California. The full ceremony is being re-broadcast on AmericanLife TV.
Listen in as Wendie talks about growing up with dogs, and in fact, states her older sister was a collie!
http://www.arktrust.org


Hear Wendie Malick on Animal Radio®

Next Week on Animal Radio®:
John Tartaglia


Broadway and TV star John Tartaglia ("Avenue Q," "Johnny and the Sprites") has volunteered to spread the word about pet adoptions and is now a spokesperson for The Humane Society of the United States' Proud 2 Adopt campaign. The New York-based actor shares his home with four of his own shelter-adopted pets.
The HSUS offers Proud 2 Adopt "care packages" at no charge to new "pet parents" who send in their adoption certificate from their local shelter or rescue group. The package includes: an HSUS certificate, a P2A t-shirt, bumper sticker, pin, pen, brochures, and a coupon for Hill's Science Diet pet food. Information about getting the free package can be found at http://www.humanesociety.org/adopt

Tartaglia stated, "I believe that there is no organization as powerful and knowledgeable about animal issues as The HSUS and it's an honor to be linked with them on this project. I consider my own dog Dora and cats, Sebastian, Mia and Keisha ­ all from shelters ­ to be part of my family, and I am a proud dad to have them in my life."
Tartaglia, best known for his Tony Award-nominated performance on Broadway in the original cast of "Avenue Q," is star, executive producer and co-creator of the hit Disney Channel series "Johnny and the Sprites." As a puppeteer, he was one of the youngest actors to ever appear on "Sesame Street," where he worked for 10 years starting at the age of just 16. In addition, he appeared earlier this year as Lumiere on Broadway in "Beauty and the Beast."


---
RECENT Animal Radio® PODCASTS:



Podcast LUCIE ARNAZ - Growing up with Lucie & Desi (1 hour abridged version)
Podcast WENDIE MALICK - Her dog was her babysitter.
Podcast DR. DEBBIE WHITE - Anti-Depressants for your cat.


Podcast DOGFIGHTING IN AMERICA with HSUS's John Goodwin.
Podcast TRAVELING WITH YOUR PET Special with HGTV's CLIVE PEARSE.
Podcast CHRISTOPHER AMERUOSO photographs pets and their celebrity owners. Find out what celeb he proposed to.
---

Recently on Animal Radio®:
Lucie Arnaz


Lucie Arnaz was one of the first members of Actors and Others for Animals when they opened their doors. This comes as no surprise, as she is the daughter of Lucille Ball and Desi Arnaz, who were big animal lovers themselves. Lucie grew up around all types of animals, from rabbit and ducks and once even had a boa constrictor. Her father, Desi Arnaz, once owned and operated a thoroughbred breeding farm called Corona Breeding Farm of thoroughbred horses.
Lucie currently does not have any pets, as she lost her 2 dogs and her 2 cats to friend when she went to Europe for a year and a half and upon her return didn't have the heart to uproot her pets who had become used to their new people and surroundings.
Lucie began her career at age 12 when the played in her mother's tv show "The Lucy Show," and then she became a series regular on "Here's Lucy" co-starring with her brother, Desi Arnaz, Jr. But despite her many movie credits, Lucie's real passion lies in lived theatre.


Hear Luci Arnaz on Animal Radio®


Traveling With Your Pets Special


Dogs are the pets that travelers bring along most often, according to the Travel Industry Association. It estimates that 29 million travelers have taken a pet with them at least once in the past three years. The group said 78 percent of those people (about 22.6 million) took dogs, while feline travelers were a very distant second. Cat owners made up 15 percent of the pet-toting public (about 4.4 million).
This annual special covers the new products and services available for your traveling pets.

Top 10 Fido Friendly Destinations
Susan Sims of Fido Friendly Magazine counts down the top 10 places to take your pet.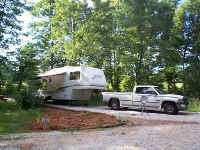 10. Four Paws Kingdom Campground in NC
Campers will enjoy the 33 acre campground where owners can swim with their dogs and where you can sign your dog up for obedience and agility during your stay.

9. Cunard Lines' Queen Mary 2
Bet you didn't think you could cruise with Fido but for you world travelers out there, the good news is you can! The Queen Mary 2 makes the transatlantic crossing in 6 days. There are just 12 kennels on board as dogs are not allowed inside your rooms. The cost to take your dog ranges from $300-$500 one way.

8. The Ruby at Crested Butte, CO
The Ruby is the premier Fido friendly bed and breakfast in the very dog friendly town of Crested Butte. Each dog that stays at this bed and breakfast will lap up the luxury as much you will.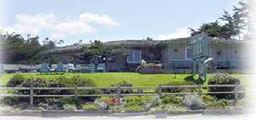 7. Cambria Shores Inn, Cambria, CA
Newly renovated upscale accommodations right across from the ocean; you receive your breakfast in a basket on a hook outside your door and Fido receives his own goody basket as well. $15.00 pet fee.
6. Cypress Inn, Carmel, CA


Carmel is one of the top FF cities in the country where pets can run leash-free on Carmel Beach. The Cypress Inn, owned by actress and animal activist, Doris Day, gives you a list of Fido-friendly restaurants where you can dine al fresco with your dog and offers pet-sitting. $30 and up for pet fees.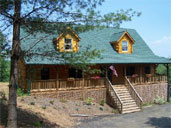 5.The Dog House Resort, NC
Listed as a B&B for people and their dogs, this is a brand new property on 3 acres overlooking the Blue Ridge Mountains. There is no pet fee or breed restrictions and there is a fenced dog park on property. You can also canoe or walk with your dog at the nearby New River. Great place to plan a fall foliage trip.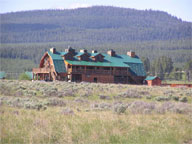 4. Bar-N Ranch, West Yellowstone, MT
Located just 10 minutes from the entrance to Yellowstone National Park, the Bar N Ranch offers private, Fido Friendly cabins on over 200 acres. The breakfast is included and is out of this world. You and Fido are free to romp on the 200 acres or fish in the river running through the property. Pet fee is $15.00 for 2 dogs.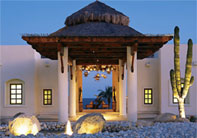 3. Las Ventanas al Paraíso, A Rosewood Resort in Baja, Mexico
Here is a great pick for those adventurous souls venturing south of the border. Upon arrival, dogs receive a neck massage and while you relax poolside, your canine companion can relax right along side you inside his own pet cabana. The down side is it's a bit pricey at $450 a night and $50.00 pet fee.
2. Arizona Biltmore, Phoenix, AZ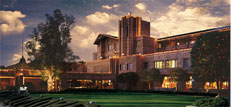 As part of the Biltmore's "Preferred Pet Pals" program, the hotel sends guests who are bringing pets a special profile to complete before arrival, noting everything from size to special dietary needs. Several of the Biltmore's cottages feature enclosed yards for dog play, and the 39-acre resort has other large common grassy areas for all guest pets to enjoy. Room-service pet meals come with Arizona Biltmore bottled water. $250 deposit; $200 of which is refundable
1. Telluride, CO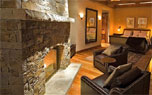 With it's pet-friendly gondola and 2 dogs per person ratio, Telluride Colorado makes our Fido Friendly top ten list coming in at number 1. No matter the season, the resort town of Telluride rolls out the welcome mat for you and your dog. With puppy parking stations located throughout town, you can leash Fido up with some of his new best friends while you run errands or dine. There is a dog park in town and you will see several well-behaved pooches walking off-leash with their guardians. The whole town is Fido-friendly and there are too many Fido-friendly hotels to mention. Just take my word for it, this is a travel destination for you and your dog you won't want to miss.
And if I do have to mention two of my favorites, they are The Peaks Resort, home to the famous Golden Door Spa. There is a Fido entrance to the spa where your dog will be pampered while you hit the slopes or are getting pampered at the same time. $150 non-refundable fee. Each additional pet is $50. And the Mountain Lodge at Telluride. The hotel's "Elevated Pooch Package" includes dog bed, check-in biscuits, a take-home dog dish and copy of "Fido Friendly." With a two-night stay they'll waive the $25 per night pet fee.
Don't miss Fido Friendly Travel Talk on Animal Radio®
Check out Fido Friendly at: http://www.fidofriendly.com

Animal Radio's Traveling with Your Pet Special brought to you by DryFur, makers of the Dryfur pet carrier insert; and KURGO, makers of innovative products to safely restrain your dog while traveling.


Traveling with Your Pet Special on Animal Radio®

Is There an Easier Way to Medicate Pets?
Dr. Marty Becker


Transdermal delivery of medications to veterinary patients is becoming increasingly popular. The transdermal gel is simply rubbed into the pet's inner ear, delivering an active agent or a combination thereof in a controlled form. The transdermal gel technology controls the delivery of the active agent over periods of time ranging from 12 to 24 hours. The extent of the controlled release window enables a once-a-day application.
The transdermal route is desirable in many patients, including those animals with behavioral problems that makes handling and administering oral medications difficult; animals whose health is compromised and the stress of oral administration would further aggravate medical conditions; and any animal whose owners are unable to "pill" or administer oral medications to their pet.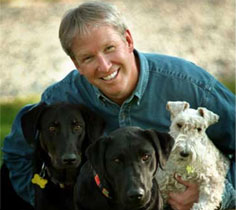 There are also "VetChews" in which the raw drug is compounded into a chewable treat base form, or you can find a pharmacy which offers flavored liquid medication.
Hear Dr. Becker talk about the different ways to administer medications to our pets.
http://www.DrMartyBecker.com
http://www.PetConnection.com


Hear Dr. Marty Becker on Animal Radio®

Therapy Kangaroo
Noralynn Snow, Silverado Senior Living Community


You've probably heard of therapy dogs and cats, and even perhaps horses and pigs. But what about a Kangaroo? Well, residents of the Silverado Senior Living Community have the pleasure of visits from Elliott, a six-month old baby Kangaroo.
Elliot visit the 120 citizens of the center, who suffer from everything from Alzheimer's disease to Parkinson's disease, and will even sit on their laps for hours at a time.

It has been proven that animals of all types can have large health benefits. Dr. Marty Becker, author of The Healing Power of Pets states that "there is actually a biochemical event that happens when they come in contact, a biochemical spa treatment of sorts and that "it lowers blood pressure and elevates the mood."
When Elliot is not at the hospital, he goes home with a staff member, Noralynn Snow, and actually sleeps in bed with her.
http://www.silveradosenior.com


Hear Noralynn Snow on Animal Radio®

Pets and Their Celebrities
Christopher Ameruoso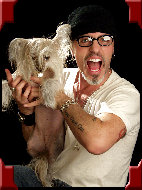 Armed with a mantra of "Just Do It", Christopher Ameruoso has carved himself a unique and successful niche in the Hollywood Hills where dreams are made and stars are born. Gaining access to some of Hollywood's most sought-after stars, armed only with an artistic eye an his camera, Ameruoso has become a self-made photographer of Pets and the stars that own them. He has been photographing actors, actresses, and models since 1998, and has released a best selling pet book "Pets and Their Celebrities".
Over the years Christopher has been involved with a vast range of projects, including 'The Osbournes pets' and 'Bark at the Moon', the official Osbourne Family Pet Book. Christopher was tapped for a special tribute to the search and rescue dogs of 9/11 for 'New Yorker' magazine featuring nine celebrities with hero canines.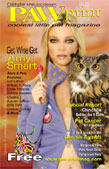 Throughout the course of his career Christopher's work has been featured in People magazine, In Style, Smoke, Star, US Weekly, The New York Times, Daily News, The NY Post, and The LA Times to name a few. In fact, People Magazine broke tradition and printed a unique black and white montage of some of Christopher's select pieces.
He can now be seen every week in 'In Touch' in his column titled 'Stars and Their Pets'.
Christopher Ameruoso has also launched an animal lover's magazine 'PAW print'. After years of photographing a myriad of celebrities and their beloved pets. Christopher tells Animal Radio® that George Clooney wouldn't let him photograph him with his pig. Only one photo is in existence of Clooney and his Swine.
http://www.ChrisAPhoto.com
http://www.PawPrintMag.com


Hear Christopher Ameruoso on Animal Radio®

Thunderstorms and Your Pet
Mike Fry, Animal Ark Animal Shelter and Host of Animal Wise Radio with Dr. Linda Wolf


My first dog, a German Shepherd named Buddy, was a beautiful, intelligent, perfect companion. That is for one slight problem. He turned into a lunatic during thunderstorms. And I don't mean just huddling in a corner, but knocking over full-sized sofas in an attempt to get his 90-pound frame behind one,
So why do so many animals have storm phobias? Animal senses are much sharper than ours. They hear, smell and sense things with a clarity that we can hardly imagine.


Hear Dr. Linda Wolf on Animal Radio®

Bicycling With Your Dog


Mike Fry, Animal Ark Animal Shelter and Host of Animal Wise Radio with Dr. Linda Wolf
If you think your dog likes to tag along with you while you ride your bike ­ think again, especially in this hot weather. Most dogs aren't built for this type of exercise, but will go along with you because they want to be in your company and will do anything to please you.


Hear Dr. Linda Wolf on Animal Radio®

Rent-A-Pet Program
Seth Sachson, Aspen/Pitkin Animal Shelter


Moving to Aspen in 1992, Seth Sachson was hired as the director of the shelter in 1993, and in 1994 took over the contract to operate the shelter. In the past 9 years, Seth has turned the shelter into a happy, healthy atmosphere for animals and people alike.
One of the programs Seth has started is the Rent-A-Pet Program. This program allows visitors, who have been forced to leave their pets at home, the opportunity to fill the void by spending a day outside the shelter with one of the animals who live there. The program is also open to residents.
Other programs Seth has started are:
Dog Walking Program
Recognized by the American Humane Association as one of the top 100 animal shelter programs in the United States, Aspen's dog walking program provides a way to ensure that shelter dogs get plenty of exercise and human interaction. As many as twelve volunteers come by the shelter each day specifically to take a dog for a hike or long walk.
Educational Programs at Local Schools
The shelter works very hard to educate school children on how to take care of animals. There are a number of in-house programs in which kids visit the shelter and interact with the resident dogs and cats. There are also several outreach programs designed to reach children attending these local schools.
A mentorship program with the Aspen Middle School
An internship program with the Aspen Community School
A community involvement program with the Aspen Country Day School
Seth can be contacted at 970-274-3043 for more information.
http://www.DogsAspen.com


Hear Rent-A-Pet on Animal Radio®


Animal Radio® made possible by: Safe-Guard


Get ready for spring by protecting your dog ­ and your family ­ against intestinal worm infections! Did you know that eggs and larvae that infect dogs can survive in the environment for months ­ even in extreme winter weather conditions? And that those same parasites can also infect humans? Why take chances? Make intestinal deworming an important part of your dog's routine health care with Safe-Guard® Canine Dewormer ­ a safe and effective way to eliminate and prevent the major intestinal worms that can infect dogs all year round. Just sprinkle it on your dog's food twice a year, for complete peace of mind!
Visit www.Safe-Guard.com for information on treating and preventing intestinal worms.
Veterinary Minute on Animal Radio Network
with Dr. Jim Humphries
Rabies ­ Controlling The Threat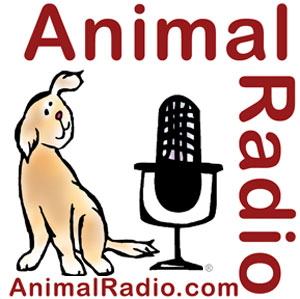 Rabies. Almost everyone knows how scary this disease is- because it is fatal to both people and pets. And this year is unusual as we are seeing more cases earlier than normal. Most people believe that rabies is well under control due to vaccinations and regulations. But what you may not know is that every spring and summer, we see an emergence of rabies. Worse yet exposure to rabies can happen in your own backyard.
The reason rabies continues to be of concern each year is because of a "spillover" of the rabies virus that lives in the wildlife population. Spring and summer are the seasons when most wildlife is very active and on the move, and there is an increased exposure of our pets to wildlife - even if you live in the city. While it is true that the majority of rabies cases occur in wildlife, most exposure to humans occurs when they are bitten by a domestic animal that has been exposed to rabies. That is why current rabies vaccinations are so important for our pets.
The primary wildlife reservoir hosts are bats, skunks, raccoons, foxes, coyotes, and wild dogs. These are also the wildlife that our pets are most likely to encounter. The primary hosts vary in different parts of the country. Keeping both dogs and cats vaccinated, and limiting your direct contact to wildlife is the best way to protect you and your pets from rabies. Rabies vaccination regulations also vary from state to state and your veterinarian is your best resource for rabies information.
Still, with all of the knowledge and vaccination protocols available, each year, there are rabies incidents reported in people, so it is important to know what to do if you think you may have been exposed to rabies. The rabies virus is usually transmitted in the saliva through a bite. Everyone should consider ANY animal bite - whether from wildlife or pets - as an emergency and get prompt medical attention. Animal bites should also be reported to your local animal control so that proper quarantine measures can be taken if necessary.
Any wildlife animal that bites a person or pet will be euthanized and tested for rabies immediately. But what if the bite is from a domestic animal? If a person or pet is bitten and the dog or cat is vaccinated and appears healthy at the time of the bite, the pet can be confined by its owner for ten days and observed. No anti-rabies shots would be required. Unvaccinated pets may be required to be euthanized and tested. If the owner is unwilling to do this, the pets must be quarantined for six months and vaccinated before release. If a vaccinated pet is bitten by a rabies suspect, the pet must be kept under observation for 45 days.
The reason for these time periods is due to the incubation time of the rabies virus in the host. Studies show that unless the virus is shed in the saliva, it is not transmitted. Only late in the disease when the virus has reached the brain and caused an encephalitis does the virus shed in the saliva and therefore able to be transmitted. Most of the signs are very obvious within three to five days of the quarantine and observation period.
Rabies vaccination for your pets ­ dogs and cats - is still the number one prevention you can take. Keep proper rabies and identification tags on your pets at all times. Always maintain control of your pets, and have them spayed or neutered to help reduce the number of stray animals in your community. Report any stray or wildlife animals to your local animal control. Do not try to capture an animal yourself. Consider any stray animal as a rabies risk.
You can watch an interesting video about Rabies by visiting http://www.MyVNN.com.

Dr. Humphries is a veterinarian in Colorado Springs and the National News Director for Veterinary News Network at http://www.MyVNN.com. Hear the Veterinary Minute exclusively on Animal Radio®-LISTEN TO ANIMAL RADIO NETWORK NOW
ASK THE CAT COACH with Marilyn Krieger
Help, My Cat Won't Stay Out of My Room!

Dear Cat Coach,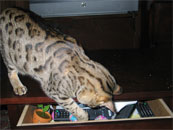 I'm not sure what info you will need, so I will tell you as much as I can. I have 2 male indoor cats that I have had since Dec. 06 and both are fixed and get along great. They are happy and very comfortable at home, lovable, and are in great health. The one I have an issue with is Raider.
Raider has had this obsession with trying to sneak his way into my bedroom & go under the bed. I do not allow my cats to go in there. I have too many tiny things they could play with and I don't want litter paws on my bed. So, if he see's the door opens he will stop whatever he is doing and run at the door or will hide near it for the chance to run in and he will go straight under the bed. He see's this as a game because once I get him out, tap him on the nose as I say "No" and then send him on his way, in no time he is at it again with many attempts all evening long. This is not a huge issue, but one none-the-less.
This is the huge issue:
One thing that has come about since around March/April is Raider's constant meowing and scratching under my bedroom door anytime from 3am-6am every morning. He begins to cry, then starts the scratching and then he constantly throws his body against the door as he's sticking his arm under it. (A behavior he does when his toy goes under the couch). At first I would check the food & water bowls and those always seemed to be fine. Litter is done before I go to bed. I started putting a squirt gun by my door and would squirt him when he wakes me up. He runs off and I close the door and a few minutes later he's doing it again. I have sat there for hours before letting him continue the behavior with no acknowledgement from me & he has done it for hours--especially in the beginning. So I constantly get woken up and squirt him, telling him no & it doesn't seem to bother him anymore. Any help would be appreciated, not much has worked & I'm getting very exhausted by all of this.
Sincerely,
Longing for a good night's sleep!
Dear Longing!
It's more fun for Raider to annoy you, and get a reaction in the wee hours of the morning then it is to wait for you to feed and interact with him on your schedule. Tapping him on the nose, squirting him and yelling will not solve the problem. He is getting a response from you, even if it is an unpleasant one. Responding is reinforcing the behavior. Instead of reacting, don't respond at all. Don't be surprised if his antics get more pronounced and frantic at first. Raider will probably escalate the behavior since he's accustomed to your reactions, but in a few days he should stop. Along with not responding to his behaviors, there are some activities that you need to engage him in as well. When changing a behavior it's important to give cats other more desired alternative activities.
Every night, before going to bed play with him in a way that imitates the hunt. One of the goals is to play in such a way that does not leave him adrenalin charged, wanting more play. A good toy to use is a fishing pole toy. Never use your hands when playing with a cat! Use the toy to imitate a wounded animal by the way you move the toy. Have it speed up, slow down, go under cabinets, into bags, etc. Towards the end of the play session, make sure to slow the play down. Think of it as a cool down session, a means of dissipating adrenalin, similar to what athletes do after an intense workout session. After the cool down period, allow Raider to catch the toy. After he catches it give him something to eat. This type of play mimics the hunt. After eating, most cats will groom themselves and then settle down to sleep. Please don't leave the fishing pole toys out when you are not there to supervise the play.
Providing him with other entertainment at night may also help. Make puzzle toys out of empty towel or toilet paper rolls. Punch the rolls with holes that are big enough for dry food or treats, than scrimp the ends down. Partially fill the rolls with either his regular dry food or healthy-tasting treats. The same thing can be done with lattice balls or treat balls. Not only will this provide him with something to do, but it will force him to get a little more exercise.
Cats love to play and play-hunt. Anything small has the potential of becoming a toy in the eyes of a cat. Raider is just being a cat, wanting to play with the fascinating objects you keep under the bed. You may want to consider getting containers or cabinets to store your small, cat-enticing objects in. Instead of tapping Raider on the nose, provide him with lots of little safe toys elsewhere in the house. Tapping him on the nose will not stop him from playing with the objects under the bed, punishing him will either escalate the behavior or distance him from you.

Marilyn Krieger, CCBC is a Certified Cat Behavior Consultant. She can be reached for phone or on-site consultations to help solve cat behavior problems either by e-mail marilyn@thecatcoach.com or by phone: 650 780 9485. Additionally, Marilyn teaches cat behavior classes and is available for speaking engagements. You can find out more about The Cat Coach at http://www.thecatcoach.com Marilyn is certified through The International Association of Animal Behavior Consultants. Copyright July 2007 Marilyn Krieger, CCBC All Rights Reserved. In Technecolor where available. Void where prohibited.
Animal Radio® made possible by: SIMPLE SOLUTION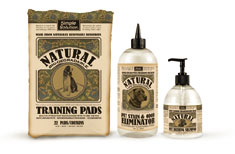 Earth conscious consumers now have an eco-friendly choice in pet care. The Natural line of products by Simple Solution is completely, 100% all-natural. The Biodegradable Training Pads, used by many pet owners as an indoor potty, are 100% biodegradable even by California's standards. They'll biodegrade faster than an orange peel! The line also offers an all natural Pet Stain and Odor Remover that's a great alternative to harsh chemicals found in traditional household cleaners. Simple Solution® Natural Pet Bathing Shampoo cleans and conditions with all natural ingredients including, plant-based mild cleansers, Aloe Vera, Vitamin E and Pro Vitamin B-5. Simple Solution Natural is based on a way of life! Find Simple Solution at Petco, PetSmart or your local pet retailer. www.simplesolution.com

8 WAYS TO "GREEN" YOUR PET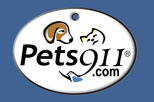 Can man's best friend also be a friend to the environment? According to the United States Humane Society, 73 million dogs and 90 million cats currently inhabit U.S. homes, meaning household pets are an important consumer of valuable resources in many families. Here are eight tips on making your pet owning experience a "green" one.

1. Adopt Your Pet From a Local Shelter

Pets 911 currently has a list of over 20,000 adoptable pets from 8,000 animal shelters. All these animals need things like food, water and vaccinations to survive. They are not disposable, just in need of a loving home. Before you consider buying from a pet store or breeder, visit Pets 911 to see if your dream pet is just a shelter phone call away.

2. Help Control the Pet Population

Bob Barker's famous television line says it best, and spaying/neutering your pets can also have environmental impacts. According to Animal World Network, seven puppies and kittens are born for every human, which means animal overpopulation is a more serious issue than human overpopulation. A neutered/spayed cat will also be less likely to suffer from ovarian or testicular cancer, which means less resources spent on treatment.

3. Find a Local Vet

Every time you drive your pet for a routine check-up, you're emitting carbon dioxide into the air. A five minute drive creates far less damage than a 45 minute commute to the vet you started seeing when you lived five towns away. When you move over 10 miles, consider finding a veterinarian in your new community. Pets 911 has a database of more than 6,000 vets organized by zip code for your reference.

4. Investigate Healthy Food Alternatives

If your family is good enough for the latest trends of a healthy diet, why not your pet? While organic pet food may cost a little more money, it is made with renewable resources and no pesticides or environmentally unfriendly fertilizers. Any extra expenses on food could easily be offset by less medical expenses for your pet from a healthier diet.

5. Recycle Food Containers

As the #1 recycling resource on the internet, it's only natural that Earth 911 would encourage pet owners to practice good recycling. Whether it comes in cans, bottles or bags, chances are your pet's food containers can be recycled. Earth 911's recycling database can show you what facilities in your area recycle which products.

6. Make Poop Disposal Environmentally Friendly

All animals go to the bathroom, and disposing of animal waste is no fun no matter what kind of pet you own. Biodegradable bags are sold at most pet stores, and provide an alternative to using plastic bags that are nearly impossible to decompose. Flushing any remains down the toilet is a smart option as well because most traditional landfills don't lend themselves to composting.

7. Buy Your Pet Sustainable Toys

These can range from eco-friendly beds to hemp collars to stuffed toys made from recycled soda bottles. Your pet may not realize that its playtime is saving the environment, but that won't stop it from having fun with its toys.

8. Keep Your Pet Identified

Everything involved in searching for a lost pet takes up environmental resources. Whether it's printing up paper flyers to post information or driving around the neighborhood yelling your pet's name, losing a pet is an environmentally unfriendly process. While tagging your pet can't prevent it from getting lost, it will surely help with the retrieval. Pets 911 has a Lost Pet
section for posting both lost and found pets.
http://www.Pets911.com

Animal Radio® is proud to partner with Pets911! Hear about the latest Pets911 activities on-air on Animal Radio®

Guess how many bones are in the Dalmation mailbox and WIN!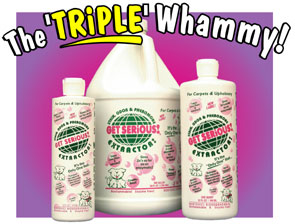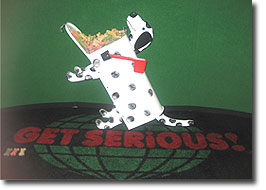 Guess how many bones are in the mailbox and win the GET SERiOUS! SERiOUS-ly Cool Giveaway.
Enter the GET SERiOUS! Contest
You could win a Grand Prize Package worth up to $700 including $100 towards the adoption of a furry-friend from your local shelter, 1 year supply of GET SERiOUS! Extractor, Petmate Ultra Kennel, Latka's Treats, Top Tag Pet ID and other great prizes. Ends August 12th
G'day from Downunder...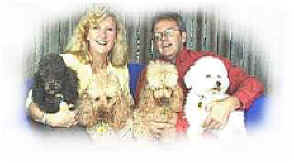 Kids and pets... what does it teach?
With an increase in violence here in Australia - particularly among young kids and teenagers - we have to ask "Why?" ... What is causing needless vandalism, domestic violence, animal cruelty and creating muggers and murderers in our society?
Hey we know we're not fully qualified to answer these questions - neither perhaps are you, but we personally believe two things happen when young kids have a pet.
The first one is - if shown how from an early age - kids learn to respect, care and love another being. This hopefully sets them up for a lifetime of the same attitude towards other animals and of course people.
The second point is probably more valuable though - because when a child is seen to mistreat an animal whether in their care or not, it is the perfect time for we adults to pull them back in line. To show them why it is wrong to do what they've done.
Kindergarten and early school teachers armed with this information could easily single out (discreetly) young kids with obvious 'attitude' problems and hopefully - with the right kind of professional counseling - steer them in the right direction.
So where have we gone wrong? - Why do we still see an increase in violence even though pet ownership is thought to be beneficial?

Could it be high density housing? - Here in Australia we are literally 'running out of space! - It's true - The largest continent on earth has a very narrow coastal fringe where 95% of the population lives.
To accommodate more and more people, councils are now cramming as many hi-rise and multi-dwelling apartments as possible in less and less space.

Ok - so New York and London landlords may allow animals inside... but not here!... well with very few exceptions.
This means then that kids can't have pets (except perhaps fish) and while we can't say for sure that this (no pets) is the problem, it certainly makes you think.
Of course violent movies, computer games, peer pressure and not so responsible parents have a lot to answer for, but we think if more animals were allowed to be kept in apartments, some of the problems kids now get into in later life might be alleviated.
Oh - and did we mention 'civil libertarians?' - seems a 'kick up the backside' by a parent for misbehaviour is no longer allowed.... never did us much harm!
Anyway - all food for thought as they say....
Feel free to comment on this or any other story we bring you from down-under... we're reasonable pet owning people you know :-)
Hugs for your pets
Brian & Kaye

Hear Pet Talk Radio! on Animal Radio Network - LISTEN TO ANIMAL RADIO NETWORK NOW - Check schedule for showtimes
Search Animal Radio® Network
LISTEN TO ANIMAL RADIO NETWORK NOW
NETWORK PROGRAMS:
Animal Radio®
Pet Talk Radio!
Animal Wise Radio
Talk with Your Animals
Veterinary Minute and Animal Minute
Voice of the Animal
Currently On-Air
Animal Radio® Network Full-time channel

LISTEN TO ANIMAL RADIO NETWORK NOW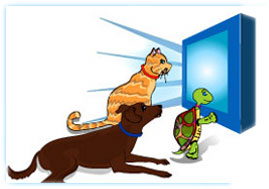 LISTEN AT WORK...all day long. Fresh animal programming 24/7. Be sure to view our programming schedule to catch your favorite show.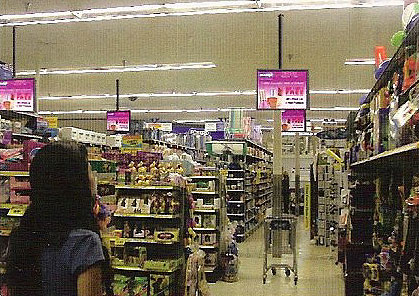 PET STORES, VETS, GROOMERS: Would you like to broadcast Animal Radio Network in your store or office? It's FREE and E-Z! Call 435.644.5992 to get set up. Animal Radio Network is simulcast on the PetVision Network throughout America to your store.



Listen to Animal Radio Network's full-time Animal Channel ANYTIME on ANY CELL PHONE, ANY PROVIDER. UpSnap now features Animal Radio® Network LIVE 24/7.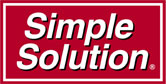 Get live breaking news daily thanks to Simple Solution NATURAL line of pet care products. Simply text "ANIMAL" to 27627 to listen anytime FREE. (your provider's standard rates apply). Learn more.
KFXD BECOMES 95TH Animal Radio® AFFILIATE


Animal Radio Network™ is pleased to announce new radio affiliate KFXD All Talk am63 Boise, Idaho to Animal Radio's growing lineup. The Peak Broadcasting outlet airs Animal Radio® Sundays 5-7pm. Animal Radio® now airs on 95 multi-niche affiliates including Los Angeles flagship KOST 103.5 FM.
Interested stations may acquire Animal Radio® by calling 435.644.5992.


Circumstance! Not Always What We Think!


To start with, let me say that I have no idea how many conversations I have had over the years with people who can provide a long list of why they can't have an animal or bring another one into their family. I do know that this type of conversation takes place very, very frequently. Some times it is when an animal companion has passed. Some times is it when a person comes across someone they can't get out of their mind. Some times it is when an animal has literally wandered in off the street to their house. And there are many more reasons for the conversation about why people can't bring another animal into their lives.
The list looks something like this - "Oh I feel so guilty that we are not home enough to be with our animal kids. We work all day. (Fill in the name) is probably not going to want anyone else in the family. My house is too small for (fill in the blank). I can no longer walk them as much as I used to. I couldn't ride a horse any more. My spouse doesn't want another animal. I move a lot. I'm always tired when I get home. This just isn't a good time in my life to have another animal." And this is just a very short sample of the "whys" people have for not bringing an animal into their lives. The short answer for all of this is that the animals are fine with whatever the circumstances are in your life.
You might not know this, but animals know exactly what kind of family they will be living with long before they come to live with you. When anyone comes into your life, it is because at a Soul level, there has been an agreement to meet in this life and do something together. Some times they come for their lifetime. Some times they come for just a short time - or anything in between. The point is that they come to us with full knowledge and agreement at a Soul level to live with you no matter the circumstance. They are here to please (not because they feel like they have to, but because there is nothing else that makes them happier), serve (again because of choice) and teach us. All is well with them no matter what the circumstance is. They primarily come to love us and that can be done regardless of circumstance. Watch animals. They naturally love. It is who they are. And, love doesn't depend upon circumstance.
For instance, I recently had a conversation with a woman who "came across" (meaning she didn't go looking for a dog) a wonderful dog whom she instantly loved and couldn't get out of her mind. The dog's eyes haunted her. So she called me to speak with the dog, the dogs and cats in her family and with the Soul of her partner. There was every reason, according to the woman, why she shouldn't take this new dog home. There was only one why she should - her heart would simply not let go of this particular dog. We spoke to the other animals in the family - none were very excited about another dog. And none would go against the woman's heartfelt feeling for this dog. Animals are so smart. They know that what's good for one heart is, in truth, good for every other heart even if the personality level doesn't think so. The Soul of the woman's partner even said that although the personality level of the partner would "pitch a fit", that was only a small part of her and the rest of her absolutely wanted to make the woman happy. And she also would understand that all hearts talk the same language.
During breaks at an event this weekend, my coordinator and I were talking about our newest family members. We both agreed how great it was that everyone was getting along seamlessly in their prospective households. In my household a new Golden Retriever puppy named Candie has graced our household. She is now 6 months. I love how she and my other Golden Retriever, Braveheart, play with each other. She is now big enough to play with him without him having to be careful of her as much. She loves my kitty, Venus. She very delicately licks Venus' face. Even though Venus is of a different species than her, Candie thinks of Venus as her big sister. Candie follows me to the barn so I can feed and hang out with the horses. She feels very comfortable with the horses. She lays down on the hay I have put out for them to eat. She loves to lick my horses especially my Paint named Dreamweaver who she is so in love with. Candie will walk between Dream's legs. It just thrills me to see her become an active member of my family. I find myself saying, "Yes, I love this about life. Thank you, Thank you, Thank you!"
My coordinator has a kitty named Annie who is 4 years this month. Annie came to her family when she was a year and half. This was an unexpected addition for her family, but an expected arrival by Annie. She had been waiting for the right circumstance to present herself. She knew the following: her new dad did not want her, her new siblings were a lot older than her, they including Annie all had medical conditions and her mom had a big heart and would be willing to do whatever it took to bring Annie home. Two and a half years later, Annie has melted her dad's heart. Everyone has adjusted to having a little sister. Annie hates it when her mom calls her a baby. She tells her mom, "I am not a baby. I am a big girl." Her mom loves when Annie plays with her big brother, Lemonade who is 15 years. They hide then run and jump on each other. It is great fun to watch! He is ever so gentle to not hurt her because he knows he would be in big trouble with his mom. The best thing about Annie is that she breathes new life into her family. Her mom is truly grateful for that!
Animals are willing participants in our lives no matter what the circumstance is. What fun it is to look back and see how much you have grown as a person from the time the animal kid first graced your life until now! Reflect on what you have learned, where life has taken you. Give yourself a pat on the back and say, "Yes, life is grand! Thank you! Thank you! Thank you!"
Until next time, I'm Joy reminding you, you can never love your animal companions too much. You can only love them, hopefully, enough.

If you would like to schedule a private session with Joy, call 425-867-1779 or go to www.TalkWithYourAnimals.com. If you are interested in being a caller on Talk with your Animals, please email Martha@AnimalRadio.com to make arrangements. Joy Turner is a regular Animal Radio® correspondent. She can be heard daily. LISTEN TO ANIMAL RADIO NETWORK NOW


Animal Radio® made possible by: American Anti-Vivisection Society


The FDA has moved biotech companies one step closer to being able to put milk and meat from cloned animals on your grocery store shelves-without labels. Cloning seriously threatens animal welfare, and you should have the choice to avoid these products! You can help by calling on the FDA to keep cloned foods off of grocery store shelves. Learn more at http://www.EndAnimalCloning.org
Just because we can clone animals for food, doesn't mean we should!
Voice of the Animal on Animal Radio Network
Rae Ann Kumelos Ph.D.
Perils on the Sea - The Dogs of Titanic

The vessel was the largest and most luxurious ever built. 2200 people booked passage on its maiden voyage west across the Atlantic, and many of those passengers had with them their dogs. Among the many distinctive appointments on this grand floating palace was a statue of Artemis, ancient Greek goddess of the wild and protector of animals. Prominently displayed on the mantle in the first class lounge, the statue of Artemis meant the dogs on board the Titanic had a special goddess looking after them.
As the Titanic set sail from Southampton, England on April 12, 1912, the dogs were a highly visible part of the voyage. Both the dogs and people on Titanic had impressive pedigrees. There was a champion French bulldog named Gamon de Pycombe, and an Airedale named Kitty who belonged to the John Jacob Astors. While most of the dogs stayed in shiny brand new kennels, newlywed Helen Bishop insisted that she keep her tiny dog, Frou Frou, with her in their first class suite. The promenade deck of the Titanic might not have been so different from a stroll down 5th Avenue or Rodeo Drive today, as a French artist on board noted, that "many of the obnoxious and ostentatious American women carry tiny dogs around with them and lead their husbands about like pet lambs."
Every day a crewmember would take the dogs for a stroll about the ship; this canine parade became quite an event, in fact, seven-year old survivor Eva Hart was so enchanted with the presence of the regal Gamon de Pycombe, that she spent the rest of her life surrounded by French bulldogs. The passengers enjoyed the dogs so much, that an informal dog show was scheduled for Monday April 15th.
But as we know, that show would never take place. When the Titanic struck the iceberg late Sunday evening, April 14th, more than 1500 people lost their lives, and so did all but two of the dogs. A Pomeranian, and a Pekinese named Sun Yat Sen, were lucky enough to accompany their people, Margaret Hayes, and Henry Sleeper Harper of Harper Publishing, on one of the first lifeboats. Although Frou Frou was with Helen Bishop in their cabin, Helen chose to leave her beloved dog on the ship when it became clear there were not enough lifeboats for all the passengers. In a heartbreaking account, Helen described how, as she left her cabin for the last time, Frou Frou grabbed the hem of her dress, tearing it.
As Titanic sank into the icy Atlantic, a Mr. Norris found himself treading water to stay afloat next to the French bulldog, Gamon de Pycombe. Later, safely aboard the Carpathia, Mr. Norris thought he had imagined the bulldog in the water, until another rescued passenger explained that after the lifeboats were gone, he had made his way to the kennels and released all of the dogs, to spare them the horror of drowning in locked cages.
In 1986, among the wreckage of the Titanic strewn about the ocean floor, was found the statue of Artemis. The goddess had accompanied her beloved dogs from the Titanic into the waiting arms of Poseidon, god of the sea.

Visit us at http://www.voiceoftheanimal.com to hear more stories and to order CD's of Voice of the Animal programs. Copyright ­ 2007 ­ Voice of the Animal. Rae Ann Kumelos is a regular Animal Radio® correspondent. She can be heard daily. LISTEN TO ANIMAL RADIO NETWORK NOW
Animal Radio® is made possible by: GET SERiOUS!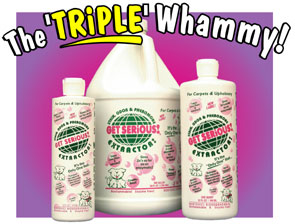 - Extracts stains & odors COMPLETELY -in only 3 minutes! - Extracts the urine & the pheromone -so pets aren't attracted back to re-mark!
- Never leaves any "yellowing" behind (like most enzyme-based cleaners) and even removes old locked-on "yellowing" - left behind by other cleaners!
-1 bottle of GET SERiOUS! cleans as much as 2 bottles of the competition because you only use 1/2 as much as the others! - $AViNGS ! $AViNGS ! $AViNGS !
http://www.GetSeriousProducts.com

Email your events to: root@AnimalRadio.com
New York Bird Club
Bird Walk in Central Park
Saturday, August 11th
Time: 9 am - Noon
We'll meet on the southeast corner of 81st Street and Central Park West on the park side entering the Park directly and taking in what wildlife may be in evidence along the way. Dependent on what we find we'll visit Tanner Spring, the Shakespeare Garden, pass by Belvedere Castle and head into the Ramble. Much will depend on what we find and where we find it. It will still be breeding season so we should find many young birds and some late wildflowers. There's a chance for some early migrants heading south.
Please dress comfortably and bring water and a snack and, if possible, binoculars. If you are new to birding, you will be given a few pointers about using binoculars and doing birding.
Our tour guide, Randolph Schutz has been birding since the 1980's. Trained as a pediatrician, he quickly moved into psychiatry, then psychotherapy, and currently works as a coach. He writes poetry, speaks French, paints watercolors, is fascinated by the workings of the human mind, entranced by everything living and loves birds, though when there's an interesting plant around he'll head for that, too. He has birded extensively around the metropolitan area, birds Central Park regularly and frequently, and has led both formal and informal birding groups for years. He birds in all seasons and most weathers, and while he loves unusual birds he's been known to be hypnotized by titmice and sparrows.
The walk is free to members; and $5 for all others.
Rain Date: to be announced

The Animal Acres 2007 Gala
Saturday, August 25th
Animal Acres Sanctuary
Acton, CA
5:00 - 11:00pm
The Animal Acres 2007 Gala will be held on Saturday, August 25th at the Animal Acres Sanctuary and Compassionate Living Center in Acton, CA. The sanctuary is located on a beautiful 26-acre hacienda-style ranch, just 40 minutes from Hollywood.

The festivities will begin at 5:00 pm with the "Cowtail Party", where celebrity hosts, award recipients, and Gala guests meet and mingle with the sanctuary's "guests of honor" ­ over 150 rescued cows, pigs, turkeys, chickens, sheep and goats. Gala guests will then gather in the sanctuary rose garden to enjoy a gourmet dinner sponsored by Gardenburger and BuyKind.com. The evening's award program honors individuals and corporations who have made outstanding contributions through their commitment to the cause of protecting farmed animals and promoting compassionate living choices. Awards are presented by our celebrity hosts ­ previous Gala presenters include: James Cromwell, Daryl Hannah, Jorja Fox, Loretta Swit, Thora Birch, Persia White, Linda Blair, Carol Leifer, Jane Velez-Mitchell.

All proceeds from the Gala will benefit the Animal Acres Emergency Rescue Fund to provide needed funding for the rescue and rehabilitation of suffering farmed animals. Animal Acres is directed by Farm Sanctuary co-founder Lorri Bauston, who opened the nation's first farmed animal sanctuary in 1986. Bauston's work has been featured in numerous documentaries and national news stories, including the Los Angeles Times, NPR, CBS This Morning, CNN, New York Times, Wall Street Journal, and PrimeTime Live. Bauston is considered the "pioneer" of the farmed animal sanctuary movement which has now grown to over 25 sanctuaries throughout the country. This year, she and Gala supporters celebrate 21 years of rescuing and protecting farmed animals.

Animal Acres is a non-profit animal advocacy organization dedicated to promoting farmed animal protection through direct rescue and shelter efforts, humane education, public outreach, and investigative actions to prevent cruelty to farmed animals. For more information on the organization's programs and campaigns.
ANIMAL RADIO® PRODUCT REVIEW
for August





(rated 5 out of 5 paws)
Petmate Luxury Lounger Pet Bed, Faux Leather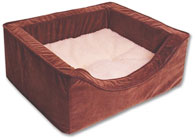 Normally when we receive packages here at Animal Radio® the studio cats gather around. They are usually not interested in what's inside the box, but the box itself.
This time, we were barely able to get the Luxury Lounger Pet Bed out of the box before one of the studio cats jumped in it and claimed it for himself. No testing, no trial period, just immediate pure (in this case purrrr) ecstasy.
The bed features an orthopedic foam base and a poly filled pillow with a zippered cover that can be easily removed for cleaning, and the faux leather earth tone looks great in the studio. It is large enough for two of our kitties at a time, but unfortunately, it is not large enough for me!
http://www.Petmate.com

Send products for review on-air and in this newsletter to: Animal Radio® Network Product Reviews, 233 East 330 North, Kanab, Utah 84741. Products may not be returned.
Small Dogs, Big Hearts with Darlene Arden

ASK "THE DOG EXPERT" - by Darlene Arden, Certified Animal Behavior Consultant

Q. I've been hearing a lot about dog fighting because of Michael Vick. Can you tell me why people do this? What kind of person would hurt dogs like that and what will happen to the poor dogs?

A. To know why people do this would probably take a psychiatrist to answer the question but I can tell you that times have certainly changed. There was a time when sports figures were heroes making a decent living. What is heroic about someone who gets paid an exorbitant amount of money, thereby raising ticket prices so that the average family can't afford to attend the event? And what about the sports figure's behavior when he is not playing? Is this the role model you want for children? In the case of Michael Vick, his sport is football, a "game" in which people deliberately run into each other and can cause physical harm. It is a "game" that has become, in my opinion, increasingly violent on the field. Far better for children to admire firefighters and policmen, the people who risk their lives every day for a comparatively small amount of money.
In this country we are innocent until proven guilty but no matter who is responsible, the photos of those dogs removed from his property, both dead and alive, are truly horrifying.

The surviving dogs will need medical care, of course, and will need to be individually evaluated by either veterinary or applied animal behaviorists or certified animal behavior consultants to see if they can be rehabilitated. It's the people who have trained them to fight and be mean and have possibly bred them for these qualities. But, mainly, it is the way they have been raised, trained and exploited by humans that has created this nightmare for the dogs.

Dog fighting is animal cruelty, plain and simple. It is a brutal bloodsport in which dogs fight each other to the death for the "entertainment" of people who bet on which dog will win. Sadly, often a breed is blamed, like one of the "Bull" breeds. There is a saying, "Punish the deed, not the breed."

Did you know that all serial killers began as animal abusers? Animal abuse leads to abuse of humans. Where you find one you are likely to find the other. Think about that for awhile, Susan.

Rent one of the old "Our Gang" movies and you will see the dog who was the kids' best buddy. That dog was what would be referred to as a "Pitbull" today. He was likely an American Staffordshire Terrier. He was a sweet dog. I've met many such dogs. In fact, my author photo was taken with "graduates" of the Massachusetts SPCA's Boston Shelter. I did this deliberately to show that there are wonderful shelter dogs across the country in need of good homes. Except for the Pug on my lap, all of the others in the photo are Pitbull crosses and they took turns trying to see who could give me the most kisses during the photo shoot!

Shame on those humans who exploit dogs! Those convicted of dog fighting should, in my opinion, be punished to the fullest extent of the law. I only hope that the dogs can be rehabilitated and placed in loving homes to live out their lives in peace and harmony and sharing a loving bond with humans instead of being used and abused by humans.

"Ask the Dog Expert" is a regular column by Darlene Arden. This month's column features information found in her book, "The Angell Memorial Animal Hospital Book of Wellness and Preventive Care for Dogs," (McGraw-Hill), which helps you, in concert with your veterinarian, design a wellness program based on your dog, your lifestyle and the place where you live, and "Small Dogs, Big Hearts," (Howell Book House), and the newly released, "Rover, Get Off Her Leg!" Further information may also be found on her website: www.darlenearden.com. Copyright 2007 by Darlene Arden. All Rights Reserved.

Animal Radio® made possible by: FIDO FRIENDLY MAGAZINE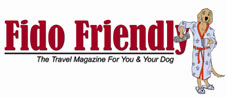 Fido Friendly magazine lists accommodations where you can stay with your dog while traveling in the United States and Canada. Each quarter, our editorial includes hotel, city and state reviews.
http://www.FidoFriendly.com
Don't miss Fido Friendly Travel Talk exclusively on Animal Radio®
ANIMAL RADIO® BOOK REVIEW
for August
Animal Radio® Book Club






(rated 5 out of 5 paws)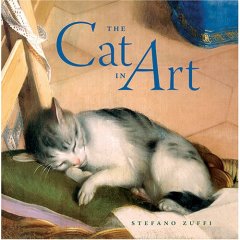 The Cat In Art by Stefano Zuffi
Hardcover: 360 pages
Publisher: Harry N. Abrams, Inc. (April 2007)
ISBN-10: 0810993287
ISBN-13: 978-0810993280

The Cat in Art takes you through centuries of masterpieces in which the image of the cat is depicted. It includes Egyptian and Classical art, the Renaissance and Baroque periods.

The author also includes detailed interpretations of these works of art. Not only will you learn about the artists themselves, but you will also receive a little bit of history of the cat during these times.

This is a beautiful book you will want to display and a must have for the cat lover! I promise you - you won't be able to put it down

See other reviews at AnimalRadio.com. Send books and literature for review on-air and in this newsletter to: Animal Radio Network™ Book Reviews, 233 East 330 North, Kanab, Utah 84741. Product may not be returned. Allow 5 weeks for review.
Animal Radio® made possible by: Kurgo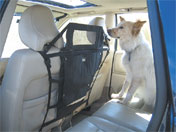 Everyone loves to bring their dog in the car with them. Kurgo has developed a line of products to make it convenient, secure and enjoyable for you to bring Fido on a ride. We look at things from the owner's and dog's perspective, which has helped us develop some truly unique products for you. Plus, the products are all made of high quality materials with more thoughtful features than you can shake a leash at.
http://www.Kurgo.com
ASK THE BIRD FOLKS with Mike O'Connor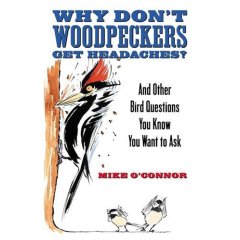 Dear Bird Folks,

Today I discovered a dead Blue Jay on my front lawn. The bird was in pretty good shape, except for being dead. As I stood there considering a possible cause of death, I looked up and noticed the power lines running into my house. Do you think that this Blue Jay could have landed on one of the wires and electrocuted itself?- Diane, Brewster, MA

One minute, Diane,

I'll get to your question in a minute, but your note reminded me of something I saw earlier today. I drove past a local clam restaurant on my way to work and noticed that they had just installed one of those ridiculous bug zappers near their outdoor eating area. A bug zapper? Are these people the only beings left in the world who haven't heard that bug zappers do more harm than good? And that zappers actually incinerate thousands of beneficial insects while rarely killing mosquitoes or any other nuisance insect? Some studies indicate they could actually spread diseases. When the bugs hit the zapper they explode, spreading minute insect parts all around the area. Yum! However, I'm not going to name which restaurant installed the lame bug zapper. This restaurant is very popular, with powerful owners. I don't want to wake up to find the head of a fried clam at the foot of my bed.

I know it seems like I started a bit off topic, Diane, but that little zapper rant actually does have something to do with your question. You mentioned that the Blue Jay you found was in "pretty good shape, except for being dead" (cute line, by the way). Well, I'm no Dr. Quincy, and luckily for me no one has ever mixed me up with Jack Klugman, but I doubt the jay had a problem with your power lines. If it had, the poor bird would have looked like those smoldering bug zapper insects. But you are right to be concerned about power lines. They are a problem.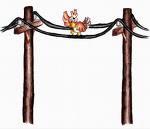 In many ways birds benefit from power lines. We've all seen hawks sitting high on top of utility poles searching for some furry creature to wander out into the open. Ospreys love those big poles to build their nests on. Each fall swallows gather on the power lines by the hundreds before they start their trip south. Both the poles and the wires are important resting locations for many birds, especially in areas where trees are few.
There once was a time when I thought the reason birds didn't get fried when they sat on the wires was because the wires were encased in insulation, just like the way power cords to our electric appliances are insulated. Well, once again I was wrong. It turns out that only the power lines around homes are insulated, but the big transmission wires aren't protected by insulation at all. If you touched one, you'd be toast. Am I the only one who didn't know that? The birds can safely sit on the bare wires because they aren't grounded. So, if I understand it right, I could jump up, grab a power line and be fine, as long as I didn't touch the ground, a pole, a tree branch or another wire. However, if I touched anything else I would then complete the circuit and would instantly become the barbecued special of the month.
Small birds, such as swallows and jays, may not have a problem with power lines, but many large birds aren't as lucky. Cranes, eagles, pelicans and condors top the list of birds that we continue to lose to power lines. When a large bird flies between wires and touches its wing tips to two different wires at the same time, the results are bad. Every year many of our majestic birds are killed when they accidentally complete the circuit, including three California Condors that all fell victim in a single week this past May.
It's not always the electricity itself that causes problems for birds. Many birds are injured when they simply collide with transmission wires. Snow, rain, fog and darkness all play a role in causing a whole host of birds to collide with the lines. In some critical locations pressure has been put on the power companies to either bury their lines, hang markers on the lines to make them more visible or at least insulate them. In many ways saving the birds is in the companies' best interest. They may or may not care about the birds, but they do care if their equipment is damaged and service is interrupted. Even power companies don't like to listen to irate customers who have lost power and are missing the latest showing of American Idol.
Sorry about your jay, Diane, but I doubt your power lines had anything to do with it. Even though the power lines weren't the villains in this case, they still are a major concern for birds. Unfortunately, electricity is a necessary evil. There isn't much we could do without it. How else could we get insect parts to explode and fall into our fried clams?
Mike O'Connor is the owner of the Bird Watcher's General Store on Cape Cod, which opened in 1983 as one of the first stores in the United States dedicated solely to birding. His column, Ask the Bird Folks, appears weekly in The Cape Codder, The Register, The Harwich Oracle, and The Upper Cape Codder newspapers, and his writing was included in the Best American Science and Nature Writing 2004. Copyright 2007 by Mike O'Connor. All Rights Reserved. http://www.BirdWatchersGeneralStore.com
Animal Radio® made possible by: DryFur


The Amazing DRYFUR, designed to be inserted into pet carriers, crates, kennels and cages while pet is traveling or being transported by plane, train or auto. Super Absorbent Polymers trap wetness from pet in a gel-like state deep below the surface of the pad to keep pet completely DRY and comfortable. The insulated rigid core provides stability to the carrier and helps holds the insert in place (no bunching up) providing a stable surface for the pet to sit, stand and turn around on. Dry Fur pet carrier inserts are completely disposable, just use until soiled and toss away. Sold in 2pks or complete Pet Airline Kits. Your Pet will arrive with Dry Fur...We Guarantee it!
http://www.DryFur.com
PAWS UP FOR PETS with Arden Moore

"Arden Moore Unleashed for a Pet-Friendly America" Tour
Baffled by your beagle? Perplexed by your Persian? Are you at your wit's end in trying to get your dog to stop acting like a roto-tiller on your vegetable garden or in attempting to prevent your cat from pawing you awake two hours before your alarm clock is set to ring?

Relax. I'm here to help. In fact, I am traveling coast to coast on a mission: restoring harmony in your pet household. As a pet author, editor and animal behavior consultant, I am the logical target for questions from people frustrated or simply bewildered as to why their pets do what they do. It has become apparent that Americans tend to know more about reality shows and the latest Paris Hilton escapade than they do about feline and canine behavior.

The sad reality is that the No. 1 killer of cats and dogs under age 3 is not cancer or car collisions. It is preventable behavior problems. Frustrated owners ­ seeing no other option ­ surrender healthy young pets to shelters. If they are not adopted or transferred to rescue groups, these pets are euthanized. Many people than must cope with feelings of guilt.

For the past few years, I have kept a file on real questions from real people about real pet problems ­ and my answers. The result is the release of my latest books: The Cat Behavior Answer Book and The Dog Behavior Answer Book.
My publisher, Storey Books, has dispatched me this month on a national book tour appropriately called: "Arden Moore Unleashed for a Pet-Friendly America." The tour kicked off at St. Hubert's Animal Welfare Center in Madison, N.J. at an ice cream social where people and their dogs enjoyed sweet, cool treats. The tour ends at a pet-friendly bookstore called Warwick's in La Jolla, Calif. on Aug. 30. The complete tour schedule is posted at the end of this column.

My quest is to provide positive, workable tactics for people so that cats and dogs can enjoy safe and loving homes. Let me share with you a few conversations I've had with people at my tour stops:
A couple in Madison, N.J. have a 16-year-old cat who is suddenly defecating outside the litter box. In gathering details, I learned that their cat is also showing signs of arthritis. The litter box is located in the basement. Solution: provide a litter box on the main floor level so this senior cat doesn't have to endure pain in his aging joints to go to the bathroom. Also, book an appointment with their veterinarian to rule out any possible medical cause.
A couple in Newburyport, Mass. adore their Border collie mix ­ except in the evening when they are together on the couch to watch television. The otherwise friendly dog growls at them when he is on the couch. My recommendation: make the couch off limits to this bossy Border collie and provide him with a comfy dog bed in the living room. Usher him to the new doggy digs with a cheese-filled Kong or synthetic hollow bone. Have this dog sit and wait politely before giving him the treat.
A woman in Milford, N.H. is contending with a spirited 8-month-old kitten who enjoys leaping from the floor and nipping this woman's cheek. It's a feline version of "tag ­ you're it" but it is painful ­ and medically, dangerous. Cat bites can result in major infections and should be treated. In this case, I suggested she consider getting this kitten a feline playmate and providing sturdy, stable high places ­ like a cat tree or wide window ledges for this cat to perch and play. In addition, I taught her how to read her kitten's body language so that she can exit before the kitten is ready to leap.
Face it ­ we love our pets ­ even when they puzzle us. They not only offer companionship and unconditional love, but they also are proving to be good for our mental and physical health. The true healing power of pets is only just being identified by top scientists and research hospitals.

If you find yourself stymied by your pet's behavior, I urge you to seek professional help from groups like the International Association of Animal Behavior Consultants of which I am a member. For serious issues, please consult the Animal Behavior Society for a list of certified-applied animal behaviorists.
I invite you to learn more by visiting my tour blog on my website: www.ardenmoore.com.
Arden Moore Unleashed for a Pet-Friendly America Tour Schedule:
July 25 ­ St. Hubert's Animal Welfare Center, Madison, New Jersey, 6:30 p.m.
July 27 ­ Jabberwocky Bookshop, Newburyport, Massachusetts, 7 p.m.
July 28 ­ The Toadstool Bookshop, Milford, New Hampshire, 2 p.m.
July 30 ­ Borders, 32nd Street and Second Avenue, New York City, 7 p.m.
July 31 ­ Manhattan Cat Specialists Clinic, New York City, 3-6 p.m.
Aug. 1 ­ Northshire Bookstore, Manchester, Vermont, 7 p.m.
Aug. 2 ­ Porter Square Books, Cambridge, Massachusetts, 7 p.m.
Aug. 11 ­ Chicago Anti-Cruelty Society, 2:30 p.m.
Aug. 12 ­ Ruff Haus Pets, 1 p.m., in Chicago
Aug. 14 ­ Humane Society of Missouri, St. Louis, Missouri, 6:30 p.m.
Aug. 16 ­ Boulder Book Store, Boulder, Colorado, 7:30 p.m.
Aug. 18 ­ The Petropolitan, Dallas, Texas, noon
Aug. 22 ­ Oceanside, California ­ location to be announced
Aug. 26 ­ Elliott Bay Books, Seattle, Washington, 2 p.m.
Aug. 27 ­ Powell's Books, Beaverton, Oregon, 7:30 p.m.
Aug. 28 ­ Muttropolis, Tucson, Arizona
Aug. 29 ­ Bones n Scones, Palm Springs, California
Aug. 30 ­ Warwick's, La Jolla, California

Hear Arden Moore on Animal Radio® August 11th. She made it onto Jay Leno's Headlines! You've arrived Arden!
Animal Radio® special correspondent Arden Moore is the editor of Catnip, the managing editor of Fido Friendly and the author of 17 books on cats and dogs. She shares her Oceanside, Calif. home with dogs, Chipper and Cleo and cats, Callie and Murphy. She can be reached through her Web site: http://www.ArdenMoore.com
Have you heard Animal Radio® Network Lately?

So many ways to listen!
Website:
http://AnimalRadio.com
Toll-Free Studio Line is: 1.866.405.8405
View list of AM-FM RADIO STATIONS that air Animal Radio in your city.
Including KOST 103.5 and KBIG 104.3 in Los Angeles
Website:
http://www.AnimalRadio.com
Toll-Free Studio Line is: 1.866.405.8405
For Pet's Sake with Karen Lee Stevens

The Power of Purring
I'm getting to that age where I'm starting to think about hot flashes, hormones and hysterectomies. If that weren't enough, apparently I also need to worry about losing it-bone density, that is.
So, armed with a physician's prescription for a bone density scan and a check for $250 (insurance doesn't cover the procedure, thank you very much), I headed over to our local Radiology Center for my very expensive, very painless x-ray. A few days later, the results were in: my spine is in perfect shape; my hips, well, not so much. I have some thinning of the hip bones, called "osteopenia." My bones were going through calcium faster than a Hummer (an automobile my mom affectionately refers to as a "Bummer") goes through a gallon of gasoline. Never mind that I had broken my bank account in order to attain this news; I might actually fracture a hip if I didn't put the brakes on my bone loss.
What's a pre-menopausal, calcium-challenged gal to do? First of all, I knew I had to-pardon the pun-bone up on my knowledge of bone loss. I learned that, like most things in life, an ounce of prevention really is worth a pound of cure. Too late for that, in my case. It was time to start popping pills. Expensive pills. But wait, it turns out I might be able to ditch the doctor and the drugs altogether and pick up a purring cat instead.
Scientists at the Fauna Communications Research Institute in North Carolina suggest that one of the reasons why a cat purrs is because it helps to heal and strengthen their bones and organs. And here's the really neat part: a purring cat may help heal humans as well. Talk about your good vibrations! Now I consider myself to be, um, hip, to the latest scientific research, but this was a new one on me. Still, I liked what I was hearing and wanted to know more.
In a telephone conversation with Fauna's president, Elizabeth von Muggenthaler, I learned that she has conducted studies on dozens of wild and domestic cats since 2001 and has recorded the purrs of five cat species: the cheetah, puma, serval, ocelot and the domestic cat. von Muggenthaler's research, in conjunction with NASA and others, suggests that low frequencies, at low intensity (such as the purr), are therapeutic. These frequencies can aid in increasing bone mass, the healing of fractures and repair of joints, and pain relief. In addition, tendons and muscles are strengthened, swelling is reduced, and dyspnea (breathlessness) is alleviated.
"Purring is not just a content mechanism," von Muggenthaler says, "its survival oriented."
All cats, she adds, exhibit strong purr frequencies that fall within 20 Hz. and 200 Hz. At a range of 25-100 Hz., bones are strengthened and fractures heal more quickly. Vibration at these frequencies has been proven by other researchers to be helpful in the fight against osteodiseases such as osteoporosis in humans.

With this new knowledge, that old physician's proverb: "Take two aspirin and call me in the morning," just might have to be updated to read: "Take one purring cat and call me in the morning." I just hope that by the time I need a prescription for a purr-meister, I won't require a hearing aid to help amplify the purring sound.

Karen Lee Stevens, Founder and President of ALL FOR ANIMALS, Inc. Although she's not quite ready for dentures or Depends, Karen has recently started wearing glasses to read the tiny typeface on prescription pill bottles. Send her an email message (in large print, please) to: karen@allforanimals.com.
Animal Minute on Animal Radio Network
with Britt Savage
Cats Go On The Longest Taxi Ride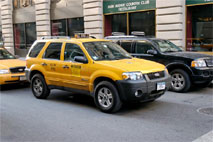 Do you find it hard to put your animal on a plane cross-country? Well, so did Bob and Betty Matas of New York when they moved to Phoenix, Arizona.

Instead, they found a cab driver, Douglas Guldeniz, who agreed to make the trek. The driver took the Matas's along with their two cats, Cleopatra and Pretty Face for a 2,500 mile drive from New York to Arizona, for a fee of $3,000, plus gas meals and lodging. Good thing the driver drove a SUV hybrid-electric vehicle to save on fuel!

Einstein - The Trained Goldfish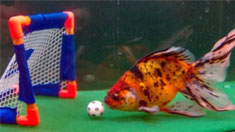 Studies are showing that the common goldfish may be a lot smarter than we thought. Nine-year-old Kyle Pomerleau agrees. He won Albert Einstein the goldfish at a school fair and soon noticed that the fish would react to him whenever he came near the tank.
Kyle and his dad decided that they would try to train the goldfish to do something. They first bought a finger soccer kit from a dollar store and rewarded Albert with food every time he swam near the net. As soon as Albert got the net trick, they added a ball. Soon Albert was trained to push the ball into the goal for a treat. The father and son training team have heard from so many people eager to train their own fish, they've now started selling fish training manuals from their Fish School website. They say it takes about five or six training sessions a day for about three weeks to teach most goldfish how to swim through a hoop.
Britt Savage is a regular Animal Radio® correspondent. She can be heard daily. LISTEN TO ANIMAL RADIO NETWORK NOW
Email us at: YourVoice@AnimalRadio.com
Anna Drummond writes:
In the July Newsletter, you discuss the downside of declawing, yet your laser surgery article talks about doing laser declawing. While the vet writing the article says it's less traumatic than regular declaw, the four veterinarians I talked to said there is no difference. You're still cutting through bone, tendons, muscle and nerves -- you're just using laser instead of metal. Also, the vets who buy the laser equipment need to pay for it so of course they are going to say laser declaw is better than reg. declaw. I hope in the next issue you'll clear this up for readers, because I'm sure that some people reading both articles will think they can now go ahead and declaw with laser declawing, that it's less horrible for patients, which it is not.
-Anna Drummond
President Pet Adoption League
Anna- Thanks for your comment. The Animal Radio® newsletter is a compilation of many authors and experts, sometimes with differing opinions. It is Animal Radio's stance that declawing is 100% unacceptable under any circumstances, and IS NOT the last option EVER. Some Doctors think this is an acceptable procedure if done with laser. Declawing is illegal in most advanced countries.