Bo Bice Guests on Animal Radio

®
Bo's dogs, Gracie and Sally go everywhere with him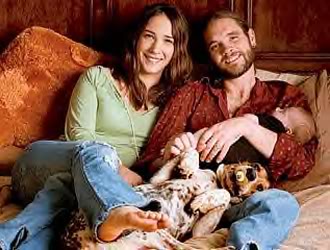 (Animal Radio® Newsroom June 30, 2010) American Idol's second place winner, Bo Bice is guest-hosting the nationally syndicated Animal Radio® show July 10th on 99 AM-FM stations and XM Satellite Radio.
Since topping the charts, musician Bo Bice has been keeping active with tour dates and a new album to benefit flood victims.
Bo travels with his two dogs wherever he goes. He has an English bulldog named "Sally" and a Bagel (Beagle/Basset Hound) named "Gracie."
Bo refers to his dogs as his children. "I take my children on the road. You can't say the word 'bus' without Sally heading to the door. She loves traveling."
Bo says the best person won Idol, "coming in second to Carrie Underwood isn't bad."
Hear this special Animal Radio® broadcast on XM Satellite Radio ch. 158 (America's Talk) Saturday July 10th at noon EST and rebroadcast Sunday July 11th at 5pm EST. Animal Radio® also broadcasts on 99 AM/FM radio affiliates, including KOST 103.5 Los Angeles. See more listening options at AnimalRadio.com
Animal Radio® is the "most-listened-to" animal programming in the U.S.; created to educate, reduce surrenders and to help animals live long, healthy and happier lives.
Hear Animal News Headlines on Animal Radio®
---
COMMENTS: