TAGG - The Pet Tracker ™


TRACK. FIND. PEACE OF MIND.

Don't lose your pet. Tagg—The Pet Tracker™ allows you to see where your dog is and receive an alert if he or she wanders off. The lightweight tracker attaches to your dog's existing collar, and is designed to be worn at all times, even while swimming. Unlike a microchip, which won't alert you if your pet is lost, Tagg is a GPS tracker that sends you a text and email when your pet gets out so you can find him NOW. Tagg™ also has Activity Tracking, so you'll know if your pet is getting the right amount of vet-recommended exercise.

Where's your pet? Now you'll always know!

Pinpoint your dog's whereabouts on the Tagg map. Then, zoom in and take a look at his exact location on a computer, mobile device, or use the free Tagg mobile app. Tagg works nationwide in the United States. See the coverage map for details.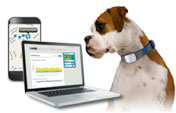 Your dog can't text you, but Tagg can!

Whether it's a text message about your dog leaving the Tagg zone or an email reminding you it's time to charge your tracker, Tagg notifications make it the most efficient dog tracker on the market.

TRACK MORE THAN YOUR PET'S LOCATION. TRACK HER WELL-BEING.
Tagg—The Pet Tracker can do more than track and find your pet. With Activity Tracking, find out how active your pet is—and be proactive about her health.

• Easily track the day's activity in one simple view, right at your fingertips.
• Track every run, snooze, walk, and sniff, no matter where you are.
• Is your pet getting enough exercise? Find out with Tagg.
---
Litter-Robot™ by Automated Pet Care Products


Automated Pet Care Products has eliminated that dreaded chore with the Litter-Robot™, the only automated, self-cleaning litter box made in the USA.
The Litter-Robot™ makes cleaning the litter box as simple as changing a kitchen garbage bag every few days. Seven minutes after your cat uses it, the Litter-Robot™ automatically rotates and its patented litter sifting process gently separates the waste clumps from the litter and deposits it into a large waste drawer lined with a plastic bag, leaving behind a clean bed of litter for your cat.
The Litter-Robot™ saves owners both time and money, leaving you the freedom to do other things or even take a weekend trip without worrying about the litter box.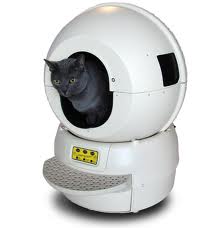 Litter-Robot™ features:
• Patented litter sifting system; No rake that can jam or clog; No special receptacles or bags
• Works with any clumping litter; Dramatically reduces odor; Uses less litter
• Made in USA; 90-day money-back guarantee; 18-month full warranty
Litter-Robot™ ensures an odor-free environment and forever eliminates scooping dirty litter box by hand.
---
Kitty A Go Go™ by Automated Pet Care Products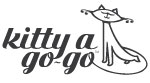 The makers of the top-rated Litter-Robot™ is pleased to announce Kitty A Go Go™, the pet industry's first designer litter box. Kitty A Go Go™ brings style, personality and easy cleaning functionality to the once overlooked cat litter box.
Kitty A Go Go™ features: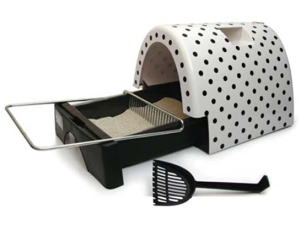 • Easy to clean; simply pull out the litter tray, pull the rake forward and scoop clumps into waste receptacle
• Decorative hoods available in six colors/patterns and custom designs are possible for 500+ unit orders
• Each litter box comes with decorative hood, sifter rake, hinged door, hand scoop and replaceable tray liner
• All parts are made of the highest quality injection-molded, high-impact, stain-resistant plastic
Kitty A Go Go™ is available in six designer colors and patterns to match home décor, style and taste. Choose from Metallic Silver, Leopard Print, Polka Dot, Flower Print, Burl Wood and Black Lacquer.
---
Hip Flex by NaturVet

Confused by the array of pet joint supplements? Try Overby Farm's veterinarian formulated Hip Flex. What makes Hip Flex unique is the patented cherry, dark berry blend.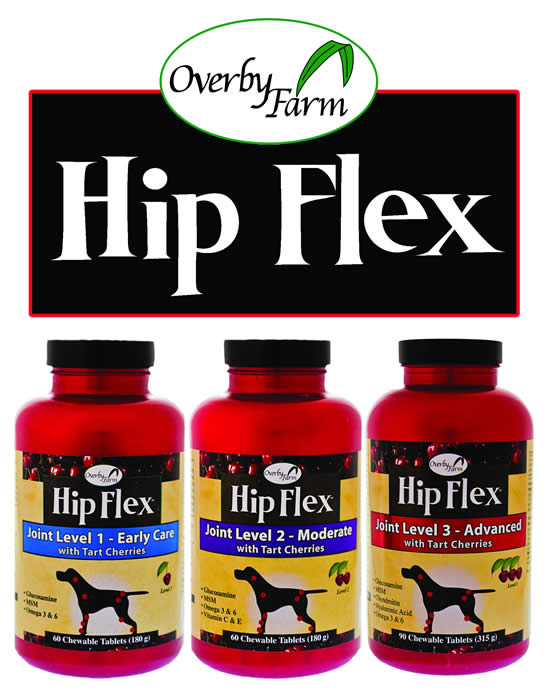 Studies conducted by Michigan State University show the patented cherry blend helps avoid discomfort by supporting the body's normal inflammatory response. Hip Flex is available in three stages that increase in strength from one level to the next, supporting healthy hips and joints. "It's all about the cherries." For information call 888.628.8783. Available at Petco.

---
Pet Pals® Vitamins

Introducing Pet Pals® Vitamins for your furry, 4-legged kids! Recommended by the Natural Vet, Dr. Shawn Messonnier, Pet Pals products include Get Up & Go Joint Support, Scratchy Dog™ Skin & Coat Support, Young-4-Life Antioxidant, Calming Bliss, and Daily Love Multivitamin.
The makers of Pet Pals have been supplying high quality nutritional supplements, made in the USA, since 1990. Pet Pals is committed to providing safe pet supplements that offer a noticeable benefit to wellness and longevity. Our pets are family and we want them to stay healthy and happy for as long as possible!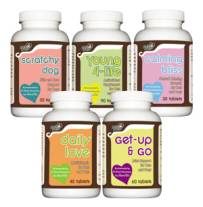 Scratchy Dog™ provides naturally beneficial nutrients for maintaining healthy skin and a beautiful coat in dogs.
Young-4-Life is a daily antioxidant supplement that may reduce the extent of oxidative damage in your pet's body and help prevent or delay the development of age-related degenerative conditions.
Calming Bliss is a natural calming supplement intended to take the edge off nervous, stressed or easily excited pets.
Daily Love is a balanced vitamin and mineral supplement that's perfect for any healthy adult dog or cat, but can also be added to a young pet's diet.
Get Up & Go is a joint support formula with joint nutrients, omega-3 fatty acids, and antioxidants, designed to maintain healthy tissues and help your pet move more comfortably.

---
SmartTag™


SmartTag™ is the only pet ID tag powered by the eAlertTM 24/7 Pet Recovery System. Each new SmartTag is engraved with a unique serial number that serves as a pet's "social security number", enabling pet owners to quickly create an online profile containing up-to-date photos, video, health records, and emergency contact information about their dogs or cats. And should a pet go missing, SmartTag broadcasts an emergency "Amber Alert," activating their exclusive network of over 15 thousand animal shelters, hospitals and rescue organizations within 50 miles of where a lost pet was last seen.



The initial cost of a SmartTag Pet ID tag ranges from $7.99 to $9.99, depending on the tag style, and includes the first thirty days of service free. Subscribing to the SmartTag service is just $9.95 per year after the free thirty day period. Discounted rates are also available for longer-term subscriptions. SmartTag's 24-hour security protection can be purchased at PetSmart, Petco, Meijer, and thousands of independent pet stores. SmartTag also partners with local and national charities to donate pet tags and subscriptions to shelters and rescue groups.

---
SERGEANTS


Your dog is your best friend, your confidant and always ready to show love. Give some of that love back to him in a way he'll really enjoy – Pur Luv™ Dog Treats. Because they're low in fat, contain omega fatty acids and are made with no animal by-products, Pur Luv™ treats are the perfect way to bring happiness and health to your dog all in the same bite. They are nutritious, rewarding and made in the USA with quality US ingredients.
Each Pur Luv™ treat is made from wholesome, natural ingredients that are not only tasty, but beneficial to your pet. These ingredients include tomatoes (which contain vitamin C, vitamin A, potassium and lycopene, a vital antioxidant), carrots (an excellent source of antioxidant compounds and provitamin A carotenes), peanuts (a great source of monounsaturated fats, vitamin E, niacin, folate, manganese and protein), honey (liquid gold goodness containing minerals and vitamins) and flax seed (a good source of omega fatty acids.) You'll know the treats are good for him – he'll just think you really, really love him!

Bacon, peanut butter and honey flavors make these treats irresistible to dogs. Because they come in a variety of interesting, unique textures and flavors, they'll keep your dog interested. Little Trix, small bites that are perfect for small dogs or training treats, and Chewy Bites, extra chewy treats good for dogs of all sizes, will lure even the most finicky furry friend. Mini Bones (for small dogs) and Grande Bones (for medium and large dogs) include a highly flavorful center and texture that helps promote dog dental health.
The Pur Luv™ Healthy Support line includes recipes that feature additional nutritional support from wholesome ingredients like whole grains and calcium. They help encourage the wellness of pets at different stages of life. Pur Luv™ Puppy is made with calcium, phosphorous and omega 3 and 6 oils for the healthy development of growing puppies. Pur Luv™ Active is made with antioxidants, kelp and flax seed oil for healthy, active adult dogs. Pur Luv™ Senior is made with antioxidants, fiber, and omega 3 and 6 oils for the physical wellness and fitness of older dogs.
Live with purpose. Love with passion. Treat with Pur Luv™ .

---

Whatever your reason for travel, discover a true haven at Pet Friendly Kimpton Hotels. Each of our boutique hotel collections has its own story to tell, yet all embrace you with the warmth, care and fun that are oh-so-Kimpton. We carefully select the locations of our hotels to show off the unique energy and personality of each destination. Cool urban neighborhoods, scenic getaway spots, historic landmark settings—you are there.

Born of a love and respect for all living creatures, our hosPETality program goes far beyond simply allowing your pet to stay; we include fun amenities and services to ensure that our furry and feathered guests have just as an enjoyable journey as their moms and dads. Kimpton Hotels makes sure all pets are outfitted with cozy beds, dining bowls, and special treats. It's perPETual indulgence.

Leaving your special friend behind would be unthinkable, so bring your pet with you. Our pet friendly hotels pamper your pet with their special pet packages that include amenities and services like pet food, dog walking services, chew toys and our pet friendly attitude. Visit any of our hotels' websites to make reservations for you and your pet now.

Many Kimpton Hotels have a resident Director of Pet Relations. Despite their need for scratching behind the ears and a tendency to drool, these star employees make sure that each guest, whether two legged or four, feels welcomed and loved. Meet our Directors of Pet Relations and hear from them "first-paw" what life is like on the Kimpton management team.
http://www.kimptonhotels.com/animalradio/

---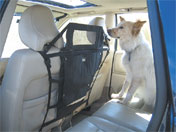 Dogs moving around freely in cars are a safety hazard to themselves, the driver, and the passengers. The Kurgo Backseat Barrier™ creates a strong wall between the front and back seats of the car. This wall keeps the dog in the backseat when the car stops quickly and restricts excited pups from moving between the front and back seats of the vehicle. The Backseat Barrier also has an extra partition, which separates passengers from dogs in the backseat. Great for long trips, or just around town.
Make it easy to buckle Fido in! As dog owners, Kurgo's designers know a harness has to be easy to put on or it will not be used. As a result, the Kurgo Tru-Fit Smart Harness™ is the easiest to use harness available today. Kurgo followed up great design with high quality automotive materials such as seat belt webbing and a comfortable fit around the dog for added comfort and support.

The Kurgo Auto Zip Line™ is the easiest and most convenient restraint system for your dog. A heavy duty webbed strap simply attaches between the two rear passenger side handles, creating a tether run that attaches to the Kurgo dog harness. The secured line allows the dog the freedom of moving around in the backseat while providing restraint in case of sudden stops. The Kurgo dog harness and leash integrate with the Zip Line allowing you to quickly transition from walking the dog to getting on the road.
---
SeniorPetProducts.com "For The Life Of Your Pet"

SeniorPetProducts.com is the largest source of products and information for aging dogs and cats.

Launched in 2004, SeniorPetProducts.com was founded on two fundamental ideas - dogs and cats require special care as they grow older and pet owners need a place to go to learn how to take better care of their aging pets. We are committed to being the expert, online resource for the growing number of pet owners with older cats and dogs. We exist to help senior pets live healthier lives as they age, by providing news, information and products for health, wellness, comfort and mobility.

100's of Products for dogs and cats geared toward senior care, with more being added every day.
Pet Experts Corner is a gathering of pet care professionals dedicated to helping all animals enjoy better lives sharing their knowledge.

Articles regarding senior specific, and general pet health and wellness topics that help insure a healthy transition to senior-hood.
Resources helpful resources we've found and used with our own pets in mind. An ever-growing aggregation of resources for senior pet owners looking for more information.
http://www.seniorpetproducts.com

---

World's Best Cat Litter™
Most cat litters can't even come close to claiming that they are the world's best, but World's Best Cat Litter™ can!
What makes this litter so different from all of the others? World's Best Cat Litter™ is the only cat litter made from whole kernel corn. This makes the scoopable litter act like a sponge, which soaks up the urine and odor instantly.

World's Best Cat Litter™ is biodegradable, flushable and all natural. It also can last two or three times longer than other litters. It clumps faster and is easier to clean up, thereby reducing the number of times you replace the litter, which saves you time and money in the long run.
It is 100% natural, safe and an eco-friendly choice for your cat and the rest of the household. And for those with allergies or sensitivities, the whole-kernel corn and plant ingredients have no synthetic chemicals, clays or silica dust. It comes in "Clumping" and "Multiple Cat Clumping" formulas.
World's Best Cat Litter™ is the official litter for the Animal Radio® studio, and we have been using it for years! Please see www.worldsbestcatlitter.com for healthy cat tips and other information.
http://www.worldsbestcatlitter.com

---
Sterifide's OneShot Plus Multi-Purpose Cleaner and Degreaser

Introducing an incredible new product that you have been waiting for, Sterifide's OneShot Plus Multi-Purpose Cleaner and Degreaser.
It's a non-toxic, biodegradable and hypo-allergenic product that provides a deep down clean and tackles tough stains on a wide variety of surfaces while providing the appeal of being an environmentally friendly "Green" product.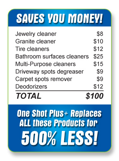 Sterifide's OneShot Plus attacks a diverse range of everyday stains, which eliminates the need for other cleaning products and saving you money and time. For example, here is a short list of Sterifide's OneShot Plus toughest opponents it defeats: Pet Stains, Grease, Oil, Carbon, Dirt, Coffee & Juice Stains, Lipstick, Food Soil, Wet Nail Polish, Soap Scum, Inks, Crayon, Blood, Smoke, Soot, Adhesives, Chocolate and much more.
The product is versatile enough to be used on any washable surfaces or fabrics common around the house or outside around the Garage, on the Driveways, BBQ Grills, Cars, Boats and RV's to name a few.
This product WILL SAVE YOU HUNDREDS OF DOLLARS that you would spend buying multiple other "specialty cleaning" products!

---

Agility-In-A-Bag ™
"Wow! I can take it anywhere!" "Makes a great gift!" "Finally I can do agility indoors!"
These are just some of things you'll be saying about our exclusive and innovative practice set that easily packs into a carrying bag! Even if you already have full-sized equipment to practice on, it is wonderful to have this portable set for travel, demonstrations, and inside use!
The Agility-in-a-Bag Set weighs only 18 lbs in the bag, and is made of furniture-grade UV-stabilized plastic, and the tunnel & chute is made with ripstop nylon. It features some of the most popular obstacles, including: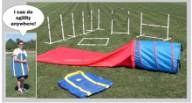 * Weave Pole Set - 30" poles with a free-standing base. Standard 6-pole set.
* Adjustable jump - with a displaceable bar (for safety) that adjusts to any height by sliding the 2 jump cups up and down on the side bars.
* Adjustable Tire jump - 24" diameter hoop that slides up and down on the side bars.
* Pause box - Great training aid and substitute for the pause table. Dog must stop and either sit or lay down for a 5 second count.
* Tunnel & Chute - 3' tunnel with 22" diameter and attachable 8' chute. Use the tunnel by itself, or attach the chute for extra challenge. Color is subject to availability only.
* Carrying Bag - sturdy canvas-like material with wide strap. (bag is blue and yellow as shown, and has a pocket on the outside)
* Colored vinyl tape - for decorating all the poles.
* Instruction Manual, that includes pictures and training tips for each obstacle.
http://www.affordableagility.com
Listen to Animal Radio® as we train Ladybug the Studio Stunt Dog with the Agility-in-a-Bag Set

---
Got Pets? Tired of Renting?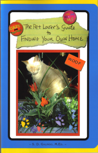 Finding Your Own Home is the only Realtor & Veterinarian approved step-by-step action plan for first time home buyers.
A 28-year real estate veteran went over this pet-friendly Action Plan with a fine toothed flea comb three times! Inside you will find tons of information distilled into an easy, customizable 100-page workbook with over 50 color photos, checklists, number crunching, links and personal stories. Get started with 20 things you can do in the next 30 days to get ready to buy your own home. You could be carrying your pet across the threshold much sooner than you think!
Finding Your Own Home answers questions like:
What should I do first - right now - to get ready to buy my own home?
How long will it take for me to qualify for a loan with my income/debt?
Can I find a great house without moving too far?
If I can't buy a house here, where can I find affordable housing?
If I decide to move further away, should I rent first or plan to buy?
Do I have to change jobs, or can I take my job with me?
If you have pets or kids, you'll want to plan financially for the next decade or two very carefully.... and right now interest rates are low, housing prices are more reasonable, and many foreclosures are available. It is time to get out of the rental rut. Watch www.FindingYourOwnHome.com for specials and cool stuff for people with pets!
* The Pet Lover's or Cat Lover's Guide to Finding Your Own Home - E-books $10.
* The Cat Lover's Guide - full color print edition $16.95
* The House Hunting Kit for Cat Lover's with extra goodies included! $34.95
http://www.FindingYourOwnHome.com

---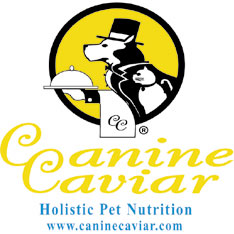 DOES YOUR DOG HAVE GINGIVITIS OR ACHY JOINTS?
Cleans Teeth & Gums
- Keratin removes tartar & plaque.
Improves Joint Health
- Rich in chondroitin sulfate.
Perfect for puppies and dogs of all ages!
Fish stix are 100% natural and are an excellent source of chondroitin and will clean the pet's teeth better than anything on the market. Fish stix compete directly with the bully stix and greenies, but have more benefits. They are completely digestible and contain no chemical preservatives, additives, or fillers.
http://www.caninecaviar.com




Sponsor of Animal Radio's New Pet Products Special Live from SuperZoo Vegas 2007

---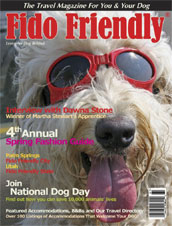 FIDO FRIENDLY MAGAZINE
Perhaps "you" can do without our magazine, but for kibbles' sake, think of your dog! At last, a voice for the traveling canines of the world. Until now, few have taken us mobile pooches seriously. After all, who appreciates warm shelter and a comfy bed more than a dog?
Fido Friendly magazine lists accommodations where you can stay with your dog while traveling in the United States and Canada. Each quarter, our editorial includes hotel, city and state reviews.
We know it's your life's goal to put a smile on your pets face and in these pages you'll find everything you need to do just that. If Fido's not happy, ain't nobody happy. So dig in and find out for yourself, what an incredible and fun resource Fido Friendly, The Travel Magazine for You and Your Dog, can be.
We have also launched the Fido Friendly Travel Club. Similar to AAA, members receive a discount from participating affiliate hotels, products and services. Membership includes a one-year subscription to Fido Friendly magazine, access to members only website, wristband with our logo 'Leave No Dog Behind,' membership card and a one-year membership to 1-800-help-4-pets, a pet recovery service. Go to http://www.fidofriendlytravelclub.com for details and start saving when you travel with your best friend today!
Your dog will love you for it and not just because he does unconditionally!
http://www.FidoFriendly.com
Canine Caviar Pet Foods - Holistic Pet Nutrition™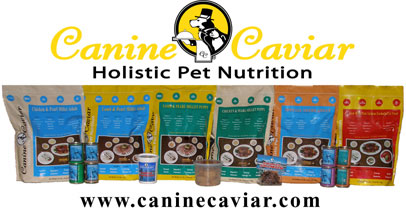 Canine & Feline Caviar provides all-natural holistic pet foods & treats that use human grade or edible meats and grain. Canine Caviar uses hormone, antibiotic and pesticide free USDA chicken & New Zealand lamb and Venison that are raised in a free-range environment. Our Chicken and Lamb dry diets use pearl millet as an alternative and the Venison & Organic Split Pea diet is GRAIN FREE. Pearl millet is highly nutritious, non-glutinous, non acid forming, extremely digestible, beneficial to the stomach, spleen and pancreas, and considered to be one of the least allergenic ingredients available. Sustaining ingredients include flaxseed, canola oil and white fish for proper Omega 3:6 fatty acid balance, alfalfa and kelp for a healthy stomach, garlic for the immune system, yucca for hip and joint support, chicory root for a healthy digestive system, peppermint and parsley for fresh breath, rose hips for added vitamin C, and lecithin for better absorption of the fats and proteins. All of the formulas contain No wheat, corn, soy or chemical preservatives.
We also have a frozen raw food diets (grain free), canned foods (grain free) and treats, which are all great skin and coat conditioners.
Our pet foods are on the list of veterinary alternatives. The diets are pH balanced and low in ash.
All of our dry formulas are only cooked for 6 seconds and are 91% ­ 93% digestible, the highest on the market, all without the use of added GMO.
Nutrition is and always will be our number one priority. With your help we can educate the public and help all pets live happier, healthier, longer lives.
We invite you to explore our catalog of all natural dog and cat foods and treats. If you have any questions please contact us by email at support@caninecaviar.com or toll free at (800) 392-7898.

---
Premium Pet Mats by Pet Soup™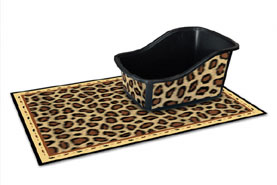 Pet Soup provides durable, premium quality mats for home, travel and outdoor use. There is a size for every application, whether it is a kennel, cage, vehicle, or pet feeding area. There are even sizes that are perfect as doormats.
Our mats feature a non-toxic, hypoallergenic, non-slip backing made with Dura-Flex™ Technology that grips and protects the surface underneath. The finely detailed images are permanently dyed into the top material, and won't fade, crack, peel or wash off.
Pet Soup mats are washable, as well, for easy cleanup! Simply the best mats out there!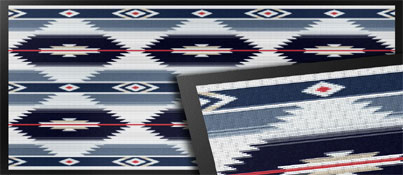 Check out our website www.pet-soup.com to view our extensive collection of images, including outdoor themed mats such as the Jordan Outdoor camouflage patterns, and images from world renowned artists such as Susan Winget, Paul Jamieson, Warren Kimble, and Jo Moulton. There are also many exclusive designer patterns that complement any home décor.
Please call 888-PET-SOUP or visit us at www.pet-soup.com.

---
Animal People News

ANIMAL PEOPLE is the leading independent newspaper providing original investigative coverage of animal protection worldwide, founded in 1992. Our readership of 30,000-plus includes the decision-makers at more than 10,000 animal protection organizations. We have no alignment or affiliation with any other entity. $24/year; for free sample, send address.