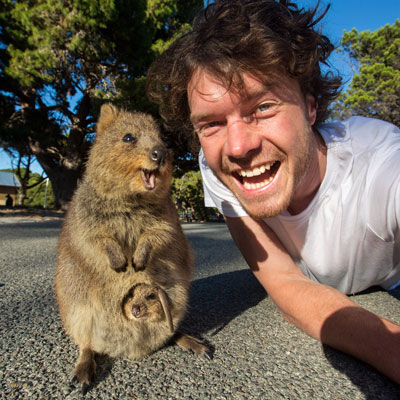 "Making Bank" Taking Selfies With Animals
Allan Dixon won the best job in the world. He gets paid to take pictures with animals. Allan has an uncanny ability to 'talk' animals into posing for a selfie with him. This might sound like the most privileged, millennial job in the world, but Dixon worked for this role. He'll explain to Animal Radio listeners.
Listen Now


Breed Specific Legislation Isn't Working
There's a new study out by researchers in Denmark on the impact of Breed Specific Legislation (BSL), which is often a city or even country's attempt to ban dog breeds it deems as vicious. The results showed that BSL there had no effect on hospitalizations for dog bites.
Listen Now

People Cuddle More With Pet Than Significant Other
According to a new survey, nearly half of pet parents cuddle with their pooch more than their significant other. The report also found that 24% said they took more pictures with their dog than with friends or family members. 1 in 3 pet parents take their dog along on dates. Why? Respondents said it's because their dog is a good judge of character. More than half said they would consider ending a relationship if their partner didn't like dogs or was severely allergic.
Listen Now

Tails From A Celebrity Pet-Sitter
Have you ever considered quitting your stupid job to become a pet-sitter? Laura Vorreyer shares stories about her bustling Los Angeles dog-walking business. She'll dole out advice for the aspiring pet-sitter.
Listen Now

National Weather Service Issues 'Small Dog Warning'
The National Weather Service is typically pretty stoic with its forecasts and advice, but on one day earlier this month a satellite office of the weather service in Ohio issued an "unofficial Small Dog Warning" on Twitter due to strong winds gusting to 50 mph in parts of Ohio and Pennsylvania. The Tweet said "Hold on to your pooch! Be sure to make sure both your trash can and your dog don't blow away!"
Listen Now


Australia Bans Cosmetic Testing On Animals
The Australian government has passed a bill that effectively bans animal testing for cosmetics sold in the country. Australia will no longer accept results derived from animal experimentation as evidence of a product's safety or effectiveness. This means cosmetic brands will be required to show that their products are safe with non-animal testing methods. A majority of Australians, 85% are against animal testing for cosmetics. Lori Brooks reports.
Listen Now

Read more about this week's show.