Take A Break From The Bad News.
Enjoy some laughter with your pets and Paula Poundstone, Jay Johnson, NBA Icon John Salley, Bob Barker and a woman who sold her Mercedes and gave up her job to live with goats.






Animal Radio® Show #1061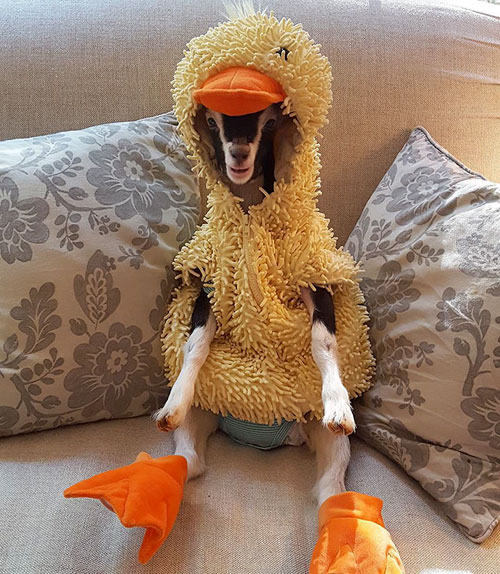 Goats of Anarchy
Leanne Lauricella traded her Mercedes in for a Chevy, gave up her fast-track career and moved to a farm to raise goats. She's now the proud guardian of 50+ goats, including "Polly," the goat that wears a duck costume. Her viral video has people up in arms asking why she's dressing her goat in a duck costume. She has a pretty good reason.
Listen Now
I Talk To Dead Pooches
When Brent Atwater was five years old she became aware of her power to talk to dead pets. Often times, the pet would reveal embarrassing things about their previous owner. Brent says she loves being a clairvoyant, "you never know what an animal is going to say. They will tell you if you drink or smoke too much, have flatulence problems or your spouse is cheating on you."
Listen Now
Pets Reduce Obesity in Babies
A study at the University of Alberta in Canada finds that being exposed to pets early in life may reduce the risk of developing not only allergies, but obesity too! Researchers found that babies from families with pets, especially dogs, had higher levels of two types of microbes that are known to lower risks of allergies and obesity.
Listen Now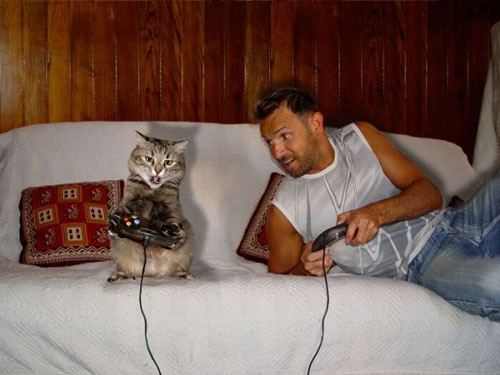 Cat-Man Trend
The Pet Food Manufacturing Association is reporting a 25% rise over the past year of men with cats. That's a full one million more cat-owning men. The study found that undergraduate students rated photographs of men labeled as cat people less masculine than images of men labeled as dog people or not labeled at all.
Listen Now
U.S.P.S. Bite Rankings Released
The U.S. Postal Service has released its dog bite rankings, saying more than 6,700 mail carriers were bitten by dogs nationwide last year. Los Angeles topped the list with 80 reported bites, followed by Houston with 62 bites; Cleveland at 60; San Diego at 57; Detroit at 48; Denver at 47; Chicago at 46; Indianapolis at 44; and Minneapolis at 43 bites.
Listen Now

Read more about this week's show.
Animal Radio® Show #1060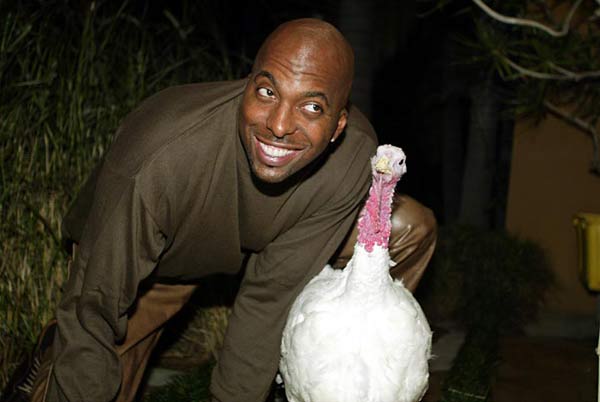 John Salley Brings His "A" Game
The incredibly talented and charismatic John Salley was the first NBA player to win four championships with three different franchises, Detroit, Miami and the LA Lakers. But did you know he's also a Vegan and has an affinity for kittens. John is our special guest this week. Find out what it's like to be a top athlete and abstain from all meat and dairy.
Listen Now
Just How Well Can Your Cat Smell?
Dr. Marty Becker is doing research on smells your cat likes. It's all in the name of science. He wants your pet's environment to be "Fear Free." While we all know about Catnip, did you know Silver-vine and Honeysuckle will also appeal to your feline friends. But stay away from the Glade and Aroma Plug-ins. They could really annoy your pet...even make them sick.
Listen Now
Animal Abusers Barred From Owning Pets in RI.
People convicted of abusing animals would be barred from owning a new pet in Rhode Island under a new law being considered in the state's General Assembly. It would create a statewide registry of animal abusers barring animal shelters, pet stores and breeders from allowing the sale or adoption of an animal to someone listed on the registry. Under the proposal, anyone convicted or pleading no contest to animal abuse would have to register and abusers who fail to register, or who are caught owning another pet, would be subject to up to one year in prison plus a $1,000 fine.
Listen Now
Firefighter Finds Lost Blind Dog
Firefighter Dan Estrada is being called a hero after he took a casual stroll into the woods and came back with a beloved blind family dog, who had been missing for eight days, slung over his shoulders. The dog, 12-year-old Sage, had been reported missing from his family's home in San Lorenzo Valley, California. The family had searched everywhere, put up posters and even hired a dog tracker but still had no clue what happened to Sage. It turns out Dan the firefighter and his friend were out hiking through the redwoods when they saw Sage lying down by a river, but he wasn't moving. The firefighter slung the lab across his shoulders and carried him back to town. You can imagine how happy Sage's family was. They threw a big neighborhood party to celebrate and offered Estrada a $1,000 reward, which he turned down and suggested that they donate the money to an animal charity.
Listen Now

Read more about this week's show.
Animal Radio® Show #1059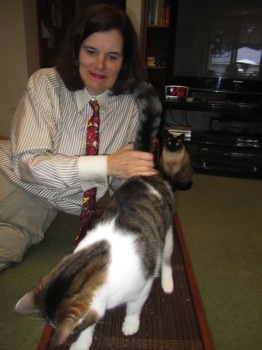 Catty with Paula Poundstone
Comedian Paula Poundstone (Wait, Wait€¦Don't Tell Me!) is back to explain why she's not a "crazy cat lady," despite her menagerie of 14 cats. While there aren't a lot of "sure-things" in this world, Paula is pretty sure she won't be getting her deposit back when she moves out.
Listen Now
Amy Holland Passionate About Adoption
The Grammy-nominated singer-songwriter, and wife of Michael McDonald, Amy Holland is our special guest along with her pup, "Tulip." Ladybug The Animal Radio Studio Stunt Dog loves her new album with David Crosby and her hubby. You will too.
Listen Now
Tax Credit for Pet Adoption
A bill introduced in the Oregon Senate would allow a tax credit of up to $100 for someone who adopts a dog or cat from an animal rescue facility. Senate Bill 326 would provide a credit for qualified adoption expenses, including adoption fees, vaccinations, spaying or neutering and micro-chipping. Opponents of the proposal say, "SB 326 creates a new tax credit, despite the fact that the state has a current budget shortfall of $1.8 billion dollars."
Listen Now
Do Pets Grieve For Other Pets?
The impact of the loss of a pet in some people is as great as the loss of a human. A new study indicates that our cats and dogs also grieve after the loss of a furry-sibling. Cats seemed to be needier after the death of another family pet. 40% demanding more affection. 36% of cats sought out the deceased favorite spot. Almost half of the cats had a change in vocalization behavior.
Listen Now
Labrador Falling Out of Favor in U.K.
The Labrador is no longer the top dog in Britain; it's now the French Bulldog, which is a celebrity favorite for David Beckham and Lady Gaga. It will be the first time the Labrador Retriever will have been knocked off the top spot. The Lab has been the most popular dog breed in the UK since 1990, the year it overtook the Yorkshire Terrier.
Listen Now

Read more about this week's show.

Animal Radio comes to you from the Red Barn Studios
Animal Radio® Show #1058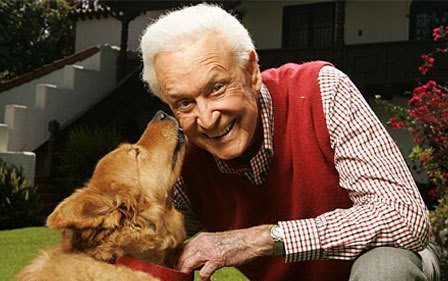 Bob Barker's 15th Visit with Animal Radio
Iconic TV host and Animal Advocate Bob Barker is back for his 15th appearance on Animal Radio. Bob is still helping animals live better lives. He's been instrumental in unshackling elephants from circus acts; even relocating several to sanctuaries. Now he's rescuing orphan bears in Canada.
Listen Now
Dogs Prefer Reggae Over Heavy Metal
When you leave the house, do you leave the TV or radio on for your pets? New research indicates that when it comes to music, dogs like variety. The results make a very strong case for music as a calming technique, especially in shelters where the high stress levels can cause dogs to cower, bark loudly, jump at people for attention and behave in ways that make them less likely to be adopted.
Listen Now
Bill Would Ban Pets on Lap While Driving
North Carolina State lawmaker, Representative Garland Pierce wants pet owners to show affection for their pets, but not while they are trying to drive a car. Pierce says, "I don't have a problem with pets, actually, I want people to love their pets. But I want the highways to be safer."
Listen Now
Miniature Donkey Craze
There's a new trend in the world of exotic pets, but not your typical exotic animal. We're talking about the increase in people who are adopting miniature donkeys. These miniature donkeys are pretty much about the same size as a large dog!
Listen Now
Animal Terminal Opens at JFK Airport
The world's first privately owned animal terminal and quarantine facility has opened at John F. Kennedy International Airport in New York. The ARK, as its known, is a huge $65 million dollar, 14 acre facility that is cozy enough for a tiny kitten but spacious enough for a Clydesdale.
Listen Now

Read more about this week's show.

Animal Radio comes to you from the Red Barn Studios
Animal Radio® Show #1057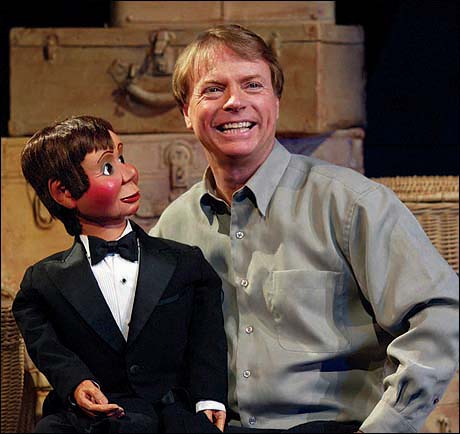 He's No Dummy
Ventriloquist Jay Johnson (SOAP) brings his witty banter to the show this week to talk about his connection with his dog and his involvement with Actors and Others for Animals.
Listen Now
Living Rent Free
Emma Higgins hasn't paid rent in three years. To boot, she's been traveling throughout Europe. How does she pull this off? She's a live-in pet sitter. She takes care of animals and house sits for extended periods all over the world. She has tips to help you give up your 9 to 5 and start traveling rent-free.
Listen Now
Touchscreen Tablets For Dogs
Researchers at the FIDO project at Georgia Tech are working on a touch screen tablet that is made just for dogs! The tablet literally enables a dog to make calls and send texts. However, the technology is not to entertain your furry best friend while you are at the office, it's designed for service dogs to give them new ways of communicating vital information when their handler is in danger.
Listen Now
World's Ugliest Dog Not a Chinese Crested
A 125-pound Neapolitan Mastiff named Martha has been crowned the "World's Ugliest Dog" at a Fair in California. Sort of silly because Martha is the cutest big girl with her big old floppy head and skin. Her sleepy eyes also helped her stand out from the pack of 13 other interesting looking dogs at the 29th annual World's Ugliest Dog competition in Petaluma. For representing the perfect "cute-ugly mix" 3-year-old Martha was awarded $1,500 prize, a trip to New York and a trophy.
Listen Now

Read more about this week's show.
So many ways to listen to Animal Radio®. We're on 134+ AM/FM stations, the Animal Radio® App for iPhone/Android, iHeart Radio, iTunes, Stitcher, TuneIn, Spreaker and Podcast. We're available wherever you are!
Listen to Animal Radio LIVE anytime with the FREE Animal Radio App for iPhone / Android. Plus, you'll get notifications anytime there is a recall or news that affects you and your pets.




---
Copyright 2001-20 Animal Radio®, its logo and Animal Radio Network(TM) are registered trademarks of Animal Radio Network LLC. All rights reserved. Submissions for newsletter, programming, editorial comments and opinions may be sent to: YourVoice@AnimalRadio.com. See our website for additional information.