He's No Dummy!
Jay Johnson, Ventriloquist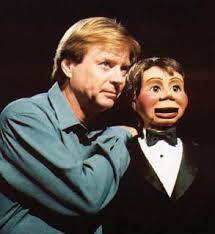 Ventriloquist Jay Johnson, best known for his four seasons on SOAP, brings his witty banter to the show this week to talk about his connection with his dog and his involvement with Actors and Others for Animals.
Jay Johnson doesn't like anyone to call his puppets dummies. He states that are "Wooden Americans!" Being a ventriloquist has been a lifetime career for Jay. His first paid performance was when he was eleven, but he had been rehearsing since he was five.
Jay's parents were educators so they didn't have a problem with what he was doing and actually took an interest in it.
When Jay was young, he was limited on things other people would excel at. It turns out he had dyslexia, but there wasn't a word for dyslexia. The term didn't come about until he was in high school. This caused Jay to not be motivated about the normal things other people would read and he glommed onto ventriloquism because it's not a coded skill. It doesn't require math and it doesn't require spelling.
It all started when there was an open call for the television sitcom SOAP in the trades for a ventriloquist for a television series. Jay had never seen such a call and has never seen one since. Jay only answered the call because everyone in town was asking him if he was going to go. Jay Sandrich, the director, stated that the character wouldn't work unless the person really knew ventriloquism, because you can't ask actors to act against a post-production thing on a sitcom. So they started looking for ventriloquists and Jay happened to look like Richard Mulligan's son, he happened to be a ventriloquist and he also had an acting background. He was perfect!
Surprisingly, Jay states that there were many guys who auditioned for the part of the ventriloquist. While Jay was sitting there waiting on this open call, he noticed a guy showed up with just a guitar. He didn't have a suitcase or a "Wooden American." Jay was later told that when the guy auditioned, he was asked if he was a ventriloquist to which he stated, "No, but I sing really well!" and continued on with a song. Needless to say, he didn't get the part!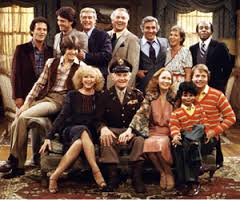 SOAP appeared on television from 1977 through 1981. While most sitcoms lasted five years, SOAP was on the air for four. A lot of actors got their start on this show, including Billy Crystal. This was Billy's first series and he had just finished a movie called Rabbit Test, which was a directorial debut by Joan Rivers, which turned out not to be a very good movie.
At home, Jay has a dog-named Bamboo, whom he says he rescued from "Weird Al" Yankovic. Although "Weird Al' had originally rescued her, the dog didn't get along with his small child, while Jay's children were all grown. The dog was a great dog, but not for little kids, as he was too energetic. Jay loves Bamboo and states that people don't know what non-conditional love is until they've had a relationship with a pet of some kind. That is all they do - they are just there to love you back no matter what you do!
Jay has always loved Actors & Others For Animals even before he was in Hollywood. Jay would watch the "Price is Right" where Bob Barker would always end the show with the statement, "Don't Forget To Spay & Neuter Your Pets!" Jay didn't know exactly what he was talking about, so he wanted to learn. He was already good friend with Jo Anne Worley and Fred Willard's wife, Mary, and they got him involved.
Previously, there was a contest at Actor & Others For Animals where Fred Willard was the MC. They did a "Best in Show" parody where everyone submitted videotapes of their dogs. Jay entered his dog, and with a little video trick, he made his dog Bamboo talk. He was sure he would win, but he was beaten out by Bernie Shine and his Schnauzer, who liked to wash his face with a washrag.




Living Rent Free
Emma Higgins, Pet Sitter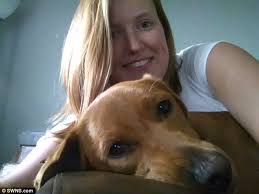 Emma Higgins hasn't paid rent in three years. To boot, she's been traveling throughout Europe. How does she pull this off? She's a live-in pet sitter. She takes care of animals and house sits for extended periods all over the world. She has tips to help you give up your 9 to 5 and start traveling rent-free.
Emma Higgins, a 29-year-old Animal lover, has lived rent FREE for three years by traveling the UK looking after other people's pets (even picking up a boyfriend on the way!) Emma finds her clients through a website called TrustedHousesitters.com, which has listings all over the world. This has allowed Emma to live in some pretty nice places in Europe and stay in homes that she could never afford.
Emma has driven more than 5,000 miles traveling to and from 15 homes across the UK and Portugal. While most jobs last about 2 weeks, the longest job Emma had was 5 months in Portugal looking after two cats. This job was pretty special in that not only was the place beautiful, she actually met her current boyfriend while doing this job. They now house sit together.
Currently, Emma does not have a home base. However, she is usually pretty close to either her parent's or her boyfriend's parent's home, where they stay between jobs. However, Emma states that if you do it right, you can pretty much go from job to job without needing a place to stay in between.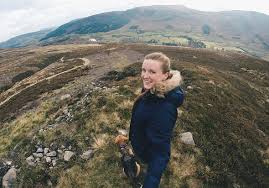 This job is not for everyone, as Emma claims it can get pretty hard to not have your own place. Plus, the responsibility of looking after other people's pets and making sure that they are cared for the way they deserve to be cared for, can be difficult at times.
Having written notes and detailed instructions from a client is always helpful, but Emma tells us one time a client left her 10 pages of notes on taking care of two cats for a week. This includes two whole pages on playing with them with their favorite toys. Emma states that people with cats tend to leave the most instructions. She thinks this is because cats can be quite particular while most dogs are easy going.
Pet sitting is the perfect job for Emma, as she is a travel writer and edits her travel website GottaKeepMovin.com while selling travel pieces to Internet magazines. However, this is not the job for everyone. If you think this is something that you might like to do, Emma recommends starting off with websites like TrustedHousesitter.com and try out a small job while on vacation. Don't quit your day job yet! Make sure that this is something you can do and want to do. Emma has been lucky, during the years she's only had to go to a veterinarian once and that was because of a catfight. She states she cannot imagine living any other way now.




Second Hand Smoke Sickens Pets - Dr. Debbie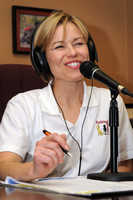 Looking to save money on veterinary care or wondering how to keep your pet in peak health? If you are a smoker and have pets, there are some very compelling reasons to quit - second hand smoking's link to causing cancer and illness in pets. If threats from your spouse haven't gotten you to stop smoking yet, maybe looking at that furry friend on the couch next to you will. The life you save may be his.
It's long been known that smoking causes serious health repercussions in people, even to non-smokers in the same environment. According to the Center For Disease Control (CDC), secondhand smoke contains 7,000 different toxins, hundreds which are toxic and 70 which cancer-causing.
In people, secondhand smoke is linked to cardiovascular disease, lung cancer and childhood asthma, ear infections and Sudden Infant Death Syndrome (SIDS). Similar research in pets has found that animals from smoking homes are at greater risk of chronic lung disease like asthma and bronchitis, respiratory cancers and other cancers.
Pets are exposed to smoke and chemicals not only through inhaling air, but also by ingesting the toxins directly. Smoke particulates settle on pet's fur or are transferred from the owner's hands through petting. Pets then ingest cigarette's toxins through licking humans, self-grooming and grooming other household pets. Cat's especially fastidious nature permits increased intake of smoke residues through kitty grooming behaviors.
What Are Secondhand Smoke Effects In Pets?
Research from Tufts University discovered that cats exposed to smoking had a higher risk of developing the malignant cancer, lymphoma. In fact, cats living in smoking homes had double the risk of developing lymphoma as cats from non-smoking homes. When two people in the home smoked, the risk of lymphoma in cats increased to four times.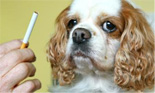 Other veterinary research identified increased rates of oral, nasal and lung cancer in pets from smoking households. Cats from a smoker's home are four times as likely to develop the disfiguring cancer, squamous cell carcinoma. And in yet another study, long snouted dog breeds from smoking homes were at greater risk of developing nasal cancer, likely due to greater absorption area in long nasal passages.
How Can You Safeguard Your Pet's Health?
If you are a smoker, consider stopping - for your sake and your pets. Short of giving up the habit, take steps to minimize second hand smoke on your pets. Only smoke outdoors, away from pets. Wash your hands after smoking, before handling your pets. If you enjoy lighting up in the car when driving, leave your pet at home. Even with car windows down, cigarette smoke inside a car creates a toxic environment for pets.
Have your dog and cat examined by your veterinarian every six months. Alert your veterinarian to any lethargy, trouble breathing, and coughing or unexplained weight loss. Early detection and treatment permits the most effective treatment of chronic respiratory conditions and cancers. Your pet's veterinarian can detect illness through regular exams and preventative screenings.
While smoking isn't the only factor causing cancer in pets, it is increasingly scrutinized as a significant health risk, one that we humans can control. The health decisions we make not only influence our children's health, but also affect those devoted pets that warm our hearts and beds.
Featured veterinarian known as "Dr. Debbie" on national pet radio program, Animal Radio. Ebook author of "Yorkshire Terriers: How to Be Your Dog's Best Friend"; "Pugs: How to Be Your Dog's Best Friend"; "Mini Schnauzers: How to Be Your Dog's Best Friend"; and "Shih Tzu: How to Be Your Dog's Best Friend." Dr. Debbie's books.




Animal Radio News - Lori Brooks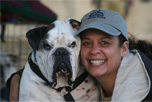 Women Endure Domestic Abuse for Pets
Women with pets are enduring domestic abuse longer and returning home sooner for fear their animals could be hurt, according to new research from the University of Windsor in Canada. The five-year-long study reveals that some form of animal maltreatment was present in roughly 89-percent of domestic violence cases in Canada. More than half the women in those cases delayed leaving their abusive partner because of concern for their pet's safety. The author of the study says, "It's something we need to take very seriously. It's putting a lot of people and animals at risk." The professor says she was inspired to study this specific problem years ago while working in an animal shelter, because when filling out paperwork to surrender pets, women often said mistreatment by their male partner was the reason for surrendering an animal.
35-Pound Cat on Diet
An animal shelter in Washington, D.C. posted a pic recently of a 35-pound cat they are helping to lose weight. Symba is a 6-year-old, orange tabby, who now exercises on a circular treadmill device as he slims down to the perfect healthy size that will help him land a new home. The Humane Rescue Alliance says it's never had such a huge cat before, but they're doing everything they can to get him in shape for a new life after his previous owner moved to a nursing home that doesn't allow pets. Fortunately the shelter staff recognizes that Symba's obesity is very serious and that as cute as he is, he has to lose the weight to live a good life.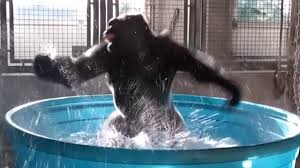 Gorilla Dances in Kiddie Pool
If you are on social media, you have probably seen the video of the joyous gorilla dancing in a kiddie pool. Here's a little history on Zola, the 14 year old, 380-pound Silverback gorilla who has delighted millions. His handlers at the Dallas zoo say Zola loves nothing more than playing in water, including rain puddles, moats and, as his viral video reveals, giant kiddie pools. Gorillas can't even swim! So is Zola really having that much fun, or could it be stress of living in captivity? Tara Stoinski, president and chief scientific officer of The Dian Fossey Gorilla Fund International, says it is obvious that Zola was enjoying himself in the pool because stressed gorillas are often withdrawn, quiet and uninterested in interacting with their environment. Obviously, Zola is the opposite of withdrawn in the video.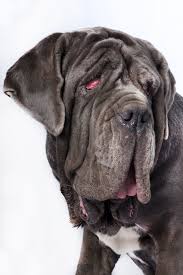 World's Ugliest Dog - And It's Not a Chinese Hairless!
A 125-pound Neapolitan Mastiff named Martha has been crowned the "World's Ugliest Dog" at a summer Fair in California. Martha is the cutest big girl with her big ol' floppy head and skin. Her sleepy eyes also helped her stand out from the pack of 13 other interesting looking dogs at the annual World's Ugliest Dog competition in Petaluma. For representing the perfect "cute-ugly mix" 3-year-old Martha was awarded $1,500 prize, a trip to New York and a trophy.
Apps Make Traveling With Pets Easier
There are now apps that make traveling with your four-legged family easier. Here are a few: BringFido.com is a website that with pet-friendly hotels, restaurants, events, services and more. Search by destination city or browse by type of activity or rating. Bring Fido's local resources directory has information on local pet stores, veterinarians, doggie day care facilities, sitters, groomers, trainers and other pet professionals in more than 10,000 cities all over the world. GoPetFriendly.com is another great website with pet-friendly accommodations, restaurants, campgrounds, dog beaches and even wineries. Just for fun, follow the creators of Go Pet Friendly.com, and their dogs, on The Ultimate Pet Friendly Road Trip blog as they visit all of the 48 continental states over the course of their 10-month road trip. Of course, no matter where you are every pet parent should have The Red Cross Pet First Aid app, which is free.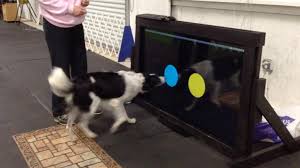 Touchscreen Tablet for Dogs
Researchers at the FIDO project at Georgia Tech are working on a touch screen tablet that is made just for dogs. The tablet literally enables a dog to make calls and send texts. However, the technology is not to entertain your furry best friend while you are at the office, it's designed for service dogs to give them new ways of communicating vital information when their handler is in danger. Here's how it works: when the dog gets the command HELP, it goes over to special touchscreen and then with its nose, touches a series of three icons on the screen. That move triggers a computer to make a call or send a text to a designated number, a family member, a doctor or even 911. The touchscreen buttons are colored blue and yellow so that dogs, being partially colorblind, can distinguish between colors.

Listen to the entire Podcast of this show (#1057)