Celebrating Our Senior Pets

Animal Radio's annual Senior Pet Special examines the new technologies that keep our pets living longer than ever before. American Animal Hospital Association (AAHA) President Dr. Gregg Takashima has the low-down on keeping our pets forever young. His unbiased words on supplements and foods help you decide what's good for your pet and what's snake-oil.
Birdology 101
Author and firecracker Sally Roth has created the 'end-all' bird-lovers book, The Backyard Bird Lover's Ultimate How-to Guide. She shares her tips for attracting and even settling disputes among hummingbirds. 10 listeners pick up a free copy of this best-selling book.
Clinic Cats NOT Welcome

When you walk in to your local veterinary office are you greeted by one or many freely running felines - what we commonly call clinic cats? These are cats that may have originally been strays or tough luck stories that the veterinarian couldn't see putting to sleep. The kitties are taken and in return get to greet clients and their pets with free run of the veterinary office. Clinic cats know a life of abundance ...all the food, attention, and affection they could want. So what's wrong with it?
De-barking Banned in "M" State
The great state of Massachusetts has become the first to ban debarking surgery in dogs. The new law punishes anyone who surgically removes the vocal cords of dogs or cats with fines and up to five years in jail.
Most Dogs Are Unemployed

Jobs are hard to find but this recent ad was posted for young adults who are active, alert, outgoing, confident with a good sense of smell and tolerance of people. If you're a dog the Dept. of Homeland Security wants you! They currently employ 2000 animals and need another 3000 over the next five years.
Listen to this Animal Radio® episode

Marc Morrone Guests On Animal Radio®
Animal's best friend, television and radio host Marc Morrone shares his life with every creature imaginable. He spends his days at his pet store, or as he refers to it as his 'laboratory.' "I really wanted a zoo but the pet store is more practical," says Marc.
Sponge Bob Is Dead
Who lives in the pineapple under the sea? Who died in the oil spill because of BP? However, not all the gulf residents were harmed. Good news about endangered turtles that were saved from the oil disaster.
Just Doing Our Jobs
Feel free to call on any one of Animal Radio's experts ...like Bob. He wants Animal Communicator Joy Turner to ask his animals if another man visits his wife while he's away. After all, one of the five pets might squeal on the philandering wife.
Dodge Journey Pet Destinations
Planning at trip with your pet but don't know where to go? We have ideas of great pet-friendly places to take you furry-companion where you'll both have fun.
Free is Good
We want every cat-guardian to try a bag of World's Best Cat Litter. It's on us. Everyone within the sound of Animal Radio® gets a free bag! We're sharing the products that work well for the Animal Radio® animals.
Listen to this Animal Radio® episode

M*A*S*H's Loretta Swit Guests On Animal Radio®


Best known as "Hotlips Houlihan" on the long-running M*A*S*H sitcom, Loretta Swit has spent much of the last decade helping animals live better lives. Swit has three cats and a Yorkie named Munchkin. "I can't imagine life without little things running around the house. It's amazing how you integrate with their spirits and souls," say Swit.  Loretta Swit is also joined by the President of the Humane Society of the United States (HSUS), Wayne Pacelle.
Celebrities and Their Pets
Producer of the feature film My Dogs, Daryl Roth explains how she captured the most intimate moments between those in the spotlight and the furry-friends in their lives. Glenn Close, Pierce Brosnan are among those featured.
Picking A Groomer

'Groomer Has It' judge and Animal Radio® Dream Team member Joey Villani has tips on picking a good groomer. In light of all the bad groomer news lately, it's important you listen. Start with the basics. Does your groomer have any burned out light-bulbs?
Furry-Advancements
Britt Savage reports on a mood ring for your pets and a school for training your mule.
Listen to this Animal Radio® episode


Ed Asner Makes Another Shocking Announcement on Animal Radio®

Ed seems to confide with Animal Radio®, telling listeners the Hollywood news before TMZ gets a hold of it. When asked why he never has dogs as part of the family, Asner replies "In my peripatetic life it's much easier to live with cats. They don't commit Harry Caray in my absence."
Dodge Journey Pet Destination Premieres
Where are your favorite places to take your pet? America shares their favorite destinations. So load up the family and enjoy summer with your furry-friend. This week we start at Avila Beach in California.
Tails From The Doc Side

Dr. Debbie will not stand silently when pet-parents answer their cell phone during a visit. "I'm in a consult, talking to a pet parent about their babies ailments when all of a sudden, Jayzee's song alerts of an incoming call ... I get the raised hand indicating 'give me a minute' and the client takes the call leaving me standing there thinking, 'Are you kidding me?'"
Recall of the Week, Brought To You By Ipecac
The FDA announced the recall of Feline's Pride Raw Food. The food for both cats and kittens may be contaminated with Salmonella. The recall affects only orders that were placed and shipped June 10th through June 17, 2010.
Listen to this Animal Radio® episode


Get a FREE BAG of World's Best Cat Litter NOW!

Crush Videos Crushed
The House of Representatives passed a bill that would prohibit the sale or distribution of obscene videos showing animal cruelty. The so called "crush videos" would be outlawed under the legislation drafted by California Congressman Elton Gallegly and passed by a margin of 416 to 3. The bill is now headed to the Senate where it is expected to pass. Gallegly said several law enforcement agencies "consider animal cruelty to be one of the early warning signs of potential violence by youths. This bill is one step towards ending this cycle of violence."
A Summer of Recalls
Here's a synopsis of recent pet food recalls:
-Merrick Pet Care has recalled 86 cases of Beef Filet Squares for Dogs treats,the 10 ounce bags with a best by date of March 24,2012
-Feline's Pride has recalled the 2.5 pound sizes of its Natural Chicken Formula kitten and cat food made June 10 and 21st. The New York based company's owner contacted the FDA to question their findings of salmonella contamination saying the government agency did not proerly refreigerate the samples tested. Shelby Gomas said "I requested an FDA hearing and to this day I have not received any response."
See Animal Radio® News Headlines
Get Headlines emailed to you, or catch them on Twitter and Facebook.






Ask the Animal Radio® Dream Team



Listen to Animal Radio® LIVE every Saturday at noon eastern and Sundays at 5pm eastern on XM ch. 158 (America's Talk) or on any of the 99 AM-FM radio stations. Call with your questions toll-free 1-866-405-8405 or email yourvoice@AnimalRadio.com

Mike Katsantonis: Have a 9mo old chocolate lab travels with me in truck, shedding constantly and coat is very dull, recently changed to blue buffalo dry food now I'm mixing with
timber wolf food
Dr. Debbie: Labradors shed more than most long-haired breeds so we won't have any easy fix for that. I advise battling the constant hair loss with brushing several times a week and bathing every 2-4 weeks. For my denser coated Labrador I use the Furminator to brush out the undercoat, but it doesn't work as well with my smoother coated male.

You didn't mention how long the diet change to Blue Buffalo was. For haircoat issues you might not notice any difference for 1-3 months after changing from one brand to another. I also find that for many brands of dog food, the duck flavor varieties seem to make the haircoat sheen a bit nicer than others like venison or chicken flavors. Also, to help the haircoat, it wouldn't hurt to supplement with a good fatty acid product like Eicosaderm or 3V caps. I give fatty acids daily to my Labradors to battle the desert dryness.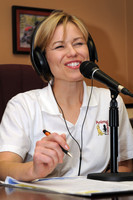 Rachel Willis I was listening last weekend when a woman called to ask about her dog's grass eating habit.

My dog "needs" to eat grass on a regular basis (maybe 2 x's per month or so). His stomach will start making noises and then he urgently "tells" me (pokes me with his nose and acts excited) until I take him out to eat grass. As soon as he eats enough grass, which acts as a laxative, he seems to feel some relief. He may require eating grass a few times in one day. Also, he seeks out a specific grass - not just any old garden variety. He prefers crab grass of all things, or a leafy something or other that usually grows on boxwood or other hedges.

My vet discourages me from allowing him to eat grass, saying it could harm him, but I've explained to her that he is relentless until I get him to a grass-feeding source. Can you shed some light on this for me? He's 8 1/2 years old, and a rat-terrier (maybe mixed with Basenji?).
Dr. Debbie: Ah, the great mystery of grass eating dogs ...there continues to be many theories on why dogs dine on grasss. We do know there are some dogs that do it because of GI upset or illness. Then there are some that just enjoy it. And in some cases it's believed to be a misplaced behavior through dog's evolution.

In your situation I would wonder if your dog could have some underlying GI issues that cause the behavior. If the behavior is accompanied by gut sounds, diarrhea, or vomiting then it might give some support of a GI issue. Since he is a senior pet, I would advise a full senior wellness checkup with labwork and fecal testing. In some cases I will go with a dietary change for 4-8 weeks since food intolerance and food allergies can cause low grade gi upset for many dogs. And some dogs get mild gi upset from eating rawhides or frequent treats- so if that is a possiblity, you might try discontinuing all but his dog food for a week or two to see if the grass eating continues.

Grass ingestion can also be an attention seeking behavior. Sometimes our reaction to seeing our pets nibble on grass can serve as the "reward" - just like a naughty child that is happy with ANY attention, be it positive or negative. It sounds as if he has already "trained" you to provide the grass when he demands it! As for why he prefers different styles of grass...there are sure to be different flavors and textures of grasses that he must have a discriminating palate to prefer!

I would agree with your veterinarian that I wouldn't want to permit or encourage the grass eating behavior. However, I think my bigger concern would be to take steps to evaluate your babies GI health and try a hypoallergenic diet regimine.
Listen to Dr. Debbie on Animal Radio®
Picking The Right Groomer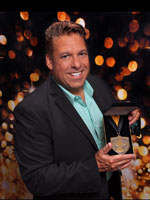 The first thing you need to look for in finding the right groomer is an inviting place. Don't just pick it from the phone book. You really need to spend some time in your selection and actually visit these places.
When you look at a grooming salon from the outside, look to see if all the lights in the ceiling are lit. Make sure there are no burned out bulbs. Because its important for the groomer to be able to see the dog properly. If a bulb is out, this could make a potential client feel that if they neglect their salon, then the dogs will be neglected as well. It should look like a salon you want to go in. It doesn't have to be elaborately decorated, but it should look inviting.
When you walk in the door, the first thing you should do is "smell" the place. Does sit smell clean? Does it smell like dirty dogs, urine or feces? The exception is that perhaps a dog just did his business in the saloon, but you should be able to tell the difference.
When speaking to a groomer, listen to the questions they ask you. You shouldn't have to ask them questions. One thing they should ask you about is your pet's vaccinations. This means that they will make sure that not only are they safe, but that your pets will be safe there too.
Do they address your pet as well? You want to make sure that your pet is comfortable with them. Of course there are some pets that won't be comfortable no matter what you do. These pets can be served a steak dinner and champagne and they will still want to walk out the door. But the groomer should pay attention to the pet and have a smile on their face.
Before you leave your pet, make sure that you tour the salon. And if they offer to take you on a tour, that is even better. When groomers say you can't go in to the back because it might stress some of the dogs there, run away! There is no reason why you shouldn't be allowed to view the area and see what goes on. Don't let them hide anything from you.
And lastly, when you leave with your groomed dog, make sure your dog is a happy dog!
Listen to Joey Villani on Animal Radio®

Jennifer Yetter: I have a 1 year old female husky/lab mix who is chewing on my shoes, my bed spread and other random things in her path. Do you have any idea why she is doing this and what I can do to stop this? I have several toys in every part of the house for her but she only uses them when I am around. The destructive chewing mostly goes on while I am not at home.
Vladae: Husky's like chewing. I believe separation anxiety is the culprit. I would suggest crating your dog starting when your home for periods of time. Then crating when you are not home. After two weeks you can leave her in your home for short periods of time. Make certain to exercise her physically mentally (obedience training before leaving the house). A tried dog is a good dog. When you come home do not create celebration (totally ignore). No grieving before you leave the home. Use the tactics of a Taliban husband coming and leaving your home : )
You can eventually start leaving your dog uncrated as long as you continue to exercise your dog both physically and mentally prior to your departure and follow the rules of a Taliban husband.
Listen to Vladae The Russian Dog Wizard on Animal Radio®


Public Events Calendar
yourvoice@AnimalRadio.com
(LOS ANGELES) The Los Angeles Pet Fair is a collaboration of Southern California's largest pet expos all on the same weekend at the Pomona Fairplex / Los Angeles County Fairgrounds, August 7-8 2010. All four shows are operated independently but in conjunction with each other to bring the community one giant animal exposition the same weekend, in the same location, and at the same time! At L.A. Pet Fair you will be given the opportunity to visit the world of aquatics at the APEX-Aquarium and Pond Expo, see and buy rare and exotic reptiles and amphibians at the Reptile Super Show, meet and buy birds at the Aviary expo at Everybodys Birdmart And of course see and hear about new products, education, amazing wildlife, pet adoptions, dogs, cats, equine and more at Pet Expo USA. http://www.petexpousa.net/
(NEW YORK) LES COMPAGNONS WINES are bottles of fine french and californian wines for which a percentage of every bottle purchased goes directly to one of four local nonprofits dedicated to improving the lives of animals and pet lovers in need: - New York Save, which helps low-income pet-owners with their veterinary bills - Gotham City Kitties, which provides foster homes for cats as well as our canine friends - Stray from the Heart works to rehabilitate every stray dog, and find its perfect owner - The Toby Project sends veterinarians in mobile units to low-income areas to offer free neutering and spay services. In order to promote this project, we will be doing a wine tasting on the 6 th of August and 3rd of September. This event will take place at park east liquors (1657 York avenue) from 5 to 8 pm. During this wine tasting, members of each of these charities will be present in order to explain the missions and goals of their charities. http://www.lescompagnonswines.com/
Celebrate your pets right now at AnimalRadio.com


Copyright 2003-10 Animal Radio®, its logo and Animal Radio Network™ are registered trademarks of Animal Radio Network LLC. All rights reserved. Submissions for newsletter, programming, editorial comments and opinions may be sent to: YourVoice@AnimalRadio.com. See our website for additional information.
This posting includes an audio/video/photo media file: Download Now