Grab Your Pets For A Fuzzy Break From The Pandemic.
Enjoy some laughter with your pets, pet shrink Stanley Coren and Tara O'Mara with a strange new way to bond with your cat.






Animal Radio® Show #1079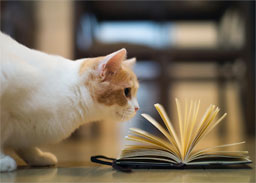 Animal Madness
Can our pets suffer from the same psychological illnesses as humans? How did Prozac find its way into veterinarian's offices? What good is anthropomorphizing? Laurel Braitman has answers to these burning questions.
Listen Now
Pet Food Myths
With our pet-store shelves stocked to the ceiling with a confusing array of pet-foods, does it really make a difference if you feed your dog something cheap off the shelves of Wal-Mart? You might be surprised at the answer. Animal Radio Veterinary Correspondent Dr. Marty Becker reveals the truth behind pet-foods.
Listen Now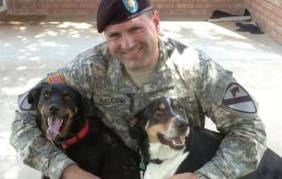 Hero People
Our new segment celebrating those that do good for the animals is getting high-acclaims. This week we're spotlighting Linda Spurlin-Dominik. She helps care for pets of deployed military personnel.
Listen Now

Fish Oil and Coat
Joey Villani wants to dispel the rumor that Fish Oil will make your dog's coat shiny. In fact, it could have damaging affects because it clogs pores. The Dogfather will help you determine what supplement, if any, you really need.
Listen Now


Read more about this week's show.
Animal Radio® Show #1078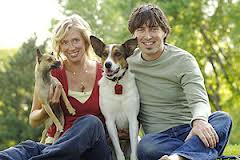 Dating for Pet Owners
Kris Rotonda created an online dating website specifically for dog owners. He says if he's going to date anyone, they've got to love his dog. And let's face it, single dog guardians have a rougher time of it because of their furry-children.
Listen Now
Saving Pit-Bulls One at a Time
The Animal Radio® Hero Person this week spends his mornings outside the Los Angeles Coliseum giving out free training to dog owners...and especially pit-bull parents. At times Cornelius Austin "The Dog Man" will have up to 50 people at his free clinic. Cornelius wants you to know that pit-bulls are getting a bad rap! His goal is to train the owners because he believes they can make a difference with their dog's temperament.
Listen Now
Safety Guidelines For Pet Harnesses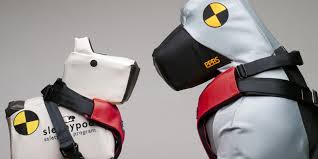 The Center for Pet Safety is behind this first scientific approach to pet product safety in the U.S., providing guidelines for vehicular pet-restraint systems. The Center has even created a series of Crash Test Dogs, just like the Crash Test Dummies that are used by auto makers to check out the effectiveness of safety features in cars.
Listen Now

Pet- Friendly Homes
Standard Pacific Homes is building and selling homes with amenities that not only cater to people, but to dogs in 27 of its 190 developments from Florida to California. The most lavish features a 170-sq. ft. pet paradise with a step-in wash station, handheld sprayer and leash lead, tile walls and floors, a drying area with a commercial-sized pet dryer, a water station, automated feeders, bunk-style bed, cabinets for toys and treats, an attached puppy run and, of course, a flat screen TV.
Listen Now


Read more about this week's show.
Animal Radio® Show #1077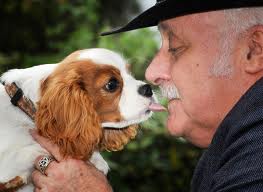 Blacklisted Breeds By Insurance Companies
Dr. Stanley Coren is back! This time he's toting his research about the breeds of dogs that are being blacklisted by homeowners and liability insurance. Allstate claims one third of their claims last year included a dog.
Listen Now
Thriller Author Hero of the Week
Author Stan Yocum is the Hero Person this week because he spends countless hours training & fostering service dogs for Canine Companions for Independence. After bonding with these awesome animals for 18-months, Stan must say "goodbye" when they go to their forever home.
Listen Now
More Companies Offer Pet Insurance
Health insurance is an important benefit at work, now one in every three Fortune 500 companies is offering Pet insurance. Those companies include Chipotle Mexican Grill, Delta Airlines, Microsoft, T-Mobile and UPS. Some of the companies even pay 100-percent of their employee's pet insurance premiums.
Listen Now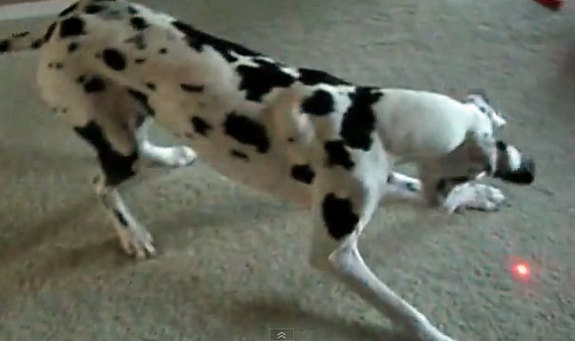 Laser Pointers Can Cause Psychological Problems
Most dogs and cats love to chase laser pointers, but they could have some unintended consequences on your pet's psyche. Dr. Nicholas Dodman says that if you use a laser pointer too often, your dog can get so obsessed with chasing the light that they develop behavior problems. Never getting to the point of actually catching the 'prey' can drive a dog slightly nuts.
Listen Now

New Pet Mixers To Meet Your Mate
If you're single and ready to mingle, you can attend one of the pet-friendly mixers being hosted by Petsmart Charities and Match-dot-com. They're being held all over the country this summer.
Listen Now


Read more about this week's show.
Animal Radio comes to you from the Redbarn Studios
Animal Radio® Show #1076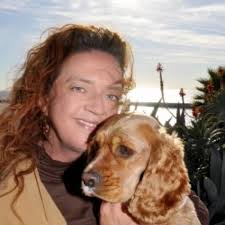 What Your Dog Isn't Telling You
Dogs and cats generally don't exhibit pain. This is a trait designed mostly to protect themselves in the wild. However, research now shows that when they are alone in a room they do show signs of pain, until someone enters the room. Dr. Annie Forslund tells us how to recognize pain in our pets.
Listen Now
Stores Stop Selling Chinese Made Treats
You've probably heard about the toxic treats from China that have been recalled. The FDA says the treats have been linked to reports of over 5,000 cats and dogs getting sick and over 1,000 dogs dying. Now, both Petco and Petsmart say they're going to stop selling Chinese-made treats.
Listen Now
Pilots n' Paws
Over 3000 volunteer pilots fly 250 mile jaunts to bring adoptive animals to new homes or hospitals. This non-profit agency regularly moves animals from dogs and cats to donkeys. Kathleen Quinn Charleston explains the Pilots n' Paws mission.
Listen Now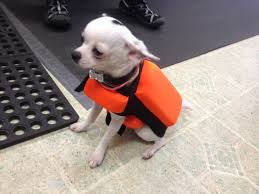 Spike Bite
Great invention or insane idea? You decide if Johnny Dumas has a sensible solution to prevent dogs from attacking your dog. He's designed a spike-filled coat of armor that protects the vital organs against bites.
Listen Now

Find The Right Pet Match With Your Smart Phone
Superfish, a Palo Alto-based startup, created an app called PetMatch that lets you look for adoptable pets in your area based on photo technology. You upload a picture of the pet you wish you could find (it might be a dog you see at the park or maybe a cat just like one you used to have). PetMatch then does an image recognition search of similar, adoptable pets in your area.
Listen Now


Read more about this week's show.
Animal Radio comes to you from the Redbarn Studios
Animal Radio® Show #1075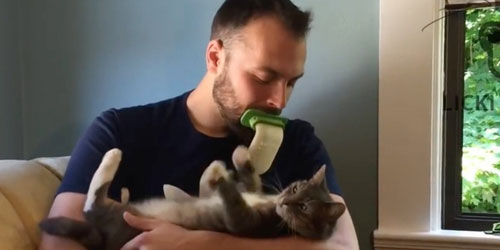 Introducing the Lickibrush€¦OMG!
Have you ever wanted to lick your cat? We all know grooming has incredible bonding effects. Tara O'Mara and her hubby Jason invented an over-sized tongue shaped brush that humans may put in their mouth and then groom their kitties, just like their mom. They've almost raised the $36,000 in a Lickstarter.... we mean Kickstarter campaign. See the brush in action.
Listen Now
Stopping Cancer Early
Animal Radio's Pet World Insider Robert Semrow lost two of his furry-companions to cancer. He may have been able to avoid the disease if he had caught it at an earlier stage. Today, he will be sharing tips that could help you tackle cancer before it becomes a menace.
Listen Now
Summer Swimming
Our dogs love the water! Summertime usually means lots of chances to go swimming in the ocean, lakes and swimming pools. But each one has inherent risks, especially lakes. Dogfather Joey Villani will tell you what you need to know before your dog takes the dive.
Listen Now
Meet Justin Beaver
Brigette Brouillard lives in Kentucky where she rescues and rehabs wild animals. At any moment you could see an opossum scurrying through the house or 'Justin Beaver' building a dam out of toys and household furniture. One of her two human children are on-board, even following in her footsteps. The other wants nothing to do with mom€™s hobby. Brigette tells her story like any proud rodent mama would!
Listen Now

Vet Student Saves Dog from Euthanasia
A visiting medical student at an Oregon animal hospital found a tick hidden behind a dog's ear right before she and a veterinarian were scheduled to put the dog to sleep over his ailing health and paralysis. The owners of 10-year-old Ollie the Sheltie noticed he was lethargic and not getting around well following a hiking trip in Oregon. They took him to their regular vet for tests, but they could not figure out what was wrong. Ollie's sickness was a very rare condition called tick paralysis.
Listen Now

Spay/Neuter Timeline - Jury Still Out
Lori Brooks reports on a new study published in the journal Veterinary Medicine and Science finds that neutering or spaying German Shepherds before one-year of age triples the risk of one or more joint disorders, particularly for cranial cruciate ligament, or CCL, tears. Another study revealed a four times greater increase for joint disease is also true for Golden Retrievers spayed or neutered before one year old, and a two-times increase for Labs.
Listen Now


Read more about this week's show.
So many ways to listen to Animal Radio®. We're on 134+ AM/FM stations, the Animal Radio® App for iPhone/Android, iHeart Radio, iTunes, Stitcher, TuneIn, Spreaker and Podcast. We're available wherever you are!
Listen to Animal Radio LIVE anytime with the FREE Animal Radio App for iPhone / Android. Plus, you'll get notifications anytime there is a recall or news that affects you and your pets.




---
Copyright 2001-20 Animal Radio®, its logo and Animal Radio Network(TM) are registered trademarks of Animal Radio Network LLC. All rights reserved. Submissions for newsletter, programming, editorial comments and opinions may be sent to: YourVoice@AnimalRadio.com. See our website for additional information.