"HERO PEOPLE OF THE WEEK" - Cornelius Austin, The "Dog Man"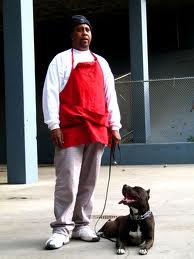 The Animal Radio Hero Person this week spends his mornings outside the Los Angeles Coliseum giving out free training to dog owners and especially pit-bull parents. At times he'll have up to 50 people at his free clinic. He wants you to know that pit-bulls are getting a bad rap!
A Southern California man has made it his mission to educate the public about the sweet side of often-misunderstood pit bulls by teaching dog owners how to properly train their pups. Cornelius Austin's office is just outside the Los Angeles Memorial Coliseum, where you can find him every Sunday from 9:00am to 11:30pm holding classes.
Besides his classes on Sundays, he also goes to the shelter every Saturday from 7:30am to 10:00am to help the dogs in the shelter.
What does Cornelius charge for his training? Nothing - it's free! Cornelius' goal is to help the Pit Bulls and help people save these dogs. He tells everyone it is not the dog, but the owners. He has been doing this for 22 years, and was taught by someone else at the Coliseum.
Unfortunately, the people that need this training the most, won't show up at class. These are the people who get these dogs for the wrong reasons, such as status symbol, fighting and breeding. The dogs then end up on the streets and shelters, where innocent people, mainly women, go to the shelters and adopt these dogs without knowing much about the breed.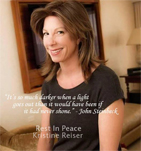 Cornelius is then there to help them, as he wants to save the breed. He mentions that when you adopt these dogs, the dogs don't know you. Plus, their original owners have already hurt them. You don't know what they've been through, and if they called talk, they would have a lot to tell you! He suggests everyone treat these dogs real gentle and always consult with a professional dog trainer.
He says all dogs, including Pit Bulls, have wonderful personalities, feelings and heart. There is also no dog that can't be trained. Training a dog properly takes time, and if you don't have the time, you shouldn't even have a dog.
Cornelius is also very involved in the community of Pit Bulls and wanted to give a shout out to a special lady that they lost from Angel City Pit. Kristine Reiser, a devoted animal lover, was in the process of saving a Pit Bull when she lost her life. Our hearts go out to her family!




Dating 101 for Pet Owners
Kris Rotonda, You Must Love Dogs Dating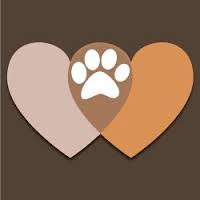 Kris Rotonda created an online dating website specifically for dog owners. He says if he's going to date anyone, they've got to love his dogs. And let's face it, single dog guardians have a rougher time of it because of their furry-children.
Kris Rotonda got his first dog, a poodle named Rocky, when he was eight. Still together, Rocky and Kris have been joined over the years by Kobe and Coco, two dogs abandoned by an ex-girlfriend, and Jordan, a big loveable girl who lived in a shelter cage for more than three years before her rescue.
Kris has had problems with relationships in the past because of his dogs, so he saw an opportunity for a niche-based dating site to bring pet lovers together.,,Kris tells us of a previous relationship where he had two dogs and so did his girlfriend. The girlfriend apparently inherited her two dogs from a family member and she didn't take care of them. During her breakup with Kris, she actually left her two dogs with him, so that is how he ended up with four dogs.
So now you have met someone online who also loves dogs, but where do you go on a doggy double date? Kris offers three easy ideas with lots of potential for having a good time.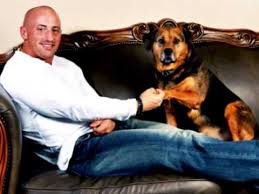 - Look up the nearest dog beach or park: Dog parks and beaches have lots of interesting things to see and smell, particularly if you're a dog, and room for running and playing games. You and your date can toss Frisbees, take a leisurely stroll with your dogs, or just kick back for some entertaining dog watching.
- Dog-friendly bars and restaurants: More and more establishments are realizing the value of setting a place at the table for dogs.
- Go shopping together. Pet stores are also dog-friendly zones; check out fun new products together, scope out the fish and birds available for sale, you may even get a little paw mani-pedi together!
Kris mentions that so far there haven't been any marriages, yet!




E-Cigarette Toxicity in Pets - Dr. Debbie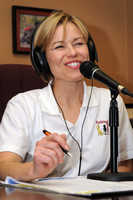 Think that vapor cigarettes (a.k.a. electric cigarettes or e-cigarettes) are a healthier alternative to traditional cigarettes? The vapor habit might be better for you and decrease your pet's exposure to second hand smoke, but can increase the chance of a pet's toxic ingestion of nicotine. A story from England told of the tragic death of a puppy that died after chewing on an e-liquid container.
Ivy was a 14 week on Staffordshire Bull Terrier that chewed on her owner's bottle of e-liquid used to refill the electric cigarettes. Within 30 seconds of nibbling on the container, she fell sick with vomiting and disorientation and was rushed to a veterinary office. Sadly Ivy died within 24 hours due to heart and respiratory failure.
What's in e-liquid?
The ingredients in e-liquid vary but include carriers such as propylene glycol, polyethylene Glycol 400 and vegetable glycerin, as well as flavoring agents and nicotine. The amount of nicotine in e-liquid varies with some products not containing any nicotine, to others ranging from 18 mg/ml to 100mg/ml.
How toxic is nicotine?
The toxic dose of nicotine for pets is 0.5 to 1mg per pound of body weight. The fatal dose is 4mg per pound. So if you consider a 20 pound dog, toxicity would occur if 10mg were ingested, and the pet would die if 80mg were ingested. Therefore with the high nicotine levels in e-liquid, it wont take much to reach those fatal levels. That hypothetical 20 pound dog could die from less than 1ml of the highest potency liquid nicotine.
Pets likewise can develop toxicity if other sources of nicotine are ingested such as cigarettes, chewing tobacco, nicotine gum, or nicotine nasal sprays. The typical amounts of nicotine in these products are: Cigarette 9-30 mg; Nicotine gum 2 - 4 mg per pieces; and Nicotine patches 8.3 - 114 mg.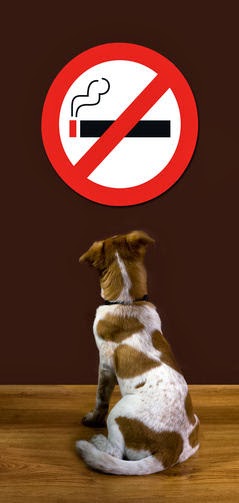 Even cigarette butts can be toxic if enough are ingested - cigarette butts retain 25-percent of the nicotine in the original cigarette.
What are symptoms of nicotine poisoning?
Symptoms usually develop within one hour of ingestion. Pets may display excitability, rapid heart rate, drooling, vomiting, diarrhea, weakness, seizures, and coma.
How are pets treated for nicotine toxicity?
The first step is to decontaminate by inducing vomiting. Nicotine typically causes vomiting when ingested, but further decontamination is advised at the veterinary office. Other emergency care includes intravenous fluids, medications to manage elevated blood pressure and heart rate, and anti-seizure medications. Nicotine is metabolized by the liver and excreted within 16 hours after ingestion. Pets that survive the initial four hours after ingestion have a favorable chance of survival.
The vapor cigarette trend is becoming more popular world wide. It's important to recognize that nicotine is a toxin and poisonous to animals and children. Consider the e-liquid a hazardous material and store it safely in a locking cabinet, away from children and pets.
To read more about Ivy's toxicity after ingesting E-fluid go to "Dog dies after chewing e-fluid container."
Featured veterinarian known as "Dr. Debbie" on national pet radio program, Animal Radio. Ebook author of "Yorkshire Terriers: How to Be Your Dog's Best Friend"; "Pugs: How to Be Your Dog's Best Friend"; "Mini Schnauzers: How to Be Your Dog's Best Friend"; and "Shih Tzu: How to Be Your Dog's Best Friend." Dr. Debbie's books.




Animal Radio News with Tammy Trujillo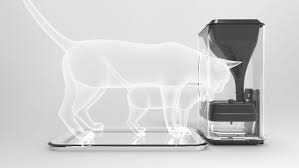 Bad News For Greedy Cats
An inventor in Taiwan has come up with a cat-feeding machine that uses facial recognition technology. The Bistro Smart Feeder has an app that allows the pet parent to monitor their pet's diet history and health and even watch them eat live through a built-in camera. The feeder requires cats to put their heads inside it and the food and water will only come out if the built-in computer recognizes them and only if they haven't eaten within a certain amount of time. The inventor, Mu-Chi Sung says he got the idea after his cat Momo nearly died from pancreatitis due to his other cats taking more food than they should. He pointed out that with cats, you often don't know they are sick until it's too late to help them. Just to be on the safe side, the feeder has a scale connected to it to ensure the cat is recognized even if the facial recognition software fails.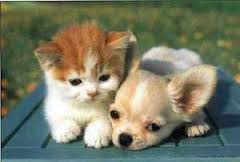 What Puts The Cute in Cute Pets?
Most of us think our pets are cute, but what makes the cute? According to researchers, floppy ears, patches of white, younger faces and smaller jaws are the keys to cuteness and they are all traits that Charles Darwin noticed 140 years ago. The research team at Humboldt University in Berlin think the traits may be linked to the domestication of animals and would explain things like why wolves look wild, while their relatives, domestic dogs don't. It could also explain similar differences between domestic and wild felines, birds and even fish. The theory hasn't been tested yet, but that could happen soon as researches map the genes of domestic animals.
Cure For Parvo?
A few weeks ago, we talked about a possibly more effective treatment and far less expensive treatment for the deadly disease Parvo in puppies. That medicine is made from goose eggs and is being tested at the animal shelter in Kansas City Missouri and people at the shelter say it is making a huge difference. Puppies in what is being called the Kansas City Pet Project are bouncing back and starting to eat and drink within two days. That's about half the time it used to take, if the puppies were able to bounce back at all. The clinical trial is set to go through November. If all continues to go well, it could be for sale as soon as next spring at about $75 per dose. Right now, current treatments for Parvo can easily run into the thousands of dollars and often don't work. So this is fantastic news.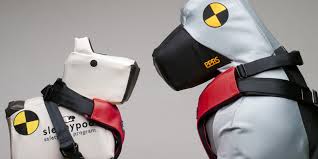 Safety Guidelines For Pet Harnesses
There are now safety guidelines for pet harnesses. The Center for Pet Safety is behind this first scientific approach to pet product safety in the U.S., providing guidelines for pet product manufacturers. It's Harness Crashworthiness Study outlines what safety harness restraints need to do to protect pet's and people's lives in the event of a crash. The Center has even created a series of Crash Test Dogs, just like the Crash Test Dummies that are used by automakers to check out the effectiveness of safety features in cars. The certification of the harnesses is a voluntary program, but products that pass the test qualify for a Safety-Certified Seal on their product packaging.
The Human Walking Project
This is a unique idea, it's called the Human Walking Project and it's going on in Salt Lake City. The County Animal Services takes it's adoptable dogs to various office complexes and lets people walk them on their lunch hour. The agency says it's a good way to get people away from their desks, get them outside doing a little exercise and helps them de-stress. It also showcases the shelter dogs in a better light than they often show in a kennel and the program has already resulted in several adoptions. The Human Walking Project is pattered after a similar one in Canada.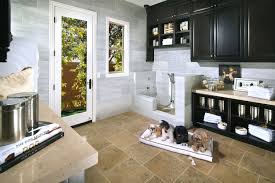 Home Builders Cater To Dogs
Home builder Standard Pacific Homes is building and selling homes with amenities that not only cater to people, but to dogs in 27 of its 190 developments from Florida to California. The most lavish features a 170-square foot pet paradise with a step-in wash station, handheld sprayer and leash lead, tile walls and floors, a drying area with a commercial-sized pet dryer, a water station, automated feeders, bunk-style bed, cabinets for toys and treats, a stackable washer and dryer, an attached puppy run and, of course, a flat screen TV. Standard Pacific decided to offer pet suites after it did several livability studies with homeowners. Real estate experts say building homes designed to cater to pets is a new concept but that pet accommodations in remodels have been going on for some time.

Listen to the entire Podcast of this show (#1078)