Animal Radio® Show #783
Top Pet Products for 2014
Whether you're looking for good gift ideas or you just want to know the latest cutting-edge pet product, you'll want to catch this week's show. Animal Radio® Chief Veterinary Correspondent Dr. Marty Becker is back with his picks. In fact, our entire team will share their top picks for 2014. Grab a pen.
Alzheimer's and Our Pets
Does your cat or dog seem confused? If your animal is older, it may have a condition called cognitive dysfunction syndrome. It's a disease similar to Alzheimer's. Recent studies estimate that 50% of dogs over 10 years and 53% of cats over 11 years show symptoms of CDS. Animals may get lost in their own yard, stuck in corners or under furniture, or stop recognizing people or responding to its name.
Point, Shoot, Adopt
This week's Zeuterin Hero Person is photographer Shannon Johnstone. She saves the lives of unwanted dogs with her camera. Shannon turns the sad photos of dogs waiting to be adopted into happy photos with families. She specifically photographs dogs that have been waiting in the shelter the longest.
Unlikely Heroes

Fresh off the success of her best-seller, Unlikely Friendships, Jennifer Holland released Unlikely Heroes, a celebration of those animals that have done something noble for humans or other animals. You will be surprised and amazed at these valiant acts of heroism.
Pets At Work Reduce Stress
Central Michigan University researchers found that the benefits of allowing animals in the workplace far outweighed the cons. Pets decrease stress. Having one dog around the office has been shown to increase collaboration. Businesses are now offering this as a recruiting perk. Of course there is a downside too.
Two Large Retailers Join Forces
One of the largest pet supply stores and one of the largest online pet retailers are joining forces. Petco is buying Drs. Foster and Smith. The acquisition includes Drs. Foster & Smith€™s prescription services as well as its own branded products, including joint care supplements, dog and cat foods, dog beds, cat furniture, horse supplies, equine equipment and other pet care essentials.


This Season's Hottest Gifts For Pets
What are the hottest gifts this season? One of the coolest is the Fetch Dog harness that holds a little camera that you can operate remotely. Ugly sweaters are all the rage; thanks to rocker Bret Michaels' clothing line. They go great with the new pet leg warmers. Star Wars is back on everything from pet hats to treat dispensers and tug-o-war toys.
Listen to this Animal Radio® episode
Animal Radio® Show #782
QVC Host Loves Animals
QVC's Carolyn Gracie loves her animals. Besides a house full of rescues, she also is quick to bring a pet into the QVC fold. "If you want to sell-out a product, bring a pet on TV with you," Carolyn advises. She regularly pitches products from small up-and-coming pet product entrepreneurs.
The Pet Chef
Lisa Hennessy decided she was done with commercial dog food for her Collie. She started creating healthy, fresh dishes that her dog could share with her. Lisa tested dozens of recipes and compiled them into several cookbooks. She's here to share some of her recipes with you.
Sneezy Squirrel Goes Viral

When Mary Krupa befriended a wild squirrel, she learned that she could easily dress "Sneezy" up and take photos of the rodent in hats and clothing. Now, she regularly meets up with the squirrel for photo sessions.
Could Testing Cosmetics on Animals Be Banned In US?
Testing cosmetics on animals has recently been banned in Europe and India and a similar ban here in the United States will be on the front burner when the new Congress convenes in January. Virginia Democrat Don Beyer is expected to take the lead on the issue. Their state, Virginia, is home to several big cosmetic companies.
Woman Spends $35,000 For Lost Dog
How much would you spend to try and find your dog if he got lost? The sky is the limit it seems for Janet Mihalyfi of Georgetown. Her 5-year-old, Rottweiler mix, Havoc, has been missing for a year this month. So far she's spent $35,000 dollars trying to find him.
Guardian Sues Over Dog Killed Because of Ebola Exposure

The nurse in Spain who recovered from Ebola, but whose dog Excalibur was killed by Spanish Health authorities, is suing. Teresa Romero's lawsuit seeks the equivalent of $186,000 for the loss of her dog and another $186,000 for damage done to her name.
Listen to this Animal Radio® episode
Animal Radio® Show #781
J. Peterman Returns
You might remember him from Seinfeld. He was the first winner on Dancing With The Stars and People's Sexiest Man of the Year. John O'Hurley, host of the National Dog Show on NBC, is back for his ninth year to spread Thanksgiving cheer and Holiday warm-fuzzies all over Animal Radio® airwaves.
What Some Will Do For Ratings
Probably the most bizarre news this week comes from The Discovery Channel. They plan to feed a television host to an Anaconda snake. Of course the host will be armed with a camera so that you too can see what it's like to be eaten. Even more miraculous, they say the snake won't be harmed.
Pet Ownership On The Rise
More than half of the people in the nation have at least one pet according to a new Rasmussen survey. 49% have a dog and 23% have a cat. 24% have more than one kind of pet. Only 3% have a fish, bird or some other sort of animal. An overwhelming majority of pet guardians, 92% say they talk to their pet.
Microchipped Dog Returned After Eight Years

A couple in Atlanta has their Shih Tzu, Jordan, back after eight years. The last time Mike Nuanes saw Jordan he was just a puppy. He's sure someone snatched Jordan out of their backyard. They did everything to find him, but no luck until a few weeks ago, when the Fulton County Animal Services called to say Jordan had been turned in as a stray. Luckily, Jordan was microchipped, the key to his finally getting home.
Non-Surgical Sterilization
Dr. Amber Valinski has performed over 1000 Zeuters. No spelling error. It's a non-surgical injection that safely, effectively and permanently sterilizes your dog. And there seems to be some significant advantages to this procedure.
Listen to this Animal Radio® episode
Animal Radio® Show #780
Best In Show
Its time again for our yearly rendezvous with the co-hosts of the National Dog Show on NBC. Thanksgiving tradition for 20 million pet-lovers now includes this celebration of man's best friend. David Frei joins us live from the streets of Manhattan.
More Thanksgiving Pets

There's no question that all the TV networks are vying for the pet-owners attention on Thanksgiving. NBC has the dog show. Animal Planet has the Puppy Bowl. The Hallmark Channel shows hours of kitties playing. And now FOX enters the fray with the Paws for Cause Spectacular. Executive Producer Michael Levitt breaks exclusive news about the star-studded special featuring Jane Lynch, Hilary Swank and Betty White.
Misleading Pet Food Labels
Tests done at Chapman University show that you should not trust the label on your pet's food. Researchers found about 40% of them had meat that was not listed on the label. The ingredient that was most often present, but not listed, was pork, which is a common allergen for pets and could cause a problem.
Hero for the Handicapped
This week's Zeuterin Hero Person is Mary Fayet. She's admits to being a "foster failure" and has a home filled with infirmed and elderly animals. Her dog, Lexi, has no use of her front legs and gets around with a wheel attachment.
Ducks Can't Be Service Animals

An Army veteran in Ohio who says his pet ducks help him cope with PTSD has been fined for keeping them. Dan Welker has given away eight of them, but still has six and is arguing for a change in the law. He keeps them in a fenced yard, but they also come in his house. He says they really like a recliner.
Listen to this Animal Radio® episode

Join Animal Radio® on Facebook for Wacky Wednesday! Win great prizes every week for your wacky pet pictures. Last month we gave out goodies from SwiPets, Kyjen, West Paw Design, EverPup and more. Be sure to vote on your favorite Wacky Pet Pictures. Visit us on Facebook now. #WackyWed
Animal Radio® Show Highlights
Animal Radio® is now on iHeart Radio!! Listen to full shows or Listen to highlights
If You Like Rum or Tequila
Amanda Loller rescues the very misunderstood and maligned bat. She's out to prove Hollywood got it wrong. Without the bat, there would be no tequila.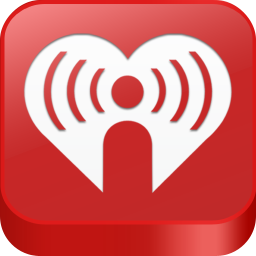 Listen Now


Dr. Debbie's Dark Side
Dr. Debbie explains a Crypt-orchid. This is a rare problem that can increase testicular cancer in your pet. The good doctor seems to like castration a little too much.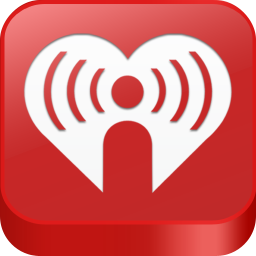 Listen Now




Charlotte Ross Guests
Actress Charlotte Ross visits with Animal Radio®. She also talks about Best Friends Animal Society.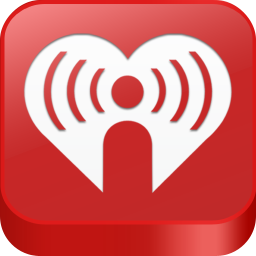 Listen Now

Diamond Trapped In Chicken
Here's a story about a chicken that ate some diamond jewelry. The diamond is trapped and cannot be removed while the pet is alive.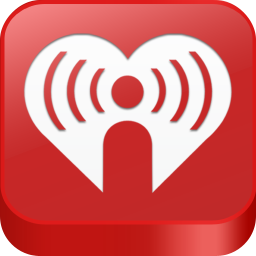 Listen Now


December Pet Events
Janice Brown - Gork of TailsInc is back with her monthly pet events calendarHear Pet Events Calendar Now

Animal Radio® News Update
Tammy Trujillo has the latest Pet News Headlines brought to you by Drs. Foster & Smith. The Discovery Channel is feeding a host and camera to an Anaconda.Hear Pet News Now


Animal Radio's 2015 Must-Have Pet Products
When it comes to making purchase decisions, Animal Radio® listeners know that we try everything that we talk about on-air. Our listeners trust the show for it's candid and transparent reporting. After all, we're talking about the health and happiness of our furry friends! So let's start off the new year with some of the best products to keep our pets happy and healthy in 2015.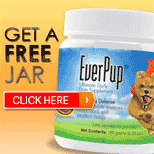 EverPup® is the ultimate daily dog supplement for dogs of all ages. It's a delicious all-in-one supplement powder that you sprinkle on your dog's food. EverPup® is made in the USA with 100% human ingredients. Dogs love how it tastes - vets love what's in it. We may see less vitality in our dogs in their second half of life, which is why EverPup® is specially designed for mature dogs who have reached middle age. But dogs of all ages are affected by the "invisible enemies" found in modern life, which is why many dog lovers give even their younger pups EverPup®. EverPup® is perfectly safe and effective for all dogs. So if you would like to start earlier, no problem! The proprietary blend is Dr. Dressler's "secret recipe," based on years of research and is the reason that EverPup® is such a unique supplement. The blend is based on his careful consideration of the interaction between holistic body health and living in our industrialized world for dogs. This "special sauce" is the best dose for a healthy dog to help fend off the "invisible enemies" of modern living. It took several years for him to get this proprietary blend just right. Get a free jar when you join EverPupClub.com.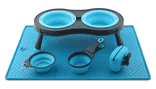 Dexas® is now thrilled to introduce its new space-saving dinnerware tailored specifically to pets. The new line is designed to eliminate many pet-owning woes, such as bulky accessories, difficult travel, and of course, messiness. The line includes: expandable/collapsible bowls for eating and drinking, expandable/collapsible pet feeder, adjustable pet feeder for growing dogs, travel cups, Grippmats"¢ to prevent spills, and suction lids to keep pet food fresh. All of the products in the "Popware for Pets"¢" line feature certified food-safe material and are especially lightweight, durable, and collapsible.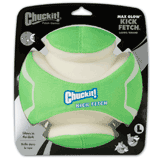 Lightplay"¢ facilitates outdoor fetch any time of day, in any season! Extend fetch time to late nights or early mornings with high-visibility fabric with glow in the dark 3D print and Max Glow"¢ rubber. The Max Glow Kick Fetch® is made of durable rubber, EVA foam and polyester construction. It rolls and floats! Just kick to play. The variable welts with Max Glow rubber to allow for easy pick up. This fast charging rubber charges quickly. 5 -10 minutes under a bright light provides up to 30 minutes of Glow! Start Early! Play Late!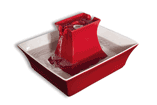 PetSafe® Drinkwell® Pagoda Ceramic Fountain continuously circulates and filters your pet's water. Think of it as a waterfall of health for your pet! Fountains keep your pet healthy and hydrated with fresh, filtered, circulating water. Healthy Pet Water Stations are perfect for owners who don't want to refill the water bowl every day. The Pagoda keeps your pet's water cleaner and fresher than a normal water bowl. It holds up to 70 ounces of fresh, filtered water and the ceramic design is easy to clean and will look great in your home. The patented dual free-falling streams aerate the water for freshness and encourage your pet to drink more water, providing the best hydration solution.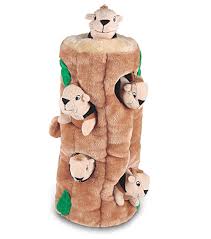 Kyjen's mission is to make unique products that will keep dogs active and engaged. We have a passion for dogs, and feel that they deserve fun, functional products - products that last longer, challenge their minds and stimulate their instincts. With their companionship, playfulness, and affection, our dogs keep us feeling healthy and happy. Our goal, in turn, is to design products that will enrich our dogs' lives as much as they enrich our own. Now introducing Ginormous versions of our best-selling signature Plush Puppies. These oversized toys will keep your dog busy, even longer than before! Buying just one will bring your dog more fun than a basket full of regular single squeaker plush toys! Join the Woof Pack, which is a community of pet parents who share their opinions on everything from toys to packaging and sales to inspire better products for dogs everywhere. Joining takes just a few minutes and puts you in monthly drawings for free products and gift certificates!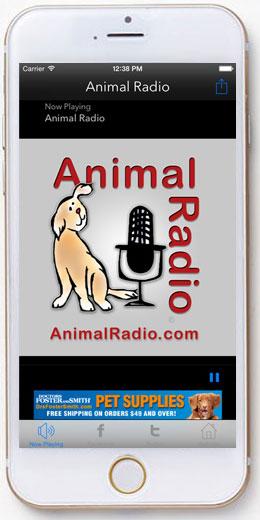 So many ways to listen to Animal Radio®. We're on 125 AM/FM stations, the Animal Radio® App for iPhone/Android, iHeart Radio, iTunes, Stitcher, Live365, TuneIn, Spreaker and Podcast. We're available wherever you are!

The Animal Radio® APP is available for Android and iPhone. Listen on your schedule. Ask our Dream Team questions directly from the App. It's a FREE Download! It's made possible by Drs. Foster & Smith.
_____________________________________________________________________________________________________



Copyright 2003-14 Animal Radio®, its logo and Animal Radio Network(TM) are registered trademarks of Animal Radio Network LLC. All rights reserved. Submissions for newsletter, programming, editorial comments and opinions may be sent to: YourVoice@AnimalRadio.com. See our website for additional information.