Listen to Animal Radio LIVE anytime with the FREE Animal Radio App for iPhone / Android. Plus, you'll get notifications anytime there is a recall or news that effects you and your pets.
Animal Radio® Show #939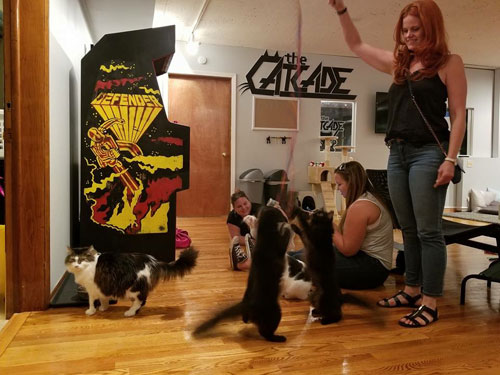 Catcade
Christopher Gutierrez decided to create a cat cafe in Chicago. Not just any regular cat cafe though. He filled it with video and arcade games. He said the niche is working. His mission is to rescue cats from life-threatening situations and find quality homes through his adoption program.
Massaging Your Pets
Craniosacral Therapist Tracy Vroom works hard to help animals feel better through massage. As an instructor at the Rocky Mountain School of Animal Acupressure and Massage, she's sharing what she knows about her healing touch. She'll get us started with massage techniques for our pets.
A Message To Veterinarians
Veterinarian Dr. Julie Reck says that turning her office into a Fear Free certified clinic helped her to practice better medicine. She opened her clinic in 2011 and now she has a bustling practice with four vets and an new attitude. The pets are the big benefactors. Dr. Reck is next up in the Fear Free Expert Series.
Commemorating A Pet
Yes, all dogs go to heaven. But what you do with their earthly bodies is up to you and now you have options. There is cremation, burial at a pet cemetery and even taxidermy. You can also turn their ashes into synthetic diamonds, which is pretty expensive and starts at about $2,500 for the smallest size diamond. However, there is another option. Now you can have your pet composted. Lori Brooks reports.
Dog Owners Are Healthier
There are literally thousands of studies saying pets are good for your health but this latest one has a lot of people talking. This research was 12 years in the making, studying 3.4 million people, and found that adult dog owners are less likely to die than their non-dog owning peers.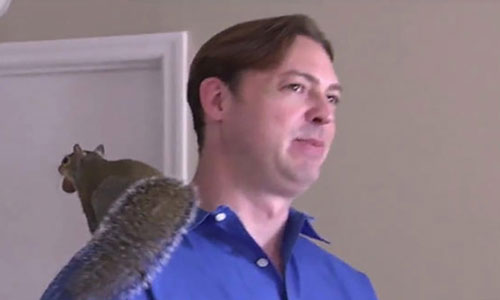 Emotional Support Squirrel Faces Eviction
A man in Florida is facing eviction from his condo because he refuses to part with his ESA, or Emotional Support Animal, which in this case is a squirrel. The man says he rescued the female squirrel, now named Brutus, shortly after Hurricane Matthew last year. He says she's just like a cat that hides nuts. He even has the required doctor€™s note saying he suffers from anxiety related to a car accident more than ten years ago.
Listen to this Animal Radio® episode

Animal Radio® Show #938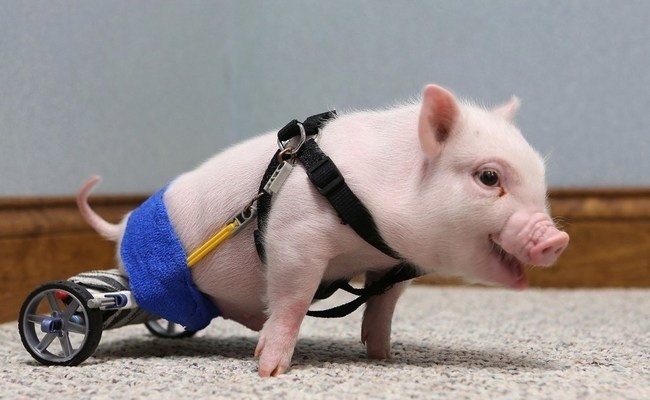 Bionic Animals
Twenty-years ago, if an animal lost a limb, they might be considered for euthanasia. Not anymore. With the advent of 3D printing, doctors are able to create appendages, from legs to tails. Nancy Furstinger went deep undercover to see who is making these prosthetics, what animals are wearing them, and who is buying them. She says these animals seldom notice the handicap and are mostly Unstoppable.
Starting A Rescue
More people are quitting their job to open animal rescues. This may seem pretty straightforward from the outside, but there is a maze of laws and hoops to jump through to avoid being shut down by Johnny Law. Sandra Pfau England has created the long-awaited step-by-step guide to starting a pet rescue and she'll share some of her finest tips on this week's show.
Pet Care Innovation Awards
The five finalists for this year's Pet Care Innovation Awards have been announced. They include the Fetch My Pet Life Management app; Animal Biome, a micro biome-based pet health diagnostics and supplement company; Bare it All, a pet food company that uses the invasive Asian carp as a primary protein source; Barkly a personalized dog walking app; and Pup Joy, makers of the customizable subscription box for dogs. More than 85 companies from 9 countries applied for this year's honor. Animal Radio News Director Lori Brooks reports.
Holiday Hazards
Animal Radio's Pet World Insider Robert Semrow counts down the top 5 Holiday Traditions That Can Land You and Your Pets on the Naughty List. Don't be one of the thousands that find themselves in the Veterinary office over the holidays.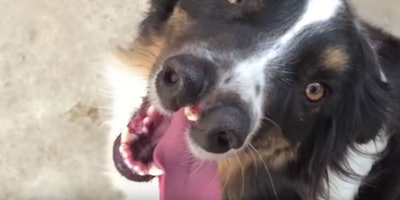 Believe It Or Not
Edward Meyer of Ripley's is back with his yearly round-up of strange and unusual animals. Topping the list for 2017 is a dog with two noses, conjoined fish, and a bird that wears flip-flops. We€™ll have giveaways of this year's incredible coffee table book, Shatter Your Senses.
Listen to this Animal Radio® episode
Animal Radio® Show #937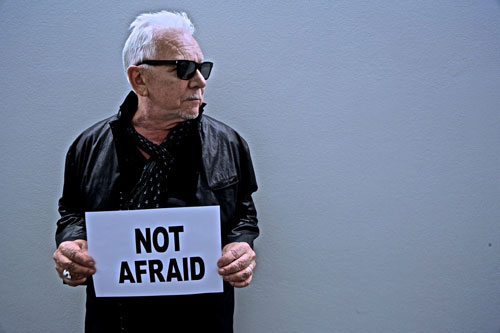 A Real Animal
Singer/Songwriter Eric Burdon (The Animals/War) guests this weekend on Animal Radio. He'll talk about his affinity for Elephants, and what he's doing about it. Eric will also share his experience living in a zoo.
Creating a Fear Free World for Your Pets
When two competing radio hosts get together, they must have something really important to talk about. Sure enough, Steve Dale and Hal Abrams team up to talk about the Fear Free movement and how it can benefit your pet.
Fake Service Dogs on the Rise
19 states have now enacted laws cracking down on people who try to pass off their pets as service animals and Massachusetts is now considering a similar proposal. The toughest of the anti-fake service dog laws already in existence is in California, where the maximum penalty is a $1,000 fine and up to six months in jail.
Whole-Family Pet Cemeteries
You will be hearing more from the Green Pet-Burial Society as our love of pets continues to grow. The group advocates for "whole-family cemeteries," places where the whole family, pets included, can be buried together. The burial of pet remains in cemeteries designated for humans is illegal in many U.S. states.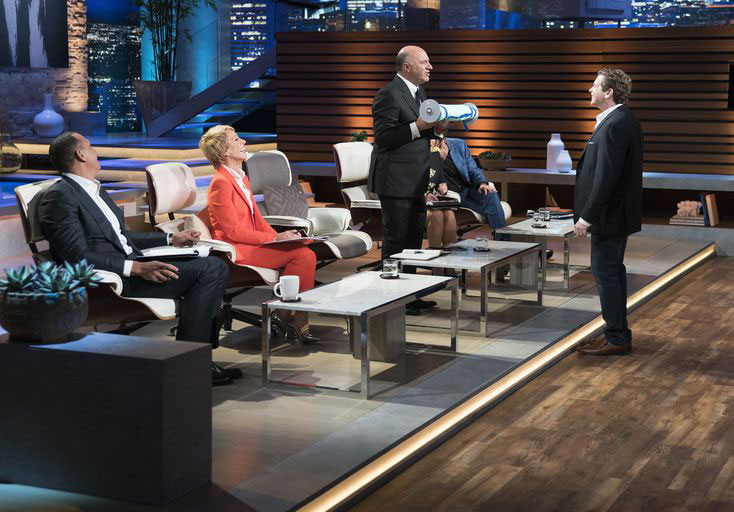 What It's Like To Be On Shark Tank
A dozen Animal Radio listeners were the first to get to try out the Brilliant Pad self-cleaning automatic dog potty. Last week, Brilliant Pad creator got his shot on the ABC hit show Shark Tank. With a half-million dollars in shark backing, Alan Cook tells us about the surreal experience of introducing Brilliant Pad to a prime time TV audience.
Listen to this Animal Radio® episode
Animal Radio® Show #936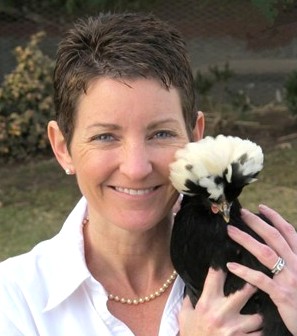 Chickens As Pets
The "Chicken Chick" is back with her backyard chicken stories and tips on raising your own chickens. Trained as a lawyer, Kathy Shea-Mormino is taking on courts all across the U.S. to allow chickens in city settings.
Tackling Pet Diabetes
Pet World Insider Robert Semrow has 5 Things You Must Know About Pet Diabetes. The disease is becoming more prevalent as more pets are becoming obese. This is just another reason to keep your pet fit and eating properly.
Controlling Pet Stress
You may think your pets are living the spoiled life. But did you know they actually could be stressed, causing undue strain on their immune system? Dr. Elizabeth DeLomba is back with details on the silent killer. She'll tell us the signs to look out for - and what to do if your pet is stressed.
Okay, That's A Little Weird
A new survey shows a large percentage of pet owners are going out of their way to do things for their pets, that other less animal friendly people may consider weird. But who cares, right? This new survey revealed that a 33% of us let our pets into the bathroom with us. The poll of 2,000 dog and cat owners also found a third shared a bath or shower with their pet! 3 in 10 sign their animal's name in birthday cards. More than 6 in 10 admit they are closer to their pet than they are to some of their family members. But 9 in 10 owners said they don't care what people think of their relationships with their pets.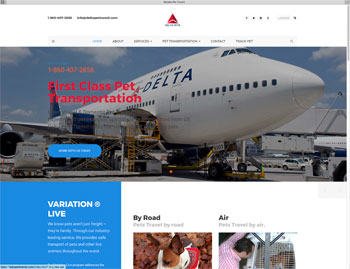 Fake Delta Airlines Website Scamming Pet Owners
An elaborate, but bogus pet-shipping website that makes people believe they are dealing with Delta Air Lines has also been linked to a puppy selling scam, offering smaller dogs like Chihuahuas and poodles for sale. Delta filed a lawsuit against the website DeltaPetTransit.com in federal court because it is designed to look like the real Delta site and uses the airline's logos and even pictures of its planes. According to Delta, the fake website operators collect thousands of dollars without ever shipping or delivering any pets.
Listen to this Animal Radio® episode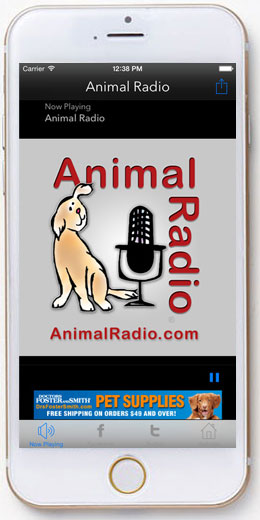 The Animal Radio App has been UPDATED and is better than ever. Download the free Animal Radio App for iPhone - Android - Blackberry.
-Ask Veterinarian Dr. Debbie White and Dogfather Joey Villani your pet-related questions directly from the app.
-Get up to the minute news and recall alerts.
-Send us audio.
-Watch videos.
-Listen to current Animal Radio show or browse archives.



-Browse our knowledge-base.
-Call us directly on the Animal Radio App Hotline.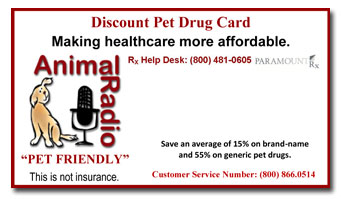 Free Pets and People Drug Discount Card

You may already know how expensive pet medication can be. Especially when pet insurance doesn't cover drugs.
Animal Radio® wants to help out. We don't want any pets to go without the medicine they need.
Animal Radio® made a deal with the top pharmacies to save you up to 55%.
- The Animal Radio® Pets & People Drug Discount Card is FREE.
- It offers 15-55% discount on pet medicines or uninsured human medicines.
- It's usable at almost 60,000 pharmacies, including Walgreens, Wal-mart, Rite-Aid, Target, Costco, CVS...all the biggies!
- Card is pre-activated and never expires.
- You can learn more and print out the FREE card online HERE
Or, if you would like us to mail you a free card, send a self-addressed stamped envelope to:
Animal Radio Drug Card,
699 Paula Street,
Morro Bay, CA. 93442
Please help spread the word. Your friends will thank you.






Animal Radio® Show Highlights
Animal Radio® is on iHeart Radio!! Listen to full shows or Listen to highlights
Want To Date A Dog?
Lori Brooks reports on a new service that sets up dates between humans and cats.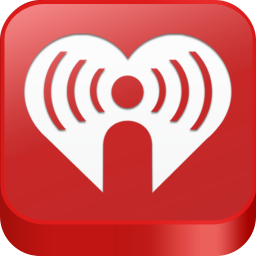 Listen Now


Blessing The Animals
Grab your pets for this VIRTUAL BLESSING of the animals with Dr. Capers.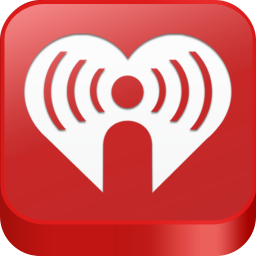 Listen Now

Cat Daddy Home Life
Jackson Galaxy talks about his cats and the problems he has with his dog.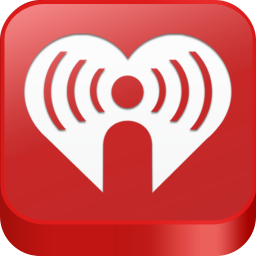 Listen Now

Radio Hosts Team Up To Promote Fear Free
Steve Dale and Hal Abrams got together for the Fear Free Pets movement. Together they're advocating for taking the "pet" out of "petrified." This is the latest in the Fear Free Expert Series.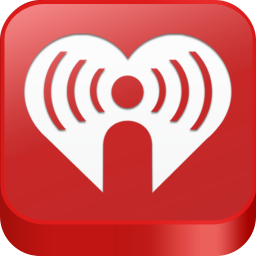 Listen Now

A Real Animal
Singer/Songwriter Eric Burdon is our guest. He has an affinity for the elephants and will even sing like one.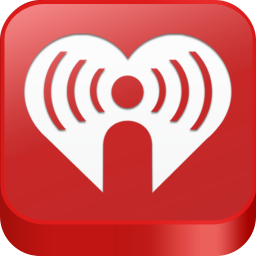 Listen Now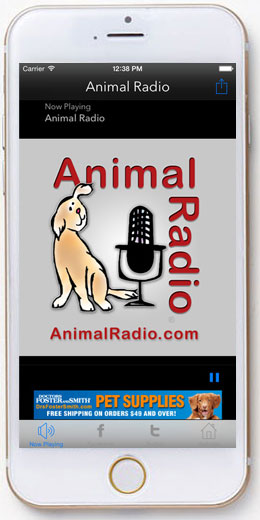 So many ways to listen to Animal Radio®. We're on 133+ AM/FM stations, the Animal Radio® App for iPhone/Android, iHeart Radio, iTunes, Stitcher, TuneIn, Spreaker and Podcast. We're available wherever you are!


The Animal Radio® APP is available for Android and iPhone. Listen on your schedule. Ask our Dream Team questions directly from the App. It's a FREE Download! It's made possible by Drs. Foster & Smith.
---


Copyright 2001-20 Animal Radio®, its logo and Animal Radio Network(TM) are registered trademarks of Animal Radio Network LLC. All rights reserved. Submissions for newsletter, programming, editorial comments and opinions may be sent to: YourVoice@AnimalRadio.com. See our website for additional information.