Have a Happy and Safe 4th from all of us at Animal Radio!!


---

Animal Radio® Show #866
What Happens To Your Pet If Something Happens To You?
You don't have to be Leona Helmsley to plan for your pet if you should die. Estate Attorney AJ Fudge is our guest. She says it's easy to plan for any eventuality, but you should know how. Simply putting your pet in your will isn't enough, as that may be contested.
Funny Vet Stories
Dr. Bo Brock has just about seen it all, despite living in the middle of nowhere. He's treated just about every animal, from Ostriches to Elephants. He'll tell us several hilarious stories about strange but true cases from his peculiar practice.
When Ugly = Cute
The winner of this year's World's Ugliest Dog Contest is a wrinkled; wispy- haired, bony Chinese crested Chihuahua named Sweepee Rambo. The tiny girl is 17 years old, blind in both eyes and at only four pounds, is not much bigger than two hands put together. She was a crowd favorite at the Petaluma, California contest. Sweepee's favorite thing to do is ride with her dad on his motorcycle. He won $1,500 and a six-foot tall trophy for Sweepee's win.
Giving Your Pet A Check Up
Doc Halligan will teach us how to give your pet a weekly check up. Knowing exactly what to look for could mean the difference between life and death. Early detection gives you the best odds when it comes to your pet's health.
5 Summer Outings That Include Dogs
Do you want to take your dog with your for some summer fun? Why not? Animal Radio's Pet World Insider Robert Semrow has compiled a list that you and your furry-friend will find useful and exciting.
Most Pet Friendly Companies
Many companies offer perks to their employees to keep their workers happy and boost their productivity, perks like gym memberships, foosball tables, free snacks and stuff like that. But if you are an animal lover who yearns to work in a pet-friendly office, Fortune Magazine has come out with a list of the most pet-friendly companies to work for.

Listen to this Animal Radio® episode


**Print a $1.00 OFF COUPON for Red Barn Pet Food**




Animal Radio® Show #865


Virtual Chicken Petting
Imagine leaving your dog at home while it turns on the smart TV and chooses a program to watch. Lori Brooks will tell you about the new technology. She'll also tell you about Virtual Chicken Petting that artificially replicates physical interaction between chickens and their farmers.
Relief For Orlando Shooting Victim's Pets
After the mass killing in Florida, The Pet Alliance of Greater Orlando Shelter, says it will offer assistance to the pet of people affected by the shooting at the Pulse nightclub by providing short-term care for the pets of those who were injured in the shooting.
Share A Glass Of Wine With Your Pets
So, you love your cat and you love your wine. A Colorado company called Apollo Peak wants to help cat owners enjoy the experience of sharing a glass of wine with their pets, so they've come out with a non-alcoholic, beet-based, catnip infused wine for cats.
Making Training Your Dog Enjoyable
Zak George is back and he has tips on making training your dog enjoyable for both you and your furry-friend. He believes that if your dog likes to do what your training them to do, you will be more successful. He'll also talk about Service Dog fraud.
What You Need To Do Before Your Dog Goes Missing
Animal Radio's Pet World Insider, Robert Semrow has a short list of the things you should do so that, if and when your dog or cat disappears, you'll be prepared for a prompt and safe return. Don't forget, 4th of July is one of the biggest times for shelters and lost pets.
Listen to this Animal Radio® episode

Animal Radio® Show #864


Esther The Wonder Pig
What happens when you adopt a 'micro-pig' without telling your spouse? And what happens when that pig turns out to weigh 600 lbs? Well, you raise $450,000 on Indiegogo to buy a ranch, of course. That's Steve Jenkins story. He tells all this week on the BIG show.
Robots That Clean Up After Your Pet
The makers of the Roomba robot vacuum have come up with a robot mop. It makes cleaning up after your messy pets easy as pressing a button. Melissa O'Dea from iRobot is here to explain. She's even going to give away a Braava Jet! Do you need one?
Boy Caught Stealing Hugs From Dog
Did you hear about the little Louisiana boy went to great lengths to give some love to his neighbor's dog? Every day when he left for school he would ride over to his neighbor's house and put his bike down in the driveway. He would then run into the open garage to play with and give hugs to the dog that lives there. Funny that the dog's owner had a video camera in the garage and saw this going on. She wasn't upset at all and posted the video.
Cat Whiskers
What happens if you cut, trim or groom your cat's whiskers? Please don't. Dogfather€¦ er, we mean Catman Joey Villani has more information than you probably need to know about whiskers. But you should listen anyway.
Pet Bees
Everyone has a different idea of what the perfect companion animal is.  There are dogs and cats, fish, birds, reptiles, spiders and bees. Yep. There's a guy in Henderson, Nevada, outside Las Vegas who is being sued by his next-door neighbor who wants him to get rid of his "pet" bees.
Listen to this Animal Radio® episode
Animal Radio® Show #863


Cloning Myths Debunked
Viagen Pets has brought pet cloning to the U.S., and along with it a lot of questions and myths about the process. Melain Rodriguez is back to debunk the myths and clear up any confusion about the process.
Disaster Preparedness
Animal Radio's Pet Word Insider Robert Semrow wants to make sure you're ready in case of a natural disaster. He has a list of the top tips for preparing your pet for earthquakes, inclement weather and any other disaster that could come your way.
Can Dogs Recognize Faces from Pictures?
A new study published in the journal Animal Cognition indicates that dogs may have facial recognition skills similar to humans! Well, of course, your dog recognizes you when you walk in the door, but how about if you were on vacation without him or her, could they see a picture of you and recognize it?


Inflatable Dog Poop
A town in Spain has installed a giant inflatable dog poop in an attempt to discourage dog owners thinking of walking off and leaving a pile of poo in the streets. The town has about 6,000 dogs and if you do the math, they are capable of producing around 1,100 pounds of excrement every day. And, THAT is more or less what the giant inflatable represents, the amount of poo left on the streets across the town each day, according to a town council member.
Pet Sitting Business Sues for 1 Million After Poor Yelp Review

A Texas pet-sitting business is going after $1 million in damages from a couple who gave them a one-star review on Yelp and criticized the business' treatment of their tiny blue tropical Betta fish named "Gordy" while the family was away on vacation. Prestigious Pets of Dallas claims the review is defamation.
Listen to this Animal Radio® episode


**Print $2.00 off coupon for World's Best Cat Litter**



Animal Radio® Show #862


Introducing the Lickibrush€¦OMG!
Have you ever wanted to lick your cat? We all know grooming has incredible bonding effects. Tara O'Mara and her hubby Jason invented an over-sized tongue shaped brush that humans may put in their mouth and then groom their kitties, just like their mom. They've almost raised the $36,000 in a Lickstarter.... we mean Kickstarter campaign. See the brush in action.
Stopping Cancer Early
Animal Radio's Pet World Insider Robert Semrow lost two of his furry-companions to cancer. He may have been able to avoid the disease if he had caught it at an earlier stage. Today, he will be sharing tips that could help you tackle cancer before it becomes a menace.
Summer Swimming
Our dogs love the water! Summertime usually means lots of chances to go swimming in the ocean, lakes and swimming pools. But each one has inherent risks, especially lakes. Dogfather Joey Villani will tell you what you need to know before your dog takes the dive.
Vet Student Saves Dog from Euthanasia
A visiting medical student at an Oregon animal hospital found a tick hidden behind a dog's ear right before she and a veterinarian were scheduled to put the dog to sleep over his ailing health and paralysis. The owners of 10-year-old Ollie the Sheltie noticed he was lethargic and not getting around well following a hiking trip in Oregon. They took him to their regular vet for tests, but they could not figure out what was wrong. Ollie's sickness was a very rare condition called tick paralysis.
Spay/Neuter Timeline - Jury Still Out
Lori Brooks reports on a new study published in the journal Veterinary Medicine and Science finds that neutering or spaying German Shepherds before one-year of age triples the risk of one or more joint disorders, particularly for cranial cruciate ligament, or CCL, tears. Another study revealed a four times greater increase for joint disease is also true for Golden Retrievers spayed or neutered before one year old, and a two-times increase for Labs.
Listen to this Animal Radio® episode
Have you downloaded the free Animal Radio App for iPhone - Android - Blackberry? It's been updated and it's better than ever.
-Ask Veterinarian Dr. Debbie White and Dogfather Joey Villani your pet-related questions directly from the app.
-Get up to the minute news and recall alerts.
-Watch videos.
-Listen to current Animal Radio show or browse archives.

-Browse our knowledge-base.
-Call us directly on the Animal Radio App Hotline.
Launch the Animal Radio App at least two-times to be entered to win weekly prizes.
Free Pets and People Drug Discount Card

You may already know how expensive pet medication can be. Especially when pet insurance doesn't cover drugs.
Animal Radio® wants to help out. We don't want any pets to go without the medicine they need.
Animal Radio® made a deal with the top pharmacies to save you up to 55%.
- The Animal Radio® Pets & People Drug Discount Card is FREE.
- It offers 15-55% discount on pet medicines or uninsured human medicines.
- It's usable at almost 60,000 pharmacies, including Walgreens, Wal-mart, Rite-Aid, Target, Costco, CVS...all the biggies!
- Card is pre-activated and never expires.
- You can learn more and print out the FREE card online HERE
Or, if you would like us to mail you a free card, send a self-addressed stamped envelope to:
Animal Radio Drug Card,
699 Paula Street,
Morro Bay, CA. 93442
Please help spread the word. Your friends will thank you.
Animal Radio® Show Highlights
Animal Radio® is now on iHeart Radio!! Listen to full shows or Listen to highlights
Esther The Wonder Pig
Hear the incredible story of a couple that adopted a micro-pig, only to find out that it wasn't. Now 600 pounds, Esther rules the roost. Her guardians raised $450,000 on Indiegogo to buy a ranch.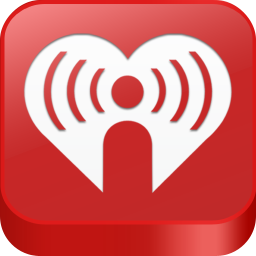 Listen Now


Petting Chickens and Stolen Inflatable Poop
Lori Brooks reports on a virtual chicken jacket that allows farmers to pet their chickens. She'll also report on the inflatable poop saga in Spain.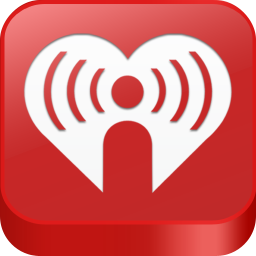 Listen Now

What Vaccines Your Pet Really Needs
Doc Halligan from the Lucy Pet Foundation has the truths and myths about vaccines. What vaccines do your pets really need?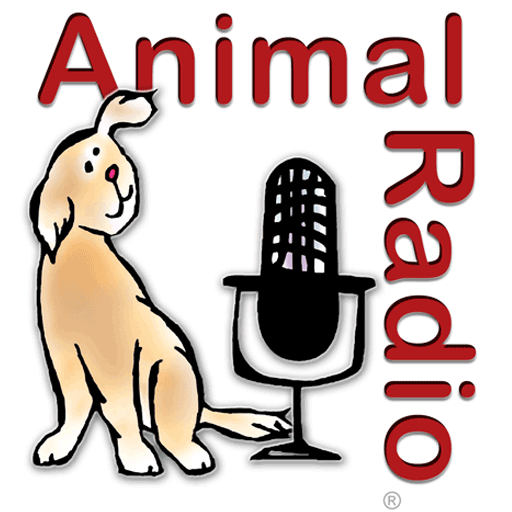 Listen Now

Tails Inc July Pet Events
Janice Gork of Tails Inc Magazine is here with the July Pet Events Calendar. Take your dogs and cats with you!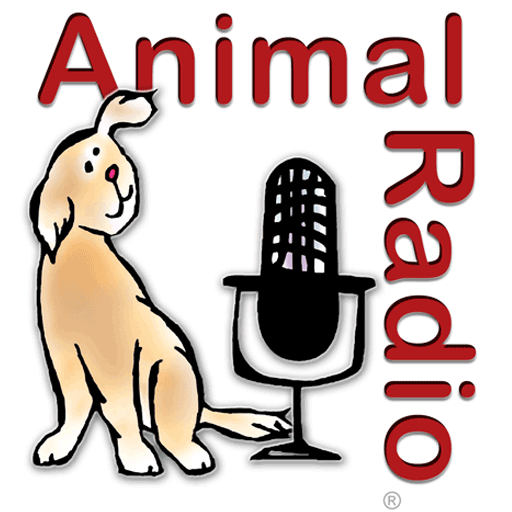 Listen Now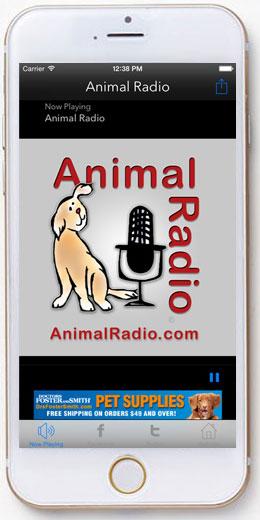 So many ways to listen to Animal Radio®. We're on 132+ AM/FM stations, the Animal Radio® App for iPhone/Android, iHeart Radio, iTunes, Stitcher, TuneIn, Spreaker and Podcast. We're available wherever you are!

The Animal Radio® APP is available for Android and iPhone. Listen on your schedule. Ask our Dream Team questions directly from the App. It's a FREE Download! It's made possible by Drs. Foster & Smith.
---


Copyright 2001-16 Animal Radio®, its logo and Animal Radio Network(TM) are registered trademarks of Animal Radio Network LLC. All rights reserved. Submissions for newsletter, programming, editorial comments and opinions may be sent to: YourVoice@AnimalRadio.com. See our website for additional information.