Listen to Animal Radio LIVE anytime with the FREE Animal Radio App for iPhone / Android. Plus, you'll get notifications anytime there is a recall or news that effects you and your pets.
Animal Radio® Show #918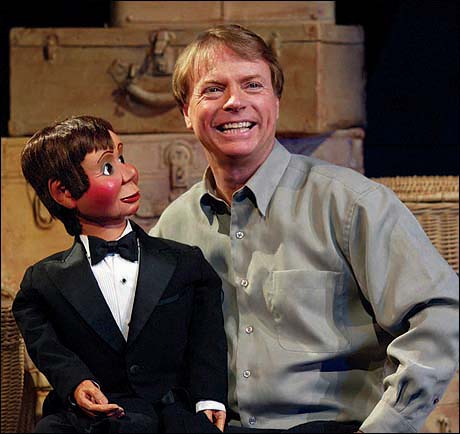 He's No Dummy
Ventriloquist Jay Johnson (SOAP) brings his witty banter to the show this week to talk about his connection with his dog and his involvement with Actors and Others for Animals.
Living Rent Free
Emma Higgins hasn't paid rent in three years. To boot, she's been traveling throughout Europe. How does she pull this off? She's a live-in pet sitter. She takes care of animals and house sits for extended periods all over the world. She has tips to help you give up your 9 to 5 and start traveling rent-free.
Touchscreen Tablets For Dogs
Researchers at the FIDO project at Georgia Tech are working on a touch screen tablet that is made just for dogs! The tablet literally enables a dog to make calls and send texts. However, the technology is not to entertain your furry best friend while you are at the office, it's designed for service dogs to give them new ways of communicating vital information when their handler is in danger.
Apps Make Traveling With Pets Easier
Summer time means road trips and traveling, usually with your family pets. Easier said than done if you've never tried it! However, there are apps that make traveling with your four-legged family easier.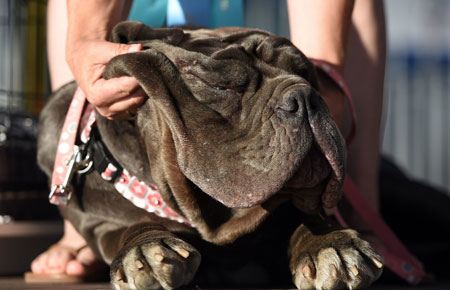 World's Ugliest Dog Not a Chinese Crested
A 125-pound Neapolitan Mastiff named Martha has been crowned the "World's Ugliest Dog" at a summer Fair in California. Sort of silly because Martha is the cutest big girl with her big old floppy head and skin. Her sleepy eyes also helped her stand out from the pack of 13 other interesting looking dogs at the 29th annual World's Ugliest Dog competition in Petaluma. For representing the perfect "cute-ugly mix" 3-year-old Martha was awarded $1,500 prize, a trip to New York and a trophy.
Listen to this Animal Radio® episode


Does your Veterinarian practice 'Fear Free?'
Animal Radio® Show #917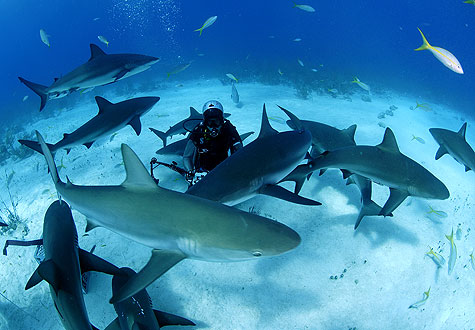 Swimming With The Sharks
Brian Skerry has spent more than 10,000 hours underwater photographing sharks. He says they're misunderstood and not the evil beasts portrayed by Hollywood and the media. He'll share stories including some scary (Skerry) moments.
Rescue Express
Mike McCarthy made his millions in software development. After retiring, he decided to take on a new project transporting thousands of adoptable pets from saturated shelters in Southern California to the Northwest United States where they will be adopted. He's retrofitted 3 buses and makes the trip weekly.
No More Anxious Pets
With the 4th of July around the corner, Pet Living's Kristen Levine wants your pets to stay calm. The sounds of fireworks can make animals anxious. She launched "Pet Anxiety Awareness Week" to educate owners about fear, anxiety and stress in your companion animals.
Delta Publishes Lists of Unacceptable Service Animals
Many people try to cheat the airline system by claiming their pet is an Emotional Support Animal because ESA's fly free on most airlines. But all airlines are not the same. Delta has compiled a list of critters it does NOT accept as trained service animals, or even pets allowed to travel in the cabin, saying they post safety and/or public health concerns.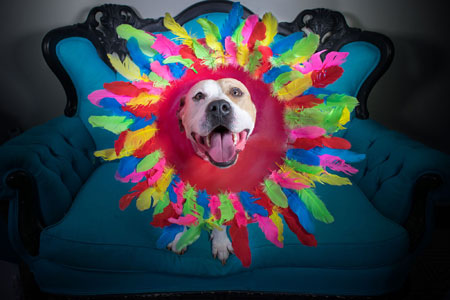 Cones of Shame Turn Into Cones of Fame
Most potential adopters, upon seeing a dog wearing a cone of shame in shelters, think it implies a sick dog chock-full of expensive problems. However, usually at the shelter the cones are used for simple procedures, like spaying or neutering. Unfortunately the coned canines don't have much of a chance next to the pup bouncing around and wagging his tail. So a shelter photographer got an idea. She came up with the idea of 'Cones of Fame.'
Listen to this Animal Radio® episode

Animal Radio® Show #916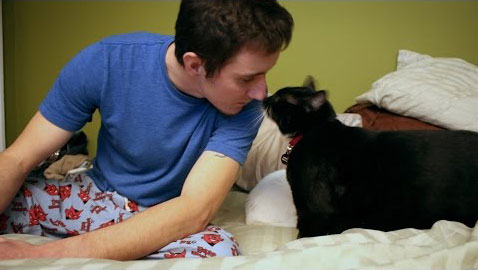 Mutual Rescue
A young soldier left the battlefield in Baghdad with traumatic brain injuries and P.T.S.D. after a mortar attack. Right before he was to give up on life, a stray cat walked up to him, placed his paws on his leg and saved his life. Josh Marino is here to tell his story of Mutual Rescue.
China Switches from One-Child to One-Dog Policy
China may have scrapped its one-child policy, but one Chinese city (Qingdao) has now instituted a one-dog policy! Those who own more than one pooch will be required to surrender their furry friends to an adoption agency. Anyone who violates the rules will be fined the equivalent of $60 US dollars.
Employers Offer Pet Insurance
There is a new and fast-growing trend for employees being offered by generous companies. It's employer-sponsored benefit plans that insure the family pet, dogs, cats, ferrets, birds or potbellied pig against accidents and illness. Some 5,000 companies, including Microsoft, Yahoo, Xerox and Hewlett-Packard, now offer pet insurance.
Don't Use Your Pet's Name As Password
When it comes to choosing a password, hopefully you do NOT pick a pet's name, because that's easy to hack. A behavioral biometrics company did some research and says the answer to finding a secure password is naming your pet a weird name, something incredibly unique after you do some research of your own. If your password is Max7$, after your cat, you aren't alone, but you are putting yourself at risk of identify theft and other cyber crimes.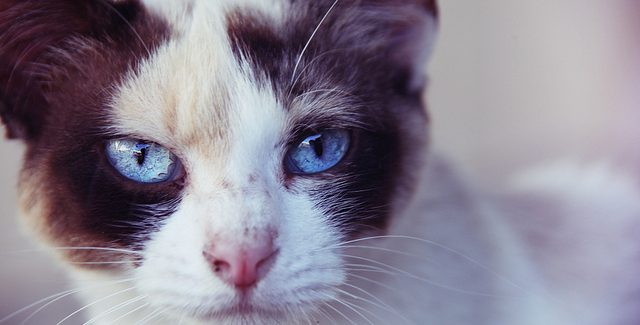 Switzerland Enacts Landmark Legislation for Animals
Switzerland is a fairly small country, but it stills boasts an estimated seven million pets living there, not including farm animals! The Swiss have a long history of improving the working and living conditions for animals including landmark legislation in 1992 when it became the first country to include animal rights in their constitution.
Listen to this Animal Radio® episode
Animal Radio® Show #915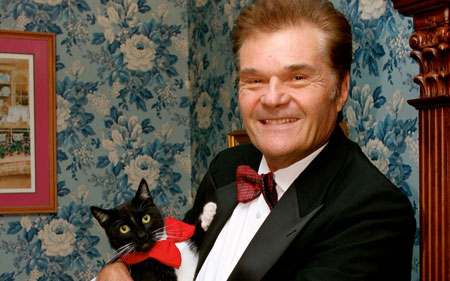 Wacky Willard Returns
Actor Fred Willard is back to share his love for the furry-four-legged and his pet project, Actors and Others for Animals. If you saw him on Modern Family (ABC) last week, you might say he looks the same as he did in the movie Best in Show, almost 18 years ago. He'll tell us his secret to youth. Yes, it might have something to do with animals.
Hugging Turkey?
Albert the Hugging Turkey is a viral sensation. His guardian, Hollywood producer Brant Pinvidic is our guest and he'll share the story of how Albert was "pardoned" on Thanksgiving and what his plans are to help adoptable dogs using Albert's fame.
The Health Benefits of Your Dog and Cat
Voted P.E.T.A.'s Sexiest Vegan Over 50, Holistic Practitioner Carlyn Montes De Oca has the prescription for better health. She says you should consider your dog your doctor and your cat your nurse. Carlyn will explain why your pets set good health examples.
Deadly Dog Flu in Florida
At least even dogs in Florida have been diagnosed with potentially deadly dog flu, a highly contagious virus that popped up in 10 states in 2015. Despite not being transmittable to humans, the dog flu can infect cats. Most cases are not fatal to cats, but, if left untreated, the virus can progress to pneumonia.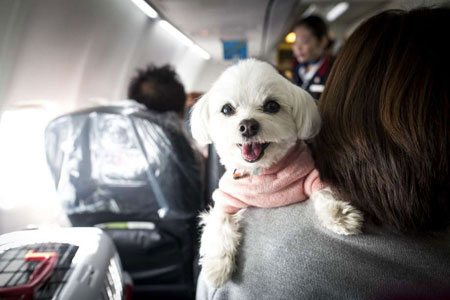 Frequent Flier Rewards for Pets
Korean Air has introduced an innovative program for pets that are frequent fliers. Now, there's a frequent flier reward system called SKYPETS. The program allows pets to rack up points for every trip they take and redeem them for future free travel. Virgin Atlantic has Flying Paws, which rewards travelers for trips with pets.
Listen to this Animal Radio® episode
Animal Radio® Show #914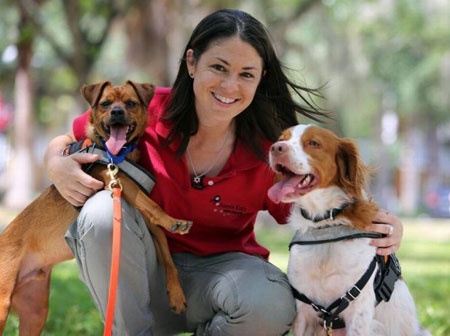 Pet Detective Jamie Katz
She's a real life Pet Detective, schooled as a human Private Investigator. Jamie Katz has found over 150 lost or stolen pets in the last 2 years. She'll share some wild stories and give you tips to make sure your pet isn't stolen.
Federal Agency Goes Pet Friendly
The Interior Department welcomed a new breed of visitor to its Washington headquarters last month, one on four legs, covered with fur and on a mission to boost morale at the agency in charge of public lands. The first federal agency to go dog friendly opened its doors to 85 dogs that first Dog Day!
New Tick-Borne Disease Discovered
Scientists have a double-shot of bad news about ticks. There's a new, and potentially fatal, tick-borne illness called Powassan and this summer looks like it might be one of the worst on record for an increase in the tick population. The Centers for Disease Control say tick-borne diseases are on the rise and prevention should be on everyone's mind now through early fall when ticks are most active.
Prisoners Training Animals
A small team of women prisoners in Phoenix is working with the Maricopa County Sheriff's Office Animal Safety Unit. The program helps comfort and train animals rescued from deplorable conditions. Six days a week the women in the program are transported to a former men's jail that has been converted into a holding center and safe haven for animals.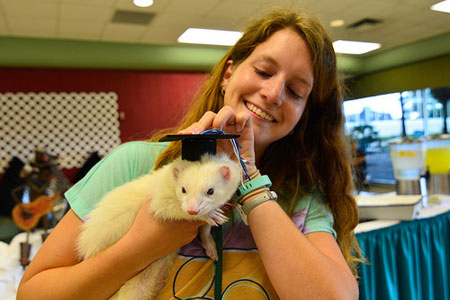 Human College Graduates 24 Pets
One of only a handful of colleges that allow and encourage pets, Eckerd College wants students to bring their dogs, cats, rabbits, ferrets, ducks and chinchillas to school. They supply pet dorms and vet visits for college kids and their pets. They even have a graduation ceremony for the creatures big and small. Tanya Womack is the Staff Coordinator for Pet Life at Eckerd College. She's happy to tell us about this groundbreaking initiative and she consults with other colleges that wish to institute the same policy.
Listen to this Animal Radio® episode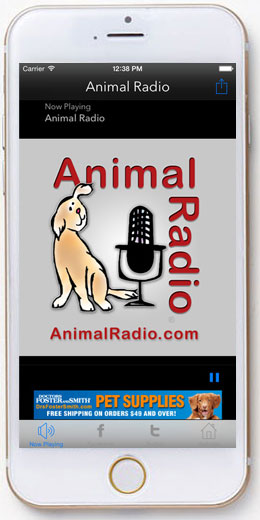 The Animal Radio App has been UPDATED and is better than ever. Download the free Animal Radio App for iPhone - Android - Blackberry.
-Ask Veterinarian Dr. Debbie White and Dogfather Joey Villani your pet-related questions directly from the app.
-Get up to the minute news and recall alerts.
-Send us audio.
-Watch videos.
-Listen to current Animal Radio show or browse archives.



-Browse our knowledge-base.
-Call us directly on the Animal Radio App Hotline.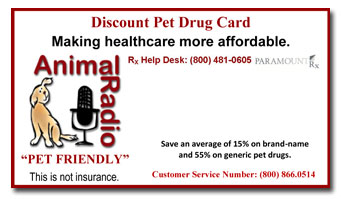 Free Pets and People Drug Discount Card

You may already know how expensive pet medication can be. Especially when pet insurance doesn't cover drugs.
Animal Radio® wants to help out. We don't want any pets to go without the medicine they need.
Animal Radio® made a deal with the top pharmacies to save you up to 55%.
- The Animal Radio® Pets & People Drug Discount Card is FREE.
- It offers 15-55% discount on pet medicines or uninsured human medicines.
- It's usable at almost 60,000 pharmacies, including Walgreens, Wal-mart, Rite-Aid, Target, Costco, CVS...all the biggies!
- Card is pre-activated and never expires.
- You can learn more and print out the FREE card online HERE
Or, if you would like us to mail you a free card, send a self-addressed stamped envelope to:
Animal Radio Drug Card,
699 Paula Street,
Morro Bay, CA. 93442
Please help spread the word. Your friends will thank you.
Animal Radio® Show Highlights
Animal Radio® is on iHeart Radio!! Listen to full shows or Listen to highlights
You CAN Train Cats
Animal Behavior College's Steven Applebaum says you should quit your stupid job and come work with the animals. You can even learn to train cats.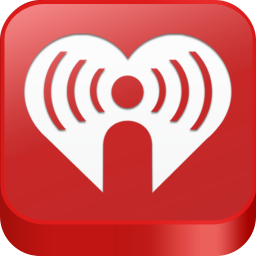 Listen Now


Tick Talk
Joey Villani the Dogfather has a cool trick to get rid of ticks on your pet.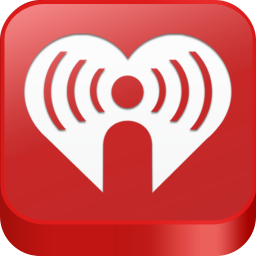 Listen Now

Dog Shoots Pizza Guy
A pizza delivery man was shot by a dog. Doesn't the dog know not to shoot the guy that delivers the pizza. Turns out 10 Americans have been shot by dogs this last year, mostly in Florida.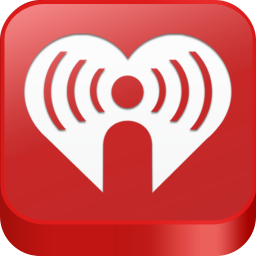 Listen Now

The Truth About Pet Food
Pet food companies may not be transparent about what really goes into your pet food. Listen to this before you feed your pet!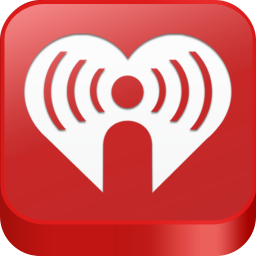 Listen Now

Animal Radio News Update
Do you use your pet's name as an online password? Swiss have great laws in favor of the animals. Police dog fails training program, but finds a better job.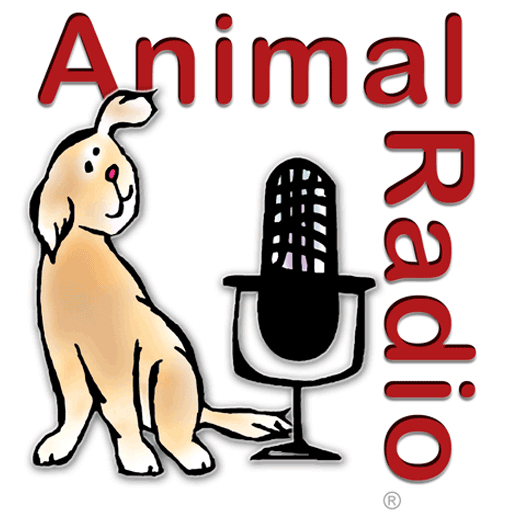 Listen Now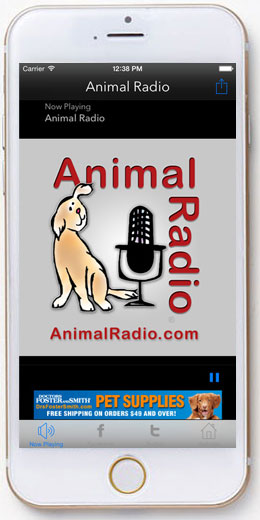 So many ways to listen to Animal Radio®. We're on 133+ AM/FM stations, the Animal Radio® App for iPhone/Android, iHeart Radio, iTunes, Stitcher, TuneIn, Spreaker and Podcast. We're available wherever you are!


The Animal Radio® APP is available for Android and iPhone. Listen on your schedule. Ask our Dream Team questions directly from the App. It's a FREE Download! It's made possible by Drs. Foster & Smith.
---


Copyright 2001-17 Animal Radio®, its logo and Animal Radio Network(TM) are registered trademarks of Animal Radio Network LLC. All rights reserved. Submissions for newsletter, programming, editorial comments and opinions may be sent to: YourVoice@AnimalRadio.com. See our website for additional information.