Adventures Among Ants
Did you know ants colonies are sisterhoods. "The guys don't really do much," says entomologist Mark Moffett, "they have sex and die. And apparently that's satisfactory for them." The "Jane Goodall of Ants" will forever change the way you think about the little critters.
National Feral Cat Day
No, not another Hallmark creation. For a decade, Alley Cat Allies has celebrated this occasion by Trapping, Neutering and Releasing hundreds of furr-balls. Top Cat Becky Robinson has practical tips for handling stray cats.
A Rash of Resorts

The last few weeks have been peppered with stories of new, upscale pet resorts opening across America. For instance, the Jet Pet Resort in Vancouver offers a $1000 a night package for your pup. It includes private limo transportation, a luxury suite with 24 hr. supervised care, daily adventures at the dog park, private walks, massage and spa treatments, plasma HDTV (dogs hate fuzzy pictures), picnics and specialized meals.
Bunny Mansion

Paris Hilton (former Playboy bunny) has added 20 rabbits to her menagerie of pets. Paris tweeted that she was in a pet store and saw the bunnies were destined to be snake food, so she bought them all.
Sam and Ella Aren't Invited To Dinner
More recalls because of Salmonella contamination. While no major illnesses have been reported, the FDA continues on a rampage to encourage voluntary recalls of facilities that have tested positive. Hartz is the latest to top the recall list.
Listen to this Animal Radio® episode

Live from SuperZoo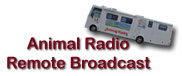 Animal Radio® is on the road again. This time we're checking out the newest pet products available for your pets as we broadcast from the Loews Lake Las Vegas Pet Friendly Resort. From automatic litters to Smart ID tags, we're bringing the best to you from the floor of the Mandalay Bay Convention Center.
Between You and Your Psychic
Animal Communicator Joy Turner is asked what dogs think when they see humans making love. Thank god this show is live from Las Vegas. What happens on this show stays in Vegas!
Dressing-up Your Dog
Groomer extraordinaire Joey Villani has cheap and easy ways to safely dye your dog for Halloween. You might even have the ingredients in your cupboard. And what pup wouldn't enjoy being red for a day?
Listen to this Animal Radio® episode


Get 25% off by entering "radiospp" in promo code box
Michael Vick's Dogs
Where are the dogs that we're found at Michael Vick's estate? Two-years later we look back at the dog-fighting case of the decade. Is there a silver lining surrounding these brutal abuses? Author Jim Gorant researched each and every dog for a follow-up of The Lost Dogs. One of the dogs is now a therapy dog - imagine that!
Pet Insurance
Get the unbiased truth from a veterinarian about Pet Insurance. Should you put your money into an interest bearing account or pay a premium for the costly procedures that you might encounter in your pet's life?
Traveling Tips
Family Travel Expert Lynn Hayes has tips on making pet-travel smooth and easy. You can even take your cat if you're prepared. Of course, most felines would rather cuddle up on their favorite pillow.
Ending Chewing
Some dogs can't seem to break the bad habit of chewing on things. Vladae The Russian Dog Wizard has fool-proof (emphasis on 'fool') ways to stop bad behavior for good.
Listen to this Animal Radio® episode


Get a Stella & Chewy's Sample - Lowest prices Online!!
Fixing Freddie
Paula Munier made a promise to her son she never thought she would have to fulfill. When she had to 'pay-up' by getting a dog for him, she never expected a very, very bad beagle would soon rule her life. If you thought Marley was bad, wait until you meet 'Freddie.'
Internet Veterinary Degree
Can you learn all you need to know about your pet's health off the Internet and skip that next veterinary visit? Hear, first-hand, why this isn't such a good idea. The Internet may not be the best reliable source of information. There is NO gatekeeper of bad info!
Worst Flea Season In A Decade

Scientists are confirming this is the worst flea season in 10 years. There has also been an increase in Lyme disease in both humans and pets. Researchers say the very-wet and rainy pre-season is to blame. Pharmaceuticals that make the flea medicines are also having a record season. By all predictions, there will actually be another increase in flea population before it tapers for the winter.
Anal Glands
Not the most comfortable subject to talk about, but it's important that dog AND cat guardians know about these smelly organs. If your dog is scooting across the carpet, you may need to have a professional clean the anal glands. Hear what happens 'behind-the-scenes' when your doctor or groomer has the job of expressing the glands. Not for the faint of heart.
Listen to this Animal Radio® episode

Leptospirosis Outbreak
Dr. Debbie has the 411 on the latest Leptospirosis outbreak affecting many cities nationwide. The bacterial disease is most common in moist climates and can be fatal to your dog (and cat). A new vaccine may be the preventative measure in high risk areas.
Iran Bans Pets
In Iran, a powerful cleric has issued an Islamic religious ruling banning the selling or keeping of pets. His reasoning cites that "many people in the west love their dogs more than their wives and children". Pet shop owners in Iran are reporting that more people are buying small dogs which they think are easier to hide.
The Latest in Litter Boxes

Have you seen the Litter-Robot automatic cat litter? Sure, it looks a little like Darth Vader, but it does the job. We're even giving one away.
The Giving Spirit Continues
EVERY Animal Radio® listener gets a FREE BAG of By Nature Cat Food or Dog Food and a FREE BAG of World's Best Cat Litter. We love sharing great pet-products with our loyal animal-lovin' audience!
Man's Best Friend?
A man in Florida was tinkering with his truck. His Bulldog jumped in the vehicle and knocked it into gear. Let's just say his injuries were not life threatening but the bulldog lost his driving privileges.
Listen to this Animal Radio® episode



Online Pet Supply Company to Pay Penalty for Selling Repackaged 'Frontline' for Dogs
A pet supply retailer based in Olathe, Kan., has agreed to pay a $3,400 civil penalty to the United States to settle allegations that it sold a misbranded, repackaged version of a canine flea and tick pesticide through an online auction site.
 
Petspace LLC, of 11925 W. 161st Street, in Olathe, Kan., allegedly sold a quantity of Frontline Plus for Dogs through an eBay online auction on September 1, 2009, according to an administrative consent agreement filed today by EPA Region 7 in Kansas City, Kan.
 
EPA alleges that the company's sale of the pesticide was in violation of the Federal Insecticide, Fungicide and Rodenticide Act (FIFRA) because the product had been removed from its original packaging and labeling, and was repackaged by Petspace LLC with incomplete and improper labeling.
 
Petspace LLC, which sells pet supplies online at www.petsgohere.com, is not registered with EPA as being a pesticide producing establishment, according to the consent agreement.
 
The sale of unregistered, misbranded pesticides without child-resistant packaging and complete and proper labeling can pose serious risks to human health. In the case of pesticides intended for use on animals, it can also lead to misapplications of pesticides, and serious health risks for pets. 
 
By agreeing to the settlement, Petspace LLC has certified that it is now in compliance with FIFRA and its regulations.



Get Animal Radio® Headlines emailed to you, or catch them on

Twitter and

Facebook.



Hartz Mountain Corporation Recalls Naturals Real Beef Treats - Possible Salmonella Risk

(Animal Radio® Newsroom September 20, 2010) The Hartz Mountain Corporation is voluntarily recalling one lot of Hartz Naturals Real Beef Treats for Dogs due to concerns the lot may have been potentially contaminated with Salmonella. Hartz is fully cooperating with the US Food and Drug Administration in this voluntary recall.
Affected are 74,700 8oz bags of Hartz Naturals Real Beef Treats for Dogs, lot code BZ0969101E, UPC number 32700-11519, which were imported from a Brazilian supplier.
While regular testing conducted did not detect the presence of Salmonella in any packages of this product, random sample testing conducted by FDA did indicate the presence of Salmonella.
Salmonella is an organism that can affect both humans and pets. Symptoms include fever, diarrhea, abdominal pain. If you or your pets has these symptoms, seek help immediately. Salmonella can be fatal if not treated.
Hartz has not received any reports of animals or humans becoming ill as a result of coming into contact with this product. If you have this product, you should immediately discontinue use and dispose it.
Consumers can contact Hartz at 1-800-275-1414 at any time with any questions they may have and for information on how to obtain reimbursement for purchased product.



Animal Radio® 100th Affiliate KTWV - 94.7 The Wave Los Angeles on-board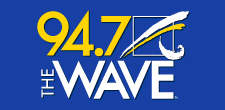 (Animal Radio® Newsroom September 22, 2010) The nationally syndicated Animal Radio® pet-talk program adds its 100th radio station affiliation. KTWV 94.7 'The Wave' in Los Angeles started airing Animal Radio® September 4th 2010.
Animal Radio® launched in 2001. The personality driven program crosses niches, airing on talk AND music formats across the nation. "Pet-lovers comes from every demographic," says Animal Radio® VP Programming Hal Abrams. In 2003, Animal Radio® became "the-most-listened-to" pet talk in America according to Arbitron.
Animal Radio® Executive Producer Judy Francis speaks passionately about 'The Wave.' "We not only celebrate our 100th affiliate, but it happens to be a great station. We couldn't be more delighted!"
94.7 The Wave has been a Los Angeles mainstay since the late eighties. It newly refined sound makes it one of the top five rated contemporary stations in the number two market. The Wave Program Director Jhani Kaye has been a longtime proponent of Animal Radio®. Kaye, a dog-lover, was responsible for adding the program to the KOST lineup under his tenure in 2003.
Hear Animal Radio® on 94.7 KTWV every Saturday morning between 5-6am; or on XM Satellite Radio ch. 158 (America's Talk) Saturdays at noon EST and rebroadcast Sundays 5pm EST. Animal Radio® also broadcasts on 99 other AM/FM radio affiliates. See more listening options at http://AnimalRadio.com
See Animal Radio® News Headlines



Ask the Animal Radio® Dream Team



Listen to Animal Radio® LIVE every Saturday at noon eastern and Sundays at 5pm eastern on XM ch. 158 (America's Talk) or on any of the 100 AM-FM radio stations. Call with your questions toll-free 1-866-405-8405 or email yourvoice@AnimalRadio.com

Jodi Makransky: Dear Doctor Debbie, Last Saturday, I spoke with you on the radio show about one of my 2 cats who was urinating on our bed, usually when we would travel (I hope you remember me!).
The problem, it seems, has gotten worse. Occasionally over the years, she (I think it's her...) would urinate on the bed for what seems to be no apparent reason, maybe once every month or two.
However, now there has been urine on the bed yesterday and today.
Your advice was to get at least one more litter box but the only place we could put it would be downstairs a the spare bathroom. However, the reality is, the cats really rarely go downstairs except to eat so I don't think it would occur to them to use it.
I thought maybe it was the arm & hammer baking soda cat litter deodorizer (which again, I have used for years) so I didn't use that when I changed the cat box yesterday. I also thought maybe to change the litter more frequently - I scoop daily but admittedly have been a little lazy about completely changing it out - doing it around 1 time a month.
Also, per your advice, yesterday I purchased a pheromone diffuser and plugged it in in the bedroom, given that this is where she urinates on the bed,(thank goodness we keep a vinyl shower curtain
liner on the bed! - and have pretty much for many years, so that's not new to her either...). Maybe it takes a few days for the diffuser to start "working"??
Anyway, long story longer, my husband just came home from work and there was urine on the bed.
I do have an "appointment" to speak with Joy Turner this coming Saturday and hoping there might be some light shed there, but was wondering if you had any other advice?? Really looking for a low-cost option here.
Dr. Debbie: Dear Jodi, Ugh, I'm really beginning to fear that you could actually have a medical problem going on. If this behavior only happened when there was travel, I might look at behavioral causes as a main cause. Now that it is happening at other times - it speaks more of a possible medical cause. I definitely suggest having her examined and some tests done. Normally the medical workup would include a urinalysis, abdomen x-rays and basic blood work - but if you were cost conscious, then I'd at least start with the urinalysis.

At my office a consult/exam runs $40 and the urinalysis typically costs $68. That would be starting with the least testing. Perhaps Joy could give you some direction - I'd be curious to hear if kitties have the self-awareness to tell us if they had an infection vs a behavioral trigger.

I find some cats respond quickly with use of the pheromones, but in some cats it could take some time. If pheromones & behavioral changes aren't helping then that would be another reason I'd want to rule out a medical disorder.

Listen to Dr. Debbie on Animal Radio®

Dogfather Joey Villani on 'Anal Glands'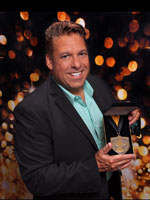 Not The Most Comfortable Subject To Talk About
It may not be the most comfortable subject to talk about, but it's important that dog AND cat guardians know about these smelly organs
Even though Anal Glands are not necessarily part of Joey's regular grooming tips, it is something you need to look out for and make sure that your groomer is doing.
Joey states that he gets excited about anal glands. He explains this by recalling when he was teaching grooming and they had a line of tubs against the wall. When you became en expert at expressing these glands, you could actually shoot them at someone grooming at the next tub. This was especially fun to do to the new groomers!
What are anal glands? Dogs have two of these glands, one gland on each side of the anus, which contain a foul smelling liquid.
They are scent glands that dogs use to mark their scent. Before dogs were domesticated, it was believed that dogs once used these glands in the same fashion a skunk would, and spray someone or something as a defense mechanism.
With dogs being domesticated, and with the foods that we food them, a lot of dogs (especially small dogs) have a problem releasing their anal glands. Normally these are expressed automatically when a dog passes his stools. When they aren't released, they will fill up like a balloon and rupture, which can lead to an infection.
Have you ever soon your dog scooting his bottom along the rug? Nine times out of ten they are trying to relieve these glands themselves. This applies some pressure and sometimes this will release them, unfortunately all over your rug!
If you don't know what you are doing, please have a professional groomer or your veterinarian express your dog's anal glands on a regular basis.
Listen to Joey Villani on Animal Radio®

Get a FREE BAG of By Nature Cat or Dog Food NOW!

The Michael Vick Silver Lining - Looking Back After 2 Years


Animal lovers and sports fans were shocked when the story broke about NFL player Michael Vick's brutal dog fighting operation. But what became of the dozens of dogs who survived?
All dogs were originally put into government custody and lingered there for quite some time under the assumption that they all would be euthanized when the trial was done.
However, there was a lot of public outcry to do something to save these dogs. As a result, an ASPCA-led team evaluated each and every one of the 51 Pit Bulls taken off the property. They found a few hardened fighters, but many more lovable, friendly creatures desperate for compassion. These dogs were given a second chance. One of the things good to come out of this case in general for fighting dogs, is that you can't look at them as a group.
Out of the original 51 dogs, two dogs died while they were in government custody. Two were euthanized because one was badly injured and the other had lost it mentally. This left 47 dogs.
The remaining 47 dogs were placed into 4 categories: 1. Sanctuary dogs, which needed a certain level of professional care for life; 2. sanctuary dogs, which needed temporary professional care; 3. foster dogs, which went into foster homes with qualified, pet guardians (most of them have been adopted); and 4. law dogs.
The Million Dollars that Michael Vick was ordered to pay for his restitution and their care made all this possible.
The ultimate success story of these dogs is Leo. Leo went into a small rescue called Our Pack in California. Leo showed a lot of the signs (as the other dogs did) with fear issues and was completely unsocialized. Leo had never lived in a home and had to get used to stairs and other basic things required living in a home.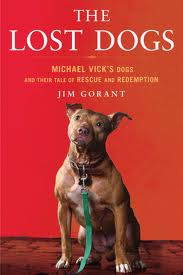 Leo went into a house that had three other Pit Bulls. The guardian doesn't take all of the credit for Leo's success, as she feels that Leo was able to use her other dogs as a model and the other dogs helped shaped their new entry. Three months later, Leo became a Certified Therapy Dog, going into schools and nursing homes.
Is there a silver lining for fighting dogs surrounding these brutal abuses? Let's hope so! Author Jim Gorant researched each and every dog for a follow-up of The Lost Dogs, and he tells all.
Listen to Jim Gorant on Animal Radio®


Dodge Journey Pet Destinations
What Is Your Favorite Place To Take Your Pet?
People who have pets love to travel with them. At Dodge, they have made it easier with their pet friendly vehicle, the Dodge Journey, which contains concealed storage bins, Chill Zone glove box cooler and second-row dual in-floor storage bins with removable and washable liners (very handy for muddy paws!) Call us with your favorite place to take your furry-friend: 1-866-405-8405

While Victor was currently in the process of moving to Alaska from Alabama, he recalls the fond memories he had with his Lab who loves any place that has water. Her favorite place was Twin Mulberries in Alabama, which has a Little Mulberry Creek and a Big Mulberry Creek. She loved playing in the Big Mulberry Creek with her football. I am sure she will find some exciting places to play in Alaska as well!
Carol from Pennsylvania loves to take her dog to the Nemacolin Woodlands Resort, which is a family and luxury vacation destination on 2,000 wooded acres in the Laurel Highlands of Southwestern Pennsylvania. You will also find the Nemacolin Wooflands, Pet Resort and Spa, Pennsylvania . You will find everything from climate-controlled rooms with elevated beds to a grooming salon, daycare and obedience training classes. The only problem you will have is that your dog will not want to check out!
John of Clinton, Iowa loves taking his dogs to Eagle Point Park in Clinton Iowa , which has a big dog park and is situated in the northern section of Clinton. There, you will find a place to walk your dog on the levee along the river. Eagle Point Park overlooks the Mississippi River and General Zebulon Pike Lock and Dam (No. 11). It is a 164 acre park. Visitors are provided with spectacular views of the river and parts of Illinois, and Iowa. In the fall, you might even get lucky and glimpse hundreds of eagles fishing in the river.
Susan Sims, Publisher of Fido Friendly Magazine, travels constantly around the country exploring Fido friendly places. So, we asked her what her favorite place was for her and her husband Gregg to take their dog, Junior. Susan loves Seattle, Washington, and tells us some great places. Susan picks Kimpton's Hotel Vintage Park in Downtown Seattle as her favorite hotel. During her stay, she enjoyed a view of the Space Needle from her room. Next, she picks Tulio Restaurant in the hotel. While your dogs can't dine in the restaurant, she was able to order some fabulous food from room service. And lastly, while she was in Seattle, she took her dog to Marymoor Dog Park in Redmond, Washington , which has 40 acres of off leash fun for your dog!
Mark, from Southeastern Wisconsin, recommends the Burlington Dog Park in Burlington, Wisconsin. He tells us it is a great place to take your dogs in the summer. They have some great open fields to let your dogs run free. It is also next to the Fox River, so if you have a dog that likes to flop around in swampy mud, it is a great place!
Vladae, Animal Radio's own Russian Dog Wizard, is one busy guy. He sees one client after another and is always hard at work turning unruly dogs around for their guardians. But after a hard day of training dogs, he and his wife like to take their dog Mika (who is of course very well behaved), to the Huntington Beach Dog Park in Huntington Beach, California. There, Mika can run free with the other dogs and just be herself!
Steve from Tennessee recommends the town of Townsend, Tennessee, one of three gateways to the Great Smoky Mountains National Park, which has dubbed itself "The Peaceful Side of the Smokies." You can find many roadside parks along the Little River to take your pets. Steve states that his dogs first learned how to swim in the Little River.
Richard of Bend, Oregon likes to take his Labrador Retriever to Tumalo State Park in Bend, Oregon, in the heart of sunny central Oregon. Tumalo State Park rests along Oregon's spectacular Deschutes River, which is a great place for your water-loving dog to romp.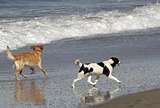 Glenn of San Diego recommends Ocean Beach Dog Beach in San Diego, California. Ocean Beach Dog Beach is open to canines any time. This small beach has plenty of sand for the dogs to run on, and waves for them to run through. On weekends there can be up to 100 dogs there.
Bo from Los Angeles, California tells us her 2 black labs like to go hiking and to the beach. But one of her favorite places to take them is Runyon Canyon Park in Los Angeles, California. It is a 130-acre park in the Santa Monica Mountains, two blocks from Hollywood Boulevard. She states that this is a great place where your dogs can frolic with other dogs and have a good time! And who knows, you might even catch a glimpse of a celebrity and their pet while you're there!
Danielle from Shell Beach, California tells us her favorite place to take her dogs is Avila Beach, California. She states it is a very secluded beach with a nice protected area to let your dogs run free. Everyone brings their dogs to this beach and it is a very pet-friendly place.
Tell us your favorite place to take your pets and win! Call 1-866-405-8405.


Events Calendar
Send your events to: yourvoice@AnimalRadio.com
Get Your Licks - Los Angeles October 2nd - Live Broadcast
Join Animal Radio®, Fido Friendly Magazine, North Shore Animal League and Los Angeles Animal Services for the finale of the "Get Your Licks On Route 66 Adoption Tour." We'll be broadcasting October 2nd from Griffith Park's Travel Town (5200 Zoo Drive) in Los Angeles. Come play with us!
The 2nd Annual "Get Your Licks on Route 66" tour
Wiggle Waggle Walk for Woods 2010 Promo - Central Coast/San Luis Obispo CA. - Oct 23rd
Woods Humane Society's 18th Annual Wiggle Waggle Walk for Woods…2010: A Space Paw-dyssey
October 23rd at Laguna Lake Park. We are raising the bar this year with more contests, more demonstrations, more dogs and more participants all joining together in support of Woods Humane Society.
You can register online at www.woodshumane.org or pick up a registration form at any local Lemos Feed & Pet Supply store. All registered walkers receive an official Wiggle Waggle 2010 event t-shirt and a doggie bag full of toys, treats, and more...
The Cat House Halloween Carnival - Fresno, CA Oct 30th
We will need volunteers before the event to: Pass out and post the flyers advertising it - Solicit and pick up donations from businesses during the event: Assist with setting up tables and chairs - Work the welcoming table and booths - Bring food, canned sodas and bottled water - Sell raffle tickets - Tear down and clean up after the event. To sign up to help, e-mail Carmen at carmen@cathouseonthekings.com or call her at 559-637-9032. Questions or comments about this publication, please contact Rochelle Noblett, Public Relations, rochelle@cathouseonthekings.com


Directions for carving this Chihuahua pumpkin
Celebrate your pets right now at AnimalRadio.com


Copyright 2003-10 Animal Radio®, its logo and Animal Radio Network(TM) are registered trademarks of Animal Radio Network LLC. All rights reserved. Submissions for newsletter, programming, editorial comments and opinions may be sent to: YourVoice@AnimalRadio.com. See our website for additional information.
This posting includes an audio/video/photo media file: Download Now