Grab Your Pets and Join Us for a Celebration of Animals.
Now you can ask ALEXA to "LAUNCH ANIMAL RADIO."
Animal Radio® Show #1141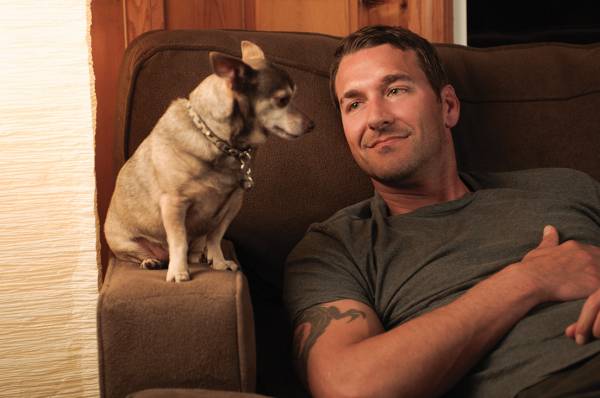 Lucky Dog
He was the Emmy Award winning host of CBS's Lucky Dog. Brandon McMillan is back to teach us the basics: Sit, Stay, Down, Come, Off, Heel and No. He'll also clear up the confusion between the techniques taught by Cesar Millan and Victoria Stilwell.
Listen Now
Is Your Dog's Halloween Costume Sexist??
Young girls may be discarding their princess wands for superhero capes this Halloween, but not so in the canine world. The glass ceiling appears to be firmly in place at PetSmart, where career costumes labeled "male" include firefighter and police officer, while female dogs can choose between a pink cowgirl costume or ballerina. At Party City, Super-girl and Wonder Woman dog costumes were priced 30% higher than Superman costumes.
Listen Now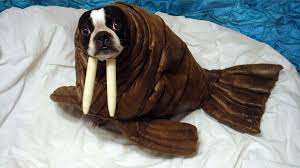 Costume Giveaway
Madonna Sheehy from HalloweenCostumes.com has the list of top pet costumes for your furry-companion. She even has matching human/pet costumes. Will you be a part of the 16% that dresses our pets up for Halloween? Madonna will also give away two costumes of your choice.
Listen Now
Yes, You Can Train A Cat!
Cat Psychologist Pam Johnson-Bennett is back with tips on training the feline persuasion. She'll also explain why cats gravitate toward cat-haters and those that are allergic to them. Pam will also enlighten us to why cats must sit on your homework or computer keypad.
Listen Now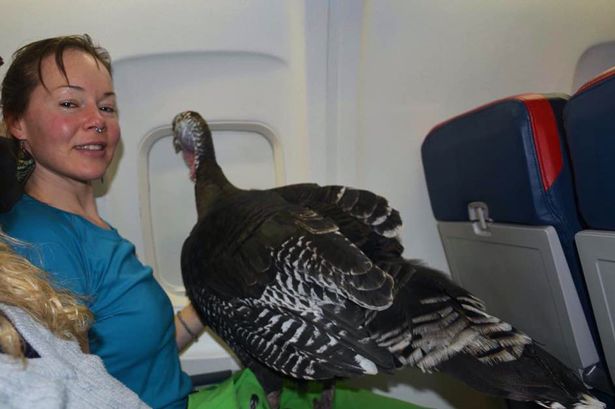 What Types Of Pets Should Be Allowed On Airplanes?
Turkeys, pigs and even roosters have flown the friendly skies, carried onto commercial planes by passengers who identified their furry and feathered friends as emotional support animals. But a committee of airline representatives and disabled rights advocates continues meetings in Washington, D.C. to come up with new rules on what type of animals should be permitted on planes and what documents should be required to prove the animals are legitimately needed.
Listen Now

Read more about this week's show.

Redbarn Naturals Mini Bully Barbells Dog Treats, Case of 75
Animal Radio® Show #1140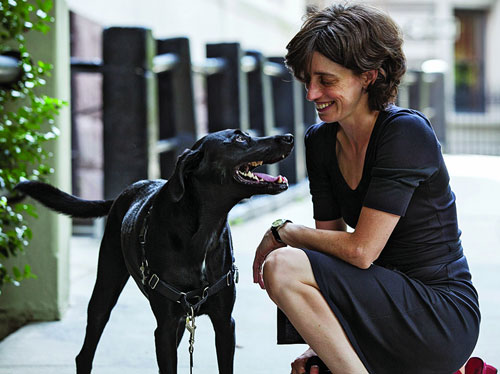 Smelling Like A Dog
Dog Cognitionist Alexandra Horowitz is back. This time she wants us to know just how well a dog can smell. Did you know they could smell earthquakes? She wants to teach us how to sniff things out just like a dog.
Listen Now
Vet Bills Are Through The Roof
If you feel like your pet's vet bills are through the roof, you're not alone! It seems the animal health care system suffers from many of the same problems as human medical care, according to a new report from researchers at Stanford and the Massachusetts Institute of Technology. They found that some features of the systems are shockingly similar, in that both have seen a huge increase of dollars spent on end-of-life care.
Listen Now
Barkville TV
Actress Olivia Barash is our guest. She's here to talk about her new YouTube series called Barkville TV. Olivia will even show off her talents as a voiceover artist as well as describe the series she's producing and directing.
Listen Now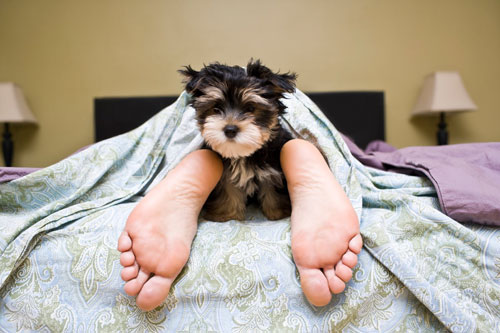 Should Your Pets Sleep With You?
If you kick your dog off the bed every night, you might want to stock up on apology treats. A study of 150 people conducted by the prestigious Mayo Clinic on Sleep has found that, contrary to popular belief, sleeping with your pet doesn't actually disrupt your sleep as much as you might think.
Listen Now
You Can Now Be Buried With Your Pet
Pet owners in New York can now take their trusted furry companions with them to the grave since the governor has signed legislation making it legal for the cremated remains of pets to be interred with their owners at any of the approximately 1,900 not-for-profit cemeteries in New York that are regulated by the state. Among the most famous Big Apple pet owners who wanted to be buried with their pets was Leona Helmsley, the hotel magnate dubbed "The Queen of Mean" who died in 2007 and had in her will that she wanted her pampered pooch "Trouble" interred with her.
Listen Now

Read more about this week's show.

Introducing Chewy Pharmacy - Free Shipping on Pet Meds!
Animal Radio® Show #1139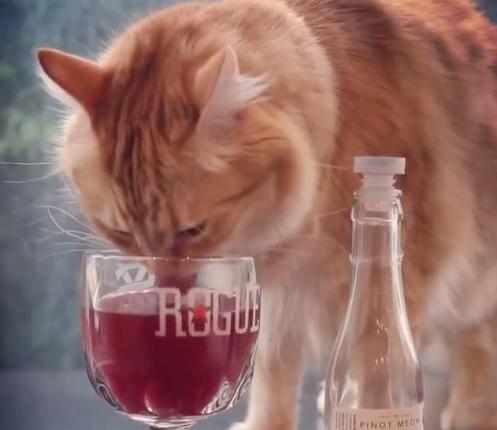 Don't Drink Alone
Brandon Zavala was enjoying a glass of cat-themed wine when he came up with the idea to create a wine for cats. Now he produces a MosCATo and a Pinot Meow made from beet juice and infused with catnip. He did this so you could enjoy a glass of Vino with your Gato. Your welcome.
Listen Now
More Reasons To Celebrate
Robert Semrow, our Pet World Insider actually found '5 October Holidays for Your Pet.' Man, this kid can be creative when it comes to Listomania. Maybe some of these holidays were made up by Hallmark, or maybe your local humane organization. But, who's going to complain about more time to celebrate with our pups?
Listen Now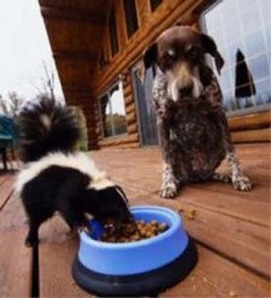 Skunked
The Animal Radio "Dogfather," Joey Villani has tips on dealing with dogs (or cats) that have been sprayed by a skunk. He says the biggest myth is that tomato juice fixes that problem. We suspect the tomato juice industry is behind this fallacy. Imagine cleaning up a house wrecked by tomato juice and the skunk smell doesn't seem so bad. Joey also says "stay away from water, as that could make the problem worse." Dawn Dish Detergent seems to be the solution, again!
Listen Now
Battling Fleas
No doubt the U.S. is dealing with a bad flea season. Humidity in the east and a resistance to chemical products are mostly to blame. What are your natural remedies? How are you ridding your house and pets from this nasty parasite? We have some strange and unusual methods for removing fleas and stopping the scratching. And we're betting you have some of the household items that we suggest. Would you believe that a TV set is an effective way to get rid of fleas? And it does't matter what program you're watching, although we do recommend an annoying infomercial if you want the fleas to suffer.
Listen Now
Furry Family Instagram Sensation
Steve Greig's Instagram account blew up after he started posting pictures of his extended family. He lives with 10 dogs, 2 ducks, 2 chickens, a rabbit, pigeons, cats, Koi fish and a pig. All were rescued. About a half-million people subscribe to his Instagram feed.
Listen Now

Read more about this week's show.

Introducing Chewy Pharmacy - Free Shipping on Pet Meds!
Animal Radio® Show #1138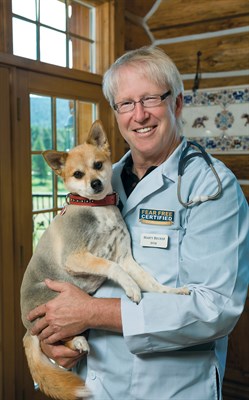 Eliminating Fear of Vet Visits
Going to the Vet can be a traumatic experience for your pets. Following Animal Radio Veterinary Correspondent, Dr. Marty Becker's instructions can make the Vet actually a fun place to go. We call it Fear Free visits.
Listen Now
Thief Unwittingly Saves Dog in Hot Car
It all began when a man left his laptop and his dog locked in his pick-up truck while he went into a local pub. It was super hot that day, but luckily for the dog, a pack of thieves were casing the street for easy to grab loot and spotted the laptop sitting on the truck's passenger seat. They smashed the window, grabbed the laptop and ran off.
Listen Now
Internet Outage Causes Starving Pets
The Internet of Things may be touted as the next big thing in technology, but those Internet connected solutions designed to make your life easier can cause huge problems as many pet owners recently found out. PetNet, an Internet-connected feeding service, experienced a server outage last week that left many pets hungry for hours and many pet owners very upset!
Listen Now
Lily And The Octopus
Steven Rowley tells us about his close relationship with Lily and how a tumor on her head eventually took her life. He's was offered one million dollars to write a cathartic book about the experience on spec. Not bad for his first major published novel.
Listen Now

Read more about this week's show.

Introducing Chewy Pharmacy - Free Shipping on Pet Meds!
Animal Radio® Show #1137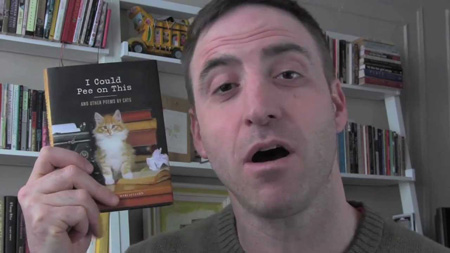 I Could Pee On This
Sally Forth writer and author of I Could Pee On This Too, Francesco Marciuliano is back for more abuse. He's transcribed more poems and verse from cats. Is he a single man with a lot of cats? We'll see.
Listen Now
The Better To Hear You
A four-eared cat named Batman found a new home this month within hours of being put up for adoption at a Pittsburgh animal shelter. This unique cat's extra ears are the product of a recessive gene mutation, which is needed by both parents in order to reproduce extra ears.
Listen Now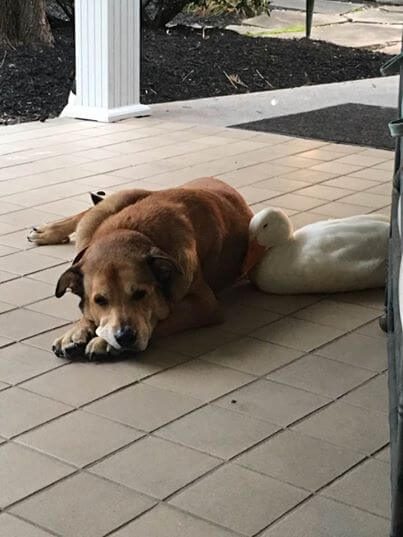 Duck Befriends Grieving Dog
Two years ago George, the dog, lost his best friend, a Labrador named Blackie. George's owner, Jacquie, said that George was overcome with grief. But then a few weeks ago a duck showed up and everything changed. The duck and dog formed an instant bond and are now inseparable, going on walks together, sleeping next to each other in the kennel and spending quiet time together when George needs a rest.
Listen Now
Celeb Photographer Helps Pets
Richard Phibbs is known as a celebrity photographer to Merryl Streep, J-Lo and many more. But he's decided it's more gratifying to take picture of adoptable animals, in turn helping them find homes. He says they're also easier to work with than the celebrities or their publicists.
Listen Now
Google's Double-Sided Duct Tape
Google has patented a new car coat that allows pets and people to stick to it. Officials say the most injuries from being hit by a car are when the person or pet hits the ground. This coating ensures that the victim will stick to the car when they're hit, keeping them from falling to the ground. This is for real folks... Google it.
Listen Now

Read more about this week's show.

Redbarn Peanut Butter Chew-A-Bulls Large 12" Dog Treat
So many ways to listen to Animal Radio®. We're on 134+ AM/FM stations, the Animal Radio® App for iPhone/Android, iHeart Radio, iTunes, Stitcher, TuneIn, Spreaker and Podcast. NOW YOU CAN ASK ALEXA TO "LAUNCH ANIMAL RADIO." We're available wherever you are!
Listen to Animal Radio LIVE anytime with the FREE Animal Radio App for iPhone / Android. Plus, you'll get notifications anytime there is a recall or news that affects you and your pets.
---
Copyright 2001-22 Animal Radio®, its logo and Animal Radio Network(TM) are registered trademarks of Animal Radio Network LLC. All rights reserved. Submissions for newsletter, programming, editorial comments and opinions may be sent to: YourVoice@AnimalRadio.com. See our website for additional information.