Why Drink Alone?
Brandon Zavala, Apollo Peak Cat Wines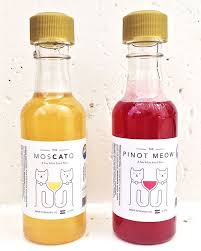 Brandon Zavala was enjoying a glass of cat-themed wine when he came up with the idea to create a wine for cats. Now he produces a MosCATo and a Pinot Meow made from beet juice and infused with catnip. He did this so you could enjoy a glass of Vino with your Gato. You're welcome!
Apollo Peak is not a winery, but a pet beverage company, a sort of brewery for pets, where they make wine for cats.
Both of their wines, the Pinot Meow and MosCATo are essentially made with catnip. They are non-alcoholic, and while they don't contain grapes, they are made with beets.
So why beets? In his research, he found that beet were safe for cats and he also wanted something that was going to give his cat wine a red tint like real wine, without using food coloring.
Brandon wasn't originally trying to get in the cat wine making business. However, he did slap a cat themed label on an actual bottle of wine for humans. When his friends asked if it was for the cats or for them, Brandon stopped and thought it would be a really cool idea to actually make a wine for cats. That's how it all started.
Brandon says people tell him about different kinds of reactions from their cats. Some cats just play with the glass, while others start drinking it and acting a little funny. What do you think you cat would do?




The Wolf Gang
Steve Greig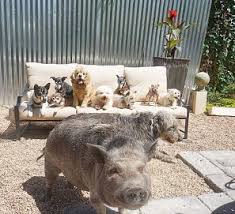 Colorado animal lover became an Internet sensation for Instagram page featuring his adopted pig, dogs, ducks, cats and rabbit.
Steve Grieg has 9 dogs, a pig, 2 cats as well as chickens, ducks and a rabbit and is, not surprisingly, a single man! All of Steve's animals are rescues except for one dog he owned before he started rescuing senior animals, and that is his Irish Wolfhound.
All of Steve's rescues are also special needs animals. These are dogs that weren't getting adopted either because they were too old or they had some health issues like blindness, skin issues or lameness.
So why special needs animals? Steve decided to adopt disadvantaged animals after the loss of his pet dog, which affected him immensely. After his dog's death, he realized he would feel better by doing something good that would not have occurred had his pet lived. He then adopted a Chihuahua suffering a heart murmur and 'four bad knees' and his hobby of adopting special needs animals was born.
The Internet sensation states when you have 9 dogs in the house, you are bound to end up with some pretty good pictures of them. He then started posting them on Instagram, where they started getting some attention.
His big bump with Instagram followers occurred after adopting a blind dog, who had also lost all of her hair and had sores on her face. It turns out the dog was from Susie's Senior Dogs, run by the girlfriend of Brandon Stanton. Brandon Stanton is the founder of Humans of New York, a popular photojournalistic work.
After the adoption, Brandon called Steve and thanked him for adopting this special needs dog. Brandon then made a post about Steve on his own Facebook page.
You can follow Steve Greig on Instagram.




Pet Adoption Tour
Susan Sims, 13th Annual Fido Friendly Get Your Licks On Route 66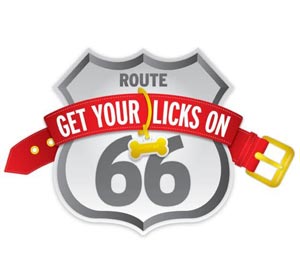 It's time again for the 13th Annual "Get Your Licks on Route 66 Adoption Tour." Fido Friendly publisher Susan Sims started the nationwide journey in Sedona, Arizona and will continue across Route 66 through October stopping at shelters along the way to support adoption events through October. The annual tour has successfully worked with local animal shelters across the country to find forever homes for over 14,000 pets in the last 12 years.
"We are so excited about this year's tour," Founder Susan Sims, Publisher of FIDO Friendly Magazine, said. "After all that we have been through during COVID-19, this tour is going to be special. We can't wait to help participating animal shelters find forever homes for their homeless pets and through our prize wheel, raise money for the individual shelters."
Stop by their events to spin their giant spinning wheel filled with prizes provided by their sponsors, where a donation gives you a chance to win fabulous prizes and all proceeds go to the shelter at the end of the day.
Thanks to their sponsors who have signed up thus far to help us save lives, one shelter at a time! Please visit their websites to see the great products they have to offer: Zymox, Catit, MyPlaceHotels, Sure Petcare, HomeAgain, Embrace Pet Insurance,Tito's Vodka, Brutus Bone Broth, Dog TV, Buddy Belts, HandsOn Gloves and KOA Campgrounds.
Thanks also to the Spinning Wheel Sponsors: Shed Defender, 5Strands Affordable Testing, Bark Potty, CBD Living, John Paul Pet, Licks Pill Free, Suitical, Suzies CBD Treats, Charlee Bear, Pet's Best Life, Petcurean and Bike Tow Leash.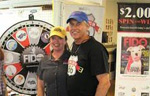 Their remaining tour schedule is as follows:
Oct. 2: Chicago Animal Care and Control, Event held noon-4, Chicago Animal Care and Control, 2741 S Western Ave, Chicago, IL
LAST EVENT! Thanks to all of our sponsors who made this trip possible.
Oct. 9: Nebraska Humane Society, Omaha, Nebraska, Event held 11-3, Nebraska Humane Society, 8929 Fort St., Omaha, NE
Please check back often for updates and even in you are not planning on adopting an animal, come out for the fun and spin the wheel for prizes!




How to NOT Train a Dog - Dr. Debbie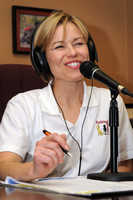 The other day I was walking my dog in a community area and encountered a lady with two Shih Tzus. As we approached, her dogs rallied with barking and tugging on their leashes. I asked if her dogs were friendly, so as to decide if we could approach. The lady scowled, embraced her still barking dogs and grumbled, "Do they look like they're friendly?"
Realizing this dog owner was more unsociable than her dogs, I decided to vamoose, but not before I envisioned this blog topic - how pet owners mold unsocial dog behavior.
Unwanted doggie behavior such as lunging and barking on the leash become established when the dog owner hasn't made it clear what the appropriate behavior is, fails to correct and redirect to a more suitable behavior, or simply reinforces the undesirable behavior through actions or words. Face it - there aren't bad dogs, just poorly trained ones.
Avoid making these top 5 training mistakes:
1. Secluding Your Dog in the Backyard
Keeping your dog in lock down almost guarantees problem behaviors will develop such as biting, inter-dog aggression and phobias to anything from noises to car travel. Isolated dogs lack the experience and confidence when faced with novel situations while socialized dogs adapt easily.
I see it all the time - the dog owner prides herself in keeping her dog safe. "I didn't want Fido to catch any diseases as a pup, so I didn't let him out of our backyard till he was a year old." The overwhelming fear of infectious diseases like parvovirus causes some well-meaning owners to confine their new dog or puppy to the limits of house and yard. Even more extreme is never allowing a puppy to step foot outside until after their last puppy vaccinations! Puppies are most adaptable to new experiences between 6 and 16 weeks - this is the time to expose them to unfamiliar places, people and animals.
That doesn't mean you should take your eight week old puppy to dog parks, but rather to use good sense selecting low dog traffic areas and visiting with family and friends outside of the home that have properly vaccinated pets.
2. Skipping Obedience Training
Going to school is a must for any new dog to a home, whether a puppy or adult. No two dogs are the same, and each learns differently. Formal obedience training is a useful tool to gently reaffirm who's in charge and sets the rules in the house. Statistics show that dogs that go through formal obedience training are less apt to develop behavior problems and be relinquished to shelters.

3. Reinforcing Fear at the Veterinary Office
In the exam room I cringe when I see a dog owner comforting a nervous, fearful or aggressive pet. That "good boy" and pat on the head reinforces your dog's behavior, making it more likely that on the next hospital visits he'll behave the same, or worse. Some problem behaviors escalate making it difficult for the veterinary staff to examine or treat the animal. This may mean additional costs for sedation or anesthesia for routine medical needs.
It's natural for a pet owner to want to reassure a pet when he is frightened and it can be difficult to hold back the urge to soothe him. However, the best strategy is to ignore those fearful behaviors in the vet office. Don't be tempted to kiss, snuggle or hold Fido on your lap when he is misbehaving. Rather, place the dog on the floor, refocus your dog's attention to you, and cue him to "sit" or "lie down."
4. Not Using Food as a Reward
Food shouldn't just be for the taking. Don't leave food out for your dog to graze whenever he wants and don't give treats just for the sake of giving a treat. Present food and treats as a reward for good behavior such as sitting quietly, going to a pillow, or performing a trick or obedience work. This places you at the top of the household hierarchy. You become the provider of great edibles in the house, and your dog will be motivated to listen to your requests in other situations.
We all love to spoil our dogs and give treats at times. But be sure to give treats for a reason, or you will have a spoiled doggie brat on your hands.
5. Not Exercising Your Pet Enough
Inadequate exercise can result in obesity and boredom, and may lead to problem behaviors like separation anxiety, destructive chewing and excessive barking. Dogs should get 30 to 60 minutes of sustained physical activity each day for optimum mental and physical benefit. And no - letting Buffy run around the backyard during the day is not adequate exercise.
Not all breeds are cut out for all exercise - a Labrador may enjoy retrieving games or swimming, a Jack Russell terrier may thrive with jogging or Frisbee, while a Basset hound will be satisfied with a leash walk.
Your dog can't be a well-adjusted, socialized canine citizen without you, as the pet owner, taking an active role in training. Put the time in, and you'll be thanked many times over with an outgoing, friendly canine pal that can accompany you on life's adventures.
Featured veterinarian known as "Dr. Debbie" on national pet radio program, Animal Radio. Ebook author of "Yorkshire Terriers: How to Be Your Dog's Best Friend"; "Pugs: How to Be Your Dog's Best Friend"; "Mini Schnauzers: How to Be Your Dog's Best Friend"; and "Shih Tzu: How to Be Your Dog's Best Friend." Dr. Debbie's books.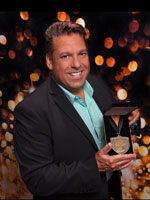 The Dogfather's Grooming Tip with Joey Villani
"Skunked"
The Animal Radio "Dogfather," Joey Villani has tips on dealing with dogs (or cats) that have been sprayed by a skunk. He says the biggest myth is that tomato juice fixes that problem. He also says, "Stay away from water, as that could make the problem worse." Dawn Dish Detergent seems to be the solution, again!
Now that the weather is getting a little bit cooler, we are starting to see a little more skunk activity. So what do you use on your dog should they get skunked? The first thing people think of is tomato juice. Wrong! This is a horrible thing to use on your pet (or even yourself for that matter!). Supposedly it is the acidity in the tomatoes, which removes the smell from your pet. Joey thinks whoever invented this remedy didn't like the person they were giving the information to!
Just think about it. Can you imagine the amount of mess that it makes compared to the amount of smell that it actually removes! Joey knows people who actually used this and they ended up at the groomers complaining not only of a house that smells of skunk, they also had a red house stained with tomato juice from the dog because they were running all over.
If your dog does get skunked, the first thing you need to do is get them outside so you can clean them. If it is too cold outside, you will have to do it in the bathtub. You then want to use a degreaser, like Dawn Dish Detergent. This is something you should already have in your house, because these events usually don't occur during normal hours where you can run to the store.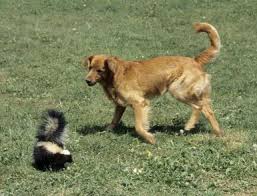 The worst thing you can do is to wet your pet first, as this actually "sets" the smell in your pet's coat and is going to then be extremely hard to remove.
You want to mix a ¼ cup of Dawn to a gallon of water. You then want to apply the mixture on your pet. Be careful not to get it into their eyes, as it will burn. This is going to be very drying to your pet's coat, but you can always follow up with a conditioner.
Shampoo the mixture in really well and then rinse it off. Then repeat and shampoo them all over again for a second time and rinse it off. You can then follow up with a conditioner to get some moisture back in the coat.
If your dog gets sprayed in their face, which is hard to bathe, try using Listerine. This will help break down the oils on the face, without the worry of getting soap in their eyes. Just wet a cotton ball with Listerine and wipe their face. But again, be careful not to get Listerine in their eyes. And just like before, don't wet their face down first before applying Listerine.
While you won't be able to remove all of the smell, which can take several months, you are going to at least reduce the smell to where it is bearable.




Animal Radio News - Lori Brooks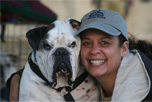 Lazy Owners to Blame For Dog & Cat Dementia
Dog and cat dementia is on the rise with pet mental decline being blamed on lazy owners who don't give their companions enough exercise along with poor diets, according to animal experts in the UK. Some findings of a study show: a third of dogs at age 8 suffer from mental decline, rising to 2/3 when they reach 15 and that half of all cats aged 15, and a third of those between ages 11-14, suffer from dementia. The vets warn cheap pet food, pampered lifestyles and lack of exercise are all blamed for a rise in the number of pets developing dementia. The average dog now lives to the age of 12 and a cat to 14 thanks to the care they receive from their owners, but the areas of sufficient exercise and diet could both use some major improvements. Pets are also living longer, which is also a part of the reason we are seeing more pet dementia now.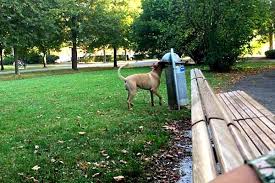 Dog Cleans Up After Himself
Usually when you take your dog to a park, you need to clean up after him, but some dogs apparently consider it their duty to return the favor. In Germany, a woman captured on video a civic-minded dog doing his fair share of clean up by putting trash into a garage container. It shows the conservation-promoting canine walking with garbage in its mouth toward a trashcan in a park. The dog then puts its nose under the trash can lid to lift it and then carefully drops his mouthful of trash into the can. That's a smart dog and a great idea for a new trick!
Pets Are Living Longer
It's not just people who are living increasingly long lives in Japan; their pets do too, according to a report from the Tokyo University of Agriculture and Technology. They found the longevity of pet cats and dogs in the country has soared to record heights, with the average cat living to 11.9 years and dogs 13.2 years. The figures reflect how the longevity of pets have steadily increased in years, with the average lifespan growing nearly 2 and 1/2 times for cats and 1 and 1/2 times for dogs in the past 25 years. The researchers believe it's because of the growing number of pets being kept indoors, better quality pet foods and medical treatment. Meanwhile, researchers also found that mixed breed dogs lived longer than purebreds and female cats live longer than male cats. But Japan is not the only place where pet lives are getting longer. Here in the United States, the average pet lifespan has soared to almost 13 years for cats and close to 12 years for dogs. Japan is famously home to one of the world's most sophisticated pet industries, with countless innovations and services devoted to all things pet-related, with the more innovative ranging from cat aromatherapy and dog dance classes to pet fashion shows.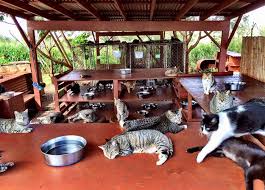 Feline Heaven in Hawaii
Most people visit Hawaii looking to spend long, lazy hours on white sandy beaches drinking bottomless Mai Tais, but true cat people, on the other hand, might have a more warmer and fuzzier option in mind. On the small island of Lanai, there is a little-known slice of feline heaven, the Lanai Cat Sanctuary, which is home to 495 cats. People fly from all over the world just to hang out with them. Though there's a boundary surrounding the property, there are no cages within the main area of the sanctuary. The cats, or "Hawaiian Lions," as the sanctuary calls them, have large huts and trees to climb on, patches of grass on which to sun themselves and all the human attention they could ever want. Die-hard cat lovers call it the 'Furr Seasons,' which is open to the public for a few hours every day. Visitors can adopt or foster if they fall in love with a cat and the sanctuary helps to facilitate adoptions for locals and out-of-state visitors. But, if a cat is never adopted, it can live out its entire life in the sanctuary. The sanctuary is the perfect place for cats in need of a home, but it also serves a second purpose on the island: protecting endangered indigenous bird populations.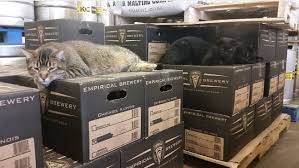 Ghostbuster Kitty Enforcers - Cats At Work
A Chicago brewery has called up its version of feline Ghostbusters to handle their troublesome rodent infestation and apparently the team is doing a fantastic job! Venkman, Raymond, Egon und Gozer are the "Ghostbusters" named kitty enforcers that have taken up residence in Chicago's Empirical Brewery. The cats came from Tree House Humane Society's Cats at Work Project, a program that removes feral cats from dangerous situations and puts them in new homes where they can control Chicago's rampant rodent problem. The brewery staff struggled with rats before their feline friends swooped in to save the day. They even named one particularly massive rat "Jesus" after repeatedly coming face to face with him. But since the four cats have been working at the brewery, the staff hasn't seen a single rodent. Having the Ghostbuster cats has also proven much more cost-effective than monthly extermination treatments that didn't work. The cats spend a lot of time lazing around the brewery, but just their scent is enough to keep rats at bay.

Listen to the entire Podcast of this show (#1139)