Driving With Pet as Dangerous as Texting

About two-thirds of dog owners surveyed by the AAA organization said they routinely drive while petting or playing with their dogs, sometimes even giving them food or water while maneuvering through traffic. Dogs inside wrecked vehicles often become territorial and protective of their owners. When police and emergency-responders try to rescue injured occupants, sometimes leaving authorities no other option than to shoot the animal in order to help the driver and passengers.
We Can Send a Man to the Moon
Yet there is still no definitive answer as to "how cats purr." Many theories exist for the reasons behind the comforting sound. Animal Radio's own Joey Villani has a plan for grooming your cat. You bet she'll be purring the whole time.
A Warning To Guardians That Travel By Air

After 7 puppies died of heat exhaustion on an American Airlines flight, it's more important than ever to bring your pets in-cabin for any flights, just to be safer! The temperature plays a big part. Fatalities start when it gets into the eighties.
Kenny's Closet Dog Consignment Clothing
Why spend so much money on bedazzled clothing for the diva-dog in your life? Now you can get and sell gently used duds online through a community that Garnell Shumate created.
Disney Opens Water Park for Dogs

A brand new pet resort catering to man's best friend is opening courtesy of Walt himself. 50,000 acres of romping room can accommodate dogs, cats and iguanas for as little as $40 a night. Your furry friend will enjoy top of the line accoutrements and a flat-screen TV. Good luck getting them to go home again!
Listen to this Animal Radio® episode


Get 25% off by entering "radiospp" in promo code box
Joy Behar's Furry View
Comedienne and co-host of The View, Joy Behar is back on Animal Radio®. "My daughter and her husband share custody of two mutts (Gracie & Tallulah) and a cat that weighs as much as the dog," says Behar. Despite what dog trainers say about letting your dog sleep in bed, her dog is always welcome. "You can always find an marriage counselor that says 'don't let your husband in bed.'"
Get Your Cat a Career
With the economic pressure being felt in every strata of society, more members of the household are being asked to step-up and contribute, Dogs have been doing this since the dawn of history. But what about cats? What have they been doing between 9-5 while we've been out working to support them? Ann Dziemianowicz has career ideas and interview tips for your feline (and a really long last name too).
We're Not Immune
Dr. Debbie's own dogs have a nasty skin infection! "Why is it my pets are the last to get vet care? My dad works on cars and our family car was always in primer, had dents, or in need of repair," says Dr. Debbie.
Cat Owner Marinates Cats in Peppers an Oil

In what has to be the strangest story of the decade, police arrested 51-year old Gary Korkuc after a disturbing discovery during a routine traffic stop. His cat 'Navarro' was inside a boot marinating in oil, salt, and crushed red pepper. Korkuc reportedly told officers he was punishing the cat for being ill-tempered, and he intended to eat it.
Listen to this Animal Radio® episode


Get a Stella & Chewy's Sample - Lowest prices Online!!

Pet Friendly Trends

The days of sneaking your dog up the back stairway at the Motel 6 are over. More and more travel destinations accept pets. Even better, many are rolling out the red carpet explains Kimpton Hotels 'Top Dog' Steve Pinetti.
Dogs Affected by PTSD

A military veterinarian has diagnosed a bomb-sniffing dog with Post Traumatic Stress Disorder (PTSD). Gina, a 2-year-old German Shepard stationed in Iraq, suffers from the same disorder that afflicts many humans.
Largest Pet Food Recall in Since Menu Foods
Giant pet food company Procter and Gamble has expanded its voluntary recall of selected brands of its dry dog food over fears it may be contaminated with salmonella. The pet food which should be trashed or returned for a refund are Iams Veterinary Dry Formulas, and three Eukanuba lines - Naturally Wild, Pure and Custom Care Sensitive Skin with 'best by' dates between July this year and December 2011.
Service Iguana

The owner of a four foot long iguana has had the last laugh on a Maryland Council which tried to ban the pair from walking in public. Wayne Short was outraged when Ocean City Council passed a special law banning him from taking Hillary for strolls along the boardwalk on a lead. However, Hillary is not just any old lizard and Short now has the paperwork to prove it. He applied for and was given permission to register his pet as a certified disability service animal.
Listen to this Animal Radio® episode


Have We Gone Overboard?

Is it possible to become too attached to a pet? Pet owners express love for their pets in different ways and to different degrees. Americans spend well over $47 billion on their pets, showing how important animals are to their homes and lives. Did you know that people spend more on pets than on movies, video games, and recorded music combined? After consumer electronics, the fastest growing retail industry is pet care. Allen Anderson evaluates our love of our furry-friends.
Micro Mini-Pig Craze

Chances are your favorite celeb has already adopted a new breed of micro-pigs. Pig expert and rescuer Victoria Bragg explains why these critters make such good pets - and how to pick 'em.
What Would You Do If It Was Your Pet?
Oh, that dreaded question. Pet parents often ask this question to their family veterinarian when struggling with difficult pet care choices. The question is honest and sincere enough when posed by a loving pet family, but on the receiving end ... the question serves as a double edged sword. "The honest answer is that I, as a veterinarian, might opt for care that you never would. For myself, there is no financial decision to consider ... It's like the auto mechanic that has the ability to fix his car without concern for costs," says Dr. Debbie.
Who is Imitating Who?
Results of a study conducted by Friederike Range at the University of Vienna's Dept. of Cognitive Biology show dogs do indeed copy our body movements and behaviors.
Listen to this Animal Radio® episode


Get a FREE BAG of World's Best Cat Litter NOW!

City Folk: 'My Dog is Like a Child to Me'
(UPI) -- People with city backgrounds tend to see their pets as family members while those with rural backgrounds tend to see pets as animals, U.S. researchers say.
"Which makes sense given the utilitarian relationships people in rural areas are more likely to have with a range of different animals -- from farm to wild animals," David Blouin of Indiana University South Bend says in a statement. "People who think of their pets as their children often re-evaluate this thought when they have human children of their own."
Whether the pet was seen as a child, a companion or just another animal, albeit a useful one, affected the frequency of owner-pet interactions and veterinarian visits, Blouin says.
Veterinarians were visited at least yearly by 93 percent of dog owners and 77 percent of cat owners, and pet owners spent 2 or more hours daily were with their pet by 81 percent of dog owners and 67 percent of cat owners, the study finds.
The findings were presented at the annual meeting of the American Sociological Association.


Get Headlines emailed to you, or catch them on

Twitter and

Facebook.



New Disney Resort Pampers Pets

LAKE BUENA VISTA, Fla. - Pluto never had it so good: The next major attraction to open at Walt Disney World won't be for the kids - it will be for the dogs.
Best Friends Pet Resort, scheduled to open Aug. 27, will offer not just boarding, but also bedtime stories and a water park for dogs.
The luxury facility will accommodate way more than 101 Dalmatians. With more than 50,000 square feet of space, half of it outdoors, it has room for 270 dogs, 30 cats and assorted other animals, including birds, potbellied pigs and small mammals such as hamsters and guinea pigs. (Sorry, no turtles, snakes or lizards.)
Standard indoor boarding for dogs runs $37 nightly. For additional fees, you can get services such as doggy play group or bedtime stories for pooches accustomed to snuggling up with children while a parent reads aloud. (On the Best Friends reading list: The Poky Little Puppy.)
Upgrades for dogs include vacation villas with outdoor patios and flat-screen TVs for watching videos such as Homeward Bound ($59), or 226-square-foot luxury suites ($76) with private outdoor play yards and personal pet concierges.
Cats can choose between two- and four-story condos.
In addition to the water park, Best Friends offers play groups, outdoor runs, walking trails and areas for playing ball or Frisbee.
Pets can be left for the day without overnight boarding, and owners can drop by to visit or play on their way from hotels to the park.
"We know that people who bring their pets with them to Disney want to see their pets," said Deb Bennetts, spokeswoman for Best Friends, which operates more than 40 pet-boarding facilities around the U.S. "If they were simply going to board their pet, they would board their pet at home. They want to see and interact with their pet while at the resort, so we've made it easy for them to do that with all of this wonderful outdoor space."
The Best Friends resort will replace five existing kennels at Disney World and will be on Bonnet Creek Parkway within the Disney complex directly across from the Port Orleans resort.
See Animal Radio® News Headlines



Ask the Animal Radio® Dream Team



Listen to Animal Radio® LIVE every Saturday at noon eastern and Sundays at 5pm eastern on XM ch. 158 (America's Talk) or on any of the 99 AM-FM radio stations. Call with your questions toll-free 1-866-405-8405 or email yourvoice@AnimalRadio.com

Sandy Garretson: It's a pleasure to have access to you through email. I listen to Animal Radio on a regular basis and respect your professionalism and your kind heart.
My situation is I have 3 miniature schnauzers 2 of which develop struvite crystals unless I feed them a prescribe dog food. I am very concerned since the first ingredient is corn. The vets have told me to prevent the crystals my dogs must continue on this type of food for the rest of their lives. They are now 7 and 8 years old. The other schnauzer does not develop crystals. Over the years I have tried different foods but with no success one of of which was Wysong Natural Dog Food which has been around for years and is excellent. After 3 months my dog's urine had high levels of crystals, so back to Dr. Hills food.
Is there any alternative for my precious pets? One of my dogs has several obedience and agility titles and was outstanding in the ring and on the field. In the last 2 years she has developed a breathing problems and get exhausted within a couple of minutes. I had her examined by a vet specialist who found nothing wrong with her lungs, heart, ability to release body heat and whatever else he could think of. $800.00 later nothing was found. Yet, my dog is unable to run as before and begins quite quickly to pant and lays down. I don't know if it has anything to do with her diet but I thought you may have some experience with this problem.

Dr. Debbie: Hello and thank you for your kind words! I'm glad to be able to help pet lovers just like you.
For pets that have a documented problem with struvite bladder stones, I have to advise to stick with a prescription pet food. Diets on the general market are not designed with urine crystals in mind- it is no fault of those foods, but this is a special problem that requires special feeding guidelines. I regularly use Hill's C/D and S/D foods for my patients and I have no concerns with it. Corn is not a bad ingredient in dog foods- the concerns with corn in dog food is over exaggerated in pet websites. Corn is a good source of energy and carbohydrate which is fine for the typical dog. But if your pets had food allergies then perhaps we'd suggest avoiding corn based foods. There are other companies that make struvite prevention diets such as Royal Canin and their S/O diet. It just depends which works best for you and your veterinarian.

In regards to your agility dog's exercise intolerance.....this is a tough one. Exercise intolerance is a challenging clinical sign that usually warrants extensive workup, and tests. And although you've already spent alot in evaluating this, the workup gets even more costly as the veterinarian works to a diagnosis.The main 3 causes of this type of exercise intolerance fall into these categories: 1. Cardiovascular, 2. Muscular/neuromuscular 3. Metabolic. I would of course also make sure that your baby isn't suffering from osteoarthritic pain and treat with medication if that is a possiblitiy.

I'm not sure what specific testing your veterinarian has done so far but to evaluate the above categories it could include:
bloodwork like: cbc/chemistry panel/thyroid panel/urinalysis, adrenal testing, heartworm test, rickettsial testing, fungal testing, myasthenia gravis testing
chest and abdomen xrays
cardiac ultrasound
bronchoscopy & airway sampling (transtracheal wash)
electromyography
muscle biopsy

An additional thought, if you have any dog racing tracks in your area, you might do well to consult with a veterinarian that works in the area of veterinary sport medicine as they may have special experience that could be helpful as well.

Best Regards to you and your furry ones!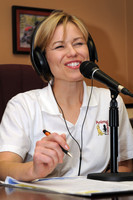 Marcy Benghiat: My 6 year old male neutered cat has started spraying both in and outside the house. At least we think it's him. We do have 2 cats but we have seen him spraying outside.
There has been no noticeable changes in our home. It's been going on for about six months. The intervals between occurrences range from every two weeks do every day. It's been a little more frequent the past few days. I am taking him to the vet this weekend to make sure there is no infection but I am not hopeful that will be the case.
I dread the thought of putting him to sleep. Any suggestions?
Dr. Debbie: Sorry to hear of your kitty's urine marking behavior. Once urinary infection, kidney disease, and other health issues are eliminated, then we work at the heart of behavioral therapy and litterbox environment changes. I find many cats have a combination of both health issues AND behavioral triggers for this type of urine marking. And for cats that spend time indoor and outdoor- they will often have additional urine marking issues due to social pressures of those neighborhood kitties. If behavioral triggers are suspected then behavioral medications may be warranted. Let me know more info- what his health findings were as well as the litter box environment, location, and number of boxes in use. Then I may be able to give you more specific suggestions.

Listen to Dr. Debbie on Animal Radio®

Get $20 off by using the promo code "animalradio"
How To Cover Up A Grey Muzzle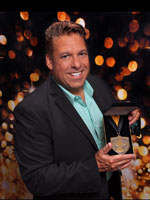 Some dogs develop grey muzzles as they grow older. But you don't have to live with it if you have a brown, black or red dog. (Unfortunately, this tip doesn't work on the lighter haired dogs.)
You can use the same thing on your dog that a man would use to cover his grey beard - Just For Men! It works like a charm. Take the product and mix it according to the original directions for humans and comb it through. But be careful that your dog doesn't lick it. While he has the Just for Men on, distract him by getting him excited. You want him to forget that he has something on his muzzle. After about 5 minutes, rinse it off.
It works like a charm and your male dog goes from looking like an old man back to a young stud; while your female dog will start turning those puppy heads again!

Best Pet Manicure In The World!
After seeing Joey and seeing how he looks - you would not expect him to be able to give the best pet manicure in the world! But, guess again- he is! He has some great tips to make anyone a great pet manicurist!
He states it is always easy on a dog that has shaved feet like a poodle, but then he will get some maniac that wants their pet's nails painted. (Actually, those maniacs are the ones who pay for his wife's Neiman Marcus credit card bill!).
What he normally does is use a "vet wrap" between the toes. This exposes the nails. He then wraps it around the top of the foot. This is easy to do if you have a grooming table and a well-behaved dog.
But when you're home, it is a little bit more difficult. To start with, cut your pet's nail and file them down. Then, to make it easier, get a heavy gauge plastic bag like a Ziploc. Put your dog's foot in the bag and pop each nail through. This way, the toes are spread automatically and the hair is moved out of the way and doesn't get polish on it. You can then use human grade nail polish on your dog's nails, but nail polish for pets will usually dry quicker. Finish painting one foot at a time before going to the next.
And to make it even easier, you can air brush your pet's nails. Just spray it on and then put a clear coat over it. If you follow these awesome tips, you too can be a great pet manicurist!
Listen to Joey Villani on Animal Radio®

Get a FREE BAG of By Nature Cat or Dog Food NOW!
Careers For Your Cat
With ever-growing economic pressure being felt in every strata of society, more members of the household are being asked to step up and contribute. Dogs have been assisting the human labor force since the dawn of history by hunting, herding, guiding and guarding us for millennia. But what about cats? What have they been doing between 9 and 5 while we've been out working to support them?
Cat career coach Ann Dziemianowicz helps our furry companions navigate the increasingly high-stakes feline job market and streamlines the kitty job-search process by giving cats the tools they need to identify skill sets and make sound employment decisions, in her new book Careers For Your Cat.
So how do you decide just what career is appropriate for your cat? You can help them by identifying their skill sets with the Meowers-Briggs Personality Quiz. This is designed to provide an accurate assessment of your cat's personality type. For example, are they a creative extrovert? A creative extrovert is a gregarious night owl and is always the life of the party. They may even have an attitude problem. A career for this cat may be an interior designer who is able to make those inventive fabric alterations and be able to deconstruct a sofa in no time at all.
When you find the career appropriate for your cat, what happens next? Well, they need to attend an interview. Ann gives some tips on acing that interview. First of all, don't show up with fish breath; don't sit on the interviewer's lap; and don't play with the objects on the interviewer's desk. And when you first enter the room, you may want to come in normally instead of dashing haphazardly into the room.
So help your cats land their dream jobs and let them bring home the bacon once in a while so you can sit back, relax, and take a well-earned catnap.
Listen to Ann Dziemianowicz on Animal Radio®
GJW's Titmuss Guide to Tackling Dog Obesity
(j hodkinson) Obesity is not only something prominent in the human world it also affects our treasured pets. There are many ways we can tackle the issues and ensure our furry friends live on for longer.
Recent reports have shown that pet owners have become lazy and less caring towards there canine friends. It has been noted that dogs are now being left for long hours without any care and regular exercise. Over twenty percent of owners do not give their dogs the recommended daily exercise (Kennel Club, conducted by One Poll who surveyed 1,000 people).
We all know that dogs love to get their chops on anything that is regarded as human food. For example, bacon scraps, chicken skin, and even cheese are all a huge treat outside their regular diet. However too much of these foods can lead to weight problems and like humans, dogs struggle to burn off the extra calories.
So if your dog is overweight from selecting the wrong pet supplies what should you be thinking about?
The answer is healthy low fat dog treats and plenty of exercise.
Healthy, low fat dog treats.
Light bites dog treats - Light Bites are delicious, tasty bone-shaped treats made from rice, turkey and sunflower oil. Lower in fat than most other dog treats with no added sugars, artificial colours, flavourings or preservatives. They are specially made for hypo allergenic dogs.
Pedigree Low fat milk biscuits- These low fat biscuits are nutritional as well as tasty and come in treat size which makes them great as rewards and training aid.
Low fat twizzlers- These tasty treats are low in fat and combine flavoursome meats that your dog will love. The chews are soft and provide a tasty morning or evening snack.
Cutting down the amount of meat and dried mixer for meal times is also a quick and easy solution to curbing your dog's diet and ensuring he/she is not over eating.
If you don't find the time to walk your dogs, find a dog walker. There are plenty out there that offer reasonable prices for their services and have a high reputation for caring and keeping your pets safe. This way you can be guilt free if you leave the house and return home later than expected.

Making sure your dog gets out for plenty of exercise is a key factor to ensuring it has a happy and comfortable lifestyle. With owners now having very hectic schedules and struggling to make time to take their dogs out, the issue of obesity is still present. If you are taking breaks away during the summer then remember there are some beautiful places to visit that are 100% dog friendly so you don't have to leave your furry friends at home.
Playing with your dog and giving them regular attention can also stimulate the brain, ensuring a healthier and longer life. As dogs get older they don't necessarily need as much exercise but they do still need some kind of walk.
Don't forget that a dog is for life and even when they grow up from being excitable puppies, they still need the love, care and attention as always.

GJW's Titmuss


Animal Radio® Newsbreak
with Jen Austin
First State to Ban De-Barking
Massachusetts has become the first state to ban de-barking surgery on dogs. The surgery cuts or removes vocal chords to silence dogs. Massachusetts says anyone caught doing that can be sentenced to prison for up to 5 years. Devocalization is often done by commercial breeders for convenience. Opponents of the law say this will result in more animals being abandoned or turned into shelters.

Blind Cat Makes His Way Across Country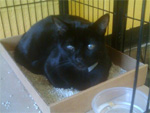 How can a cat, who is nearly blind, travel all the way from San Francisco to New York? Well, last year a cat named Jack Daniels was abducted from the San Francisco SPCA. About a week ago a nearly blind cat was discovered on 110th street in New York City, and thanks to a microchip, he was traced back to the San Francisco shelter. No one knows how exactly Jack Daniels traveled coast to coast.
What Would You Give Up - The Internet or Your Pet?
Is your pet a want or a basic need? Many of us can't imagine life without our pets and we would probably say it's a need. A USA Today survey says 51% of us consider pets and their care to be a basic need. Actually, most people think the Internet is a more basic need than having a pet. About 8 in 10 can't live without getting online.

Pet Friendly Dorm
Many college students are moving into dorms right now, and I don't know about you, but I wasn't able to have my pet schnauzer move into the dorm with me when I was in college. You? Actually now at Stetson University in Florida, a pet friendly dorm has been introduced. It will house 31 students and 20 pets, including cats, dogs, rats, guinea pigs and a fish. Just like many apartments, Pit Bulls, Rottweilers, and Chows will be prohibited.
Man's and Woman's Best Friend!
It turns out dogs may literally be humankind's best friend. A new survey conducted by a dog food company in the UK discovers that 1 in 5 women tell their deepest, darkest secrets to their dogs and nearly 1 in 10 women AND men think their dogs can read their minds. Sometimes pets are the only ones who truly listen!

Check Your Pet's Toenails
Here's a quick fact that may be helpful. Many foot disorders in dogs are related to long toenails. Check your dog's nails once a month and trim when necessary, avoiding the vein. The trick is getting them to sit still!
Keep Your Toddler Out of the Pet Food!
If you've got a toddler you know they're into everything, including pet food. A new study shows that contaminated pet foods can not only sicken pets, but also people. One salmonella-related outbreak from 2006 to 2008 sickened 79 people, half of whom where age two or under. The study also shows most people feed their pets in or near the kitchen and failing to wash their hands after feeding can spread bacteria.
New Additions for Pamela Anderson
Pamela Anderson did her part this week to help dogs who have become victims of the Gulf Oil Spill. About 50 dogs were re-located from Louisiana to Virginia and Pam Anderson was on hand to inspire us to adopt. Now in Virginia, PETA is working with the Virginia Beach SPCA to find new homes for the animals. Anderson actually ended up adopting two of the dogs herself.
Hero Dachshund
We've heard that dogs have an incredible sense when there might be danger, and on that note a great dog hero story. An 11-year-old Dachshund's owner in Oregon recently had heart surgery and was recovering at home when he collapsed. The dog usually doesn't leave the yard unless the owner is with her, but this time she sprinted across the street to alert a neighbor who was outside working. The dog persisted until the neighbor followed, and he was able to call for help. The man, who had heart surgery, is doing just fine now.

Man Denied Name Change to "Boomer the Dog"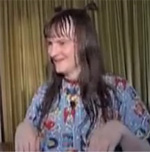 You may love dogs, but have you ever wanted to dress like one and change your name to "Boomer the Dog?" A 44 year-old Pennsylvania man, Gary Matthews, frequently wears dog costumes and legally applied this week to have his name changed to Boomer the Dog. A judge denied the request because he said it would be too confusing. Matthews was asked whether he considered himself more of a dog or a human, and Matthews said "in spirit probably more of a dog."
Feline Fashion Show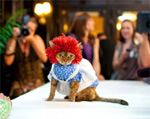 Maybe you've heard of the Algonquin Hotel...it's in the heart of Midtown Manhattan, very swanky place. Well it was home to a feline fashion show this week. Cats in wigs, hats and silky dresses. The photos are online if you'd like to see these cats on the catwalk. Most of them looked none too happy, but then most models don't!
Another Reason to Spay or Neuter
Here's an unbelievable fact that may encourage you to have your pets spayed or neutered: A female dog, her mate, and their offspring can produce 67,000 dogs in 6 years.



(Advetorial)

Automated Pet Care Products, Inc. was founded in 1999 with the purpose of creating the best automatic self-cleaning litter box. Our goal was to make your life as a cat owner easier by eliminating the daily hassle of litter box scooping. An enthusiastic team has created a safe and reliable automatic self-cleaning litter box that really works! It's efficient, works flawlessly, and requires only minimal attention.
The Litter-Robot made its market debut in April of 2000. Made from tough recyclable plastics and industrial grade components, the Litter-Robot(TM) was designed to last. We have built a quality appliance, not a dispensable product that needs to be replaced every year. We stand behind this self-cleaning litter box with an 18-month full warranty.
Try the Litter-Robot in your home with our 90 day money back guarantee. Find out for yourself that the Litter-Robot is the self-cleaning litter box that really works. If you or your cat are not completely satisfied with the Litter-Robot, for any reason, just return it within 90 days for a refund (less shipping). Give the Litter-Robot a try, you will never have to scoop a litter box by hand again.
The product development team at Automated Pet Care Products welcomes any comments and suggestions you have on how to improve the Litter-Robot or if you have a great idea for another pet product that would make your life easier. - Brad Baxter, President Automated Pet Care Products, Inc.
(End of Advetorial)


Animal Radio® Proud to Sponsor "Get Your Licks on Route 66"

For the second year, North Shore Animal League America, the world's largest no-kill animal rescue and adoption organization, and FIDO Friendly Magazine launch an incredible life-saving tour.
The 2nd Annual "Get Your Licks on Route 66" tour is a national pet adoption event, where the Animal League's 33-foot Mobile Adoption Unit (our Shelter on Wheels) travels the entire length of historic Route 66, from Illinois to California on an extraordinary 4-week life-saving tour.
Stopping at partnering animal shelters in key cities along the route, the adoption tour raises national awareness of the plight of homeless pets, enhances shelter visibility and increases pet adoptions.
"Get Your Licks on Route 66" Kick-Off Event
The kick-off for this life-saving tour will be held on Friday, September 10th, at Chicago Heights City Hall, where Mayor Alex Lopez will present the Animal League with the Key to the City. The tour's partnering shelter, South Suburban Humane Society, will also host a maiden "Get Your Licks on Route 66" adoption event.
The Mobile Adoption Unit will then travel across eight states: Michigan, Illinois, Missouri, Oklahoma, Texas, New Mexico, Arizona and California for nearly a month, culminating with a final wrap-celebration and adoption event with the City of Los Angeles, Department of Animal Services.
Celebrate your pets right now at AnimalRadio.com


Copyright 2003-10 Animal Radio®, its logo and Animal Radio Network(TM) are registered trademarks of Animal Radio Network LLC. All rights reserved. Submissions for newsletter, programming, editorial comments and opinions may be sent to: YourVoice@AnimalRadio.com. See our website for additional information.
This posting includes an audio/video/photo media file: Download Now