Animal Radio® Show #835


From Wags To Riches
You've most likely seen his work on film even if you don't recognize him. Bill Berloni is an animal trainer for stage and screen. His reality series on the Discovery Channel follows him around as he trains animals from the shelter for TV and movies.
Deadly Old Wives Tales
Dr. Debbie says using Chewing Tobacco to worm your pet could kill them. Still, that's one of the more popular Internet home remedies for pets. Please don't rely on Dr. Google to treat your pets for any sickness or disease. It could easily lead you down the wrong treatment path.
ASPCA Changes Stance On Pet As Gifts
A few years ago, pictures of all kinds of pets in overcrowded animal shelters filled social media as a warning against giving pets as Christmas presents. The ASPCA was just one of several organizations against the idea. However, they've changed their tone. Recently, the ASPCA conducted a survey to learn more about people who acquire pets as gifts. The vast majority of these pets are still in the home.
Canine Motion Sickness
Just like humans, dogs can also get sick in the car. But the reasons may be different. Dr. Debbie will help you determine the best way to approach this common problem. There are even medicines that are indicated for canine motion sickness.
Using Pets As "Date Bait"
A new survey reveals that owning a dog boosts a man's sex appeal and 1 in 5 people admit to using their pets as 'date bait.' The survey conducted by Match.com also found 1/3 of women and 1/4 of men have been attracted to someone because of their pet. Nearly 50% of the women said they judged potential partners on how they responded to their pet. 54% of men said they wouldn't date someone who didn't like pets.
Listen to this Animal Radio® episode

Buy 1 Get 1 FREE with code ANIMALRADIO




Animal Radio® Show #834


Charlie Daniels Guests
Probably one of the best Country music performers of our time, Charlie Daniels is our special guest. He raises Quarter Horses and pines for a dog after his tour is over. He's 79 years old and sharp as a fiddle. In fact, he's a self-taught fiddler.
Women Who Still Love Cats Too Much
Allia Zobel Nolan is a self-proclaimed "crazy cat lady." She ought to know, she wrote a book on the subject. You'll be shocked when you hear the bizarre things she's done in the name of cat-dom.
Microchip Saves The Day, Again.
Disco the dog has been returned to her owner and home in Australia because she was chipped. Disco had been missing for 5 long years! The dog was initially found by an "elderly couple," and given to a younger family. During her time with the family, Disco was attacked by another dog and was surrendered to an animal hospital because they couldn't afford the vet bills. Luckily the hospital checked for a microchip. Dog and owner were reunited.


Laundry "Pods" Problematic
The Animal Poison Control Center has put out the alert. Those little laundry detergent jelly-like things called pods can pose a serious danger to pets if they're swallowed. Because they're small, soft, and usually come in bright colors they may be tempting to pets. They contain detergents that can cause major stomach upset and irritation to an animal's upper airway if ingested.
Listen to this Animal Radio® episode
Animal Radio® Show #833
John O'Hurley is Back
Co-host of NBC's Thanksgiving Day National Dog Show; actor John O'Hurley (J. Peterman on Seinfeld) is back for the 14th year to share fun stories about the dogs in his life. He'll also take a stab at pronouncing the new breed names in this year's Thanksgiving Day show.
Country Star Tanya Tucker Guests

Musician Tanya Tucker joins the Thanksgiving celebration live from Nashville. She has a menagerie of animals and plenty of anecdotes to go around. This is the first time for her on Animal Radio€¦we'll be gentle. But this ain't her first rodeo.
Banning Shock Collars
The Scottish government is asking residents there for their opinions on electric shock collars, used to train cats and dogs, and if they believe the collars should be banned. Wales, Sweden, Denmark and Germany have already banned shock collars, but supporters of them say they can be used successfully as a last resort - and have compared the pain inflicted to a static shock. Meanwhile, shock-collars are still legal in the United States; the usefulness is still in question. Sometimes a dog will "take the hit" if his/her drive is high.
My Cat from Hell

Animal Planet host, Jackson Galaxy is back to yap about his awesome new book. Jackson and Kate (his partner in crime) will show you how to make your house cat-friendly without forsaking aesthetics.
Listen to this Animal Radio® episode

Animal Radio® Show #832
NBC's David Frei is Back
Co-host of NBC's Thanksgiving Day National Dog Show; David Frei is back for the 14th year in a row to celebrate all the new breeds you'll be seeing on the worldwide TV special.
America's Got Talent Loser Wins
Comedian Doogie Horner was almost booed off the stage on America's Got Talent. He was able to turn the boos into cheers. He's riding high with a brand new book featuring fictional feline stories.
To Vaccinate or Not To Vaccinate
People who embrace the anti-vaccination movement and forego immunization for themselves or their children against certain human diseases are in some cases extending their attitude to pets. So you can be a pet or a people anti-vaxer these days. A number of veterinary clinics now say they have clients who refuse vaccinations for their dogs or cats. In some cases people don't want to vaccinate their dogs because they're scared that the vaccine will harm the animal.
Halloween Stats Are In

Americans spent $350,000,000 on pet costumes this last year. The top 10 states where people live that are most likely to dress up their dog in a costume is Virginia, where 64% of residents dress dogs in costumes, followed by New Jersey, Pennsylvania, South Carolina, Missouri, Ohio, New York, Wisconsin, Michigan and Oklahoma.
Listen to this Animal Radio® episode
Have you downloaded the free Animal Radio App for iPhone - Android - Blackberry? It's been updated and it's better than ever.
-Ask Veterinarian Dr. Debbie White and Dogfather Joey Villani your pet-related questions directly from the app.
-Get up to the minute news and recall alerts.
-Watch videos.
-Listen to current Animal Radio show or browse archives.

-Browse our knowledge-base.
-Call us directly on the Animal Radio App Hotline.
Launch the Animal Radio App at least two-times to be entered to win weekly prizes.
Free Pets and People Drug Discount Card

You may already know how expensive pet medication can be. Especially when pet insurance doesn't cover drugs.
Animal Radio® wants to help out. We don't want any pets to go without the medicine they need.
Animal Radio® made a deal with the top pharmacies to save you up to 55%.
- The Animal Radio® Pets & People Drug Discount Card is FREE.
- It offers 15-55% discount on pet medicines or uninsured human medicines.
- It's usable at almost 60,000 pharmacies, including Walgreens, Wal-mart, Rite-Aid, Target, Costco, CVS...all the biggies!
- Card is pre-activated and never expires.
- You can learn more and print out the FREE card online HERE
Or, if you would like us to mail you a free card, send a self-addressed stamped envelope to:
Animal Radio Drug Card,
699 Paula Street,
Morro Bay, CA. 93442
Please help spread the word. Your friends will thank you.
Animal Radio® Show Highlights
Animal Radio® is now on iHeart Radio!! Listen to full shows or Listen to highlights

Homeless People and Pets
Dr. Gillian Squirrell researches homeless people and their dogs. Should the homeless have pets?.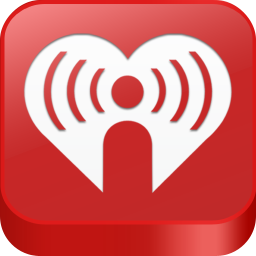 Listen Now


Fleas and Acne Talk on Animal Radio
Dogfather Joey Villani and Dr. Debbie have the lowdown on fleas.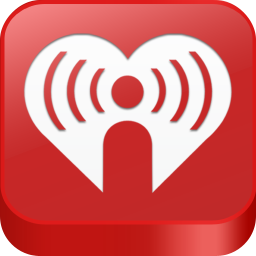 Listen Now

Comedian Kip Addotta Guests
Legendary comedian (and the genius behind "Wet Dreams") Kip Addotta has his own tips for getting rid of fleas. He says his cat learned how to use the toilet just by watching him.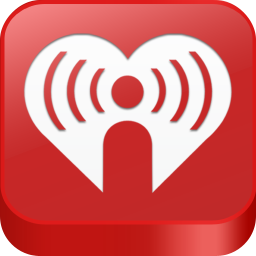 Listen Now

Tayna Tucker Guests
Probably our most charismatic guest, country music artist Tanya Tucker spends the show yapping with us about her Chihuahuas and horses a whole lot more.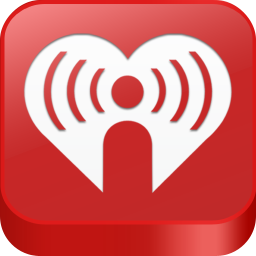 Listen Now
TailsInc December Pet Events Calendar
Janice Gork delivers the monthly pet events calendar.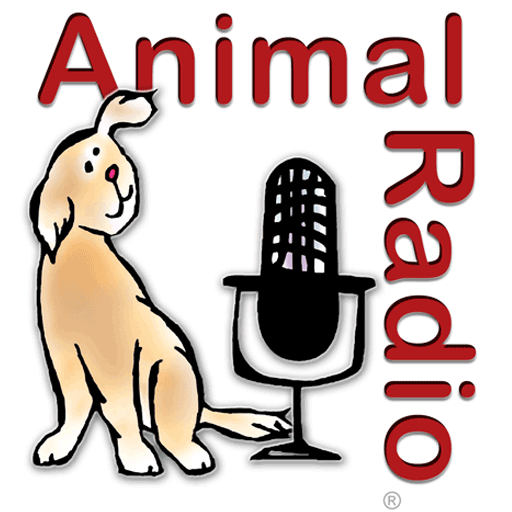 Listen Now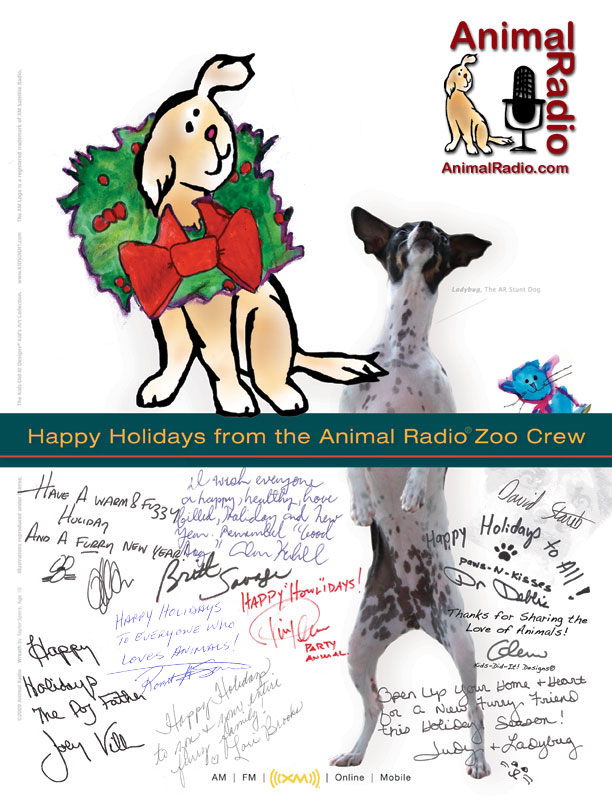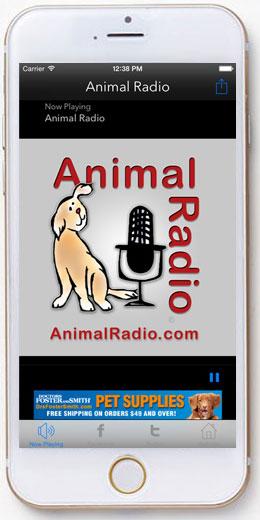 So many ways to listen to Animal Radio®. We're on 131+ AM/FM stations, the Animal Radio® App for iPhone/Android, iHeart Radio, iTunes, Stitcher, Live365, TuneIn, Spreaker and Podcast. We're available wherever you are!

The Animal Radio® APP is available for Android and iPhone. Listen on your schedule. Ask our Dream Team questions directly from the App. It's a FREE Download! It's made possible by Drs. Foster & Smith.
---


Copyright 2003-15 Animal Radio®, its logo and Animal Radio Network(TM) are registered trademarks of Animal Radio Network LLC. All rights reserved. Submissions for newsletter, programming, editorial comments and opinions may be sent to: YourVoice@AnimalRadio.com. See our website for additional information.