American Idol's Bo Bice Guests
Since topping the charts, musician Bo Bice has been keeping active with tour dates and a new album to benefit flood victims. Bo travels with his two dogs wherever he goes. He has an English bulldog named "Sally" and a bagel (Beagle/Basset Hound) named "Gracie." Bo says the best person won Idol, "coming in second to Carrie Underwood isn't bad."
Giving Animals Grades
Jacob Lentz is Jimmy Kimmel's writer. He's a funny guy and he's penned the book The Animal Review. Using a secret proprietary method, he ranks all animals with letter grades between A-F. You'll be surprised to hear who flunked. You'll laugh so hard your drink will come out your nose.
Smell My Paw

Can you smell a sick pet? For many in veterinary medicine, the answer is yes. Veterinarians use all their senses when examining an animals. Dr. Debbie loves the odors of her profession. Diabetes has a sweet, fruity odor to breath. Kidney disease has a strong odor of decaying flesh smell to breath. Yeast infections smell like stinky corn chips.
More Recalls
Yet another pet-food recall. This time on vitamins. Salmonella is to blame in the last rash of recalls. And why has this become a weekly occurrence? Why can't we make safe food for pets just like we do for humans?
Listen to this Animal Radio® episode


Steve Garvey Celebrates the 4th at Animal Radio®

Dodger Legend Steve Garvey joins us for the All-American holiday weekend to celebrate pets everywhere. Garvey says he's the opening act for 'Tillman the Skateboarding Dog' at his new job as spokesperson for Natural Balance Pet Food. When Natural Balance asked if Garvey would skateboard alongside the dog, he replied "absolutely not unless you strap me on and put cement around my ankles." The baseball-guru will be hosting "Dog Days" at several baseball games across the country. He said there's nothing more American than pets at a baseball game. And despite 500 or so dogs inside an arena, it all goes smoothly. "Ironically the dogs are very quiet during the game until the fans start cheering."
BP Hires IBRRC For Bird Cleanup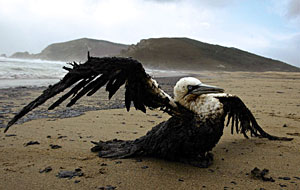 Jay Holcomb of the International Bird Rescue Research Center (IBRRC) responds to oil spills to cleanup birds. He doesn't have great things to say about the company that hired him to clean the birds in the gulf spill. He predicts a big hurricane force storm will end up making the spill worse. Holcomb says "the oil sitting on the water will be whipped into a frenzy and cover all these little birds, probably by the thousands."
AP Releases First Pet

The Associated Press has compiled photos and stories of all the animals that have lived in the white house. While cats and dogs are common, you probably couldn't imagine all the different species under the Kennedy administration. Editor Chuck Zoeller joins us for some non-partisan conversation about the First Pets.
Listen to this Animal Radio® episode
Reducing Your Pet's Carbon PAWprint
ABC Good Morning America's Dr. Marty Becker is greening Fido with tips to save money and the environment. He also shares some behind-the-scenes veterinarian gossip.
IAMS Recalls Pet Food
Animal Radio® News Director Bobbie Hill has all the details behind a new pet-food recall. This time it isn't because something is IN the food, but because something is missing.


Clean Teeth - For So Many Reasons
You ever wonder why your vet 'flips' your pets lips to see the gums? Dental health tells a big story. Poor dental health can lead to organ failure, infection and death. Start brushing your pets teeth when they're young with Joey Villani's tips.
What Veterinarians Talk About

Dr. Debbie is talking about a guy that called because his dogs were "stuck" together and he couldn't get them separated. After several frantic attempts to separate the dogs with water, yelling, etc - she explained that they are actually "stuck" in a completely natural breeding tie.
Listen to this Animal Radio® episode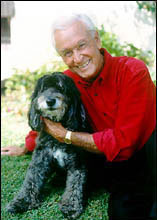 The Price Is Right For Bob Barker
Animal Radio® regular, retired TV host Bob Barker is sharing more fun stories about the animals that he's rescued. Barker asked if we remembered the hostage crisis in the 70's. "This oil spill in the gulf will be Obama's hostage crisis." Putting his money where his mouth is, Barker is still giving millions to help animals in need.
Sugar Substitute Wreaks Havoc in Canines
Dr. Debbie is on the case of a listener's three labrador puppies that ingested Orbit Chewing Gum with the highly toxic Xylitol sweetener. Keeping your dog away from foods that contain Xylitol could mean the difference between life and death.
Coming Up With Great Pet Friendly Ideas
After being handicapped in the Gulf War, Alan Wald has decided to focus his attentions on several inventions including a talking pet id tag, a food bowl that allows room for droopy ears and Doggie-Doo poop-bag dispensers. He's joined by his wife for this fun interview.


All You Wanted to Know About Hair-balls But Were Afraid to Ask
Britt Savage reports on the ever-so-popular hair-ball. What is it? Where does it come from? Why am I stepping in them every night when I go to the bathroom?
Listen to this Animal Radio® episode


Get a FREE BAG of World's Best Cat Litter NOW!

Wildlife Death Toll Climbs In Gulf Oil Spill - Exxon Valdez Pales In Comparison
(Animal Radio® Newsroom June 21, 2010) The wildlife death toll from the BP oil disaster in the Gulf of Mexico continues to climb.
As of last week, the International Bird Research Center reported 783 dead birds, 353 dead sea turtles and expects the number to continue to climb.
The Deepwater Horizon explosion may have also killed a sperm whale. NOAA spotted the mammal floating 77 miles south of the spill site.
To put these numbers in perspective after 1989's Exxon Valdez ran aground off Prince William Sound 250-thousand birds were killed as were 2800 otters. But experts say the gulf spill is more ominous as it spreads.
Current BP numbers indicate the spill is still spewing oil the rate of the Exxon Valdez every 2 and a half days.
Hear BP employed marine biologist Jay Holcomb on Animal Radio®


Canine Flu Vaccine Approved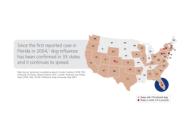 (Animal Radio® Newsroom June 21, 2010) The U.S. Department of Agriculture has finally given the stamp of approval to the first ever canine influenza vaccine.
Canine flu or H3N8, is highly contagious and outbreaks have been reported in 33 states since firsts being identified at a Florida greyhound track in 2004.
The vaccine, Nobivac, has been used limited use over the past year while safety tests were conducted.
Intervet/Schering-Plough Animal Health, the global leader in veterinary biologicals and developer of the novel vaccine.
Cynda Crawford, D.V.M., Ph.D., says "Like influenza vaccines used in other species, the canine influenza vaccine does not prevent infection; however, it significantly reduces clinical disease and the risk for pneumonia, and vaccinated dogs shed much less virus so they are less contagious to other dogs. Vaccine-induced protection decreases the likelihood of an influenza outbreak in a population if most of the dogs are vaccinated."
Nobivac is made from inactivated virus, is intended as an aid in the control of disease associated with canine influenza virus infection and is administered by subcutaneous injection in two doses, two to four weeks apart.
Feline's Pride Pet Food Recall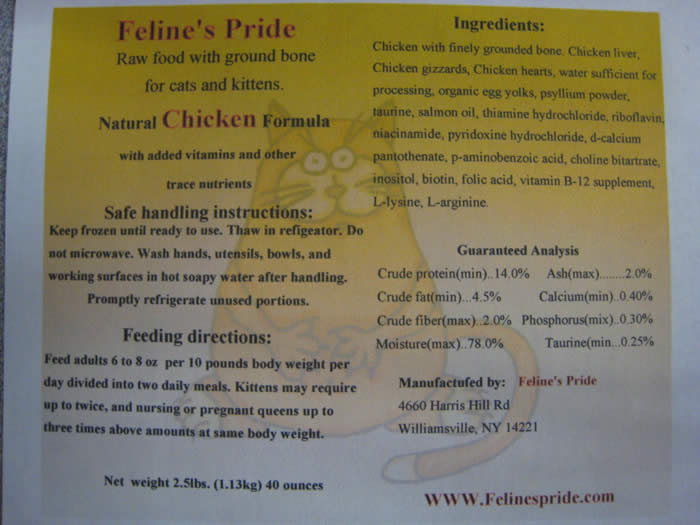 (Animal Radio® Newsroom July 2, 2010) The Food and Drug Administration announced the recall of Feline's Pride Raw Food on July 1st.
The food for both cats and kittens may be contaminated with Salmonella according to the FDA.
The product containing ground bone is the Natural Chicken Formula – 2.5 pound size produced on June 10, 2010.
Feline's Pride is made on an as-ordered basis and is shipped to consumers in uncoded plastic containers. The recall affects only orders that were placed and shipped June 10th through June 17, 2010.
So far, the FDA reports it has received no reports of illness due to the Salmonella contamination but cautions pet owners to thoroughly wash all surfaces and their hands after handling raw food.
Pets with Salmonella infections may be lethargic and have diarrhea or bloody diarrhea, fever, and vomiting. Some pets will have only decreased appetite, fever and abdominal pain. Infected but otherwise healthy pets can be carriers and infect other animals or humans. If your pet has consumed the recalled product and has these symptoms, please contact your veterinarian.

See Animal Radio® News Headlines



Ask the Animal Radio® Dream Team



Listen to Animal Radio® LIVE every Saturday at noon eastern and Sundays at 5pm eastern on XM ch. 158 (America's Talk) or on any of the 99 AM-FM radio stations. Call with your questions toll-free 1-866-405-8405 or email yourvoice@AnimalRadio.com

Ronald Fesner: Okay, if you're really the king of groomers, how do I get rid of my dogs tear stains?
Joey Villani: Anyone who has a light or white dog, especially a Maltese, probably has to deal with tear stains. These stains are a combination of bacteria and yeast. The most common stains you see are called "red yeast." It is a reddish brown stain that runs down the dog's eyes.
Tear stains happen for a number of reasons, such as the eye area being wet all of the time, which allows the bacteria to grow. The stain then gets into the hair shaft and starts turning the hair shaft brown. One it gets into the hair shaft, it become extremely hard to eliminate.
To start with, you need to get rid of the tears stains to make your dog look good. So take a cup of distilled water (use distilled because we don't want all of the other minerals in the water because they can also stain) and boil it and add a teaspoon of boric acid. Boric acid is a little hard to find, but it is relatively cheap. Let it cool down and put the mixture in a jar. This should last about two weeks before it breaks down and you have to remake it. Use a cotton ball to wet the stain area with the mixture (try not to get it into your pet's eyes). This should penetrate the hair and get rid of the stain. However, it will not correct the problem.
The problem can be caused by excessive hair growing into the dog's eyes, it can be genetic, it can even be from food or from an eye infection, allergies or from even being hit in the face. Basically, it can be from anything that will make their eye tear. In rare occurrences, it can even be the tear ducts themselves, which surgery can correct.
You should always keep your pet's eyes dry and wipe them 2 to 3 times per day if necessary. You can also make a mixture of boric acid and cornstarch (50/50 mixture) and apply after wiping. The boric acid is going to help in taking the stain away, while the cornstarch is going to keep it dry.
If you do this everyday, it will probably take about two weeks before you see signs that it is working. Be patient. It took time for it to develop it, and it is going to take time to remove it.
You can eliminate both problems and have your dog end up with nice white eyes if you keep up on this for the entire life of the dog. You will even notice that the smell has gone away as well!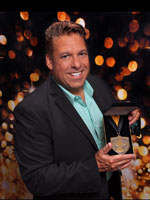 Reese McCarthy: How can I make cutting my dogs nails easier? Right now it's all drama.
Joey Villani: Pets pick up on our feelings. So when approaching your pet to trim their nails, make sure that you approach them with a non-nervous attitude. If you are nervous cutting your pet's nails, they will sense it and not cooperate.
If you are using a nail clipper, find one that is a guillotine or scissor style. In the guillotine style, the blade goes up and down, while the scissor style cuts like a regular pair of scissors. There is also the new grinder type that will file the nail down. Use the one that you are most comfortable with. Also have styptic powder on hand just in case your cut the quick (vein) and it bleeds. This will burn, so before you use it, you should try it on yourself (if you have a cut) to see what it feels like. If you can, have someone help you by holding the pet and controlling their head while trimming the nails.
For your first cut, take a little bit off. After you take a little bit off, look at the nail, and if it is a clear nail, you can actually see the quick itself. It is inside the nail and a light pink in color. You want to get as close to it as possible without making it bleed. If you are cutting a black nail, take off a little bit and look at your cut. The center will become white. You are going to cut off a little at a time until you see a black dot coming through the white center. When you see this, this is the beginning of your quick, so stop cutting. The reason you want to cut it back until you see the black dot, is that when you get this close to the quick, it will pull back and recede. This means that in the future when you cut your pet's nails; you will be able to cut them shorter each time.
As an alternative, if you take your dog for a fast paced walk on pavement, about one mile five times a week, your dog's nails will never need to be cut. Not only will this keep you in good shape, it will also keep your dog and their nails in good shape.
And as a last resort, have your veterinarian or groomer do the trimming.
Listen to Joey Villani on Animal Radio®

Public Events Calendar
yourvoice@AnimalRadio.com
(LOS ANGELES) "Vice is Nice" 1st Annual Poker Tournament & Monte Carlo Night to benefit Life 4 Paws Animal Rescue & Valley Cats Inc.
DATE: Saturday, July 24th, 2010
TIME: Gates open at 6:30 pm till Midnight
LOCATION: 10945 Old Santa Susana Pass Road, Chatsworth, CA
http://life4paws.org/events/2010/casino-night-fundraiser/
(LONG ISLAND) Bideawee Doggie Social
Saturday, July 17, 12 pm - 4 pm
118 Old Country Road, Westhampton, NY 11977
Pups can cool down with a Bideawee dog wash, burn off some energy at the Bideawee Dog Park and Agility Course or demonstrate their greatness by earning a Canine Good Citizen certification. For more information, contact 631-325-0200, ext 118; or visit: www.bideawee.org.



Celebrate your pets right now at AnimalRadio.com

Copyright 2003-10 Animal Radio®, its logo and Animal Radio Network™ are registered trademarks of Animal Radio Network LLC. All rights reserved. Submissions for newsletter, programming, editorial comments and opinions may be sent to: YourVoice@AnimalRadio.com. See our website for additional information.
This posting includes an audio/video/photo media file: Download Now