Have you downloaded the free Animal Radio App for iPhone - Android - Blackberry? It's been updated and it's better than ever.
-Ask Veterinarian Dr. Debbie White and Dogfather Joey Villani your pet-related questions directly from the app.
-Get up to the minute news and recall alerts.
-Watch videos.
-Listen to current Animal Radio show or browse archives.

-Browse our knowledge-base.
-Call us directly on the Animal Radio App Hotline.
Launch the Animal Radio App at least four-times to be entered to win weekly prizes.




Animal Radio® Show #809


Good Dog, Happy Baby
Dog Trainer Michael Wombacher has developed a twelve-step program to introduce your dogs to a new baby or family member. There is no need to get rid of the dog just because you're expecting. If done properly, your dog and child can live harmoniously and thrive together.
OMG - One More Generation
When Olivia Ries was 7-years-old, she started a non-profit organization to save endangered animals. That was five years ago. Since then, she has spoken to dignitaries and lobbied for the voiceless. You'll melt when you hear our young Hero Person.
What You Need To Know About Microchips
A microchip is still the best way to identify a lost pet. However, they're not 100% reliable. Dr. Debbie will tell you what you may not know about the little rice-sized technology. She'll also dispel any myths about the microchip being dangerous or causing cancer.
Dog Walking Pays Well in the UK
Dog walkers in the UK earn a fifth more than the average salary by working just two weeks out of every month. Dog walkers charge an average of almost $18 per hour per dog in the UK and walk 192 dogs per month, which adds up to annual earnings of $41,000, 20% higher than the British national average salary! Does this make you want to re-think your job?
Human and Dog Bond Dates Back Years
The bond between humans and dogs may be much older than we once thought. A group of researchers discovered an ancient wolf bone and say its DNA suggests dogs diverged from wolves as far back as 40,000 years ago and point to the ancient wolf as possibly the most recent common relative of modern wolves and dogs.
Listen to this Animal Radio® episode
Animal Radio® Show #808
Our Hero Saved 400 lb. Drowning Bear
What would drive Adam Warwick to jump in alligator filled waters to save a bear that was drowning? Adam is our special guest this week and he tells an adrenaline filled rescue story. When he's done telling you what he did for this bear, you'll ask yourself if you would've done the same thing.
What to Do With The Poo
Rose Seemann is the author of "The Pet Poo Pocket Guide" and our guest. She has some shocking realities about our pet's waste. There's more poo than we think accumulating in landfills and polluting our environment. She'll be using the gold standard of monumental measurement, the football field. And you'll need a lot of them to house all our pet's poo.
Building A Dog Treat Business
Bri Bradley is co-owner of a brand new dog treat business. What makes her business so different than the hundreds of other dog treats? She customizes the treats for your dog. You tell her what flavors, carbs, proteins and vegetables to put in and she'll bake them and deliver them right to your door.
No Jerky Is Safe
It was thought that China was the source of the jerky that's making dogs sick across America. But new research shows that even US sourced jerky is a problem. The FDA is scratching their head. Nobody seems to exactly understand what part of the jerky is making animals sick. At this time, the best advice is to stay away from all jerky treats.
Allergies for You and Your Pet
Did you know your pet can have a host of allergies this time of year? That might explain the itching, hair loss, and eye issues. Dr. Debbie will try to help you determine the source of your pet's allergies and how to resolve them.
....and of course Dr. Debbie and Joey Villani are answering your pet-related questions, toll-free at 1-866-405-8405.
Listen to this Animal Radio® episode
Animal Radio® Show #807
Laser Therapy on Pets
Animal Radio Veterinary Correspondent Dr. Marty Becker is excited about his new gadget. It's only the size of an iPhone Plus but it has multiple applications in the veterinarian's office. Could Laser Therapy be used on your pets?
Canine Flu Update
This year's strain of Canine Flu is different than past epidemics. There is a vaccine for the previous strain H3N8 but not for this new one called H3N2. Veterinarians are looking for new ways to fight the new virus that seems to be affecting felines too.
911 Dispatcher Hero
When Police Dispatcher Lynn Willett received an emergency call to check on the welfare of an elderly man, she had no idea she would end up adopting his dog. Lynn tells us her heartwarming story about a German Shepard named Sgt. Roscoe.
Xylitol Toxicity on the Rise
Anyone who has a dog knows they will pretty much chew on anything they can get their paws on, but this story underscored how careful we need to be around them. Luna, a 2-year-old Golden Retriever in Glenwood City, Wisconsin, found the pack of "Ice Breaker" Lemon-flavor gum containing Xylitol. She suffered severe liver damage and had to be euthanized. Xylitol is found in all sorts of things, including sugar-free gum, vitamins, toothpaste, dental floss, nasal sprays and baked goods. Even a couple of pieces of gum can result in life-threatening blood sugar and liver failure.
Warning About Dynamic Pet Products' Real Ham Bone

Rodney Canutt, says the product killed his dog Teddy. Veterinarians found three big clumps of sharp shards of the bone in his intestinal tract. Dynamic Pet Products offered to pay for Teddy's cremation and vet bills, but Canutt is still considering legal action. The Better Business Bureau says Dynamic Pet Products' Real Ham Bone for Dogs is suspected of killing or hurting nine dogs nationwide, but it's still available at Wal-Mart.
Listen to this Animal Radio® episode
Animal Radio® Show #806
Uber for Dog-Walkers
Tobi Skovron has created an App that will summon a vetted dog-walker. He touts his high-end service as the next step in the evolution of pet-based technology.
Protecting Your Pet From The Sun
Our pets are at a higher risk than we are for sun-related Melanomas. You need to protect them from the sun, even if they're indoor animals. Dogfather Joey Villani and Dr. Debbie share what you need to know for your pet's safety and well being.
10-Year-Old Hero
This week's Hero Person will charm you! She's just a little girl. But she has a huge heart for the animals. Samantha Frenck created a 501c3 non-profit that brings toys and blankets, among other things, to shelter animals.
Pet Friendly Cities
Forbes went in search of America's most pet-friendly places to live. The criteria included having the best landlords, lowest pet fees and most pet specialty stores and services. You might be surprised which city topped the list.
Pet Store Switch

What happens when you switch the pets in a pet store for animals from a shelter? Would the customers notice? A pet store in Brazil partnered with local pet shelters to secretly switch those pricey purebreds for rescues. Then the store went a step further and simply gave the shelter pets away to worthy families.
Listen to this Animal Radio® episode
Free Pets and People Drug Discount Card

You may already know how expensive pet medication can be. Especially when pet insurance doesn't cover drugs.
Animal Radio® wants to help out. We don't want any pets to go without the medicine they need.
Animal Radio® made a deal with the top pharmacies to save you up to 55%.
- The Animal Radio® Pets & People Drug Discount Card is FREE.
- It offers 15-55% discount on pet medicines or uninsured human medicines.
- It's usable at almost 60,000 pharmacies, including Walgreens, Wal-mart, Rite-Aid, Target, Costco, CVS...all the biggies!
- Card is pre-activated and never expires.
- You can learn more and print out the FREE card online HERE
Or, if you would like us to mail you a free card, send a self-addressed stamped envelope to:
Animal Radio Drug Card,
699 Paula Street,
Morro Bay, CA. 93442
Please help spread the word. Your friends will thank you.

Join Animal Radio® on Facebook for Wacky Wednesday! Win great prizes every week for your wacky pet pictures. Last month we gave out goodies from Insect Shield, Pet Pro Remarkabowl, Tractive GPS, Open Farm and more. Be sure to vote on your favorite Wacky Pet Pictures. Visit us on Facebook now. #WackyWed
Animal Radio® Show Highlights
Animal Radio® is now on iHeart Radio!! Listen to full shows or Listen to highlights

Remote Controlled Cat Toys
Scott Harris invented the iPet Companion cat toy that you can control remotely from your cell phone. Hear how he's using them in animal shelters.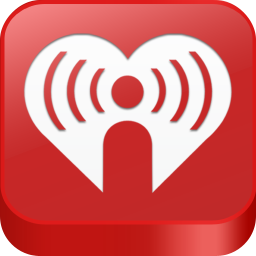 Listen Now

Cuteness Overload
10 year old Samantha Frenck will charm you with her animal heroism. She started Operation Critter to supply shelter animals with toys and blankets.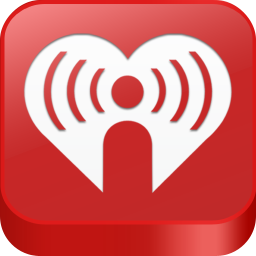 Listen Now

Run Like Hell
Adam Warwick saved a drowning 400lb bear. You got to hear this guys story. He has a lot of Huevos! Would you do the same?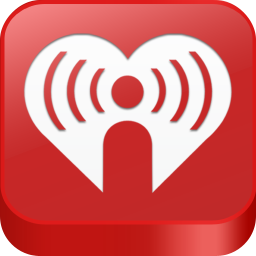 Listen Now


Before You Apply Pesticide
If you spray your lawn for pests, you should know your dog has a higher chance of Lymphoma and other cancers. Research now shows why you should reconsider the yearly lawn treatment.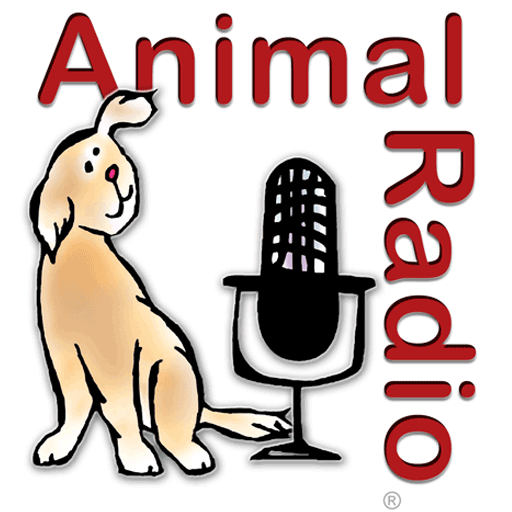 Listen Now

Do Dogs Burp
A listener wants to know the truth about gassy dogs. Some dogs fart and burp more than others. Dr. Debbie will set him straight.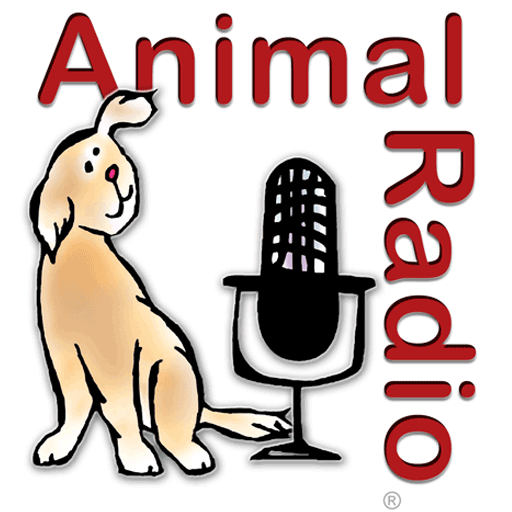 Listen Now
TailsInc June Pet Events Calendar
Janice Gork delivers the monthly pet events calendar.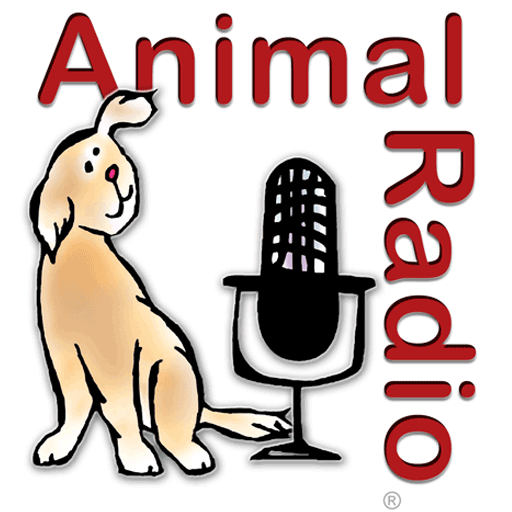 Listen Now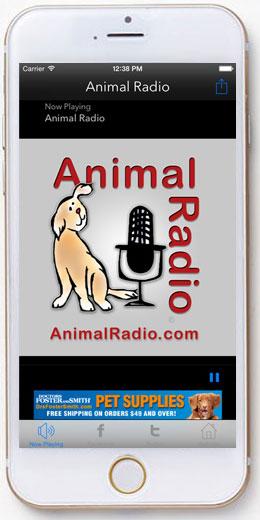 So many ways to listen to Animal Radio®. We're on 130+ AM/FM stations, the Animal Radio® App for iPhone/Android, iHeart Radio, iTunes, Stitcher, Live365, TuneIn, Spreaker and Podcast. We're available wherever you are!

The Animal Radio® APP is available for Android and iPhone. Listen on your schedule. Ask our Dream Team questions directly from the App. It's a FREE Download! It's made possible by Drs. Foster & Smith.
_____________________________________________________________________________________________________



Copyright 2003-15 Animal Radio®, its logo and Animal Radio Network(TM) are registered trademarks of Animal Radio Network LLC. All rights reserved. Submissions for newsletter, programming, editorial comments and opinions may be sent to: YourVoice@AnimalRadio.com. See our website for additional information.