Animal Radio® Show #718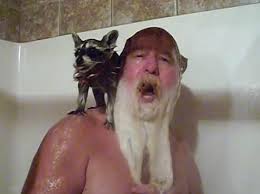 Dancing with Raccoons
Mark "Coonrippy" Brown's YouTube videos have gone viral. He got famous for a video that showed him and his pet raccoon Gunshow dancing to Aretha Franklin. But the increased scrutiny on his lifestyle caused the Tennessee Wildlife Resources Agency to step in and confiscate his newest pet 'coon, Rebekah.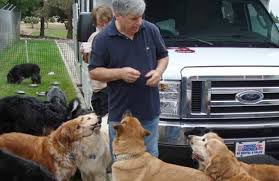 Dogtripping
Tune in for mystery author David Rosenfelt's hilarious account of a cross-country move from California to Maine with twenty-five dogs. It turned out to be a bigger ordeal than he anticipated, despite the 3 RVs, the extra kibble, volunteers (including a few readers), and camping equipment.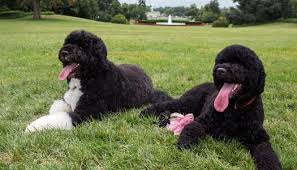 First Family Has New Pet
President Obama and the First Family have a new pet. They recently welcomed "Sunny," another Portuguese Water Dog. The Obamas picked that name because they say it fits her cheerful personality. Sunny grabbed the attention of all the "newshounds" on duty at the White House.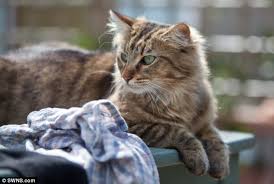 Cat Burglar Is A Cat
The owners of an actual cat burglar are trying to bring an end to their feline companion's "life of petty crime." Richard Windsor and his wife Sophie say their two-year-old tabby Norris has been building quite the collection of stolen goods from their neighbors' homes. Norris supposedly started small by nabbing the occasional dishcloth, but now he's begun swiping bras.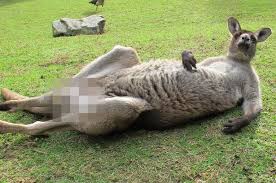 Kangaroo Censorship
A recent act of Kangaroo censorship has left some people hopping mad. The Mirror says Tourism Australia posted a photo of a Kangaroo named Big Baz on their Facebook page. But since Big Baz was sprawled out on his back in the pic, they chose to keep it PG by pixelating the animal's private parts. The folks at Tourism Australia explained that they were only having a bit of fun, but not everyone thought it was very funny.

Listen to this Animal Radio® episode

Animal Radio® Show #717
Anti-bullying Dog Therapy
Fido is now being used to stop bullying. Rachel McPherson is introducing canines to both the bully victim as well as the bully-er. The transformation is astonishing. Find out what the Good Dog Foundation has planned.
Allergy Season
Animal Radio® is getting more and more calls from pet-guardians whose furry-friends are suffering from Summer allergies. It's important determine the type of allergy, whether it's food, environmental or some kind of pest. For some pets, it may be a Miliary Flea Dermatitis - an acute reaction to fleas, pollens in the air, or simply a food allergy. Your vet has the tools to decipher and treat.
Courthouse Dogs
Former Prosecutor Ellen O'Neill-Stephens thinks dogs can be extremely helpful to those testifying in a courtroom. And, in fact she may be right. Over 30 dogs are currently tucked away next to the defendant as they deliver their sworn statement. It's all part of a program of the Courthouse Dogs Foundation. And while most people think this is a fine idea, it does have its detractors.
Seeing-Eye Dogs Bring Blind Couple Together
A pair of seeing-eye dogs are getting credit for leading their owners to love.  Claire Johnson and Mark Gaffey first met at a course for their guide dogs, Rodd and Venice, last year in Shrewsbury, England. Apparently, the guide dogs were inseparable and seemed to be falling in love. Their visually impaired owners soon followed suit.
It's A Zoo!
Dr. Debbie is prepared to answer all of your questions about almost every kind of animal. That's why she's at the top of her game. Today it's all about Chinchillas. And that's because more and more pet-guardians are choosing this furry critter over a cat or dog.
Cow Spa Produces More Milk

We found a dairy farmer that's pampering his cows in order to produce more milk. Farmer Smith is using waterbeds for his cow to lounge in while they watch a giant flat-screen TV. And believe it or not, the cows seem to be reacting by making more milk than those moo-cows without TV privileges.
Listen to this Animal Radio® episode
Animal Radio® Show #716
Saving $$ Without Short-Changing Your Pet
Animal Radio® Veterinary Correspondent Dr. Marty Becker has solutions to beat the high-costs associated with being a pet-parent. New veterinary procedures can cost a lot! But the simplest way to avoid costs is to keep your pet its ideal weight.
Is Pet Insurance Worth It?
While the Animal Radio® Dream Team have conflicting opinions on pet insurance, the facts stand strong. Yes, you could have to come up with 30 grand for some of today's procedures. But if you're covered, you won't be up the creek without the proverbial paddle.
Animal Radio® - Kimpton Crown Winner
It's time to find a winner for the Third Annual Pet Photo Contest. Today we're sending a lucky winner on a 3-night trip to any Kimpton they choose. Airfare on Jet Blue and a whole-lotta-pampering!
If You Want To Be Trampled By A Bull - Go To Virginia!
If you've ever wanted to run the risk of being trampled by a bull but can't afford the trip to Spain, you could always go to Virginia. More than 5000 people have already signed up for the Great Bull Run, a Pamplona-inspired event to be held at a Richmond drag strip.
Lindbergh Field Installs Country's First "Pooch Potties"
Lindbergh Field in San Diego has installed what could be called the country's first airport "pooch potties." Officials included four fancy "Pet Relief" stations as part of their billion-dollar expansion. The 75-foot square spaces have fake grass and a fire hydrant, along with deodorizers, a hand-washing station and complimentary baggies for clean up.
Ever Suspected Your Husband Secretly Loves The DOG More Than You?
Graham Anley and his wife Cheryl were on a sailing trip. It was just the two of them and their nine-year-old Jack Russell terrier Rosie for three months. But they hit rough water and their yacht capsized. And as Graham swam to shore, he decided to rescue the dog before his wife.

Listen to this Animal Radio® episode
Animal Radio® Show #715
The Secret Of Lost Cats
You've seen them. Hanging on telephone poles and posted on supermarket bulletin boards. It says "Lost Cat" with a picture of someone's furry friend. Dr. Nancy Davidson interviewed the people behind the signs and tells their stories.
Another Great Invention

John Polimeno gave up his job as a construction worker to engineer a face-recognition, or should we say "muzzle" recognition App to help find lost animals across the country. So far his company and App has reunited 7 pets with their owners. John explains the technology and how we can add it to the arsenal of tools.
"Meatball" Will Ride On Rose Parade Float

A mechanical likeness of the bear best known for roaming through several Glendale neighborhoods will be prominently featured on the city's official Rose Parade float. The display is projected to cost around $155,000. The 400-pound animal was dubbed "Meatball" after he was caught eating frozen Costco meatballs in a garage freezer last year. Meatball became a quasi-celebrity after his roaming was captured by several L.A. TV station helicopters.
Pillow of Your Pet

Shannon Broder had an idea you wish you thought of. She takes pictures of your pet and makes a pillow. She's even had a few strange requests. Find out how this "happy-hour" idea became big business. A we'll have giveaways.
Diet Tricks

A listener needs to know about FurFast, a diet aid for your pet. Is it healthy? Does it work? Dr. Debbie has the low-down on tackling pet-obesity...and sometimes it calls for supplements.
...and of course, the Animal Radio® Dream Team is answering your pet questions.
Listen to this Animal Radio® episode







Animal Radio® Show #714
Live From SuperZoo
It's time again for our New Pet Product Special from the pet industry's largest trade show in Las Vegas. We'll be giving you great gifts for your pet before they're on the shelves in your pet store.
Flea Facts
There is no doubt that this flea season has been one of the worst in recorded history. Now it takes a multi-modal approach to get rid of these little suckers for good. Dr. Debbie steps up to the plate with several great ideas.
Pet Insurance
When is the best time to get pet insurance so you won't be caught with the ever-increasing cost of veterinary care? Is it better to just start an interest-bearing savings account for your pet? Is it possible that your insurance claim will be rejected? Animal Radio® uncovers the truths and fallacies behind the booming insurance trade for pets.
Energy Bar Contains Crickets
A Salt Lake City-based energy bar maker is turning to crickets as a source of nutrients. The makers of Chapul Bars use cricket flour to give their bars a boost of protein. Chapul's founder Patrick Crowley says the six-legged critters are a "rich source of edible protein" that is more environmentally friendly than protein from livestock.
Horse Rider Turned Away At Drive-Thru - So She Brings Horse Into Restaurant Instead
A woman has been saddled with a fine after bringing her horse into a McDonald's restaurant. Police say the woman initially tried to ride the animal through the drive-thru on Saturday, but was turned away. She then brought the horse inside the fast food joint, where it promptly did its "business" on the floor.
Listen to this Animal Radio® episode
Listen to Bonus 1/2 hour


Animal Radio® Show #713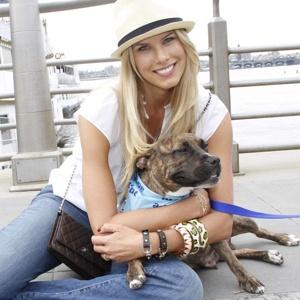 Beth Stern Guests
Yes, she is the wife of Howard Stern. But more importantly, Beth Ostrosky - Stern is an avid animal advocate. She's fostering a bunch of animals at home. She says Howard is really into her pets and sometimes he'll get very emotional when the animals find homes.
Cats Actually Have A Language
Con Slobodchikoff is studying animal linguistics. He's noticing patterns that indicate language among cats and even prairie dogs. He even says that someday we may have an App that will translate our conversations with animals.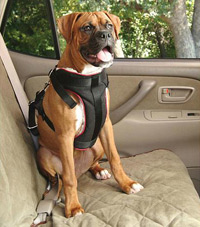 Pet Restraints FAIL
New research from the Center for Pet Safety reveals that the pet restraints tested have a 100% failure rate. Does this mean you shouldn't use them when traveling with your pet? Absolutely not. However, Lindsey Wolko has the lowdown on what works and what doesn't when it comes to keeping your pets safe in the car.
Don't Worry About Bugs In Your Food - They Were Intentionally Added
Acclaimed European chef David Faure isn't worried about his diners finding a bug in their meals. In fact, he's started intentionally adding a variety of creepy crawlies to the dishes he serves at his restaurant. He says the biggest obstacle in his quest is finding a reliable local supplier of edible insects.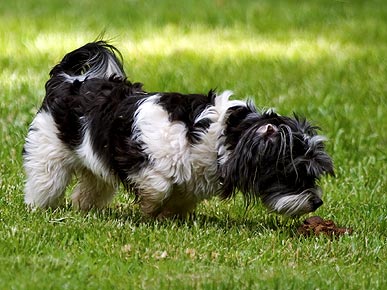 Eating Poop - Don't Knock It
Not a week goes by without a listener calling to ask why their dog is eating other dog's feces. While there are many theories as to why this happens, Dr. Debbie gets to the bottom of it and sheds light on the very common problem.
Listen to this Animal Radio® episode
The Animal Radio® APP is available for Android and iPhone.
Listen on your schedule. Ask our Dream Team questions directly from the App. It's a FREE Download!
Pet Food Recalled Due to Possible Health Risk
The Procter & Gamble Company (P&G) has voluntarily recalled specific lots of dry pet food (EUKANUBA DRY DOG FOODS, IAMS DRY DOG FOODS,IAMS DRY CAT FOODS) because they have the potential to be contaminated with Salmonella. These lots were distributed in the United States and represent roughly one-tenth of one percent (0.1%) of annual production. No Salmonella-related illnesses have been reported to date in association with these product lots.
Click here for the complete product list.
Click here to see the product labels.
Salmonella can affect animals eating the products and there is risk to humans from handling contaminated pet products, especially if they have not thoroughly washed their hands after having contact with the products or any surfaces exposed to these products.
Healthy people infected with Salmonella should monitor themselves for some or all of the following symptoms: nausea, vomiting, diarrhea or bloody diarrhea, abdominal cramping and fever. Rarely, Salmonella can result in more serious ailments, including arterial infections, endocarditis, arthritis, muscle pain, eye irritation, and urinary tract symptoms. Consumers exhibiting these signs after having contact with this product should contact their healthcare providers.
Pets with Salmonella infections may be lethargic and have diarrhea or bloody diarrhea, fever, and vomiting. Some pets will have only decreased appetite, fever and abdominal pain. Infected but otherwise healthy pets can be carriers and infect other animals or humans. If your pet has consumed the recalled product and has these symptoms, please contact your veterinarian.
This issue is limited to the specific dry pet food lot codes listed below. This affects roughly one-tenth of one percent (0.1%) of total annual production. The affected product was distributed to select retailers across the United States. These products were made during a 10 day window at a single manufacturing site. P&G's routine testing determined that some products made during this timeframe have the potential for Salmonella contamination. As a precautionary measure, P&G is recalling the potentially impacted products made during this timeframe. No other dry dog food, dry cat food, dog or cat canned wet food, biscuits/treats or supplements are affected by this announcement.
P&G is retrieving these products as a precautionary measure. Consumers who purchased a product listed below should stop using the product and discard it and contact P&G toll-free at 800-208-0172 (Monday €" Friday, 9:00 AM to 6:00 PM EST), or via website at www.iams.com or www.eukanuba.com.

Ask the Animal Radio® Dream Team
Listen to Animal Radio® LIVE every Saturday at noon eastern and Sundays at 5pm eastern on XM ch. 244 (America's Talk) or on any of the 107 AM-FM radio stations. Call with your questions toll-free 1-866-405-8405 or email yourvoice@AnimalRadio.com


Pickled Pork Skin Treats?
Jose: Dr Debbie is pickled pork skin bad for dogs

Doctor Debbie: My first response to your question was a gag! I apologize, but that's a food item that just sounds icky to me. But I understand that some folks enjoy that pickled piggy treat.

I cannot recommend pickled pork skin for dogs for several reasons. Pork skins are high in calories and fat which add up quickly leading to weight gain for dogs. High fat foods can result in gastroenteritis in pets, and may even trigger the life-threatening disorder called pancreatitis.

The spicy seasonings in some pickled pork skin recipes can also cause stomach upset for dogs.

So you have my go ahead to enjoy all the pickled pick skin YOU want, but just skip sharing it with your dog.

Vomiting Cat
Patz: Our cat has been very sick. we took him to our vet and they did exploratory surgery. they found nothing wrong. His symptoms are a dry mouth and vomiting. He throws up saliva..then he really does not want to eat or drink. any clues as to what could be wrong with him? He is about 5 yrs. old and he is overweight but was healthy a week ago.
Dr. Debbie: There are many cause of vomiting in cats, so unfortunately one single cause doesn't jump out as the cause of your cat's vomiting. Pancreatitis, Cholangiohepatitis, inflammatory bowel disease, food intolerance, Helicobacter, toxins, masses and parasites are just some of the causes of vomiting.

One important thing to realize with exploratory surgeries are that just because your veterinarian didn't see any obvious cause visually, it doesn't mean there isn't something going on. Some problems like inflammatory bowel disease or liver disease can't be accurately identified by sight alone. I typically like to take small biopsies (stomach, intestine, or liver) during an exploratory surgery- this often gives clues, or even answers the vomiting puzzle.

In my office I also usually treat chronic vomiting cats with a deworming treatment with Drontal (by Bayer) or Fenbendazole. Sometimes I use the anti-vomiting medication, Maropitant, in cats. In addition to that, I switch the kitty to a hypoallergenic diet to help manage suspected food allergies or inflammatory bowel disease.

There are other blood tests that might be useful if none of the above help. Pancreatitis is difficult to diagnose in cats but can be picked up by the PLI blood test.

Those are just a few of the thoughts I had. Hope all goes well with your kitty!

Weight Loss Supplement
John: Have any of y'all ever heard of a product called FURfast for Dogs and Cats?
It is a weight loss product to help obese dogs loose weight at a safe rate. I was concerned about the ingredients.
Here they are;
Phaseolus Vulgaris
Lipase (1 & 2) Blend. Dried Aspergillus niger var
Fermentation Product
I-carinitine
These are the active ingredients and is recommended at 2 ml. per day mixed with food for dogs up to 50 lbs.
Dr. Debbie: Hi John! I've never heard of that particular weight loss supplement, but the ingredients are pretty common in the supplement world. Some veterinary nutrition studies have looked at L Carnitine and found that it can have a beneficial effect on weight loss. The other ingredients are thought to aid in digestion, but have less researched and proven effects in pets.

So I don't think anything sounds too concerning in that product. But my honest opinion is that supplements won't get you very far in getting pets to lose weight. The best strategy is the good old formula of ingesting fewer calories in than the pet burns up in daily activity. Feeding with measured feeding amounts, refraining from feeding human food or scraps, and increasing physical exercise are the best recommendations for dogs, just as for people hoping to lose weight.

On a side note, if you are looking for other weight loss methods...I have had some favorable response with a new weight loss diet by Hill's called Metabolic Diet. It has a natural balance of ingredients that activate the "lean" pet genes and deactivate the "overweight" genes. At monthly weigh ins the dogs and cats I have on that food are losing weight, even if they "cheat" (or their owners feed them extra) on the food.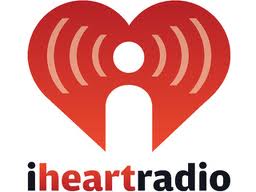 Animal Radio® is now on iHeart Radio!! Listen to full shows or Listen to highlights
Leaky Anal Sacks
Bettina: I have a 15 month old short legged jack russell terrier. Ever since he got neutered at six month old, his anal sacs are leaking. He had loose, soft stools since we took him home at 16 weeks. We went to the vet several times and he couldn't find anything wrong with him. He had his anal sacs squeezed by the vet once so far. He does not scoot on the floor or anything like that. We switched his dry food a few times, now he eats Taste of the Wild, which decreased his stool volumes quite a bit and made it firmer, but it still seems too soft. We eliminated all treats, except for little pieces of steamed chicken breast. Every night when he falls asleep on the couch, all of a sudden you can smell his anal glands. He doesn't like the smell either. What can we do? Thank you so much.
Dr. Debbie: Those leaky anal sacs have me thinking of several possible directions to consider for your JRT. I'm sure your veterinarian has done some sleuthing already, but I enjoy a good puzzle...so here's my thoughts.
For me, any dog with chronically diarrhea or inconsistent stools will receive the following: multiple fecal tests including one that test for antibody to Giardia (a microscopic parasite), a deworming protocol with 5 days of Fenbendazole dewormer (even if all previous fecal tests are negative) and a hypoallergenic diet trial. The hypoallergenic diet can be recommended by your veterinarian and will include either a hydrolyzed protein diet or a novel protein diet. A diet trial will run at least 6 weeks but up to 12 weeks on a particular diet with no other edibles- that excludes any additional food items like treats, rawhides and human food too such as your prepared chicken breast. It's important to note that Taste of the Wild is a fine diet for the average dog, but is not classified by veterinary specialists as either of those hypoallergenic diet varieties I mentioned.

Some dogs can have anal sac issues due to underlying food allergies, so I would strongly encourage working with your vet to find such a diet.
Weekly anal sac flushes can help some dogs with ongoing anal sac issues. During this procedure the sacs are flushed and an antibiotic ointment is instilled inside. Often the flush helps squash infection in those glands better than oral antibiotics can.
Some folks have success with adding Metamucil or psyllium to the diet, but I find better control with pursuing hypoallergenic diets.
My last option when all other steps have failed is to surgically remove the anal sacs. Surgery wouldn't help your guys soft poop issues though.

On a side note, you mentioned that his issues started after his neutering....rest assured, the surgery wouldn't have caused his anal sac issues since the anal sac and neuter surgery sites are in totally different areas.

My best wishes in battling those stinky glands!
The Animal Radio® APP is available for Android and iPhone.
Listen on your schedule. Ask our Dream Team questions directly from the App. It's a FREE Download!
Did you know there's a lot more to love than the Animal Radio® weekly show. Have you heard our other great programs including Animal Radio® News Updates, The Animal Minute, Alan Kabel's Dog Tips and Fido Friendly Travel Talk on Animal Radio® with Susan Sims. Come visit Animal Radio® online and see what you've been missing!


_____________________________________________________________________________________________________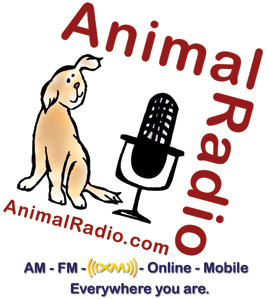 Get Animal Radio® Headlines emailed to you, or catch us on

Twitter and

Facebook.
"Like" Animal Radio® on Facebook - and win goodies for you and your pet.
Copyright 2003-13 Animal Radio®, its logo and Animal Radio Network(TM) are registered trademarks of Animal Radio Network LLC. All rights reserved. Submissions for newsletter, programming, editorial comments and opinions may be sent to: YourVoice@AnimalRadio.com. See our website for additional information.