Animal Radio® Show #822


Modern Family's Jesse Tyler Ferguson Guests
He may play an uptight lawyer on the hit ABC sitcom, but in real life he's an avid pet lover and parent of two dogs, "Leaf" and "Fennel." Jesse will share personal stories of how he and his partner spoil their pups.
New Pet-Safe Anti-Freeze
Every year, some 90,000 pets and wild animals along with 5,000 humans are poisoned by antifreeze because Ethylene glycol, the main ingredient in antifreeze and deicers. But there's been a discovery of a new antifreeze ingredient that works better than the old stuff, and it's non toxic! The new ingredient is Propylene glycol, a food additive, which is "generally recognized as safe" by the USDA, and it cools car engines 60-percent better than the old stuff!
Do Animals Improve Student's Reading Skills?
Experts say the human-animal bond can lessen the stress young children sometimes feel in the classroom, and believe classroom interactions with rabbits and guinea pigs will improve students' oral fluency and reading comprehension.
Lucky Dog
The host of CBS's Lucky Dog, Brandon McMillan is back and he's getting ready to kick off the 7th Annual "Get Your Licks on Route 66" Adoption Tour. Along with Fido Friendly, Animal Radio is proud to be a part of this life-saving tour across America. We'll be stopping at shelters all along the infamous highway and spreading the joy with all kinds of goodies for you and your pets. We'll also be introducing you to dogs and cats available in your city. Learn more at: http://GetYourLicks.com. Come join us and find your new forever friend.
Jobs For Dogs

We'll take a look at all the different service-dogs and what they've been trained to do. Some can smell when a person is about to have a seizure, others can retrieve a phone in an emergency. There's even dogs that have been trained to sniff out bedbugs.
Listen to this Animal Radio® episode
Animal Radio® Show #821
The Chicken Chick
Chickens are more popular than ever in urban settings and as pets. By popular demand, we're having the Chicken Chick on the show to share her vast chicken knowledge. Even if you aren't considering a fowl friend, Kathy Mormino will amuse and educate.
Photographing Your Pet
Amanda Jones is one of the top best pet photographers in the nation. Her last collaboration is a coffee-table book with 30 dogs photographed during their youth and again in their senior years. It's a compelling contrast between puppy-hood and a dog's golden years. Amanda will have tips for photographing your pet.
Oldest Living Cat

A 26-year-old cat named Corduroy has been named the oldest living cat by Guinness. His owner has had him since he was a kitten and she was only 7. Though Corduroy is now the oldest living cat on record, he is not the oldest domestic cat to have ever lived, that designation belongs to Creme Puff, who lived to the awe-inspiring age of 38 years and 3 days.
All Pet Store Dogs Must Come From Shelters
Earlier this month a federal judge in Phoenix, Arizona upheld a city law requiring that all dogs sold in pet stores must come from shelters, which will also help to relieve shelter overcrowding. Phoenix is one of about 60 cities in the U.S. that have similar laws designed to put an end to puppy mills by driving potential pet buyers toward homeless animals.
Custody Battle Over Pets
Dr. Debbie has the top things you need to know when battling for custody over a pet. It's best to consider how it will affect your furry friend. The law doesn't always favor the pet in such battles. Some couples even stay together, just for the pet.
Listen to this Animal Radio® episode

***** 10% OFF with Coupon Code ANIMALRADIO *****




Animal Radio® Show #820
How To Pick A Pet Food
Lucy Pet Foundation's Doc Halligan has what you need to know in order to pick the best food for your pet and your budget. Just because it's expensive doesn't mean it's good. You'll learn how to read the label.
Things Your Vet Wished You Worried About More
Animal Radio Veterinary Correspondent Dr. Marty Becker has a list of things he wishes his clients would pay more attention to than they do. He'll also tell you what you unnecessarily worry too much about.
Pets Destroy Eight Million Electronic Devices
A new study says American pets have bitten, chewed or damaged at least 8-million electronic devices! All that damage caused an estimated $3 billion in repair and replacement costs! Researchers found 1/3rd of the damaged devices were smart-phones; 2/3rds of the incidents happened when the pet was not being supervised. And interestingly, male pets are 50% more likely than female pets to damage electronic devices.
Pets May Be Breeding Ground For MRSA
A new study suggests family pets might actually be reservoirs for Methicillin-resistant Staphylococcus aureus, or MRSA. Researchers believe pets might be an important factor behind the increase of MRSA outbreaks.
Healthiest Breeds
Pet Breeds compiled a list of 33 dog breeds that either have a clean health record, or are associated with only one, two or three health problems at most. And, the top seven have NO major or minor health concerns at all. They are...
Listen to this Animal Radio® episode
Animal Radio® Show #819
Elaine Hendrix Guests
From the hit FX television show, Sex and Drugs and Rock and Roll, Elaine Hendrix is Animal Radio's special guest this week. During the day she's an actress, during the evenings she's an animal advocate.
Learning CPR for Your Pet
Melanie Monteiro just released an incredible 3-hour online course to educate pet-guardians about CPR and other emergency care. Covering everything from bloat to car accidents, she'll teach you what you need to know to save your pet's life!
Vetting Your Groomer

Animal Radio's "Dogfather" Joey Villani is on the cutting edge of legislation to regulate the pet-grooming industry. Until laws are in effect, he wants you to know how to tell a good groomer from bad. He'll tell you what red flags to look out for.
Scammer Offers to Find Lost Pets for a Fee
Pets FBI Ohio and its 50 volunteers, which reunite lost pets with their owners, are having trouble solving a case where a scammer is taking advantage of worried pet parents. Be warned that his individual calls people who have lost a pet and says he will help find the pet and claims he's with Pet FBI Ohio.
Canine Carry-Outs Falls Prey To Hoax
Viral Internet stories claiming that the pet food treat "Canine Carry-Outs" has the same ingredients as anti-freeze are simply erroneous. Dr. Debbie explains the hoax to curious listeners.
Listen to this Animal Radio® episode
Have you downloaded the free Animal Radio App for iPhone - Android - Blackberry? It's been updated and it's better than ever.
-Ask Veterinarian Dr. Debbie White and Dogfather Joey Villani your pet-related questions directly from the app.
-Get up to the minute news and recall alerts.
-Watch videos.
-Listen to current Animal Radio show or browse archives.

-Browse our knowledge-base.
-Call us directly on the Animal Radio App Hotline.
Launch the Animal Radio App at least two-times to be entered to win weekly prizes.
Free Pets and People Drug Discount Card

You may already know how expensive pet medication can be. Especially when pet insurance doesn't cover drugs.
Animal Radio® wants to help out. We don't want any pets to go without the medicine they need.
Animal Radio® made a deal with the top pharmacies to save you up to 55%.
- The Animal Radio® Pets & People Drug Discount Card is FREE.
- It offers 15-55% discount on pet medicines or uninsured human medicines.
- It's usable at almost 60,000 pharmacies, including Walgreens, Wal-mart, Rite-Aid, Target, Costco, CVS...all the biggies!
- Card is pre-activated and never expires.
- You can learn more and print out the FREE card online HERE
Or, if you would like us to mail you a free card, send a self-addressed stamped envelope to:
Animal Radio Drug Card,
699 Paula Street,
Morro Bay, CA. 93442
Please help spread the word. Your friends will thank you.
Animal Radio® Show Highlights
Animal Radio® is now on iHeart Radio!! Listen to full shows or Listen to highlights

Bra Surprise
Abby Hawkins was surprised when she discovered a bat… in her bra… while she was wearing it. Britt Savage reports in this iHeart Radio Highlight.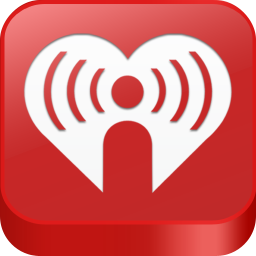 Listen Now

Mom/Son Snake Theft
Talk about stupid criminals, here's a mom and son team that stole a snake from Petland, only to get busted when they returned for books on handling snakes.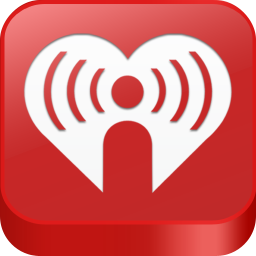 Listen Now

Pet Ownership in North Korea
What is the difference between pet ownership in North Korea and the United States? We'll start with the monkeys.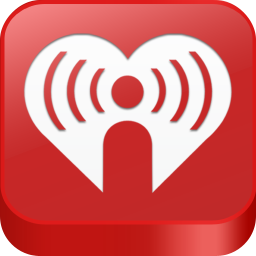 Listen Now

Elaine Hendrix Guests
By day she's an actress in FX's Sex&Drugs&Rock&Roll with Denis Leary, by night she's a Pet Matchmaker. Elaine Hendrix guests.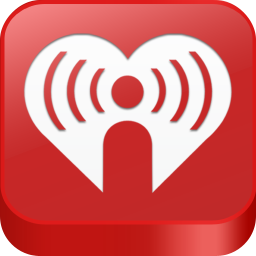 Listen Now
TailsInc September Pet Events Calendar
Janice Gork delivers the monthly pet events calendar.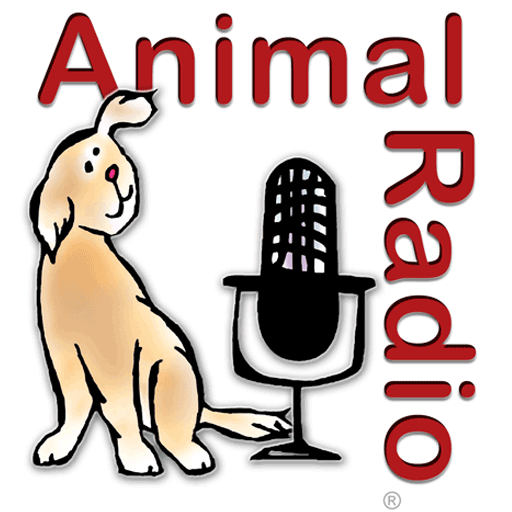 Listen Now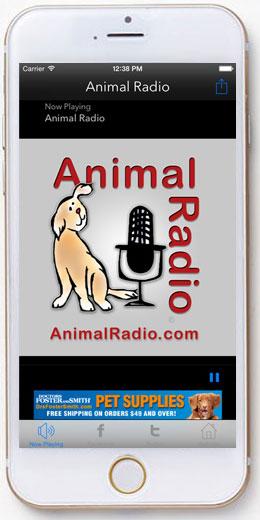 So many ways to listen to Animal Radio®. We're on 130+ AM/FM stations, the Animal Radio® App for iPhone/Android, iHeart Radio, iTunes, Stitcher, Live365, TuneIn, Spreaker and Podcast. We're available wherever you are!

The Animal Radio® APP is available for Android and iPhone. Listen on your schedule. Ask our Dream Team questions directly from the App. It's a FREE Download! It's made possible by Drs. Foster & Smith.
---


Copyright 2003-15 Animal Radio®, its logo and Animal Radio Network(TM) are registered trademarks of Animal Radio Network LLC. All rights reserved. Submissions for newsletter, programming, editorial comments and opinions may be sent to: YourVoice@AnimalRadio.com. See our website for additional information.