If Your Pet Needs a Blood Transfusion - Where Does The Blood Come From?
Nicole Humphries, The Pet Blood Bank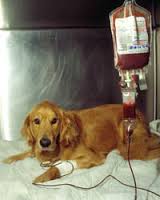 Nicole Humphries runs a blood bank for companion dogs. She'll answer the itching question, is dog's blood different than cat's, or is a German Shepard's blood different than a Pug's? And where does all this blood come from? You never see a pet bloodmobile in the neighborhood!
The Pet Blood Bank, located outside of Austin, Texas, helps veterinarians around the country save pets' lives by providing transfusion products for dogs as well as training. They have been around for twelve years.
Pets need transfusions for the same reasons that humans do, including surgery, trauma and disease. The Pet Blood Bank supplies animal blood components for use in these life saving transfusions all across the country. Dog and cat blood is different, meaning you can't use dog blood on a cat or cat blood on a dog. Cats have about three different blood types, while dogs have about eight different blood types.
The Pet Blood Bank works with rescue organizations for blood donors, but they also have some of their own blood donors at their ranch. Along with their own sterile facilities at their ranch that handles donors, they also have a blood mobile that handles both blood donors and transfusions.
Most emergency clinics get their blood from a blood bank, but there are some veterinary hospitals that may have their own blood donor.
All of the blood gets shipped out overnight. Any type of plasma, fresh or frozen, must be shipped frozen on ice. Packed blood red cells, or whole blood, have a shelf life of around 42 days.
The Pet Blood Bank occasionally holds blood drives, with specific requirements. Dogs must be 35 pounds or more, spayed or neutered, have a great temperament and have to be able to sit still.
So how much can a dog donate? They can donate a half unit, which is usually 125ml or a whole unit, or 250ml. To be considered one, full bag of blood, it must weigh 330 grans.
The blood is then sold directly to a veterinarian, at a cost of $91 for a half bag or $156 for a full bag.





Pet Photo Santa For A Day
Jerry Carino, Jerry's Jobs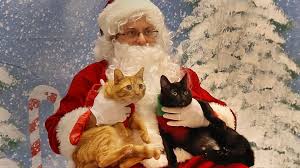 'Jerry's Jobs' appears as part of the Carino's Corner series on Mondays in the Asbury Park Press and on APP.com. Jerry has done everything from being a Zombie at Fright Fest to being a baker and a zookeeper, among others. One of his latest gigs was playing a Pet-Photo Santa.
Santa Claus' impressive skill set includes marshaling a team of reindeer from housetop to housetop, shimmying up and down chimneys and eating an incredible amount of cookies.
Lesser known is the jolly old elf's acumen as a pet whisperer. Think about it: How many dogs and cats has Santa kept calm over the years as he stuffed stockings?
Jerry sought to channel some of that magic at the Jersey Shore Animal Center. For a hairy, fidgety hour he served as a pet-photo Santa.
To prepare, Jerry donned his Santa suit at home and tried posing with his cats. The younger one, Circles, swiped at him and ran off. His brother Pumpkin was too fat to get away, but he flattened his ears and looked terrified. Jerry's low-pitched, slow delivery of "ho…ho…ho" undoubtedly made it worse.
He then decided to cut out the sound effects at the Jersey Shore Animal Center. Instead, he found it helpful to softly call the pet's name while he rubbed his or her head.
After talking to the regular Santa at the animal center, Jerry knew he had an easy time, as there are so many things that can go wrong! Jerry was lucky to work with a calm group of dogs and cats and didn't have any exotic animals. No one scratched, clawed or relieved themselves on Jerry, and he loved it!
Jerry tells us the day before, someone brought in 5 rats. The rats went into Santa's suit, up the pant legs, down the back. He is so glad he wasn't working that day, as he said he would have probably passed out! There were other stories about cats scratching up the Santa Suit so badly that it had to be replaced. Another time, someone brought in a boa constrictor. So, while Jerry was lucky, he states that there are many occupational hazards to this job and he left with a healthier respect for St. Nick.
The Jersey Shore Animal Center is a non-profit shelter that oversaw nearly 300 adoptions in 2015. It currently houses 50 cats and 10 dogs. On four days each December, folks bring their pets in to pose with Santa. They give a donation and get a photo and greeting card in return.
'Jerry's Jobs,' is an occasional feature that will appear as part of the Carino's Corner series on Mondays in the Asbury Park Press and on APP.com. Have an idea for a local job Jerry could perform for a story and video? Email Jerry Carino at jcarino@app.com.





Hot Trends We'll See In The Pet World In 2016 - Animal Radio List
Robert Semrow, Pet World Insider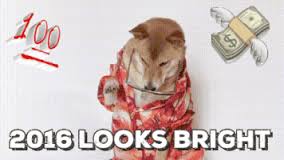 Robert Semrow, Pet World Insider has this week's Animal Radio List. It's 2016 and that means it's time for some predictions about what will be hot trends for the pet world this year.
#1 - The human animal bond and relationship will become more than something pet parents know, in fact, science and research will continue to show that having a pet improves people's lives in many different ways, from health to companionship to motivation and more. The Human Animal Bond relationship will be a hot topic in 2016 because science and organizations, like the Human Animal Bond Research Initiative, continue to prove what pet parents have always known - Pets make life better.
#2 - Technology knows no bounds and has yet to be cone of shamed. That's right, everywhere you look these days technology is increasingly a part of the pet world. 2016 will be no different as we continue to see an expansion of technology in almost every area of the pet world from feeders to trackers to trainers and toys, technology will further invigorate, excite and engage the pet world. In a world that is now creating robotic animals to be as pet like as possible, technology has certainly entrenched itself and is now on the verge of overtaking the pet world. So go ahead and cone of shame your robotic pet this year.
#3 - Human grade organic grain free balanced super foods will become the battle cry for pet food companies. Ok, maybe not all of those adjectives or commonly thrown around superlatives will be stamped across all of the pet food labels we see, but you can be sure that in the battle to claim to be the best and the healthiest, there will certainly be some overused and underwhelming terms used to describe pet foods. We'll also see a resurgence of claims that this way is better than that way and that way should be the only way unless there was another way. Let me simplify it for you, do the best that you can do and that you can sustain and learn what your pet responds well to.
#4 - Supplements, vitamins and orthopedic mattresses - That's right, in the human world we find ourselves using vitamins and supplements and other specialties to live fuller, longer, happier and healthier lives. This trend will continue to explode this year in to the pet world as more and more of us turn to the same things benefiting our own health to benefit the health of our pets. It makes sense that we are turning to nature to provide us a healthy boost for everyone in the family.
#5 - (My last prediction is the one I'm most certain will occur!) Animal Radio will continue to bring pet lovers around the world the animal news, information, entertainment and enjoyment that has made them beloved by the animal world for more than 15 years.
If you've got a prediction for the Animal World for 2016, we'd love to hear them. Post them to our Animal Radio Facebook page and let's see which animal radio predictions come true.
http://petworldinsider.com/predicting-hot

Clean Up Those Dirty, Winter Dogs!
Lucy Pet Foundation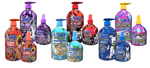 Lucy Pet Products make fantastic shampoos and leave-in conditioners. Not only do they make your dog look good, they will leave them smelling wonderful! So if you have one of those dogs that likes to run and play in the mud and snow, don't forget to use Lucy Pet Products - Products With a Cause.
The line consists of Shampoos and Leave-In Conditioning Sprays with natural ingredients for dogs. You will find Purple Rain, a Calm and Clean Lavender Shampoo and Leave-in Conditioning Spray; Berry Berry Smellicious, a Tropical Freshening Shampoo and Leave-In Conditioner Spray; Big Apple Shampoo and Leave-in Conditioning Spray with Skin Soothing Apple Oatmeal; Surfin' Jack Shampoo Leave-in Conditioning Spray with moisturizing coconut; and Pup a Dub Dub, Gentle Puppy Fresh Shampoo and Leave-in Conditioning Spray, gentle enough for puppies 8 weeks and older.
These shampoos and leave-in conditioning sprays are not only great for your dog's coat, you can even use the conditioning sprays as a touch up between your dog's baths, to keep them smelling fresh and clean.
The Mission of The Lucy Pet Foundation is to reduce pet overpopulation by having mobile spay/neuter clinics across the country and to support causes that benefit animal welfare. The Lucy Pet Foundation currently has two buses that travel around Southern California focusing on spaying and neutering. These buses are state of the art surgery units. Their next focus is in generating more funds to expand the work of these buses and have more across the country.

The Lucy Pet Foundation not only offers free and reduced spays and neuters, they also do microchipping, vaccines and de-wormings. Spaying and neutering is not only great for pet population control, but it has been proven that an animal will live on an average of 40-percent longer after having this surgery.
http://www.lucypetproducts.com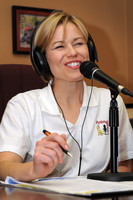 When Pet Food Is Medicine - Dr. Debbie
Proper pet nutrition is more than just diet choices for the healthy pet. It's even more important to properly feed the sick pet or those with chronic diseases. What you put in your pet's food bowl can help, or harm, his ability to cope with illness.
Peek into your average veterinary office and you'll likely find one or more brands of therapeutic diet foods created to manage pet specific pet health conditions. Veterinarians prescribe therapeutic diets to help pets with kidney disease, diabetes, pancreatitis, weight loss or heart disease. Special digestive diets may focus on hypoallergenic ingredients, fiber content or fat levels. Some diets prevent or dissolve mineralized stones in the urinary bladder. There are even diets to keep the spring in your arthritic dog's step and diets to aid in treating pets with cancer.
The grandfather of veterinary nutrition was Dr. Morris who in 1940 designed a diet to improve longevity of his dog, Buddy, who was a seeing-eye dog battling kidney disease. His efforts led to the introduction to Hill's K/D diet, a favorite diet used today for dogs and cats with kidney dysfunction. Today many more diets and conditions are addressed by companies such as Science Diet, Royal Canin, Purina and Iams.
As a veterinarian I recognize the value that therapeutic diets lend to managing my patients' health. But my strongest testament to their value is as a doggie momma who feeds a therapeutic diet to my own dog, Magnum.
My Labrador Magnum suffers from food allergies with frequent facial skin infections, bad skin odor, scratching and unpleasant gastrointestinal signs with diarrhea and flatulence. After several diet trials with various hypoallergenic diet approaches, he now thrives on a rabbit based therapeutic diet by Royal Canin. His doggie kisses are sweeter smelling now, he's content and he isn't a walking gaseous explosion anymore.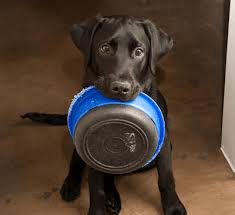 But be prepared to dig deeper in your wallet for therapeutic diets. The research behind these foods will cost the consumer more than average pet foods. Just look at the example of Magnum's food. This diet runs $86 for a 25-pound bag of dry food. This sure isn't cheap. But the investment can pay off in lower medical costs and fewer veterinary visits, justifying the additional cost. In Magnum's case, we are able to avoid continued treatment of skin infections, thereby avoiding medication use and he is spared incessant itching.
Some pet owners turn to home cooked diets in order to avoid the costs of therapeutic diets. Without guidance and veterinary nutrition analysis, pet owners may risk shortchanging their pet's nutrition. One research study identified that over 90-percent of home prepared diets for sick pets failed to be nutritionally adequate. Quality ingredients aren't cheap and a well-produced home cooked diet often ends up costing far more to prepare than commercially produced therapeutic diets.
If your veterinarian recommends nutritional management with a therapeutic diet, discuss all the options with your doctor. Inquire about different brands and sizes of food packages available, as many options are available. Get your money's worth on these diets by following your veterinarian's recommendations. Avoid mixing therapeutic diets with regular foods. This only hinders your pet's results and give you a false sense of saving money by making the food last longer.
As for Magnum, I choose to feed him his therapeutic diet and avoid popping pills into him. That's my gauge of a therapeutic diet success - food that serves like medicine in the doggie bowl, but without the hassles.
Featured veterinarian known as "Dr. Debbie" on national pet radio program, Animal Radio. Ebook author of "Yorkshire Terriers: How to Be Your Dog's Best Friend"; "Pugs: How to Be Your Dog's Best Friend"; "Mini Schnauzers: How to Be Your Dog's Best Friend"; and "Shih Tzu: How to Be Your Dog's Best Friend."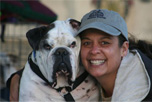 Animal Radio® News - Lori Brooks
Do Dogs Help Out Other Dogs?
Compared to the rest of the animal kingdom, the human capacity for cooperation is something special because working together with someone requires what is called pro-social behavior, kind of like charity, helping others without any direct personal benefit. In this case, researchers studied the pro-social behavior of dogs using a bar-pulling task in which the dogs had to pull trays and decide whether a second dog would receive a treat or not. In the test, the donor dogs used their mouths to pull a string to bring a tray toward a second dog. They could choose either an empty tray or a tray containing a treat on the partner's side. They found that dogs donate to familiar partners more often than to unfamiliar ones. In the experiment the dog pulling the tray did not get the treat. The only purpose of the task was to benefit the other dog that got the treat.
Alabama Rot in Dogs Reaches the UK
Dog owners in the UK have again been warned to be on high alert after cases of Alabama Rot, an extremely rare and deadly canine skin disease, which has been diagnosed in new areas for the first time. There have only been 60 known cases of Alabama Rot in the whole UK. Alabama Rot is a condition, which begins with ulcers on the dog's skin and lower legs before the rapid onset of kidney failure. It can only be 100-percent confirmed after death and there is no vaccination for it. The disease was first diagnosed in Greyhounds in Alabama, USA. It's not known whether the UK strain is the same or a variant of this infection. The first UK cases were diagnosed in the New Forest in November 2012.
Star Wars Sound Effect Begin With Nature
Back in 1977 the birth of the Star Wars franchise was also the birth of Ben Burtt's legendary career as a sound engineer. He's the genius who has contributed to every Star Wars movie and video game and TV show since the beginning, making all the sounds and weird noises you hear in the films. Believe it or not, he starts with sounds from nature, mostly animals, to bring Stars Wars to life. For example, the sound of Chewbacca was created using "mostly bears, with a dash of walrus, dog, and lion thrown in." The Sarlacc noise is mainly an orchestra of the sound crew's growling stomachs and the base effect used was an alligator's hiss. Manipulating the vocal styling's of an Asian sea otter named Moda created the sounds of the Tauntauns.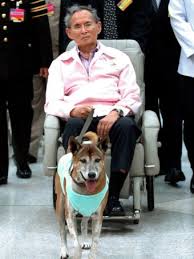 It's A Crime To Insult King's Dogs
If you are a world traveler, never to go Thailand and say something unkind about the king's dogs. Some really strict new laws there now make it a crime to insult the monarchy and now a factory worker could go to jail for 37 years for making disparaging posts on Facebook about the king's dog. Turns out that the man was charged after making a "sarcastic" post about the dog. He also faces separate charges of sedition and insulting the king. So, what did he say that was so bad? Who knows! The man's lawyer says the Thai military will not divulge what the remark was. We do know the royal dog in question is Copper, who is widely loved in Thailand. The 88-year-old ailing King rescued Copper from an alley and in 2002 he wrote a best selling book about her. She is so revered there that the media addresses the dog as ma'am.
Cancer Treatment is Expensive For Pets
For owners of dogs and cats stricken with cancer, one of the leading causes of death among companion animals over the age of 6, expensive treatments only adds to the emotional difficulties. Just to figure out what's wrong with an animal, that initial cancer diagnosis can cost between $1,000 and $2,000. A standard course of chemotherapy costs between $3,000 and $5,000, and radiation treatments used for brain and nasal tumors run between $6,000 and $10,000. Of course, for some pet parents, money is no object. More than 70 owners of dogs stricken with lymphoma spent between $16,000 and $25,000 at North Carolina State University on bone marrow transplants for their dogs and the cure rate is only about 33-percent. These aren't just wealthy people. Some used their life savings and even refinanced their houses to pay for the treatments. On top of all that, there are only about 300 veterinary oncologists in the entire U.S.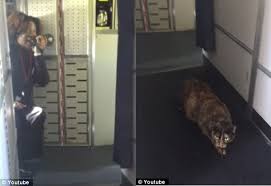 Cat Escapes Carrier and Terrorizes Flight Attendant
A mischievous cat escaped its carrier onboard a Delta flight and to the horror of a cat fearing flight attendant, the cat roamed free in the cabin. Of course someone caught the incident on video and it had some comical moments. For example, as the tortoiseshell cat approaches the flight attendant, she is heard telling the animal, "Sit right there, don't move." Of course, the cat does not obey her orders. The poor cat. Its owner fell asleep with headphones on and somehow it managed to get out of the carrier.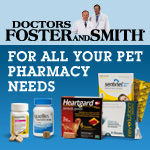 NEWS UPDATE brought to you by Drs. Foster & Smith, affordable pet supplies. Low prices every day, so you save on every order.

Listen to the entire Podcast of this show (#839)