Comedian and Musician Singing for the Dogs
Victoria Jackson & Kimberley Dahme

We welcome back Comedian Victoria Jackson (SNL - The Tonight Show) and Singer/Songwriter Kimberly Dahme (rock super-group "Boston"). They've co-written a song about a special dog. Victoria just battled stage 3 cancer and won with the help of "Daisy," her four-legged medicine.
Victoria Jackson started out supporting herself as a cigarette girl and a typist at the American Cancer Society while performing stand up comedy. Her big break came when Johnny Carson put her act (which consisted of her doing a handstand while reciting poetry) on national TV. Following her 22 appearances with Johnny, she starred in many movies and TV shows, most notably Saturday Night Live.
Kimberley Dahme is a rock/country music singer and songwriter who is best known as a former member of the rock band Boston. She played rhythm guitar, bass and provided vocals.
Together they join us to promote their new song, "Lucy Lu," which is about Kimberley's beloved rescued pet dog who passed away. It's not just a tribute to her dog, it's for anyone who has ever loved and lost a pet. It's an artfully and beautifully expression that will melt anyone's heart. Others who helped write the song are Laura Moore, Omar Lagudali, Justin Peters, Steve Rupe, Carolyn Cogswell and Jeremy Duff.
Even though Victoria has been writing songs her whole life on her ukulele, after she moved to Nashville, she thought she should take a course and see how the big shots do it. She had never heard about a songwriting camp, but soon found the Justin Peter's Songwriting Camp in Wilmington, North Carolina and joined it.
The camp was very organized camp, according to Victoria, and included 10 people that she had never met before. Justin told Victoria that they were currently working on a song called "Lucy Lu" with Kimberly and to jump right in. Everyone was sitting around a big table and throwing out ideas. Victoria states, very humbly, that she's very proud of the line that she contributed, "You left a hole in my heart and a dent in my bed."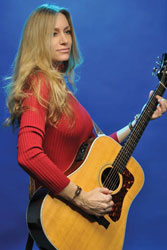 It's been 11 years since we've had Victoria Jackson on Animal Radio and since that she's run for political office, been inducted to the National Women's Hall of Fame and beat cancer's butt!
During Victoria's battle with cancer, she had her Maltese dog Daisy who stayed with her the entire time. Victoria explains that most Maltese dogs just want to cuddle. They don't make you walk them or play with them. While Daisy was old blind, she was still very dedicated to Victoria.
Victoria tells us she's all healed from her cancer and wrote two of her best songs from cancer, "It's a Broken World Baby" and "Lavender Hair." Victoria also met wonderful people like Kimberly, who was sweet enough to take her talent her beauty and her rock 'n' roll and be in my pilot for reality show Victoria is working on.
Victoria's dogs, which she loved so much, Buddy, Daisy and Peanut, have all gone to Doggy Heaven. However, she has a new dog now.
After her three dogs passed away, she tried to live without a dog. She claimed it was a month of loneliness and her house was so quite. She and her husband are empty nesters, as their kids are grown and married. Victoria went and got a Cocker Spaniel/Maltese mix named Hezekiah, who has made her lose two pounds so far by just throwing around a squeaky toy with her.
Victoria previously wrote another song, "Like a Dog." She says everyone will get a kick out of it because there's a music video that goes along with it. The video contains many scenes of dogs, including one taken by Victoria's 14-year-old friend, where a Boxer actually opens a door and walks outside. Victoria also tells us that Hezekiah is in the video. She's the little white fluffy one running in slow motion. There's also a scene of her sitting on the bed next to a pillow with a chew stick in her mouth.
Kimberley Dahme has three dogs, as well as fish, crabs and all kinds of weird things around her house. She states one of her dogs is not a dog - it's a 185-pound Great Dane, which is more like a pony! She always wanted to get some horse, but after this dog, she decided she's good!
Kimberley tells us her animals bring her so much happiness and that all of her dogs are rescued. She jokes that two of her dogs help her and one hinders her.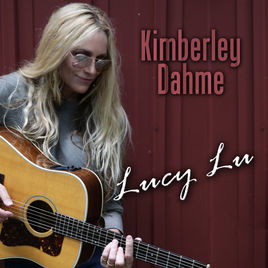 Victoria is going to be appearing on Huckabee's new show on TBN. She will be doing stand up comedy and singing her song, "It's a Broken World Baby." She explains she will be doing it right side up and not while doing a handstand. However, she explains that she can still do a handstand at 58-years-old!
Victoria had a gymnastic upbringing but had no television when growing up. She said she grew up not knowing how you're supposed to talk or dress. So she has her own invention of herself.
Listen to the song Lucy Lu. You can also you can find it available on all music apps.
Kimberley hopes everyone enjoys it and can maybe identify their own Lucy Lu. She also encourages people to adopt and to support their local animal shelters.




Are Wildlife Preying on Your Pets? - Dr. Debbie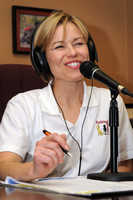 As a veterinarian I used to think a dog fight was one of the worst things that could happen to a pet while out walking. But wildlife attacks on pets are a real and present danger. Remember the scene from the Sandra Bullock movie, The Proposal, in which Kevin, the American Eskimo puppy, is carried off by an eagle? Recently Boss, my 16-pound mixed breed dog, became a target of a flying predator not in remote Alaska, but smack dab in the heart of Las Vegas' suburbia.
During a walk at our community park before sunrise, I heard a loud beating of wings as a Great Horned Owl swooped down over Boss, my 16-pound terrier mix. My other dog Nikki, a Bouvier des Flanders, ran up to Boss and the owl flew off and retreated to a light pole and sat studying Boss' movements. Fearing the owl appeared ready for a second try, I snatched Boss in my arms and hightailed it out of there.
Boss was lucky to have the deterrent of an eighty pound doggie sister nearby. But not all pets get off so lucky when wildlife predators are concerned. Outdoor cats and dogs may disappear during the night falling victim to a suspected coyote attack. Small pets under 20-pounds can be whisked off by birds of prey. Stories of wildlife attacks such as these occur all the time and the internet reads of horrific stories by owners who lose their small pets to wildlife.
What Animals To Watch For?
Coyotes are found not only in rural areas, but also thrive in metropolitan areas. Mountain lion and bobcats are other predators that are a concern for homeowners in more remote areas or along the outskirts of towns. Birds of prey such as owls, hawks, and eagles are very capable hunters, are protective of nesting sites and can easily carry off small animals two to three times their body weight.

What Can You Do?
Be especially watchful near parks, golf courses or near natural paths that wildlife use as travel corridors, such as flood channels or washes. Remember that an abundance of prey animals like wild bunnies in your community means prime hunting grounds for urban predators.
Don't leave your pets out at night unattended and preferably escort them using a leash. Wildlife rarely will approach a small pet if it is near a human or other larger animals.
Install motion activated lights on property.
Ensure all dog runs have a roof or fencing above to prevent predators from jumping over enclosure walls.
Building high fences and walls may seem like a solution, but predators can easily jump over these. Consider coyote fencing - a style of fencing that may help deter a predator from entering your backyard. Visit Coyote Roller - an ingenious and humane method to prevent a coyotes and other dogs from being able to get over the top of fence with rolling metal bars installed along fence line.

Avoid Attracting Prey Animals
Take steps to make your yard less attractive to nuisance animals like possums and raccoons as well as potential prey animals. Remove wildlife feeding stations like bird feeders. Secure garbage cans. Keep brush trimmed and landscape maintained to avoid hiding sites for animals. Avoid fruit producing trees that serve as food sources. Feed pets indoors to avoid leaving a food source outside for mice, rats or other critters.
Any Other Tools to Protect Pets?
Check out the Raptor Shield, a lightweight protective cape made of polycarbonate plastic - the same compound used in bulletproof shields. This dog vest product was developed to stop a bird of prey's sharp talons from penetrating into small pets.

What To Do If Your Pet Is Targeted By Wildlife?
Make noise, wave arms and throw rocks to drive away animals. Carry a whistle, air horn or pepper spray for defense. Remember that some species of raptors are protected species and harassing or injuring them can result in fines.
Preventative efforts are far more useful than any steps you can take to spook away a predator after an attack occurs. Speak to your neighbors and share information if you spot coyotes or birds of prey in your neighborhood.
Don't get me wrong - I wish no ill will on nature's most efficient predators. I still find those soaring raptors breathtaking and I am awed by the coyote's adaptability, but from now on I'll prefer to watch nature's animal wonders with my little terrier guy safely seated on my lap.
Featured veterinarian known as "Dr. Debbie" on national pet radio program, Animal Radio. Ebook author of "Yorkshire Terriers: How to Be Your Dog's Best Friend"; "Pugs: How to Be Your Dog's Best Friend"; "Mini Schnauzers: How to Be Your Dog's Best Friend"; and "Shih Tzu: How to Be Your Dog's Best Friend." Dr. Debbie's books.




Animal Radio News - Lori Brooks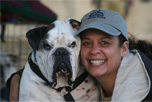 Lighted Belt For Dogs
For your pet's safety, K-9ite Company will be introducing their first product, the K-9ite Safety Light, on Kickstarter this month. It's a lighted LED belt for dogs that they cannot out slip of while you're out on a walk. It allows you to see your dog in pitch black, should they suddenly and unexpectedly get loose from their collar and leash when that cat or squirrel darts out from behind a tree. So if your dog decides to have some nighttime fun on a chase, you can see them. You can also change the lighting mode to different colors or even flash modes. The inventor says his goal is to keep dogs in sight and out of danger.
Top 10 Most Popular Pets on Instagram
The top ten most popular pets on Instagram list, starting at Number 10 is Denver's Loki the Wolfdog with more than 1.5 million followers. Number 9 is Lil Bub, a runt of the litter kitten with several genetic mutations including that makes her a dwarf cat. Lil Bub has starred in the documentary Lil Bub and Friendz, which follows Bub and her owner as they meet other celebrity cats and go to the Internet Cat Video Film Festival in Minneapolis. Number 8 is Juniper Fox who is a real fox. Number 7 is Tuna with 1.9 million Instagram followers. Tuna is a cartoonish looking Chiweenie rescued from a farmer's market and his page is Tuna Melts My Heart. Number 6 is Marnie the Dog with her signature droopy tongue that always hangs out of her mouth. Number 5 is Grumpy Cat with more than 2.4 million followers. Number 4 is Maru-Taro, a Shiba Inu from Japan who is the only non-US based pet on the list. Number 3 is Doug the Pug with 3 million Instagram followers. His videos on Facebook have more the one billion views. Number 2 is Nala the cat, the most popular cat, with 3.5 million followers who was rescued several years ago from an LA area shelter. And the most popular pet on Instagram has more than double the number of followers of anyone else on the list. At 7.1 million followers, the king, or queen, of Instagram is Jiff, a Pomeranian who is not only adorable but holds Guinness Book of World Record titles for the dog who can run the fastest on just his hind legs or his front legs. He can also ride a skateboard and stamp his own autograph or Paw-tograph.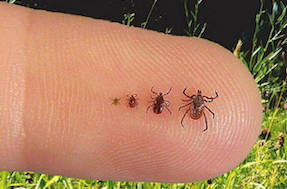 Ticks Have Been Around 100 Million Years
Ticks are not a new problem. In fact, we now find out that they are prehistoric little blood-sucking bugs. Newly unearthed amber fossils have proven prehistoric ticks were literally feeding on feathered dinosaurs 100 million years ago. A so-called hard tick, found in one of the pieces of ancient amber, turns out to be the oldest specimen of its kind and reveals the tick clutching the strands of a dinosaur feather. The tick even has the blood of its last victim in its stomach. The fossils offer the earliest example of the tick-feathered, dinosaur parasite-host relationship. As revealed by the fossilized tick, the structure of dinosaur features from the period was similar to those of modern-day bird feathers. Another amber fossil revealed a species dubbed "Dracula's terrible tick." The engorged tick is eight times its normal size, filled with dinosaur blood. Evidence suggests the tick's victim was also a feathered dinosaur.
Los Angeles May Soon Be Home To Vegan Dogs
Around 33,000 pooches enter the city's 6 animal shelters each year. They are currently fed kibble composed mostly of turkey, chicken and lamb byproducts. But food for LA's shelter dogs might soon be swapped out for a plant-based food under a proposal before the Los Angeles City Board of Animal Services Commissioners. If they approve the switch, it would make the Los Angeles shelter system the first in the nation to feed its canine residents a vegan diet. The idea was proposed by Commissioner Roger Wolfson, a Hollywood screenwriter, who cited research that he says shows vegan diets "eliminate" many health problems in dogs. However, the city's chief veterinarian has recommended rejecting the proposal, saying that it could deprive dogs of enough protein, calcium and phosphorus and would be inadequate for injured, pregnant or female dogs with puppies. Another concern noted by the chief vet is that a vegan diet higher in fiber could "lead to increased fecal bulk," leading to more work for understaffed shelters.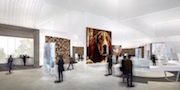 Museum Dedicated to Dogs
Cats may be the kings of the Internet, but a museum dedicated to dogs will be opening in Massachusetts. It will feature a private collection of dog inspired paintings, drawings, sculptures, photographs and of course dog accessories. The 8,000 square-foot historic space will feature more than 180 pieces from famous artists and rare dog collars dating back to the 1800s.


Listen to the entire Podcast of this show (#944)