"Boomer The Dog" Guests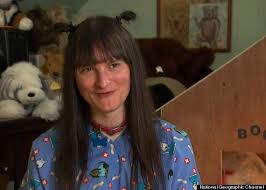 Delivered from obscurity by NatGeo's Taboo, Boomer is a dog in a man's body. Some have issues with a grown man dressing up as a dog, eating dog food and barking out commands. Boomer was inspired by Disney's Shaggy DA movie and hasn't been the same since. Boomer explains his world in this special interview.
Boomer says he wants to be a dog, and that maybe he was a Dog in a past life and has some memories of it, or maybe he was meant to come into this world as a Dog, but was born in the wrong body. Lots of "maybes" in there, and it does seem odd at times, even to him when he thinks about it, not in a bad way, but sometimes he feels like a storybook character. It's just that somehow the Dog is him, and he is the Dog.
That's how he lives and enjoys it. Would he want to change it? Never! He had trouble with his school and parents over it, (some really trying times at one point), which made him wonder what direction he should go, but he's always thought it's a good thing that he's wanted to share with others.
It all started in 1976 when he saw a movie at age 11 called The Shaggy DA, a Disney movie about a lawyer who gets changed into a large Sheepdog. He loved that movie, and thought how great it would be to transform into a Dog just like that. He states some kids were into horses and things like that, but he was a dog nut.
He started using the name of Boomer The Dog in his senior year of high school, switching over from Pongo (star of the 101 Dalmatians book and the animated Disney movie of the same name.
Boomer's day is a little different than most. He has a collar that he wears everyday; he does his hair so it appears he has ears, sometimes he wears doggy scrubs and when he goes out he carries a squeaky toy. Occasionally when he goes out, he will wear a sheep dog costume made of shredded paper, when he wants to feel closer to being a canine. Often times Boomer will even eat canned dog food from his bowl, alongside his water dish, both on the floor.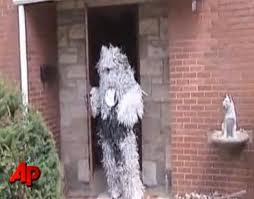 Since 2010, Boomer The Dog has petitioned the court to change this name legally to Boomer The Dog. His petition was denied. He then filed an appeal to the court's denial, which he lost in the summer of 2011. It's not the end though, like any smart Dog, he has some new tricks to try, thanks to those he's met through this case as it's gone along.
Boomer claims his name-change request had been denied, because he was told that if he ever needed to call 911, he would bark that his name was Boomer the dog, and they wouldn't believe him. But Boomer believes that they would be able to see a screen, see his address, and know he was legit.
Boomer mentions in November 2010 a guy in Eugene Oregon got his name changed to Captain Awesome, being inspired by a character with that name on the TV show "Chuck." A man who took his band's name, his name has been changed, and he's now known as "The Dan Miller Experience." There's a Virginia Beach man, Wiserman Always Fifty. Those are just two of the dozen or more that can be found easily with a search on unusual name changes.
When asked if there was a machine that could turn him into an actual dog, would he do it? Surprisingly Boomer says no. He says he would like to be able to switch back and forth. He would like to be a dog for short periods of time and do dog things, but he would also still want to be human so he would be able to retain his personality and intelligence, because these are things he has now and wouldn't want to lose them. He would like to be a bridge to bring some canine things to the human world, because Boomer likes the ways and virtues that dogs have.




Pet Friendly House
David Beart, Professor's House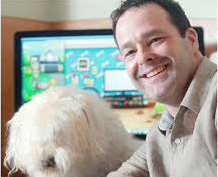 David Beart wanted to build his house especially for his dog by teaming up with many manufacturers to stock his pet-friendly dwelling. While this may not seem like a big deal, David may be onto something. The pet industry is the second-fastest growing sector at 261 BILLION dollars this last year. It only makes sense that our homes will become more homier for our furry-friends.
The goal is to create a mid-price range home, which is uncommonly beautiful, yet unusually durable and easy to maintain not only for pet-owning families but for the broad public as well. Each step of the project would be documented by posting new articles, blog entries, and announcements on a website. The entire project, from start to finish, would be interactive, entertaining, and educational.
The house would be for a mom and a dad, a boy and a girl, a dog and a cat, as well as a bird and several hundred fish and will be an approximately 2,200 square feet.

David and his family plan to live in the house, and he wants the media to film them putting the house through the paces. If you have pets, you really want products in a home that can stand up to them.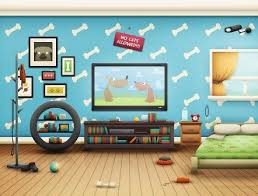 What makes a pet friendly house? There are lots of things, but flooring has to be the most important. David and his family plan on taking some dogs to the river and letting them get muddy. They will then bring the dogs back to the new house and let them loose. Tennis balls will be thrown, and the dogs will be jumping on the couches, the beds and running all over the floors. The flooring should be scratch resistant, so David wants to put it to the test. He also plans on having a walk-in shower for dogs in the garage, as well as their own bedroom in the house.
While this home would be in Canada, David want to build a second pet friendly home in the United States.




On-Line Pet Scams
Miranda Perry, Scambook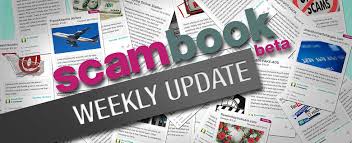 Scambook's Miranda Perry lists off the top scams directed at the very-delicate and vulnerable pet-lover. These include Craigslist scams for pure-breed puppies to Western Union fraud. She even tells us about a guy who impersonated an animal control officer to bilk money out of noisy neighbors. Be listening so you won't be a victim.
As with any transaction, consumers need be aware that any deal that seems too good to be true is possibly be a scam. Scambook, the Internet's leading consumer advocacy platform, is warning consumers against buying pets online after multiple reports of online pet fraud. Consumers need to be extra vigilant if they are shopping for a new pet on sites like Craigslist as well, because there are bargain prices listed for even the most expensive pets. This should be an automatic red flag! These people prey on our good side. They know we are looking to bring an animal in our lives to comfort us and for us to take care of. They may even say they like you so much; they are going to give you the puppy for free. All you have to do is pay "fees" for the vaccinations, travel, insurance and authorization, and they will send you the dog. This is where people get scammed! The money is usually sent in a money order or through a wire transfer, and then they are ripped off without ever receiving a dog.
One way to weed out scammers from legitimate breeders and true rescue centers is that these people will invite you to come out to the place where the dog is with its parents and littermates, so you can meet the puppy first. If someone wants to ship you a dog from another state, this is another red flag!

Consumers have reported showing up to the airport to retrieve their dog and they find out that the dog is still in another state, because there was some kind of "issue" with fees. They then contacted the seller, who said there were problems and they need to have more money sent to them.
Even if you do acquire one of these dogs, it may not be in the best health. Dogs from puppy mills may look fine when they are puppies, but as they grow, they may show signs of serious medical conditions such as heart problems, in as little as 6 months. Or, the dog may have even been stolen and then sold.
Miranda tells us about one scam that even shocked her. At a gated community in Florida, someone came in dressed as an Animal Control Officer. They told an elderly couple that their dog was barking too much. They said neighbors had complained, and that if they didn't pay $500 on the spot, they were going to take the dog away.
Scambook lists the following warning signs and tips that demonstrate when an online pet deal is fraudulent: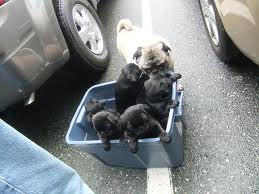 1. Request for additional payment to cover licensing fees: This extra "licensing fee" that is usually mentioned at the last minute or after the transaction has already begun, is a huge red flag.
2. All costs listed upfront with transparency: Conversely, a reputable breeder or importer will let the buyer know all costs upfront, including any licensing fees or costs for cages, shots, etc. Any additional "surprise" costs that follow the initial price are signs that this pet transaction may be a scam.
3. Research the legality of the pet: A pet may not even be legal in your state, county, or country. Before you trust the word of an online seller, make sure to do research yourself.
4. Bargain prices for pets: Scammers prey on consumers looking for a bargain or a deal to lure in consumers who want to capitalize on the opportunity rather than think through the transaction.
5. Insisting on wire transfers or other suspicious payment methods: Legitimate breeders or pet importers will not insist that the money is paid through a wire transfer service such as Western Union or other alternative methods such as a suspicious escrow site. Also be on guard against any business that requests payment be sent to a separate address, particularly if that address is overseas.
6. Research breeders online: It is essential to research breeders online and to make sure they are a verifiable business. Scambook.com lists any complaints regarding the company. Individuals should be able to call and contact the company to visit the animal prior to the transaction.
7. Questions should be answered: A legitimate breeder and importer will answer all questions that consumers may have, including the costs of the transaction and the health of the animal. If they refuse to respond or behave suspiciously in any way, this person is likely a scammer.
It is amazing how low people will stoop to for money. The best way to prevent falling victim to a scam is to become educated about it ahead of time.
Miranda Perry is a professional writer and media consultant from Los Angeles, California. On the Scambook blog, she takes on consumer advocacy issues such as false advertising, Internet fraud, identity theft, product reviews, and financial security.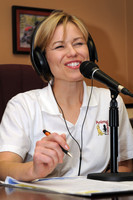 Dizzy Old Dogs - Diagnosing Idiopathic Vestibular Disease -Dr. Debbie
I came running when I heard the crashing paw steps of my 12 year old Labrador, Magnum as he flopped and tumbled in a nervous frenzy. With head crooked to the right, Magnum's dizzy, wobbly movements resembled a carnival lover's exit from the tilt-a-whirl ride. His eyes darted back in forth in an uncontrollable movement. Many might assume Magnum suffered a stroke, and figured it was time to put the old guy to sleep. But fortunately there was hope - Magnum developed a typical case of Idiopathic Vestibular Disease.
What is Idiopathic Vestibular Disease?
Idiopathic Vestibular Disease, also known as Old Dog Vestibular Disease, is a condition commonly diagnosed in senior dogs, but also seen in cats. The term idiopathic basically means the cause is unknown. This condition affects the vestibular system and the pet's sense of balance, typically with a rapid onset of symptoms. In Magnum's case he literally was fine at the start of a television program, and was wobbly just one hour later.
Symptoms of Old Dog Vestibular Syndrome include a wobbly gait, head tilt, anxiety, panting, and an abnormal eye movement called nystagmus, a condition in which the eyes dart rapidly back-and-forth or up-and-down. In addition to mobility problems, the topsy-turvy sensation leads to nausea, vomiting, and an inability to eat or drink. Thankfully my sturdy stomached Labrador barely missed a meal during his bout.
The cause of idiopathic vestibular vestibular syndrome isn't completely known, but fortunately most dogs recovery from symptoms within 2 to 4 weeks. In some cases dogs may suffer from future bouts months to years later. Some dogs may retain a slight head tilt or unsteadiness at times.
What Can Be Done?
A veterinary examination is important to identify suspected cases of vestibular disease. Other possible causes of these symptoms could include an infectious or inflammatory condition, inner ear infection, cancer, or a brain vascular episode - a stroke-like episode. In order to rule out these potential causes, more detailed testing is needed and may include tests like a CT, MRI, and CSF tap.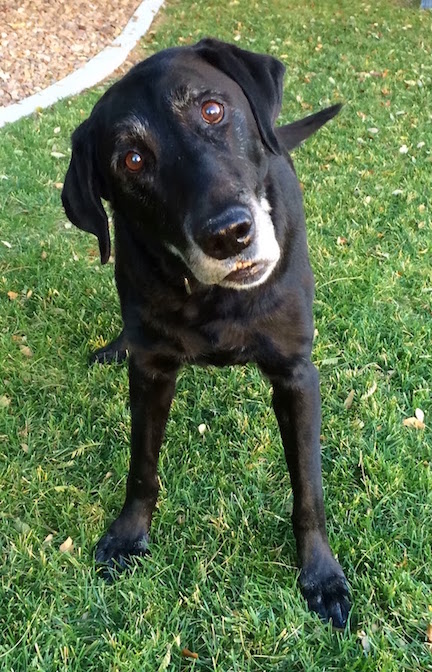 There isn't a cure for a vestibular episode, and some pets recover without any treatment. But other animals require supportive care including anti-nausea medications, intravenous fluid therapy, hand feeding, and physical assistance to walk and protect from household hazards.
Caring for a frightened, disoriented, wobbly, nauseated dog can be difficult. My 80 pound Labrador needed physical support to get up, walk outside and required hand feeding at times. He couldn't be left home alone without risk of injury. And because of all the hoisting, blocking collisions with furniture, and guiding away from the depths of the pool, I injured my back during his rehab time. The reality is that home care of a small or toy breed with vestibular disease is much easier than the physical demands of a assisting a large or giant breed dog.
Lessons Learned
I have seen many a patient come to my veterinary office for euthanasia after developing similar vestibular symptoms. Some pet owners assume that the severe symptoms and rapid onset mean that there is no hope and euthanasia is the only choice. I'll admit that vestibular symptoms are scary and affected pets are tough to care for at home, but if given the tincture of time, many senior dogs will eventually improve. Perhaps Magnum's story will help other pet owner's opt to pursue treatment or testing, and give time a chance to heal.
Four weeks later and Magnum was back to playing with toys and energetically bounding on walks. He still retained a slight head tilt to the right, his badge of courage as I see it. I'm thankful for his recovery and adore his charming, lovable tilted perspective of the world.
Featured veterinarian known as "Dr. Debbie" on national pet radio program, Animal Radio. Ebook author of "Yorkshire Terriers: How to Be Your Dog's Best Friend"; "Pugs: How to Be Your Dog's Best Friend"; "Mini Schnauzers: How to Be Your Dog's Best Friend"; and "Shih Tzu: How to Be Your Dog's Best Friend." Dr. Debbie's books.




Animal Radio News with Stacey Cohen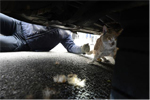 Cat Survived Ride Under Car
A lucky cat survived a 15-minute ride wedged next to the muffler of a car in New York City. According to the New York Daily News, the driver said he and his family smelled something burning and decided to pull over to check it out. The odor turned out to be the cat's singed hair, which was discovered after the driver looked under his car and saw the animal's tail hanging down. He immediately called the police, who helped free the cat from the car. The understandably startled feline was taken to a local shelter to be examined.
No More "Pick Up Your Pooch's Mess" Signs
You know those signs on New York City streets warning dog walkers to clean up their pooches' messes? The Department of Transportation has removed them. Department officials say New Yorkers already know about the fine for not scooping the poop. The city replaced the worn, faded signs with shiny new signs explaining parking rules.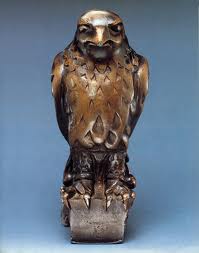 Famous Bird Statuette Sold For $4 Million Dollars
The famous bird statuette from the classic Humphrey Bogart film "The Maltese Falcon" is worth more than $4-million-dollars. That's how much the 45-pound, 12-inch tall lead movie prop sold for at auction in New York. Bonham's Auction House noted "the spectacular price" reflected its significance in the history of cinema. The jewel encrusted statuette was the central prop in the 1941 thriller starring Humphrey Bogart as detective Sam Spade.
More Vets Offering At-Home Euthanasia
Pet owners, now more than ever, want to give their animal the very best in life, so when it's time to say goodbye, they don't want to do anything less. As a result, more pet owners want to do an in-home euthanasia. While this isn't new, it is becoming a specialized area of veterinary medicine. Bernard Rollin, animal sciences and philosophy professor at Colorado State University, said he believes the trend goes along with today's treatment of pets as members of the family. "I think it's tremendous, a real huge advancement for the sake of the animals, no question," he said. Unfortunately, many veterinarians might only have two or three exam rooms, so it's hard to give somebody who's grieving an extra 20 minutes to sit and talk. As a result, many companies have cropped up in recent years that recruit veterinarians who deal solely with end-of-life care for pets.

Listen to the entire Podcast of this show (#1205)