Who's Got Your Pet's Back When The Raptures Comes?
Pastor Travis Davis, Pets After Rapture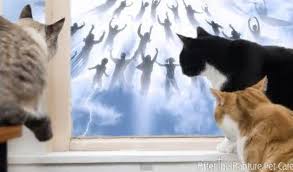 Pastor Travis Davis founded Pets After Rapture. He considers himself the "middle-man" between your pets and the animal-loving non-believers who will be around after the rapture. For a small fee, his service will be dispatched to your home "post-rapture" to care for your pets.
According to Pastor Davis, the Bible doesn't say anything that God is going to take your pets. However, we really don't know. Pastor Davis says that he and his wife love their animals to death but they require attention. If, for example, the rapture happens at 1:00 in the morning, one of his dogs would be locked in a cage and the other dog would be stuck in a room. Who knows how long they would be stuck until someone came and saved them. If they don't get their medication and they don't get help, they could die alone. This led him to create something to help these animals in need, which is important to him and his wife.
Pastor Davis tells us the rapture is a time in which Jesus comes for the loyal people, but no one knows when the rapture is going to happen. A lot of people say it's at a time of tribulation and that about in seven years it's going to happen pre-tribulation. But before that, God's going to come and he's going to take all the people that believe in Him, that have accepted Him into his heart, the Father the Son the Holy Spirit, and they're going to be taken away in a quick instant. Everyone left, who doesn't believe in God, will still be here on the planet. It doesn't say anywhere where they're going to take his faithful dogs, so they will be left with the nonbelievers down here.
For example, if you live in Los Angeles, California, and you believe, you are going to be paired with a non-believer in the area that is going to take care of your pets. No one knows the nonbeliever's name. You're not even going to know the person that's going to be working with your pet. Everything is kept confidential. But when that happens, Pastor Davis actually has an atheist on staff whose entire job, when the rapture happens, is to send out e-mails to the nonbelievers alerting them to come get your pets. If there's not a non-believer in the area, there's certainly a no-kill shelter in your area, which you will be paired up with so that the no-kill shelter will get the information and they will go out to get your animals.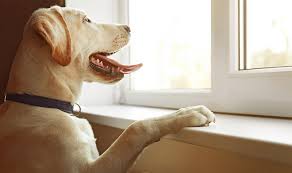 But what if you have a special needs animal that needs daily medication? How do you leave instructions on how to care for that pet? Pastor Davis explains that they have a form where you can list special instructions on how to take care of your pet as well as any medications they take. The caretaker is going get that information. So when they pick up your pet, they have all the specific instructions and everything that they need.
Joey Villani explains that when he read the Book of Revelations, it's his understanding that the earth is supposed to be in such turmoil at that point. What is his guarantee that someone is actually going to be checking on his pets when there is so much turmoil going on in the world? What's his guarantee at this point, especially if it is something that he will be paying for?
Pastor Davis likes to say that there are three things that are guaranteed in life. There's death, there's taxes and then there's rapture (just a little Pastor joke!). He explains to Joey that there is no guarantee that they're going to help. This is why he doesn't pay these people. He actually calls them. He talks to them because he wants to make sure that they are good minded people and that they are actually going to do the job.
According to Pastor Davis, when the rapture happens, the world is going to be in chaos initially. But the first three and a half years it'll kind of be all over the place. Then the Antichrist is going to come and then from there the world will start to get a little bit better, because the Antichrist is going to unite everyone. Then when the 7-year mark happens, it's not so good.
If you think about it, ultimately you can either have no one to go help your pets or you can have a type of insurance that there will be someone there to help them. It's not for everyone, but Pastor Davis wanted to make sure that he provided this service.




Rescue Crowd-Funds Butt-hole For Kitten
Shawn Simons, Kitty Bungalow Charm School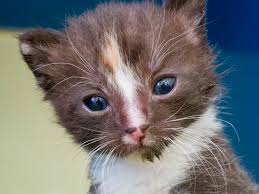 Shawn Simons is the Headmistress of the Kitty Bungalow Charm School for Wayward Cats. They're an outstanding non-profit rescue in the Los Angeles area and crowd-funded a $10,000 surgery for a 1-month-old kitten. That may not sound unusual until you hear the kitty was born with Imperforate Anus, or no butt-hole.
The kitten's name is Cluck. At the Kitty Bungalow Charm School For Wayward Cats, Head Mistress Shawn Simons says they try and name their cats appropriately. This little kitten, which didn't have a butthole, was named after chickens who have a cloaca, which means they just have one opening where they do all their business. The rest of her litter was normal and were named other barnyard names.
Shawn explains that at her rescue, they run a medical intern training program. This program includes kids that are in college that are looking to go into veterinary or human medicine. Shawn tells us that one of their young interns did the check-in of Cluck when she first came in. Cluck was probably about five days old and was super tiny. A check-in includes getting their weight and temperature. After checking Cluck, the intern came to Shawn and said that she couldn't get Cluck's temperature because Cluck didn't have a butthole. Shawn thought that as a new intern, she was playing games with her. Shawn then checked Cluck herself, and sure enough, there was no butthole. This is called imperforate anus.
This means that Cluck eliminated both urine and feces through her vagina. Part of the reason Shawn thinks she was able to survive is that the kitten came in with her mommy. So at this point Cluck was just having pure mama's milk and they weren't dealing with any outside chemicals and things, which was pretty pure and easy for her to pass.
The issue needed to be fixed via very risky surgery, but it was Cluck's only chance to survive, because everybody needs to poop. Cluck went through the toughest surgery, but still required a second surgery. The Kitty Bungalow Charm School For Wayward Cats is not an organization that does a lot of really wild, super expensive and risky surgeries. That's not what they're about. But Cluck is so vibrant and actually the reason she had to have a second surgery, and this was fascinating to Shawn, was because she was so healthy. That's really where it became a problem. Her body was developing scar tissue where they did the surgery. The body heals by scarring over and so she scarred over her first butt hole, so they had to make her another one.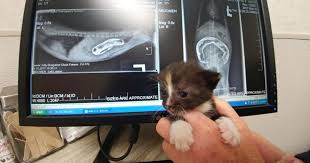 So how do you keep the second one from not scarring over? Shawn warns that she is going to get graphic. She said they originally kept her feces super soft and because of that it could just kind of leak out almost anywhere. So this next time around they are tamping down on that and having her create an actual poo that she will have to dilate to push out. That will help keep the scar tissue from scarring over. They are actually doing many more follow-ups with the surgeons to keep a much closer eye on it.
Dr. Debbie explains that with some of the kittens that have this issue there is a procedure, called bouguenais, where they basically insert a little balloon in and just kind of repeatedly stretch the areas to break down some of the scar tissue and to try to kind of loosen the sphincter so that things can pass through. Shawn states that Cluck recently had another checkup and they did put a catheter in and are able to keep that area of space open. So it is believed that she probably does have a balloon to help with the dilation.
Dr. Debbie says this this can occur in both cats and dogs, but she sees it more in kittens. It usually doesn't start to become apparent until kittens are becoming weaned. Dr. Debbie blames it on the mom, because mom does such a great job of cleaning and stimulating kittens, that when they're out of the picture, we are left helping the kittens with toiletting and cleaning. That's when most of these kittens with this problem are discovered. She also states it tends to be a little more common in female cats.
Shawn tells us that this is the first time she's seen it after taking in almost 1,800 kittens over the years.




Pet Flipping - Seven Tips to Safeguard Your Pet - Dr. Debbie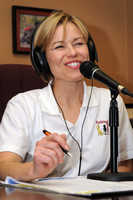 Pet lovers beware of the disturbing criminal trend called "pet flipping." This is when a person steals a pet or takes ownership of a lost pet, and then sells the animal. Pets are typically sold on the Internet to make a quick profit. The American Kennel Club (AKC) reports a rise in pet thefts.
Pet flippers most commonly target purebred dogs because they can fetch a high price, but even mixed breed dogs are at risk. Dogs are swiped from porches, fenced in back yards, dog parks, and cars. Some pet scams involve a person advertising as a pet sitter or trainer, who then disappears with your pet. Other scams involve someone who steals a pet and then responds to the lost pet ad, making money on rewards.
Top 7 Tips to Prevent Pet Flipping:
1. Don't Leave Your Pet Unattended
Avoid leaving your pet unattended, even in your own backyard. Don't leave your pet outside of stores or coffee shops. Tying your dog's leash up while you run that quick errand can give a thief the few minutes he needs to snatch your pet while you step away. Keep a watchful eye on your dog when visiting dog parks.
2. Get Your Pet Microchipped
A microchip is one of the best tools to reunite lost pets and serves as legal proof of ownership. Be sure to keep your contact information up to date with the microchip company.
3. Use GPS Collars
A GPS collar allows you to track your dog's movement minute by minute. These units can help you find your pet quickly if lost, but are of little use if a pet flipper removes the collar. I use the Tagg Pet Tracker for my dog and like that I can locate him to a precise location with my smart phone.
4. Get Your Pet Spayed or Neutered
Dogs that aren't spayed or neutered are especially prized targets to thieves since they are perceived as a money-making opportunity. Spaying and neutering also decreases the desire to stray and is good for your pet's health.

5. Research Pet Services Carefully
Before signing on for pet sitting or dog trainer services, research the business person's reputation with the Better Business Bureau. Ask your veterinarian for a referral to a reputable pet professional. Request references before using a new pet service.
6. Buyer Beware
Be cautious when buying a pet online and only use reputable breeders. Check out a breeders standing with the AKC and breed clubs. Be wary of individuals that lack documentation of breeding or veterinary health care records.
7. Sign Up For Doggie Facial Recognition Apps
High-tech facial recognition technology is now available to identify and track down lost pets with services like Finding Rover. Use your iPhone to download the app at http://findingrover.com. Upload your pet's photo in their database, and promptly notify Finding Rover if your pet is ever lost.
Pet flipping is so heinous because it exploits the cherished relationship between family and a beloved pet. Share this information with fellow pet lovers to spread awareness and halt this criminal trend.
Featured veterinarian known as "Dr. Debbie" on national pet radio program, Animal Radio. Ebook author of "Yorkshire Terriers: How to Be Your Dog's Best Friend"; "Pugs: How to Be Your Dog's Best Friend"; "Mini Schnauzers: How to Be Your Dog's Best Friend"; and "Shih Tzu: How to Be Your Dog's Best Friend." Dr. Debbie's books.




Animal Radio News - Lori Brooks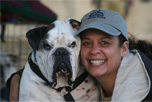 Add Your Pets To Your Amazon Account
Amazon made its biggest move toward owning a share of the pet care world by launching 'Pet Profiles,' which means you can add your pets to your Amazon account. But it's for more than just having fun by officially putting your pet out there as a member of the family, there are some perks too. Here's how it works: After you sign up your first pet you get a 20-percent, one time discount on your next pet food order. There are also member-only discounts on pet-related items. When visiting the website, select "Pet Supplies" from the list of departments. Next, click on 'Pet Profile' in the horizontal menu. To sign up, you're asked your pet's name, age and breed (you can enter up to two breeds for some mixed breed animals). You can even post a picture of your pet if you'd like. There are also options for different types of reptiles, fish and birds and even horses.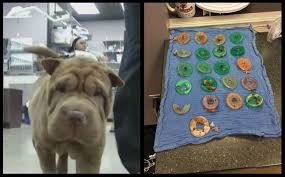 Veterinarians See The Most Amazing Things
A veterinarian in Oklahoma operated on a dog that wasn't feeling well after eating its human sibling's pacifier. The vet could have made a ton of money had he charged for each pacifier he would later take out of the dog's belly, which ended up being a total of 21. Twenty-one binkies were pulled from the 4-year-old Shar Pei's belly. Imagine the family's surprise. The pre-op x-rays had shown there might have only been 7 to 9 of them.
Cannabis Pet Products Not FDA Approved
People anxious to relieve their pet's physical pain are more and more trying oils and powders that contain CBDs, a non-psychoactive component of marijuana. But, there's little data on whether these products work, or if they have harmful side effects. That's because the Federal Government has not approved any clinical trials of cannabis pet products. When the Federal Drug Enforcement Administration (FDA) announced that even marijuana extracts with CBD and little or no THC (marijuana's intoxicating component) are an illegal Schedule 1 drug, the University of Pennsylvania halted its clinical trials. However, Colorado State University is pushing ahead. There are roughly two-dozen dogs enrolled in the school's arthritis study that are given either CBD oil or a placebo. Activity monitors are attached to the animals' collars to determine if they're more mobile when taking CBD.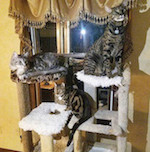 Reward For World Record Missing Cats
Two world record-holding cats, and their two other world record-less feline siblings, who were all thought to have died in a house fire near Detroit have been spotted near their former home. There is now a reward for finding any one of the cats or if your tip leads to the capture of all four cats. Will and Lauren Powers are the pet parents of the cats. The cats are obviously like this family's children and they are kind of famous. One is a Guinness World Record with a tail of 17.5 inches long. Their other male youngster, only 2 years old, stands 20.1 inches tall, another world record.

Listen to the entire Podcast of this show (#1101)