They Don't Brake For Cats!
Mark Vette, Driving Dogs
The SPCA's (Society For the Prevention of Cruelty to Animals) rescue animals that are in trouble, provide shelter and medical care and prosecute people who harm animals. So it's not surprising that their biggest hurdle is finding good homes for all of the animals they take in.
As a result, they have become experts at marketing themselves and the animals in their care. However, their latest campaign has gotten the most attention. They have dogs that can drive! No, these are not special dogs, but shelter dogs trained by Master Animal Trainer Mark Vette.
When Mark was first approached and asked if he thought he could train dogs to drive, he responded that he was "Stupid enough to say yes!"
Mark rescued three dogs from the shelter, with the purpose to demonstrate that dogs at shelters are as intelligent, or more intelligent, than other animals.
Mark normally trains animals for film and television, and used some of the sort criteria as he would use in films when selecting these dogs. There were originally seven dogs to chose from, and Mark says anyone of them could have learned to drive but they then narrowed it down to the three most stable who could handle the pressure from all of the cameras. The dogs also had to be food motivated and have a good temperament. Mini Copper cars were then modified so dogs could drive them.
Mark says most of the breeds he normally selects for trainability are Border Collies and German Shepherds. However, hybrids, or mutts, which are normally found at shelters, have a "hybrid vigor." This is the benefit of two breeds coming together.
When Mark trains dogs for the movies, they "cheat" a little bit. What this means is that they train the dogs in little bits and pieces and then edit the film together. However, in this case, the dogs were in the car driving by themselves. While there weren't any trainers in the car with them, the trainers were communicating to the dogs by radio.
Mark tells us funny stories, such as when the dog would hit the accelerator at full throttle and the trainer had to chase him down the runway and not get run over. However, Mark assures us that, "No People Were Harmed" during filming. As a backup, they did have a remote safety brake if anything went seriously wrong.
This is only the beginning. Look for these driving dogs in commercial and possibly even films. Their videos have gone viral and have over 10 million views. The lives of thee dogs have been radically changed and they are currently in the process of being re-homed.
Just think what you can train your own dog to do at home. The possibilities are endless!
Divine The Canine Mind!
Heidi Schulman, Dog Tarot Cards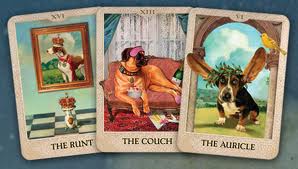 Want to know why your dog shreds your slippers but ignores his designer toys? Why he insists on rolling around in the grass 10 minutes after his bath? Or if he likes having the TV on while you're not home?
You can find these answers, and more, in the Dog Tarot Cards. These cards consist of 30 very colorful cards and a sixty-four-page booklet that explains how to use the cards. Now you can understand your pet and have fun doing it.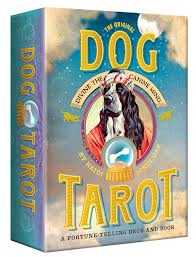 Are these for real or just magic? Heidi tells us that she has received letters from tarot card readers who are actually using this deck to read for the client's pets. She also received a letter from someone who said the cards were so much fun, they were gong to have a Dog Tarot Card Reading Party.
Heidi does a reading for Animal Radio's Stunt Dog Ladybug, to find out why she turns around three times before lying down. Tune in to hear the answer!


The Dogfather's Grooming Tip with Joey Villani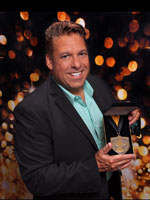 Bathing Your Bird
There are benefits to bathing your bird. Not just parrots, but also canaries and cockatoos, and everything in between. Bathing your bird is an important process in owning a bird.
Bathing your bird will keep their plumage in good condition. When you see an unhealthy bird, the ends of their feathers look frayed and the bird just doesn't look well. While part of this problem is their diet, it can also mean that they aren't clean.
Bathing will soften the dirt on the feathers and the skin, so it will help them when they clean themselves. Birds prune themselves all of the time. In doing this, they are peeling off the casing on their feather and encouraging growth of new feathers. When you bathe them, it helps get the dirt off, keeps the dander down and cleans their skin, making it easier for them to groom themselves.
You want to help keep the dander down, because birds themselves can develop respiratory problems from their own dander, which can stay in their cage.
This can also help people who are around the bird and might have respiratory problems of their own. The cleaner you keep your bird; it is better for you and your bird.
Routine bathing also moisturizes your bird's skin. But how do you bathe your bird? Get some distilled water and a spray bottle and spray your bird. Never use tap water, as it contains chlorine and fluoride, which is harmful to your bird.
The important thing is to start at the top and work your way down. Never spray from the bottom up. When you start at the top, you are almost imitating the way rain would fall over your bird. This is a more natural way for your bird to get wet. Some birds will accept being sprayed, but other may prefer the water put in a saucer where they can bathe themselves.
You should never use any antibacterial soap on your bird. The antibacterial properties are harmful to your bird. While it is not necessary to use any soap, if your bird does get greasy, use a dish detergent like Dawn. You may also find a proper shampoo for your birds at the pet store.
Joey has an Umbrella Cockatoo that likes to get in the shower with him. If your bird likes to shower with you, make sure you get a shower filter. These filters are inexpensive and both you and your bird will get the benefits.
If you are going to dry your bird, use a pet dryer, not your own hair dryer! Your hair dryer has Teflon, which is extremely toxic for birds.
Bathe your bird on a regular basis and you will both be happy and healthier.

Animal Radio® News with Stacey Cohen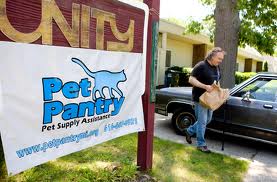 Pet Pantry
Elizabeth DeMasellis' family is like many in metro Detroit, living paycheck to paycheck. There are bills to pay and diapers to buy. Sometimes when money gets tight, food for the family's furry friend Zoe, a Boxer/Beagle mix, is stretched a little or she gets a hot dog. That is, until three months ago, when the 30-year-old Milford mother of three learned she could get dog food at Community Sharing Outreach Center in Highland Township, which she has visited for clothing and food for her family. Since then, DeMasellis has gotten free bags of dog food, keeping Zoe's belly full and saving up to $25 a month extra in her pocket to pay bills. "That's been a huge bonus and a blessing to our family," DeMasellis said of the outreach's pet pantry, where last week the almost 2-year-old Zoe chewed on a dog bone. "I wouldn't get rid of her just because we couldn't afford to feed her. It's like getting rid of one of your kids. They need food just as much as you and I need food." Families who are struggling financially often don't have enough food to put on their tables, let alone to buy for their pets. Often, they share their food or, worse, surrender or abandon a beloved dog or cat they can't afford to feed anymore. The Humane Society of the United States started a new program called the Fill the Bowl Project, where congregations can help pets and their families by adding pet food and supplies to collection drives.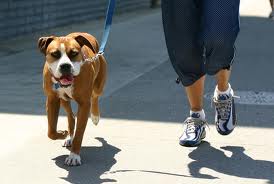 Vets and Experts Agree - Your Dog Needs to Walk!
So what constitutes a good walk? First, it must be every day, preferably more than once. In younger and also senior dogs, shorter more frequent walks are often best. Keep your veterinarian up-to-date on your dog's exercise habits and modify them as needed. It is imperative to walk your dog on a leash. There are valid reasons for our area's leash laws, so no matter how much you trust your pup, keep him on lead. Things can go awry in a flash (squirrel, errant car, another loose dog), so it's best to maintain physical control. Sometimes, when we're in a hurry when we're walking our dogs, we become impatient with all of the pausing and sniffing. Dogs essentially see with their noses, which are much more powerful sensory organs than their eyes. Their walks are most satisfying and enjoyable when they are allowed to interact with their environment and its informative scents. It should be noted that walks are the perfect time to practice obedience. Carry treats with you and work together on sit, down, heel, etc. Walking is fabulous exercise for both you and your dog? The snarky phrase, "If your dog is fat, you aren't getting enough exercise" is often not far from the truth! And of course, walking enhances the bond between you and your beloved pet, too.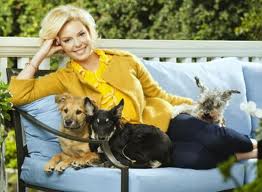 Katherine Heigl Tucks Her Pets In At Night
Bedtime at Katherine Heigl's house can take a while. As a mom of two daughters and seven other kids of the four-legged variety, she likes to give each one special attention. The Emmy Award winner says first she tucks in her girls, 4-year-old Naleigh and baby Adalaide, who turns 1 in April. Then she takes her seven dogs through their own nighttime ritual. The actress has channeled her love of animals to ending animal abuse. She's launching a line of pet products called Just One where portions of the proceeds go to help programs that foster, train, neuter and rescue animals. Merchandise ranging from pet collars to apparel and accessories for people is available on the product's website.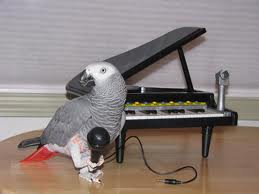 Parrots Are Choosy About Their Music
It turns out that parrots are choosy about their music. According to The Daily Telegraph, scientists have discovered that parrots have personal tastes in music. Scientists played music to a pair of African grey parrots, and found that the birds' preferences differed greatly. Dr. Franck Peron of the University of Lincoln, who headed the study, says that both birds enjoyed rock and folk music from such artists as U2, UB40 and Joan Baez. They even got into the music, bobbing their heads and squawking as if they were singing along. When they were played Bach they became relaxed. Meanwhile, they seemed to become distressed when researchers played electronic dance music. Peron says when EDM was played; the birds screamed, "In a distressed, scared way." But in a second study, the birds were placed a cage equipped with a touch screen, and could play either Scissor Sisters' "I Don't Feel Like Dancing" or Vangelis' "La Petite Fille de la Mer." During the month-long experiment the pair chose to play the songs a combined 1,400 times. But one bird like Scissor Sisters better, while the other preferred Vangelis.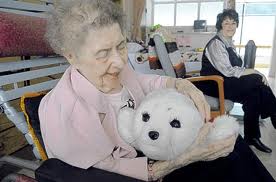 Robotic Seals Are Calming
One Swedish retirement home is getting a new guest, a robotic seal, to help improve the morale of residents. Berit Lundstrom, the chair of the care trust, says the seal has "Appealing eyes and soft fur which is pleasant to touch." He adds that he hopes it will bring comfort to elderly people who feel anxious. Linkoping University is backing up Lundstrom. They say that robot seals are more effective is calming people than robot dogs. This is because most people are accustomed to dogs' behavior and when they discover the robot dogs aren't real they become disappointed. Because people aren't used to the movement of a seal, it makes the robot seal more believable. The university's study also found that after children and the elderly interacted with a robot seal, they became calmer and more in tune with their surroundings. Lundstrom prefers the robot to their real-life counterparts. He says there's no risk of allergies and the robot is easier to handle. He adds that when you put the robot in someone's lap it stays there.
Want To Get Your Pet a Modeling or Showbiz gig?
Here are tips for the aspiring Pet Momager. Strike a pose: Don't spend a fortune on professional photos. Simply snap a few well-lit and clear shots of your dog or cat that capture his or her personality and have them printed in a 10x8 inch format. Draft a resume for your dog or cat and put together a montage of photos of your pet with different looks or doing tricks. Then submit your pet's package to several agencies. Get an agent: You can contact advertising agencies in your area directly that work with pet products, however, an agent will increase your pet's shot at stardom. Pet agencies, like Animal Actors International, can connect you and your pet with TV, film and publishing clients. But beware of scams and make sure to ask each agency for its terms and conditions up front.



NEWS UPDATE Brought To You By ScoopFree.com. Free Shipping on trays plus up to $20 off your first subscription.

Listen to the entire Podcast of this show (#684)