Snake-Whisperer Gets The Girls
Brian Barczyk, SnakeBytes TV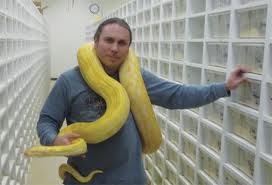 Brian Barczyk loves reptiles. He has 30,000 snakes. Brian breeds them and sends them all over the globe to his snake-lovin' brethren. He's been bit 100,000 times he estimates and his colorful life is ripe for a TV reality series. Are you listening NatGeo? Oh, and no, he's not single. In fact, the chicks dig it.
While Brian tells people he breeds snakes, he actually says he cleans snake poop for a living! He runs one of the world's largest snake breeding facilities, and hatches over 30,000 baby snakes a year! They sell from the beginner hobbyist all the way to the advanced collector. They have snakes as cheap as $25 all the way up to $125,000 a piece.
While Brian doesn't name all of his snakes; he does have two mascots that he has named. One is called Satan and the other is Sunshine. He says they couldn't be more of polar opposites, both good and evil.
Brian ships his snakes all over the world to countries that allow export. However, Brian said it is a lot easier to ship them in the United States. The U.S. has made it so easy, all you have to do is to go to his website, click on a snake, and it will be at your doorstep the next day.
But all snakes are not legal in all places. For instance, New York might have a law against snakes over 6 feet. So anything that can grow to 6 feet or larger, can't be shipped to them.
The majority of Brian's snakes are corn snakes, king snakes and ball pythons, all snakes that don't grow any larger than 3 to 5 feet. Brian says these snakes make really great pets, and over the last 20 years they have become more mainstreamed.
Brian blames his mom for his 30,000 snakes, because as a kid he would collect garter snakes and try to bring them into the house. It wasn't until he was fifteen when he got his first pet snake that he could keep at home. He feels if he could have gotten it out of his system when he was a kid, he might not be surrounded by thousands of snakes today.
Feeding 30,000 snakes is not easy. They go through about 250,000 rodents per year, at a cost of about $200,000.
Brian says he has been bitten over 100,000 times, which is just part of the daily routine. Fortunately, one of the things he has been grateful for is that he has never been to the hospital for a bite, even though there may have been a handful of times where he broke out the super glue and bandaged himself. Brian says 18-foot pythons have tagged him, and in fact, his snake named Satan, who is 200 pounds and 18-feet long, has bit him four times.
When asked what is the most poisonous snake that Brian has, he corrected us and said they were not poisonous but venomous. Brian doesn't keep any venomous snakes in his facility, but does work with them for film projects, which included tiger snakes and king cobras. Brian has a staff of about twelve and doesn't feel comfortable putting them in a position where they have to handle something that could potentially kill them. Brian tells us even his wife works along side him, and that when they met, she was terrified of snakes!
Who buys his snakes? People who want to breed snakes on their own, as well as musicians, athletes and high profile celebrities. If a celebrity wants a really cool animal, they usually go to guys like Brian. Some celebrities that have purchased snakes from Brian are Leonardo DiCaprio and Nick Cage.
While Brian does work with snakes for film and television, he is still a true snake breeder at heart.




Security K9's For Schools
Mark Gomer, School Protection Dogs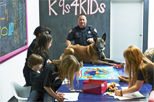 Following the Sandy Hook tragedy, Mark Gomer, who has trained about 8,000 dogs over 20 years, got the idea to put Canine Protection Dogs into schools to sniff-out firearms and diffuse violent situations. At $50,000 per dog, Mark is trying to convince schools to purchase one of these full-time K9's to protect their students.
Mark approached Oak Hills High School in Green Township in southwest Ohio, where his children attend school, and they loved the idea. The first full-time safety dog is a year-old Dutch shepherd named Atticus, who reported to duty this school year at the school.
But in a case like Sandy Hook with a shooter, wouldn't a dog be in as much danger as the children, and couldn't the shooter shoot them as well? Mark explains that that is always a possibility, but that these dogs are fast and agile. In a situation like that, there is going to be a lot of chaos and the shooter is not necessarily going to be focused on the dog. It is the dog's job to create an obstacle, to create a problem for the shooter, and these dogs have been trained for this. If anyone were to come in shooting, the dogs have been put through much training, and they know who they are supposed to take out.
These dogs are also trained to search for drugs and firearms in lockers and backpacks. The kids are also aware that now someone is going to be searching them and their lockers on a daily basis. They dogs also learn on the job about marching bands and school bells and the thunk of books hitting a locker.
The dogs are handled by someone full time on the premises. In the Oak Hills High School case, the principal as well as the hall monitor handle the dog. The dog goes home with and lives with the principal when he is not at the school.
These dogs are not usually to distracting to the students, as many schools currently have assistance dogs in attendance with the students. While there may be some students who are allergic to dogs, they would be known ahead of time, so the dogs would stay clear.
Schools are actually purchasing these dogs, so the dog becomes part of the school staff; they are there all day long and all week long. Of course, most school systems don't have the funding for a purchase like this, so where does the money come from? It costs about $50,000 and is a 2-year process. Once these dogs are in school, they should be able to work for around 8 years. Broken down it is very inexpensive when you compare it to other options, such as the hiring of an armed guard. It would cost about $75,000 per year every year to hire a guard, where this is a one-time purchase for around 8 years. Schools are able to do fund raising and apply for grants to make one of these dogs possible.




E-Cigarette Toxicity in Pets - Dr. Debbie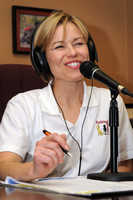 Think that vapor cigarettes (a.k.a. electric cigarettes or e-cigarettes) are a healthier alternative to traditional cigarettes? The vapor habit might be better for you and decrease your pet's exposure to second hand smoke, but can increase the chance of a pet's toxic ingestion of nicotine. A story from England told of the tragic death of a puppy that died after chewing on an e-liquid container.
Ivy was a 14 week on Staffordshire Bull Terrier that chewed on her owner's bottle of e-liquid used to refill the electric cigarettes. Within 30 seconds of nibbling on the container, she fell sick with vomiting and disorientation and was rushed to a veterinary office. Sadly Ivy died within 24 hours due to heart and respiratory failure.
What's in e-liquid?
The ingredients in e-liquid vary but include carriers such as propylene glycol, polyethylene Glycol 400 and vegetable glycerin, as well as flavoring agents and nicotine. The amount of nicotine in e-liquid varies with some products not containing any nicotine, to others ranging from 18 mg/ml to 100mg/ml.
How toxic is nicotine?
The toxic dose of nicotine for pets is 0.5 to 1mg per pound of body weight. The fatal dose is 4mg per pound. So if you consider a 20 pound dog, toxicity would occur if 10mg were ingested, and the pet would die if 80mg were ingested. Therefore with the high nicotine levels in e-liquid, it wont take much to reach those fatal levels. That hypothetical 20 pound dog could die from less than 1ml of the highest potency liquid nicotine.
Pets likewise can develop toxicity if other sources of nicotine are ingested such as cigarettes, chewing tobacco, nicotine gum, or nicotine nasal sprays. The typical amounts of nicotine in these products are: Cigarette 9-30 mg; Nicotine gum 2 - 4 mg per pieces; and Nicotine patches 8.3 - 114 mg.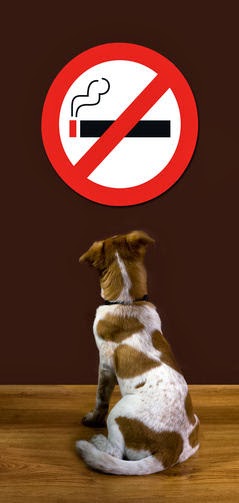 Even cigarette butts can be toxic if enough are ingested - cigarette butts retain 25-percent of the nicotine in the original cigarette.
What are symptoms of nicotine poisoning?
Symptoms usually develop within one hour of ingestion. Pets may display excitability, rapid heart rate, drooling, vomiting, diarrhea, weakness, seizures, and coma.
How are pets treated for nicotine toxicity?
The first step is to decontaminate by inducing vomiting. Nicotine typically causes vomiting when ingested, but further decontamination is advised at the veterinary office. Other emergency care includes intravenous fluids, medications to manage elevated blood pressure and heart rate, and anti-seizure medications. Nicotine is metabolized by the liver and excreted within 16 hours after ingestion. Pets that survive the initial four hours after ingestion have a favorable chance of survival.
The vapor cigarette trend is becoming more popular world wide. It's important to recognize that nicotine is a toxin and poisonous to animals and children. Consider the e-liquid a hazardous material and store it safely in a locking cabinet, away from children and pets.
To read more about Ivy's toxicity after ingesting E-fluid go to "Dog dies after chewing e-fluid container."
Featured veterinarian known as "Dr. Debbie" on national pet radio program, Animal Radio. Ebook author of "Yorkshire Terriers: How to Be Your Dog's Best Friend"; "Pugs: How to Be Your Dog's Best Friend"; "Mini Schnauzers: How to Be Your Dog's Best Friend"; and "Shih Tzu: How to Be Your Dog's Best Friend." Dr. Debbie's books.




Animal Radio® News with Stacey Cohen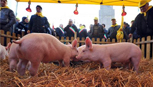 Pig Rally
Pigs rallied outside the Italian parliament, all because farmers are upset about so-called fake salami that isn't made in Italy. The farmers brought the pigs to the city as an act of protest. Italian farmers paraded small, pink pigs in protest outside parliament, declaring they were being driven to ruin by hams and salami sold as "Made in Italy" but produced largely elsewhere. The agriculture sector has long been in decline in the euro zone's third largest economy and farmers say it is undermined by counterfeit products and low quality foreign food that is merely processed in Italy. The farmers urged passersbys to "adopt" one of the pigs. The group says the meat production industry provides 105,000 jobs in an economy where unemployment is at a record high, and has launched a campaign to encourage Italians to buy national products.
Chef Poisoned While Preparing Snake Meat
A chef in China is on the mend after he was poisoned while preparing a meal of snake meat. According to China Daily, he was cutting the head off of a cobra at a restaurant in southern China when the snake's venom hit him in the face. Doctors later explained that the venom can enter someone's bloodstream through the eyes or cuts, which explains why the chef's eyes immediately started hurting and his lower jaw began to swell. He was rushed to a nearby hospital where doctors were able to save him with timely treatment.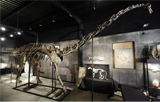 Dinosaur Sells For $650,000
The skeleton of a diplodocus dinosaur that roamed what is now the United States some 160 million years ago was sold for 400,000 pounds ($651,100) to an unidentified public institution at an auction in Britain. Misty, as the dinosaur was nicknamed, will later be put on public display, the auctioneers said. It was found by the teenage sons of German dinosaur hunter Raimund Albersdoerfer in Dana quarry in Wyoming, in the western United States. The auctioneers, Summers Place Auction, declined to disclose any details about the buyer, who wished to remain anonymous. "Finding a reasonably complete diplodocus of this size is extremely rare," Errol Fuller, a natural history expert and curator of the sale, said. "They are only ever really found by luck."
There's An App For That
Ever wonder where you can take your dog if you are out and about? The Fido Factor app, made by the company Appetyte, lets people know which places allow dogs, whether it's a department store, restaurant, bar or just about any place else. In addition, the app gives you specific rules for each place, so you'll know things like the leash rules or the fees you'll have to pay. And if you find a new location that allows dogs, you can add it to the app's website FidoFactor.com to let others know where it is, and you can even write a review to let others know if it's truly dog friendly or not. Plus, you can read reviews of each location to see if it's worth bringing your dog there, because just because a place says it allows dogs, it doesn't necessarily mean that it's a great place for your dog to be. To find a dog-friendly location you can either search by business name or type of location and get things like directions, hours of operation and the place's phone number. And FidoFactor allows you to take photos of your dog at these locations and upload them for other users to see and comment on.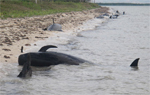 Dozens of Stranded Whales
Dozens of whales that have been stranded in shallow water in Florida's Everglades National Park have moved to deeper water. Liz Strafford with NOAA and other wildlife officials are cautiously optimistic that the remaining 35 whales will find their way to deep, open water after nearly a dozen died in the mass stranding. Scientists monitoring them say whales stay together so the move toward deeper water could help their chances for survival.
Zoo Offers Cold Weather Discounts to Visitors
The Cheyenne Mountain Zoo is offering cold weather discounts to entice people out while the temperatures are frigid. Spokesperson Erica Meyer says it's a great time to visit because there aren't a lot of people around. Many of the animals enjoy being outside, even in the winter weather. The discount is $2, just by using the password "chilly" at the gate.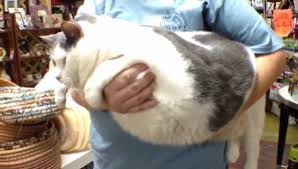 Buddha Dies From Heart Failure
Buddha the obese gray and white cat whose diet and exercise plan made him a viral sensation, has died of congestive heart failure. He was 6 years old. The cat inspired people around the world with his jaunts on an underwater treadmill, which along with a diet plan, helped him whittle down his 31.4 pound weight. Nashville's Cat Shoppe, which helped care for the cat, wrote on its website. "It's our hope Buddha will not have died in vain. We hope that his story inspires owners of obese cats to help them get them on a path to a healthier weight." Buddha was dropped off at Animal Control in Nashville on August 2 after his owner died. Realizing the overweight cat's health was at risk, volunteers took Buddha to Cat Shoppe, where the feline began his weight loss journey. Video of the fat cat working out on his special treadmill was shared around the world and made Buddha a celebrity.

Listen to the entire Podcast of this show (#1050)