Comedian Seth Herzog
Seth Herzog is a comedian, writer, food-eater, funny face-maker & break-dancer. He is also a popular New York City comedian, resident comedian for "Late Night with Jimmy Fallon," and the co-host of the new pop science National Geographic Channel series - Duck Quacks Don't Echo.
Duck Quacks Don't Echo is a one-hour program where three hosts, all comedians, Tom Papa, Michael Ian Black and Seth Herzog, present weird, unusual and incredible facts and then get to test the validity of their 'facts' though in-studio or pre-produced experiments.
Some of the things they put to the test is whether or not you can eat six saltine crackers in a minute? (The answer: no) Is there a way for bacteria form the toilet to reach your toothbrush? (The answer: yes) When you use a public restroom, you should go to the stall nearest the door because it is the cleanest? (The answer: yes) Can you stretch a rubber bathing cap in the pool large enough so that you can fit in it? (The answer: yes) Can pigs look up? (The answer: no) Do cows with names produce more milk? (The answer: yes) Do dogs yawn when you do? (The answer: only if their owners does, but not with strangers)
Duck Quacks Don't Echo airs Mondays at 10 & 10:30 p.m. ET/PT on the National Geographic Channel.
Simply put, Duck Quacks Don't Echo presents over-the-top hypothesis and then goes about proving them. It is all presented in a funny, breezy way. Like three good friends meeting up once a week to test each other's knowledge of obscure and wonderful data, Duck Quacks Don't Echo is a celebration of science.
http://channel.nationalgeographic.com
Therapy Cats
Paula Scott, Pet Partners
Paula Scott of Pet Partners, trains and certifies Therapy Dogs, Cats, Miniature Horses and plenty of animals you wouldn't necessarily think as therapy pets. Science is proving that even purring a cat can make you feel better and promote healing.
Pet Partners, formerly Delta Society, is a 501(c)(3) non-profit organization that helps people live healthier and happier lives by incorporating therapy, service and companion animals into their lives. They receive no government funding and rely on individuals, foundations and corporations for financial support.
Paula explains that she works with therapy animals, not service animals. Therapy animals, according to their definition, are animals that provide comfort and joy to people. While a service animal is an animal specially trained to do work or tasks for a person with a disability who owns the animal.
How do animals get certified as therapy animals, in particular cats? Cats are definitely different than dogs and most are not as social. If you feel you have a cat that would make a good therapy animal, you can prepare your cat by taking them out into public places. There are not many places where you can take your cat in public, but some great places are pet stores and even to parks. You want them to get accustomed to being around other people. You also want them to be able to handle being held and touched by many different people. The best thing to do is to work with them while they are kittens.
Next, you must assess whether your cat has the right temperament to work with people. The ideal therapy cat is laidback and friendly and shows no aggression toward people or animals. The feline should also be comfortable with loud noises and unpredictable situations.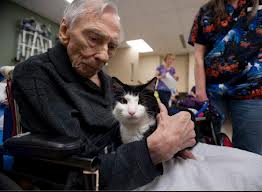 Retired show cats often make good therapy animals because they're used to frequent handling and being around lots of people.

Once the organization has established that you and your cat meet requirements, you may undergo a training course either online or in person. When the course is complete, an expert will evaluate you both before going on supervised visits to the facility where you'll be working as a therapy team.

Once this trial period is complete, you and your certified therapy cat will be ready to bring purrs and pets to those in need.
Pet Partners also requires that pets not be fed a raw protein diet. Such a diet puts people, especially those with compromised immune systems, at a higher risk for infection.
Pet Partners currently has about 11,000 animal teams around the country. Teams consist of one therapy animal along with their handler. While most of the animals are dogs, there are about 200 therapy cats. They also have miniature horses, guinea pigs, rabbits and pot bellied pigs. They even have a couple of therapy rats.
You will find some great information at www.petpartners.org in what to look for in a pet that would make a good therapy animal.
http://www.petpartners.org
facebook.com/petsforhealth



10 Ways To Save Money On Vet Bills
Swheat Scoop Minute With Doc Halligan



You certainly don't have to be wealthy to keep your cat healthy, but what you do need is some sound vet advice, common sense and the discipline to practice preventative healthcare.
Here are my top ten ways to save money on your vet bills: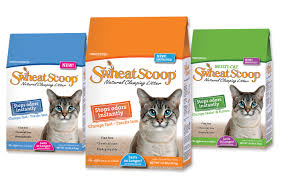 Common Dangers:
1. Feed your cats high-quality pet food and don't give table scraps.
2. Do a once-over on all of your pets at least once a week.
3. Spay and neuter your pets.
4. Brush your pets' teeth at least once a week.
5. Exercise your pets and keep their weight down.
6. Make sure your pets get a yearly exam.
7. Develop a good relationship with your vet.
8. Use flea, tick, heartworm and parasite prevention on your pets.
9. Be prepared for holidays and seasonal changes.
10. Consider getting health insurance for your pets.
Brought to you by Swheat Scoop. Click for $3.00 off Coupon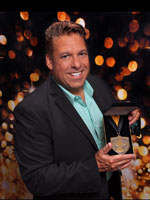 The Dogfather's Grooming Tip with Joey Villani
Caring For Corded Breed Dog Coatsy
We talk about cats and dogs and their coats all of the time. However, one type of dog that is rarely mentioned is the corded dog, which looks similar to dreadlocks or a Rastafarian coat. Corded breeds include the Commodore, Pulley and a few other breeds. Poodles even have the capability of their coats being corded.
These breeds may stink because of this type of coat, even fresh out of a bath. The reason being is that, if you've ever seen one of these dogs in full coat, they are about four to five inches thick with cords or dreads, before you get to their skin. This type of coat was originally a type of armor for herding dogs. If these dogs got into a scuffle with a wolf or coyote, they wouldn't get hurt. Their coat is almost like a shell on a turtle, which is used for protection.
The problem is that these coats are like mops after you have washed the floor and left the mop sitting out, they get a bad smell to them. Unfortunately it can also affect their skin.
You need to get in there with something that is going to clean it. Regular shampoo, for the most part, won't clean this type of coat. There is anti-bacterial dog shampoo, but it is hard to find.
If you can't find anti-bacterial shampoo, try using Oxy-Clean. Oxy-Clean oxygenates everything and will kill the bacteria. Just fill up the tub with warm water and add two to three scoops of Oxy-Clean and mix it around so it will dissolve. Place your pet in the tub and let them sit in it. Then, work the water into the cords, rinse and take the dog out. Basically, Oxy-Clean is powdered hydrogen peroxide. Don't be alarmed if the smell gets worse, but once it dries, your dog will smell much better. This mixture will not harm your pet, but don't get it into their eyes.



Animal Radio® News with Stacey Cohen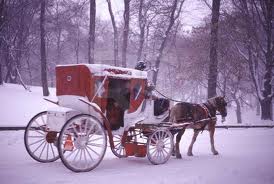 NY Mayor Wants to Replace Horse Carriages With Electric Cars
New York City has a new mayor, which means it's time for some changes. Specifically, Bill de Blasio wants to change how tourists get around Central Park. At a news conference shortly before his inauguration, de Blasio said he wanted to replace Central Park's iconic horse-drawn carriages with electric cars, according to NBC (via The Verge). De Blasio said he would move "quickly and aggressively" to eliminate the carriages, which he views as "inhumane" to the horses that pull them and "not appropriate to the year 2014."
Pet Food Recalls On The Rise
Nothing is certain in life except death and taxes and, increasingly, pet food and treat recalls. There were 33 in 2013. On average, that's one every 11 days. Between 2008 and 2012, the Food and Drug Administration received more than 2,500 complaints from consumers regarding pet food and livestock feed. The complaints ranged from an animal refusing to eat a food to illness and death. Here are steps you can take to reduce your dog or cat's risk.
- Mix it up. Don't feed the same brand or flavor all the time. If you rotate food frequently, your pet will be less likely to encounter a bad batch.
- Call the manufacturer. Use the toll-free number on the bag or can to ask about ingredient
- Choose undamaged containers. The Centers for Disease Control recommends avoiding bags with visible signs of damage to the packaging, such as tears or discoloration and cans with dents.
- Photograph package codes and expiration dates so you have a record if there's a problem.
- Scoop food out of the container using a clean measuring scoop, spoon or cup, not your pet's food bowl.
- Wash pet food dishes in hot, soapy water after every meal or run them through the dishwasher. It will kill bacteria, and besides, your pet doesn't want to eat out of a dirty dish any more than you do.
- Report any adverse reactions to foods or treats to the FDA's Safety Reporting Portal at safetyreporting.hhs.gov.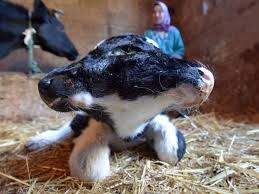 Two Heads Are Better Than One - Ask This Cow!
Sana Saida, a cow whose name translates into "Happy New Year" in Arabic, was born in the town of Sefrou in central Morocco. The animal has a condition called polycephaly, which means having two heads and is more common among turtles and snakes, but Sana Saida is said to be healthy.
Wal-Mart Recalls Donkey Meat
Wal-Mart is recalling tainted donkey meat at some outlets in China. The action is being taken after tests showed the product contained the DNA of other animals. Wal-Mart will reimburse a customer who purchased the bad "Five Spice" donkey meat and is helping authorities probe its Chinese supplier. The Shandong Food and Drug Administration had said the product contained fox meat. Donkey meat is a popular snack in some parts of China.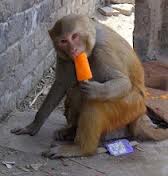 First Humans, Then Pets, Now Monkeys Are Becoming Obese
First it was Britain's human population, then its' cats and dogs. Now, it seems that even the country's pet monkeys have succumbed to an obesity epidemic. Animal welfare experts have warned that growing numbers of primates are facing problems with their weight, as a result of sugar-rich diets and lack of exercise. There are an estimated 5,000 monkeys kept as pets in the UK. But welfare experts report seeing an increasing number of health problems among the animals, apparently caused by unhealthy lifestyles. Staff at sanctuaries devoted to caring for primates say they are dealing with many former pets being handed over to them suffering from the effects of "couch potato" lifestyles, where they have been indulged on unsuitable human foods and not given enough exercise. Jean Smith, who runs the Yorkshire Monkey Sanctuary, said: "We have had them too fat to move sometimes. It is just a question of the wrong diet. They are fed on things like sweets, pizza, chips and cake, whatever their owner is eating. And many don't have enclosures large enough to run it all off." The sanctuary currently has more than 40 monkeys and around half of those that come in are suffering from health problems linked to nutrition and exercise. It also follows similar warnings about obesity in dogs and cats, as well as in other animals such as pet rabbits and even horses.

Grave Contains Remains of Animals Who Were To Be Cremated
The lead lawyer in Morgan County, Tennessee, says he is looking to press charges against the owner of a pet crematory after investigators found a mass grave with dozens of dead cats and dogs. But he's still waiting on investigation results. Early last month, investigators uncovered a grave with the remains of dozens of animals that were supposed to be cremated. We learned Cameo Farr, the owner of Elliott Pet Services, was under investigation for improper disposal of family pets. Since the discovery, the case has not moved far. District Attorney General Russell Johnson sent a five-page letter to state lawmakers. He outlined the case against Farr and said he is waiting for the investigation results from the Tennessee Department of Environment and Conservation. He hopes authorities will have a sound case to send to the grand jury to seek charges against Farr.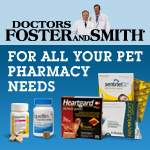 NEWS UPDATE brought to you by Drs. Foster & Smith, affordable pet supplies. Low prices every day, so you save on every order.

Listen to the entire Podcast of this show (#738)