Is Your Pet Making You Single?
Stephanie St. Martin, Pet Chatter

Stephanie St. Martin is a single gal who has been in a relationship with Bailey her Bunny for four years (yes, their anniversary of being a couple was January 6th). And she's not about to throw the longest relationship she's ever had away. Stephanie says cuddling with Bailey has happened more frequently than cuddling with another human, and Bailey doesn't even like to cuddle!
Dating for Stephanie isn't always easy with Bailey. When asked on a date if she has a pet, she states she has a rabbit, which leaves her date not knowing what to do or say next. Stephanie will then say Bailey is her son, or main man. She sometimes whips out her cell phone and shows them a picture of Bailey, and their looks become even more perplexed. Usually this is the nail in the coffin for the relationship.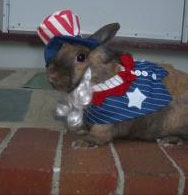 Stephanie gives us advice when dating and owning a pet. She says you should be honest up front and let them know you have a pet, but you might want to just dial it back a bit. Don't immediately pull out all of the pictures and go on about all of their toys and medical problems. And don't call them your child. Well, at least not on the first date!
Stephanie thinks it's endearing when someone has a pet. This means they have a nurturing quality that she looks for. She feels if they haven't killed their pet, she can trust them!
While Stephanie has no desire to be the crazy rabbit lady in her lifetime; does Bailey the Bunny keep her single? The verdict is still out on that one! For most of us, owning a pet should help us find a mate.
http://www.boston.com/community/pets/blogs/pet_chatter




Has A Rescued Dog Rescued You?
Allen Anderson, A Dog Named Leaf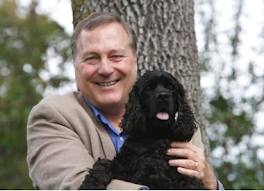 Allen Anderson has always enjoyed writing and was heading in that direction when life got in the way. Allen then switched gears, and went into police work where he could gather more story ideas for his writing. After becoming a police officer, Allen decided he enjoyed it because he enjoyed helping people.
While out on police calls, Allen would see the family pet, who would really be the only "adult" in the room. The dog would help to calm things down and comfort the children during times of crisis. Allen knew he would write about this some day.
In his latest book, Allen writes about his dog Leaf, who was adopted from a shelter when he was about one year of age. While Leaf was a beautiful black Cocker Spaniel, Allen and his wife Linda soon learned that he came from an abused background, which made him a total complete emotional and otherwise wreck.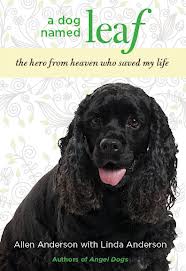 Leaf didn't fit in, wasn't potty trained and in fact had never been inside a house before. While on one hand, Allen wondered if this adoption was the right thing to do, on the other hand he decided that he would never give up on his dog. Allen felt he immediately bonded with Leaf, who didn't trust people, because he himself didn't trust people because of his background in police work.
While Allen was busy saving Leaf, Leaf was also busy saving Allen. Unbeknownst to Allen, he had an unruptured brain aneurysm and would need brain surgery. When Allen first received the news, he was traumatized. In fact, he didn't want to tell his wife Linda, because if he were this upset, he felt his wife would be a total basket case. So Allen came up with this brilliant idea to write his wife a fact sheet on brain surgery. When he presented it to his wife, she looked at him and said, "You have a brain aneurysm; you're going to have brain surgery, and you gave me a memo!"
Now it was time for Leaf to be there for Allen. Find out how the story ends in, "A Dog Named Leaf."
Allen Anderson and his wife Linda Anderson founded the Angel Animals Network in Minneapolis in 1996, and have written fifteen books about the spiritual qualities of animals.



The Dogfather's Grooming Tip with Joey Villani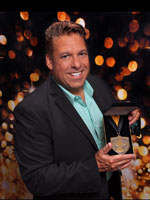 Liven Up A Dull Coat
In older dogs, you may notice that their coats start to become dull, which makes them look even older. But how do you help them look young again?
Before you try to change your dog's coat, make sure there aren't any medical issues going on that is making your dog look older. For example, what do their teeth look like? If your dog's teeth are bad, go to the vet and get a cleaning. This will not only make your dog look better, it will make their coat look better by removing the poison from bad teeth, and your dog will also feel better.
Brushing, combing and carding are all important when grooming a dog. You need to remove the entire dead and dull coat. On dogs that shed and don't shed, the hair can get a little longer and older. By removing the dead coat, you will end up with a much shinier, healthy looking coat right away.
You can also try some products. One such amazing product is Texture Crystals. Texture Crystals is a powder that you sprinkle in, then use a light spray and brush it through. These crystals add minerals to the dog's coat, which they start losing over time. It absorbs right in and leaves you with almost instant results, adding volume and shine.
A hint is that old dogs with a lot of hair look better with shorter haircut. This makes them look younger by giving them more of a puppy look. You can rejuvenate the look of an older dog by cutting their hair just a little bit shorter.
When all else fails and you want to add color, use a non-permanent, non-peroxide consumer product like Clairol, the same product you would use on a person. Because you don't bathe your dog every day, the color will stay fresh until the new growth comes in.
These coloring products will not harm your dog. However, it is still advised to do a test patch on their belly and let it stay there overnight just to make sure that they won't have a reaction to the hair color.
Animal Radio® News with Stacey Cohen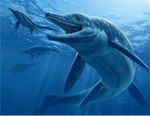 T-Rex Of The Sea
An Illinois scientist says he's discovered prehistoric remains belonging to a reptile thought to be the onetime "Lizard-eating ruler of the sea." The Chicago Tribune says Field Museum scientist Jim Holstein uncovered the fossil remains of the so-called "T-Rex of the Sea" while on a trek through the Nevada Mountains. The 28-foot-long reptile considered to be a "Super predator" died roughly 245 million years ago. Scientists believe the remains are of the earliest type of ichthyosaur, that's the Greek word for "fish lizard," which experts say closely resembled a dolphin and evolved from being a land animal to a sea animal.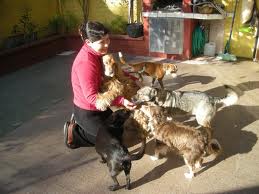 Finding The Right Pet Sitter
With so many pet businesses and service dotting the landscape these days, it's hard to know which one is the right one for you and your pet. Here are some tips to help you decide about pet sitters. When you're searching for a reliable daycare or in-home sitter for your pet consider the following: Screening and security should be top on your list of things to do when looking for a pet sitter. Start by getting references from friends, neighbors and co-workers; Interview the pet sitter before you hire her. Ask the pet sitter if she knows pet first aid and CPR. Ask if the pet sitter is a pet parent herself, or if she's ever been one. Nobody knows how to take care of your furry loved ones quite like other pet parents; Make sure visits can be at least 15 minutes. Be sure the pet sitter is bonded if she is part of a business with other staff members. She should also be certified. When it comes to a daycare, seek out a place that screens all animals for both health concerns and temperament. Run a check on a daycare or pet sitter with the Better Business Bureau to see if there have been any complaints reported.
Is Beneful Making Dogs Sick?
The latest pet food crisis involves Beneful dry dog food. Reports from around the country tell of dogs getting sick and, in many cases, dying. Although the cause isn't proven, many pet owners say the illness went away when they stopped feeding their dogs Beneful. Always check immediately with your vet if your dog becomes ill. They're more delicate than they look.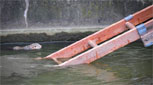 How Many Fire Engines Does It Take To Rescue A Stranded Squirrel?
The town of Watford, England recently discovered that the answer to the question, "How many fire engines does it take to rescue a stranded squirrel?" is three. Or at least that's how many responded after a local resident called to say the rodent had fallen into a pond and was trapped on a small island. According to Orange News, at least seven firefighters arrived to help the squirrel, creating a bridge with one of their ladders so the animal could crawl his way back to the mainland. But despite the successful rescue, some questioned why so many men were sent for such a small animal. A spokesman for the firefighters explained that the first call they got said there were people in the water as well.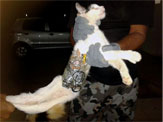 Cat Smuggles Contraband Into Prison
A cat in Brazil was locked up after it was found carrying contraband into a prison. The white cat was first spotted entering the main gate of a prison in Arapiraca, Brazil. When guards approached the feline felon, they noticed its body was wrapped in tape. Attached to it were drills, a mobile phone, an earphone, a memory card, batteries and a phone charger. A spokesperson for the prison says they are investigating the matter. However, they say that "It's tough to find out who's responsible," since the cat obviously cannot speak. All 263 inmates at the prison are currently being considered as suspects. The cat was taken to a local animal shelter where it received medical care.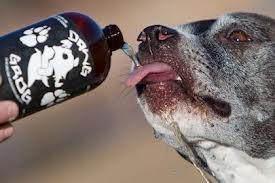 Puppy Brewskies
One Bend, Oregon is man is combining his love of dogs and his love of beer in one new product. According to Oregon's KTVZ-TV, Daniel Keeton has found a way to let his four-legged friend imbibe along side him. Keeton has developed "Dawg Grog," a beer for man's best friend. The non-alcoholic beverage is a simple mixture of vegetable broth, water, spent grain from a local brewery and glucosamine. Keeton says when he first poured it into his dog Lola's dish she drank it up. He says, "She's never walked away from it." He officially launched the hound brew in July and already has his first retail customer, Visit Bend. Visit Bend's CEO Doug LaPlaca says customers typically "Have to look at the label twice" before asking if it's really for dogs. The puppy brewskies are now available in 16 ounce bottles at several stores in Bend.



NEWS UPDATE Brought To You By ScoopFree.com. Free Shipping on trays plus up to $20 off your first subscription.

Listen to the entire Podcast of this show (#686)