Is Pet Insurance Worth It?
Nicole Forsyth, RedRover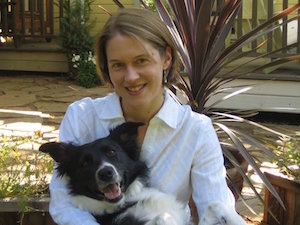 The pet insurance industry is booming. So many players that it's hard to select the proper insurance. Red Rover CEO Nicole Forsyth discusses pet insurance and how to select it. But pet insurance isn't the only way to pay for those vet visits. You'll hear about some other options to care for your pet.
One thing everyone at Animal Radio can agree on is that we don't all agree on having pet insurance. Instead, some of us believe in putting a little money away every month into an interest bearing savings account so you have it there just in case there's a rainy day emergency. However, you have to be disciplined to do that.
Dr. Debbie, being a veterinarian, comes from a different school of thought. She believes if you are going to put money away, you also have to be lucky, because sometimes it's not just one event that happens. You might have multiple pets getting sick at one time and you may not have been able to plan for that. So that's why she's an advocate for pet insurance.
Nicole Forsyth is the president and CEO of RedRover and she's done a little study on insurance claims that had to be filed through the pet insurance companies. She thinks having pet insurance varies for different people. Again, having a savings account can be a really great way for some people to prepare for emergencies. However, other people might really want something in place that's more disciplined. Pet insurance really does provide a peace of mind. So it's a highly variable situation.
In the past, Nicole didn't have pet insurance for her own pets. This was her personal preference. However, she tells us about a Labrador Retriever mix she had who got into mischief. He was a very extroverted and outgoing dog that would eat things. She felt that pet insurance for her and her dog was a really good investment, because her dog ended up having cancer. She had paid the insurance company premiums over the 11 years of his life, but never did the actual cost benefit analysis. However, at the end of his life, just having the insurance there was really helpful to her.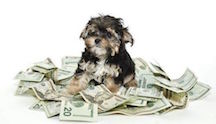 At that time, there weren't many companies offering pet insurance so there weren't as many options. Now, with many companies offering this type of insurance, Nicole feels it's important to ask the right questions. She says some things you really want to pay attention to are things like the age of your animal, whether it's a dog or a cat and whether there are any breed specific diseases or illnesses that those breeds tend to get. This is because sometimes the insurance companies will have some different hereditary coverage's that they'll exclude by breed. So that's really important, because if you have a purebred dog that is very prone to something, an insurance company may or may not cover what they most likely will have. So that's a really good question to ask an insurance company up front.
Another really good question is whether or not is there is a per event coverage or per diagnosis. For example, your pet can have pancreatitis three times in a year, but they may only cover that diagnosis once, which is different than them paying out three times.
One of the most common thing people do wrong is taking their pet to the vet and getting a diagnosis. They then think they can leave, go get pet insurance and come back in a few months with coverage. Unfortunately if it's already been documented and you've already discussed the issue with a veterinarian, that's now going to be a preexisting problem which won't be covered.
You should also get to know the basics of the insurance. These include finding out if there is a cap to the coverage and if there is a maximum amount they'll pay. Also, what do they exclude, because they all have certain exclusions and you just have to know which ones are going to be best for you. You should also know what preexisting conditions they won't cover. Find out also if there is going to be an age limit and if they are going to stop providing coverage if your pet lives to be a certain age. These are all really good details you'll want to ask your insurance company before you make that choice.
Another question to ask is where or not you will be able to use your same veterinarian. Fortunately it's not quite the same and complicated as human insurance, because you are getting reimbursed from the company as opposed to having the veterinary clinic bill an insurance company. So because of that model, you shouldn't have a problem. It's not like there is a preferred veterinarian provider network.
Before selecting a pet insurance company, choose your top three and get some recommendations from friends or people you know. Then do some good comparisons and try to figure out which one works best for you. You may also want to choose one that that has a higher deductible, which is very similar to human to human insurance, where the higher deductible means the chances are your premiums are going to be a little bit less.
So there are lots of things to consider and Nicole tells us there is a great article written on the Mercury News website that has a really good list of questions.




The Fear Free Movement Keeps Expanding
Dr. Marty Becker, America's Veterinarian
Fear Free Pets founder Dr. Marty Becker created a way to make vet visits enjoyable for your pet. The new mindset is proliferating all aspects of pet care. Now, you can make your home and Fear Free Happy Home. Dr. Becker will tell us what's on the docket for 2018 for your pets and Fear Free.
Dr. Marty Becker, America's Veterinarian, tells us its funny for him to think back when he was a little kid who always loved all animals. He was lucky, because grew up on a small farm in southern Idaho where his family had dairy cows, beef cows, chickens, pigs and horses. Surprisingly, all of their farm animals had names and his parents were really strict about everyone treating these animals really well.
Dr. Becker states he really doesn't have any regrets in life and if he could go back he really wouldn't change anything, but he does have one thing he would change when it came to the farm animals, the cattle in particular. He said it was common to use cattle prods. Being boys, Dr. Becker, his brother and their friends would take the cattle prods and shock each other. He said it didn't feel good and was way worse than a touching an electric fence, if you know what that feels like.
Today, Dr. Becker would no longer use anything on any animal that would harm or stress them out. As the founder of the Fear Free Movement, his mission is to prevent and alleviate fear, anxiety and stress in pets by inspiring and educating the people who care for them.
To date, over 25,000 individuals have registered for Fear Free Certification in 34 countries. They also have a Fear Free Training Course for trainers, allowing them to teach fear free training.
To understand more how the Fear Free approach works, Dr. Becker tells us about a boarded veterinary behaviorist in Detroit that wanted to do Fear Free Training and Positive Reward Based Training in their veterinary hospital. However, the hospital she worked at used the Cesar Milan approach to dog training, where the person was the alpha and dogs need to be physically corrected. She couldn't get them to change their minds so she asked them to do a study. So for two years they looked at pets that were adopted from a shelter and went to this large veterinary hospital. They then tracked if a dog received training and if so, what kind of training did they receive? At the end of two years, only 34-percent of those pets were still in their homes. Two-thirds of the pets had been relinquished, mostly for behavioral issues. The veterinary hospital then realized they shouldn't be doing thing like the alpha rollover in their practice. They decided to instead embrace Positive Reward Based Training, and at the end of the next two years, 93-percent of those pets were still in their homes.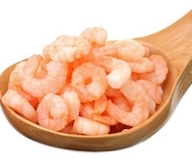 The new direction for the Fear Free Movement is putting together a Shelter Task Force, consisting of the top people in shelter medicine at places like UC Davis, the University of Florida as well as Maddie's Fund. Dr. Becker believes that in a year from now, by January 2019, you will be able to adopt a pet at a fear free shelter; that lives in a fear free happy home; that goes to a fear free veterinarian; and is referred to a fear free trainer.
At Dr. Becker's practice, they have been practicing Fear Free for many years. He states that most of the dogs that visit him now drag their owner into the hospital like they're delivering vaccine on the outskirts of Nome. This is because there's cheese, there's shrimp and there's turkey just waiting for them. As far as the cats go, Dr. Becker won't say that they are dragging their owners in, but 80-percent of the cats he sees will actually take treats from him.
There are always new stories about animals and the Fear Free Movement, and Dr. Becker tells us about one particular case that comes to his mind. He tells us that recently a new client came in with a Labrador Retriever named Joy. This dog purportedly had bitten four or five other individuals at different practices, and the owner was told not to come back because her dog was too aggressive.
Dr. Becker says, however, it was only fear-based aggression. He thought for a minute about muzzling this dog, because you can muzzle a dog in Fear Free, you just use a basket muzzle so they can breathe. The muzzle is also covered with pheromones and designed to allow you to give a dog treats while they are wearing it. Dr. Becker opted out of the muzzle and just decided to give the dog a choice of where it wanted to be examined. They ended up doing the examination on a yoga mat instead of putting the dog up on the table. When Dr. Becker came into the room, he also opted used his sanctuary voice not his game-day voice.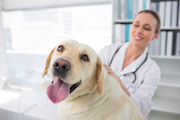 The owner also brought the dog in hungry so it would respond better to food rewards. Dr. Becker did have the owner give her dog a little chill pill, which was just a green tea extract. Meanwhile, everybody in the exam room was on high alert because this dog had a history of biting people. So again, he opted out of the muzzle and decided to avoid eye contact and to turn sideways to reduce his profile and let the dog come to him. Dr. Becker also threw down about three little baby shrimp. The next thing he knew, the dog's tail is wagging so hard it was lifting his back feet off the ground. The owner then broke down sobbing. This got to Dr. Becker, but more so were her words. She told she had never been married and will never be married. Her pets are her family and she always wanted to do good by them. She wanted to take her dog in to get its vaccinations, she wanted to get it parasite control and wanted to get its teeth cleaned as needed. Now she says she knows that she can help her dog but not hurt it.
Visit Fear Free Happy Homes for tips on making your home fear free and to locate a Fear Free Veterinarian near you. Go to Fear Free Pets to become certified.
Listen and Explore the Fear Free Expert Series




Southwest Airlines Donates Rescue Flight
Mirah Horowitz, Lucky Dog Animal Rescue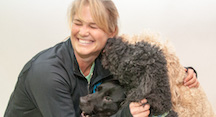 It wasn't an easy task for pet advocate Mirah Horowitz. She explains how she managed to convince Southwest Airlines to donate a round trip flight to rescue animals from hurricane stricken Puerto Rico. The pilots and flight attendants all donated their time, unpaid for this jaunt to America's own third-world territory. The government has done little to restore power and clean water to 60% of the island. The animals are suffering. This rescue flight helped many dogs and cats to escape the damage ravaged island.
Mira Horowitz is a lawyer and animal lover as well as the founder of Lucky Dog Animal Rescue in Arlington, Virginia.
It's been about five months since the devastating Hurricane Maria hit the island of Puerto Rico in September and very little has been done by our government to help out the folks there. To this date, more than 60-percent of the island is still left without water and electricity.
Not only are the people suffering, but the animals are suffering as well. Even before the hurricane, Puerto Rico had a big problem with homeless animals and now in the aftermath of the hurricane, it's just been compounded. People have left the island for many different reasons.
For the first two months following the hurricane, the airlines were not allowed to put pets in cargo, which was an FAA regulation. So people just had to leave their pets behind. Sometimes they left them with friends and then the friends stopped wanting to care for them. Others even tied them to a chain link fence at a busy intersection and left them to defend for themselves.
Mirah knew, like other people, that Hurricane Maria was going to hit the island. So three days before it was scheduled to hit, she sent a cold e-mail to the CEO of Southwest Airlines. She had to be inventive on her Google searches and was finally able to find his e-mail address. She had seen they had done a similar flight for Hurricane Harvey and she asked if they had thought about doing one for Puerto Rico. At that time, she time was thinking more in terms of pre-hurricane evacuation.
However, at such a late date, there just wasn't time to pull that off. They didn't have time to get the health certificates ready nor could have gotten the plane ready. Plus, by the time she was in conversation with the CEO, most planes were leaving the island for their own evacuation.
Southwest got back in touch with Mirah within 12 hours. She said she sent the e-mail in the evening and woke up to an answer. Even though they couldn't evacuate ahead of time, they committed to helping her bring a plane full of dogs off the island. Unfortunately it took a really long time. No one anticipated when Hurricane Maria hit that it would take so long to get reliable electricity and normalize operations at the airport. The airport is still far from normal, but is at least functioning.
Mirah was able to get a 737, which is a pretty big plane. She sets the scene for us and tells us almost every row had a seat-belted crate in it. Obviously the crates were of different size, depending on the passengers. The last three rows of the plane contained the cats. The cats were in carriers and were under the seats. They tried not to put a dog in a crate above where the cats were under the seats, because the cats were already stressed out as it was and they didn't want to compound things by putting them to close to the dogs that might be barking during the flight.
Mirah tells us that with all of the animals on board, the takeoff was a little noisy from the cat portion of the plane and the landing was a little noisy from some of the dogs. Mirah thinks this is because their ears were equalizing on the way down. But for the most part, the animals were out cold because of the vibration of the plan. They had to actually to open the door to one dog crate just to make sure he was still breathing. It turned out that the dog was just so happy and asleep and didn't even want to wake up for them to check on him.
As far as the humans went, there were ten volunteers from Lucky Dog and about ten volunteers from Southwest. The pilots and the flight attendants all volunteered their time.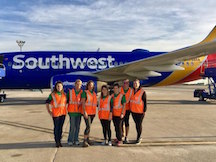 They brought back 62 animals and a lot of them are already in their forever homes. Well over half have been adopted at this point and the rest of them are in foster care.
While this was a great animal rescue, there are still many homeless animals remaining. Mirah states that every animal that gets off the island is important obviously, but there is still a huge need. There are still enough animals remaining to do another flight and she is currently in the process of trying to raise the money for one more flight coming up in the next two months. They still have about $15,000 to $30,000 left to raise to pull that flight off.




How to Build the Perfect Litter Box - Dr. Debbie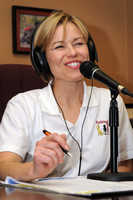 One sniff upon entering your home and you recognize the unmistakable odor of cat urine and feces. Simba has used your entry hall as his litter box again. But before you lose your temper - stop. By scrutinizing the environment through your cat's eyes, you will likely discover the cause of his toileting mishaps.
Elimination issues are a main reason for veterinary visits and a primary reason for relinquishment of cats at shelters. House soiling problems can be multi-factorial, with an overlap of behavioral, environmental and medical causes. Feline house soiling can be managed however with sleuth work and patience. The challenge is to think like a cat.
First and foremost, say this and repeat it ... "My cat does not eliminate out of the litter box to get even with me." Cats do use urine and fecal scent marks to communicate territory, but this isn't done with spite or in effort to "get even" with you. Inappropriate elimination is a cat's way stating that something isn't right in their world. Understanding this is key before tackling feline house soiling. Focus on what's wrong in Simba's toilet area, not on how the house soiling makes you feel.
Start With a Vet Check
Cat owners often struggle with house soiling mishaps for months or years before enlisting help from their veterinarian. But seeing the veterinarian should be the first step, since health disorders may be at the root of some house soiling issues. Your efforts in restoring litter box usage will be doomed if an underlying medical cause is not addressed at the same time.
Size Does Matter
Make sure your cat's litter box is of adequate size to allow maneuvering. Litter box size should be 1 ½ times the length of cat's body length. Height of the edge also matters. For older kitties, try lower profile litter boxes or plastic under bed storage boxes. An arthritic older cat won't complain or cry in pain with arthritis, she'll just chose to eliminate elsewhere.
Consider the View
Cats don't want to be startled while in the loo. Don't place the litter box in a high traffic area where people and pets are always a-coming and going. Cats prefer a low traffic area where they can have an eye out on things.
Don't place the litter box near appliances which give off noise, vibration and heat, all which disturb your cat while eliminating. Once a negative aversion is created, your cat may not return to use that box in the future.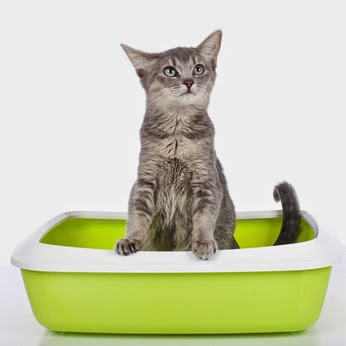 Ditch the Litter Box Cover
While some nervous kitties prefer the privacy of litter box covers, the majority of cats dislike the tight quarters and limited ventilation litter box covers provide. Consider how you feel in a public porta-potty. Do you like to touch the walls when inside? Sure, people like the way the lid contains odors, but does it really matter how little odor comes from the litter box when your cat is pooping on your oriental rug?
Provide More Than One Box
A common error is assuming that one litter box is all your cat needs. What cat owner loves the litter box, and relishes seeing more of them in the home? But the more the better when it comes to faithful litter box usage, especially with multiple cats. The general rule is to provide one more box than the number of cats. Some cats share litter boxes, others will not. Unless you provide alternate sites you may have elimination issues in multiple cat homes.
Another special consideration is differences in cat's personalities - timid cats may avoid crossing paths with other more assertive pets in home. Be sure to provide litter box sites that won't be blocked by other animal's movements.
If you live in a multilevel home - you must provide litter box sites on each level. This is especially important in multi-cat homes, those with senior cats or those with health conditions.
The Pick of Litters
Litter texture preferences vary and there are many choices from scoopable, clay, crystals, or natural litters. However in one research study of cat's litter box habits, it demonstrated that the majority of cats prefer fine grained scoopable clay based litters that have carbon as their odor absorbing ingredient. Every cat is different though, so try other litter varieties until you find your cat's preference.
Skip the Scents
The verdict is still out on what odors cats prefer, but avoid heavily scented litters or deodorizers if your cat is missing the box. Interestingly enough, one study showed cats preferred cedar and fish odors, while avoiding citrus and floral scents, while another study concluded cats preferred fish or bleach smells to other scents.
Kitty Litter Depth
Ideal litter depth is 2 inches - more isn't always better. Some cats thrive on scratching the bottom of the pan, which is obscured by excessive amounts of litter.
Keep It Clean
Cats are fastidious by nature and will avoid using a soiled or smelly box. The overall cleaning frequency depends on the number of cats in the home. General advice is to scoop twice a day and deep clean the litter pan weekly. Change out clumping litter every 2-3 weeks.
Build It and Kitty Will Use It
By building your cat's dream litter box, your cat will find litter box nirvana. And you'll come to enjoy a better relationship with your kitty family members without those unwanted "presents" in the foyer.
Featured veterinarian known as "Dr. Debbie" on national pet radio program, Animal Radio. Ebook author of "Yorkshire Terriers: How to Be Your Dog's Best Friend"; "Pugs: How to Be Your Dog's Best Friend"; "Mini Schnauzers: How to Be Your Dog's Best Friend"; and "Shih Tzu: How to Be Your Dog's Best Friend." Dr. Debbie's books.




5 Things We Can Do To Show Our Pets We Love Them
Robert Semrow, Listomania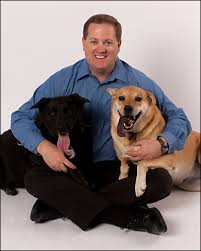 It's February and love is in the air. It's time to shower all of your loved ones with gifts that show you care. Don't forget your truest examples of unconditional love, your pets. That's right, your pets deserve some special attention and gifts as well. The good thing is that your pets most certainly won't benefit from diamonds or chocolates, so you'll be able to keep it simple, but very effective.
1 - Hugs, kisses, ear and belly rubs galore. Depending on the pet you have, you may use any of the aforementioned ways to show your pet you love them. Keep in mind, not every pet enjoys being hugged, but most do love getting some kind of petting, scratching or rubbing. It doesn't cost you a dime, but it's priceless for the pet that you are giving it to.
2 - Engage your pet in one of their favorite activities till they say enough, which may be a very long time for some. Play ball till they say, "If you want it, you fetch it!" Or, if you've got a pet that loves to go on long walks or hikes, make that your goal. It's not always about the length of the walk either, sometimes it's challenges, and the abundant smells or even just letting them lead the walk the way that they want to. If you have an inside pet, get creative and create an obstacle course or play stations to actively engage your pet for hours and they will be enthralled by the effort you've put in.


3 - Give them special treats. We all have a favorite meal, snack or treat. It's special for a reason because we don't give it to the everyday and often it's not the healthiest meal or treat they get either. But on a special occasion, let loose a little and live it up with your pet by giving them their favorite treat. If possible, sneak some healthy nutritious supplements or ingredients in and watch as your pet devours it's favorite treat, even with a few added healthy ingredients. Also, make a game out of it and you'll see the enjoyment and appreciate levels skyrocket.
4 - Make them a masterpiece or better yet make a masterpiece with them. That's right! Whether it's photographs, paintings or pencil art, find the time to get your pet's beauty and grace immortalized in way that you can hang on your wall. One of the fun ways to make it truly special is to have them help create it. Grab a canvas, put some non-toxic acrylic paint on it, cover it with some see through plastic sheeting and let their inner artist shine.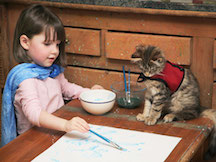 5 - Take them to their favorite spot and be with them. Put away the phone, put down the cup of coffee and just be there with them. Watch them frolic, play and genuinely love life. See the joy that your pet has and invite that in to your heart. Our pets live in the moment and it's a great lesson they share with us daily.
Whatever you do, it's just important to be the best you can be and pet parent they deserve. No one's perfect and our pets don't expect us to be.
Share your ways to show your pets love with us on our Animal Radio Facebook Page.




Animal Radio News - Lori Brooks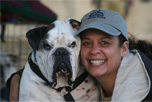 States That Take Animal Protection Seriously - And Those That Don't
The Animal Legal Defense Fund has released its annual report ranking the animal protection laws of all 50 states. This is the longest-running and most authoritative report of its kind and tracks which states are taking animal protection seriously. For the 10th year in a row, Illinois is in first place, followed by Oregon at number two, California at number three, Maine at number four and Rhode Island at number five. Kentucky holds firmly to last place for the 11th consecutive year. Other states in the bottom five with the worst animal protection laws in the country include, Iowa at forty-nine, Wyoming at forty-eight, Utah at forty-seven and North Dakota. The 2017 Rankings Report also highlights a trend in laws aiming to end the tragedy of animals dying in hot cars. In all, more than 25 states now have some type of "hot cars" law on the books. More than half of all states significantly improved their animal protection laws in the last five years. Improvements come in many forms including stiffer penalties for offenders, stronger standards of care for animals, animal cruelty reporting by veterinarians, mental health evaluations and counseling for offenders, banning animal ownership following cruelty convictions and including animals in domestic violence protective orders.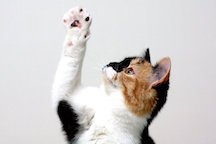 Why You Should Know If Your Pet is Left or Right Pawed
When your cat knocks your favorite coffee mug off the counter, does it use its left paw or its right? There's no need to break your favorite cup for the answer because your cat's gender should tell you enough. According to a small feline-behavior study published in the journal Animal Behaviour, female cats are significantly more likely to be right-paw-dominant, while male cats typically favor their left paws. The study also reveals that animals with no preference for one side or the other, and those that are more inclined to left-limb dominance, for example, are more flighty and susceptible to stress than those who lean more heavily towards being right pawed. There's a lot of research going on in this area and another study just discovered that left-limbed or left pawed dogs are more pessimistic in their outlook than right-limbed dogs. From a pet parent's perspective, experts say it might be useful to know if a pet is left or right-limb dominant, because it may help them gauge how vulnerable the animal is to stressful situations.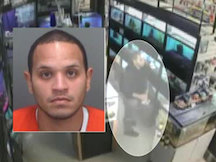 Man Steals Fish In His Pants
Police in Clearwater, Florida, have arrested a man who was caught on camera stealing exotic fish from a pet shop. The fish he took, while his accomplice distracted the store clerk, were valued at around $20 each. The guy nets and bags the fish from a few tanks and having nowhere to stash the bag, shoves the fish down his pants. Police officers said it was the first time they had ever heard of someone stealing live fish then stuffing them down their pants. The guy was arrested, but the fish were not found. (FYI - most fish need water at around 78 degrees - a little cold for anyone's pants!)
Urban Fleas Are a Serious Threat to Wildlife
Fleas from our pets, domestic cats and dogs, are affecting wildlife species around the world. New research has discovered breeding flea populations living among a range of species including possums, coyotes, jackals and dozens of others. All told, scientists found cat fleas, the most common domestic flea, among 130 wildlife species, while the less common dog flea was found to be thriving among 31 wild mammal species. Because fleas can carry disease-causing bacteria, including the microbes responsible for the bubonic plague and typhus or typhoid, the urban-wildlife flea and parasite exchange is a very serious threat.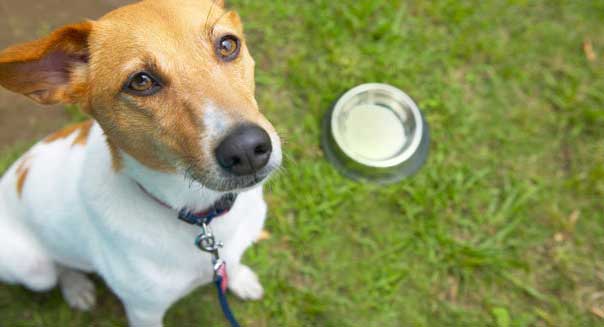 Food Stamps For Pets
There's a big debate brewing about the SNAP program (Supplemental Nutrition Assistance Program) otherwise known as food stamps. A new petition on the Care2 website has already attracted signatures from more than 85,000 supporters. Though experts say the petition has very little chance of success, it asks the federal government to modify food-stamp rules to make it easier for low-income people to buy food for their pets. Once the petition reaches 90,000 signatures, it will be presented to the Department of Agriculture. However, there are many challenges in actually changing the SNAP program. Since 1964, the food stamp program has specifically prohibited people from using food stamps to buy pet food, since the program defines "food" as "any food or food product for human consumption." Altering that definition would require congressional action. Currently there is no federal program that helps low-income people care for their pets, but several organizations such as the ASPCA and PetSmart Charities have stepped up with food banks for pets. These groups say that allowing food stamps to be used for pet food could potentially keep tens of thousands of animals out of shelters and prevent low-income people from giving their own food to their pets. According to the Pet Products Association, food for dogs and cats averages $235 per year.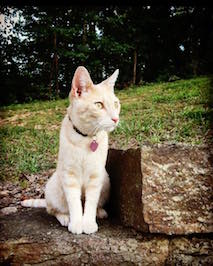 Museum Has its Own "Spokes-Cat"
At the world-class Crystal Bridges Museum of American Art in Bentonville, Arkansas, everyone wants to see the resident cat that has become the museum's spokescat. His name is Hamish and he was adopted last year by a couple that lives near the museum. However, Hamish has adopted the entire museum and its staff. He's often outside the museum, welcoming guests and posing for selfies. He also hangs out inside, riding the elevator and stopping for a bite at the desks of employees who have bowls of food for him. Now that he's famous, Hamish his own Facebook page: Hamish the Museum Advo(cat)e. Hamish's human parents say they get as many as five calls a day from museum visitors wanting to alert them they found their cat. So they've finally changed their voicemail greeting to let callers know Hamish is where he wants to be and he'll be home that night.



Listen to the entire Podcast of this show (#949)