Laugh It Up And Help The Animals At The Same Time!
Gary Vader, Funny For Fido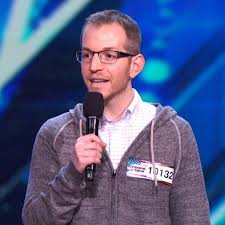 Gary Vader is a comedian who appeared on Season Ten of America's Got Talent. He finished in the bottom 5 of Top 10, but we feel he should have won! Gary is also a big animal lover and has two dogs, both Puggles named Ernie and Marty, whom he claims don't even know he's a comedian. His wife also has a dog walking and pet sitting business called Metro Pets.
So what's Gary up to now? He is one of the comedians appearing at a monthly fundraising charity comedy event for pets called "Funny for Fido."
Join them for their next great night of comedy, charity, and dogs on. Come laugh it up for a great cause!
When: Wednesday, Feb, 22nd, 8pm
Where: The Stand Comedy Club And Restaurant NYC, 239 3rd Ave. Between 19th & 20th Streets. New York City 212-677-2600 $35
Who: Justin Silver (Funny For Fido Host); CBS Rachel Feinstein (Inside Amy Schumer); Joe List Conan & Comedy Central); Sherrod Small (Host Of Black & White A&E); And Yannis Pappas (Comedy Central); And Gary Vader (America's Got Talent).
Funny for Fido is a 501(c)(3) charity created by comedian and animal activist, Justin Silver, to provide financial grants to animal rescue organizations.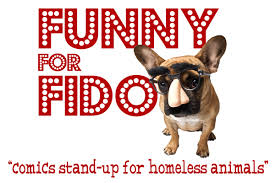 Each month the country's top comedians perform to raise money for grants program and awareness for their mission to save homeless animals.
One Hundred Percent of the profits raised at their events and throughout the year are used to pay for veterinary care, food, training, transport, temporary and permanent housing for animals that would otherwise be killed.
If you would like to inquire about a grant for a rescue organization, would like to get involved or have comments or questions, Bark At Them at funnyforfido@gmail.com.
For updates on future events, to see their rescue dogs and enter contests, join their mail list funnyforfido@gmail.com.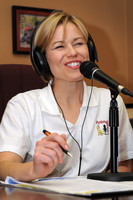 Pheromones In Puppy Training -Dr. Debbie
So you just got a new puppy and you have all your training tools at the ready, the collar, leash and dog crate. But beyond that, do you have the one thing that can make your training tasks easier all around? Tap into your puppy's own sense of smell using canine pheromones, and ease your new pup's training and transition into the home.
Pheromones are scent signals emitted by all animal species, including humans. Various pheromones work under the radar to influence the perceptions and behaviors of others within a species.
Shortly after whelping, a pheromone is emitted from the bitch's sebaceous (oil) glands located between the mammary glands. The pheromone, dubbed the canine appeasing pheromone, reassures the puppies, calms them and facilitates nursing. The bitch stops emitting this pheromone as the pups mature, but all dogs retain the ability to "read" this pheromone. Not only do older dogs recognize this pheromone, but it continues to have a natural calming effect on canines of all ages.
In veterinary behavior cases, the dog appeasing pheromone is used for dogs with noise phobias, car travel anxiety, separation anxiety, and other fearful situations. Various forms are available including pheromone collars, plug in diffusers and sprays. The canine appeasing pheromone doesn't sedate the dog; rather it decreases fear and excitability.
The dog appeasing pheromone is also helpful for newly adopted puppies. Those first few days to weeks in a new home are full of changes for the pup faced with novel environments far from the comfort of mother and siblings. The dog appeasing pheromone has been shown to ease the transition of the pup into new home and improve sociability and training during a pup's critical socialization period.
Pheromone Research
For skeptics that need to see the proof in the studies, veterinary behavior studies have examined the positive influence of the dog appeasing pheromone. When comparing treatment responses for dogs with separation anxiety, the use of the dog appeasing pheromone equaled the benefit of the anti-anxiety medication, amitriptyline.
One study looked at 66 puppies as they settled into new homes after adoption. Approximately half of the puppies wore a pheromone collar and half wore a placebo. The study found that puppies wearing a pheromone collar displayed significantly fewer nuisance behaviors like vocalizations or scratching within 3 days of adoption. Pups wearing the pheromone collar woke their owner's less during the night and displayed fewer signs of distress and vocalizations throughout the course of the study.
The researchers concluded that pheromone collars helped both the pup and family. Pups were less stressed and adapted easier. By decreasing the pup's stress and fearful behaviors, the pet owners found a more enjoyable bonding experience with the new pup and faced less frustration through the training process.
In another study, puppies 8 to 15 weeks were enrolled in an eight-week long puppy socialization and training class. Half wore a pheromone collar and the other half wore a placebo collar. The pups wearing the collar were calmer in the face of novel experiences and displayed less fear, anxiety, and aggression. In the end, the pups with pheromone collar not only were less nervous, but had fewer behavioral problems and learned better. And a long-term effect on sociability was recognized in dogs up to one year after the class and study was completed.
Pheromones and My Pup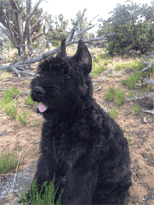 As the new owner of a nine-week old Bouvier puppy named Nikki, I used both the pheromone collar and diffuser upon welcoming my new pup home. One day before bringing Nikki home, I placed a pheromone diffuser close to the puppy crate, where it would have maximum benefit during her first nights in the kennel away from mother and siblings. Immediately upon leaving the breeder's home, Nikki was fitted with a pheromone collar to serve as a source of reassuring pheromones that went everywhere she did. The pheromone collar has become a tool in Nikki's socialization. It's on her when she meets new people or animals, when she explores new environments, and during puppy kindergarten class.
Did pheromones help in my pup's transition and training? The four hour drive home from the breeders was a dream, no crying or whining the entire trip. Now three weeks later from acquiring my pup, and Nikki never soiled in her kennel during the day or night. I'll admit I had my share of interrupted sleep in the first two weeks, but most of Nikki's night time wakes were for genuine elimination needs. Overall her transition into the home was smooth and lacked the wailing, inconsolable cries of a stressed pup.
The canine appeasing pheromone isn't a magic bullet though. Nothing matches a quality pup obtained from a reputable breeder who focuses on health, genetics, and early socialization. Likewise pheromones do not replace the hard work and consistent training efforts that any new pet owner must provide. However, by adding the the canine appeasing pheromone to your new puppy training, you can help your pup become the best he or she possibly can.
Featured veterinarian known as "Dr. Debbie" on national pet radio program, Animal Radio. Ebook author of "Yorkshire Terriers: How to Be Your Dog's Best Friend"; "Pugs: How to Be Your Dog's Best Friend"; "Mini Schnauzers: How to Be Your Dog's Best Friend"; and "Shih Tzu: How to Be Your Dog's Best Friend."




5 Ways To Better Dental Health For Your Pets
Robert Semrow, Listomania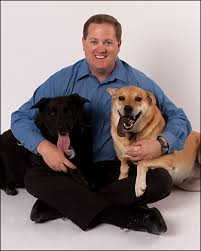 Pet Dental Health Month is highlighted each year in February, but it truly is an everyday concern for all pet owners. Who doesn't have a pet whose smile can melt even the biggest scrooge's heart? Dental health is more than just a pretty smile, it's something that impact's their entire body system, so if their dental care is given proper care, it can have total body consequences. So many things impact their dental health, from the foods you feed them, to the toys they play with, to treats that can damage their teeth.
Here are a few tips to help insure that your pet will enjoy good dental health for years to come.

1. The signs that your dog or cat may be suffering from dental health problems include some or all of the following signs: bad breath, excessive drooling, inflamed gums, loose teeth, lack of interest in food or water, tumors in the gums or cysts under the tongue. If you are seeing any of these signs, talk with your vet and have them do an examination and plan a course of action.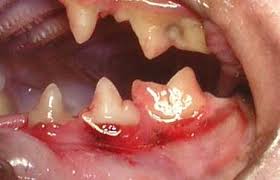 2. Remember, dental disease often occurs below the gum, so work with an expert. You should regularly check your pet's gums. They should be pink and not showing any injuries or black or white areas. There should be no swelling and no pockets where food can get lodged or stuck. It's important to help your pets feel comfortable with you and/or your pet's health partners touching and viewing the insides of their mouths. It's best to start when they are young, but equally important to make it a pleasant experience so they do not associate it negatively.
3. Have a regular maintenance plan for the dental health of your pet. Speak with your pet health care professionals about what you should be doing and how often you should be doing it. It's important to understand how the food you feed, the treats you give them and the toys your pets play with all impact your pet's dental health.
4. If you are going to brush your pet's teeth, do so with a pet safe toothbrush and/or pet safe teeth cleaner. Remember that you should only use pet specific toothpaste as well.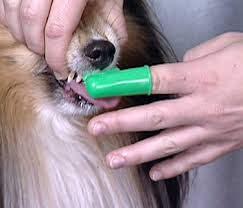 5. Finally, talk with your vet and pet health care expert about toys, treats and chews that can not only help with anxiety and boredom, but can also support the dental health of your pets. Talk with your vet and nutritional pet expert about foods and supplements that can also aid in dental health, as well as in digestion support. The body's systems are symbiotic and thus it is important to keep them in balance.
Remember that pets rely on their teeth for not only eating, but also for protection, play and overall health. Dental health impacts everything they do on a daily basis, so an unhealthy mouth cannot only disrupt their eating and drinking, but also their overall behavior. It's not just about their smile on the outside, but their health on the inside.

Share your ideas on how to help with pet dental health on our Animal Radio Facebook Page.




Animal Radio News - Lori Brooks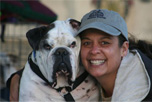 Alaska Courts State Animals Are Like Children
For the first time, a state has specifically said that a companion animal has visibility in a divorce proceeding beyond that of property and that the court may award custody on the basis of what is best for the dog, not the human owners. In a first, Alaska divorce courts will now treat pets more like children even though, in the eyes of the law, animals are considered property. But in Alaska, they've added an amendment to the state's divorce statutes and it's music, or barks and meows, in the world of animal law. It makes Alaska the first state in the country to require courts to take "into consideration the well-being of the animal" and to explicitly empower judges to assign joint custody of pets. The Alaska Bill also allows courts to include pets in domestic violence protective orders and requires the owners of pets seized in cruelty or neglect cases to cover the cost of their shelter. One of the authors of the bill was a state lawmaker who once handled a divorce that resulted in joint custody of an entire sled dog team.
Dog Dies, 5 Others Sickened after Eating Evangers Dog Food
At least five dogs have been sickened and one has died after eating Evangers' brand "Hunk of Beef" canned dog food. The reason is a barbiturate, Pentobarbital, has been found in one lot of the food and the company is concerned people may still have unused cans in their homes. Evangers is recalling five lots of the 12-ounce cans of "Hunk of Beef" dog food that have expiration dates of June 2020, which were distributed in 15 states: Washington, California, Minnesota, Illinois, Indiana, Michigan, Wisconsin, Ohio, Pennsylvania, New York, Massachusetts, Maryland, South Carolina, Georgia and Florida. You can find the lot numbers that are being recalled on the Animal Radio app. Again, the brand is Evangers. You can also find all the numbers and information you need on our website at AnimalRadio.com.
UAE Outlaws Ownership of Wild Animals
The United Arab Emirates has outlawed the ownership of wild animals as pets, ending a favored pastime of some wealthy citizens who are fond of posting snapshots of their lions, tigers and cheetahs online. The new law will ban the trade and ownership of wild or exotic pets for any individual, but not for zoos, circuses and breeding centers. Violators face jail time and fines up to $136,000. Animal welfare experts in the Middle East say those big cats are often illegally smuggled out of their native countries and that is very concerning since Cheetah populations have plummeted in the past few decades.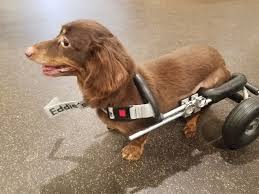 Dog With Broken Spine Left in Trashcan Finds Forever Home
A dog found abandoned in a trash bag with a broken spine last month has found a forever home. Poor little Frances is a Dachshund who was found in Pennsylvania by a Good Samaritan who was out on an early morning walk when she came upon the trash bag with Frances inside of it. But, this story has a happy ending. Frances has a brand new wheelchair now and has been adopted by a woman who already had two doxies. All three are getting along and playing together just fine.
Germany Taxes Dog Owners But Not Cat Owners
In Germany, there's a legal difference between pet owners. Dog owners are taxed for their pet, while cat owners currently aren't, though some say that should change. An estimated 13 million cats call Germany home and that doesn't include stray cats. The justification for the dog tax is partly that dogs often leave public areas dirty, but the safety of both the animals and the public also plays a part. Dogs in Germany must also be registered with the authorities, neutered, micro-chipped, and depending on the breed, undergo a 'character test' to determine whether they should be muzzled when in public. German officials say those policies help prevent shelters from being overrun and allow them to stick to a 'no-kill policy' as well as limiting biting incidents.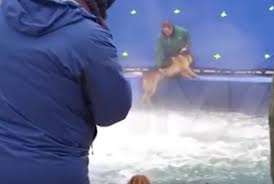 Leaked Video Was Misleadingly Edited
The official report is out on that leaked video from the movie "A Dog's Purpose." The video showed a frightened dog being forced into churning water during filming. An independent report by a board certified veterinarian concludes the video was misleadingly edited and the German Shepherd, Hercules, was unharmed. American Humane which oversees all animals on film sets says, "The decisions by the individual or individuals who captured and deliberately edited the footage and then waited longer than 15 months to release the manipulated video only days before the movie's premiere, raises serious questions about their motives and ethics." And that, "The video was deliberately edited for the purpose of misleading the public and stoking outrage." The findings revealed that the two scenes shown in the leaked, edited video were actually filmed at different times and edited together to make it look like one long scene. American Humane, which had an animal safety representative on the set, acknowledged that, "The handling of the dog in the first scene in the video should have been gentler and signs of stress recognized earlier." Then added, "That being said, it is important to note that this was recognized and the scene did not proceed as insinuated by the video," the group added. The dog was immediately taken to a warming tent where an examination found no signs of stress.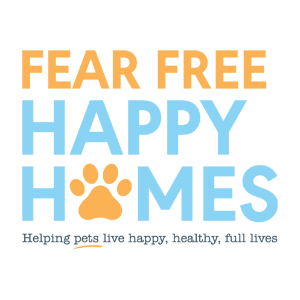 NEWS UPDATE brought to you by Fear Free. "Take the 'pet' out of 'petrified'" and get pets back for veterinary visits by promoting considerate approach and gentle control techniques used in calming environments.

Listen to the entire Podcast of this show (#898)