Quit Your Stupid Job
Beth Stultz, Dir. of Marketing, Comm. & Education, Pet Sitters International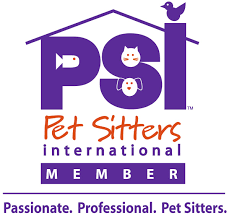 Beth Stultz of Pet Sitters International (PSI) wants you to quit your dumb job and become a pet-sitter! She says you can make anywhere between 50,000 to a MILLION a year doing what you love. Beth will tell you how to get started.
Bet tells us that their organization is the world's largest educational association for professional pet sitters. They do two things. They help people who want to get into the pet sitting industry build and grow their business and they also help pet owners find local professional pet sitters.
So can you make money doing this? Beth states that this is probably the most asked question. Her short answer - yes! They conduct a survey every two years and their 2014 survey reflected that the national average salary for a professional pet sitter was around $50,000. This includes people who were pet sitting both full time and part time. However, they have many pet sitters who make well over a million dollars annually. It depends upon where you live and how much time you want to invest.
Consider this:
- The American Pet Products Association reports more than $5 billion was spent on pet services including pet sitting and dog walking in the United States last year.
- An IBIS Dog-Walking Services Industry Report indicates the totals spent on pet services could be as high as $11 billion.
- Spending on the pet services category is one of the fastest growing segments of the pet industry.
- For pet lovers seeking to start their own businesses or pursue a second career, this is great news. As part of the growing pet-services industry, professional pet sitting and dog walking offer a career path that is fulfilling, flexible and profitable.
If you are thinking about quitting your job and becoming a professional pet sitter, Beth recommends that you join an organization likes hers, the Professional Pet Sitters Association (PSI).
PSI is an educational association, so as an association there is an annual membership. They don't collect any commission from any of the pet sitting assignments. You then have access to the group rate insurance and tons of educational opportunities. They also have monthly webinars, a magazine and free resources and downloads. Their focus is on education for their pet sitters.
Along with educational material for pet sitters, they also have a pet sitter locator on their website, which allows pet owners to search for a sitter by zip codes. A potential client is able to see your credentials before contacting you.
Before you start a pet sitting business, you need insurance. Members of PSI have access to group rate insurance. An insurance specifically for professional pet sitters and also a bond is so important for anyone before they accept their very first pet sitting assignment. Rates for insurance vary, but a good estimate is around $300 a year.
Insurance protects you in case a dog you are sitting bites someone, but it is not only just general business liability insurance, it also includes care, custody and control. This means that it covers basically anything that can happen while a pet is in your care. So it not only covers you if the pet bites someone but you are also covered if you break a lamp inside someone's home or if the pet is injured while in your care.
Next, you need a good service contract. For pet sitters, you want to have a contract with your clients so it outlines exactly what you are responsible for, which they then sign.
You can find everything you need to get started at Pet Sitters International.
It is always advisable for people to use a professional pet sitter when leaving their pets. So many pet owners still rely on the neighborhood kid or their neighbor. While those people may have great intentions, they don't have the training or insurance coverage if something were to happen while the pet was in their care.





5th Annual Pet Photo Contest Winner
Steve Pinetti, Kimpton Hotels & Restaurants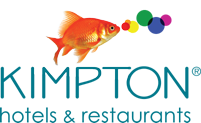 We have a winner for Kimpton's 5th Annual Pet Photo Contest. Some lucky pet guardian is going travel on JetBlue (with their pet) and stay at ANY Kimpton pet-friendliest property in America.
Steve Pinetti, Senior Vice President of Inspiration and Creativity for Kimpton Hotels and Restaurants joins us once again to unveil the Grand Prize winner of Kimpton's 5th Annual Pet Photo Contest.
Kimpton Hotels have a huge following of pet travelers. Steve explains the reason by stating that, "It's simple, pets are family and because we wouldn't charge extra if you brought your spouse or kid, we're not going to charge extra if you bring your pet, that's why we have a company-wide policy for pets." It doesn't matter what kind of animal, how large, what breed or how many, there are never any fees or any deposits ever. Steve states, "That if you can get your pet in the elevator, you're good to go!"
So what kinds of animals do they get? There was one time in Denver when someone pulled up in front of the hotel with a horse trailer with two horses. Fortunately, the horses stayed outside. However, over the years there have been some strange animals that have stayed at Kimpton including monkeys, iguanas, rabbits and even a koala bear.
So what are some special things Kimpton does for their pet guests? They outfit their pet guests with amenities such as comfy beds, bowls, placemats, toys and treats all free of charge. The concierge also provides recommendations on pet-friendly establishments and parks in the area. They send you to where the locals take their dogs. By check-out, their goal is for their pet guests to feel as loved and cared for as their human guests - which is a lot!
Kimpton also goes beyond just being pet-friendly. For instance, they just completed their 5th Annual Pet Photo Contest. They received many entries from all over, 2,210 to be exact, which included dogs, cats, bunnies, you name it! In all, nearly 23,000 people voted and after two weeks, they had five finalists who won great prizes from their partners FIDO Friendly, Eddy Bowl, and Polka Dog Bakery.

From those five finalists, Animal Radio had the hard job of picking winner, and selected Ziva as the Grand Prize Winner. Ziva and her owner Cindy Wilkinson will also receive 3 nights at any Kimpton Hotel, round-trip airfare for on JetBlue, $100 to spend at a Kimpton Restaurant, and a commissioned pet portrait from UGallery.
Cindy tells us she will be taking Ziva to the beach in Vero Beach, Florida and that both she and Ziva are so excited! Ziva travels frequently with Cindy, but she states that this is the first time that they have gone to the beach in Florida.
When asked how she got such a good shot of Ziva, Cindy explains that Ziva just looked up at the camera and that was it. She is just naturally very photogenic with a beautiful smile!
Steve wants to say thanks to all the people who entered the contest and it was so much fun to see all the great pictures. They're also glad that Animal Radio chose the Grand Prize winner because that was one tough job!
And if you didn't enter this year, check back for the 6th Annual Pet Photo Contest next year.
Also, bring your pets on vacation this year and stay with them. No one should pay for a sitter or a kennel when you can stay with your pet for free at any Kimpton.




Dental Disasters
Doc Halligan, Lucy Pet Foundation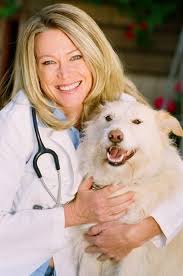 February is Pet Dental Health Month. Do you brush your dog's and cat's teeth on a regular basis? If you don't, you're not alone as most people don't. However, Doc Halligan is one of those people who do.
Doc Halligan explains that she brushes her cat's teeth on a regular basis after writing a book on the subject. She realized just how important it is to brush your pet's teeth.
Just think if you never brushed your teeth, ever. That is all you need to know.
The American Veterinary Dental Association states that 80-percent of all dogs and 70-percent of all cats have some sort of gum disease before the age of three, if you're not doing anything for their teeth.
If you haven't been taking care of your cat or dog's teeth on a regular basis and your pet is at least 3 years old, there is a good chance that some signs of dental disease are already present, including mouth odor, brown spots and red, inflamed gums. This leads to gingivitis and eventually periodontal disease. As the bacteria destroy the bone, they produce hydrogen sulfide, a smelly gas that causes halitosis.
Those teeth need cleaning immediately! Stop right now and check your pet's teeth. You'll probably be shocked by what you see. Something as simple as brushing your pet's teeth at least three times a week will not only save you hundreds of dollars on vet bills, but will extend your pet's life as well, because not only do neglected teeth look bad, smell bad, and probably hurt, but they can also cause problems including organ failure.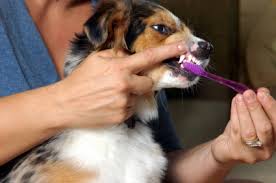 If your pet has excessive tartar buildup, gingivitis, or rotting teeth, chances are you have already waited too long. Good dental care in pets, just like in humans, revolves around controlling the bacteria under the gum line where it isn't readily apparent. Doc Halligan has personally examined dogs and cats whose tartar buildup is so thick, it's literally the only thing holding the teeth in the sockets. When the tartar is finally removed, these teeth actually fall out.
You have to understand that the mouth has a very big blood supply. So if you have bacteria in the gums from neglected teeth, then the billions of bacteria mix with the saliva and harden into tartar. This then eats away at the gum and bone and gets into their blood supply. This blood then circulates through their entire bodies. This bacteria tainted blood goes in their liver, kidneys, lungs and heart causing premature organ failure. Teeth cleaning should be viewed as a way to prevent disease and illness, not to treat it.
You should brush your pet's teeth every other day to make a difference. There are certain animals that have risks factors that make them accumulate more plaque. These include older animals and certain breeds of dogs. Small dogs like Poodles, Maltese and Chihuahuas are also predisposed to periodontal disease, because they have such a small mouth.
Another cause of dental disease can be as simple as how a dog chews. Food also matters. If you are feeding cheap, carbohydrate food with sugar in it, that causes more dental disease. It doesn't matter if you feed hard or soft food either, as it all comes down to the sugar content.
Dental care in pets has come a long way. Board Certified Veterinarians are now able to do root canals, crowns and even braces.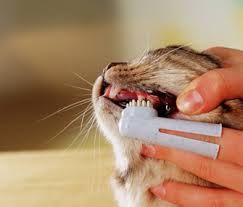 But what about non-anesthesia dental cleaning? Doc Halligan states that this is a VERY DANGEROUS procedure. Just like it states, the animal is awake during this procedure, which is already hard to do. But now you are using instruments to clean the plaque, which scrapes the enamel. This leaves scrapes on the teeth, which are supposed to be smooth, because you are unable to properly polish the teeth on an animal that is awake. So what happens to these scrapes? They will eventually cause the teeth to rot. Doc Halligan states she can always tell when an animal has undergone anesthesia free dental cleanings because of the decay in their teeth. You think you are helping your pet by doing this, but you're not. You're actually better off not doing anything to their teeth if you are thinking about an anesthesia free procedure.
In fact, it is actually outlawed in California unless it is under the care of a veterinarian. Anesthesia Free Dental Cleanings should only be used as a last resort if your pet cannot undergo anesthesia for health reasons.
Dental disease is 100-percent preventable. Next week doc Halligan will teach you how you can brush your pet's teeth. It's not as hard as you think!
The Mission of The Lucy Pet Foundation is to reduce pet overpopulation by having mobile spay/neuter clinics across the country and to support causes that benefit animal welfare. The Lucy Pet Foundation currently has two buses that travel around Southern California focusing on spaying and neutering. These buses are state of the art surgery units. Their next focus is in generating more funds to expand the work of these buses and have more across the country.

The Lucy Pet Foundation not only offers free and reduced spays and neuters, they also do microchipping, vaccines and de-wormings. Spaying and neutering is not only great for pet population control, but it has been proven that an animal will live on an average of 40-percent longer after having this surgery.
Upcoming February Events
Free Spray & Neuter for Los Angeles City Residents! Here is a list of upcoming free or reduced fee mobile spay and neuter clinics in California:
Call for more information, questions and to reserve space to get on the list: (855) 499-5829
February 21: Palmdale Development Services Parking Lot, 38250 Sierra Highway, Palmdale, CA Spay/Neuter Clinic - 7:30 am; Vaccine Clinic 10:00am-2:00pm
February 23: West Valley Shelter, 20655 Plummer Street, Chatsworth, CA Spay/Neuter Clinic - 7:30 am; Vaccine Clinic 10:00am-2:00pm
February 25: South Central (call for location 1-855-499-5829) Spay/Neuter Clinic - 7:30 am
February 26: Hansom Dam Recreation Center, 11480 Foothill Blvd., Los Angeles, CA Spay/Neuter Clinic - 7:30 am; Vaccine Clinic 10:00am-TBA
Remember, you must get on a list to have your pet seen at these locations. Please call The Lucy Pet Foundation toll free at 1-855-499-5829 or Email: Info@lucypetfoundation.org to schedule an appointment, or register at the events.
See the current list of clinics at http://www.lucypetfoundation.org.
http://www.lucypetproducts.com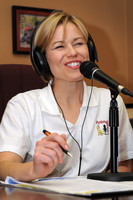 Second Hand Smoke Sickens Pets - Dr. Debbie
Looking to save money on veterinary care or wondering how to keep your pet in peak health? If you are a smoker and have pets, there are some very compelling reasons to quit - second hand smoking's link to causing cancer and illness in pets. If threats from your spouse haven't gotten you to stop smoking yet, maybe looking at that furry friend on the couch next to you will. The life you save may be his.
It's long been known that smoking causes serious health repercussions in people, even to non-smokers in the same environment. According to the Center For Disease Control (CDC), secondhand smoke contains 7,000 different toxins, hundreds which are toxic and 70 which cancer-causing.
In people, secondhand smoke is linked to cardiovascular disease, lung cancer and childhood asthma, ear infections and Sudden Infant Death Syndrome (SIDS). Similar research in pets has found that animals from smoking homes are at greater risk of chronic lung disease like asthma and bronchitis, respiratory cancers and other cancers.
Pets are exposed to smoke and chemicals not only through inhaling air, but also by ingesting the toxins directly. Smoke particulates settle on pet's fur or are transferred from the owner's hands through petting. Pets then ingest cigarette's toxins through licking humans, self-grooming and grooming other household pets. Cat's especially fastidious nature permits increased intake of smoke residues through kitty grooming behaviors.
What Are Secondhand Smoke Effects In Pets?
Research from Tufts University discovered that cats exposed to smoking had a higher risk of developing the malignant cancer, lymphoma. In fact, cats living in smoking homes had double the risk of developing lymphoma as cats from non-smoking homes. When two people in the home smoked, the risk of lymphoma in cats increased to four times.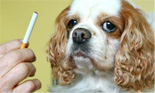 Other veterinary research identified increased rates of oral, nasal and lung cancer in pets from smoking households. Cats from a smoker's home are four times as likely to develop the disfiguring cancer, squamous cell carcinoma. And in yet another study, long snouted dog breeds from smoking homes were at greater risk of developing nasal cancer, likely due to greater absorption area in long nasal passages.
How Can You Safeguard Your Pet's Health?
If you are a smoker, consider stopping - for your sake and your pets. Short of giving up the habit, take steps to minimize second hand smoke on your pets. Only smoke outdoors, away from pets. Wash your hands after smoking, before handling your pets. If you enjoy lighting up in the car when driving, leave your pet at home. Even with car windows down, cigarette smoke inside a car creates a toxic environment for pets.
Have your dog and cat examined by your veterinarian every six months. Alert your veterinarian to any lethargy, trouble breathing, and coughing or unexplained weight loss. Early detection and treatment permits the most effective treatment of chronic respiratory conditions and cancers. Your pet's veterinarian can detect illness through regular exams and preventative screenings.
While smoking isn't the only factor causing cancer in pets, it is increasingly scrutinized as a significant health risk, one that we humans can control. The health decisions we make not only influence our children's health, but also affect those devoted pets that warm our hearts and beds.
Featured veterinarian known as "Dr. Debbie" on national pet radio program, Animal Radio. Ebook author of "Yorkshire Terriers: How to Be Your Dog's Best Friend"; "Pugs: How to Be Your Dog's Best Friend"; "Mini Schnauzers: How to Be Your Dog's Best Friend"; and "Shih Tzu: How to Be Your Dog's Best Friend."




5 Ways to Better Dental Health For Your Pets
Robert Semrow, Animal Radio Listomania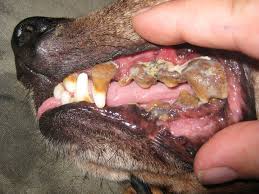 It's Robert Semrow, your pet world insider here with this week's Animal Radio Listomania.
I've seen plenty of pets whose smile can melt a heart from any distance. I've also seen some pets whose smiles can stop traffic and make them a great candidate for Doggie and Kittie dentures. Who doesn't want to see their pet with a big smile filled with love and happiness? Dental health for your pets is as important for them as it for you. As we've all learned over the years, dental health and the lack there of can impact all the body's systems and cause problems beyond a bad smile.
Here are a few tips to help insure that your pet will enjoy dental health for years to come.

1 - The signs that your dog or cat may be suffering from dental health problems include some or all of the following signs: bad breath, excessive drooling, inflamed gums, loose teeth, lack of interest in food or water, tumors in the gums or cysts under the tongue. If you are seeing any of these signs, talk with your vet and have them do an examination and plan a course of action.
2 - You should regularly check your pet's gums. They should be pink and not showing any injuries or black or white areas. There should be no swelling and no pockets where food can get lodged or stuck. It's important to help your pets feel comfortable with you and/or your pet health partners touching and viewing the insides of their mouths. It's best to start when they are young, but equally important to make it a pleasant experience so they do not associate it negatively.
3 - Have a regular maintenance plan for the dental health of your pet. Speak with your pet health care professionals about what you should be doing and how often you should be doing it. It's important to understand how the food you feed, the treats you give them and the toys your pets play with all impact your pets dental health.
4 - If you are going to brush your pet's teeth do so with a pet safe tooth brush and/or pet safe teeth cleaner. Remember that you should only use pet specific toothpaste as well. If you are uncomfortable about doing this, ask your veterinarian or check with your local pet experts to find out about professional pet teeth cleaning. There are different types of teeth cleaning that are offered these days, some include anesthesia while others don't. Consult your expert to know which is best for your pet.
5 - Finally, talk with your vet and pet health care expert about toys, treats; chews that can not only help with anxiety and boredom, but can also support the dental health of your pets. Talk with your vet and nutritional pet expert about foods and supplements that can also aid in dental health, as well as digestion support. The body's systems are symbiotic and thus it is important to keep them in balance.
Remember that pets rely on their teeth for not only eating, but also for protection, play and overall health. Dental health impacts everything they do on a daily basis, so an unhealthy mouth cannot only disrupt their eating and drinking behaviors, but also their overall behavior. It's not just about their smile on the outside, but their smile on the inside.
What ways do you provide for your pet's dental health? Share your ideas on how to help with pet dental health on the Animal Radio Facebook Page.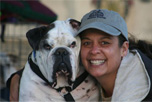 Animal Radio News - Lori Brooks
Prevent Attacks From Wild Animals
New research out of Spain suggests human carelessness is to blame for roughly half of all large carnivore attacks on people. Scientists with the Spanish National Research Council say many times humans take a careless approach to their time spent outdoors; running while it's dark, leaving children unattended or walking with an unleashed dog. Even worse is approaching a female wild animal with young ones or a trying to get close to wounded animal. The researchers looked at the circumstances surrounding brown bear attacks in one region where in 40 years there have been only 38 reported attacks. Their analysis, detailed in the journal Scientific Reports, suggests NONE of those bear attacks could be attributed to abusive or aggressive behavior on the part of the bear. Education, researchers say, is the key.
99-Year-Old Woman Wakes And Finds Bizarre Animal On Her Chest
Can you imagine, a 99-year-old Florida woman woke up to find a bizarre animal that looks like a cross between a monkey and a raccoon, sleeping curled up on her chest. First responders described it like this: "The lady is sound asleep and she feels something on her chest and she slowly wakes up, and realizes that there's an animal curled up sleeping on her chest… her first impression was it might be a cat, but when they both got a look at each other, then they both freaked out. The lady screamed, the creature, known as kinkajou ran into her attic." A kinkajou is a South American member of the raccoon family that does resemble a monkey. It turned out that the kinkajou was named Banana and belonged to neighbor but had escaped her home. Kinkajous, sometimes known as "honey bears," are legal to keep as pets in Florida with a special exotic animal permit.
Woman Sued For Using Pictures on "Blog"
Designer Lauren Conrad is being sued for using two photos of surfing dogs on her website without the photographer's permission on a blog post a few years ago. The problem isn't that she used the pictures so much as it is that the company which is suing claims that Conrad's site isn't a blog but more of a "commercial enterprise" where she promotes her Kohl's clothing line and other things for which she makes money off of. The company is asking Conrad to remove the photos and return any profits she gained from their use.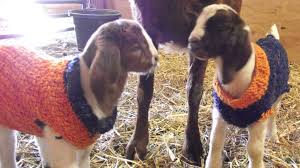 Woman Celebrates Broncos Super Bowl Victory by Knitting Sweaters for Goats
A Colorado farmer is celebrating the Denver Bronco's Super Bowl victory by knitting Broncos sweaters for the 150 baby goats expected to be born on her families 400-acre goat farm this spring. Most will be born in April, and that's still a pretty cold time of year in Colorado, and the baby goats weigh only 8 or 9 lbs. when they're born. Her celebratory solution? The baby female goats will get orange sweaters, and the males will get blue ones. A real animal lover, she says the sweaters have also been useful for her 15 dogs.
Climate Change Doesn't Just Affect Habitats For Wildlife
According to animal experts, climate change is also affecting cats and dogs. They say fleas and ticks are getting smaller. There are more of them, they eat more often, and now those fleas and ticks are causing problems in what used to be the colder winter months. For example, mosquitoes spread Heartworm, but those mosquitoes, which used to be found only in certain colder regions, are now carrying the disease all over the United States. Also, increased temperatures have turned kitten season into a yearlong event instead of a spring ritual. A distinguished professor of entomology at the University of California, Riverside, says environmental conditions are creating larger populations of smaller fleas and ticks that will eat more frequently, develop more rapidly and spread more pathogens.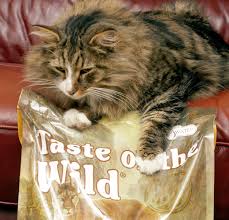 Of All The Cats To Get Lost, This Cat May Not Have Wanted To Be Found
A cat that was missing for more than a year has now been reunited with his owner after he was found "feasting" in a pet food warehouse in the UK. Clive was found in the warehouse about two miles from his home after repeatedly setting off burglar alarms during the night. Eventually they discovered Clive, the Norwegian Forest cat, was the culprit but they had a difficult time catching him. They finally caught him and reunited him with his owner who said, "I can't believe he's so porky." Not the usual case for a pet that has been missing for so long.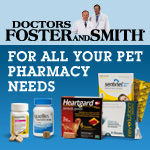 NEWS UPDATE brought to you by Drs. Foster & Smith, affordable pet supplies. Low prices every day, so you save on every order.

Listen to the entire Podcast of this show (#846)