Cooking For Your Dog
Gayle Pruitt, The Dog-Gone Good Cookbook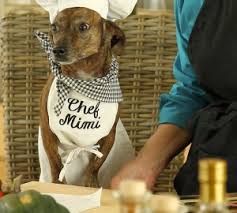 Feeling guilty about being unable to share your dinner with your canine companion? Worried about whether your leftovers are good for your pet? Why not cook something that both you and your dog can eat together? Nutritionist Gayle Pruitt joins us to talk about her new book The Dog Gone Good Cookbook and share some of her favorite recipes. The recipes are human, canine, and kid friendly and are easy, even for the beginner cook!
In one part of her book, you will find recipes for you both you and your dog to share, and another part includes recipes just for your dog. But Gayle doesn't advocate your dog eating at the table with you; they should have their own place. Some people may not agree with Gayle, but she feeds her dog before she feeds herself. This allows her to have a peaceful dinner with the "fed" dogs staying away from the table.
Some included recipes: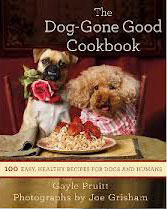 - Spaghetti and Meatballs
- Fish Burgers with Parsley Dilled Mayonnaise
- Braised Turkey Soup
- Lamb Shanks with Figs and Blueberries
- Chicken Tenders with Coconut and Sesame Seeds
- Pumpkin Frittata
While Gayle lists foods that are good for your dog, should also lists food that they should never have.
Author, Gayle Pruitt, has been a nutritionist/chef for fifteen years. She currently works for Convergent Marketing and Dr. Ohhira Probiotics. Gayle conducts nutritional research where she focuses on human and canine nutrition with a specialty in digestive issues and disorders.
http://doggonegoodblog.wordpress.com/about



Snow Footprints
Vinnie Penn, The Party Animal
So those of you who have been following the party Animal segment all of this time, know that live in Connecticut. We received a lot of snow this winter, but I have to tell you something, before Christmas, at one point I got very creative. I noticed some weird footprints in the snow in front of my house. I grabbed my daughter and lifted her up, and said, "Do you see those footprints over there? Her eyes went wide, and I said, "I think it's a reindeer." I was very proud of myself, I was quick and I pointed out, "That they're staking out the house, Santa sent the reindeer to stake out a house to bring all of your gifts."
Well, now here it is long past Christmas, and these footprints, I really can't trace what the animal is, but the other day I saw them leading up and around behind the shed. My daughter spotted them, and she said, "Is the reindeer coming back?" And I said, "No, quite frankly, daddy's a little worried, and she said, "Go behind the shed and see what it is!" Now I looked at these footprints and I had to take a picture. I have to talk to the gang at Animal Radio and see if we can post it and maybe someone can tell me what it is. If you ask me, I think it's a gigantic raccoon, that's half raccoon, half bear. That's what I think! And I will never go behind the shed. If my daughter ran back there and said, "Daddy, I'm going to go and find out." I would just yell, "You're on your own, let me know what it is!"



The Dogfather's Grooming Tip with Joey Villani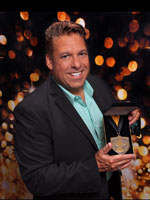 Hot Spots
Joey has noticed a lot of dogs coming into his salon with hot spots recently. He attributes it to the holidays being over, and people who put their pets on the back burner, are now getting around to them. For most groomers, January and February are the slower months.
Since most dogs haven't been groomed in a few months, they come in with more knots and tangles. When you have knots and tangles, they start pulling on the skin. As a result, a hot spot develops. A hot spot is nothing more than an irritation to the skin, otherwise known as a moist dermatitis. This happens because the knots and tangles pull at the skin, stretching it. The skin will automatically try to fight back by secreting liquids. What happens next is this liquid gets trapped under the knots and tangles and changes the Ph, which can then lead to irritation to the skin.
When this happens, the first thing you will notice is a red patch, and the hair around the matt itself may completely fall off the dog. This is when you need to treat the skin, before it gets bad and starts to smell. There have been some cases that were left untreated where flies laid their eggs resulting in maggots and the dog had to be euthanized. This condition is very easy to treat.
A first sign is that your dog is licking and/or scratching a spot he normally leaves alone. If they do this, inspect their coat. At first, you may just see a red spot. But beware, because hot spots develop very quickly, and will get bigger and bigger in no time.
If you see a red spot, trim the hair if it hasn't already fallen out. Don't trim it too close to the skin which will cause more irritation, just make sure the surrounding hair won't go back into the area.
Next, a remedy that works real well is 50-percent apple cider vinegar mixed with 50-percent water. The acid in the vinegar will restore the original balance of the Ph. You can apply it to your dog with a spray bottle or even on a sponge. You want to apply this three times a day. You should immediately start seeing some relief.
However, if you live in an area with lots of flies, the apple cider vinegar will not keep them away. You can try 50-percent Listerine with 50-percent water along with a small squirt of mineral or unscented baby oil. The Listerine will help the area to dry out and keep the flies away. The water will dilute the mixture so it's not real strong. The mineral oil will hold the mixture in place on your dog. You want to apply this three times a day, and the spot should subside in about a week.
Lastly, you can try Gold Bond Powder. While this won't keep the flies away, it is easy because if you can't trim the hair very well around the area, the powder will be able to get down through the coat to the skin.
If you have an open wound with pus coming out, or a lot of redness, get to your veterinarian immediately so they can put your pet on antibiotics.



Animal Radio® News with Stacey Cohen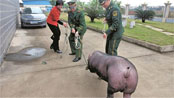 Police Receive Porky Gift
Police in China may have been a little confused by a recent porky gift, but it turns out it was just a way for a local farmer to say thank you. Orange News reports Lin Ruirong gave the police force in Nanning a giant pig from her farm. She explains that the cops helped her out fifteen years ago after her husband died, and she was left to run the family farm on her own. Lin says she's very wealthy now, and the pig was the least she could do, even if it took a while. She admits many of the officers have probably moved on by now, but she says the cops who are there now are just as deserving for the work they do in the area. A police spokesman says they were "very moved" by the gift.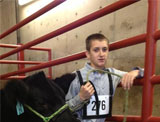 Steer Fetches $21,000
One Texas teen is already learning how to earn the big bucks. According to the Fort-Worth Star-Telegram, Wyatt Blaylock took home nearly $21,000 for his steer at the Sale of Champions during the Fort Worth Stock Show. Members of the Stock Show Syndicate, which raises millions of dollars for the show, began a bidding war when Blaylock's steer went up for sale after they learned his father had passed away last April from brain cancer. Syndicate member Gary Ray says that Blaylock "deserves this" considering all he's been through. In addition to getting up before dawn to care for his cattle, Wyatt also helped take care of his dying father. While Blaylock was speechless after the final bid was cast, he later said he already had plans for the money. He plans on putting the money towards his future education at Texas A&M University. When asked what he would tell his father if he were at the show, Blaylock said, "Thanks for everything you taught me."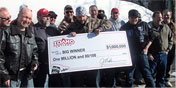 Luck Of The Dog
A Utah man has his dog to thank for leading him to a winning lottery ticket. Steve Hughes tells KIVI-TV he stopped at a gas station in Boise, Idaho to fill up, but his dog Stella locked him out of his truck. During his 45-minute wait to get back in his vehicle, Hughes decided to buy the lotto tickets he had to get anyway for himself and the 33-other University of Utah employees he's played with since 2001. And, he was apparently destined to get stranded at that gas station, because he ended up buying what turned out to be the million-dollar winner. Hughes and the rest of the group chartered a "fun bus" to make their way back to Idaho to pick up their winnings, which came to a little under $20,000 each when split 34 ways.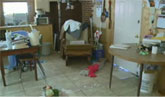 300 Rats Mean Eviction
A woman in Plover, Wisconsin is facing eviction because of the 300 rats in her trailer. The Wausau Daily Herald reports that Darlene Flatoff has been keeping the extensive number of rodents in her trailer since last March and apparently allows them to run loose. Flatoff reportedly started collecting domesticated rats from pet stores and let them breed with wild rats. Eventually the offspring took over the home. Health officials discovered the problem last fall. They say the home is not capable to dispose of sewage properly and there's evidence of rat feces all over the property. The problem is now so bad that officials have no choice but to capture the rats and demolish the house. Once Flatoff leaves the mobile home it will take exterminators about four weeks to capture all the rats.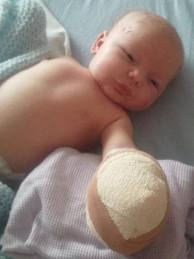 Fox Bites Baby's Finger Off
A four-week-old baby in London, England, is recovering after a fox dragged him from his cradle and bit his finger off. The baby was taken to a hospital after the attack, which left him with a hand injury. Britain's Daily Mail newspaper reports the child was asleep when his mother heard a scream, then a heavy thud, as the baby was dragged to the floor. Reports say one of the boy's fingers was bitten off and had to be re-attached by surgeons. In response to the startling attack, London's mayor, Boris Johnson, said more must be done to tackle the problem of urban foxes. At nighttime, it's not unusual to see the animals in the city scavenging for food.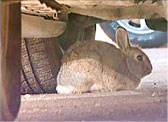 Attacking Bunnies
Bunnies are attacking cars at Denver International Airport. Wildlife officials say the rabbits like to chew on the insulator portion of ignition cables, and damage can sometimes run into the thousands of dollars. New fencing is being installed, and raptor perches will be built for hawks and eagles. Meanwhile, local mechanics say coyote urine will repel rabbits when it is used as a coating on car wires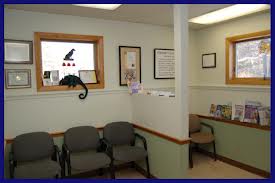 Dog Ownership Up – Vet Visits Down
More Americans think of their pets as members of the family, but that doesn't mean the animals are getting better care. Two thirds of the dog owners surveyed for the American Veterinary Medical Association's latest U.S. Pet Ownership & Demographics Sourcebook say they consider their pooch part of the family, which is up 13-percent since the last poll in 2006. However, the number of those with dogs who haven't taken their pup to the vet even once has risen by eight-percent. And while 81-percent say they have made at least one vet visit, that figure is down nearly two-percent. Cats are receiving even less consideration and care. Fifty-six-percent of the cat owners say their feline is family, which is a seven-percent increase from 2006. But only 55-percent have taken their cat to the vet at least once, which is a decline of 13.5-percent. In addition, the number of cat families that haven't ever visited a vet is up 24-percent from 2006.



NEWS UPDATE Brought To You By ScoopFree.com. Free Shipping on trays plus up to $20 off your first subscription.

Listen to the entire Podcast of this show (#691)