"HERO PEOPLE OF THE WEEK" - Mike Ritland - Dogs With PTSD
This week, the Zeuterin Hero Award goes to former Navy Seal Michael Ritland, who created a non-profit to help military dogs transition to civilian life. Just like our human soldiers, dogs need help acclimating back into a normal environment. Small noises can cause extreme emotional distress in our enlisted canines, with dogs suffering from PTSD (Post-Traumatic Stress Disorder) just like people do.
Mike Ritland was a Navy SEAL in Operation Iraqi and is now a Navy SEAL dog trainer and breeder and also the founder of the Warrior Dog Foundation, which helps transition dogs from an operational environment to life back home.
While Mike was in Iraq, he didn't work with dogs, but that's where his interest came from. Mike tells us there was a group of Marines while he was there, with dogs that saved many men. That is when the "light switch" went off and he knew he wanted to work with and train these dogs.
After he got out of the military 2008, he started his own company and received the training contract for the West Coast Seal Team Canine Program and was their trainer for 2011 and 2012.
Mike felt this was the best of both worlds, as guys that he had been to war with, guys that he was a seal instructor with, were now dog handlers and he had the pleasure of working with them and training them and their dogs to deploy.
Along with training these dogs, Mike also established the Warrior Dog Foundation, which helps to transition dogs from an operational environment back to civilian life. He states that the Warrior Dog Foundation is essentially a vehicle to retire first and foremost special operations working dogs. They also act as a sanctuary for the dogs if they can't be adopted out, which happens to about 50 percent of the dogs. The other 50 percent, they are able to rehabilitate and adopt them out to private individuals, and in some instances families or former handlers.
Anyone who adopts these dogs needs to have experience and the environment has to be right. Mike won't even say that they're not for everyone, he says, "They are not for most people." These dogs are adopted out on basically a "First come best fit," not so much a "First come first served," basis.
Surprisingly, Mike sees many dogs coming back from war with PTSD (Post-Traumatic Stress Disorder). It is different for dogs, because they don't have the ability to reason the way people do. For example, if they have learned that helicopters are associated with an incredibly stressful environment, then they may start to shut down or show handler aggression or anxiety type behaviors when one flies over. With dogs, it is more with a negative association to certain stimulus, whether it is the environment, a sound or even the combination of the two.
The Warrior Dog Foundation is able to take whatever that negative experience is and change it into something overwhelmingly positive to the dog. They do this very slowly and graduate them to where the experience is neutral and then positive, where it no longer triggers what Mike calls, "Combat stress related issues" that they originally had.
In Mike's new book, TEAM DOG: How to Train Your Dog—the Navy SEAL Way, Mike uses his experiences as trainer and breeder to teach you how to train your pet at home. He begins with the most basic skill needed - how to conduct yourself to gain your dog's trust. Once you've established yourself as the team leader, you can achieve any level of traditional obedience you desire. He also helps you to understand the reasons for your dog's behavior and how to troubleshoot.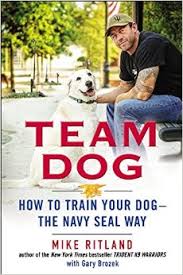 Mike's instruction will teach you how to project what the SEAL teams call situational awareness and command and control in order to:
- Establish Yourself as the Team Leader
- Master Non-Verbal Communication with your dog
- Understand How and When to Appropriately Punish or Reward
- Master the Techniques of Clicker Training
- Create a stable environment for your dog
- Maintain a healthy lifestyle for your dog
TEAM DOG offers an entirely unique perspective to dog training that has proven as effective in the living room or backyard as it did on the battlefield.
Mike Ritland joined the navy in 1996, and after twelve years started his own company to train dogs for the SEAL teams. His clients include the Department of Homeland Security, U.S. Customs, TSA, and the Department of Defense. He is the author of the New York Times bestseller Trident K9 Warriors, which is being adapted for film. Gary Brozek has coauthored and ghostwritten nearly twenty books, including four New York Times bestsellers.
http://warriordogfoundation.org
Thinking Globally. Acting Locally. Do you know someone that should be nominated for our Hero Person of the Week? Send us an email to: YourVoice@AnimalRadio.com.

Animal Radio's HERO PEOPLE is brought to you by Zeuterin a safe, permanent and virtually painless alternative to surgical castration.





Check In - Then Check Out With A New Dog!
Emma Ledbetter, Aloft Hotel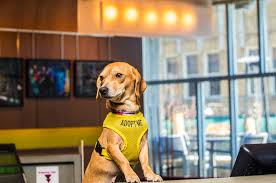 The Aloft Hotel in Asheville North Carolina is helping the local shelter find homes for adoptable dogs with their unique program. So far they've found homes for almost two-dozen dogs. Wait until you hear how they're doing it.
Emma Ledbetter is the Assistant General Manager at the pet friendly Aloft Asheville Downtown Hotel in North Carolina. However, they are not just pet friendly, they are actually doing something very special for homeless dogs.
Currently they have a foster program going and are working with Charlie's Angels Animal Rescue. They foster one dog at a time, with that dog staying at the hotel 24 hours a day. The dog is kept in the lobby, along with information posted about the dog. This includes the name of the dog, the breed and how long they've been at the hotel. They also wear an "Adopt Me" vest and greet the guests in the lobby.
The idea came about since the hotel is dog friendly, and they thought it would be nice to have a hotel dog. They then took it one step further and decided to have one dog at a time from the rescue. It is up to Charlie's Angels Rescues to pick the dog. They need to make sure that the dog is friendly for the hotel and not a big barker or timid. The dog needs to be very friendly towards the guests.
Since starting their foster program in August, they've adopted out 21 dogs to both hotel guests and to people in the local community. Two dogs were even relocated to new homes in Massachusetts.
Hotel and rescue workers hope the program not only becomes permanent but spreads to some of the chain's other locations, too. They also hope that other business in the community will follow their lead. There could be many more businesses with foster dogs, such as paint stores, hardware stores and even boutiques with foster dogs waiting for their forever homes.
The Asheville hotel, which also allows guests' pets to stay for free, opened in 2012 and has not received one complaint about allergies, messes or dueling dogs!
http://www.aloftashevilledowntown.com




Westminster 2015
Jerry Grymek, Hotel Pennsylvania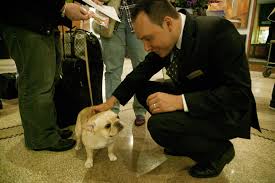 Jerry Grymek is the "Doggy Concierge" at the Hotel Pennsylvania, which is recognized as the World's Most Pup-ular Hotel and host hotel for the Westminster Kennel Club Dog Show.
It's no wonder! They go all out for the dogs and welcome them with open-paws! No one does it better than the Hotel Penn, which is known for hosting Westminster champions, including 2008 Best in Show winner Uno the Beagle and even the first ever 'pup'tual Westminster wedding ceremony in 2011.
This year, the 139th Annual Westminster Dog Show was held on February 16-17, 2015 and the winner crowned as Best In Show was none other than another beagle. In fact, Miss P is a descendant of Uno. Interestingly, before Uno, it had been 100 years since a beagle won the title.
The most-coveted award in the dog show world, Best In Show at Westminster, was given for the first time in 1907. That year, and for the next two years, the award went to a Smooth Fox Terrier named Ch. Warren Remedy. She remains the only dog ever to win three times. Six other dogs have won Best In Show twice, the most recent being the English Springer Spaniel, Ch. Chinoe's Adamant James in 1971 and 1972.
Jerry has been working the Westminster show for many years and has seen many things happen behind the scenes. This year was no different. He tells us about seeing people who dress their dogs up in outfits to match their own. He has also seen similar hairdos on both the dogs and their owners.
But the strangeness doesn't end there. Jerry was out walking when he saw a woman take her dog to a sub shop outside the hotel and she was asking the dog which sub it would like. It seems personalized subs were big food items this year. The dog ultimately went with the grilled chicken sub.
This years was also a very cold year for the show. The coldest days were on the Sunday and Monday and Jerry tells us that some of the dog guests have never felt this extreme cold. He said it was great to see that some wanted to go out and experience the chill and the snow - even if it was for a bit.
The dog show has survived power outages, snowstorms, a national depression and two World Wars. Westminster is the second longest continuously held sporting event in the country, with the Kentucky Derby being held longer - but just by one year, both great animal events!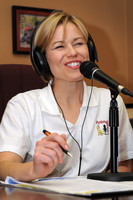 Black Widow Spiders Poisonous to Pets - Dr. Debbie
Pet Threats Come in All Sizes
Our doggie family ambled along on our typical morning walk along the community trail. With a family of two Labradors and a Yorkie mix, my crew is always up for fun and they investigate anything and everything.
Sometimes it's a crunchy cockroach snack or the fortunate edible remnant in a discarded candy wrapper. My dogs enjoy the "date game" where they snatch up shriveled fruit fallen from date palms, crunching away before the mom and dad notice. And sometimes it's a half-hearted game of chase with an unsuspecting rabbit. A more gut wrenching episode once involved my Labrador ingesting a rat with tail slipping down his gullet like a piece of spaghetti. My furry kids are professional trouble finders so I try to keep a watchful eye for things that make them go "Oooh," and make me go "Ugh!"
Female Black Widow Spider
While walking along the pedestrian pathway we came upon today's discovery - spiders and lots of them living in the recesses of a block wall. The hairs on my arm stood up as my Yorkie mix approached their lair. I recognize what these spiders are and what could happen to a 16-pound pup.

The long legged spiders were over 1 1/2" in length, black in color with a distinctive orange hourglass mark on its underbelly. Meet the black widow spider, a common arachnid found in every state in the U.S. except Alaska.
The Black Widow Bite
Black widow spiders contain a potent neurotoxin that causes pain, swelling and can lead paralysis. Female black widows are the dangerous ones, while the males rarely ever bite. While some black widow bites go unnoticed, others cause immediate pain at the site or result in pain at the nearest lymph node. Pain intensity reaches its maximum within 1 to 3 hours after the bite, but can last up to 48 hours.
Symptoms of a black widow bite appear within 8 hours after bite an include muscle twitching, restlessness, rigid abdomen and difficulty breathing. Symptoms may result in high blood pressure, a racing heart rate, seizures and collapse. Dogs are more resistant to a black widow bite, but still can suffer serious illness. Cats are very sensitive to the toxins and can suffer fatalities.
Symptoms of black widow bite include: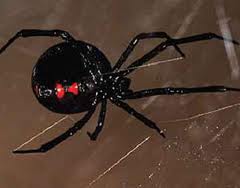 - Pain and numbness around bite site
- Anxiety
- Racing heart rate
- Muscle pain and stiffness, especially abdominal muscles
- Difficulty breathing
- Paralysis
- Seizures
Treatment for Black Widow Spider Bite
Call your veterinarian if you suspect your pet was bitten by a black widow. Initial home emergency care of a black widow bite may include ice packing bite area and oral antihistamines like Benadryl. Your veterinarian will need to see your pet to evaluate and treat the more serious symptoms. Treatment may include medications to control muscle spasms and seizures. Blood pressure and blood sugar are monitored and intravenous fluids may be administered. An antivenin is available for more serious confirmed cases of black widow bite.
Prevention
Avoidance of spider habitats is the best prevention. These eight-legged critters favor dark recesses both indoors and outdoors. Look for cobwebs with a distinctive funnel-shaped opening at the top. And keep a close eye on your dog when out exploring. Inquire about spider control methods with your pest control company.
With pet noses so close to web level, the risk of black widow bites is just natural to being a dog. Our morning spider encounter ended without any drama, thankfully. After one firm "No," my doggies retreated to unearth some other lucky find. Here's to hoping it doesn't involve any rats or bugs next time.
Featured veterinarian known as "Dr. Debbie" on national pet radio program, Animal Radio. Ebook author of "Yorkshire Terriers: How to Be Your Dog's Best Friend"; "Pugs: How to Be Your Dog's Best Friend"; "Mini Schnauzers: How to Be Your Dog's Best Friend"; and "Shih Tzu: How to Be Your Dog's Best Friend."
It's a Wacky Wednesday Here at the Animal Radio® Studios
WackyWed Contest IS ON - LIKE your FAVORITE pic and the three pics with the most LIKES & SHARES are this week's winner will receive a GPS Pet Location Service from Gibi.
TO ENTER Send us your FUNNY pet pic to WackyWed@AnimalRadio.com - (Please put WACKYWED in the subject line & give us your pet's name, your name & where you hail from) If YOUR pic is chosen then spread the word to your friends & family on Wednesday - the pics w/the most LIKES and SHARES will be the winner!
This week we are giving away Gibi, an easy-to-use GPS Pet Location Service.
With Gibi, you can create safe zones that your dog is allowed in. Receive alerts via email, text or app notification if your dog leaves the safe zone. Easily set up alerts to be sent to friends and family if your dog leaves the safe zone. Gibi - never lose track of your dog again!


Join Animal Radio® on Facebook for Wacky Wednesday! Win great prizes every week for your wacky pet pictures. Last month we gave out goodies from Marshall Pet Products, Molly Mutt, Wagfield, Shark and more. Visit us on Facebook now.

Animal Radio® News - Tammy Trujillo
Is Beneful Making Dogs Sick?
A class action lawsuit has been filed in California against Purina charging that the company's Beneful dog food is making dogs sick and even killing some. The lawsuit alleges that Beneful contains toxic substances. It was brought by Frank Lucido who says he started his three dogs, a German Shepherd, a Lab and an English Bulldog on Beneful, ate the first of the year. By the middle of the month, the German Shepherd started losing hair and became violently ill. The vet, who said the dog had bleeding in his stomach and that his liver was not working right, stated it was consistent with poisoning. Less than a week later, the English Bulldog was found dead in the family's yard. A necropsy found the same issues as with the German Shepherd. The Lab has also gotten ill and is being treated. The lawsuit says Association for Truth In Pet Food independently tested Beneful and found that, "Beneful Origina;… contained dangerous levels of mycotoxins." Mycotoxins are a group of toxins produced by fungus that occurs in grains. Grains are a principle ingredient in Beneful. So far, there has been no statement from Purina.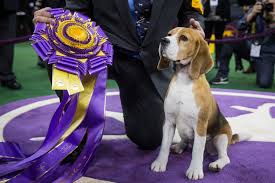 Westminster Winner Shocks People
A lot of people were shocked when a four-year-old beagle won this year's Westminster Dog Show in New York. But "Tashtins Lookin for Trouble" aka Miss P was flawless in her routine according to Judge David Merriam and didn't even give up one yelp, which most Beagle guardians would likely tell you is nearly impossible. Beagles are a noisy breed. You could tell though Miss P was excited, her tail never stopped. Her big win really isn't that much of a surprise. Her great-uncle Uno was the beagle that broke the breed's over 100-year-old losing streak when he won Westminster in 2008.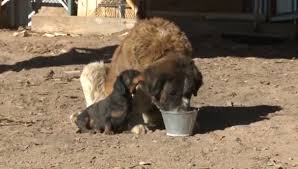 Heroes Come In All Sizes
A little dachshund is being hailed as a hero for saving his best friend, a huge St. Bernard. Jazzy is a 180-pound St. Bernard and she got out of his yard last month in Belen, New Mexico. She ended up stuck in a cold, muddy ditch for about 18 hours. Tim Chavez is Jazzy's guardian and says his other dog, a tiny dachshund name Razor, was trying to let him know what happened by barking and as he says, "going crazy." In fact, Razor was frantically barking at anyone who might be able to help. Finally, a passerby followed Razor to the ditch and Jazzy. It took eight police and firefighters to pull off the rescue, using backboard straps and a long spine board, just like they would for a person to save the big dog from some two feet of mud. The City Council of Belen, New Mexico honored Razored for his actions at their meeting last week.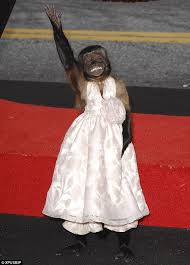 And The "Pawscar" Goes To…
Hollywood's Award season is winding down but we can't let it go without a nod to the winners of the annual Pawscars, the animal version of the Oscars. The "Lifetime Diva Achievement Award" went to Crystal, a Capuchin monkey who was the key-stealing primate in "Night at the Museum" and played a drug-dealing monkey in "Hangover Part II." Best Young Animal Performer went to a trio of pit bull puppies won for their work in the late James Gandolfini's last film, "The Drop." It took T, Puppers, Ice and a makeup artist to bring to life Rocco, a dog that appears in the mob drama. Puppies grow so fast that the film needed three and non-toxic makeup to make them match. Best Supporting Equine went to Dale, a horse in "Dawn of the Planet of the Apes" who carries the apes' leader. Best Aquatic Performance goes to Savannah, who plays a dolphin that dies in "Dolphin Tale 2." And just a note here, the death scene itself was done through animatronics.
Unknown Contents Causes Removal of Jerky Treats Off The Shelves
Most stores are no longer selling jerky pet treats made in China. The treats were connected to thousands of dogs getting sick and at more than one thousand deaths. But the U.S. Food and Drug Administration could never determine WHAT it was in the treats that were causing the issues. With the treats off the shelves, for the most part, the number of complaints to the FDA has gone down dramatically, but the agency says it still plans to continue it's investigation. It will now report annually on it's progress and urges anyone whose pet shows any signs of illness that might be related to jerky pet treats, to report it to FDA. While FDA does not necessarily respond to every individual complaint submitted, the agency says each report is valuable and becomes part of the investigation.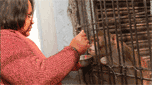 Do You Wonder What Will Happen To Your Pets After You're Gone?
One couple in India is making sure their monkey, named Chunmun, is set. Brijesh and Shabista Srivastava have named him as their only child in their will, bequeathing him their house, other properties and all their money. They have also started a fund that will raise money to rescue monkeys and build centers for their rehabilitation. They bought Chunmun in 2005 when he was just a month old after seeing a man beating him with a stick alongside the road. In 2010 they had Chunmun "marry" another monkey, Bitty, and gave the pets their own room complete with air conditioning.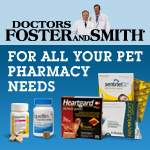 NEWS UPDATE brought to you by Drs. Foster & Smith, affordable pet supplies. Low prices every day, so you save on every order.

Listen to the entire Podcast of this show (#796)