Muttbombing
Leslie Sans, Executive Director of Dallas Pets Alive
Much more humane than it sounds, muttbombing is akin to the new online photo-bombing craze. Adoptable animals appear in the backgrounds of pictures in an attempt to find homes. This genius idea comes out of Dallas and Leslie Sans explains how we can get involved.
In a move to try and get more people adopting rescue animals, Leslie Sans from Dallas Pets Alive has teamed up with ad agency Dieste to bring animals to your Instagram selfies.
They do this by collecting selfies from both celebs and interesting people in the Dallas area. Next, they take an adoptable dog and photoshop it into the photo. Lastly, they send the Muttbombed photo back to the person in the picture with a note from the dog stating that they are up for adoption and that they are Muttbombing the person.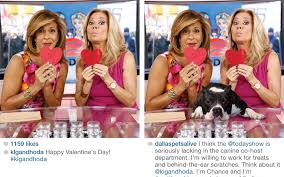 People who have been Muttbombed have been excited to be chosen. In fact, people are now asking to have themselves Muttbombed, but unfortunately there aren't enough people and hours to Muttbomb everyone.
Dallas Pets Alive is a small organization, but since their Muttbombing Campaign, they have seen huge results in adoption applications. Leslie hopes that other rescue organizations will model what they are doing and take part in Muttbombing, because they would like all the pets in rescues to get adopted.
Special People Help Special Needs Pets
Selina Kenitzer, Mickey & The Padded Bum Gang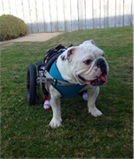 It takes someone with a lot of heart to adopt an animal with Spina Bifida. That's exactly what Selina Kenitzer has done. She brought home four English Bulldogs with the spinal deformity. They are affectionately known as "Mickey & The Padded Bum Gang.
Mickey is an English Bulldog that was born with Spina Bifida. He was the product of a backyard breeder that we assume didn't make sure the mother was properly nutritioned/supplemented during her pregnancy. The breeder never took the time to have Mickey diagnosed, he just listed him on Craigslist as "having problems." Once he was rescued, the veterinarian was able to diagnose. In addition to the Spina Bifida, Mickey has hyper extended back legs (they don't bend). The breeder told his rescuers he didn't have kneecaps. That obviously wasn't the case says Selina Kenitzer, Mickey's adoptive mother.
Selina is a "special needs mommy" and currently has 4 special needs babies. All four have Spina Bifida. Two of the four also have mobility issues with their back legs. All four dogs are English Bulldogs.
Spina Bifida is unfortunately common in English Bulldogs due to the development of their tails. They naturally have a short tail that has a kink and some of these dogs can have a genetic aberration. During gestation, the vertebrae typically form around the spinal cord. When they fail to complete this developmental step, the spinal cord is left exposed at birth causing Spina Bifida, which then causes incontinence.
A puppy with Spina Bifida will present with hind leg weakness, incontinence, poor muscle tone, clumsiness and a "cowlick" on their back. The "cowlick" is actually where the Spina Bifida starts - it's where the vertebrae didn't develop properly.
Unfortunately, most of these dogs are presented to veterinarians to be euthanized, because if they are born to a breeder, they are not profitable.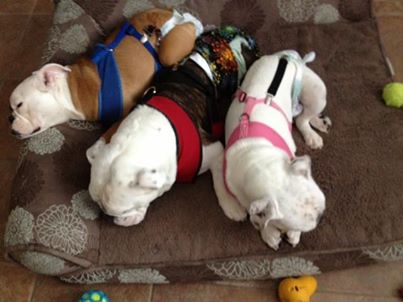 Mickey was Selina's first special needs baby. She was asked to start a Facebook page for him because there was a team of people who came together to rescue him. It started with pictures and video of Mickey, so people could see how normal he is. He just walks a little funny! He wears diapers for the incontinence and sometimes gets around with the help of a cart. Other than that, Mickey is just like any other "normal" dog.
These dogs don't know that they are different from other dogs. But when Selina first saw Mickey, she wanted to cry. He was four months old and his back legs were splayed outward when he would stand. It was very sad for Selina.
Selina remembers trying to hold back the tears, while at the same time thinking, "What did I get myself into? Can I actually help him?" Fortunately, that only lasted about 24 hours. Selina then realized that Mickey was a typical puppy and had no idea that he was different. Mickey is now 2 years old.
Since Spina Bifida leaves a dog incontinent, Mickey needs to wear diapers. Selina tells us the first time she put a diaper on him was like wrestling an alligator! But you learn how to diaper them and learn what they need. Unfortunately they can get diaper rash, but you learn to have an arsenal on hand to make sure that it doesn't happen.
Over time, Mickey built up his front end, as he learned to carry his body on his front legs. He runs through the house and plays with the big dogs. Mickey will even bully the big dogs, not realizing that he is slightly small for an English Bulldog. Mickey is very normal and is very inspiring!
Taking care of a special needs animal is not for everybody. They are work and it can become costly. However, providing good food, supplements and doing a lot of preventative care can keep your vet visits down to a minimum. Selina also tells us that she has never met a special needs parent that regretted adopting a special needs dog.
These special babies can live happy, normal, healthy lives if given the chance!
http://www.Facebook.com/MickeytheBulldog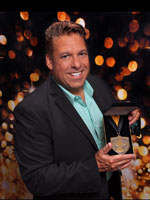 The Dogfather's Grooming Tip with Joey Villani
The Easy Way To Remove Knots & Tangles
There are easy ways to remove knots and tangles from your dog other than just brushing.
However, if you have a dirty dog, you are not going to be able to remove knots and tangles, as it is just too hard. Even if you have the best brush in the world, it's not going to work. Because as you are brushing a dirty dog out, the dirt and oil in the hair will keep bonding to itself. This will create static and will make it a lot more difficult to remove the knots.
While your dog needs to be fairly clean, they don't need to be spotless, but they can't be filthy.
In order to make it a little easy, you need to use something that you put in their coat to work as a lubricant. Remember, even if your dog is even slightly dirty, anything that is going to apply moisture, like water or conditioning spray, is just going to make it worse and bind the hair. So you want to use a powder.
The best household powder to use is cornstarch. It has a slick feel to it and is almost like a lubricant, because as you are brushing it out, it is going to keep down the static as well as absorb the dirt and oil.
So if your dog is slightly dirty, the cornstarch will clean your dog as you are brushing it out. It will also make it easier on you and your pet, as the knots and tangles will be easily removed.





Animal Radio® News with Stacey Cohen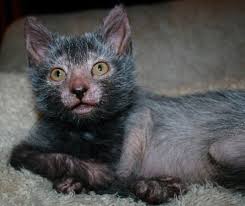 A Genetic Mutation Leads to a New Breed of Cat
It looks like a miniature Werewolf and it acts like a dog! It's called a Lykoi and it's a new breed of cat. It comes from a genetic mutation in a domestic shorthair cat that keeps the coat from fully growing in. The Lykoi has no hair around its eyes, nose, ears or mouth and sometimes sheds all it's hair and goes bald. Breeder Johnny Gobble in Sweetwater, Tennessee and his partners made the discovery when they found two kittens with the mutation. They were able to breed more similar kittens that researchers have now identified as a new breed. They say Lykois have a personality more like a dog, are very friendly and demand attention. Breeders are now trying to get it recognized as a 'preliminary new breed' by the International Cat Association.
A New Long-Acting Antibiotic Could Be Dangerous for Your Pet
It's not easy to give your dog or cat medication. That's one of the biggest selling points of a new drug called Convenia. One injection covers 14-days of antibiotic treatment for things like skin infections, abscesses and other wounds. But now questions are circulating about the safety of the drug. Some experts are saying that it can cause serious and even fatal side effects. Some of these were documented in Pfizer's own foreign market study of Convenia. Pfizer reportedly has been offering to pay for the care of some cats that have been damaged by Convenia.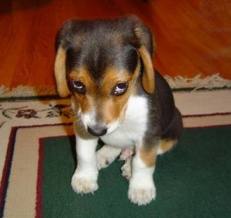 Your Dog Feels No Shame!
If you have a dog, you know 'that' look, the one you get when you're scolding your best friend for chewing up your new shoes. The guilty look, with head down, ears back, eyes looking at the floor. He looks so darn sorry; that you immediately forgive him and tell him you didn't like those shoes anyway. Behaviorists now say that your dog has just psyched you and has no shame at all. Dr. Bonnie Beaver is the Executive Director of the American College of Veterinary Behaviorists and says your dog is only reacting to your tantrum over the damage. She says just get over it and remember to keep temptation out of the way next time. Still, those dog-shaming memes online are pretty funny.
Your Foster Cat or Dog Could Be a Tax Deduction
Did you foster a pet last year? If so, you may be able to deduct some of the related expenses on your 2013 federal income tax return. It all started with a woman in Oakland, CA who claimed a charitable deduction on her 1040 form for some of the money she'd spent on taking care of some feral cats. The IRS didn't allow the deduction, so she sued and won! So now, things like pet food, litter, crates, vet bills and medications used in fostering are deductible. If your expenses are over $250 for the year, you'll need to get a letter from the non-profit you're working with to confirm that you're a volunteer or foster caregiver.
Adopting a Homeless Pet in California Could Soon Pay You
Democratic Senator Roger Dickinson of Sacramento has introduced a bill to give residents of California a $100 tax deduction if they adopt a homeless pet. Assembly Bill 2326 is sponsored by the ASPCA. Lawmakers will consider it in the next few months.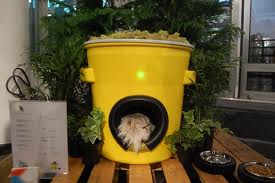 New York City Cats are Getting Shelters Designed by Big-Time Architects
This has been a brutally cold winter in many parts of the country, and in New York City, thousands of feral cats are getting some stylish new digs to help them deal with freezing temperatures. Every year, and especially this one, the group Architects for Animals enlists the help of some of New York's top architectural firms to design shelters for homeless cats. The designers work with the caretakers of the feral colonies to make sure the shelters are feline-friendly.
Does Your Cat Really Love You?
Cats are an elusive creature, that's a fact. But now a professor of veterinary behavior medicine in the UK says it's basically because your cat doesn't like you! Dr. Daniel Mills' came to this conclusion through a study where he put cat in a room with its owner and a stranger. Then the owner would slip out of the room when the cat wasn't looking. The cats didn't seem to care when they realized their owner was gone or when their owner came back. When Dr. Mills tried it with dogs, they searched for their owners when they realize he or she wasn't in the room and then got excited when they returned. The study was first developed by psychologists to look at how children attach to their parents.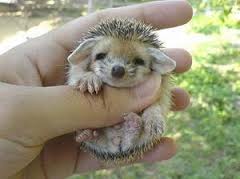 Hedgehogs are the Hottest New Pet
The newest pet craze involves a little creature who is cute and quiet and illegal in many cities and states. Hedgehogs are rapidly gaining popularity, mainly due to some websites dedicated to them. Whether they make good pets is up for debate. Some experts say since they're nocturnal, they shouldn't have to endure being woken up during the day to be played with. Others say they respond very well to being active during the day. And while they can be prickly, a well-socialized hedgehog will lay its quills flat as a gesture of trust. They now even have their own advocacy group, The Hedgehog Welfare Society, based in Chaplin, Connecticut.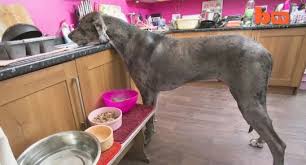 The Runt of a Litter is on Target to Become the Tallest Dog in the World
The title of tallest dog in the world right now belongs to a Great Dane named Zeus. He measured in at a whopping 7-feet-4-inches last year in Michigan for the folks at the Guinness Book of World Records. But he could soon lose his title. Freddy is a Great Dane in Britain who has already hit that height at just 18 months old and he's still growing. Freddy started out as the runt of his litter, now he's eating about $140 a week in food and has 14 destroyed couches to his credit.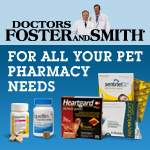 NEWS UPDATE brought to you by Drs. Foster & Smith, affordable pet supplies. Low prices every day, so you save on every order.

Listen to the entire Podcast of this show (#745)