Bob Barker Returns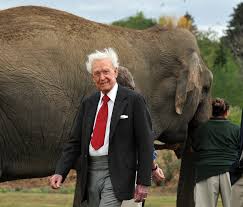 Legendary TV Host Bob Barker is back for his 14th time on Animal Radio. He called us up and said, "It's time to rant." This time it's all about elephants.
Bob Barker, legendary star of one of television's longest running game shows, The Price is Right, is presently lobbying for the release of all elephants from both zoos and circuses to sanctuaries.
Currently, Mr. Barker is asking the mayor to stop the zoo from moving forward their plan to transfer two elephants, Chai and Bamboo, from Seattle to an Oklahoma Zoo, and instead retire them to the Performing Animal Welfare Society (PAWS) in Northern California.

Mr. Barker also states that moving elephants in the winter is very dangerous, and additionally, Oklahoma Zoo is located in a climate that is too cold in the winter for elephants and in the heart of tornado alley. They also have loud rock concerts at an amphitheater located right near the elephants. Sending them there would move them from a bad situation to a dreadful one.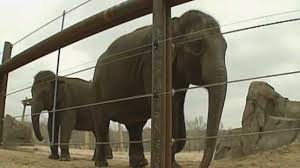 A life long animal advocate, Mr. Barker has played an integral role in several elephant rescues, including the relocation of Maggie from the Anchorage, Alaska Zoo to the Performing Animal Welfare Society (PAWS).
Some encouraging news for elephants is that Ringling Bros. and Barnum & Bailey Circus is planning to retire all of its elephants by the year 2018. But Mr. Barker, like the rest of us, doesn't understand why it will take so long.
Mr. Barker tells us that Kenneth Feld, whose father bought the circus in 1967 and who now runs Feld Enterprises Inc. with his three daughters, would like to have everyone believe that the animal rights activists had nothing to do with it. Kenneth states it's just that the attitude of the audience is changing. Mr. Barker responds to this by stating, "Just who do you think changed that attitude, the Animal Rights Activists, that's who hanged it!"
Fortunately the attitudes are changing all over the country. In Los Angeles, where they tried unsuccessfully to get the zoo to release its elephants to a sanctuary, they at least got the bull-hook banned. Mr. Barker tells us that it is pretty hard to control elephants without the use of a bull-hook.
There are also other cities, more advanced than Los Angeles, that have anti-circus laws now, or anti-elephant ordinances, so the circus pretty much had to retire the elephants.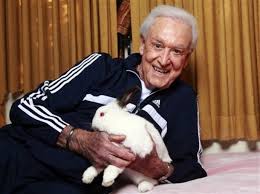 Kenneth Feld wants to place these elephants in a "ranch-like atmosphere" in Florida. The center will temporarily only be open to researchers and scientists. However, eventually they want to admit the public. But when they start admitting the public, they are more than likely going to charge entrance fees. This means that there will have to be some sort of entertainment and they will have these elephants performing again. Of course to learn to perform is one of the most tragic things that an elephant has to go through, where they are terribly mistreated during training. So all they would be doing is moving a roaming circus to a stationary one.
Mr. Barker tells us some sad news on his home front that "Mr. Bunny" has passed away at around fifteen years of age. He lived a nice long life, as the normal life of a rabbit is about four to six years. While he was alive, Mr. Rabbit had the entire 2nd floor of his house, and would tear up and down the hallway. He would also follow him around like a dog. Mr. Barker tells us how much he misses him! His 2nd floor is now empty; he says maybe he should put in his bid for one of these elephants from Seattle!

"HERO PEOPLE OF THE WEEK" - Jack Tyler - Finding Lost Cats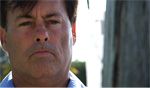 Jack Tyler, a lost cat investigator and self-proclaimed naturalist, has an almost perfect record finding felines. He's sharing his tips for finding your lost cat. He'll teach you to think like a cat.
Jack Tyler specializes in the study of Southern California suburban ecosystems from the perspective of the domestic cat. Since 2007, he has developed many techniques to ethically interfere with that ecosystem in order to locate and extract cats, when called upon to do so.
Jack tells us that you have to approach a lost cat as a naturalist and that there's a big difference between a lost dog and a lost cat. We live in an eco system and cats revert back to their natural instinct. With a lost cat, you are dealing with a cat that is interacting with all sorts of other animals.
People assume that an outdoor cat is exposed to many things and that an indoor cat is actually safer. But, there are a lot of things that can happen that lets your indoor cat get outside. When that happens, an indoor only cat enters what Jack refers to as the "Chain of Doom."
If you aren't able to catch your cat as he exits the door, they will get outside and usually go into hiding. They will then hide for exactly eight days and Jack states you can set your watch by it. After that time, they will come out very hungry and will have lost a considerable amount of weight. They will come out late at night, when its dead quiet, and start searching for food. This means they will also be dodging other cats. However, they like opossums and instinctively will follow an opossum trail to find food.
Jack tells us that the basic thing behind the "Chain of Doom," and indoors cats that accidentally get out, is that they don't have "eco system smarts," and will usually stay on private property, where all kinds of wild things can happen.
When you lose a cat, Jack explains that the first thing you have to do is to categorize the kinds of lost cat case you have, which he has narrowed down to six categories (for example kittens or a cat that has been spooked) based upon the health and history of your cat. You can find this list at his cat video on his website. By watching the video, you will be able to tell what kind of case you have. You then click the appropriate link. You need to know what kind of case you're dealing with, because if you don't do, you'll be doing all the wrongs things.
When given a scenario of an indoor cat that was spooked and ran out when a repairman left the door open, Jack tells us that the cat is most likely hiding within a three-house radius, underneath something, and will stay there for eight days. Jack says is everyone knew that rule; more of these cats would be found and found sooner.
To find a lost cat, you search and search and even re-search the places you've already searched. The cat's mental state has most likely changed and once outside, they are not the cat you once knew. The world has changed for them. Even if you call for your cat and they can hear you, they now think that your world has changed too and you are out there with them.
You may even hear your cat sending out a signal to you when they feel safe and it is late at night and quiet. But whatever you do, DON'T call back. If you do call back, this is like telling them you know where they are and everything is all right. You want to be quiet and use their sound to get up close to them.
If you do find your cat and are able to get up close to them, you can probably convince them to come out. Again, just remember the rule that your cat is within roughly a three-house radius, underneath something and will stay there for about eight days.
Jack has a very high success rate and says that it is impossible for an indoor only cat to escape him!
Thinking Globally. Acting Locally. Do you know someone that should be nominated for our Hero Person of the Week? Send us an email to: YourVoice@AnimalRadio.com.

Animal Radio's HERO PEOPLE is brought to you by Zeuterin a safe, permanent and virtually painless alternative to surgical castration.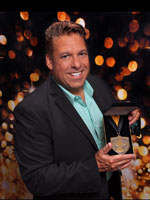 The Dogfather's Grooming Tip with Joey Villani
Safest Flea Control
Summer is right around the corner and this means more fleas. There are plenty of articles out there that will tell you the best product to use on your pet. But what is safe?
The rule of thumb is that the safest thing that you can get on the market is flea shampoo. The reason why this is the safest is because it is rinsed away.
However, the problem with flea shampoo is that once it is rinsed away, it doesn't leave any protection. So the only thing it is going to do is to kill the fleas that are on your pet.
Remember, any time you de-flea your pet, you have to make sure that everything else is also taken care of. This means you need to clean your house, bedding, and your car; everywhere your pet has been. This might require an exterminator who can also take care of your yard.

If you are a person that likes to hike in the woods and take along your dog, then you might have to use a topical or pill product on your pet.
Anything that has a "kill" claim on it has to go through the Environmental Protection Agency (EPA), to make sure that the product is somewhat safe.
A good way to check your pet's possible reaction to a topical flea control product is to apply it on a test area, just between the thigh and body, where there is less hair. Just break open the tube and apply a very, very small amount with a Q-tip. Then watch for any sort of irritation, redness or any signs of a reaction. That's the good thing about shampoos. If your pet has a reaction to the shampoo you are going to rinse it off immediately anyway.
If your pet doesn't have any reaction on its thigh, chances are it is safe for them. But remember, when you apply these products, pay attention. If your pet starts to act differently, this could be just acting weird, drooling or anything out of the ordinary, rinse it off with soap immediately and call your veterinarian.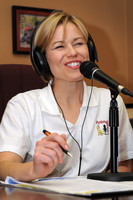 Second Hand Smoke Sickens Pets - Dr. Debbie
Looking to save money on veterinary care or wondering how to keep your pet in peak health? If you are a smoker and have pets, there are some very compelling reasons to quit - second hand smoking's link to causing cancer and illness in pets. If threats from your spouse haven't gotten you to stop smoking yet, maybe looking at that furry friend on the couch next to you will. The life you save may be his.
It's long been known that smoking causes serious health repercussions in people, even to non-smokers in the same environment. According to the Center For Disease Control (CDC), secondhand smoke contains 7,000 different toxins, hundreds which are toxic and 70 which cancer-causing.
In people, secondhand smoke is linked to cardiovascular disease, lung cancer and childhood asthma, ear infections and Sudden Infant Death Syndrome (SIDS). Similar research in pets has found that animals from smoking homes are at greater risk of chronic lung disease like asthma and bronchitis, respiratory cancers and other cancers.
Pets are exposed to smoke and chemicals not only through inhaling air, but also by ingesting the toxins directly. Smoke particulates settle on pet's fur or are transferred from the owner's hands through petting. Pets then ingest cigarette's toxins through licking humans, self-grooming and grooming other household pets. Cat's especially fastidious nature permits increased intake of smoke residues through kitty grooming behaviors.
What Are Secondhand Smoke Effects In Pets?
Research from Tufts University discovered that cats exposed to smoking had a higher risk of developing the malignant cancer, lymphoma. In fact, cats living in smoking homes had double the risk of developing lymphoma as cats from non-smoking homes. When two people in the home smoked, the risk of lymphoma in cats increased to four times.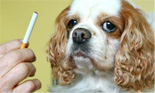 Other veterinary research identified increased rates of oral, nasal and lung cancer in pets from smoking households. Cats from a smoker's home are four times as likely to develop the disfiguring cancer, squamous cell carcinoma. And in yet another study, long snouted dog breeds from smoking homes were at greater risk of developing nasal cancer, likely due to greater absorption area in long nasal passages.
How Can You Safeguard Your Pet's Health?
If you are a smoker, consider stopping - for your sake and your pets. Short of giving up the habit, take steps to minimize second hand smoke on your pets. Only smoke outdoors, away from pets. Wash your hands after smoking, before handling your pets. If you enjoy lighting up in the car when driving, leave your pet at home. Even with car windows down, cigarette smoke inside a car creates a toxic environment for pets.
Have your dog and cat examined by your veterinarian every six months. Alert your veterinarian to any lethargy, trouble breathing, and coughing or unexplained weight loss. Early detection and treatment permits the most effective treatment of chronic respiratory conditions and cancers. Your pet's veterinarian can detect illness through regular exams and preventative screenings.
While smoking isn't the only factor causing cancer in pets, it is increasingly scrutinized as a significant health risk, one that we humans can control. The health decisions we make not only influence our children's health, but also affect those devoted pets that warm our hearts and beds.
Featured veterinarian known as "Dr. Debbie" on national pet radio program, Animal Radio. Ebook author of "Yorkshire Terriers: How to Be Your Dog's Best Friend"; "Pugs: How to Be Your Dog's Best Friend"; "Mini Schnauzers: How to Be Your Dog's Best Friend"; and "Shih Tzu: How to Be Your Dog's Best Friend."
It's a Wacky Wednesday Here at the Animal Radio® Studios
WackyWed Contest IS ON - LIKE your FAVORITE pic and the three pics with the most LIKES & SHARES are this week's winner will receive a Mobile Bluetooth Speaker from Pet Acoustics.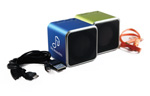 TO ENTER Send us your FUNNY pet pic to WackyWed@AnimalRadio.com - (Please put WACKYWED in the subject line & give us your pet's name, your name & where you hail from) If YOUR pic is chosen then spread the word to your friends & family on Wednesday - the pics w/the most LIKES and SHARES will be the winner!
This week we are giving away a Pet Tunes Mobile Bluetooth Speaker from Pet Acoustics pre-loaded with Pet Acoustics music to soothe dogs, cats, horses and birds.
Pet Acoustics music is guaranteed to calm canine behaviors for home alone time, during thunderstorms, while grooming, for training and portable for travel. Easy to use, just click and play.


Join Animal Radio® on Facebook for Wacky Wednesday! Win great prizes every week for your wacky pet pictures. Last month we gave out goodies from Marshall Pet Products, Molly Mutt, Wagfield, Shark and more. Visit us on Facebook now.

Animal Radio® News - Tammy Trujillo
Pet Accommodations For Domestic Violence Victims
Research has shown that battered women often stay in their abusive relationships longer because of their pets. According to the ASPCA, approximately 71-percent of pet-owning women entering domestic violence shelters report that their abuser threatened, harmed or killed a family pet. As many as 50-percent of domestic violence victims remain in abusive situations for fear of what would happen if they left their pets behind. If the PAWS bill passes, it would create federal grants to provide accommodations for pets belonging to domestic violence victims.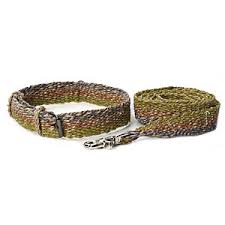 Hemp Products for Pets
It's not a surprise that hemp products for pets would hit the market now that marijuana for recreational use has started being approved. Two companies in Washington State have raised the ire of the FDA. Canna Companion claimed its products inhibit cancer cell growth and reduce inflammation. The company said it did not realize it was violating any rules and scaled back the claims and will work with the FDA on more comprehensive clinical trials although it stands by it's all-natural hemp products. Canna-Pet uses words like anti-cancer, anti-tumor in it's advertising and has been given a warning as well by the FDA which says that pot-related products for dogs are "Unapproved new animal drug(s) and marketing them violates the Federal Food, Drug and Cosmetic Act." It recommends checking with a vet before giving such products to pets rather than relying on marketing claims.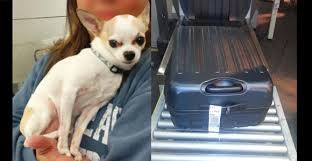 Stowaway Chihuahua
One little Chihuahua not only managed to pack himself in a suitcase but also made it all the way to the airport. TSA agents at New York's LaGuardia Airport found the little tan chi. The hard-sided suitcase triggered an alarm, so the TSA agent opened it to check. TSA worked with the airline to find the dog's person who called her husband to come and get the little stowaway. She says the dog must have immediately gotten under some of the clothes she had already packed so she didn't see him when she closed the suitcase.
Lawsuit Over Pet Food Continues
The lawsuit filed last month in California federal court against Purina continues to get reaction from pet owners. Frank Lucido filed the lawsuit after he says one of his dogs died and two others became severely ill after eating Beneful. His lawyer says that more than 3,000 pet guardians have weighed in on how their dogs have had similar reactions. The suit cites several potential toxins in Beneful, one of them being propylene glycol, which is used in automotive antifreeze. Purina counters that the substance is an FDA approved food additive for humans and dogs and chemically different than ethylene glycol, an active ingredient in antifreeze, which is toxic. Purina noted in their statement that aside from dog food, propylene glycol is used in "cake mixes, salad dressings, soft drinks, popcorn" and other foods. The FDA lists propylene glycol as a safe substance for use in both human and dog food - but it is prohibited for use in cat food, because it has been shown to cause abnormalities in their red blood cells.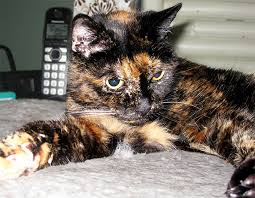 World's Oldest Living Cat
On March 13th, Tiffany Two turned 27, making her the world's oldest living cat as verified by Guinness World Records. That's equal to 125 in human years. Her guardian is Sharon Voorhees of San Diego, who threw her a birthday party complete with cupcakes with little fish decorations on top, goldfish crackers, liver mousse, plus champagne for the human guests. Tiffany Two spends her days sleeping in the middle of the staircase. She's an orange and black tortie who weighs six pounds and is in good health. She and Sharon take their blood pressure medications together every day. She says that their devotion to each other is the secret to Tiffany Two's longevity.
First Airport Terminal Just For Pets
John F. Kennedy Airport in New York City is going to be the first airport with a terminal devoted solely to animal passengers. It will be called The Ark and open early next year. The privately owned terminal will serve as a cargo holding area for all kinds of animals, from house pets to exotics and farm animals, and will have the amenities they need and deserve while they wait for their flights, including overnight accommodations, vets, an aviary and climate-controlled stalls for the larger animals. It's costing $48-million dollars to build.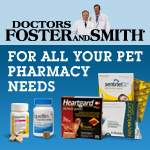 NEWS UPDATE brought to you by Drs. Foster & Smith, affordable pet supplies. Low prices every day, so you save on every order.

Listen to the entire Podcast of this show (#799)