Even Celebs Have Trouble Potty Training Their Pets
Nancy Dussault, Actors & Others for Animals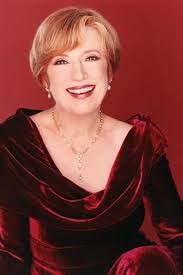 Actress Nancy Dussault (Too Close For Comfort, Mad About You) and the first anchor for Good Morning America, is coming on the show to yap about her new Maltese Yorkie mix that seems to be having difficulty learning where to go to the bathroom.
Nancy and her husband adopted a 5-year-old dog. She was told that he is part Havanese and part Yorkie and he came with the name Coco. He has since been re-named Cooper.
Cooper was actually with a family before. However, the family was never home and it bothered them that the dog was home alone so much. They then decided it would be best for the dog to go to a new home. While he was home alone, he had free reign to do anything he wanted. Nancy is now in the training process to give him some boundaries. He was never housebroken and was able to go outside on his own when he needed to. He was also never walked before, so Nancy is training him how to walk on a leash. She is also training him to a crate, which makes traveling with a pet so much easier.
Even with all of the training, Nancy admits that Cooper sleeps in bed with her and he is always the first one in bed at night. Nancy says this is the first dog that has been allowed in bed with her, because she always had big dogs before that weren't allowed in her bed.
Nancy says it is a new world having a little dog. She is having a lot of fun with him and is purchasing items she never could for a big dog. One of the items Nancy is getting is a "sling" so she can carry her pup around with her.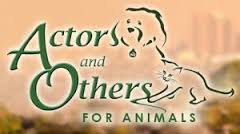 Next is potty training. Where Nancy lives she only has a balcony for Cooper. The first two nights he got Nancy up at 1:30am to go outside on the balcony. She has tried using artificial grass on her balcony, but Cooper only sniffs it as he walks by and doesn't use it. We couldn't pass up on the opportunity to tell Nancy about BrilliantPad, the world's first automatic self-cleaning indoor dog potty. Nancy is willing to give it a try and will keep us posted!
Besides being a singer and an actress, Nancy is involved with Actors & Others for Animals. Their main mission is to eliminate pet overpopulation, ensure good care and protection for pet companions and provide referral and financial support for economically challenged pet guardians. Their vision is that every dog or cat finds a loving home where they are responsibly cared for, treated with dignity and respect and protected from cruelty, neglect, abandonment, hunger, illness or injury.




Feeding The Pets of the Homeless
Genevieve Frederick, Pets of the Homeless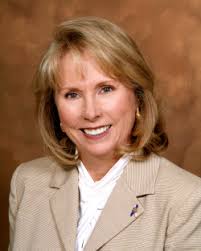 Genevieve Frederick heads up an organization that connects pet food with homeless folks and their animals. While sometimes controversial, pets can provide a meaningful relationship for the displaced and destitute.
The national nonprofit organization Pets of the Homeless, based out of Carson City, Nevada, focuses exclusively on feeding and providing veterinary care to pets of the homeless and leads the charge across the country to collect pet food from the public.
Homelessness remains a critical issue in many cities even as the economy brightens. Those left in the shadows and on the streets with pets are in need of pet food. Among the homeless population, between 5 and 10 percent - and in some places as many as 24 percent - of homeless people have dogs and/or cats.
Pets of the Homeless provide emergency veterinary pet care and pet food to pets that belong to homeless people across the country, as well as Canada and Australia.
Not everyone understands the human/animal bond and for the homeless, these are their lifelines to reality and sometimes it even prevents suicide. These animals are non-judgmental and are so loyal. These animals are the greatest things for people that are homeless and don't have anything left in their lives. These animals are their companions and even their family.
Some people don't think it is fair to these animals to be living on the streets with their homeless humans, but if you think about, these animals are with their humans 24/7. They are not sitting home alone for 8-10 hours a day waiting for someone to come home who might even be too tired to give them the attention they crave.
Homeless animals also tend to be more social, as they are out and about and meeting other animals and other people.
These animals are also a way for the homeless to connect to other humans. People will actually stop and talk to them and might even say what a nice dog they have. They may then even offer them food and water. The homeless people with pets are no longer invisible, as their pets are the bridge to connect with others.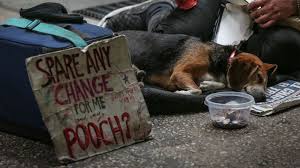 Homeless people will give everything they have to their animals. They will even go without food themselves to make sure that their pet eats. This also includes medical care.
So how is the pet food collected and distributed to the homeless? Pets of the Homeless have 450 donations sites across the country, in every state except for one. The sites may include hospitals, banks, groomers, chiropractors and even dentists. They collect the pet food from their community and even their own clients. The pet food is either delivered or picked up by a food bank or homeless shelter and then it is distributed from there, because that is where the homeless go to get their human food already.
For veterinary care, a homeless person just needs to contact Pets of the Homeless from anywhere in the country and they will find them the closest hospital to them and work with that hospital and pay them direct for any care.
Surprisingly most of the calls for food and veterinary care come from women. Genevieve believes that is because women have a tendency to be the invisible homeless, because it is so dangerous for them. You don't see women panhandling very often. You will see them in weekly motels, cars and in homeless encampments. They might have a dog with them for protection as well as companionship. Women call everyday looking for shelters that will allow them to bring them pet. Unfortunately in this country these are far and few between. So to help these homeless shelters to realize the importance of allowing women to bring their pets, Pets of the Homeless will ship them a collapsible metal crate, free of charge, that they can keep and use over and over again. It's just so important to get these women off the streets, as it's just too dangerous for them.
To help Pets of the Homeless, find a donation site in your community and take pet food there. If you wish to donate money, they can use the money for emergency care and for wellness clinics. Visit their website where you will find a donation page where you can donate right there or send in a check.




My Pet Tortoise Is Wrecking My Career
Michele Hanson, Columnist

Michelle Hanson's daughter unloaded her pet tortoise on her mom when she moved out. Little did Michelle know how time consuming and 'high-maintenance' Parker the Tortoise would be.
Michele Hanson lives in North London. She has a tortoise called Parker. It's really her Daughter's tortoise, but for various reasons he has been staying with Michele for months. Michele has now adopted Parker, but according to her daughter that sounds to permanent, so she says her mother is just fostering Parker.
Michele says it's not easy looking after a tortoise and he's wrecking her career. She works at home and is constantly up and down like a yo-yo: 10 minutes at her desk, 10 minutes checking where he is - searching undergrowth, elbow deep in pond mud searching for his lifeless little body. Her problem is that she has a pond and she just recently had another "near death" experience when Parker went into the pond and was unable to get out. If you don't know, turtles live in the water most of the time and tortoises stay on land. She knows he was in there again, because he was covered in chickweed.
Michele decided to test Parker to see if he could actually swim and not sink like stone. She placed him in a big bowl and he managed to float and poked his head up to take a breath.
Parker is a very sensitive tortoise, according to Michele. He was given to her daughter by her boyfriend. But when they broke up, Parker wouldn't eat for three weeks. Another time when Parker went back to her daughter's home to live with her, this upset him. He just paced back and forth and was very traumatized, so Michele brought him back to her house.
After being so traumatized, parker has lost confidence and won't go back into the garden; instead he just goes in and out of the door repeatedly. He is now starting to get a little braver. So how do you build confidence in a tortoise? Michele claims you just have to be very patient.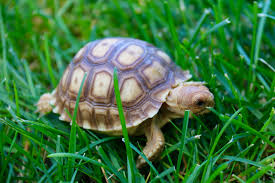 Parker is also very fussy. He likes dandelions and flowers, as well as radicchio, little gem lettuce and he loves cucumbers. Unfortunately cucumbers are considered junk food for tortoises, kind of like a "tortoise cheeseburgers."
Michele says she doesn't get any work done with worrying about the tortoise in the pond, taking care of her dog and sometimes her daughter's dog, and let's not forget the frogs! Parker likes to attack the dogs by rushing towards them and biting their toes. This makes the dogs very nervous!
Do you think it's easy looking after a tortoise? Do you think they crawl slowly? Michele claims that Parker is like "greased lightning" and can get to the top of the garden when you're not looking in two seconds. Parker tries to get out all of the time and Michele states he is an "escapologist." Parker likes to "case" where he is placed and he goes around all of the edges looking for an escape route. He will eventually settle down when he can't find one.
Besides all of the work and safeguarding their environment, Michele says that tortoises are actually very entertaining. Just be careful if you have a pond! Also be aware that they don't hibernate and Michele has UV lighting set up for him in the winter. Surprisingly, Michele tells us a friend of her actually puts the tortoise in the refrigerator in the winter to hibernate, but she doesn't recommend this, as her vet said it can actually kill them. Her friend claims she has been doing this for 8 years and her tortoise is fine.
Popular columnist Michele Hanson conducts a hilarious and fascinating investigation into the British and their dogs across all walks of life - from the pampered pooches of suburbia to the bad-boy breeds of the urban zone - and meets owners across the spectrum of delightful, bizarre, aspirational, ghastly and just plain crazy.




How To Achieve Litter Box Success - Dr. Debbie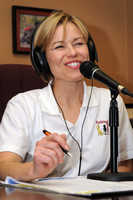 It's important to realize not all cases of inappropriate elimination are a "behavior" problem. In confirmed behavioral driven house soiling cases, 20-percent of the cats also had a contributing medical condition at the time. So even if it sounds like a behavioral problem, see your veterinarian to ensure your cat isn't the 1 in 5 that has discomfort, infection, or other health problems influencing her litter box use.
Drawing Kitty To The "Right" Spot
Check the condition of the box - is it urine stained on the bottom? Throw it out and get a new one. Keep the box clean by scooping twice daily and by performing a complete litter change out twice a week for non-clumping litter or every 2-3 weeks for clumping varieties.
To entice kitty back to the litter box try a litter box attractant like the herbal-based cat litter additive called "Cat Attract."
Multi-cat homes or those with outdoor cats nearby should use pheromone (scent hormone) products to ease social stress and facilitate litter box harmony.
Kitty Eliminates Near, But Not Quite In The Litter Box
Your kitty is telling you that she understands what you want her to do, but something isn't quite right in the litter box environment. First start with providing a larger box, even if this means buying a plastic under bed storage box for this purpose. Look for one sized 18 x 36 inches in size.
Remove any litter box covers. Revisit the traffic flow in the litter box area. Ensure the box is in a quiet, low traffic area. Keep the box unquestionably clean.
Is Your Cat Urinating In Tubs Or Sinks?
Chances are your cat has urinary tract inflammation or infection. The cool surfaces provide relief to the inflammation or discomfort of a medical condition. See your veterinarian for a urine evaluation and treatment since environmental changes alone will not stop the behavior.
To preventing further episodes, decrease access to tubs and sinks, close doors to bathrooms, or fill the bottom of sinks and tubs with a small amount of water.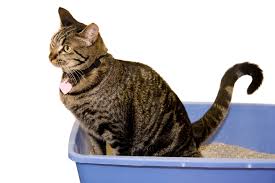 Kitty Eliminates On Throw Rugs And Won't Use Litter Box
Your cat has already made a litter preference. Perhaps the texture of carpet is more appealing than the litter used. Provide a litter box smorgasbord. This is when you provide multiple litter pans at the same time, each with different litter varieties such as clay, clumping, and natural pine litter. Be sure to include one litter box with sections of throw rugs or carpet remnants lining the bottom. During this time, remove all throw rugs from the house or block kitty's access to those areas.
If kitty demonstrates a litter preference, switch her litter boxes to that style of litter.
If kitty chooses the rug-lined box, then continue providing carpet lined litter boxes to establish a good pattern of repeated box use. Gradually start sprinkling small amounts of cat litter in the box on top of carpet surface. With time, many cats can be retrained to accept the box as the carpet is phased out and just litter remains.
Prevent Returning To Scene Of Crime
Clean all house soiling accident sites with an enzyme based pet cleanser. The enzymes break down the chemical component of the odors, and do more than just cover up with scents. Do not use ammonia based cleansers on accident areas - doing so is counterproductive. (Remember that urine contains ammonia products.)
Cats dislike eating in areas that they eliminate, so place food and water bowls in the site of the accidents, or try placing pieces of aluminum foil in areas to deter kitty's use.
Citrus scents are offensive to cats and can be an effective cat deterrent. Use citrus or potpourri scented air fresheners in the area. If your cat is eliminating in house plants, place lemon or orange peels in the pot to make the area less attractive. And of course, make sure you aren't using citrus scented cleaners on the litter pan!
To keep your kitty away from areas she continues to eliminate on, use double sided sticky tape or turn plastic carpet runners upside down. Another option is to invest in motion-activated devices that spritz out citronella or puffs of air when the electronic eye picks up motion in the off-limits area.
The Tough Reality
For some cats, environmental changes aren't enough and drug therapy may be a necessary tool. But remember that behavioral medications aren't a shortcut - drug therapy must be used with veterinary monitoring and in conjunction with environmental changes.
Want to hear some bad news? In households struggling with many years of feline house soiling, it may be necessary to discard urine marked furniture, change out carpet, carpet pads, and treat sub-flooring to effectively remove scent triggers for future elimination issues. It may sound extreme, but it can be important step to achieve faithful feline litter box success.
Featured veterinarian known as "Dr. Debbie" on national pet radio program, Animal Radio. Ebook author of "Yorkshire Terriers: How to Be Your Dog's Best Friend"; "Pugs: How to Be Your Dog's Best Friend"; "Mini Schnauzers: How to Be Your Dog's Best Friend"; and "Shih Tzu: How to Be Your Dog's Best Friend." Dr. Debbie's books.




Animal Radio News - Lori Brooks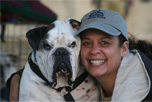 Rover.com Is Not Just For Dogs
Rover.com, the Seattle Company offering a one-stop online shop for dog sitting and walking, is continuing to grow. Rover boasts more than 140,000 dog sitters on its site and people book a service using Rover every four seconds, it says. The Seattle Company bought one of its biggest competitors, Santa Monica, California-based DogVacay. Rover has finished merging the two companies' databases of sitters and pet owners into one system, using Rover's brand, said CEO Aaron Easterly. The company has about 240 employees, mostly in its Seattle and Spokane offices. Rover plans to use the new funding to continue expanding in the U.S. and Canada and launching into new countries, as well as introducing different pet services. Rover built its name with overnight dog-sitting services, but its more recent daytime services are booming, Easterly said. Dog walking and daytime drop-in services are growing quickly, along with one more surprising feature — cat sitting and drop-in services. People using the site were registering their cats as a breed of dog, Easterly said. "It kind of took off" as the company allowed the practice, he noted, so Rover developed a way for people to officially sign up their cats. The company is working on providing more support for cat and other pet owners.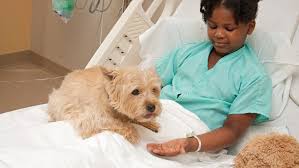 A Need For More Therapy Animals In Hospitals
The Royal College of Nursing wants to boost the uptake of animal therapy in hospitals. It says the presence of pets can help relieve suffering, aid healing and make sick Brits happier. Most hospitals do not allow animals on their premises, but the nursing union wants this "taboo" to change. Nine out of ten nurses back the move, saying patients with depression and other mental health problems in particular could benefit and two-thirds said contact with animals could speed physical recovery. Other research shows having a dog around improves mood and calms those with dementia. Lyndsey Uglow, a pioneer in animal therapy, says she and her golden retriever Leo have changed the lives of hundreds of children at Southampton Hospital. Nurses said concerns about infection risk could be managed. The RCN's lead on long-term conditions Amanda Cheesley said: "Anyone who's worked in this area can see the amazing impact animals have on the health of adults and children alike. However there are so many myths around the dangers of having animals in health care settings that most organizations are too concerned to try it out.
'Too Hot For Spot' Campaign
Summer is almost here and every year local police and humane investigators respond to hundreds of reports of pets left alone in hot vehicles. The Humane Society of Greater Rochester has even asked pet owners to pledge to never leave their animals unattended in a car. Reno DiDomenico, Director of Humane Law Enforcement at Lollypop Farm, says the Too Hot for Spot campaign is in response to the many questions the Humane Society gets about what the laws are regarding leaving a pet in a car or what to do if you find an animal in that situation. If you do see a pet that's been left alone in a vehicle, DiDomenico recommends that you first call 911 and then notify any nearby store managers or security guards. "I would not get into a lecture or debate with a driver. (Just say) 'I just called the police, they're on their way.' Just let the people leave. As long as you obtain their plate number and description of the car, we can always follow up with that owner afterwards," states DiDomenico. He also said you should not try to remove an animal from a vehicle unless it appears to be in physical distress, in which case, he says you should be covered under the Good Samaritan law.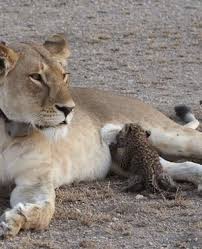 Lion Suckles Leopard Cub - It's Mortal Enemy!
Scientists long assumed lions were hard-wired to kill leopards on sight, until a wild lioness was caught on camera nursing a leopard cub. The startling photographs, taken in Tanzania's Ngorongoro Conservation Area, are the first evidence of such inter-species bonding between predators that are normally mortal enemies. "There is no other recorded case where a big cat in the wild has suckled a cub belonging to another species," Luke Hunter, president of Panthera, a wildcat conservation group, told Reuters in a telephone interview. The lioness, known locally as "Nosikitok," is well known to scientists as she is radio-collared and monitored by KopeLion, a Tanzanian conservation NGO supported by Panthera. Nosikitok has since returned to her pride some distance from where she was nursing the leopard cub, so no one is sure what is going on now. It's possible the mother leopard retrieved the cub from what was a temporary lioness day care, but no one knows. Scientists are at a loss to explain the incident; the cub's typical spots make abundantly clear it is no lion. In captivity, predators may bond with other meat-eating species, but in the wild, the gloves are always off as they compete for prey. Hunter said Nosikitok had her own litter of lion cubs about the same age as the leopard cub, estimated to be three weeks old, and she is physiologically primed to take care of baby cats, and the little leopard fits the bill — it was almost exactly the age of her own cubs and physically very similar to them.
Rapper's Dog Put On Wrong Flight
Rapper ScHoolboy Q once said, "Only thing I got is my girl and my dogs." However, United Airlines put that statement to the test after they accidentally flew the rapper's dog — Yeeerndamean — from Denver International Airport to the wrong city during a layover. The rapper expressed his dismay and anger toward the airline on Twitter. "You guys r idiots united HOW U PUT MY DOG ON THE WRONG FLIGHT???? I need answers," he wrote. ScHoolboy Q, whose real name is Quincy Matthew Hanley, said he was traveling with his dog from Missouri to Burbank, California. But during a layover in Denver, the airline mistakenly switched his dog with another. The rapper arrived in Burbank to find someone else's pet. His dog had actually flown to Chicago. "My little dog been moving around since the A.M., prolly has pee and number 2 all in his cage smh." The airline apologized and issued a refund.




Listen to the entire Podcast of this show (#1113)