Animal Radio "Hero People"
Greg Mahle, Rescue Road Trips
We kick off our Hero People series showcasing humans that are going above and beyond the call of duty to make our animal's lives better. Greg Mahle is one of those people. Greg spends much of his time on the road delivering death row animals to adoptable homes.
Over the past nine years, Greg Mahle has helped save tens of thousands of dogs. His transport service, Rescue Road Trips, just about breaks even (a portion of adoption fees covers his costs). But Mahle, who ran a family restaurant in his prior life, doesn't do it for the money. He states, "I turned 51 last year, and I am happier now than I have been in my whole life."
Twice a month he leaves his wife and home in Zanesville, Ohio, to drive a familiar route through the Deep South, making stops in Texas, Louisiana, Mississippi, and Alabama to pick up dogs that have been removed from "death row" at high kill shelters by local rescue groups. Then Mahle turns north toward New England, where there is higher demand for shelter dogs.
Greg tells us that there is an abundance of adoptable dogs in the south, but there is not an abundance of adoptable dogs in the north. He goes on to say that this does not mean that the north does not have dogs in their shelters, they do, but there is a wider selection of adoptable dogs in southern shelters.
Greg usually has around 100 animals on each trip. He works with rescuers in the south who actually go into the shelters and pull animals from "Death Row." They select dogs that seem most adoptable and vet them with a temperament test. They then list the adoptable dogs on PetFinder to find them homes. When someone is interested in a particular dog, they screen potential adopters to make sure the dog is going to a good forever home.
Greg's dogs are all going to an individual family or directly into a foster home. However, most of the dogs do go directly into new homes. Greg will have arranged a place to meet the new family, and when he arrives, the family is there, jumping up and down with tears in their eyes as they greet their new family member. Greg states it is a very joyous occasion!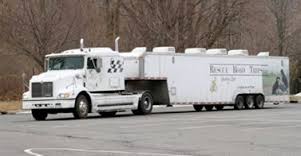 But it is not just Greg who is doing all the work. He has tons of help. He has one driver along with many volunteers, called "Angels," who are stationed along the way to come out to a designated spot to feed the dogs and get them out for walks. There are some dogs that need reassurance, and the Angels are there to love them.
Greg was aware of transports that were made one leg at a time, which consisted of many people to complete a journey. Greg says these transports don't work very well, because you had to rely on so many people, there is always someone who doesn't show up to do their end and the dog is left stranded. Plus, it only moves one dog at a time.
So why does Greg do it? He was retired and felt he was going to be living on a farm the rest of his life, not doing anything. He was then introduced to rescue and the transport end of rescuing and became fascinated. His love of animals drew him to it like a magnet.
Greg has a soft spot for all of the dogs he transports and he falls in love with each and every one of them. There have even been dogs where Greg had tears in his eyes when handing them over to their new families. This just made him want to do it again and again and again!
http://www.rescueroadtrips.com
https://www.facebook.com/RescueRoadTrips




Who's The Smartest?
Dr. Diana Reiss, Inside Animal Minds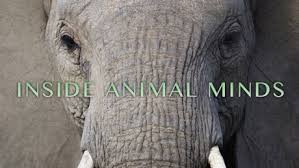 Dr. Diana Reiss, who specializes in dolphin and elephant cognition, doesn't like to compare animal smarts, but she is fast to explain just how smart dolphins and elephants are and their ability to recognize themselves in the mirror. It's all part of PBS's NOVA - "Inside Animal Minds."
Dr. Reiss doesn't really talk to the animals, but she tries to understand how they communicate, how they think, because they do think. Other animals think as well, they just do it differently.
With regard to dolphins, they not only seem to have a sense of other, but of themselves as well. This means that they can recognize themselves in a mirror. A study is currently underway to see how young they start to recognize themselves.
While our dogs and cats are smart in their own ways, they don't have this ability. They don't understand when they see their own reflection in the mirror, that its' them. They just don't process that kind of information the same way that dolphins, elephants apes or even we do.
Magpies are another example of an animal that does have self-awareness. They may see you behind them, and look at you in the mirror, but they don't pay attention to themselves.
All animals that recognize themselves in mirrors show the same three stages in learning how to use a mirror. First, they all act like they are looking at someone else in a mirror. Second, they start doing repetitive behaviors, this is where they seem to figure out that what they're doing has something to do with what's going on in the mirror and the light bulb goes on. Lastly, they use self-directed behaviors. They use the mirrors as a tool to see parts of their bodies that they can't normally see.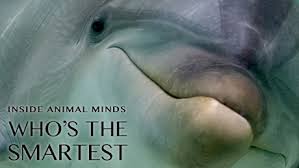 Interestingly, both dolphins and elephants show very similar behaviors at a mirror and are interested in looking at certain parts of their bodies that we do. They look into their eyes and inside their mouths. Dr. Reiss says that it is fascinating that they're interested in looking at those parts of their bodies, just like we are.
When asked what is the smartest animal, Dr. Reiss doesn't like the comparison of, "Who's the Smartest?" because she feels all animals (including human animals) are all smart in their own way. She would rather discuss how animals are smart, instead of who's the smartest.
For example, a dolphin is going to be a lot better than us, and maybe even smarter than us, in doing certain things in their world than we could do in their world. While we are smarter at erecting buildings, we're not catching fish like they do by encircling fish, making mud rings. Elephants also have this ability and we can give animals similar things to do and see how they fare.
INSIDE ANIMAL MINDS is part of PBS' new "Think Wednesday" programming lineup of television's best science, nature and technology programming that includes the acclaimed series NATURE and NOVA, the highest-rated nature and science series on television, coupled with new special programming at 10 p.m. Wednesday nights on PBS offer new perspectives on life in the universe and keeps viewers both curious and wanting more.
Dating For Puppies
Brook Urick, Carrot Dating
Another genius idea or just a dud? The jury is still out on Carrot Dating. The premise is meeting singles online while bribing them with a cute little puppy. What if your date showed up holding a cuddly puppy instead of flowers?
Carrot Dating is the world's first "Bribe-for-a-Date" site where generous members can essentially bribe their dates with gifts. These gifts include everything from a juicer to a tank of gas.
You begin by making a profile and then look for someone that you're interested in. The only twist is that when you find someone you're interested in, rather than messaging back and forth for days and weeks and months, you offer an incentive right then and there.
For example, you can say that you will offer flowers to someone if they will go on a date with you. Then, during the date, you are required to produce the flowers.
When you make a profile, you do not select the gifts you are willing to accept for a date. However, you can place on your profile, for example, that you are most likely to accept a tank of gas because you do a lot of driving and live far from the city.
The founder of Carrot Dating, Brandon Wade, was a self-proclaimed nerd. He hadn't been kissed and was a virgin at 21 years of age. One day he asked his mother how he could get girls to notice him and get a girlfriend. She told him not to worry about trying to seek out women, and that once he was successful, his generosity would bring them. She said if you were generous, the women would come. Today, Brandon is quite successful.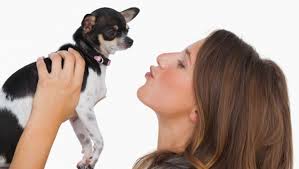 Now, they have introduced puppy bribes. Women can't resist a puppy.
The quickest way to a man's heart is through his stomach, but women are most easily won over by adorable puppies. In honor of National Puppy Day, which was held on March 23rd, Carrot Dating became the first dating site to integrate puppy adoptions into first date matchmaking.

Animal lovers and first time daters can connect through puppy adoptions. Generous members are now able to prove their compassion and generosity, while their attractive counterparts are rewarded with a new best friend.
While we all love puppies, we were a little shocked that they would offer lives animals as a bribe. That's when Brooke confessed – that it was an April Fool's Day hoax. But not the bribery-dating site – that's for real!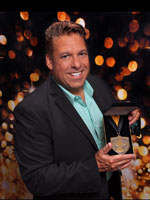 The Dogfather's Grooming Tip with Joey Villani
Products that Repel Fleas
If your pet has fleas, will a product that repels fleas get rid of them? While most likely it will, you are still left with a big problem. These products do what they say, they repel and they don't kill.
So where do these fleas go when they leave your pet? They go in your yard, your car, and your house, maybe even on other animals. As a result, the infestation will continue.
The best thing to do is to start fresh. Go to your groomer and have your pet bathed to remove any fleas and ticks, professionally. If you have fleas in your home, now is a good time to take care of that problem at the same time.
After you have done this, you can use the product that repels fleas. You should get great results now, because your pet is clean and the natural product will repel any fleas from returning.
Be aware that while most products that repel fleas are all natural, some animals may have an adverse reaction to them.



Animal Radio® News with Tammy Trujillo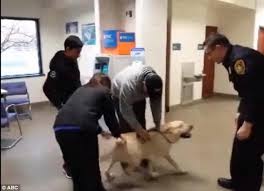 Dog Found During Hurricane Sandy 17 Months Ago Found
Lots of people lost just about everything during Hurricane Sandy some 17 months ago. Some families lost things that were impossible to replace, like the Cruz family, who lost their Labrador Retriever, Wesley. They looked everywhere and Miguel Cruz finally had to tell his 11-year-old son, who has a mild form of autism and really counted on the dog, that Wesley was never coming home. But, April First, Cruz got a call from the police in a town about 20-miles away, telling him that Wesley had been found. Cruz at first thought someone was playing a nasty April Fools' Day joke, but it wasn't. A woman had just spotted Wesley wandering around, corralled him and called police. He was easily identified because of his microchip. No one knows where he has been all this time, but he's about 20-pounds heavier so it's obvious he has been spoiled rotten.
FDA Needs Your Help To Stop Animals From Dying
The FDA is asking for your help. It's trying to figure out why thousands of animals are getting sick from eating jerky treats, most of them made in China. The agency first started getting complaints in 2007. Since then, 3,600 dogs and 10 cats in the U.S. have gotten sick and those are just the reported cases. Nearly 600 of them have died. The FDA says 60-percent of the deaths involved gastrointestinal illness and about 30-percent dealt with kidney and urinary systems. And so far, the researchers cannot pinpoint the exact cause. They've done over 1,200 tests looking for everything from heavy metals to salmonella. They've even gone to the plants in China where the jerky is made, with no luck. Now, the FDA is asking pet guardians who think that their pet has gotten sick from eating tainted jerky to contact the agency immediately.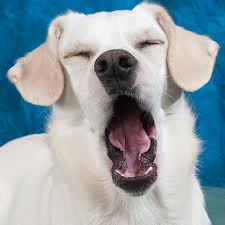 Yawning Is Contagious To Dogs
We all know that yawning is contagious, but have you ever noticed that when you yawn in front of your dog, it often triggers a yawn from your dog? A new study suggests that yawning is contagious to dogs as well. In the study, even the sound of a human yawn was enough to trigger the dogs to yawn. And it seems that dogs can learn the sound of their own guardian's yawn. The dogs were five times more likely to yawn when they heard a recording of that particular yawn. Researchers at the University of Porto in Portugal say it could be a key element in proving a dog's ability to empathize with us. This is not the first study conducted on this. A previous experiment at the University of London's Birkbeck College found that dogs mimic a yawn about 75-percent of the time after seeing a human doing it. Contagious yawning has also been studied in chimpanzees, baboons, and macaques.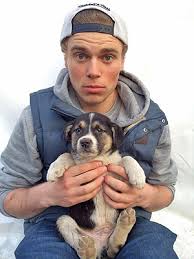 Sochi Olympic Athletes Bring Home More Than Medals
There was one athlete at the Sochi Olympics who brought back more than a medal. Slopestyle Skiing Silver medalist Gus Kenworthy brought home three of the stray dogs that were running the streets of the city. He also brought attention to the problem of the so-called Sochi dogs. Now, 10 more have arrived in the States. Humane Society International worked with groups in Sochi to bring the dogs to America after they were vaccinated and documented. They'll be up for adoption after their medical examinations. The shelter has already gotten hundreds of calls about adopting them.
Counting Calories Adds Years To Primates
Counting calories could help rhesus monkeys live longer and healthier. The average life span of the monkeys in captivity is about 26 years, but more than half of the ones in the study on calorie-restricted diets lived to at least age 30. The study was done at the Wisconsin National Primate Research Center and it also found that the animals not on calorie-restricted diets had nearly triple the risk of age-related disease, compared with those in the calorie-restricted group. The results suggest that calorie restriction could improve longevity and health in other primates, including humans.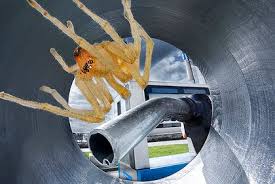 Cars Recalled Because of Spiders
If a car has a problem, you might take it to your mechanic and say this car has a bug in it. If that car happens to be a Mazda, you wouldn't be kidding. Mazda is recalling some 42,000 cars because spiders may have built webs in one of the car's vent hoses, which could cause the fuel tank to crack, leading to a possible fire. The recall covers 2010 to 2012 Mazda-6 cars equipped with two-and-a-half liter engines. If that's your Mazda, you'll be hearing from Mazda soon and dealers will fix the situation at no charge. Strange as it may seem, this is actually the second time in three years that Mazda has recalled cars because of spiders.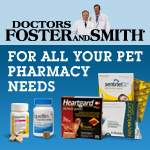 NEWS UPDATE brought to you by Drs. Foster & Smith, affordable pet supplies. Low prices every day, so you save on every order.

Listen to the entire Podcast of this show (#750)