Animal Radio Flashback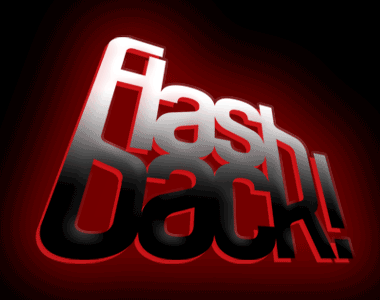 Crazy Cat Lady Paula Poundstone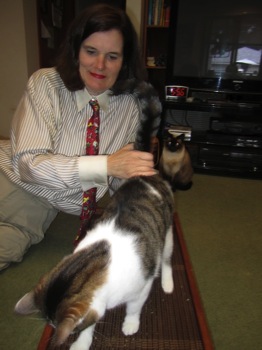 We're flashing back to comedian Paula Poundstone's guest spot in 2012. She proudly defends being the cat mama to 16 cats (3 if the landlord asks). She's trying to decide whether to buy cat litter or send her kids to college.
Paula Poundstone grew up in Sudbury, Massachusetts and by the time she was nineteen. she was traveling on a Greyhound bus across the country - stopping in at open mic nights at comedy clubs as she went. She credits her kindergarten teacher, Mrs. Bump, with being the first one to spot her comedic talents. Bump once wrote in a letter to Paula's parents: "I have enjoyed many of Paula's humorous comments about our activities." Now, Paula is on a perpetual tour - she does it everyday!
Paula has three kids, but states that, "Two of them are really hard - so it's like having sixteen." However, she does have sixteen cats. She says is tired of getting that judgmental "gasp" when she mentions the amount of cats she has. People always ask her how she got sixteen cats, and she says, "I had fifteen and I got one more! This really concerns me about America's relationship to math - it's not that hard to figure out!"
Taking care of sixteen cats is not easy and Paula claims to have a callous on her hand from sifting the litter! She says, "I always have kind of vibrating ever so slightly from the sifting motion. My hand is always kind of rocking a little bit and people sometimes think it's some sort of neurological problem!" She worries about her kid's college funds, because she spends it all on kitty litter. She goes on to say that, "Once you have sixteen, by the way, a lot of the love goes out of it. You're more of a cat 'haver' after that!"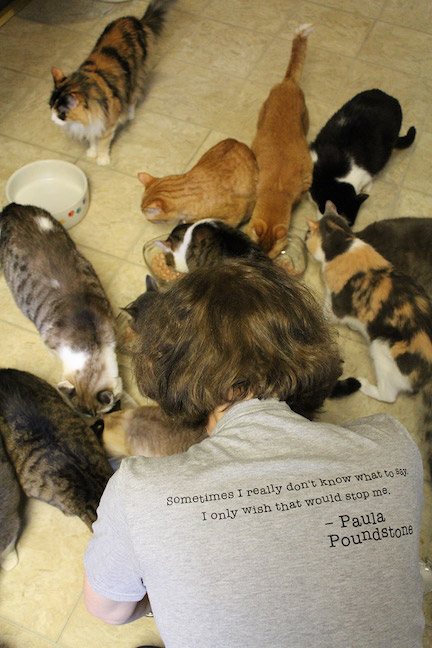 Paula also has an ant farm, but she only has one ant left. She says, "I can't keep them alive on the farm - can't kill 'em in the kitchen!" So one lone ant hangs out by himself in Uncle Milton's Ant Farm. Paula says she is so fascinated by ants because they have such a work ethic. They couldn't have but a tiny bean for a brain and can't be the brightest creatures on the earth because their heads just aren't big enough and yet they know exactly what to do. When you buy an ant farm, the ants don't come with it. You have to buy the ants separately. First, you add the sand and then you put the ants in. The ants get to work right away making tunnels, and within the first day, they pretty much have everything under control. Some types of ants will even make separate rooms for different things. For example, she states, "My ants have a burial ground, which I know because it's full right now - I only have one ant left. They even have a period of mourning, although my ant hasn't been able to have that, because he's doing all the farming on his own right now!" She says, "He pretty much cries and plows, cries and plows!"
To complete her pet menagerie, Paula has a lop-eared bunny and had a constipated bearded dragon. Kitty waste is nothing like bearded dragon waste, and she says "In terms of waste product, oh my heavens, forget nuclear weapons, forget a large arsenal, take a plane, fill it with that and any nation would bow to our world." Sadly, Paula tells us her bearded dragon past away, but he lived a long life for a bearded dragon. She thinks this in in part of him seeing his reflection in his tank but didn't know he was looking at himself. However, he must have had good self-esteem because he would look at his reflection and puff up his beard, which is a sexual behavior, and must have thought, "Man! That's a good looking lizard!"

Surprisingly, Paula rents her house with all of her animals but has told her landlord she only has 3 cats. When she moves, she knows she won't be getting her security deposit back!




Pet Flipping - Seven Tips to Safeguard Your Pet - Dr. Debbie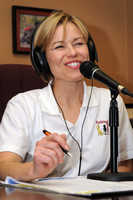 Pet lovers beware of the disturbing criminal trend called "pet flipping." This is when a person steals a pet or takes ownership of a lost pet, and then sells the animal. Pets are typically sold on the Internet to make a quick profit. The American Kennel Club (AKC) reports a rise in pet thefts.
Pet flippers most commonly target purebred dogs because they can fetch a high price, but even mixed breed dogs are at risk. Dogs are swiped from porches, fenced in back yards, dog parks, and cars. Some pet scams involve a person advertising as a pet sitter or trainer, who then disappears with your pet. Other scams involve someone who steals a pet and then responds to the lost pet ad, making money on rewards.
Top 7 Tips to Prevent Pet Flipping:
1. Don't Leave Your Pet Unattended
Avoid leaving your pet unattended, even in your own backyard. Don't leave your pet outside of stores or coffee shops. Tying your dog's leash up while you run that quick errand can give a thief the few minutes he needs to snatch your pet while you step away. Keep a watchful eye on your dog when visiting dog parks.
2. Get Your Pet Microchipped
A microchip is one of the best tools to reunite lost pets and serves as legal proof of ownership. Be sure to keep your contact information up to date with the microchip company.
3. Use GPS Collars
A GPS collar allows you to track your dog's movement minute by minute. These units can help you find your pet quickly if lost, but are of little use if a pet flipper removes the collar. I use the Tagg Pet Tracker for my dog and like that I can locate him to a precise location with my smart phone.
4. Get Your Pet Spayed or Neutered
Dogs that aren't spayed or neutered are especially prized targets to thieves since they are perceived as a money-making opportunity. Spaying and neutering also decreases the desire to stray and is good for your pet's health.

5. Research Pet Services Carefully
Before signing on for pet sitting or dog trainer services, research the business person's reputation with the Better Business Bureau. Ask your veterinarian for a referral to a reputable pet professional. Request references before using a new pet service.
6. Buyer Beware
Be cautious when buying a pet online and only use reputable breeders. Check out a breeders standing with the AKC and breed clubs. Be wary of individuals that lack documentation of breeding or veterinary health care records.
7. Sign Up For Doggie Facial Recognition Apps
High-tech facial recognition technology is now available to identify and track down lost pets with services like Finding Rover. Use your iPhone to download the app at http://findingrover.com. Upload your pet's photo in their database, and promptly notify Finding Rover if your pet is ever lost.
Pet flipping is so heinous because it exploits the cherished relationship between family and a beloved pet. Share this information with fellow pet lovers to spread awareness and halt this criminal trend.
Featured veterinarian known as "Dr. Debbie" on national pet radio program, Animal Radio. Ebook author of "Yorkshire Terriers: How to Be Your Dog's Best Friend"; "Pugs: How to Be Your Dog's Best Friend"; "Mini Schnauzers: How to Be Your Dog's Best Friend"; and "Shih Tzu: How to Be Your Dog's Best Friend." Dr. Debbie's books.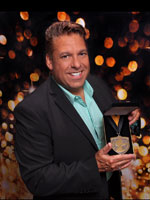 The Dogfather's Grooming Tip with Joey Villani
Why Pets Need To Be Groomed Every 4 To 8 Weeks
Dogs usually need to be groomed anywhere from every four to eight weeks, says Joey. Of course there are people that are going to argue and say that they only groom their dogs once a year, if that.
The reason for the regular grooming is that there are things that you have to look at besides the haircut and besides their odor and their bathing.
One of these things is the nails. Some dogs will grind their nails down and they don't need their nails clipped. However, others will need them to be timed on a regular basis.
Then there are other things. How many times have you looked inside your dog's ear canal? How many times have you checked their anal glands? How many times do you check their teeth? What about the pads of their feet?
Joey explains that these are things that groomers routinely check. And in doing so, they find the lumps, bumps and moles. He says it's almost like a beauty checkup. That's the best way he can explain it.
It's a beauty checkup and it doesn't have to be expensive. People think they can't afford all of these services. However, Joey says that if you are just coming in for a nail trim, he will still check the ears, anal glands and give the dog a once over. Most groomers look in areas of your dog that your normally don't. This is to make sure that everything is good. It may only cost you $15, because that is what he charges for a nail clipping. However, it could be more at other places and it could be less. If you did that once every eight weeks, at least you'd know if there was something going on with your dog.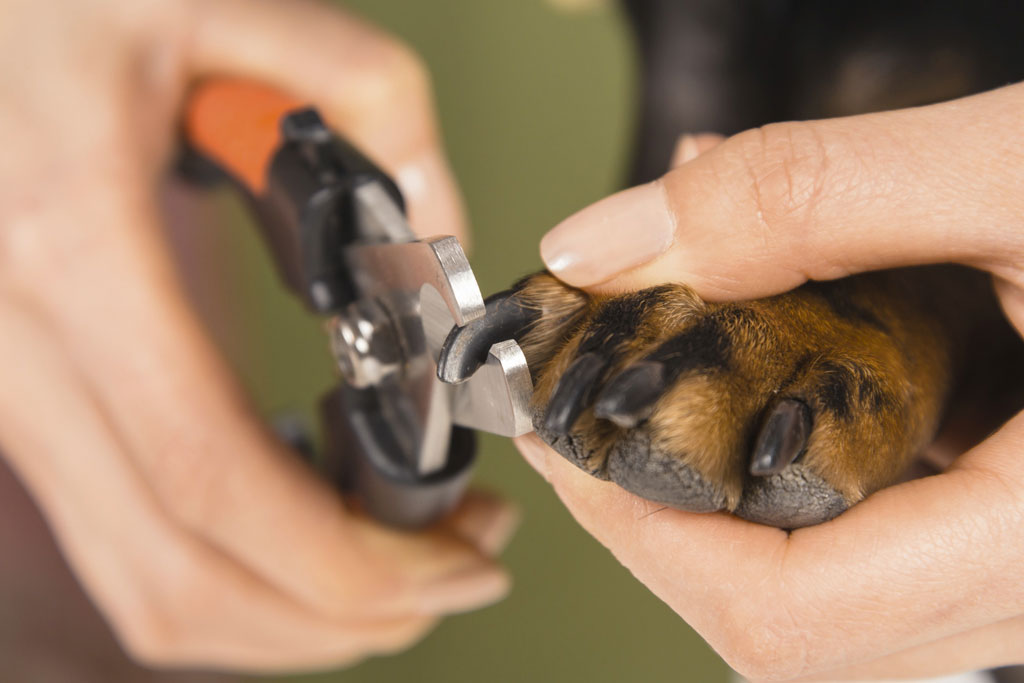 Most groomers offer these services without you asking. It's full service. It's like getting your oil changed in one of the Jiffy lubes where they check your tires and they check your window washer fluid, etc. These services should be standard.
However, some groomers may not give your dog a once over, so it is up to you to ask for this service when you take them in. Ask them to check their ears. Ask them to check their anal glands. Ask them to check their teeth.
If you didn't do this on a regular basis, when you did finally bring your dog in, your groomer may end up telling you that you need to go to the veterinarian because your dog has a problem that has been going on for some time.




Animal Radio News - Lori Brooks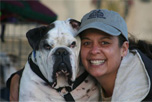 Beware When Selecting a Pet Caretaker on An APP
A Houston couple found out firsthand some of the unintended consequences that can come with letting a stranger on an App or the Internet take care of a pet. Their version of the unthinkable happened when they trusted a stranger on the "Wag!" app to walk Winnie, their 10-month-old Wheaten Terrier. Winnie died on that walk. The husband says Wag! representatives have not offered any details into how Winnie, their beloved 10-month-old Wheaten terrier, died while out walking, other than saying that their dog was "hit." Wag offered to reimburse the couple $188.71 for Winnie's cremation costs. However, the offer letter said the payment would only be made if the couple signed a settlement and non-disclosure agreement, stating that, among other things, they would be legally required to keep quiet about what happened to Winnie. Just eight days before Winnie died, another Wag! dog-walker in California was charged with animal cruelty after police say he kicked one of the four dogs he was walking.
Groomer Accused of Abuse
Michelle Burt, who lives in Pasco Washington and owned a grooming salon, was charged with first-degree animal cruelty. She was accused of abusing and strangling her customers' pets. Former employees told police that she used force to control animals by cutting off their air supply. Police say at least one dog and one cat died while in the woman's care at one of her Paw Spa locations. According to court documents, several other animals also required veterinary care for broken bones and injuries. Michelle Burt plead not guilty and was ordered to stay away from all pets while awaiting her trial.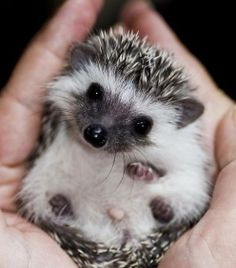 Cuddly Hedgehogs Can Carry Salmonella
It's well known that some reptiles can transmit salmonella. But did you know that hedgehogs are also on that list? Government health officials have been warning people that there have been many people infected with the outbreak strain of Salmonella Typhimurium in eight states. Missouri had the most cases, followed by Minnesota and Colorado, Maine, Mississippi, Nebraska, Texas and Wyoming. Almost all cases occurred among children, with the average patient age being 12, according to the Centers for Disease Control (CDC). Even when hedgehogs appear healthy, the CDC says they can carry salmonella germs in their droppings. Those germs can then spread around the hedgehog's body and then to anything in the area where they live. If your family does have one of these animals, the CDC says always wash hands thoroughly with soap and water right after touching, feeding or caring for a hedgehog or cleaning its habitat. Also, if hedgehog habitats or toys require cleaning, do it outside, NOT in a kitchen or bathroom.

Listen to the entire Podcast of this show (#1169)