A Dog And A Comic Walk Into A Bar
Comedian Brian Donnelly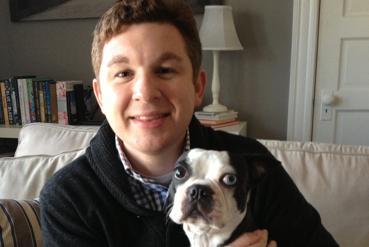 Brian Donnelly has been performing at ImprovBoston for the past five years. But he no longer performs alone; he has added a new partner in his act, his dog BT.
Brian states that BT is his comedy muse. Brian adopted BT back in November, and says that ever since, he has been pushing out better stuff than he did in the five years he previously worked in Boston.
Brian brought BT into his act because he has an almost human-like personality. BT is going to be the focal point of a coupe of his sketches. Brian has a new Web series, "StepFriendz," which he created along with Mike Varejao.
StepFriendz is about two guys who grew up as best friends. In the series, Brian marries Mike's mother later in life and becomes his stepfather, still remaining best friends.
In BT's sketch, BT is going to be adopted by Brian, but will then become Brian's master. BT starts bossing Brian around. For example, when Brian buys a crate for BT, BT turns the table and has Brian sleep in it. Look for Brian's new Web series at https://www.facebook.com/StepFriendz.
But what does BT stand for? Brian states that most people hate him when he says it stands for Boston Terrier - real original!
Brian has become one of those obsessive dog people and has had to delete photos of BT off his phones because he had so many, he couldn't take any more photos!
https://www.facebook.com/StepFriendz
Doggie & Kitty Detox
A.D. Dolphin, DHERBS
Dherbs is a health company trying to start a new health revolution. Their main goal and function is to enlighten and properly educate people to the importance of health and nutrition. Dherbs wants everyone to know that in spite of what you may have heard about incurable diseases, in their opinion, there are no diseases on earth that cannot be cured. There is but one disease - toxicity!
People have been mis-educated about the true origins and causes of disease and therefore have been enslaved at the hands of the medical system and industrial complex. Now is the time to heal the body holistically and naturally.
Most diseases that Americans are confronted with are degenerative in nature, meaning the causes of most debilitating and chronic diseases are diet and lifestyle related. Yes, what you eat (and what's eating you inside) is harming you and killing you.
For the humans, Dherbs has created a full-body cleanse which cleans out the gallbladder, heart, liver, colon, spleen, lung and kidneys by flushing out all of the impurities in these organs.
But what about our pets? They too are exposed to airborne chemicals along with chemicals in their food and are suffering from degenerative diseases. Many cats and dogs are like family members. Why shouldn't they receive the best food, care, and treatment as well? Wouldn't it be great to detox them? You can! Dherbs has also created a Doggie and Kitty Detox.
Dherbs new herbal pet care line deals with pet issues such as: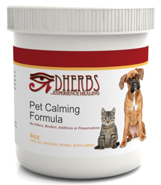 *Behavioral problems
*Immune systems
*Joint, bone, and cartilage
*Liver
*Pancreas
*Parasites and worms
*Respiratory issues
*Anti-radiation toxicity
*Tumors
When you cleanse your body, you open the door to healing and rejuvenation; in other words, you're turning back the hands of time on aging or degenerating. At Dherbs, you will find over 400 products for both you and your pet.
http://dherbs.com/store/pet-care-products-c-42.html




Pups Unstress Airline Passengers at LAX
Heidi Huebner, PUPS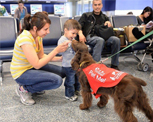 Traveling can sometimes be stressful. As a result, the Los Angeles International Airport has launched the PUP program (Pets Unstressing Passengers), a new customer service initiative designed to unstress passengers and take the hassle out of traveling.
There are therapy dogs at the boarding gates, baggage claim and ticketing lobbies, to de-stress passengers. These passengers who visit with these dogs could be leaving and missing their dog, or just be anyone who wants to pet a dog.
Therapy Dogs, Inc., provides the dogs, which is a national non-profit organization that has therapy dog programs all over the United States. The dogs can easily be recognized, as they wear red vests with the PUP Logo, as well as, "Pet Me." This tells people that they are not only working dogs, but these workings dogs are approachable.
The program has been a huge success. There is nothing like seeing people smiling, and having their stress level lower immediately, at an airport. Strangers start talking to each other and don't mind the fact that traffic was terrible getting to the airport, or that their flight has been delayed. The dogs make their day!
Animal Radio® News with Stacey Cohen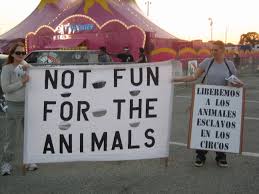 No More Wild Circus Animals In England
Circuses in England will be prohibited from using wild animals in their shows from the beginning of December 2015, the government has announced. Agriculture minister David Heath said the two-year "grace period" would allow circus owners to arrange suitable care. There are currently 20 licensed wild animals working in circuses. These include camels, zebras and snakes, but not elephants, monkeys, gorillas, chimpanzees or big cats. Under the terms of the draft Wild Animals in Circuses Bill, the ban will cover any creature not normally domesticated in Britain.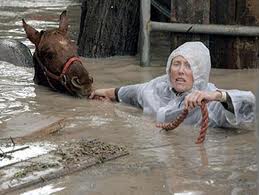 Animal Disaster Management
When a disaster strikes, immediate measures are taken to save human lives, but the loss of animals has a huge impact on livelihoods. Recognizing the fact that healthy animals help people rebuild their lives after any disaster, Central and state government officials met to discuss how animal welfare can be integrated into national disaster management programs. A national animal disaster management conference, the first of its kind in Asia, was held in New Delhi. "In case of disaster, we tend to fend for ourselves, animals are forgotten. It is only when recovery starts that we realize the importance of saving livestock," said Dr. A K Sinha, Senior Research Officer, National Disaster Management Authority (NDMA). "It is especially crucial in a country like India where 70% of the population is dependent on farming." In July 2008, NDMA had released national guidelines on biological disaster management, which also included a special chapter on animal disaster management. "The idea of the conference is to integrate all stakeholders, sensitize them about the guidelines, and increase connectivity at the grassroots level," said Dr. Sinha. "We are pursuing a policy of holistic disaster management." NDMA co-hosted the conference along with World Society for the Protection of Animals (WSPA), which has been working with governments across the globe during disasters. WSPA has been working in India for five years.
Wonder Pug Detects Guardian's Breast Cancer
An animal rescue worker received a rescue of her own when her dog alerted her to a cancerous growth in her breast. Marian Cooper, 57, knew something was up when her six-year-old pug, Flo, kept repeatedly nudging her right breast. The Birmingham, UK, woman performed a self-exam and realized she had a lump. She received medical attention and was declared cancer-free in December. "I thought she was just being annoying, but without her I'd probably be dead. "The lump was so deep I wouldn't ever have found it without Flo the wonder pug." Doctors told Cooper she had a grade 3 malignant tumor. At this stage, tumors are expected to grow rapidly, spreading the cancer faster. But her tumor was discovered in time for it to be successfully removed. Flo isn't the only pooch to help sniff out disease. Cancer-sniffing canines are a growing area of medical research. Scientists around the world have studied dogs' ability to detect bladder cancer from urine samples, and lung and ovarian cancers from sniffing a person's breath, to name a few examples. "Flo can't understand what she's done for me,'" said Cooper, but she did treat her pup to a big, juicy steak after returning home from the hospital. In a 2011 Japanese study, a black Labrador was able to sniff out colorectal cancer with 98 percent accuracy, a better rate than common medical tests.
Current Day Ark Garners Building Violations
Four Miami men are taking a page from the Bible. According to the Miami Herald, Rodolfo Almira and three friends have begun to build a replica of Noah's Ark. Apparently, Almira was inspired by the images of animals in need following Hurricane Katrina. Following measurements laid out in the Bible, Almira and his three buddies set out to make the ark a reality. In the six months since they've started, the foursome have managed to erect the three-story ship's lower deck. But the project hasn't been without its setbacks. Almira has been slapped with building code violations. The group is also running short of money and Almira estimates the ark could cost a total of 1.5 million dollars. When the project is complete, Almira hopes it will contain a museum as well as small zoo.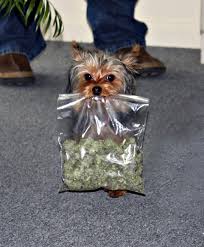 Legal Marijuana A Problem For Dogs In Colorado
Veterinarians are warning Colorado dog owners about the possibility of their animals overdosing on marijuana edibles. Health officials say they've seen a steady rise in marijuana toxicity cases as the drug becomes more readily available. A recent study in the official journal of the Veterinary Emergency and Critical Care Society reported 125 cases in the Denver area between 2005 and 2010. Severe symptoms can include vomiting, tremors, urinary incontinence and even death.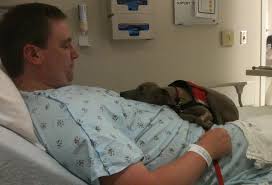 Pets Create Comfort And Reduce Stress In Patients
A year and a half ago, Ruth London lay in intensive care in a hospital in Boca Raton, Fla., with severe pneumonia, delirious and hallucinating that she was in jail. With the permission of a doctor on the unit, Ernest London, 81, cooked up a plan. He would bring the family dog, Delilah, a fluffy white Maltese, to see if the pet could calm his wife down. In the hospital room, the dog ran to Mrs. London's side and nuzzled her hand. She stirred from her delirium "just a little bit," Mr. London recalled, and began to remember where she was. "It was a turning point," he said. "From that point on, she seemed to take a turn for the better." "I love that dog. I love her so much," said Mrs. London, now 74. It was a one-time deal: after a hurried meeting, hospital staff members decided they wouldn't allow Delilah to come again, nor would they let other family members bring family pets to see other patients, Mr. London said. That's the policy at most hospitals across the country. But a few medical institutions have taken a different approach and thrown open their doors to patients' own dogs and cats, letting them visit along with spouses, children and friends. (Lots of hospitals have pet therapy programs using trained dogs, but that's a different matter.) The University of Maryland Medical Center in Baltimore lets family pets visit their owners, so long as certain requirements are met, as does more than a dozen other medical centers. Policies vary at the institutions that allow visits by patients' pets, but many share some of the same requirements. A doctor's order allowing the family pet to visit is typically necessary, as is an attestation from a veterinarian that the animal is healthy and up to date on all its shots. Most institutions require that dogs, the most common visitors, by far, be groomed within a day or so of a visit and on a leash when they walk through hospital corridors. Cats must be taken in and out of the institution in a carrier. "We have not had any problems," said the Rev. Susan Roy, director of pastoral care services at the University of Maryland Medical Center, whose "Your pet can visit" policy has been in place since 2008. If anything, she said, the visits can be hard on dogs, who often respond viscerally to an owner's illness and may take a day or two to recover from a visit. In the end, officials decided that the benefits, comfort and reduced stress for patients, were more substantial than the risks.




NEWS UPDATE Brought To You By ScoopFree.com. Free Shipping on trays plus up to $20 off your first subscription.

Listen to the entire Podcast of this show (#700)