Actor Ken Howard
The Onyx and Breezy Foundation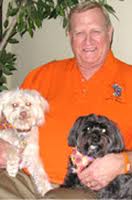 Tony and Emmy Award-winning actor and current SAG/AFTRA co-President, Ken Howard, joins Animal Radio. Ken Howard is best known for his roles as Thomas Jefferson in 1776 and as basketball coach and former Chicago Bulls player Ken Reeves in the television show The White Shadow.
Ken also sits on the board of The Onyx and Breezy Foundation. He recently attended the "SAVING TAILS" event, put on by The Onyx and Breezy Foundation for the Welfare of Animals, which honored Grammy and Golden Globe Award-winning songwriter Diane Warren and renowned photographer Christopher Ameruoso for their tireless efforts on behalf of animal welfare.
The event took place at the private estate of James Costa. American Idol winner Lee DeWyze and Smash star Leslie Odom, Jr. performed. Other attendees included: Neal McDonough, Frances Fisher, Sam Elliott, Katharine Ross, Ken Howard, Greg Louganis and Ronn Moss. Emmy Rossum and boyfriend Tyler Jacob Moore, Peter Facinelli and girlfriend Jamie Alexander, Priscilla Presley, Kristin Bauer, and Gilles Marini attended. Jamie Alexander and Peter Facinelli left the event early to tend to Alexander's newly adopted dog who was sick at home.
Mark and Wanda Shefts, to honor the memory of their two Labrador Retrievers, founded the Onyx and Breezy Foundation in 2004. The foundation for the Welfare of Animals is a non-profit 501(c)(3) that provides financial support to credible organizations and individuals that benefit the welfare of animals. 100 percent of donations to the Foundation go directly to animals in need.
The Foundation provides assistance in a variety of ways: funding of equipment for medical facilities, spay and neuter programs, disaster relief, puppy mill rescues, food, medicine and supplies, funding of shelters, rescues, foster groups and sanctuaries. The Foundation also provides funds for the pets of individuals where hardship is present, and includes not only cat and dogs, but also other animals such as horses and guinea pigs.
Ken Howard has a couple of terriers at home, Hannah & Harley, and states they are spoiled rotten! He says if they had more space, there would be no limit to the amount of animals his wife would have.
Maintain Your Dog's Coat At Home
Pat Kopischkie, Pet Product Specialist for Wahl Clipper Corporation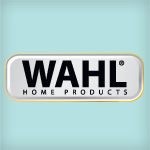 Last year Wahl launched a new line of all natural shampoos. They were a great addition to the already successful clipper and trimmer line.
This summer, they are introducing some very exciting new bathing products: a No-Rinse Waterless Shampoo, Doggie Deodorant Spray and an Odor Neutralizer. Like their other shampoo products, they are all 100 percent natural.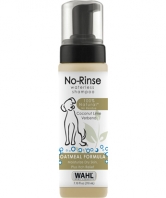 The Wahl No-Rinse Waterless Shampoo is a foam that you can put directly on your dog. You just massage it in. You can either towel it off or let it dry on its own. This will remove the top line dirt.
The Doggie Deodorant will mask the smell of your dog, leaving a nice eucalyptus, spearmint smell. You can spray it directly on your dog, as well as their bedding and clothing.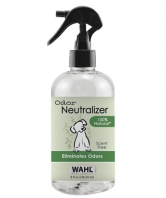 The Wahl Odor Neutralizer doesn't just mask odors. You can spray it directly on your dog, and it will take away the odor and leave your dog with a fresh scent.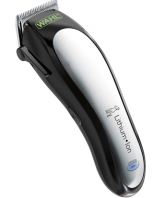 Wahl is also introducing a new clipper that will make home grooming even easier, the Lithium Ion Rechargeable Pet Clipper Kit. This is the first cordless clipper on the market that is powered by Lithium Ion. Lithium Ion means their clipper has three times the power than standard pet clippers on the market. It has a 15-minute quick charge and will last about 2 hours as compared to other clippers that only last about 40 minutes. It also has a powerful but quiet motor. The Lithium Ion Rechargeable clipper is also cordless, giving you a sense of freedom as you groom your dog. You don't have to worry about tangling either of you up.
Don't use a human clipper on your pet, as those lades are designed for human hair. All of Wahl's pet clippers are specifically designed for dogs and have the ability to cut through the fur of even the thickest of breeds without pulling or snagging.
Wahl has everything you need to groom your dog's coat, but for those who still go to a professional groomer, these products are an easy way to clean up or maintain your pet's coat between appointments. Visit their website wahlpets.com. The website has "how to tips," a grooming scheduler and advice on how to care for specific breeds with regard to bathing, clipping and brushing. You will also find articles pertaining to pet grooming, as well as all of their new products.



The Dogfather's Grooming Tip with Joey Villani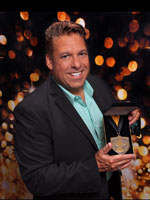 How To Clean Your Pet Without Water
There are times when you need to clean your pet, but there isn't any water available.
So how do you clean your pet without water? Just mix one quart of distilled water and ¼ cup of white vinegar in a spray bottle. Make sure you use distilled water, as regular tap water can leave a reddish residue on your pet from the minerals. The white vinegar will break down any dirt and oil and take care of any odors. Next, you will need a box of cornstarch, along with a brush and a comb.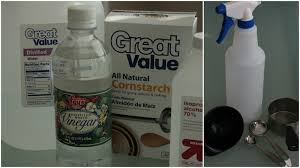 If you want to do a quick clean of your pet, spray your pet down with the distilled water and vinegar mix. Don't soak them, but make sure their coat is damp. Work this down to the skin by using the comb and brush. This will bring up the dirt and oil. After that, sprinkle your pet with the cornstarch. The cornstarch is an absorbent, and will absorb the dirt and oil by when you continue with the brushing. The dirt and oil will then be brushed right off your pet.
The cornstarch is also great at removing knots and tangles, as it almost makes the coat lubricated, letting the knots and tangles just slip out without heavy tugging.
This might be a little messy, so be sure to place something like a towel under your pet before you start.
Nothing can replace soap and water, but you will be quite surprised as to how clean this mixture will leave your pet. Also, this is something you can always carry with you for emergencies.
Animal Radio® News with Stacey Cohen



No Murder – Just A Dog
A golden retriever in the Netherlands is being blamed for a viral murder scare on Google Earth. A satellite photo showing what some thought was a trail of blood along a jetty leading to someone looming over a dead body recently started making the rounds on the Internet. But now, The Sun reports the so-called crime scene was really just Rama the dog drying off after a nice swim. The trail of blood was nothing but a trail of water and the alleged murderer is just Rama's owner, Jacquelina Koenen. Koenen says she realized it was her water-loving dog as soon as she saw the picture, and says she finds it hilarious that people thought the innocent swim was a grisly killing. And just in case anyone was still worried, local police have confirmed that the image is definitely a dog and not a murder.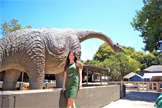 Dinosaur Evicted From Neighborhood
City officials in San Juan Capistrano, California are giving the boot to a 40-foot statue of an apatosaurus. According to the Los Angeles Times, the statue resides in the Zoomars petting zoo, but officials recently voted to evict the dinosaur from the neighborhood. Apparently, the officials and historical advocates believed the dinosaur was bringing down the neighborhood's historical significance. Zoomars' owner, Carolyn Franks, says the apatosaurus has "Brought a lot of joy to the zoo." Franks wants that joy to be shared with more people, so she's decided to give it to the proprietors of Grand Canyon Caverns in Peach Springs, Arizona. Franks says the decision was not easy, and compared it finding a new home for her own baby.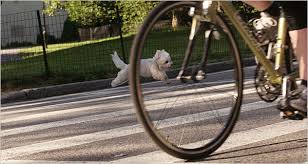 Dog Cleared of All Charges
A New York woman's dog has been cleared of all charges in a Central Park bicycle accident. According to the New York Post, an appeals court in the Big Apple ruled that Julie Smith's canine pal Lena was not at fault for colliding with biker Wolfgang Doerr back in 2009. The court said Lena didn't "have a propensity to interfere with traffic," adding that pet owners can only be held liable for accidents if the animal's "own instinctive, volatile behavior" was the cause. Doerr originally sued Smith in 2010 after suffering a fractured jaw and five broken molars in the run-in with Lena, who escaped with nothing but a few bruises. Doerr says he plans to appeal the latest decision.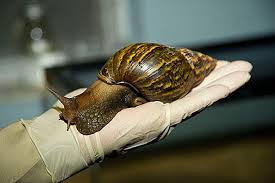 Waging War Against Giant Snails
Florida is waging war against an invasive species of snail. Florida Department of Agriculture and Consumer Services spokesperson Denise Feiber says that officials are working to kill off an invasion of the giant African land snail. Apparently, the snail can "kill over 500 known species of plants." The marauding mollusks, which can grow to the size of a rat, also pose a danger to drivers. In Caribbean countries, the snail's conical shells have been known to puncture car tires. But that's not the only thing officials in Florida are worried about. The giant snail also carries a parasitic lungworm that has been known to cause meningitis in humans. Officials in Miami-Dade County have been catching upwards of 1,000 giant African land snails per week.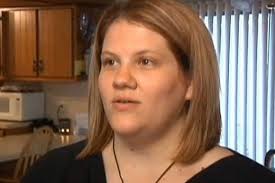 Woman Encounters Tiger In Bathroom
A Kansas woman is crediting her training as a social worker with helping her survive a ladies room encounter with a 250-pound tiger. According to the Salina Journal, Jenna Krehbiel took a trip to the bathroom during a break in the action at the Isis Shrine Circus in Salina. Unbeknownst to her, one of the tigers managed to get loose and also decided to hit the restroom. Krehbiel says she opened the door and saw the big cat only about two feet in front of her. She explains that she now realizes how scary the ordeal was, but at the time she was only thinking about getting out of the bathroom. As a social worker, Krehbiel says she's trained to always be alert, which is a skill she's very glad she's acquired.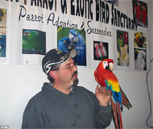 Bird's Distaste For Women Gets Him Reunited
A Montana man says he and his pet macaw were reunited thanks in part to the bird's distaste for women. Mike Taylor tells the Great Falls Tribune he was separated from Spike five years ago when his wife sold the bird after their divorce. Taylor says he always wondered what happened to Spike, and he got his answer earlier this month when a friend recognized the bird at a sanctuary in Butte. Taylor got in touch with the director of the sanctuary, Lori McAlexander, and was able to convince her that Spike was his with a few specific details. He described his bird's toenail deformities, his habit of saying "love love," and the fact that he hated women after supposedly being abused by a previous owner. McAlexander said she knew exactly what he was talking about, explaining that only male handlers had been able to deal with Spike since he arrived.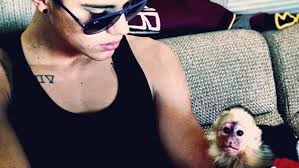 Bieber Gives Up Monkey
It looks as if Justin Bieber is parting ways with his monkey. Weeks after the monkey, named Mally, was confiscated by customs agents in Munich, comes word that the pop star plans to give up his pet. German authorities tell E! News Bieber's management recently contacted them and asked them to find a good home for Mally. Bieber apparently still needs to submit an official document. It was lack of documentation that prompted German officials to detain Mally in the first place. Upon his arrival in Munich for a concert last month, the singer was unable to provide the necessary paperwork for his pet. He was charged a fine and the cost of the quarantine. Mally has reportedly been living at a shelter with other monkeys. The Federal Agency for Nature Conservation is expected to make a decision on Mally's future home.



NEWS UPDATE Brought To You By ScoopFree.com. Free Shipping on trays plus up to $20 off your first subscription.

Listen to the entire Podcast of this show (#701)