"HERO PEOPLE OF THE WEEK" - 10-Year-Old Samantha Frenck - Enriching The Lives of Shelter Animals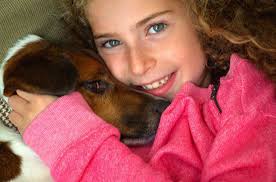 This week's Hero Person will charm you! She's just a little girl, but she has a huge heart for the animals. Samantha Frenck created a 501c3 non-profit that brings toys and blankets, among other things, to shelter animals.
When 10-year-old, fourth-grader, Erica Frenck's family adopted a rescued 4-year-old Jack Russell Terrier named Rascal, Erica went along to the shelter. While there, she noticed they had their basic needs being met with shelter, medication, food and water, but they really didn't have toys and the extra items to make their lives happier.
Erica wanted to change that and decided to create Operation Critter. Operation Critter is non-profit organization set up to help animals in shelters live happier lives.
If Erica can just get a donation of pennies, $1, $5, or "any amount that's good for anybody," she states, she can buy those extra things and donate them to the shelters herself, allowing shelter animals to have the same playtime as adopted animals.

The items they are able to purchase include toys, bones, cat fishing pole toys and blankets. Erica states that they buy, "Any toys that we think are good for them and will make them happy."
Erica goes on to say that, "If you donate at least $1, you get a certificate. And if you donate at least $10, you get your name on our Paw Board." She says so far she has raised over $1,000 in one week and has only been in operation for a couple of weeks.
Shelters are encouraged by Erica to sign up to receive donations by going to her website, OperationCritter.com, and making a wish list. This allows her to know exactly what each shelter wants and needs.
http://www.operationcritter.com
Thinking Globally. Acting Locally. Do you know someone that should be nominated for our Hero Person of the Week? Send us an email to: YourVoice@AnimalRadio.com.

Animal Radio's HERO PEOPLE is brought to you by Zeuterin a safe, permanent and virtually painless alternative to surgical castration.
Schedule Dog Walkers When You're Away
Tobi Skovron, ZINGY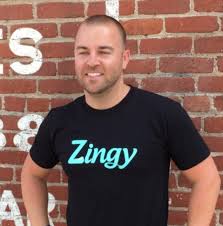 Tobi Skovron is the CEO of Zingy, which is an app-based on-demand personal dog-walking service. They have created an App that will summon a vetted dog-walker. Tobi touts his high-end service as the next step in the evolution of pet-based technology.
Zingy enables dog owners to grant Zingy access to their home in a safe and secure way and gives pet parents virtually instantaneous exercise for their beloved dog with a team of vetted, trained and educated walkers. Prior to Home Access, if users wanted a Zingy walker, they had to be with their dog for hand off. Due to overwhelming demand, now dog owners have the option to be anywhere and order a Zingy walker to their home. With Zingy, you will also know exactly where your dog is in real time while in their care.
To get started, you create a profile of your pet along with a picture of them. (While it's not up and running just yet, they are also working on including information on when and what type of food your pet eats so the dog walker can feed your dog after their walk if necessary.) When your profile is complete, it just takes second to then request a dog walker.
A Zingy walker will show up to your home or business and make sure both the walker and dog are comfortable with each other. Pending a successful meet and greet experience, a home access menu screen is opened up for all subsequent walk requests, allowing owners to decide how a walker will access their dog when they are not home. Access options include a realtor lockbox (available from Zingy to make life easier for their community), gate code (for apartment complexes and offices), key with doorman (for those buildings that cater to this), or the key is hidden with instructions on where to find it.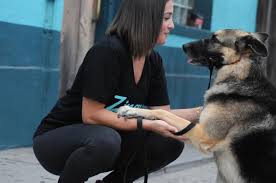 All Zingy walkers are highly vetted and must pass rigorous training, which includes a 6-point background check, in person interviews and a minimum of 16 modules at the Zingy Academy before being able to go live on the platform. Only about 25-30 percent of applicants become walkers. On top of the in-depth vetting of walkers, Zingy maintains a multimillion-dollar insurance policy to protect owners' homes, offices and dogs while in their care. This includes anything that may actually happen to the pet or if a dog walker breaks something in your home.
Their plan is to have Zingy available in 14 major cities within the next two years with around 11,000 dog walkers. Zingy is currently available in Los Angeles and San Diego, with new cities being added as they head east this summer.
The Zingy app is currently available for downloading. Just put in your zip code and if they have walkers in your area, it will take you to a booking schedule. If they don't have dog walkers in your area, basically by you identifying your zip code, they know where you are and will build up their walker base.
To become a dog walker, just visit ZingyPet.com to join the team. If they are ready to launch in your city, they will contact you to go through their vetting system. If they are not yet ready for your city, the will hold your information until they are ready to launch in your city. They are currently looking for dog walkers across the country to join.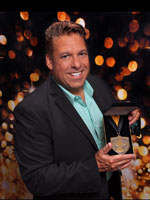 The Dogfather's Grooming Tip with Joey Villani
Sunscreen for Pets
The thermometer is climbing, which means the sun is getting stronger. You may not think about it, but our pets sometimes need sunscreen as well.
Our pets are at a higher risk than we are for sun-related Melanomas. You need to protect them from the sun, even if they're indoor animals. Dogfather Joey Villani and Dr. Debbie share what you need to know for your pet's safety and well being.
If you do want to use sunscreen on your pet, you might have a hard time finding it. You don't want to just use any sunscreen you find on the shelves, because a lot of the stuff we use on ourselves isn't strong enough for your pet and can even be toxic to them.
If you like to enjoy the outdoors with your pet during the summer and they have short hair, or places on their body where there isn't much hair, you should apply sunscreen on them. This is especially true for light-pigmented dogs like the Maltese and Samoyed. Some dogs may also be clipped down for the summer to keep them cool. Unfortunately this has the opposite affect and will also expose them to the sun. So anytime their bodies are exposed, you will want to use sunscreen on them.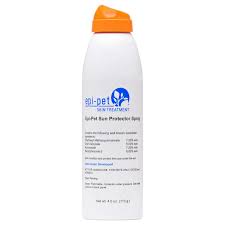 Some of the most highly recommended sunscreen for pets are Epi-Pet Sun Protector spray, (this is the only sunscreen for pets that was actually tested by the Food and Drug Administration (FDA); Doggles Pet Sunscreen and Nutri-Vet Sun Defense.
Joey states that he personally uses Epi-Pet Sun Protector for his owns pets. He likes the way it smells and sates that it is easy to apply. It is also non-greasy and works well. You probably won't find this product on the shelves at your local pet store, but if you ask your vet, they may be able to order it if they don't carry it.
While Joey hasn't personally tried this, he says you can also make you own sunscreen at home, which people swear by. The recipe is as follows:
1/2 cup pure organic aloe gel
20 drops pure grape seed oil gel
5 tablespoons coconut oil in thick form (NOT melted)
3 capsules of vitamin E (broken open)
5 drops lavender oil
You just mix the ingredients together and apply it to your pet. But beware, this mixture is going to be greasy and your dog will become a knotted "canine dust magnet."
Whatever you use, just make sure you use something, as our dogs can also get sunburned and contract cancer from sun exposure.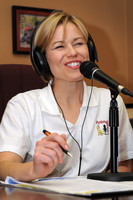 E-Cigarette Toxicity in Pets -Dr. Debbie
Think that vapor cigarettes (a.k.a. electric cigarettes or e-cigarettes) are a healthier alternative to traditional cigarettes? The vapor habit might be better for you and decrease your pet's exposure to second hand smoke, but can increase the chance of a pet's toxic ingestion of nicotine. A recent story from England told of the tragic death of a puppy that died after chewing on an e-liquid container.
Ivy was a 14-week old Staffordshire Bull Terrier that chewed on her owner's bottle of e-liquid used to refill the electric cigarettes. Within 30 seconds of nibbling on the container, she fell sick with vomiting and disorientation and was rushed to a veterinary office. Sadly Ivy died within 24 hours due to heart and respiratory failure.
What's in E-Liquid?
The ingredients in e-liquid vary but include carriers such as propylene glycol, polyethylene Glycol 400 and vegetable glycerin, as well as flavoring agents and nicotine. The amount of nicotine in e-liquid varies with some products not containing any nicotine, to others ranging from 18 mg/ml to 100mg/ml.
How Toxic is Nicotine?
The toxic dose of nicotine for pets is 0.5 to 1mg per pound of body weight. The fatal dose is 4mg per pound. So if you consider a 20 pound dog, toxicity would occur if 10mg were ingested, and the pet would die if 80mg were ingested. Therefore with the high nicotine levels in e-liquid, it wont take much to reach those fatal levels. That hypothetical 20 pound dog could die from less than 1ml of the highest potency liquid nicotine.
Pets likewise can develop toxicity if other sources of nicotine are ingested such as cigarettes, chewing tobacco, nicotine gum, or nicotine nasal sprays. The typical amounts of nicotine in these products are: Cigarette 9-30 mg; Nicotine gum 2-4 mg per pieces; and Nicotine patches 8.3-114 mg.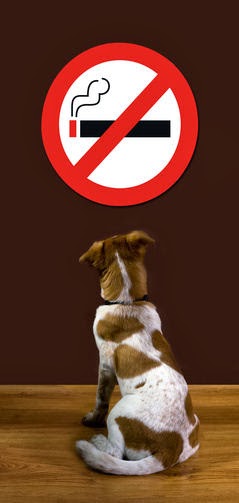 Even cigarette butts can be toxic if enough are ingested- cigarette butts retain 25-percent of the nicotine in the original cigarette.
What are Symptoms of Nicotine poisoning?
Symptoms usually develop within one hour of ingestion. Pets may display excitability, rapid heart rate, drooling, vomiting, diarrhea, weakness, seizures and coma.
How are Pets Treated for Nicotine Toxicity?
The first step is to decontaminate by inducing vomiting. Nicotine typically causes vomiting when ingested, but further decontamination is advised at the veterinary office. Other emergency care includes intravenous fluids, medications to manage elevated blood pressure and heart rate, and anti-seizure medications. Nicotine is metabolized by the liver and excreted within 16 hours after ingestion. Pets that survive the initial four hours after ingestion have a favorable chance of survival.
The vapor cigarette trend is becoming more popular world wide. It's important to recognize that nicotine is a toxin and poisonous to animals and children. Consider the e-liquid a hazardous material and store it safely in a locking cabinet, away from children and pets.
To read more about Ivy's toxicity after ingesting E-fluid go to "Dog Dies After Chewing E-Fluid Container."
Featured veterinarian known as "Dr. Debbie" on national pet radio program, Animal Radio. Ebook author of "Yorkshire Terriers: How to Be Your Dog's Best Friend"; "Pugs: How to Be Your Dog's Best Friend"; "Mini Schnauzers: How to Be Your Dog's Best Friend"; and "Shih Tzu: How to Be Your Dog's Best Friend."

It's a Wacky Wednesday Here at the Animal Radio® Studios
WackyWed Contest IS ON - LIKE your FAVORITE pic and the three pics with the most LIKES & SHARES are this week's winner will receive a Pet Pro Bowl from Remarkabowl.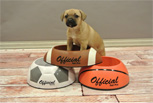 WackyWed@AnimalRadio.com - (Please put WACKYWED in the subject line & give us your pet's name, your name & where you hail from) If YOUR pic is chosen then spread the word to your friends & family on Wednesday - the pics w/the most LIKES and SHARES will be the winner!
This week we are giving away a Pet Pro Bowl that is the only pet bowl with the look, feel and texture of a real sports ball, from Remarkabowl, which are 60% thicker than average pet bowl, come with non-skid rubber bottoms and easy handling thumb holes.
The Remarkabowl is available in basketball, football, soccer all in three sizes - small, medium and large.


Join Animal Radio® on Facebook for Wacky Wednesday! Win great prizes every week for your wacky pet pictures. Last month we gave out goodies from Wham-O Inc., BH Pet Gear, Dream Bones, Oster and more. Visit us on Facebook now.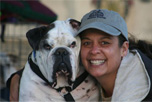 Animal Radio® News - Lori Brooks
Shelters for Victims of Domestic Violence May Soon Take Pets
Nationwide just 3-percent of shelters for victims of domestic violence are equipped to accept pets, but new legislation before Congress may change that since the Pets and Women Safety Act has been introduced in the House. Those who work in shelters say allowing pets is important in the effort to persuade women to leave abusive partners. Studies have shown that nearly half of women in abusive relationships stay in the home, in part, because they don't want to leave their pets. But of course, the stress of going to a women's shelter can be lessened when women and their children are allowed to bring four legged children along.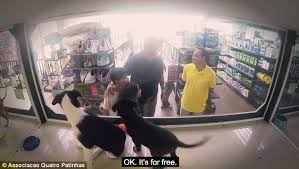 Pet Store Trick Customers By Switching Pricey Purebreds for Shelter Animals
A pet store in Brazil made a life changing decision for animals recently when it partnered with local pet shelters to secretly switch those pricey purebreds for rescues. Then the store went a step further and simply gave the shelter pets away to worthy families. You see often times in Brazil, families will bypass the shelters and head straight for the nearest pet store when they want a new pet, which is bad news for shelter animals. The result of the pet store switch? Families were stunned when they were told they could have the animal of their choice for free and customers quickly began to realize that there was no difference between the traditional pet store animals and the rescue animals.
Forget Hiring The Neighbor Kid To Take Your Dog On A Walk
There are new mixed-use developments where you can rely on specially trained professionals to do everything from walking your dogs to brushing their teeth. These specialists, nicknamed "dog concierges," spends their days catering to the every need of the their building's animal residents. The pet care services are run by a Boston startup called Baroo. Baroo is the technical term for the way a dog tilts its head after hearing an unusual sound. Baroo does everything from setting up doggie play dates and trimming nails to conditioning fur and walking cats on leashes. They specialize in the needs of big city dogs, which can be quite different than dogs that live in rural areas.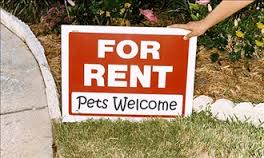 Most Pet Friendly Rental Markets for Pet Owners
A dog may be man's best friend, but they're not necessarily your landlord's. Nor are cats. If you're a renter with a pet, you know that one of the biggest challenges is finding a place to live. Because May is National Pet Month, Forbes went in search of America's most pet-friendly places to live among the largest rental markets and San Francisco tops the list in the all around for having the pet friendliest land lords, lowest pet fees and most pet specialty stores and services. Seattle, Denver, Oakland, and Portland, OR, round out the list of the top five cities for pets. Chicago came in at Number 6, with New York in 8th place and Los Angeles in the 16th spot. Another interesting finding was the decision over dogs or cats. The majority of landlords would rather hear a meow than a woof. If you've got a Mastiff or a Great Dane, you're barking up the wrong tree: Nationwide, just 4-percent of rental listings say your really big dog is welcome. And, Washington, DC, comes in first in extracting money from pet owners with a litany of extra fees and the most expensive fees for all things concerning your pet with the average pet deposit being more than $350 for renters.
You May Be Thinking Scientifically If You Call Your Pet A Fur Baby
You may be thinking sort of scientifically if you call your pet a fur baby, at least on a chemical level. New research from the Azabu University in Japan shows that dogs that make so-called puppy eyes at their owners get a spike in the "love hormone" oxytocin - and their owners do too! The same positive feedback in oxytocin release also happens when a mom gazes at her new born. The researchers wondered exactly what dogs get out of their affectionate gazing at humans found that dogs do benefit, and the more oxytocin rose in humans, the more it did in dogs as well. The findings suggest that the oxytocin feedback loop can cross species boundaries, at least between man and his best friend.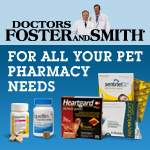 NEWS UPDATE brought to you by Drs. Foster & Smith, affordable pet supplies. Low prices every day, so you save on every order.

Listen to the entire Podcast of this show (#806)