The Animals' Favorite Quarterback
Charlie Batch, Pittsburgh Steelers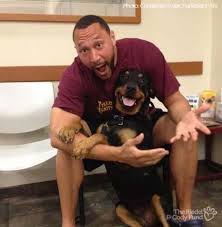 Charlie Batch, who is a quarterback for the Pittsburgh Steelers, recently lost his five-year-old Rottweiler rescue named Roxie to cancer and was inspired to team up with The Riedel & Cody Fund.
Twelve million dogs and cats are diagnosed with cancer each year. The Riedel & Cody Fund is a non-profit organization that provides funding and support for people whose pets have been diagnosed with cancer and can't afford treatment. The Fund was created in memory of Riedel, a Bernese Mountain Dog, and Cody, a Rottweiler, who waged their own heroic battles against cancer.
The Riedel & Cody Fund helps locate board-certified oncologists, surgeons, and radiologists as well as other qualified providers of holistic and complementary therapies within driving distance. They also help locate clinical trials that might help your pet.
Charlie is trying to increase awareness for The Riedel & Cody Fund and raise money for pet cancer treatment. You can follow The Riedel & Cody Fund on twitter and like them on Facebook.
People can also participate by joining the virtual march online at riedelcody.org or by attending events in cities across the country. The next one will be in Chicago in the fall. The events include a free day of family/pet fun with lots of activities and giveaways.
Even though Charlie was dealing with an ill pet, he goes by the slogan, "When you take the field, you take the field!" This means you leave all issues that you are dealing with, out of it. This goes with the territory, because Charlie knows that, "At the end of the day, everybody has their own problems, and when it comes to doing your job, you have to do it to the best of your ability, and not really let anybody else wonder why you may or may not have done your job correctly." He says the players take pride and wear it with honor when they step on that field. Charlie says if he took a poll, he could almost guarantee that about 90% of the players in the National football League has an animal.
Charlie has his own foundation, The Batch Foundation, which provides financially challenged youths and their families with the purpose, desire and resources to give their best efforts in all they do throughout their lives, by developing after school programs, scholarships for students, restoring playgrounds and offering sports.
Charlie currently has six dogs that live in his household, whom he loves and are a part of his family. He also says if the challenge were presented to him to be on Dancing With The Stars, he would definitely take it on!





The Natural Power of Zinc
Dr. Joel Ehrenzweig, ProLabs
Since prehistoric times, zinc, one of the most abundant elements in the Earth's crust, has been used in treating medicinal problems, because it is non-toxic.

Zinc is probably most familiar to us today as the iconoclastic sunburn preventive white ointment used by lifeguards and sun-worshippers. It is also widely used in cosmetics and pharmaceutical products that treat a variety of skin conditions, including baby powder, diaper rash and calamine cream, anti-dandruff shampoos and antiseptic ointments.
ProLabs has made the power of zinc available to pets in a new line of easy to use, effective products, combating some of the most prevalent canine problems: teeth, ears and skin.
BREATH REFRESH. Dental disease tops the list of the most common medical conditions, affecting 78% of dogs over three years old. Beside the pain and significant medical problems caused by dental problems—including heart, kidney and liver diseases—living with a dog that has bad breath is never pleasurable.
Breath Refresh uses a natural, no-brush zinc formula that:
* Neutralizes breath odors instantly
* Heals gum irritation
* Maintains oral health by reducing the bacteria that cause plaque and tarter formation
Its natural formula counteracts the sulfur compounds that cause offensive mouth odors.
Strong scientific evidence demonstrates that zinc also significantly reduces plaque accumulation. This is particularly important in small dogs and breeds most prone to develop of periodontal disease, including Toy Poodles, Yorkshire Terriers, Maltese, Pomeranians and Shetland Sheepdogs.
CLEAR EAR is for use in the second most common problem affecting dogs: infection and inflammation of the ears.
Scientifically formulated, it is a neutralized zinc solution that:
* Manages chronic yeast and staph ear infections
* Resolves itching
* Eliminates odor-causing bacteria
* Restores normal ear health
Many purebred dogs are predisposed to ear disease, including Basset Hounds, Beagles, Bulldogs, Golden and Labrador Retrievers, Lhasa Apsos, Poodles, Pugs, Shar-Peis and English Springer Spaniels.
SKIN SOOTHE relies on the vital role zinc plays in an enormous number of biological processes, including the maintenance of skin integrity and the immune system.
This new product from ProLabs enhances wound healing with a pH neutral formula that won't irritate sensitive skin tissue. Combined with select amino acids it:
* Delivers maximum anti-itch benefits
* Reduces healing time when treating hot spots or skin-fold dermatitis
* Accelerates the healing of minor wounds
ProLabs delivers innovative, science-based products and outstanding customer support by accessible, caring and knowledgeable veterinary professionals.
Now Your Pet Can Stand Up To Cancer
Sue Schwartz, Stand Up To Cancer (SU2C)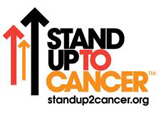 It's a fact, cancer affects us all. One in two men and one in the women will get some form of cancer in their lifetimes. Cancer kills nearly 1,600 Americans every day, one person every minute. Every year cancer kills more than 560,000 Americans and almost eight million people worldwide.
Stand Up To Cancer (SU2C) is a grassroots movement. They want everyone to know they can help the scientists who are trying to end cancer. By donating, you're supporting "Dream Teams" of investigators from different institutions that are working together to get new therapies to patients quickly and save lives.
SU2C funds Dream Teams of scientists from different disciplines across institutions to work collaboratively, at an exciting time in the field of cancer research. Historically, they often competed with each other.
SU2C brings together nearly 500 researchers from 87 leading institutions to work together. To date, over $120 million worth of grant commitments have been made, to nine Stand Up To Cancer Dream Teams, and 26 young innovative researchers, who are doing high-risk projects, with the potential for "high reward" in terms of saving lives.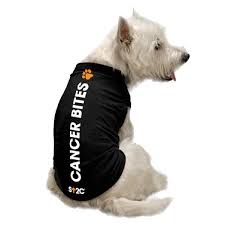 Now, your pet can Stand Up To Cancer and be eco-chic too with SU2C's new dog apparel, leashes and collars. For just $29.99, you can purchase a variety of t-shirts including styles that read: "Sit, Stay Stand Up To Cancer" and "Cancer Bites" for your pet in a range of sizes. SU2C is also offering a variety of collars and leashes at the same price point. All products are eco-friendly and made from 100% recycled plastic bottles.
During the month of May, which is National Pet Month, when you buy any of their pet products, they are giving away a free bandana for your pet, which states, "I stand up for_____." This gives you the opportunity to write in who your pet is standing up for, or what their connection to cancer is.

Let your dog help support cancer research. All SU2C pet merchandise can be found at the Stand Up To Cancer shop.



The Dogfather's Grooming Tip with Joey Villani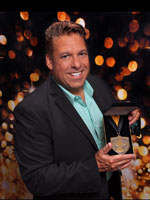 Stop The Tear Stains
Tear stains on dogs is a major problem for most people and is very hard to take care of. The stain is actually red yeast that gets into the hair shaft and then grows into the hair shaft itself, causing the discoloration.
An easy solution is Bacitracin, an anti-bacterial ointment. If you can't find Bacitracin, Neosporin will also work. Just apply a small amount to your fingertip and apply it to the corner of your dog's eye, working it down. This will keep the red yeast from actually forming. The properties in the ointment itself, which is the same thing that will heal your infections, kills the red yeast. The dog can now grow new coat without any tear stains.
However, it won't get rid of the stains that are currently on your dog, as the yeast is already trapped in the hair shaft. But if you do this twice a week, eventually the tear-stained coat will grow out leaving the new growth stain free.
You can also use it around your dog's mouth if it is discolored by red yeast or on your dog's pads if they have a yeast infection from wet feet. You not only can tell a red yeast infection by the color, but you will also notice a sour smell.
You can also use it on dogs with folds in their face, such as bulldogs and pugs. These folds stay moist. When you use this ointment, it will reduce the smell and the irritation, and will also help if there are any infections.
Use Bacitracin or Neosporin only twice a week, so you don't bombard your body with antibiotics, and only use a small amount. Don't put it on a dirty dog, so before using, make sure you dog is clean.
Animal Radio® News with Stacey Cohen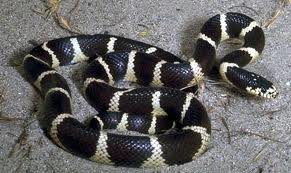 Unexpected Passenger Nearly Causes Accident
A California woman says she narrowly escaped an accident after discovering an unexpected passenger in her car. According to CBSLA.com, Angie Guerrero was driving along the highway with her dogs when she felt, and then saw, a snake slithering between her legs. Guerrero says she almost hit the car in the next lane, but was soon able to safely find a spot to pull over and get herself and the dogs out of the car. It took the California Highway Patrol an hour to nab the stowaway reptile, which turned out to be a non-venomous but still intimidating King Snake. Guerrero says she'll be more careful getting in her car now, but jokes, "How would you know to look for snakes?"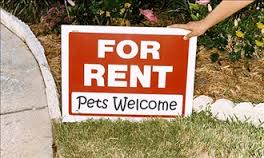 A Growing Number Of Renters Have Pets
Three-quarters of the respondents in an Apartments.com poll say they have an animal, a 32-percent increase from just last year. In addition, 80-percent of the apartment dwellers describe their building as "pet friendly." But it's not just the landlords who are warming up to a tenant's four-legged friend. Just under 60-percent of renters who don't have pets say they don't mind if their neighbor has animals. Nearly 80-percent of those in apartments have a dog. Small dogs are most common, at 38-percent; 21-percent have a medium-sized dog; 19-percent own a large dog; 45-percent have a cat; and 6-percent have fish. However, having a pet in an apartment comes at a price. Nearly two-thirds admit they have to pay a pet deposit to have their animals.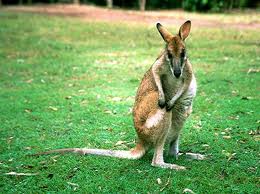 Wallaby Roams England
An out-of-place wallaby may be roaming the English countryside. According to the British newspaper the Daily Telegraph, police in Lancashire were skeptical when residents reported seeing what they thought was a kangaroo hopping around the Village of Winmarleigh. However, authorities were recently convinced when they were given a picture of a wallaby on the roadside. Police Constable Dave Kerfoot of the Lancashire police department says the photo proves that authorities had been "overly suspicious" about the reports. Apparently, the wallaby has already become a local sensation. In fact, residents have named the marsupial "Skippy" in honor of an Australian television series from the 1960s. Both residents and police believe the wallaby escaped from a farm in the area.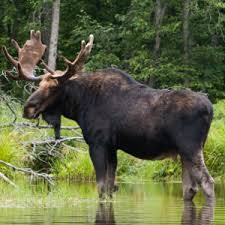 Moose Leads Police To Illegal Marijuana
Police in Burlington, Vt., can credit a moose with helping them discover an illegal pot-growing operation. Cops were on the lookout for the animal after it was seen wandering around Burlington streets when they spotted pot plants in a shed behind a house. After obtaining a search warrant, police say they seized 32 pot plants and an unspecified amount of processed marijuana and arrested the house's occupant Joshua Brunelle, 29. There was no word on which crimes the moose is currently helping authorities investigate.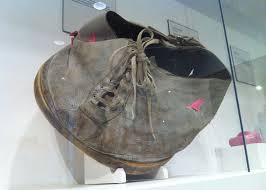 JUST DO IT And Do It Big! Nike Did!
Pity the poor elephant forced to wander the wilderness with one leg noticeably shorter than the other three. We don't know how the animal came to Nike's attention, but it was the lucky recipient of the sneaker brand's biggest-ever custom shoe: a gray monstrosity custom-designed to provide the elephant with a literal lift. It's unclear exactly when the shoe was built or where the elephant is now. But the gray fabric was meant to blend seamlessly with the elephant's skin, while the pink bits of remaining fabric are, in the words of Nike's lead public relations official, Heidi Burgett, "what's left of the beat-up swoosh."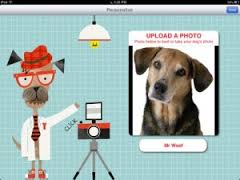 There's An App For That!
Ever wish you could make sure your barking dog isn't terrorizing the cat or the mailman when you're not at home? There's an App for that. A new app called Pavlov Dog Monitor, a $4.99 iPad app, uses audio-sensor technology to listen for your dog's barks when you're away from home. It then triggers prerecorded videos, with you saying, "Bad boy!" or alternately, "Good boy!" to help quiet the dog. For an extra $1.99, you can have the app monitor your pup throughout the day and your dog can Facebook you. The idea person behind the app is also working on a Bluetooth-equipped treat-dispenser that will give your dog an actual treat if he refrains from barking.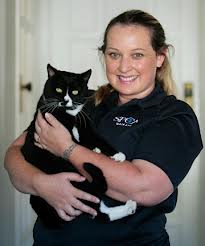 McDonald's Super Sizes Cat
A stray cat named Frankie took up residence in the parking lot of a McDonald's in Frankton, New Zealand, begging for handouts from customers. He survived on fast food for a year, and just like in "Super Size Me," it took its toll. Jessica Watson, the SPCA field officer who rescued Frank, said she became worried after noticing the cat's face was swollen, his eyelids weren't closing properly and his coat was matted. "He wasn't overweight, but McDonald's wouldn't meet the nutritional requirements for a cat. When I first took him home he refused to eat anything because it wasn't McDonald's," she said. "I seriously considered going back there to get him a burger." Luckily, Frankie is on a healthy diet now and available for adoption.

Funeral Products For Pets
Aurora Casket Co. became the nation's largest private casket maker by producing beautiful funeral products for humans. Now it's launched a new line of business: funeral products for pets, on which Americans spend more than $55 billion a year. The Batesville, Indiana based casket maker this week began selling more than 100 engraveable urns, memorial boxes and pendants to honor our deceased cats, dogs and other pets. The company didn't release recommended list prices, but a review of retail websites shows urns generally start around $50.


Listen to the entire Podcast of this show (#702)